I may earn from purchases through links in this post.
It's been a busy month for us. Our suitcases have gotten a workout.
We moved and began to unpack. Two weeks later we packed our bags and headed to Vegas where Dan was attending a conference. Then we got home on Friday afternoon, hastily dumped the contents of our bags on the floor unpacked and then repacked for a Saturday morning departure to Vermont to visit our friends and Dan's family for an early Thanksgiving.
I will admit that all of the packing and unpacking, all of the time zone shifts and climate switching have left me a little dazed and not a little bit exhausted.
It's been wonderful to see everyone, but it's good to be home, finally, and to continue the work of getting our new place set up and organized.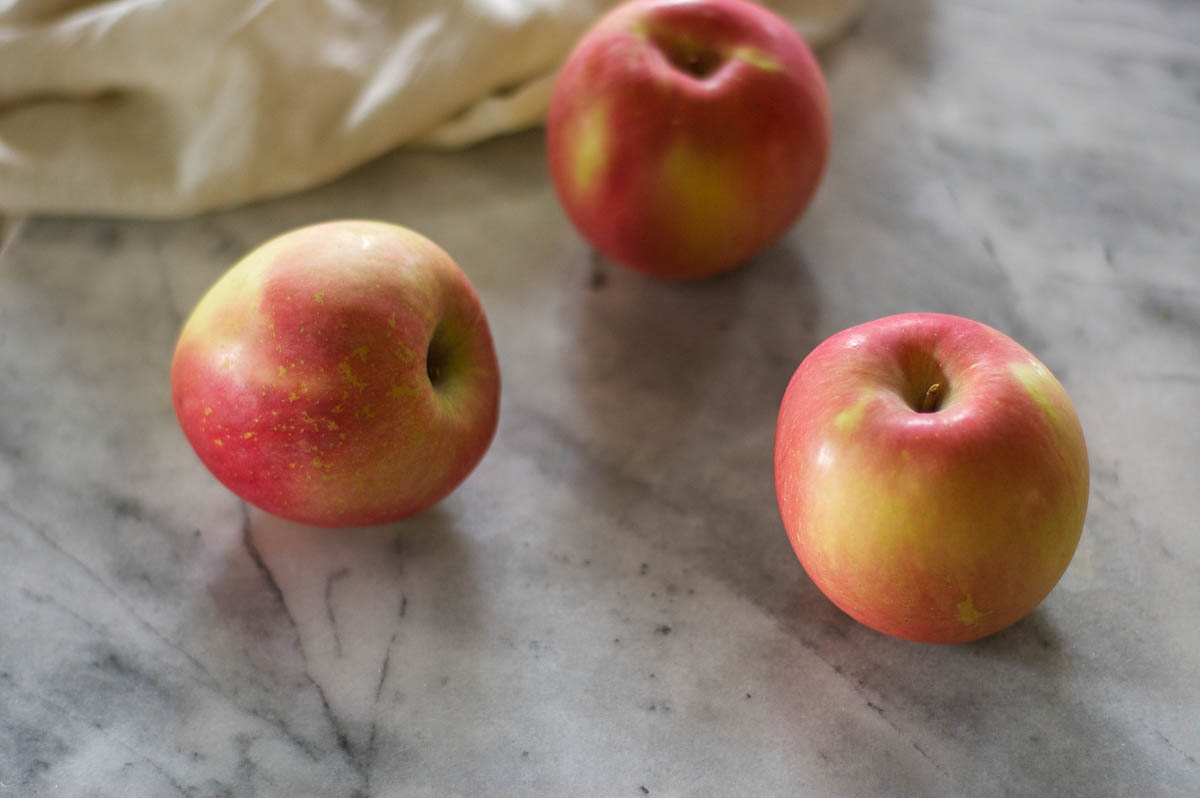 One thing that makes a place feel like home to me is the smell of comforting baked goods wafting through the kitchen.
These brown butter apple bars were the last thing I baked in my old kitchen and the first thing I baked in my new one.
They are based, very loosely, on the brown butter peach bars that appear in The Big Sur Bakery Cookbook (that I read about on Deb's site years ago), but they are vastly simplified.
There's no homemade jam making involved, there's no waiting for the brown butter to chill, there's no need to go out and buy whole vanilla beans.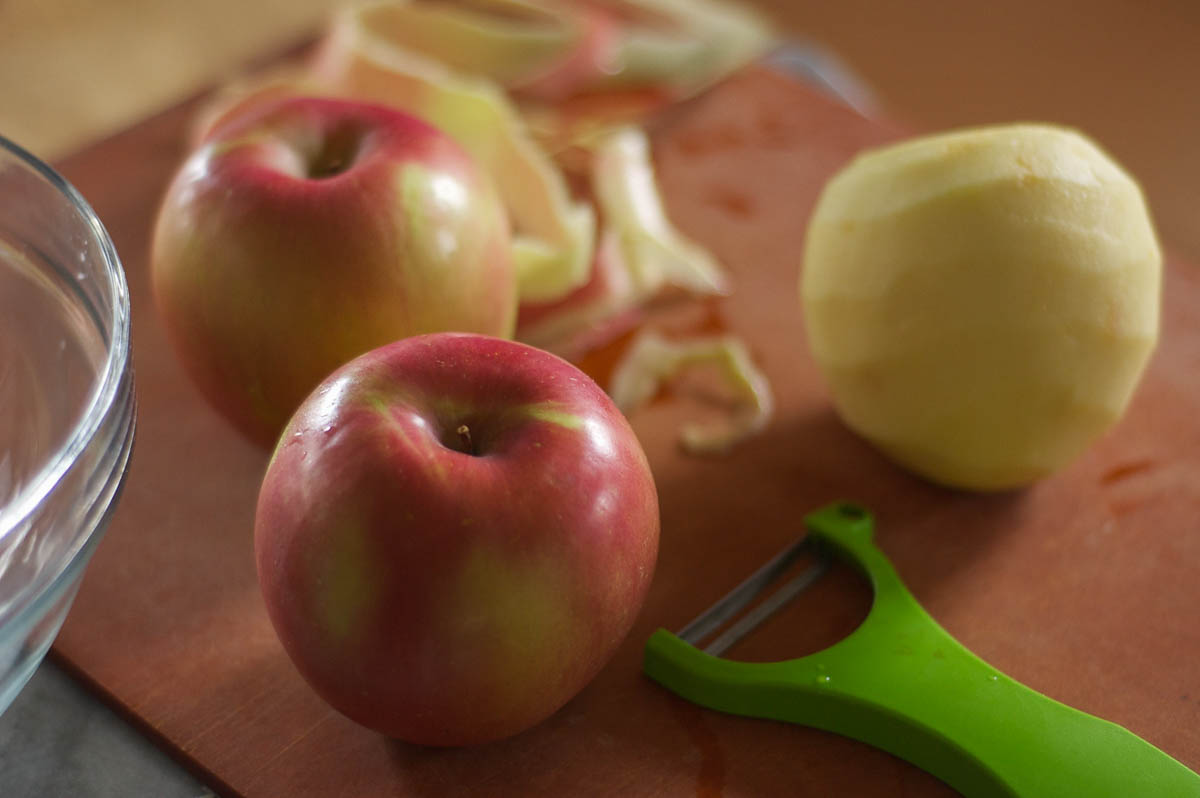 What is involved is my favorite easy pat-in-the-pan shortbread crust from Alice Medrich, butter that gets browned with a cinnamon stick and mixed with egg and brown sugar for a gooey, cinnamon-kissed butterscotch-y custard layer, and loads of thinly sliced apples nestled together over the top.
They taste comforting and familiar in the way I want my apple desserts to be, but they are also new and different enough to make me rethink what an apple dessert can be.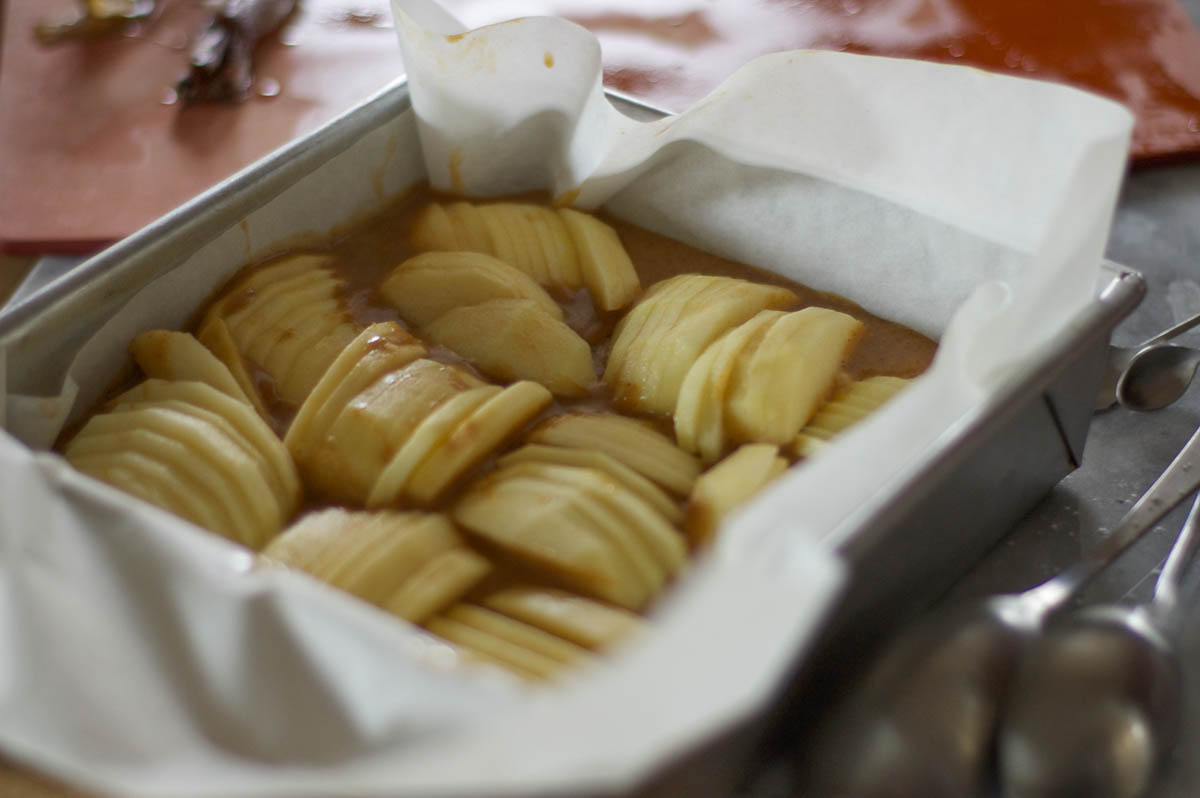 I've gone through phases with apple desserts.
Sometimes I think the ideal apple dessert is pie with flaky crust (uh, like this classic apple pie), sometimes I think it's an easy apple crumble, for a while my favorite apple dessert was Molly's apple tart cake.
But right now, I think this is my favorite apple dessert. (Umm, unless it's this apple beehive.)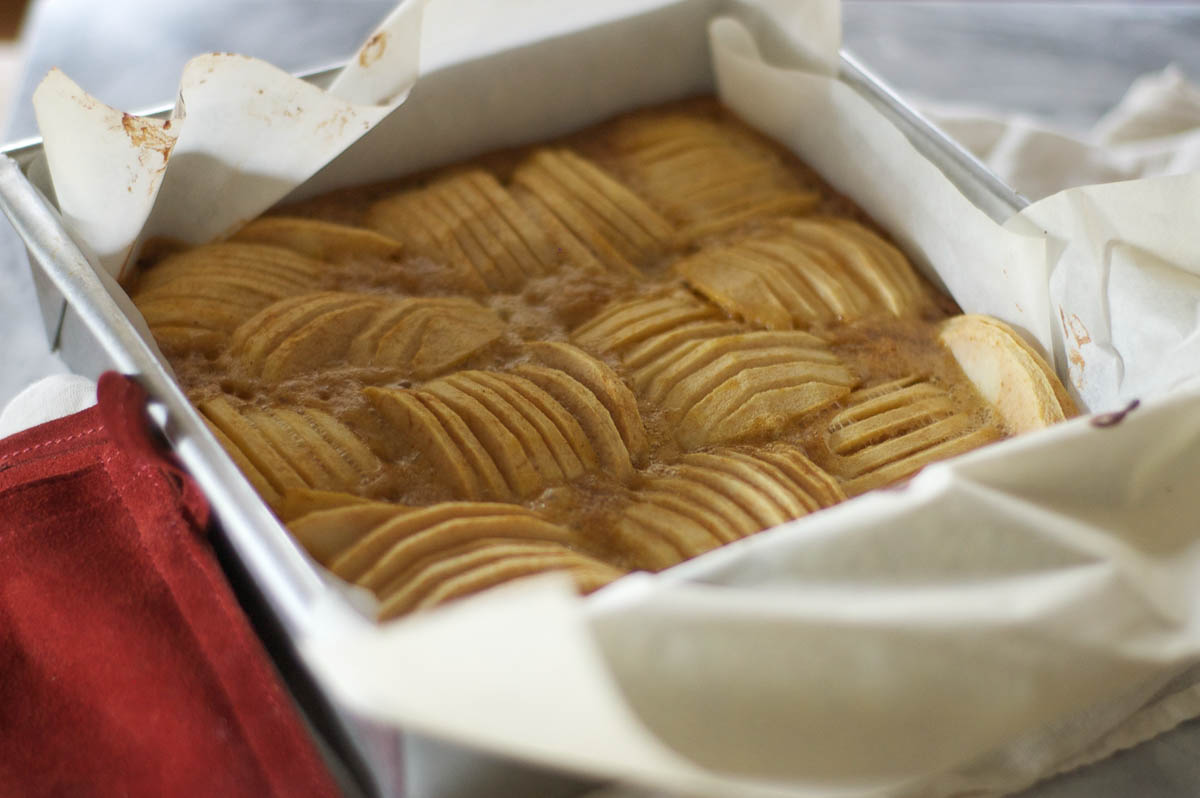 It's heavy on the apples with a wonderful nuttiness from the brown butter and caramelly molasses notes from the dark brown sugar.
It's light on the cinnamon, but you can dial that up if you like your apple desserts with extra spice, and it all rests on a lovely crisp and delicate shortbread crust.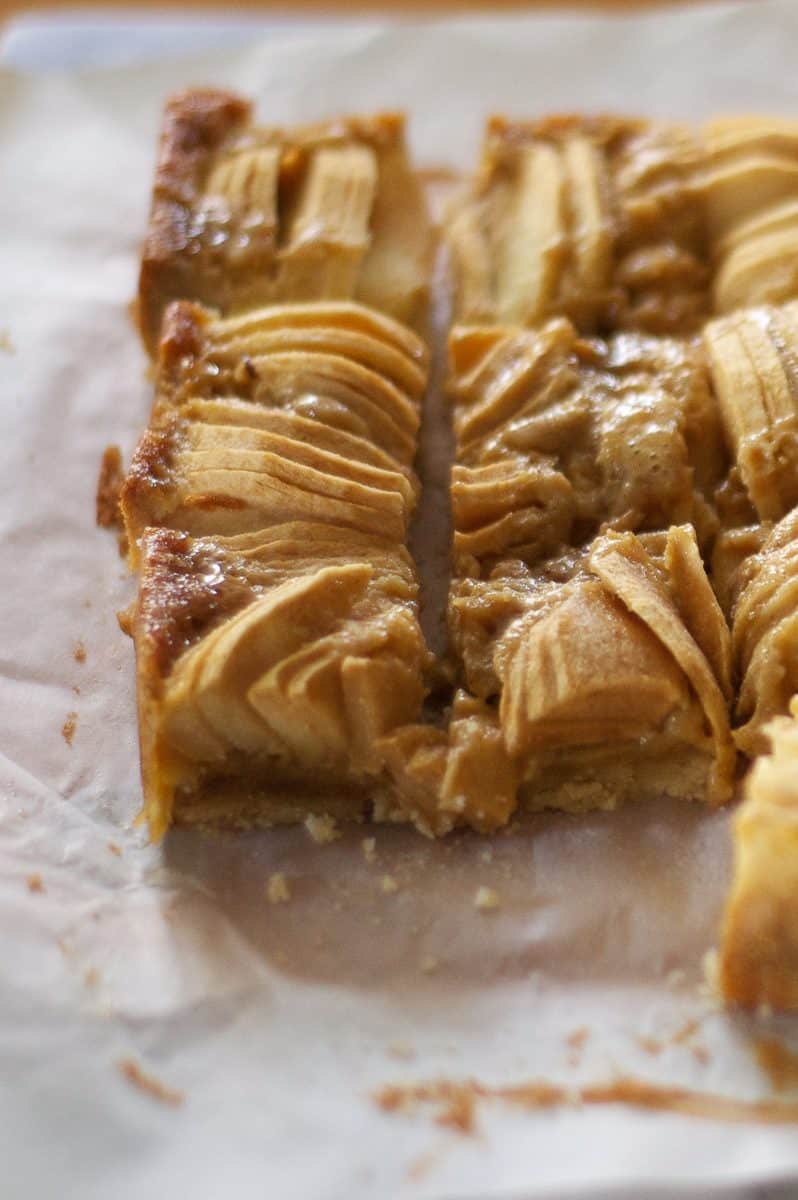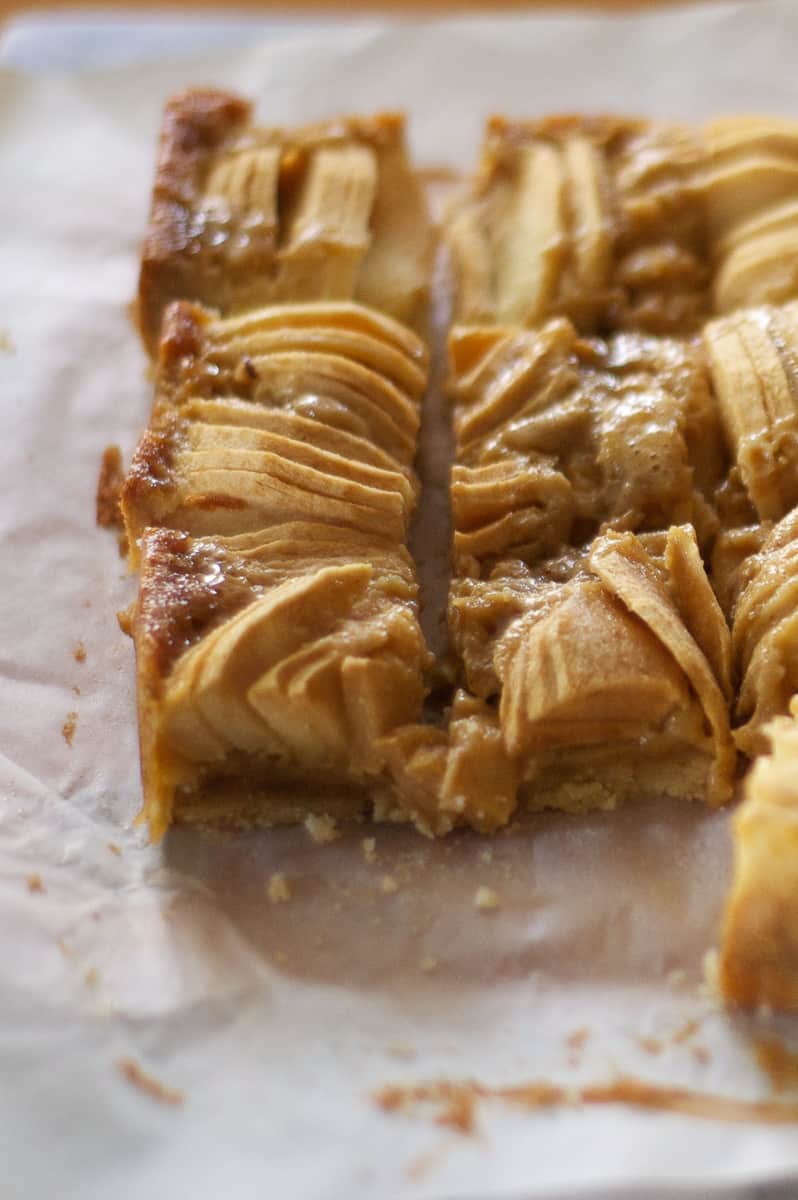 It manages to satisfy my desire for apple pie and for a cookie at the same time.
It would make a great Thanksgiving dessert if you're the sort of person who feels alright about deviating ever so slightly from the traditional. And it's best cut into small pieces, which makes it easy to squeeze in alongside a sliver of pumpkin pie after a big meal.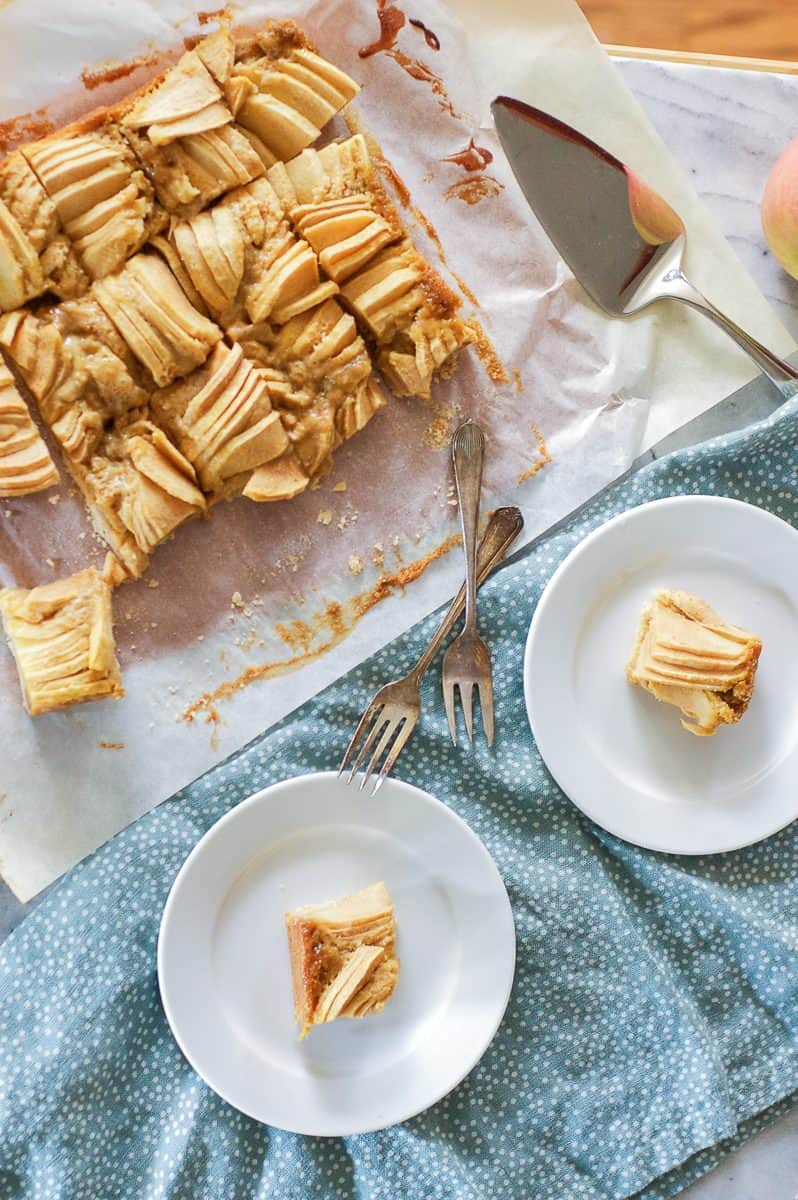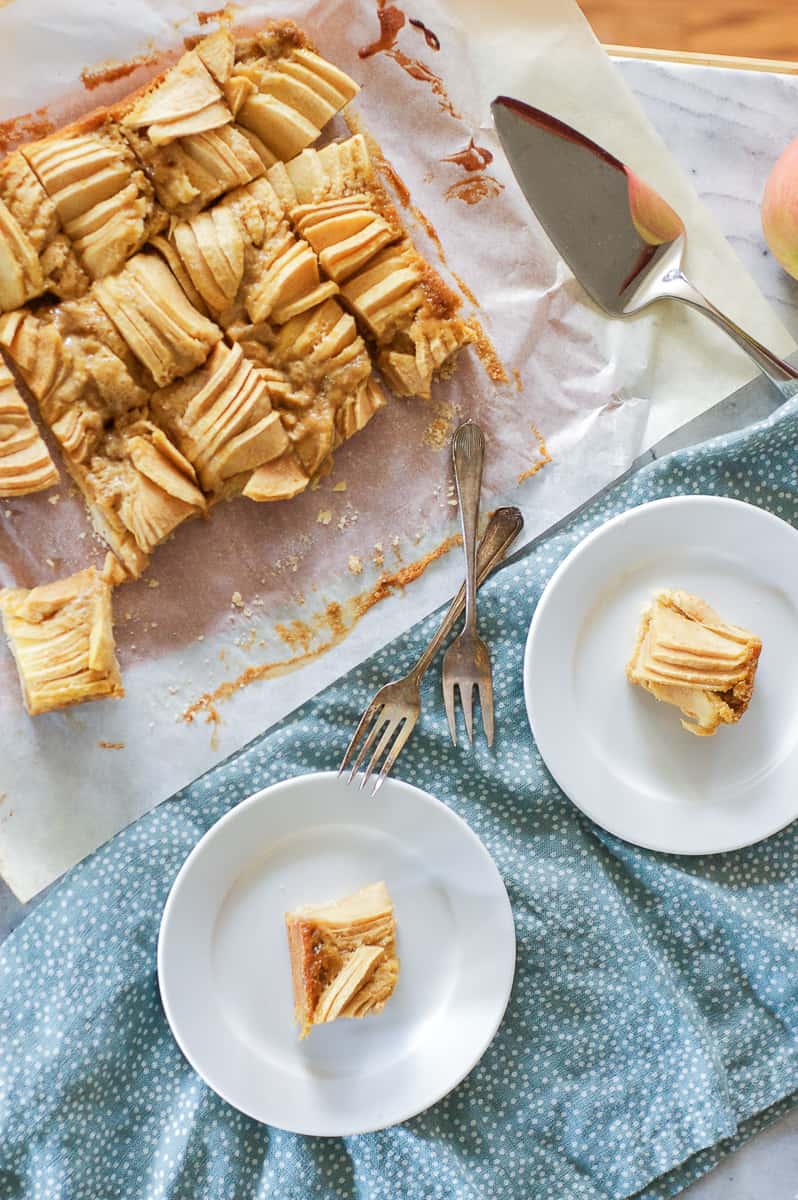 Looking for more Thanksgiving inspiration? Roasted delicata squash, kale, and leeks with farro would make a nice side dish or vegetarian or vegan main dish. Apple and lacinato kale salad with saba would make a good seasonal green salad. If you're looking for a soup to get the dinner started, this corn, jalapeño, and sweet potato bisque would be lovely. Spiced cranberries would go nicely with a cheese plate. If you want to go fancy and complicated Brown Butter Cake with Cranberry Curd, Orange Cardamom Crumbs, and Biscoff Frosting (a la Momofuku Milk Bar) is a delicious layer cake that plays on traditional autumnal flavors. And if you're looking for a Thanksgiving cocktail, it would be tough to beat the Perfect Pear.
Yield: 25 small, rich bar cookies
Brown Butter Apple Bars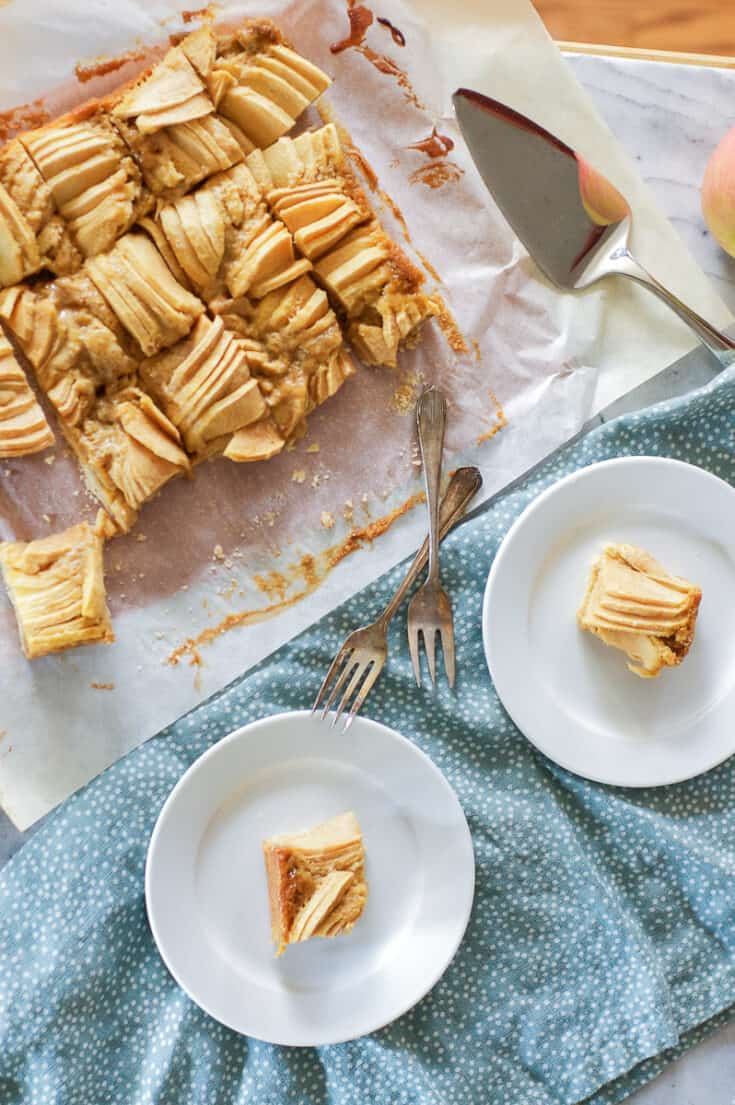 These brown butter apple bars occupy the space between a tart and a cookie. Their base is one of my all time favorite shortbread crusts, that's buttery, crisp, easy and has never let me down. You can brown the butter for the crust as well if you want more of that nutty brown butter flavor. The brown butter custard layer is infused with a cinnamon stick and has caramel-molasses notes from the brown sugar. When most home cooks need to slice apples, they start by slicing them down the middle through the core and then quarter them and remove the core from each wedge. One thing I've observed through watching many chefs in action is that most professionals slice apples by cutting the apple on each side close to the core leaving a square core and four pieces of apple that are easy to slice. Not surprisingly, the professional way is more efficient, and it's the method I recommend for slicing the apples for this recipe. You can use any firm baking apple you like for these. I used Fuji apples here. These are best the day they are made, but can keep well in the refrigerator for a couple of days.
Total Time
2 hours
15 minutes
Ingredients
For the crust:
6 tablespoons unsalted butter
2 tablespoons granulated sugar
1/2 teaspoon vanilla extract
1/4 teaspoon salt
1 cup all-purpose flour
For the filling:
5 tablespoons unsalted butter
1 cinnamon stick
2 eggs
1/2 cup dark brown sugar, (light works too, but I prefer dark in this)
1/3 cup all-purpose flour
1 teaspoon vanilla extract
1/4 teaspoon ground cinnamon
1/4 teaspoon salt
3 medium apples
Instructions
Make the crust. Preheat the oven to 350°F. Line a 9-inch square baking pan with parchment paper. In a small saucepan, melt the butter (you can brown it if you like, but it's not necessary). In a small mixing bowl, add the sugar, salt, and vanilla extract. Pour in the melted butter and stir until the sugar is mostly dissolved. Stir in the flour until everything is moistened. Turn the dough out into the lined baking pan and, using your fingers, press the dough into an even layer covering the bottom of the pan all the way into the corners. Bake for 15-20 minutes, or until the top is beginning to turn golden. Remove from the oven and let cool on a rack.
Make the filling. Bump up the oven temperature to 375°F. Add the butter and cinnamon stick to a small saucepan (you can use the same one from before) and melt the butter over medium heat. Keep going until the butter has foamed up and settled down again and the milk solids at the bottom of the pan have turned brown and smell nutty and fragrant. Remove from the heat. In a large mixing bowl, add the eggs and brown sugar. Discard the cinnamon stick and pour the browned butter over the eggs and brown sugar and whisk until smooth. Add the flour, vanilla extract, ground cinnamon, and salt and stir until thick and smooth, with no noticeable lumps. Pour over the baked crust.
Peel, core, and thinly slice the apples. Gently press the apple slices into the filling. Place the slices vertically to pack in as many apples as possible. Bake for 30-35 minutes or until the filling looks puffed and set and the apples are tender. Cool for at least an hour, remove from the pan by pulling on the parchment paper, and slice with a sharp chef's knife.
Notes
Keeps, well covered in the refrigerator, for up to 3 days.
Recommended Products
As an Amazon Associate and member of other affiliate programs, I earn from qualifying purchases.
Nutrition Information:
Yield:
25
Serving Size:
1
Amount Per Serving:
Calories:

105
Total Fat:

6g
Saturated Fat:

3g
Trans Fat:

0g
Unsaturated Fat:

2g
Cholesterol:

28mg
Sodium:

50mg
Carbohydrates:

13g
Fiber:

1g
Sugar:

7g
Protein:

1g