I may earn from purchases through links in this post.
It is apple season again. Time for pie and cider and eating out of hand. Time for wondering where these variously charming and exotic names of these heirlooms and hybrids came from: cox orange pippin, jonafree, fameuse, sunrise.
I think of apples as a comfort fruit. I like them prepared simply. A bit of sugar, a bit of topping, a sprinkle of cinnamon served warm with a scoop of vanilla ice cream.
Apple crumble is easy enough to be thrown together in fifteen minutes and ready within an hour. It is the sort of dessert that doesn't require a special occasion but itself becomes an excuse to turn on the oven as the weather turns brisk.
I doubt anyone needs a new apple crumble recipe. The one in Betty Crocker works just fine.
But most dessert recipes are scaled to serve eight or so, and while that's great for company, an everyday dessert like this is the sort of thing I like to make just for the two of us, and having six servings left over is an invitation to overindulge.
So this is my scaled down version, perfect for a night when Dan and I want a comforting dessert but don't want extra.
It can easily be cut in half for when you want dessert for one or multiplied for nights when you have extra guests. It is best made in stove top and oven safe cookware like these two cup enameled cast iron pots.
The apples are tossed with sugar and cinnamon and a squeeze of lemon to inhibit oxidation and then sauteed on the stove top until the apples and sugar gets nice and caramelized, an inspiration from tarte tatin.
The butter gets browned, pecans get toasted toasted and chopped, and they both get mixed up with a bit of flour and a pinch of salt and sprinkled over the top of the apples.
Then they go into the oven where the tops turn golden.
Classic basic flavors in a dessert that you want to remind you of every warm and wonderful apple dessert you've had before.
It isn't particularly exciting, but it is certainly satisfying, and it's hard to go wrong with brown butter, pecans, cinnamon, and caramelized apples. It's even harder to go wrong when you top it with ice cream.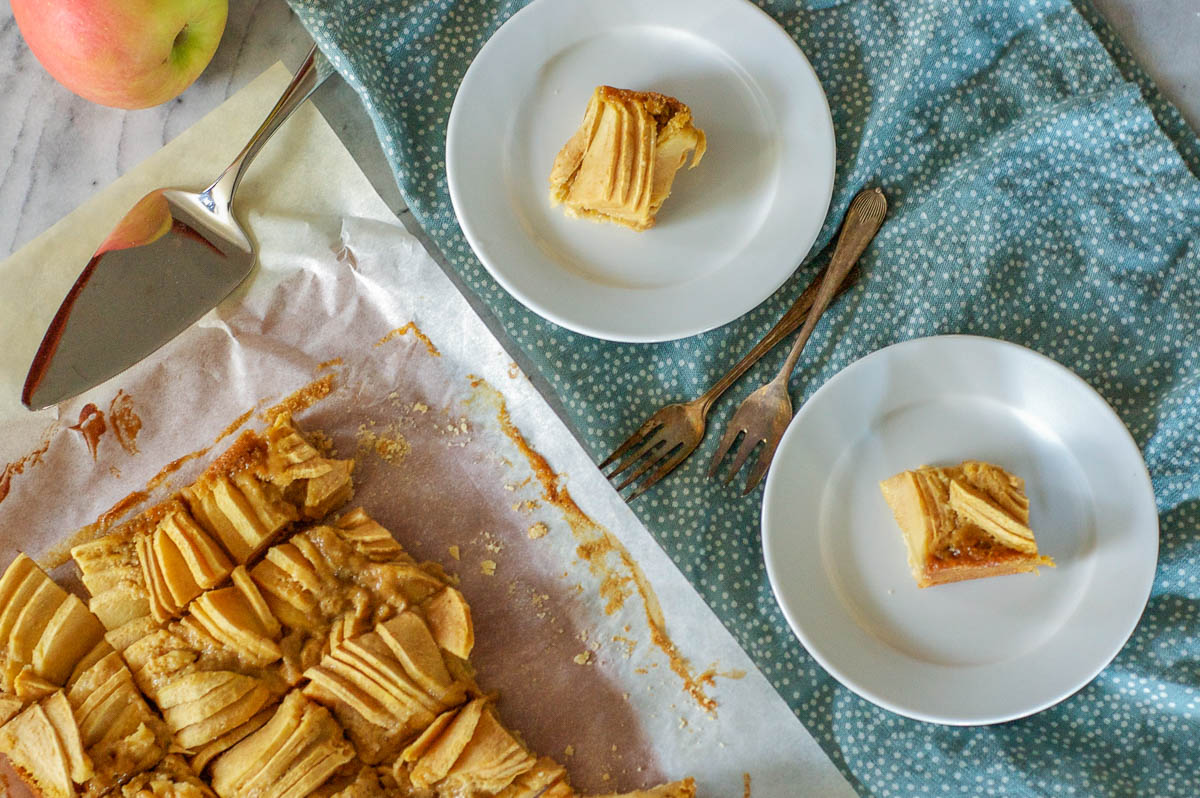 Brown Butter Apple Bars
Brown Butter Apple Bars. A rich, buttery, cinnamon-kissed apple dessert that might just be your new favorite apple dessert.
Apple Beehive
Apple Beehive. A simple and gorgeous cinnamon-sugar apple dessert. Just butter, sugar, cinnamon, apples. Naturally gluten free and grain free.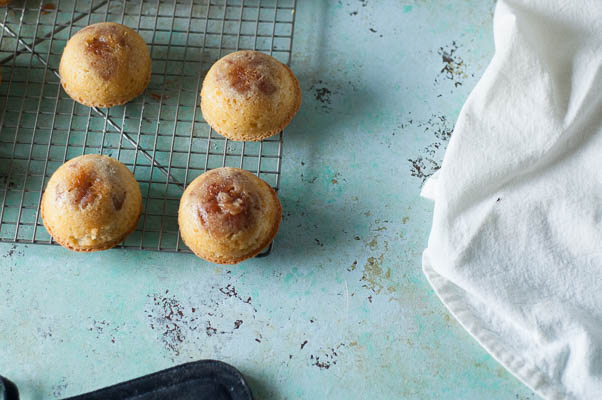 Brown Butter Apple Almond Cakes.
Brown Butter Apple Almond Cakes. Nutty, buttery, cinnamon-scented apple cakes. A rustic, comforting dessert. Gluten free.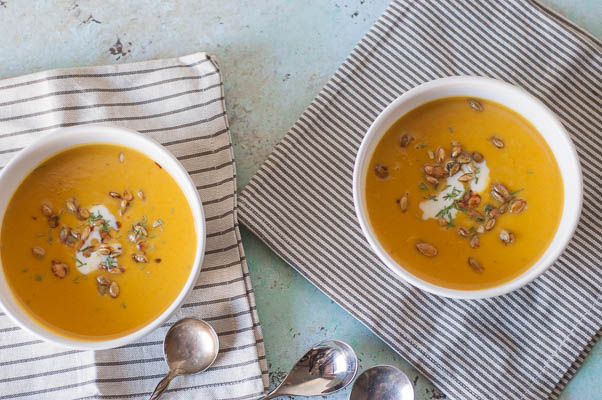 Roasted Heirloom Squash and Tart Apple Soup
Roasted Heirloom Squash and Tart Apple Soup. A sweet and tart and savory fall soup with red kuri squash and tart apples topped with caramelized pepitas.
Yield: 2 servings
Mini Brown Butter Pecan Caramelized Apple Crumbles For Two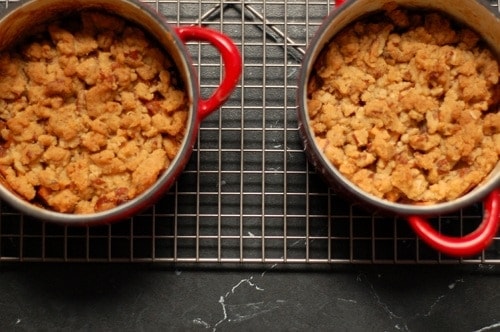 This recipe works best in 2 cup stovetop and oven safe cookware (such as these mini enameled cast iron dutch ovens), but if you wish to make these in large ramekins or other small baking dishes, you may skip the stove top caramelization step and simply bake them for an extra ten minutes or so. It won't give you that deep caramel flavor, but it will still be delicious. You may of course, use these techniques with other fruits or with your own favorite crumble or crisp topping. This works best with slightly tart apples that work well for baking. I like to use a mix of apples and in this case used a spigold, a spuree rome, and a macoun, but feel free to use any apples you like.
Ingredients
For the filling:
1 pound apples, 2 large apples or 3 small to medium ones
2 tablespoons granulated sugar
1 teaspoon lemon juice
1/2 teaspoon cinnamon
1/4 teaspoon vanilla extract
For the topping:
1/3 cup all purpose flour
3 tablespoons packed brown sugar
1/4 cup toasted pecans
1/8 teaspoon salt
3 tablespoons butter
Instructions
Preheat oven to 375ºF. Peel apples and cut into 1/2 inch chunks. In a small bowl, toss apples with lemon juice to prevent oxidation, then add sugar, cinnamon, and vanilla extract.
Make the topping. Roughly chop the pecans. Mix flour, brown sugar, salt and pecans in a small bowl. Melt butter in a small sauce pan over medium heat until it begins to turn brown (the solids should be roughly the color of pecans). Remove from heat–butter can quickly go from brown to burnt. Add the butter to the flour mixture and stir until the flour is thoroughly moistened.
Divide the apple mixture evenly between two 2 cup stove and oven safe dutch ovens, and saute over medium heat until the sugars and apples begin to caramelize, about five minutes. Carefully sprinkle the flour mixture evenly over the apples, and transfer to the oven. Bake until the topping is golden brown, about 35 minutes.
Cool for at least 15 minutes. Serve warm or at room temperature, preferably with a scoop of vanilla ice cream.
Recommended Products
As an Amazon Associate and member of other affiliate programs, I earn from qualifying purchases.
Nutrition Information:
Yield:
2
Serving Size:
1
Amount Per Serving:
Calories:

667
Total Fat:

28g
Saturated Fat:

12g
Trans Fat:

1g
Unsaturated Fat:

14g
Cholesterol:

46mg
Sodium:

274mg
Carbohydrates:

109g
Fiber:

13g
Sugar:

76g
Protein:

5g