I may earn from purchases through links in this post.
I love peaches.
The summer after I graduated from college, I worked at a farmers market fruit stand, and after crawling out of bed bleary-eyed at 5:00 am on Saturday mornings and taking the bus up to a parking lot where I'd unload a truck and set up tables and a tent and load little baskets and set up signs, before the customers showed up, I'd rummage around in the crate of bruised peaches for a soft, dented, ugly, unsellable specimen and take a bite, letting the sticky juice drip down my arm.
It was, pretty much, the best breakfast ever.
Before that summer, I never knew that peaches are best when they are warm.
That they are so much more fragrant and their flavor so much more complex after resting for a while in the back of a hot truck.
That having a job where you can wipe off your sticky arm on your grubby jeans and have the option of getting paid in peaches is a pretty nice gig.
But I no longer have that job or those jeans. And peaches are a summer fruit, and we have already stepped into fall. And out of season peaches, when you find them, tend to be crunchy and tasteless, barely resembling the peaches I love.
So these preserves are my best attempt to bottle that fragrant sticky sweetness and put it up on the shelf within easy reach for toast.
Those ugly dented fruits are just fine in preserves, but if you have some slightly underripe ones they'll work well too.
When you add sugar, it doesn't matter so much if they aren't perfectly sweet, and the less ripe fruits have more natural pectin to help thicken things up.
I add no pectin here. But I do let the fruit macerate in sugar over night and then simmer them with a vanilla bean and a splash of elderflower liqueur.
It's a loose style of preserves, with noticeable pieces of fruit remaining. If you prefer a thicker, more uniform jam, you can mash the fruit and cook it longer. It is also plenty sweet.
If you intend to pair it with dessert in, say, brown butter peach bars, you might want to cut down on the sugar.
Yield: about 5 cups
Peach Elderflower Vanilla Bean Preserves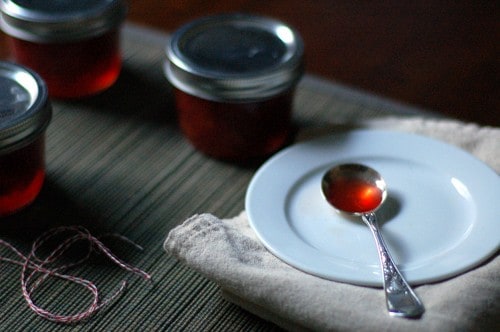 These preserves should be started at least eight hours before you want to make them, so I recommend prepping the fruit and allowing it to macerate overnight. You could, however, do it all in one day if you get an early start. They have a soft set, so don't expect them to be as stiff and thick as commercial varieties. If you like things less sweet, you could reduce the sugar by anywhere from a half cup to a cup and cook them longer. The less sugar you use, the softer the set is likely to be. You can store these in the refrigerator for several weeks, or you can process them in a water bath and store at room temperature for up to a year.
Total Time
8 hours
35 minutes
Ingredients
2 pounds of pitted, diced peaches
3 3/4 cups sugar
1 vanilla bean
1/4 cup St. Germain elderflower liqueur
juice of one lemon, about 2 tablespoons
Instructions
In a large nonreactive sauce pan, add peaches and sugar and cook over medium heat until the sugar is dissolved. Remove from heat, stir in the lemon juice. Transfer to a bowl (or other refrigerator friendly container), cover, and refrigerate overnight or for at least eight hours.
Wash canning jars in hot soapy water (or sterilize them in boiling water) and have them ready. Put a small plate into the freezer (this is for testing the set of the preserves).
Return the preserves to a heavy bottomed nonreactive sauce pan, slice the vanilla bean in half the long way and scrape out the seeds into the pan and add the scraped vanilla bean to the pan as well. Add the St. Germain and stir. Cook over medium-high heat, stirring constantly, until the preserves thicken, about 10 minutes. To test, drizzle a bit on the chilled plate. Allow it to cool for a minute, then run your finger through it. If the jam feels gel-like and holds the line, it's ready to go. If it drips back into the middle, cook it for a few minutes longer and test again. When set, remove from heat and ladle into jars. Store in the refrigerator or process in a water bath.
Recommended Products
As an Amazon Associate and member of other affiliate programs, I earn from qualifying purchases.
Nutrition Information:
Yield:
60
Serving Size:
1
Amount Per Serving:
Calories:

63
Total Fat:

0g
Saturated Fat:

0g
Trans Fat:

0g
Unsaturated Fat:

0g
Cholesterol:

0mg
Sodium:

0mg
Carbohydrates:

14g
Fiber:

0g
Sugar:

14g
Protein:

0g