I may earn from purchases through links in this post.
September is back.
And I find, still, that I miss school. I miss the stuff of it. It's been too many years since I've bought school supplies. No crisp clean notebooks, no colored pencils, no folders, no protractors, no scientific calculators. No Trapper Keepers.
There is hardly any Velcro in my life.
I miss the smell of crayons and loose leaf, I miss the sound of cutting construction paper and the tactile satisfaction that comes with peeling the dried translucent coating off the top of last year's bottle of glue.
I miss the feeling that I was about to embark on a new grand adventure and the feeling that this, oh, this would be my year.
Without the thrum of pencils scratching paper, the rustle of syllabi replete with goals and assignments and grading scales explaining in comprehensive detail what I need to do to be successful, I feel unmoored this time of year.
We always talk about new beginnings in January, about green shoots and renewal and cleaning in spring, but I feel freshest and most energized in early fall. (I wonder if I should have been born Jewish, with a calendar that sensibly locates the new year around this time…)
The older I get, the more value I find in simple concrete achievements. I come home after a day of work, during which I have not changed the world, have not fixed anything in a tangible way even if I have smoothed wrinkles, updated information, stetted and accepted copyedits, and pored over tables of statistics and tried to make sense of another corner of the planet.
I find myself wanting to hold something and feel the satisfaction that comes with being able to stare at a finished work and say "I made this."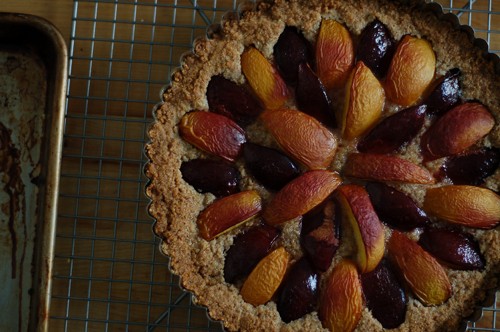 So. Here is a tart. I made it. It was good.
Very good, in fact. My gold star for September. My small new achievement. My plum nectarine almond tart.
I love plums in baked goods. They turn jammy and retain a hint of sour, like rhubarb or tart cherries do in spring and early summer, and like cranberries in late fall and winter (and any of those fruits, I think, would make good friends with this crust).
I think of plums as a transitional fruit. They are harbingers of apples and pears, and if we are lucky quinces, though they sit next to the last of the peaches and their smooth skinned brethren, nectarines.
Plums and nectarines look pretty together, no?
Purples and deep reds and oranges with yellows peeking through. Nectarines are bit tarter than peaches, making them a nice companion to plums and a pleasing foil to this sweet almond crust.
This tart is so lovely to look at. The payoff here for the amount of work is simply fantastic. This dessert is company-ready, but it is so much easier than pie. Really, it's as easy as crumble.
Whirl almond meal and flour and sugar and butter and baking powder in the food processor and press into a (well! greased!, ahem) tart pan with a removable bottom. Press alternating slices of plums and nectarines in concentric circles, and bake until the edges are a deep golden brown.
The outside gets crunchy like mandelbrot (or like biscotti, but not as hard), while the inside stays soft and rich and creamy very much like frangipane studded with tender nuggets of baked fruit.
This one is going into regular rotation.
Yield: 8 servings
Plum Nectarine Almond Tart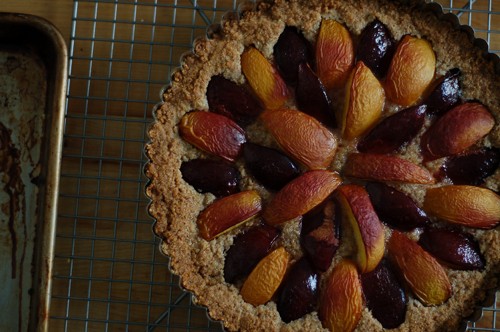 This rich nutty tart is incredibly easy to make. The crust is quite sweet, so look for plums and nectarines that are tart to balance the flavor. You can make this entirely with plums, as Alice does, or you could make it entirely with nectarines. I wouldn't substitute peaches here, as they would be too sweet and the skins unpleasantly fuzzy. I do think this would be lovely with rhubarb, tart cherries, or cranberries in other seasons though. Also, please note that this tart has far less butter than most, which means that you really need to grease the tart pan (I forgot to do this, and was forced to chisel the pieces from the pan, which wasn't quite the most elegant way to serve it…).
Total Time
1 hour
5 minutes
Ingredients
1/2 cup almond meal
3/4 cup sugar
1/2 teaspoon kosher salt
1/2 cup all purpose flour
1/4 cup whole wheat pastry flour
1/2 teaspoon baking powder
1 egg
3 tablespoons cold unsalted butter
4 small plums
3 medium nectarines
Instructions
Preheat oven to 375°F. Grease a 9 1/2 inch tart pan (with removable bottom) with butter or spray oil.
In a food processor, combine almond meal, sugar, flour, baking powder, and salt and pulse until well mixed. Cut the butter into several pieces, add to the food processor, and pulse a few times until the butter pieces are pea-sized. Add the egg, and pulse until the mixture is thoroughly moistened and has begun to clump together.
Press the almond mixture into the greased tart pan evenly along the bottom (but not up the sides).
Cut the plums into quarters and the nectarines into sixths. Press the fruit skin side up, alternating plums and nectarines, into the crust in concentric circles, leaving a half inch border around the edge of the pan (this will puff up and become the side crust). You may have a few slices of nectarine left over.
Set tart pan on a baking sheet, and bake for 45-50 minutes, or until the edges are deep golden brown and the almond mixture peeking out around the fruit in the center looks puffed.
Cool on a rack for about 10 minutes, then carefully loosen the rim of the pan. Allow to cool fully. Serve at room temperature.
Recommended Products
As an Amazon Associate and member of other affiliate programs, I earn from qualifying purchases.
Nutrition Information:
Yield:
8
Serving Size:
1
Amount Per Serving:
Calories:

341
Total Fat:

11g
Saturated Fat:

4g
Trans Fat:

0g
Unsaturated Fat:

6g
Cholesterol:

40mg
Sodium:

209mg
Carbohydrates:

56g
Fiber:

4g
Sugar:

28g
Protein:

7g