I may earn from purchases through links in this post.
There's something about this meal that is just so honest.
It isn't flashy. Or even particularly pretty. It is eggplant, slumped and simmered. Simple.
Weeknights beg for meals like this. For things you can set on the stove while you relax and open a bottle of not-too-expensive red wine while you pad around the apartment in bare feet.
A meal that relaxes into itself, like a comfy old t-shirt. It isn't the sort of thing you put on for company, but it is the sort of thing you keep around for when you are tired and don't want to think about it anymore.
Eggplant isn't always easy. It can be bitter and seedy and stringy. I get why people don't like it. It isn't always my favorite either.
But this is a sauce that plays to the strengths of the unassuming aubergine. Chunks of eggplant melt down in the pan absorbing the flavors of garlic and red pepper flakes and thyme.
Bits of sun dried tomato punctuate the mellow sauce with intense pops of flavor, and a chiffonade of fresh basil enlivens the gray with dots of bright green.
Tossed with whole wheat linguine, the sauce feels sturdy and nourishing, comfortable and relaxed. Complete unto itself, it doesn't even need a grating of parmigiano. This eggplant pasta holds up well for a few days in the refrigerator, and makes a respectable work lunch to boot.
For the record, I should add that Dan wasn't crazy about this. He said it wasn't bad but it wasn't really his thing either, so perhaps this won't win over every eggplant skeptic. Oh well, more for me I guess.
Yield: 4 servings
Simple Eggplant Linguine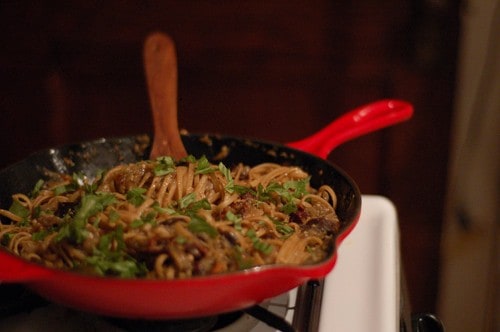 The best eggplants tend to be the freshest eggplants, so if you can get them at the farmers market or a store with high turnover you can improve your odds of avoiding bitter ones. I tend to have better luck with smaller eggplants than larger ones. If you do end up with bitter eggplants, you can toss in a little sugar or honey or an extra glug of olive oil to round out the flavor. This dish takes about thirty minutes from start to finish, which makes it a great weeknight meal.
Ingredients
1 pound eggplant cut into half-inch chunks
1/4 cup extra virgin olive oil
3 cloves garlic, peeled and lightly smashed
1/2 teaspoon dried thyme
1/4 teaspoon red pepper flakes
4-6 sun dried tomatoes, not the oil packed variety
small handful fresh basil
1 cup water
salt
8 ounces whole wheat linguine, any other long pasta is fine
Instructions
Soak your sun dried tomatoes in a cup of water for about 10 minutes or until soft and pliable. Drain the tomatoes over a small bowl to reserve the liquid. Dice the tomatoes and set aside. Salt your eggplant and let it sit for about 5 minutes. Meanwhile, put a large saute pan on the stove over medium-low heat and add the olive oil, garlic, thyme and red pepper flakes.
When the garlic is fragrant and starting to show a hint of color, add the eggplant and turn up the heat to medium. After a few minutes, when the eggplant begins to turn translucent, add the reserved water from the sun dried tomatoes. Bring to a boil, then turn the heat down so the water is simmering, and cover, but leave an opening for steam to escape. Let the eggplant cook for about 20 minutes, until soft, stirring occasionally.
Put a big pot of water onto boil for pasta.
When most of the water is absorbed and the eggplant is soft, mash it together with a fork or a wooden spoon until no big chunks remain. Add the sun dried tomates and stir.
Cook and drain your pasta, and add it to the sauce. Chiffonade the basil and add it to the pasta.
Serve immediately.
Recommended Products
As an Amazon Associate and member of other affiliate programs, I earn from qualifying purchases.
Nutrition Information:
Yield:
4
Serving Size:
1
Amount Per Serving:
Calories:

491
Total Fat:

19g
Saturated Fat:

2g
Trans Fat:

0g
Unsaturated Fat:

15g
Cholesterol:

0mg
Sodium:

155mg
Carbohydrates:

71g
Fiber:

11g
Sugar:

5g
Protein:

14g