I may earn from purchases through links in this post.
The market has been full of beautiful peppers. The usual bell peppers in red, orange, yellow and green, jalapeños, Hungarian wax, Trinidadian perfume, poblanos, and fiery habañeros.
They are bright and inviting, but to be honest, I hardly know what to do with most of them.
Oh, I use bell peppers in all sorts of ways, and I throw jalapeños and serranos into salsas and guacamoles, and I use the occasional Thai bird chile in a stir fry (and I've even gotten reasonably adept at what to do with the dried varieties, but that's another story).
But there is a vast world of chiles and peppers I've never cooked with. I've optimistically brought home baskets of them only to find shriveled specimens lying sadly in the bottom of the refrigerator a few weeks later.
But this year I was determined to expand my pepper universe, at least a little.
And when I came across Melissa Clark's recipe for a hot sauce based on Sriracha, I knew I had to give a go. I returned from the farmers market armed with habañeros and red bell peppers and a bulb of New York white garlic and went to work.
It was surprisingly easy (I don't know why I imagined it would be difficult…). After about ten minutes of chopping and ten minutes of cooking (and several days of resting) I had two lovely little jars of fiery orange-red sauce.
This stuff packs a wallop. It is, to my tastebuds at least, significantly hotter than Sriracha. But it is also brighter and more complex.
Next time, I might leave out the habañero seeds for something a little tamer. But heat fiends will love it as is. And since it keeps for a long long time in the refrigerator, I can enjoy it in small quantities without worrying that it will go to waste.
Yield: 2 cups
Garlic Habañero Hot Sauce (Homemade Sriracha)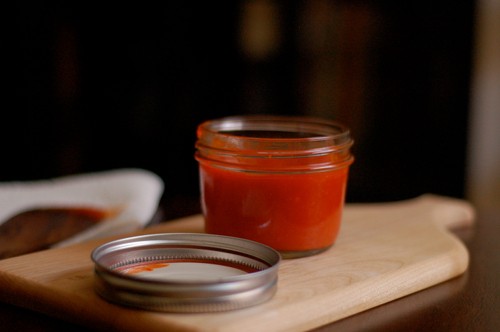 It is a good idea to use a pair of latex gloves when handling peppers this hot, and avoid inhaling the fumes when the peppers are cooking. This hot sauce is spicier than the Sriracha that inspired it, so use start small when adding it to a dish–you can always add more later. Those looking for a slightly tamer hot sauce should remove the seeds and white parts of the habañeros before adding them to the sauce pan.
Total Time
7 days
25 minutes
Ingredients
4 habañeros
2 medium red bell peppers
5 cloves of garlic
3/4 cup white vinegar
1 teaspoon kosher or sea salt
Instructions
Roughly chop the bell peppers and garlic. Wearing latex gloves, chop the habañeros. Remove the seeds for a moderately hot sauce, leave them in if you like things extra hot.
In a medium nonreactive sauce pan with a lid, add the peppers, garlic, and white vinegar. Bring to a boil (take care not to inhale the fumes), turn heat down to low, cover, and simmer for about 10 minutes or until peppers are pierced easily with a knife.
Remove from heat, stir in salt, and puree with an immersion blender (or in a standard blender). Pour into two 8-ounce jars or one 16-ounce jar. Allow to cool before covering. Chill in the refrigerator for a week before using.
Keeps for months in the refrigerator.
Recommended Products
As an Amazon Associate and member of other affiliate programs, I earn from qualifying purchases.
Nutrition Information:
Yield:
48
Serving Size:
1
Amount Per Serving:
Calories:

4
Total Fat:

0g
Saturated Fat:

0g
Trans Fat:

0g
Unsaturated Fat:

0g
Cholesterol:

0mg
Sodium:

45mg
Carbohydrates:

1g
Fiber:

0g
Sugar:

0g
Protein:

0g