I may earn from purchases through links in this post.
It's easy to get into a rut with salads. I can find myself tossing the same greens and chopped vegetables and dressing together over and over again.
It's fine. But it's boring.
But it doesn't have to be that way. One way to break out of a salad rut is with a new vinaigrette.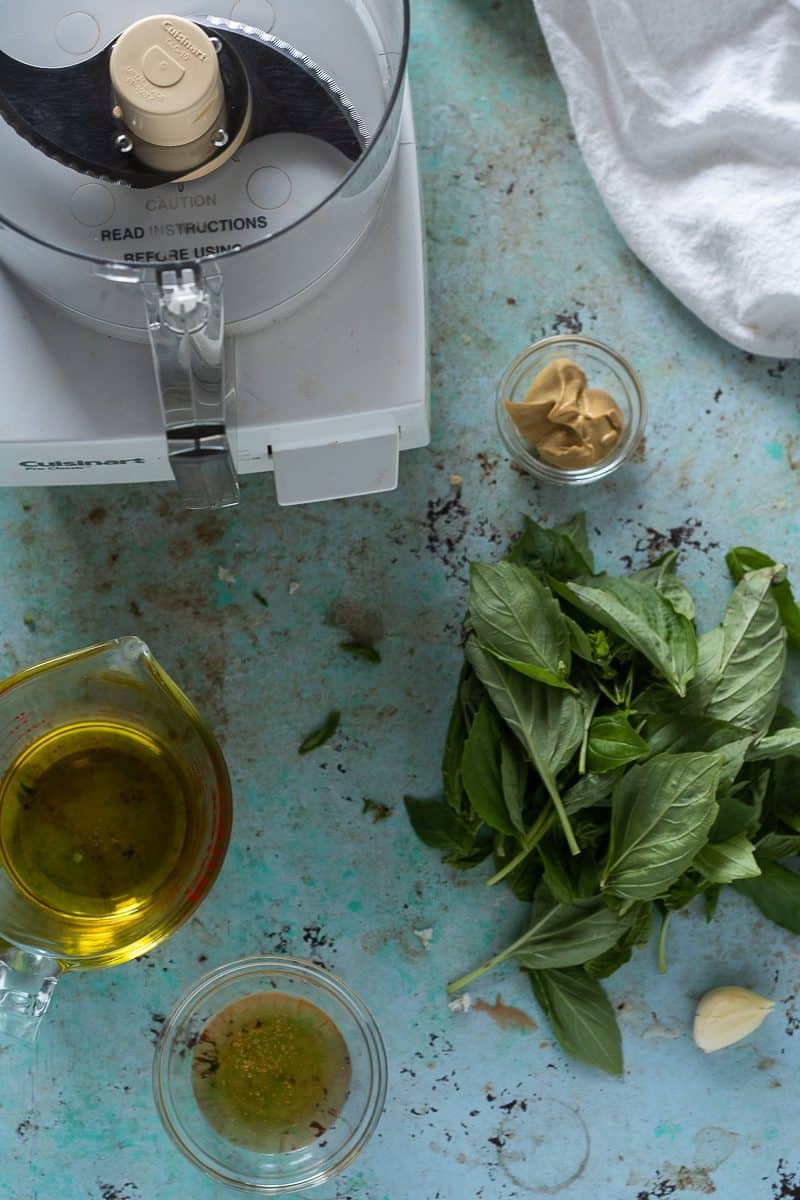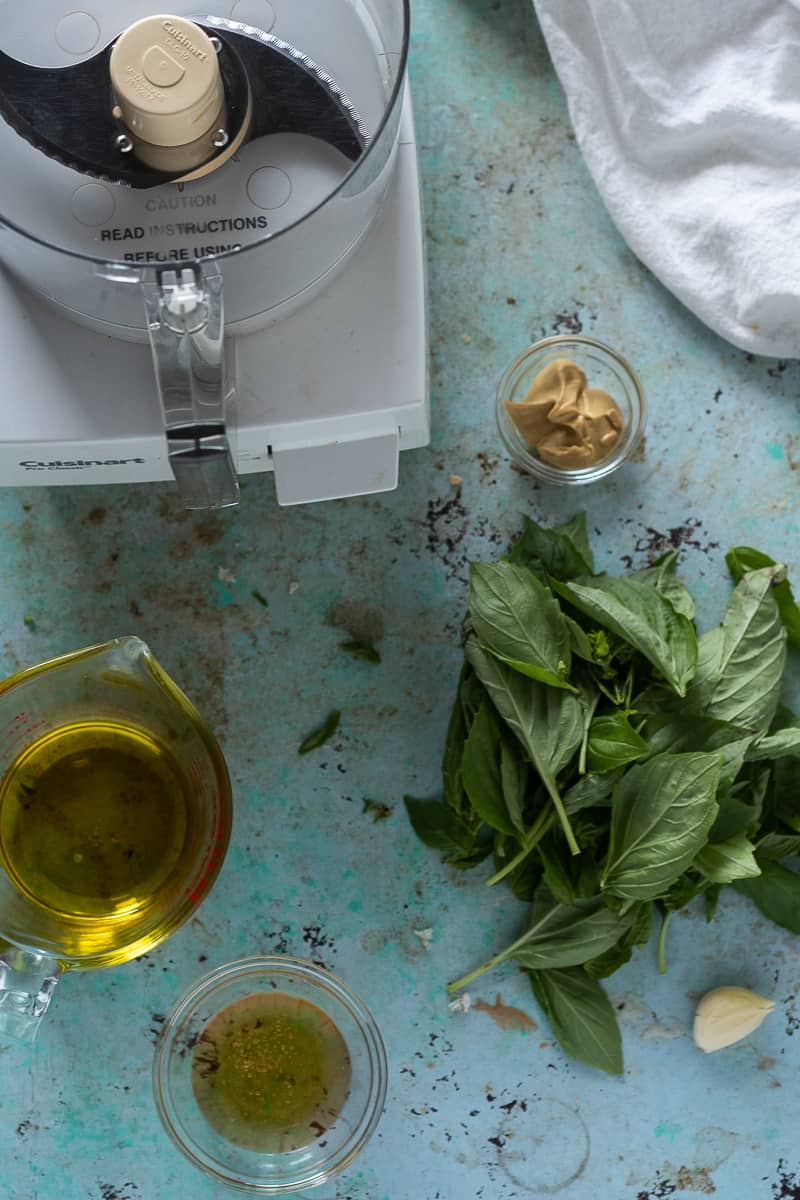 This basil vinaigrette is a great weapon to have in your salad arsenal. It's so bright and fresh and herbaceous and intensely green.
When I have a big pile of basil around, I tend to turn it into pesto. And I love pesto (I even love it with other herbs like in this dill, parsley, and walnut pesto). But all the cheese and nuts mute the herb's flavor.
(I also love throw a pile of basil into this peanut sauce with basil and coconut milk.)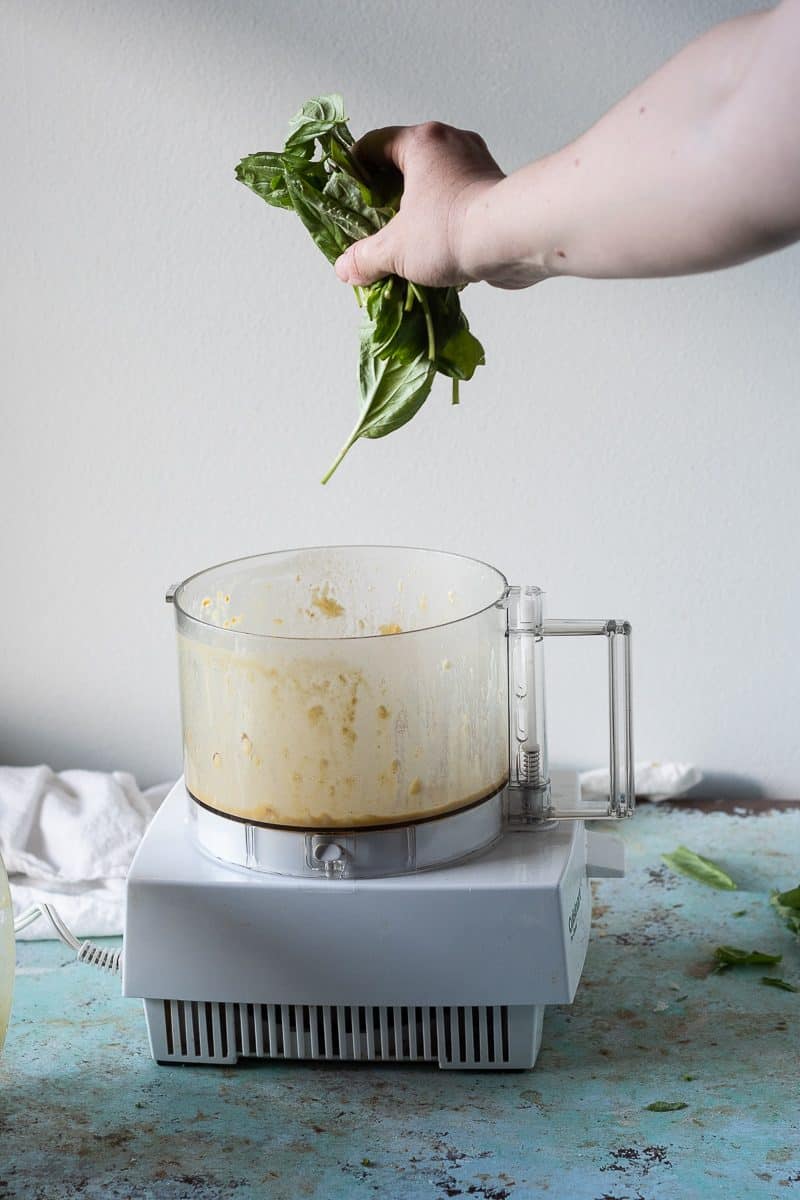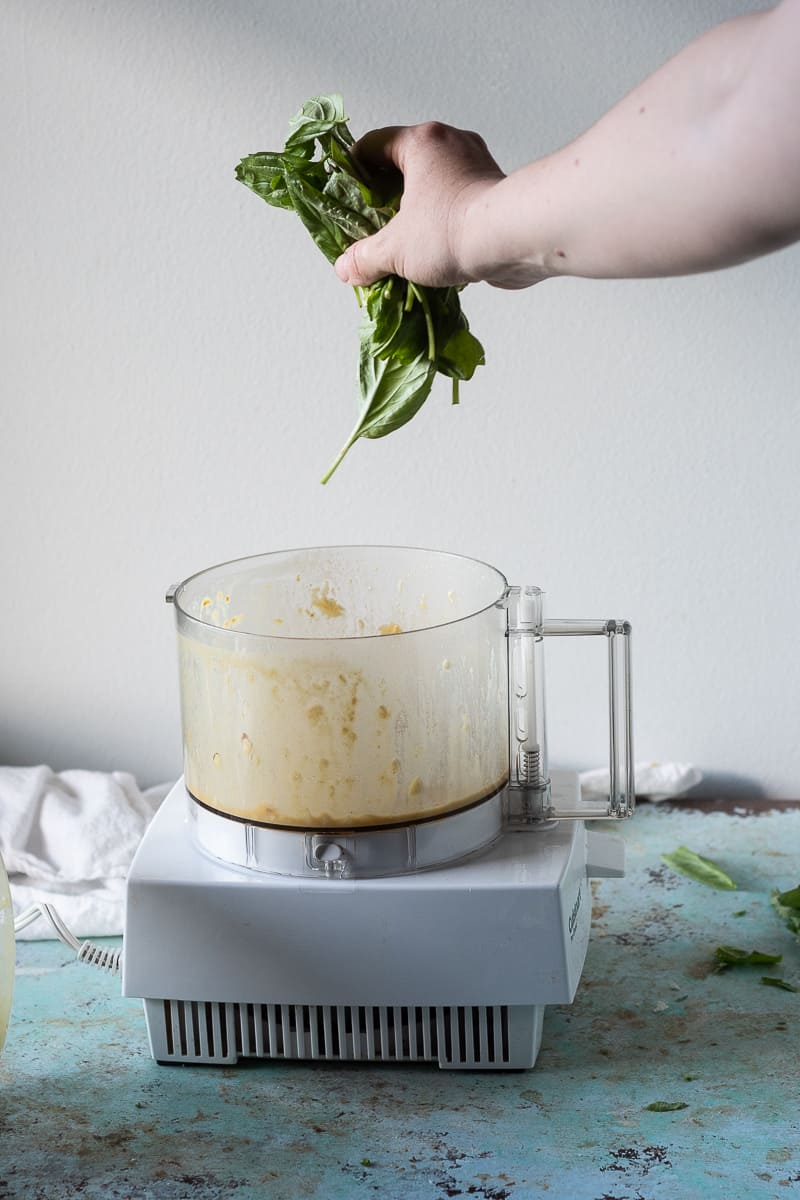 Here, the basil gets zizzed up with a bit of garlic and kicky Dijon mustard and brightened with champagne vinegar.
The generous dose of acidity makes the basil come alive in a way that feels fresh and zingy and new.
Olive oil helps to smooth the rough edges, but it doesn't smother the acid here.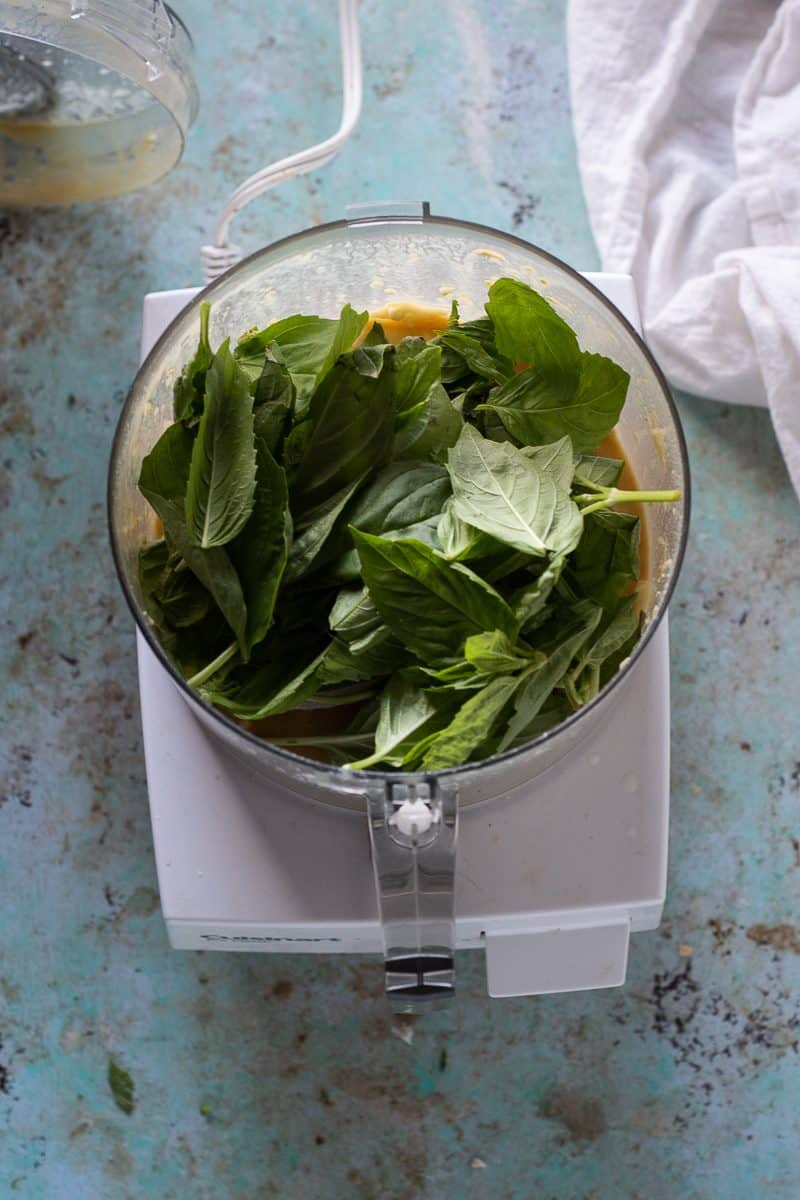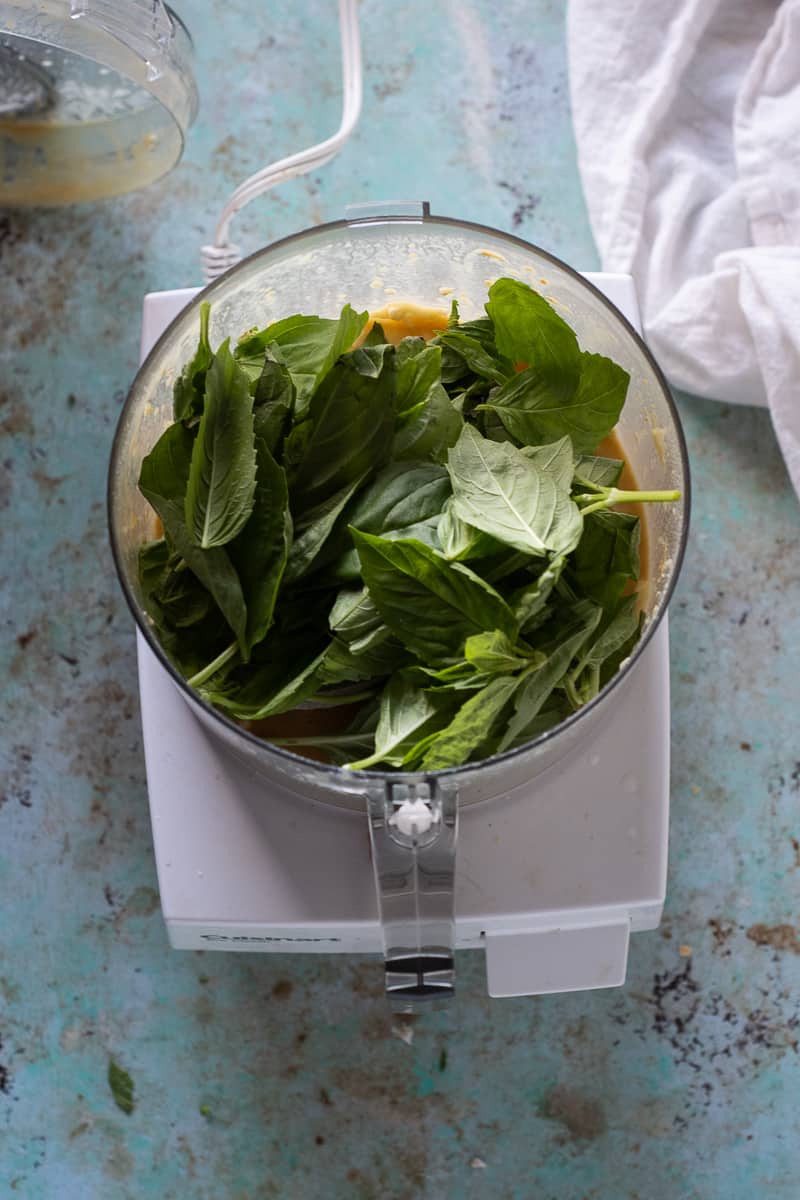 And it's a snap to make, at least if you have food processor. (You could also make it with a stand or immersion blender, though I slightly prefer the rougher puree of the basil leaves that happens in a food processor.)
It's just a matter of tossing in the ingredients and zizzing everything a for a matter of seconds.
And it keeps in the refrigerator for about a week, so you can prep it once and be ready for leveled-up salads for days.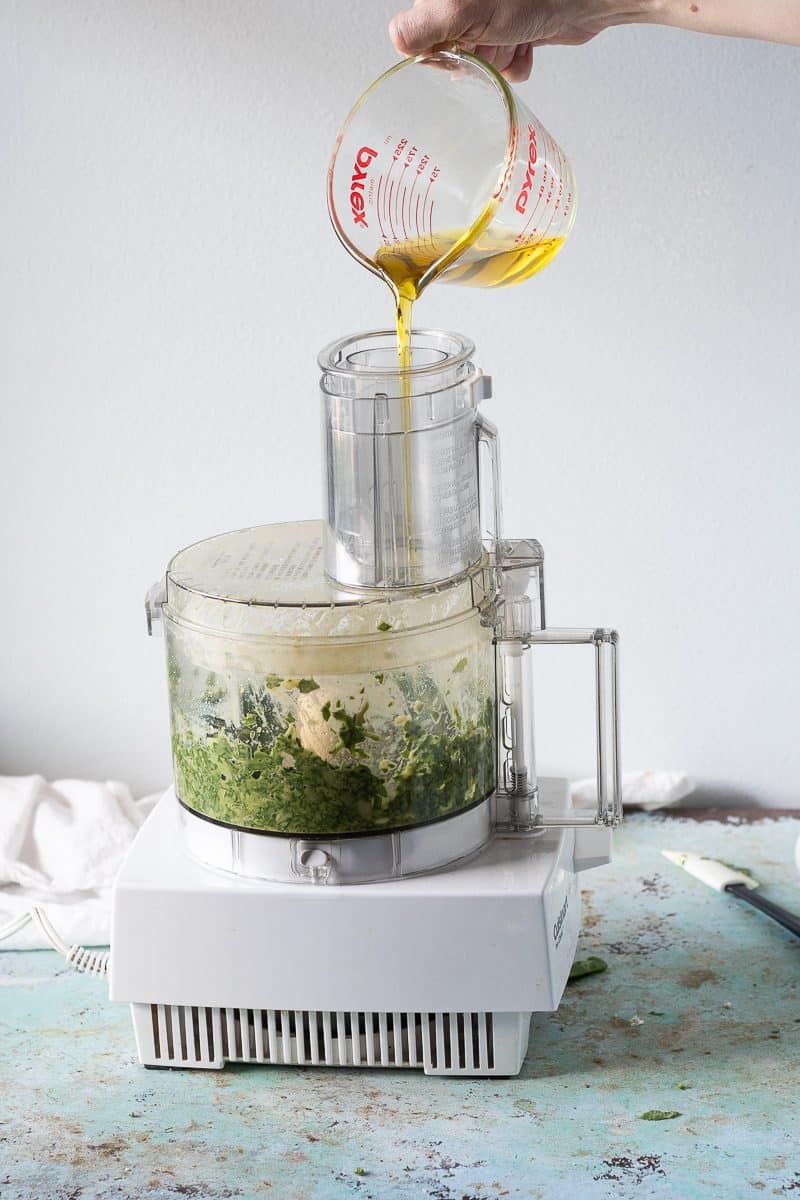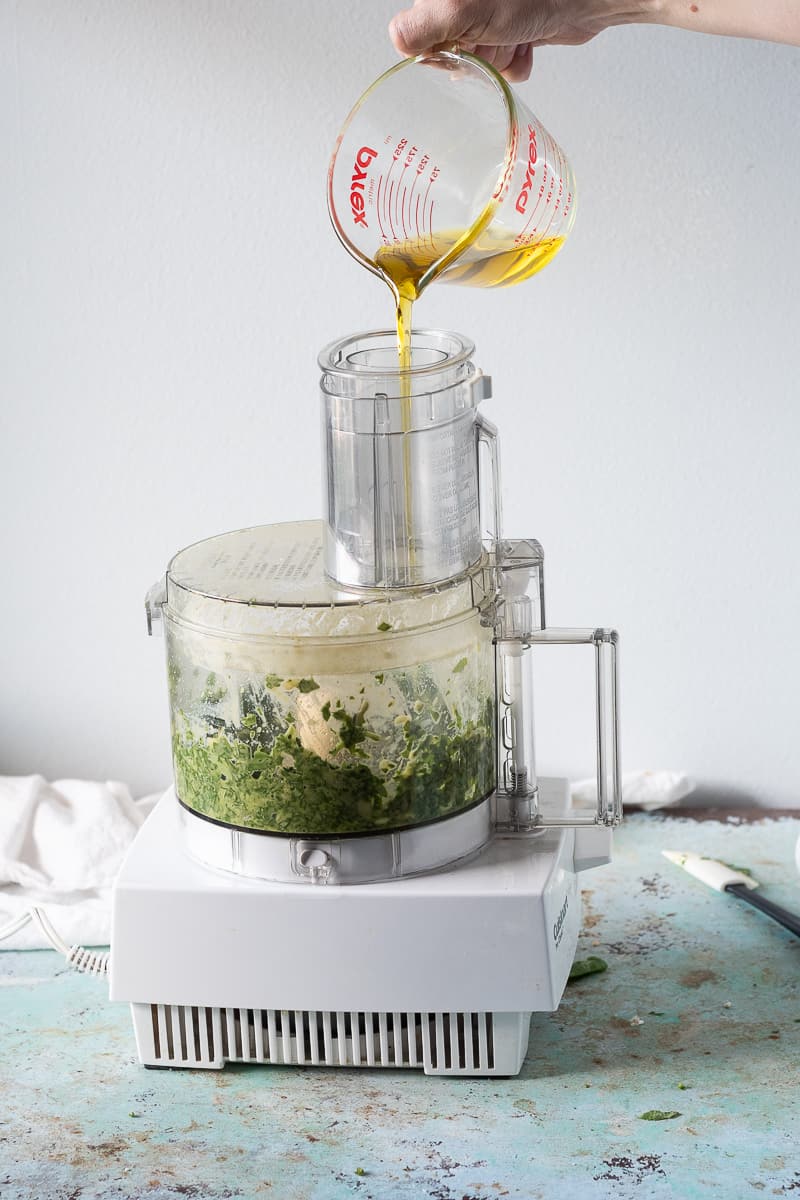 I've written about a version of this basil vinaigrette before, with this tomato cucumber salad, but I've tweaked it a bit since then. I used to make it with red wine vinegar, but I've discovered I generally prefer the way that crisp champagne vinegar plays with verdant basil.
And this is so good that I think it deserves attention all for itself. (And I'd hate to think someone was missing out on it just because fresh tomatoes or cucumbers aren't their thing).
It's a versatile dressing.
It plays beautifully, of course, with tomatoes.
But it's also excellent on just about any simple green salad.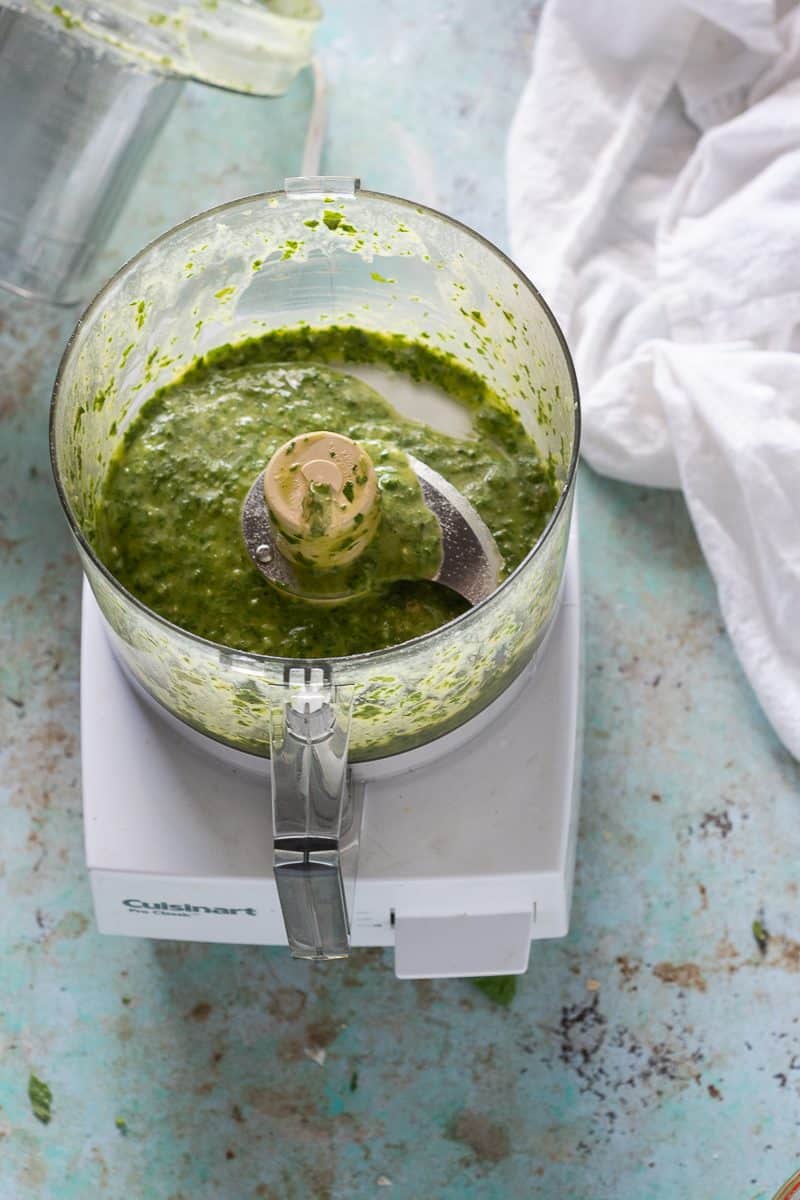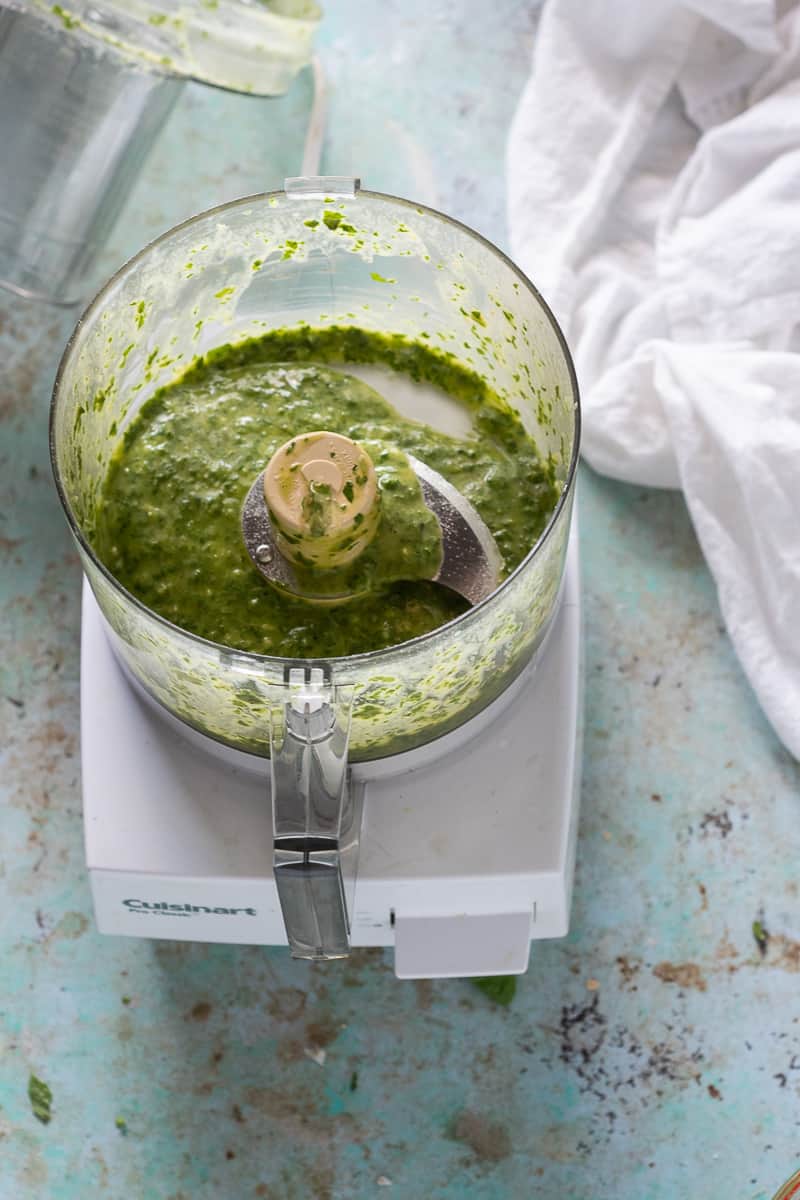 It would be lovely with just about any mix of summer vegetables.
You could drizzle it over shaved zucchini, toss it with fresh corn that's been sheared off the cob, grill slices of eggplant or trimmed green beans and plunk them in this vinaigrette for a soak.
I'd also consider it as an alternative dressing for this lemon balsamic grilled chicken or as a way to top these quinoa cakes.
The possibilities are pretty much endless. You'll thank yourself for making this one.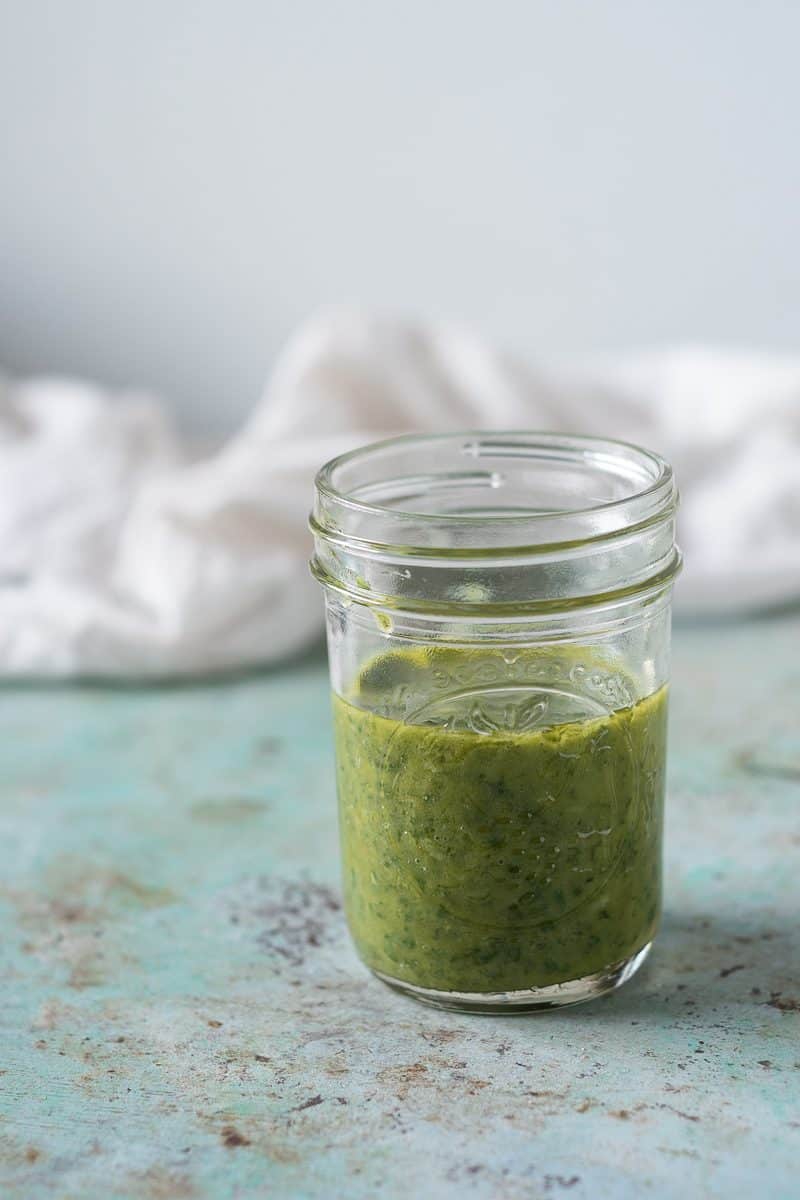 Yield: about 2/3 cup
Basil Vinaigrette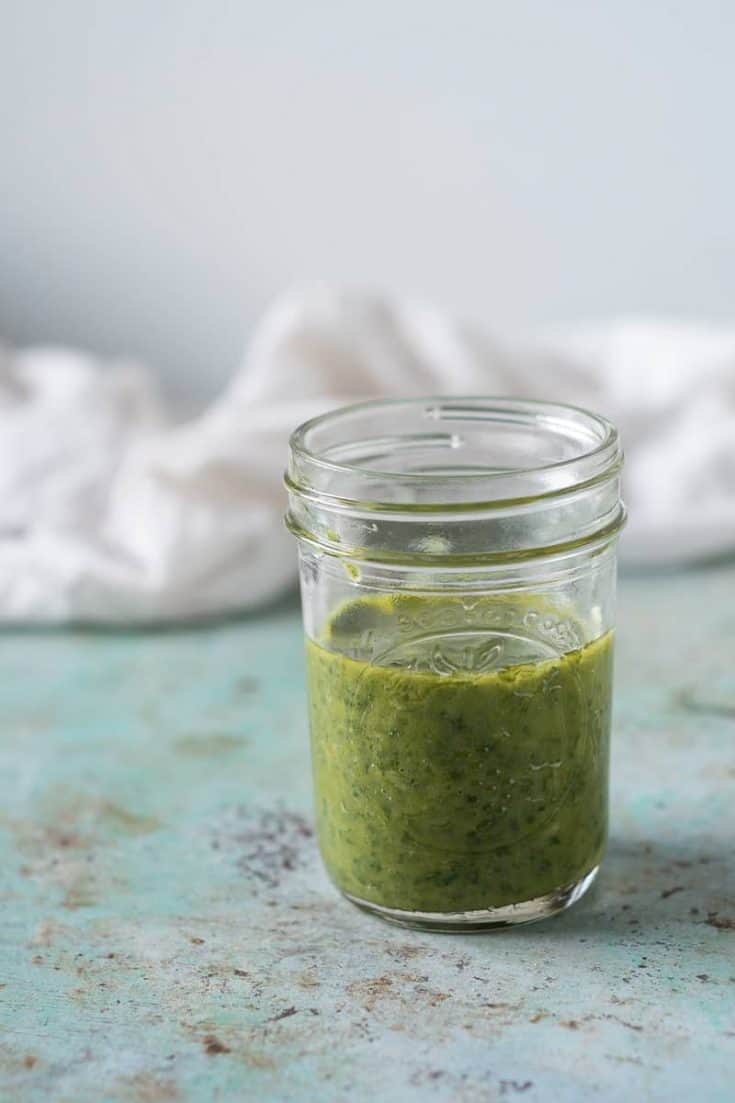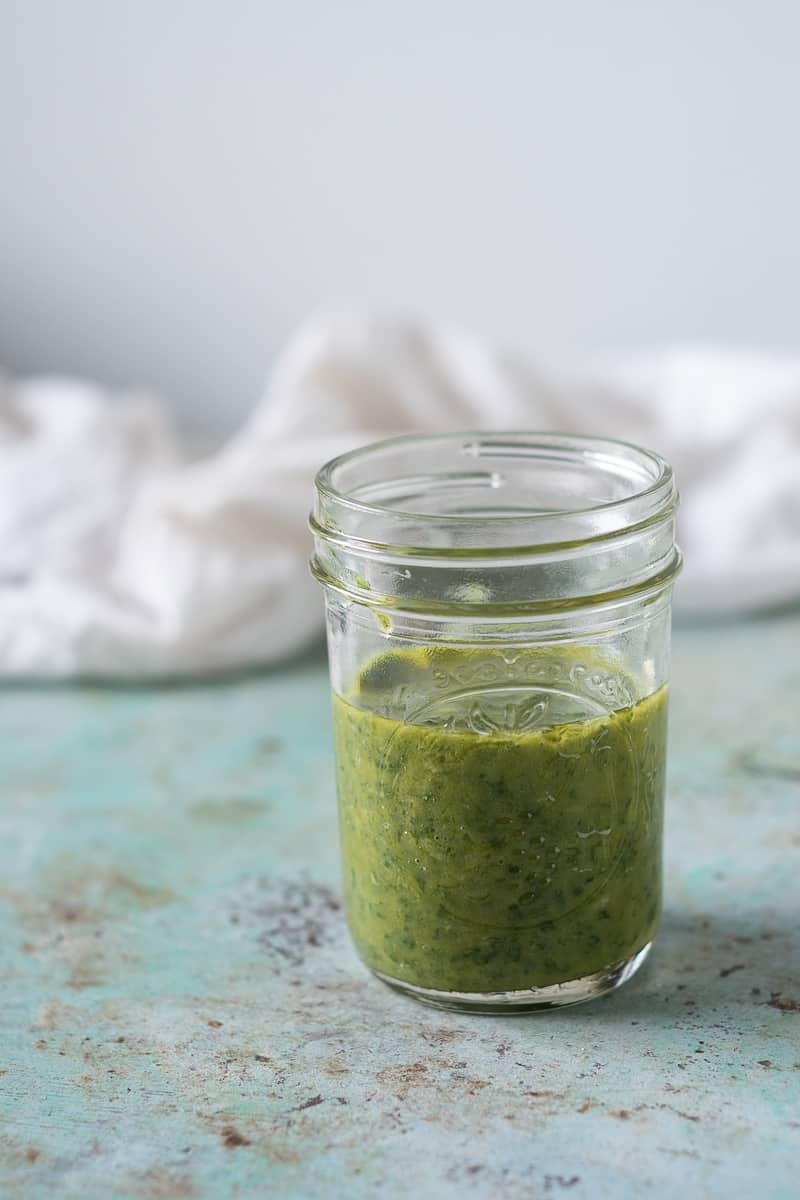 This basil vinaigrette is crisp and fresh and bright and zingy. It has a plenty of acidity from the champagne vinegar and some bite from the garlic and Dijon mustard. The honey and extra virgin olive oil help to round out the flavor with a bit of sweetness and fat. It's great with a simple green salad, on tomatoes, or just about any summer vegetables. It's best made in a food processor, but a blender will work, too.
Ingredients
1 clove garlic, peeled
2 tablespoons champagne vinegar
1 tablespoon honey
2 teaspoons Dijon mustard
A big handful (about 1 1/2 cups) basil leaves
1/3 cup extra virgin olive oil
1/4 teaspoon kosher salt
Instructions
Add the garlic, vinegar, honey, and Dijon mustard to a food processor or blender and pulse until the garlic is roughly chopped.
Add the basil and pulse until the leaves are in small pieces. Scrape down the sides.
With the processor running, slowly drizzle in the olive oil.
Stir in the salt. Transfer to a jar and store in the refrigerator.
Notes
Keeps in the refrigerator for about a week.
Recommended Products
As an Amazon Associate and member of other affiliate programs, I earn from qualifying purchases.
Nutrition Information:
Yield:
12
Serving Size:
1
Amount Per Serving:
Calories:

59
Total Fat:

6g
Saturated Fat:

1g
Trans Fat:

0g
Unsaturated Fat:

5g
Cholesterol:

0mg
Sodium:

67mg
Carbohydrates:

2g
Fiber:

0g
Sugar:

1g
Protein:

0g