I may earn from purchases through links in this post.
When I hear the words quinoa cake, I'm skeptical. They sound so earnest. So healthful. And sort of like they would be a pain in the ass to make.
If I hadn't tasted these at a chef demonstration by John Chiakulas of Beatrix at the Green City Market and discovered first hand just how freaking delicious they are, I likely never would have made them.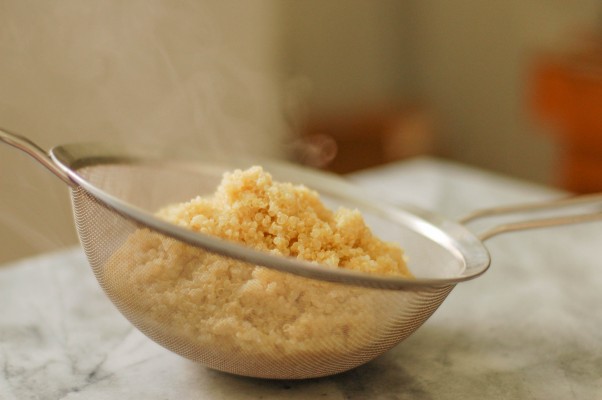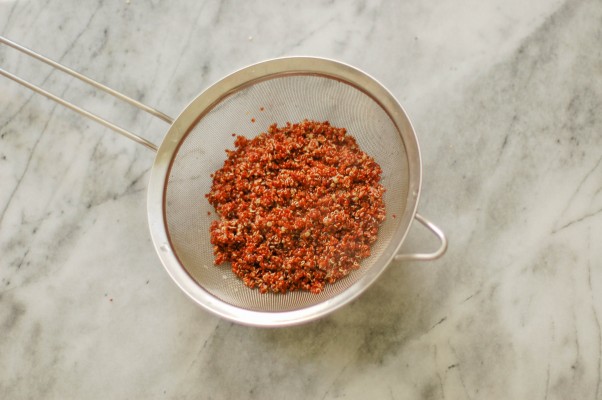 So many vegetable and grain fritters or croquettes are dense and heavy and have a tendency to fall apart, but it turns out quinoa might be the ideal grain (well, technically, grass) for this treatment.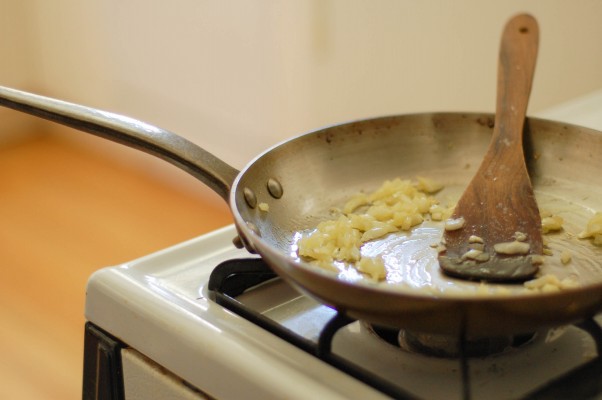 These cakes get crisp on the outside and have an almost bouncy, toothsome texture in the middle.
The blend of the softer white quinoa with the firmer, almost seed-like red quinoa provides structural support and textural variation to these cakes.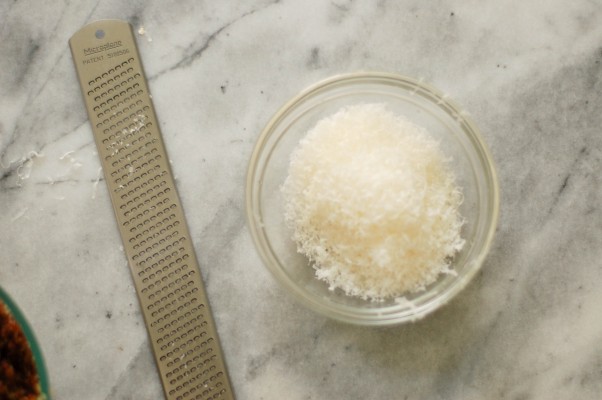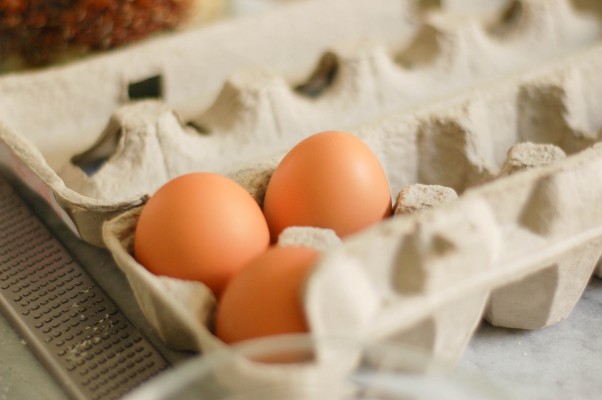 They're savory from bits of sautéed onion and garlic, and they're held together with a couple of beaten eggs, a bit of parmesan cheese, and a little bit of rice flour.
They hold together pretty well in the pan if you let them fully cook on one side before you try to flip them.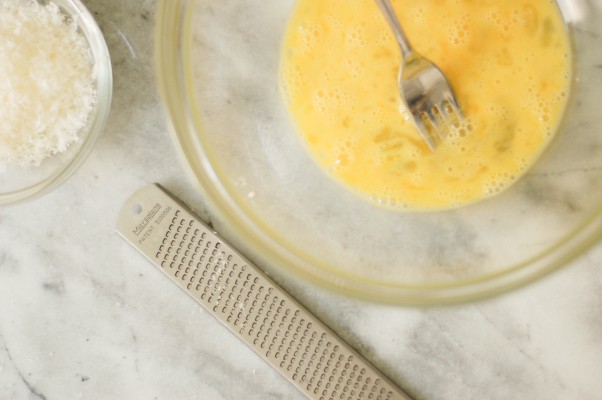 Like when making pancakes, you might need to sacrifice the first one as you get the timing and the temperature of the pan right, but you'll get the hang of it after you cook a couple of them.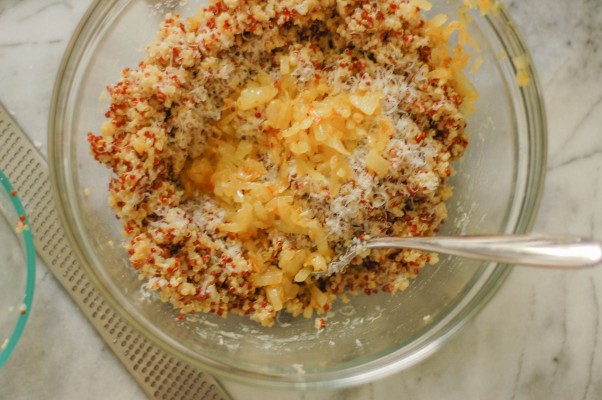 These particular quinoa cakes are topped with lightly sautéed asparagus and oyster mushrooms and a sprinkle of feta and soft herbs, because those happen to be in season and plentiful right now, but I could imagine topping them with just about anything. Chef Chiakulas said that at the restaurant they change the topping every few weeks or so.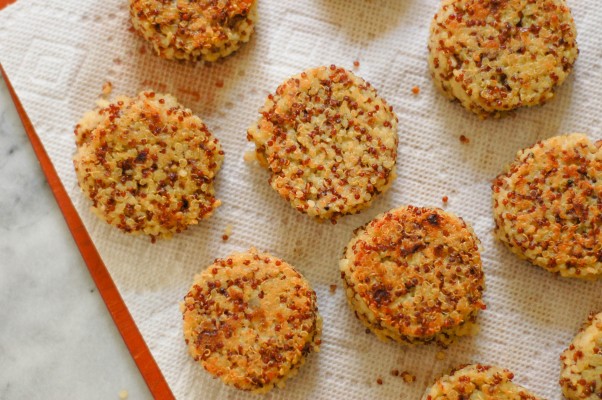 They could be made half-size and make wonderful appetizers for a party. The flavor base is fairly neutral and could be taken in many different directions.
They could be topped with cucumber and tzatziki or shaved carrots and harissa and tahini or roasted cauliflower and romesco sauce or just about any vegetable you like sautéed in olive oil with a little garlic and a sprinkling of cheese and herbs. Or they could be topped with wilted greens and a poached egg for an incredible breakfast.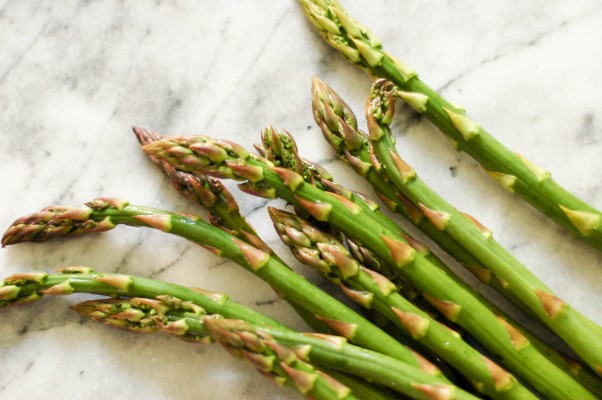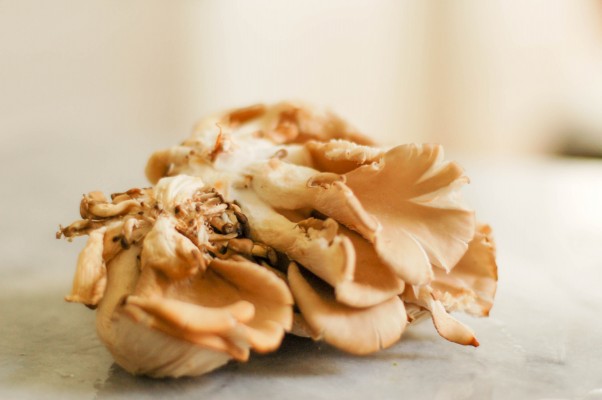 I can already tell I'll be making these again and again. Dan said these might be his favorite quinoa preparation ever. It might be mine too. (Although this ginger scallion quinoa with roasted root vegetables is definitely also in the running.)
I'm guessing it will be up there for you, too.
Yield: 12 quinoa cakes
Quinoa Cakes with Asparagus and Mushrooms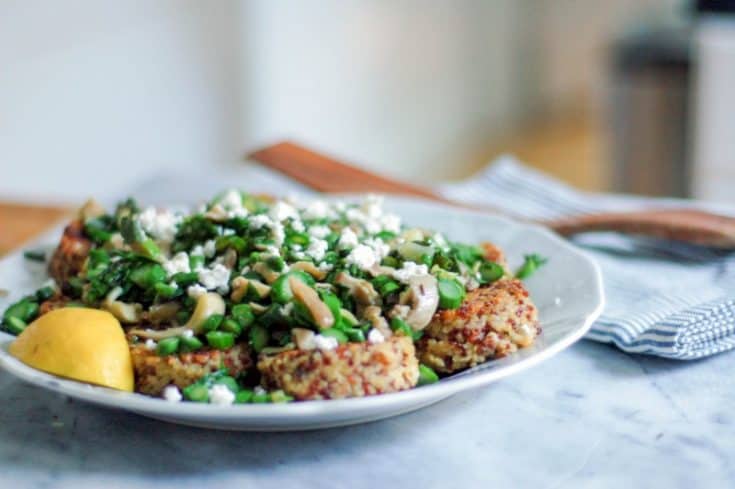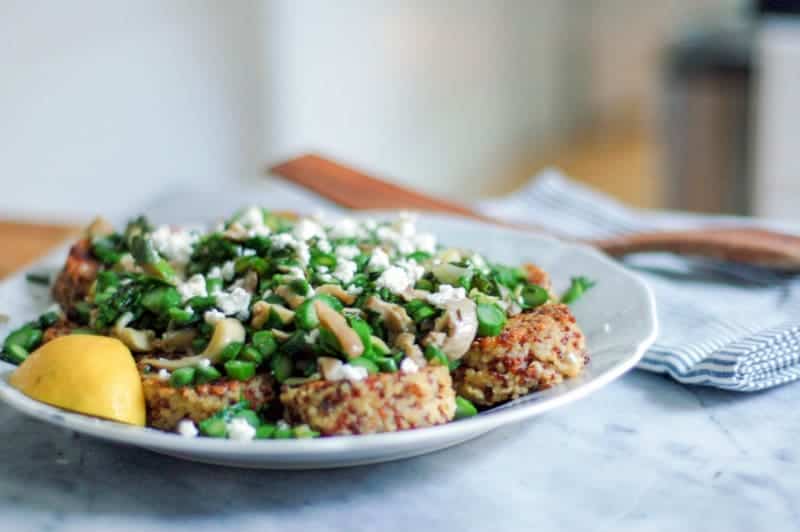 These quinoa cakes are great for a light meal, and if you make them smaller, they would make great appetizers (think plant-based crab cakes). I plan to make these for breakfast topped with a poached egg. The two kinds of quinoa make for pretty presentation, but they also improve the textural balance. You could make these with all white quinoa if you don't have red quinoa. I wouldn't make them with all red quinoa, which I think would be too seedy. You could make the quinoa cakes ahead of time and reheat them briefly in the oven before serving or serve them at room temperature. Top them just before serving.
Ingredients
Quinoa cakes
2 cups cooked white quinoa (from about 2/3 cup dry)
1 cup cooked red quinoa (from about 1/3 cup dry)
1/4 medium yellow onion, minced
1-2 cloves garlic, minced
2 eggs, beaten
1/3 cup grated parmesan cheese
2 tablespoons rice flour
1 teaspoon kosher salt
Asparagus and Mushroom topping
1 pound asparagus
8 ounces mushrooms, (I used oyster mushrooms but cremini or hedgehog or other mushroom varieties would be good too)
2 spring onions, or 1 leek
2 tablespoons extra virgin olive oil
a small handful of fresh herbs, (such as parsley, tarragon, or basil), stems removed and chopped coarsely
1 ounce feta, crumbled
salt and pepper, for seasoning
wedge of lemon, for seasoning
Instructions
Heat a bit of olive oil a skillet over medium heat add onions and garlic and sauté until light golden and tender. Let cool.
In a large mixing bowl, beat the eggs. Add the cooked quinoa (both kinds), the cooked onions and garlic, parmesan cheese, rice flour, and kosher salt and mix until well combined. Let the mixture rest for at least 10 minutes.
Heat a bit of olive oil in a large skillet over medium heat. Firmly pack some of the quinoa mixture into a 1/4 cup measure to form a cake. Really pack it in there–you want it to come out in one piece. Invert the measuring cup and gently shake out the formed cake into your hand. (If it falls apart, pack it back in, tighter if possible, and try again.) Gently place into the skillet. Sauté until golden brown on the first side, about 5 minutes, and carefully flip over and cook on the other side until that side is golden brown and the cake is cooked through. Transfer to a serving plate. Once you have the hang of it, form more cakes and add them to the skillet, leaving enough space in between to allow for maneuvering with your turner. Repeat until all of the mixture is used up and all of the quinoa cakes are cooked.
Prepare the asparagus. Rinse under cold water to remove any grit. Trim off the woody bottoms and discard. Thinly slice the stalks on the bias. Clean the mushrooms and slice into bite-sized pieces. Clean the spring onions, trim off the root and any parts of the top that look dry or wilted. Thinly slice both white and green parts (if using a leek, use only the white part).
Heat olive oil in a large skillet. Add the onions (or leek) and sauté until pale golden. Add the asparagus and a pinch of salt. Sauté for 1-2 minutes, then add the mushrooms and sauté for an addition 1-2 minutes. Add the herbs. Taste to see if it needs more salt or pepper. Spoon over the quinoa cakes. Sprinkle with crumbled feta and squeeze the lemon wedge over the top. Serve.
Recommended Products
As an Amazon Associate and member of other affiliate programs, I earn from qualifying purchases.
Nutrition Information:
Yield:
4
Serving Size:
1
Amount Per Serving:
Calories:

304
Total Fat:

15g
Saturated Fat:

4g
Trans Fat:

0g
Unsaturated Fat:

9g
Cholesterol:

106mg
Sodium:

1075mg
Carbohydrates:

32g
Fiber:

7g
Sugar:

6g
Protein:

15g