I may earn from purchases through links in this post.
I still remember the first time I had quinoa. I was in college, and I had seen Sara Moulton use it on her show on the Food Network. I was trying to eat healthier, and I was intrigued by this plant-based complete protein.
I remember hunting it down, thinking it was on the expensive side for someone on a student budget, and then I remember tasting it–and being so disappointed.
It wasn't that it was bad, exactly. But it was bland. And faintly bitter. It seemed to me that it had many of the cliched characteristics of health food.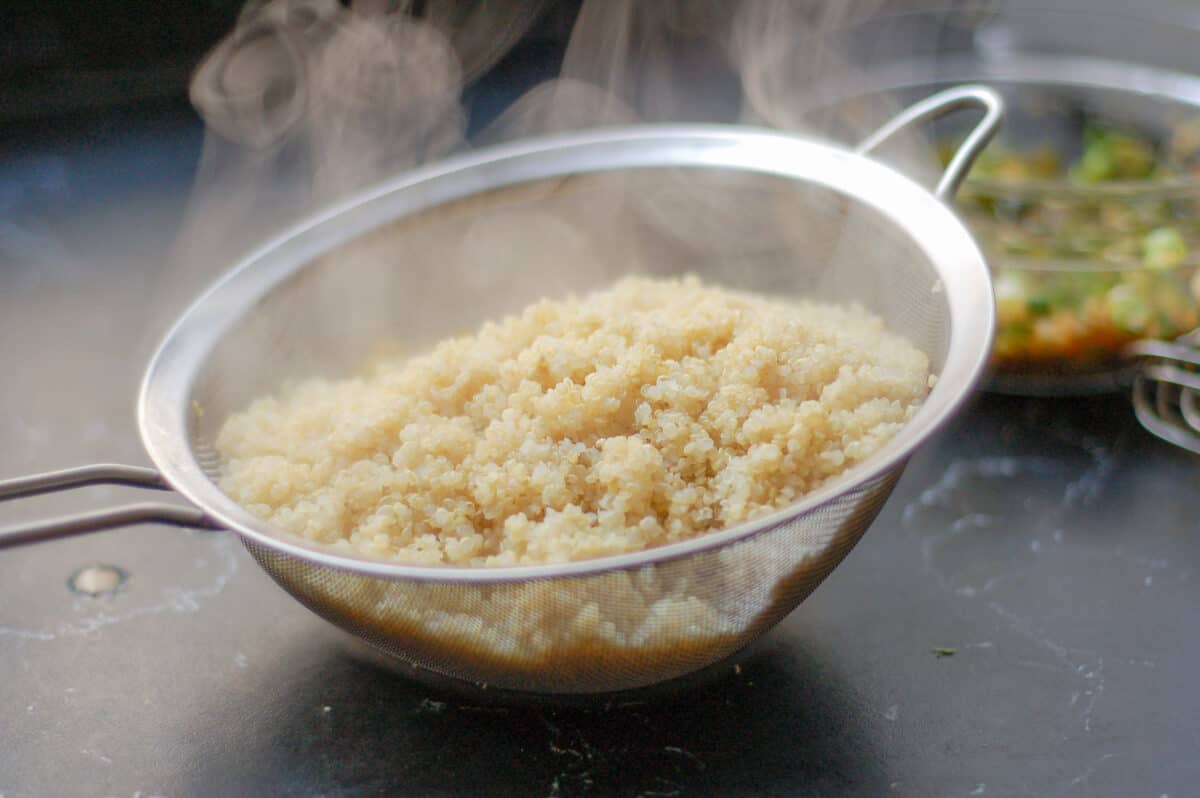 It seemed like the sort of thing you would only eat because it was good for you, not because it tasted good.
I didn't bother with quinoa for a few years after that.
It wasn't until I started reading Heidi Swanson's blog that I gave it another shot. It was from her that I learned that quinoa could serve as a great canvas for bold flavors.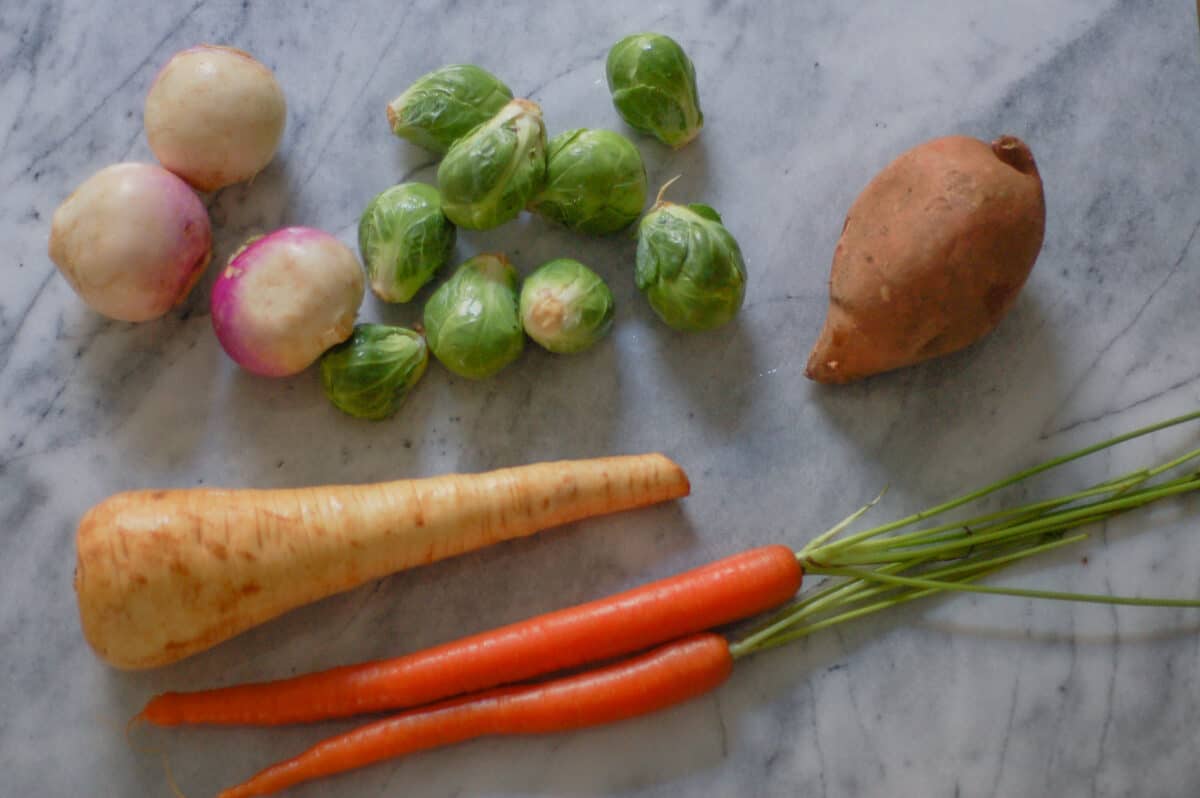 I slowly figured out that I liked quinoa when it was paired with something strong enough to carry the dish.
I learned to think of quinoa as more of a textural ingredient than a flavor in and of itself. And it turns out it's a nubbly, light texture I really like.
I've learned that I especially love quinoa when it's paired with Asian flavors. It's great with a riot of hot and sour and salty and sweet notes.
It doesn't get in the way of those bright flavors, and it feels lighter than rice.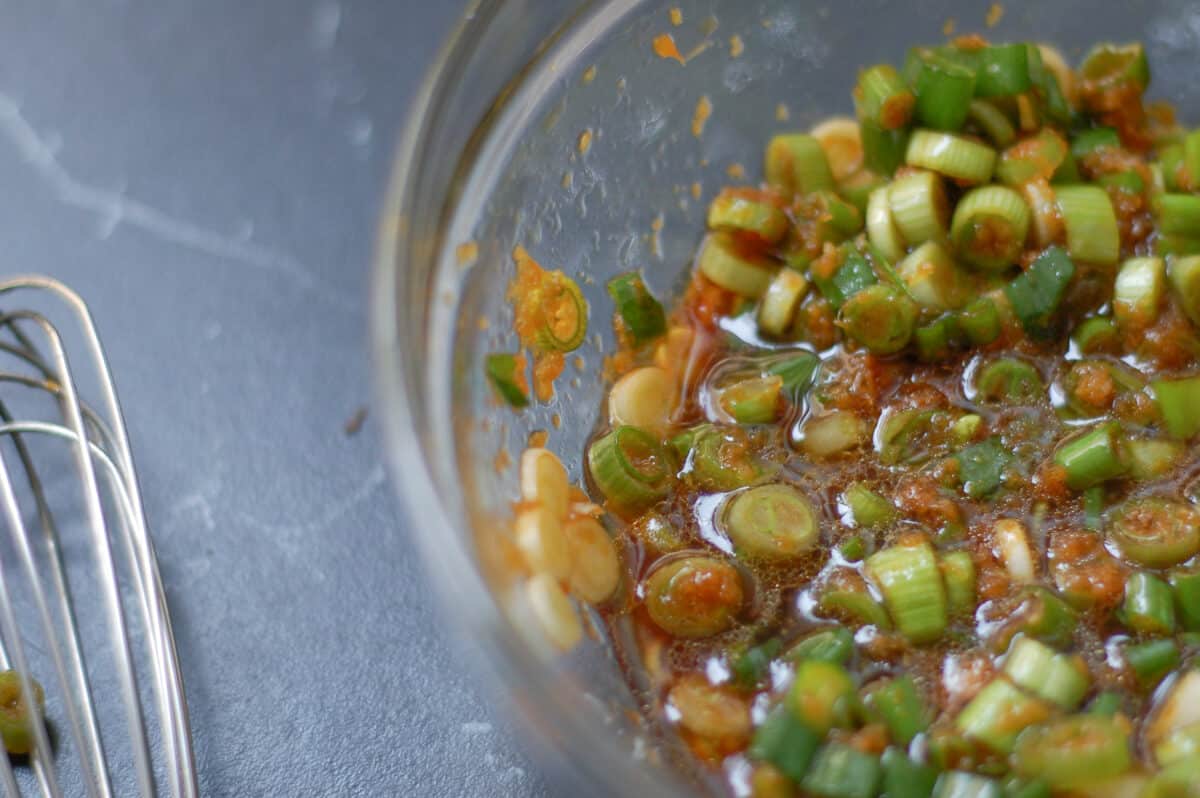 Quinoa is satiating, but it never seems to weigh me down.
I've come to think of quinoa as a health food in all the good ways. When prepared well, it not only tastes good, but makes me feel good.
This dish is a keeper. It takes advantage of quinoa's best qualities by pairing it with a variety of contrasting textures from roasted brussels sprouts and sweet potato and parsnips and carrots and turnips.
It uses a good mix of winter's sweeter vegetables as well as the slightly bitter, more deeply savory ones.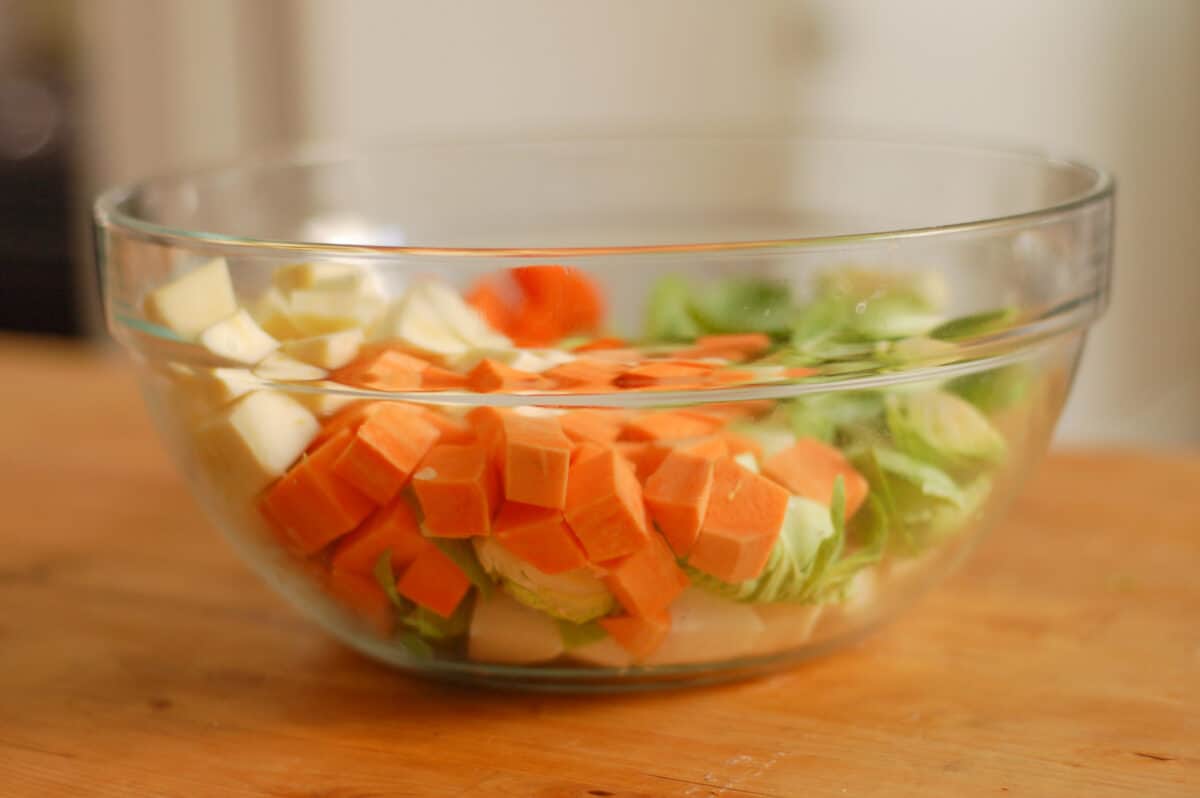 I remember once seeing a Canadian public health campaign that recommended eating at least one green vegetable and one orange or red vegetable every day.
It's a snippet of advice that I think of whenever I come across a dish like this that features vegetables in those colors.
But as much as I like the mix of vegetables here, it's the bright ginger scallion dressing that really makes this dish sing.
It's potent enough to counter quinoa's inherent blandness, and its complexity enhances the vegetables as well.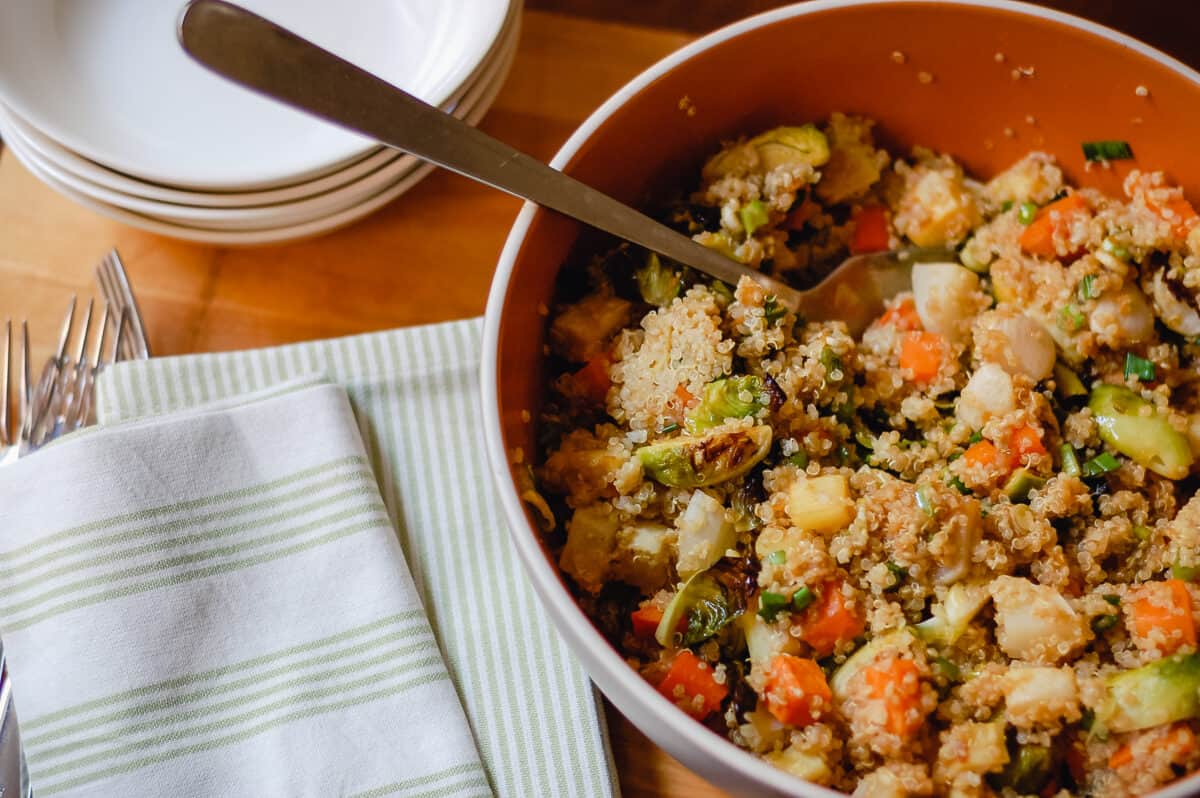 This is the kind of thing I could eat every week.
It's delicious.
It's a totally manageable amount of work for a week night.
It's great warm or at room temperature, which means it can be made ahead of time.
And it's pretty darn healthy too.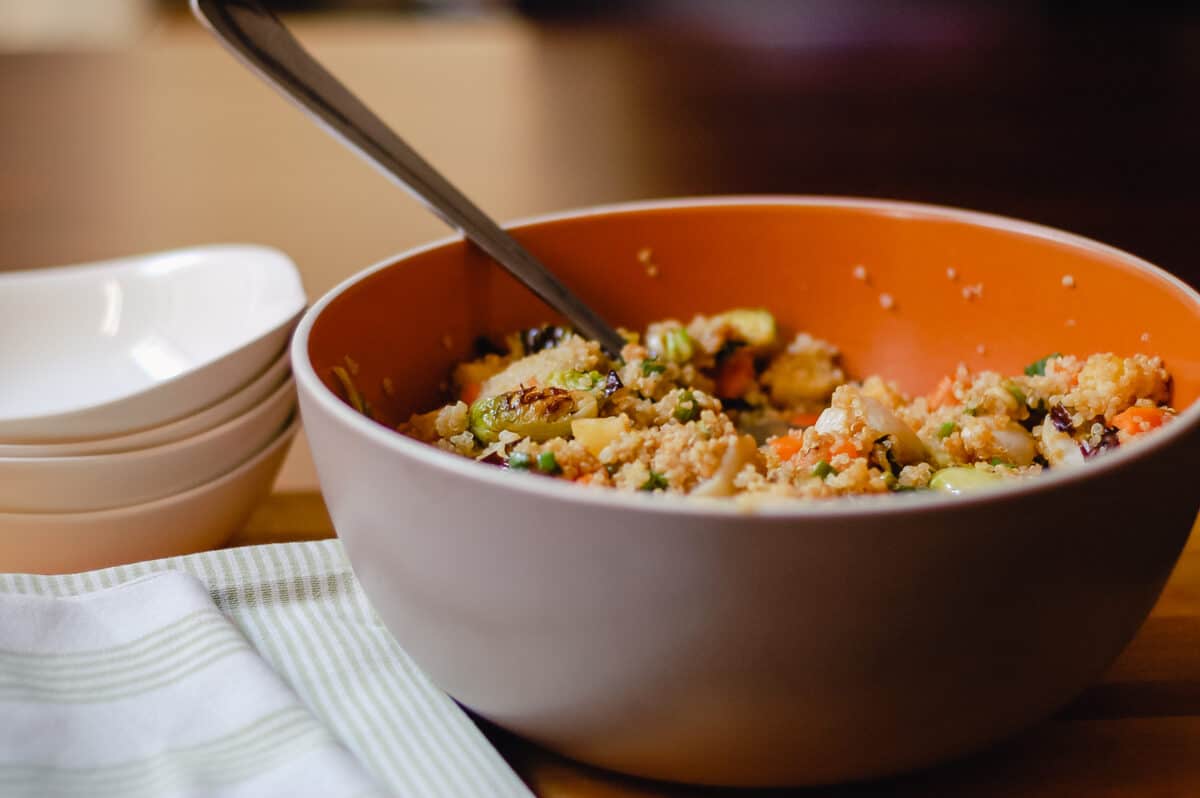 Like last week's cake, this recipe comes from Joanne Chang's Flour, Too.
And as much as I love that showstopper of a cake, this is the recipe that, for my money, is totally worth the price of the book.
It's something I know I will make again and again and again.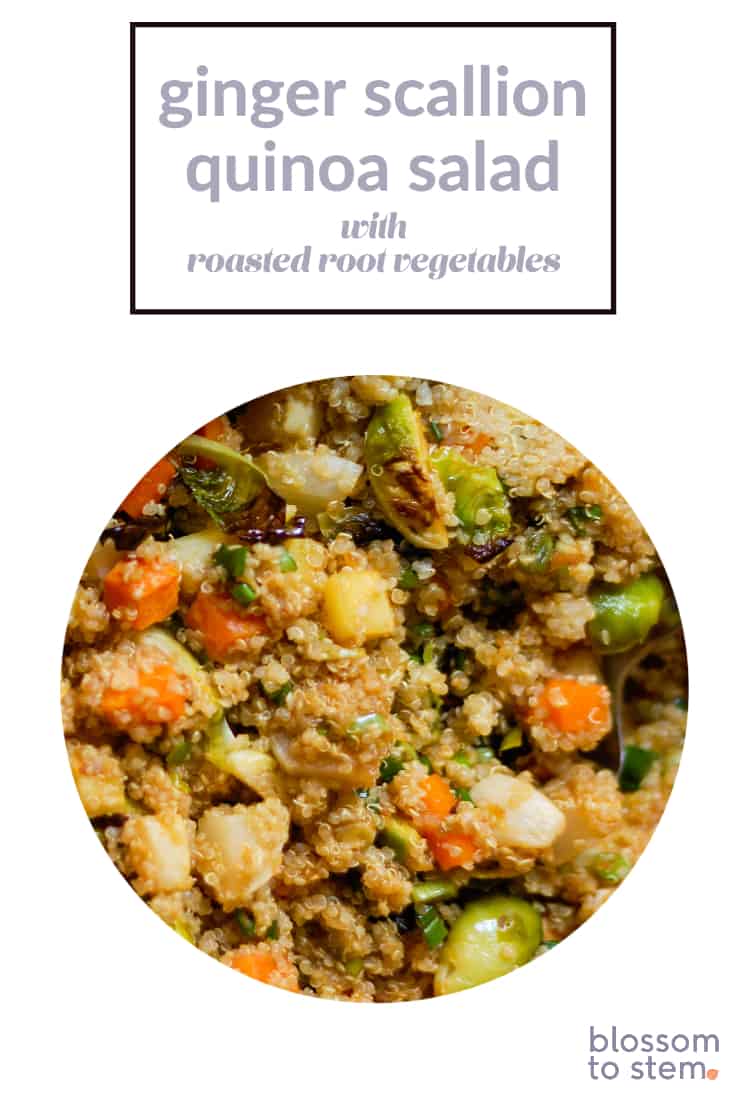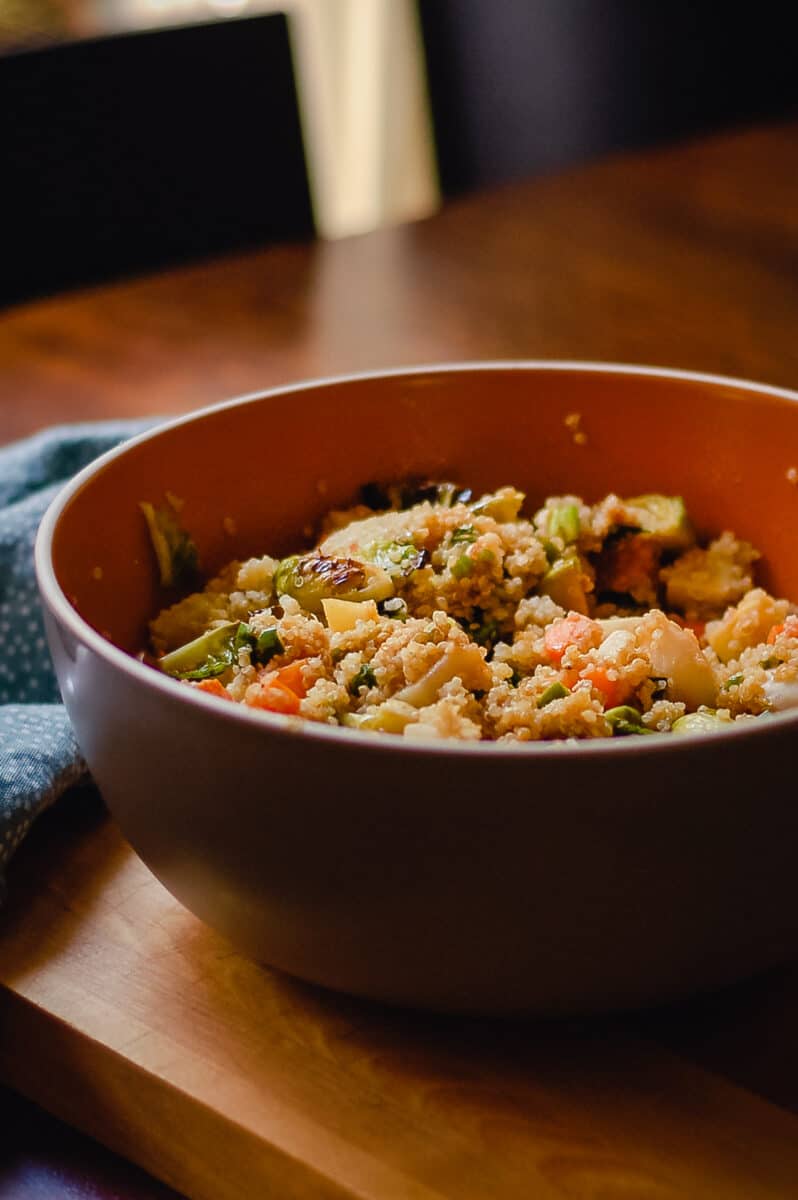 Yield: 6 servings
Ginger Scallion Quinoa with Roasted Vegetables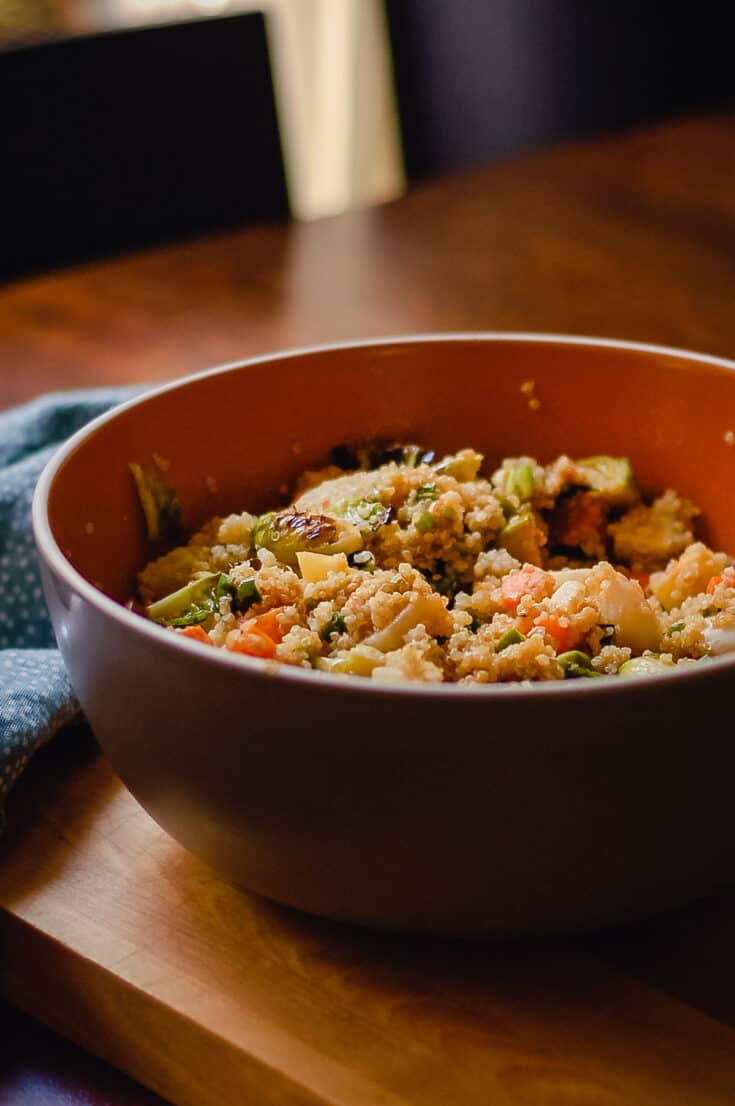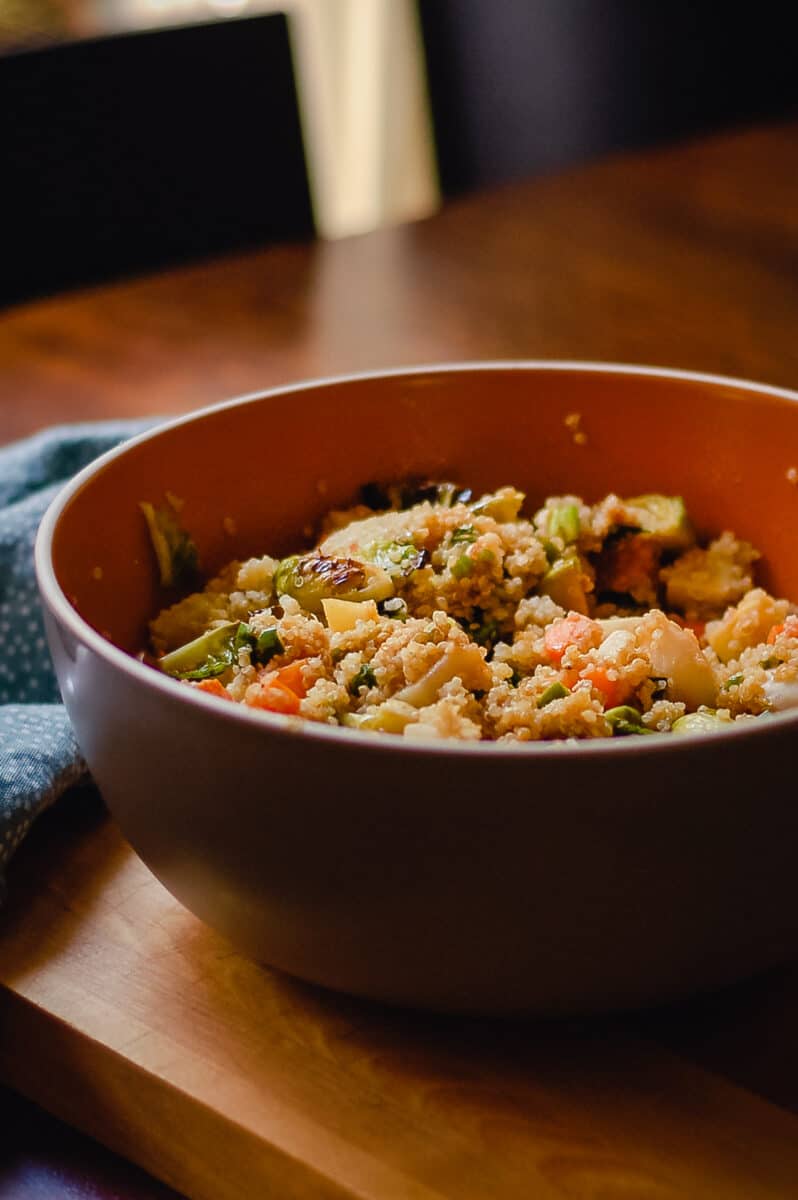 This is one of my favorite ways to eat quinoa and this is the kind of meal I like to eat all the time. The ginger scallion dressing really makes this dish come alive. I could imagine doing this with peas and asparagus and mushrooms and radishes when spring vegetables are in season. This is great either warm or at room temperature, and while I'd argue it loses a little something, it's not bad cold either. If you use tamari, this dish is gluten free.
Ingredients
6-7 Brussels sprouts, trimmed and quartered
1 large or 2 small parsnips, peeled and cut into 1/2-inch cubes
1 large or 2 small carrots, peeled and cut into 1/2-inch cubes
1 small sweet potato, peeled and cut into 1/2-inch cubes
3 small purple-top turnips, peeled and cut into 1/2-inch cubes
3 tablespoons olive oil
1 teaspoon kosher salt
1 1/4 cups dry quinoa, 225 g
8-9 scallions, trimmed and thinly sliced (both white and green parts)
4 inch piece of ginger, peeled and finely grated
2 tablespoons sherry vinegar
3 tablespoons soy sauce or tamari
3 tablespoons grape seed or other neutral oil
1 teaspoon sesame oil
cilantro, basil, or mint for garnish (optional)
Instructions
Preheat the oven to 400°F. Line a large a baking sheet with aluminum foil (optional, but makes for easier clean up). In a large mixing bowl, toss the Brussels sprouts, parsnips, carrots, sweet potato, and turnips with olive oil and salt until well coated. Spread the vegetables in an even layer on the baking sheet and roast for 20-25 minutes, until the brussels sprouts are caramelized in spots and the harder root vegetables are tender.
Meanwhile, rinse the quinoa in a fine mesh strainer and add to a medium saucepan. Add enough water to cover the quinoa by a few inches and bring to a boil over high heat. Reduce heat to low, cover the pot, and simmer for about 15-20 minutes or until the quinoa is cooked through. Drain the quinoa through a fine mesh strainer and transfer to a large mixing bowl (this can be your serving bowl if you're trying to make things look nice). Add the roasted vegetables and toss until the vegetables are well distributed.
In a small bowl, add the ginger, scallions, vinegar, soy sauce or tamari, grape seed oil, and sesame oil. Whisk together until combined and pour over the quinoa and vegetables, and stir well. Top with fresh herbs, if using, and serve warm or at room temperature.
Nutrition Information:
Yield:
6
Serving Size:
1
Amount Per Serving:
Calories:

291
Total Fat:

12g
Saturated Fat:

2g
Trans Fat:

0g
Unsaturated Fat:

10g
Cholesterol:

0mg
Sodium:

990mg
Carbohydrates:

38g
Fiber:

6g
Sugar:

5g
Protein:

8g