I may earn from purchases through links in this post.
This salad feels so clean. So fresh. It takes its inspiration from the Japanese. It's a nice change of pace from the arugula and kale and chard and spinach I've been eating so much of over the last several months. I love fennel.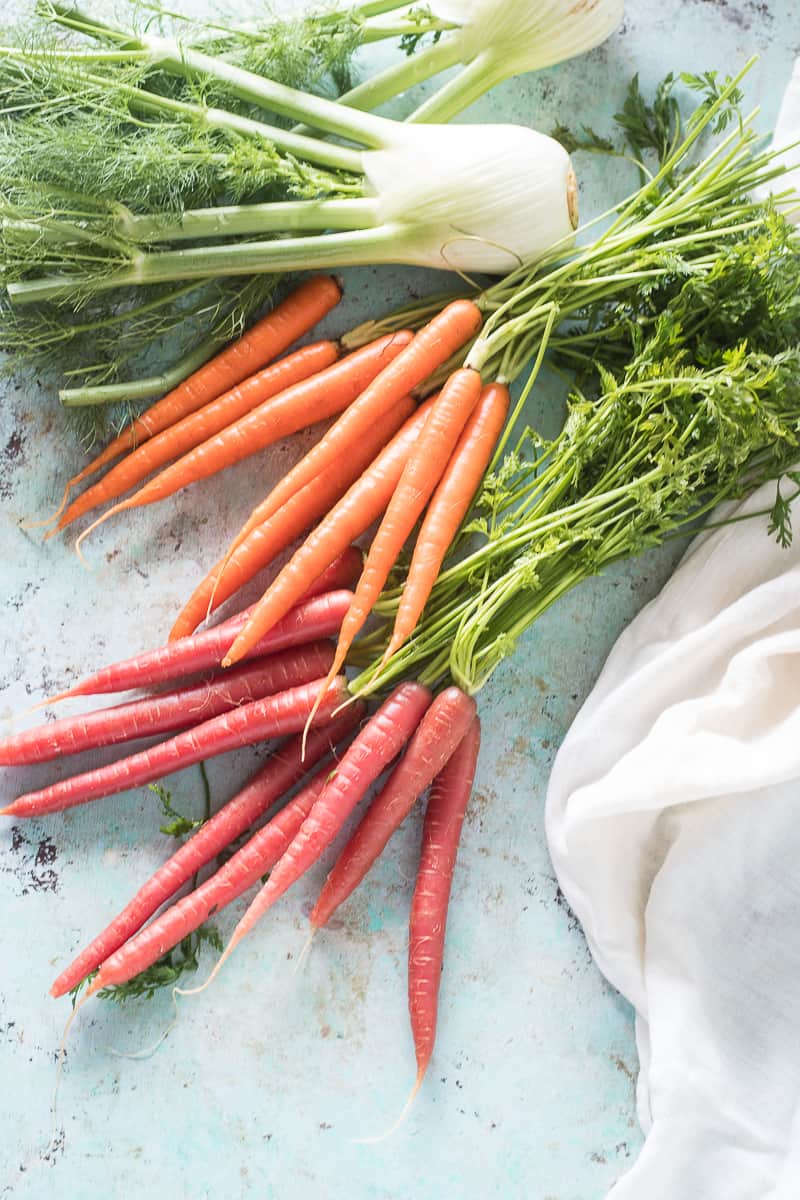 I think some people are resistant to it because of a prejudice against anything with anise flavor. But raw fennel is closer in flavor to basil than to licorice on the anise spectrum. It's mild and crunchy and faintly sweet.
And when it is shaved paper-thin it makes a wonderful base for a salad (like in this citrus, avocado, and shaved fennel salad or this sugar snap pea buttermilk farro bowl). It's possible to do this with a sharp chef's knife, and I've done it that way many times, but it's so much more efficient and easier to get uniform thinness with a mandoline.
As of my birthday last month thanks to Dan's parents I am the proud new owner of this baby, and having it available makes me want to make shaved fennel salads all the time. (I just need to watch my fingers. It's sharp!)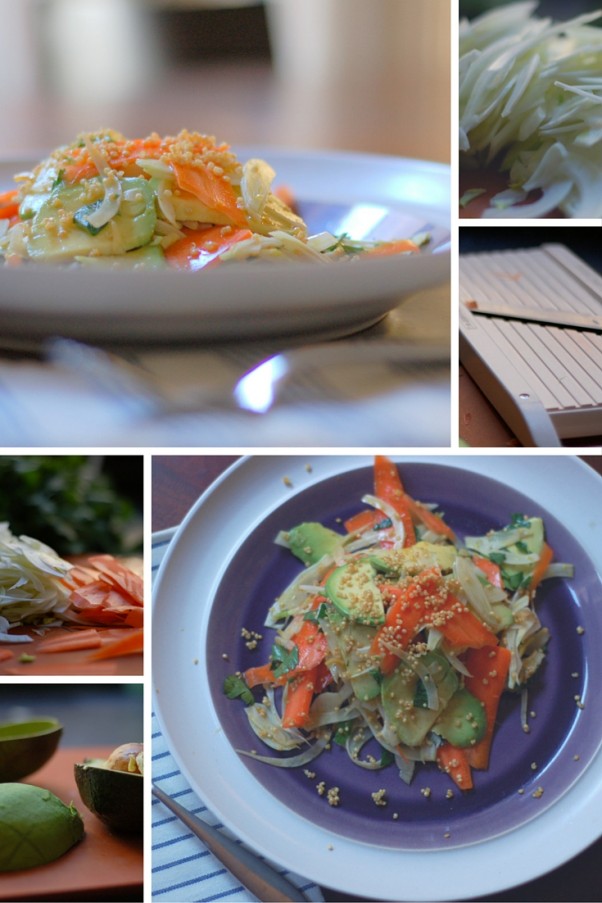 Lots of fennel salads stick to the classic dressing of olive oil and lemon juice. But this one goes with a bolder lime-sesame-soy vinaigrette.
It gets some heat from sriracha and citrus kosho (the latter is totally optional, but it's a nice way to use it if you have some).
The shaved carrots add more crunch and color and the avocado adds a creamy richness to dish.
The sprinkling of pan fried quinoa adds the most wonderful texture. It's crisp and light and gives way with a pop when it's between your teeth. This makes extra and I've been popping the leftovers as a snack on its own.
The flat leaf parsley gives the dish a fresh herbaceous note. I think shiso or mint would be right at home here too.
Dan said that this reminded him of the experience of eating sushi, what with the soy sauce and the kind of heat you get from wasabi and the texture of the shaved carrots and fennel reminiscent of pickled ginger. I think there's something to the comparison.
(The crispy quinoa bits even look a bit like tobiko.)
Yield: 2 lunch-sized servings
Shaved Fennel, Carrot, and Avocado Salad wtih Crispy Quinoa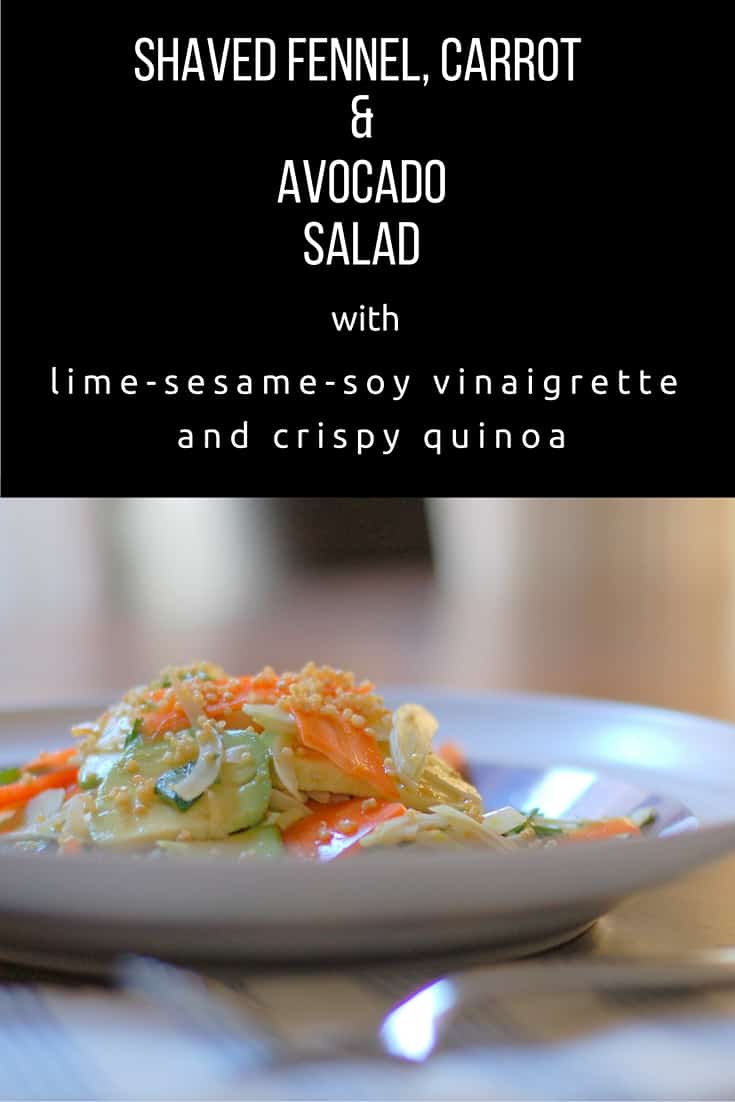 This salad manages to be crispy and crunchy and creamy–a textural trifecta. It's bright and fresh and flavorful and light. You can slice the fennel thinly with a sharp chef's knife or you can use a mandoline (these Benriner mandolines [I have the wide version] are widely available and work like a dream). I've shaved the carrots with both a mandoline and a vegetable peeler, and I think the vegetable peeler is the winner for making delicate ribbons of carrot without making me watch my fingertips too closely. The citrus kosho is totally optional here. Don't let not having it stop you from making this salad–you could add a dab of prepared wasabi or some extra sriracha if you wanted to ratchet up the heat in its absence. This makes too much crispy quinoa, but it keeps for about a week in an airtight container and you can sprinkle it on roasted vegetables or other salads or anywhere you'd like some added crisp texture. This is gluten free if you make it with gluten-free tamari.
Ingredients
For the crispy quinoa:
1/4 cup dried quinoa
2 tablespoons neutral oil
kosher salt
For the salad:
2 medium fennel bulbs, tops and core removed, sliced paper thin
2 medium carrots, peeled, sliced paper thin
1 avocado, on the slightly firmer side of ripe, sliced thin
leaves small handful of flat leaf parsley, stems removed and chopped
For the lime-sesame-soy vinaigrette:
1 tablespoon freshly squeezed lime juice
1 tablespoon rice vinegar
1 tablespoon soy sauce or tamari
2 1/2 teaspoons sugar
2 teaspoons citrus kosho or yuzu kosho, optional
1 teaspoon sesame oil
1/4 teaspoon sriracha, increase to 1/2 teaspoon if not using kosho
pinch of kosher salt
Instructions
At least an hour ahead of time, make the crispy quinoa. In a medium saucepan, cover the quinoa with a few inches of salted water, and bring to a boil. Reduce heat to medium-low and simmer until quinoa is just tender. About 12-13 minutes. Drain well through a fine mesh strainer and spread out in an even layer on a rimmed baking sheet to dry out for at least a half hour. Heat oil in a large skillet until shimmering, add the quinoa and pan fry until it is completely dry and crisp, about 2-3 minutes. Add a pinch of kosher salt and set aside to cool completely. Can be made up to five days ahead of time and stored in an airtight container at room temperature.
In a small bowl, whisk together the lime juice, rice vinegar, sugar, citrus kosho (if using), sesame oil, sriracha, and salt.
In a medium bowl, toss together the fennel and carrots and parsley until well mixed. Pour the vinaigrette over the salad. Add the avocado and toss gently to distribute.
Divide between plates, and sprinkle with crispy quinoa, to taste.
Recommended Products
As an Amazon Associate and member of other affiliate programs, I earn from qualifying purchases.
Nutrition Information:
Yield:
2
Serving Size:
1
Amount Per Serving:
Calories:

372