I may earn from purchases through links in this post.
Strawberry shortcake is one of those classics that's tough to beat. I make it at least once every summer when strawberries are at their peak of ripeness and juiciness.
It's important to have a go-to version at your fingertips, and this one is smashingly good.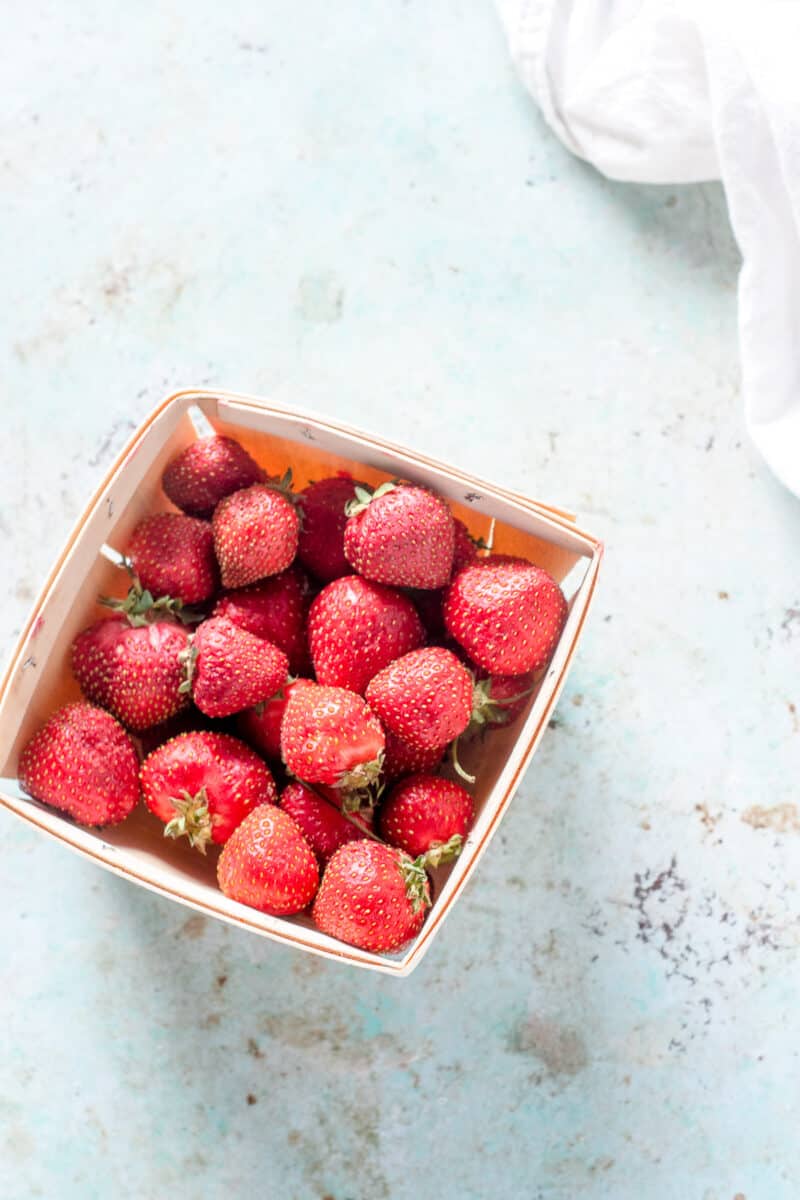 My preferred way of making shortcake is making one big biscuit-style shortcake that I cut into wedges.
I know some people prefer strawberry shortcake made with individual biscuits (and some blasphemers even think strawberry shortcake should be made with sponge cake), but I am lazy and love the ease of patting a simple dough into a pan instead of the fuss of rolling and cutting out individual biscuits. (Though you could absolutely roll and cut this dough into individual biscuits if that's your thing.)
This shortcake is similar to the scones I make (like these orange ginger scones). It's tender and flaky and rich with butter and cream.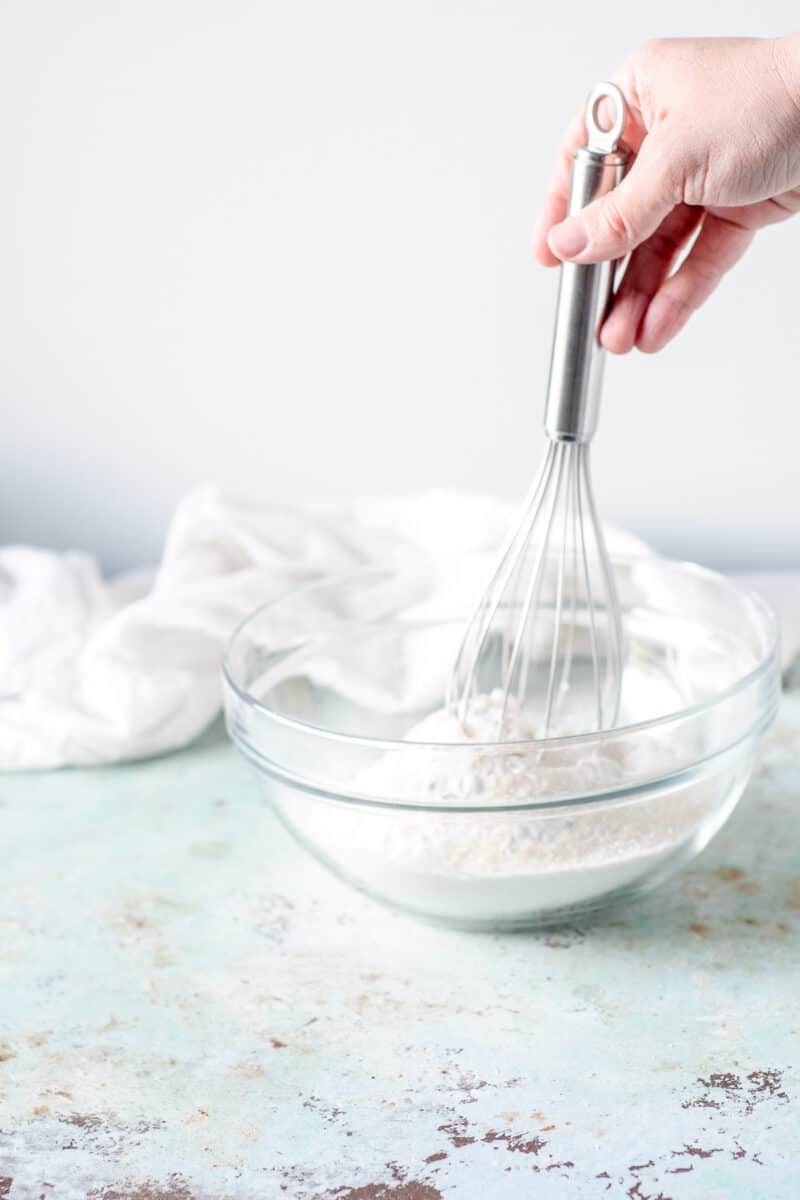 It's barely sweet and has just a bit of a salty edge.
This shortcake is exquisitely simple. It's just a one-bowl affair.
Flour, baking powder, sugar and salt get whisked together.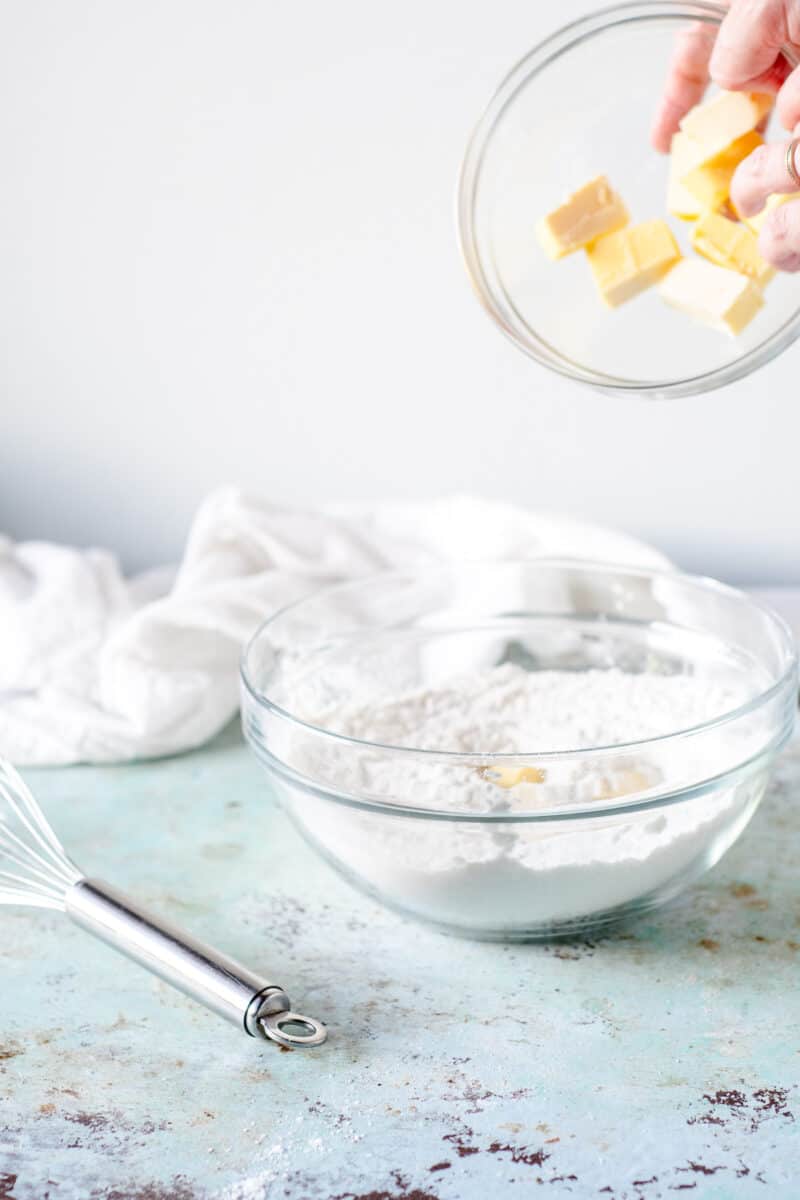 (And, a note on the flour: While I often reach for King Arthur in my baking, I actually prefer a more middle of the road protein-content all-purpose flour like Gold Medal for this one. Southerners swear by low protein content all-purpose flours like White Lily for biscuits, and I believe them, but it's hard to come by in the midwest and I haven't tested this recipe with it, so I can't say how it would perform here.)
Then chunks of cold butter get tossed in the flour mixture and rubbed by hand into pea-sized and smaller crumbs.
Then you add cream and a bit of vanilla and stir everything together until you have a shaggy moistened mass of dough.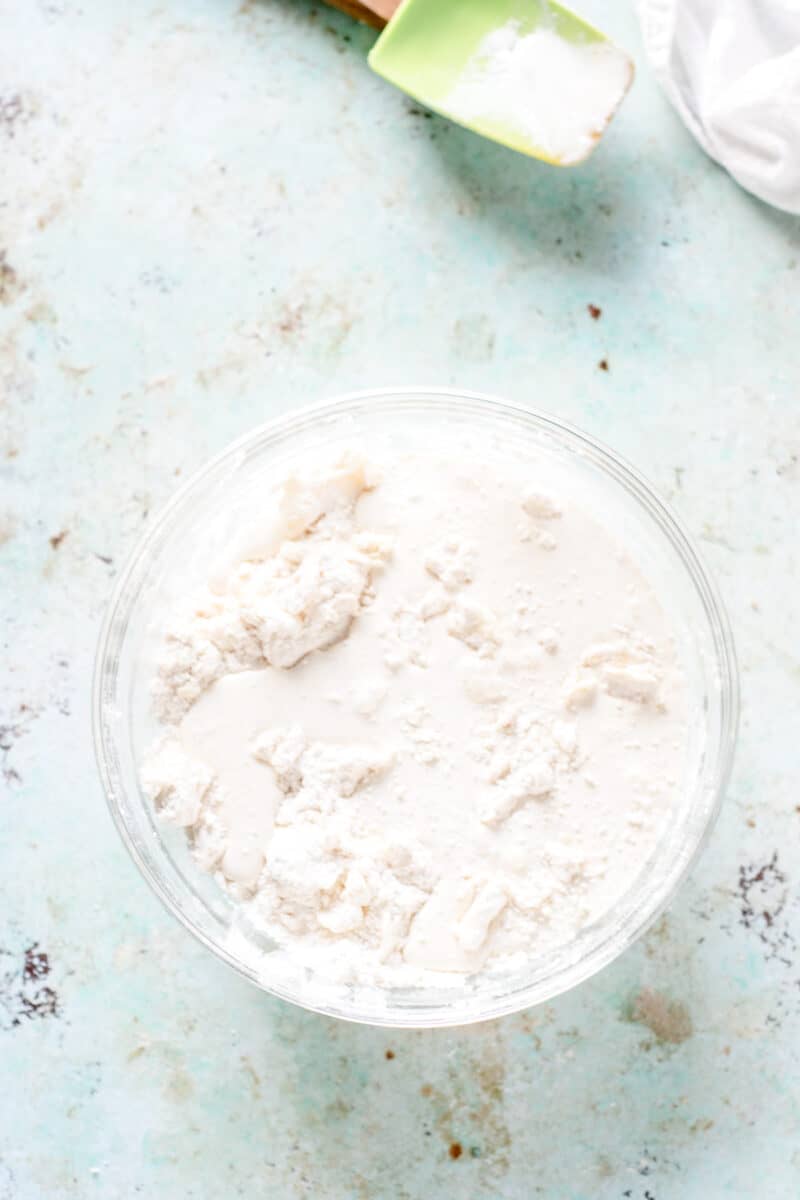 And then you pat that dough in an even layer into a parchment-lined cake pan.
The prep time on this is probably five minutes, maybe ten if you, like I, tend to dawdle in the kitchen.
What comes out of the oven is a lovely golden brown, craggy-topped shortcake that's incredibly tender and flaky with crisp edges and a middle that pretty much melts in your mouth.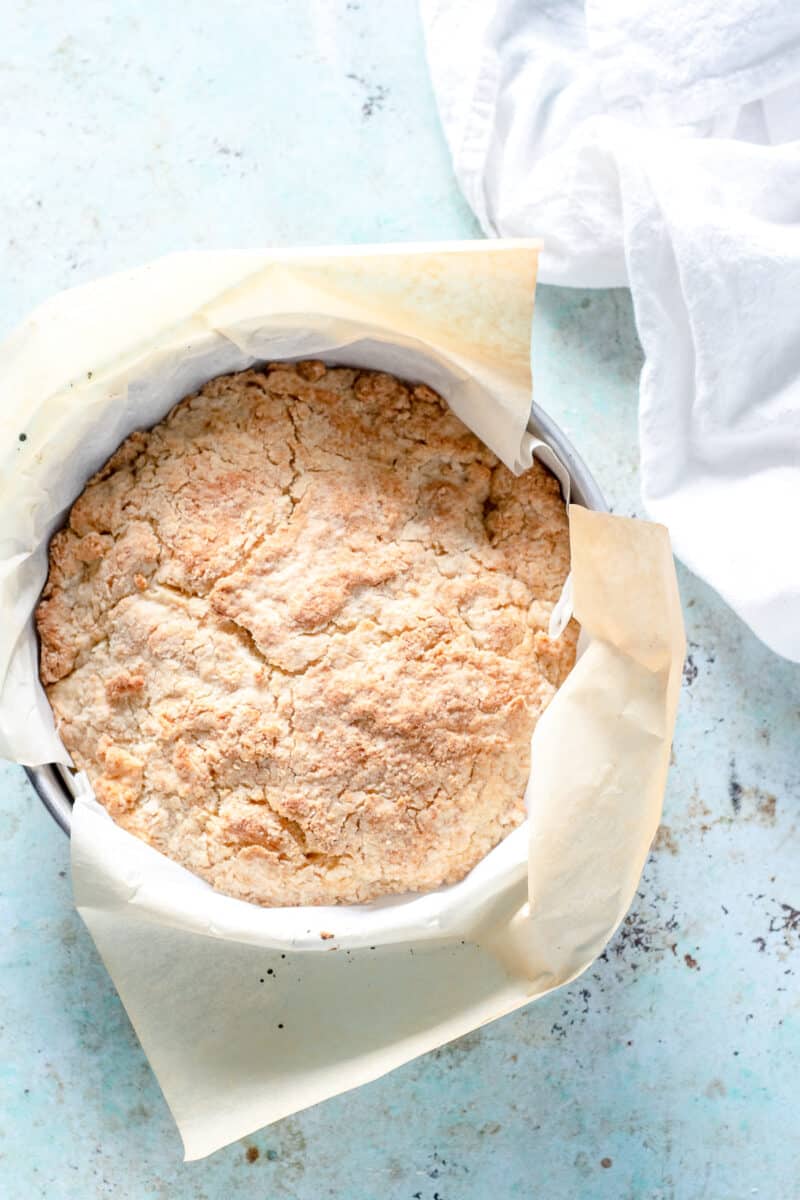 I mean this thing is seriously good.
That flaky richness gets balanced with the acidity of strawberries that have turned extra juicy and sweet and soft after spending some time macerating in sugar.
The maceration process leaves the sliced strawberries sitting in a puddle of the loveliest rosy red fresh strawberry syrup (and when that syrup soaks into the biscuity shortcake it makes the most magical soft puddingy mush).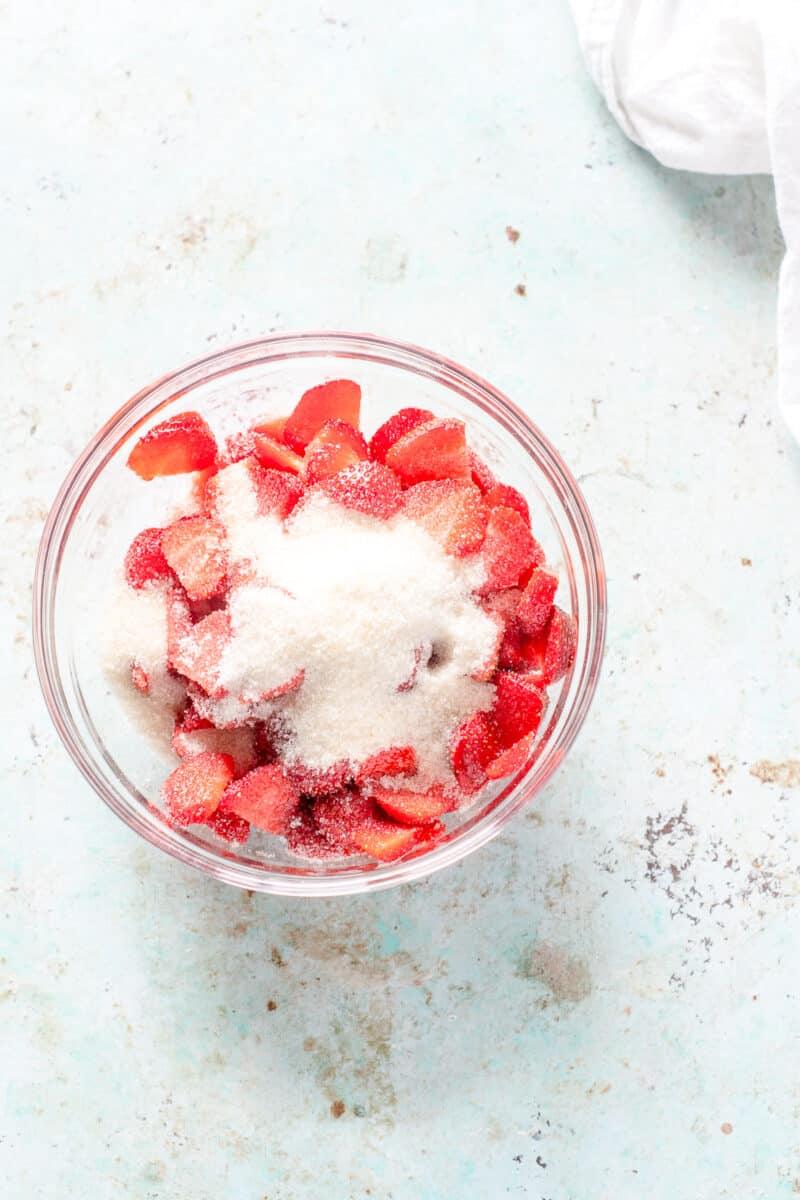 I like to hull and slice my strawberries while the shortcake is in the oven because it feels most efficient to me, but you can do it up to a day ahead of time and let the berries hang out covered in the refrigerator if that works better for your schedule.
If you want to be very extra about your strawberry shortcake, you can add a drop (and I do mean just a drop) of rosewater to your macerating berries. Rose flavor goes beautifully with strawberries, but florals get overwhelming very easily. You don't want your strawberries tasting like an old lady's perfume (so no more than 1/8th of a teaspoon, seriously).
Me, I tend to keep this one simple and traditional, but sometimes it's nice to have inspiration for switching it up.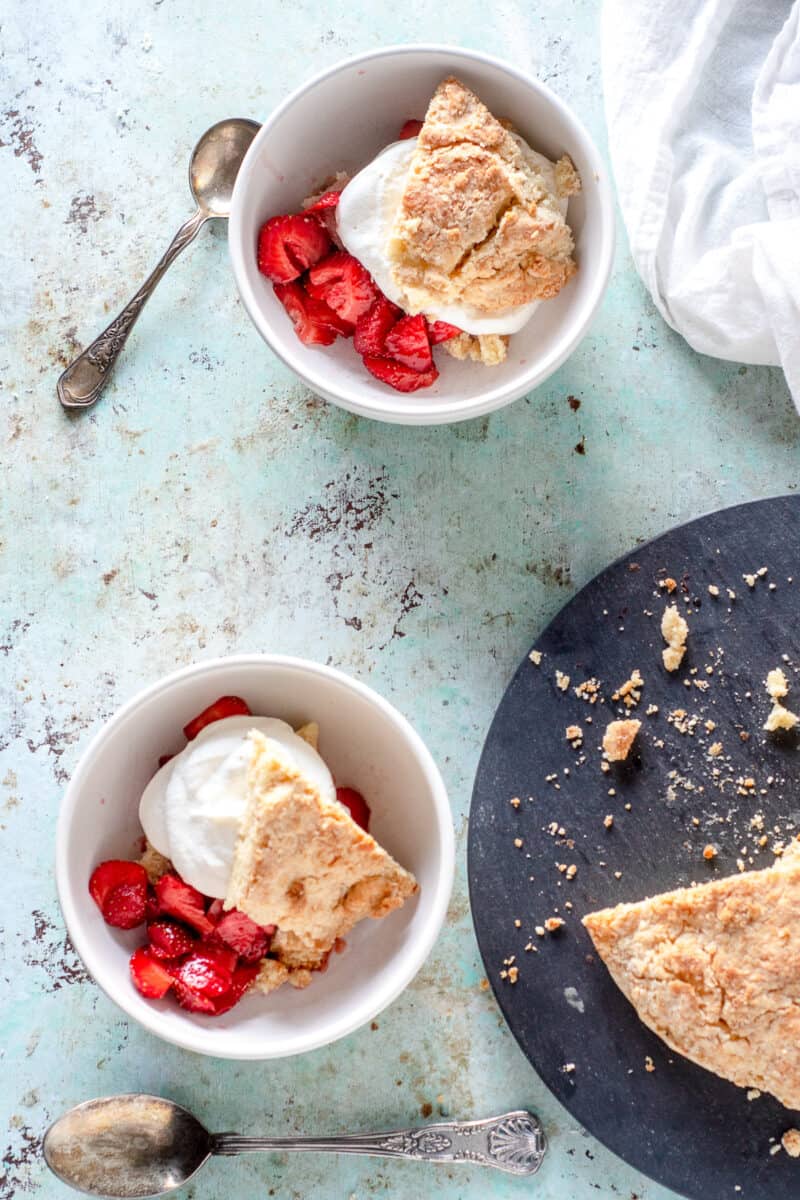 The strawberries and shortcake are joined here by the other traditional part of the strawberry shortcake trifecta, whipped cream.
I like my whipped cream just barely sweetened and flavored with just a hint of vanilla extract. For this, I like it whipped gently, just to to soft peaks, where it billows into rounded mounds but stays supremely smooth.
You'll want to keep the heavy cream cold and whip it just before serving, (unless you stabilize it with something like gelatin).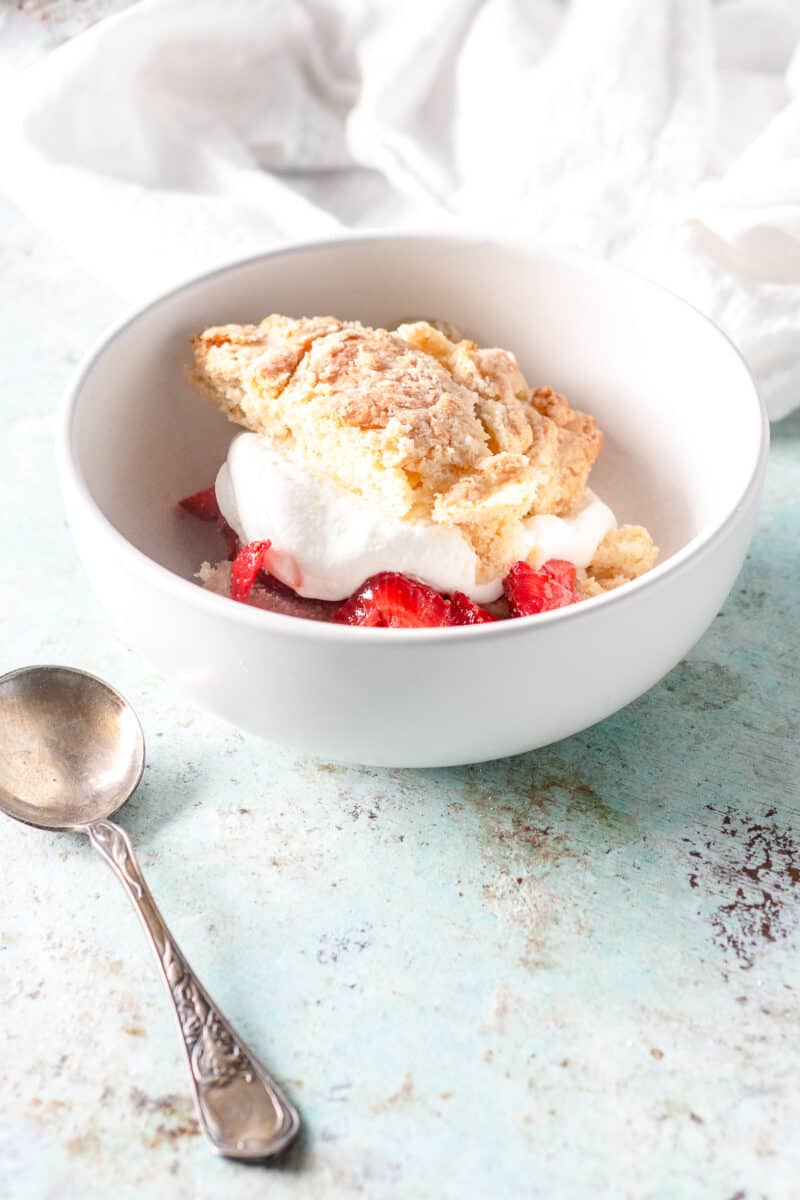 Then when your shortcake has cooled and your cream is whipped, you slice the shortcake into wedges, then slice those wedges in half horizontally.
Then place each wedge in a bowl or a plate with a generous lip.
Then add on a few spoonfuls of macerated strawberries and a generous dollop of whipped cream to the bottom layer of shortcake, then put the other layer of shortcake on top.
Then, oh my then, devour it.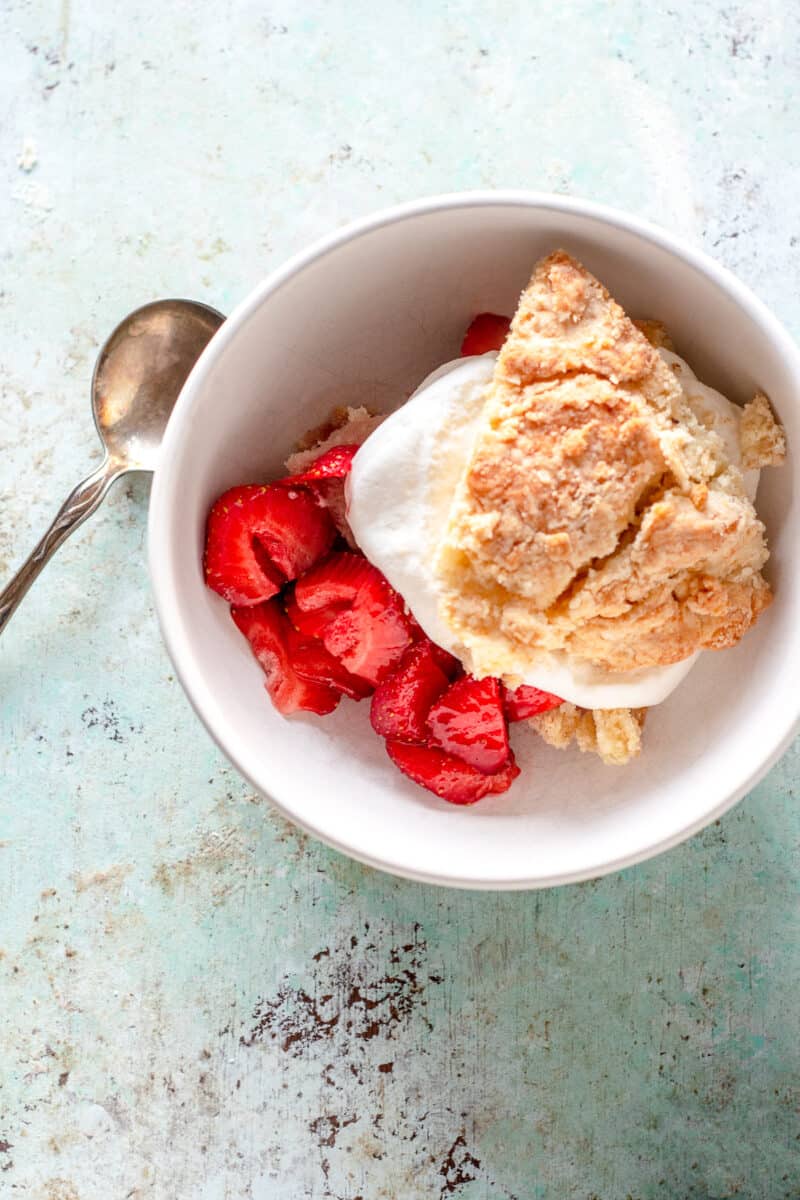 Yield: 8 servings
Strawberry Shortcake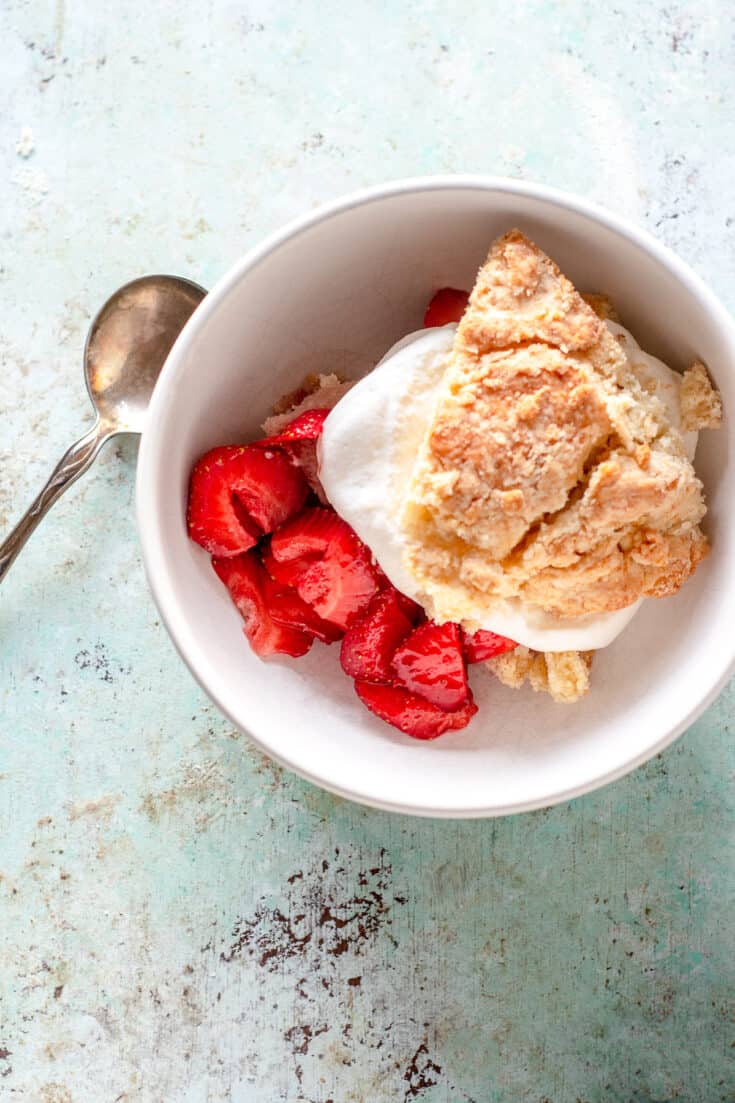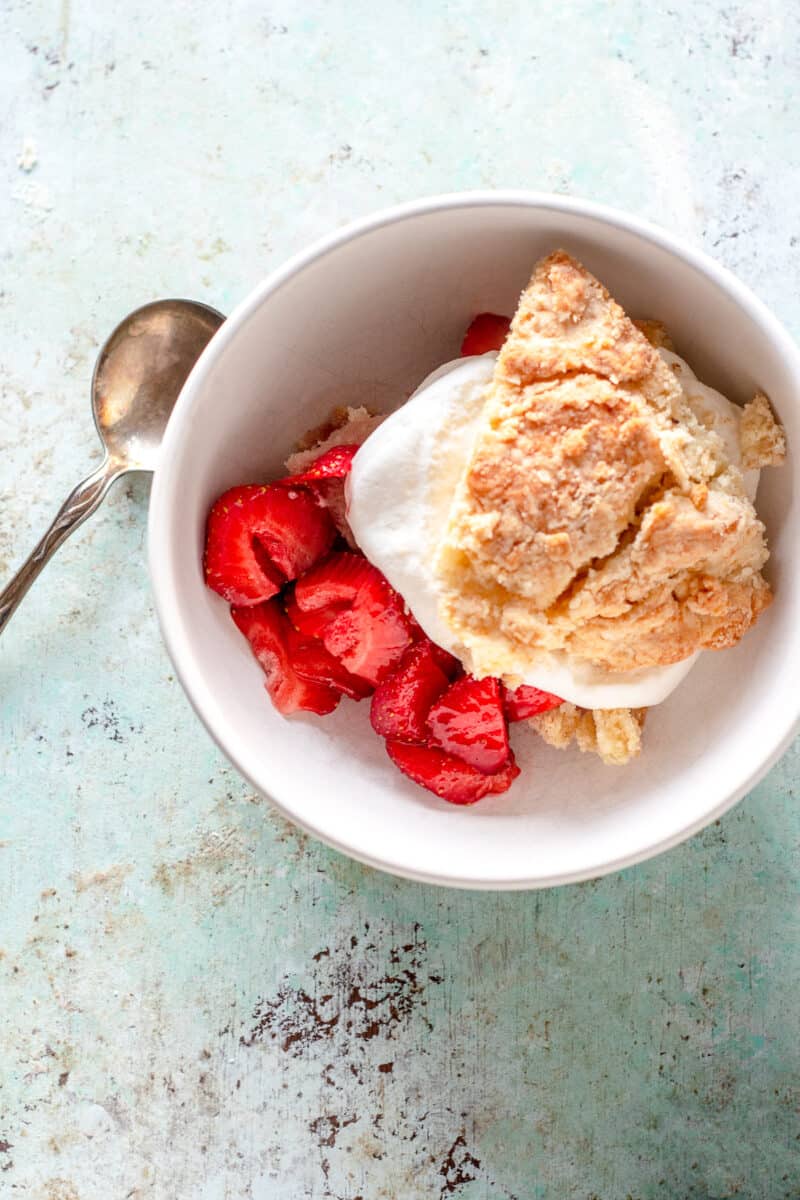 This strawberry shortcake makes one big biscuit-style shortcake that gets cut into wedges. It's a tender and flaky shortcake that's rich with butter and heavy cream and barely sweet. I usually slice the strawberries and toss them in sugar while the shortcake is in the oven, but you can make them a day ahead of time and keep them in an airtight container in the refrigerator if you prefer. Wait to whip the cream until you're ready to serve the shortcake. I prefer to use an all-purpose flour with a mid-range protein content like Gold Medal for the shortcake. This will work with a higher protein all-purpose flour like King Arthur, but it won't be quite as tender. (And southerners, I'm sorry to say I don't have easy access to White Lily, so I don't know how that will work here, but if you try it, do report back!)
Ingredients
For the shortcake
2 cups (250 grams) all-purpose flour
2 tablespoons sugar
1 tablespoon baking powder
3/4 teaspoon kosher salt
6 tablespoons unsalted butter, cold, sliced into 1/2 inch chunks
3/4 cup heavy cream
1/2 teaspoon vanilla extract
For the strawberries
4 cups strawberries, hulled and sliced
1/3 cup sugar
For the whipped cream
1 cup heavy whipping cream, cold
1 tablespoon sugar
1/2 teaspoon vanilla extract
Instructions
Make the shortcake. Preheat oven to 400°F and line an 8-inch round cake pan with parchment paper. Add flour, sugar, baking powder, and salt to a large mixing bowl and whisk together.
Add the cold butter to the flour mixture and rub it with your fingers until the butter is in pea-sized or smaller crumbs and well-distributed throughout the flour mixture.
Add the cream and vanilla extract and stir with a rubber spatula until the dough is moistened. Knead it a few times with your hands to work in any last dry bits. Then pat in an even layer into the prepared pan and bake until golden brown, about 20-25 minutes.
While the shortcake is baking, prepare the strawberries (can be done up to a day ahead of time). Add the sliced strawberries and sugar to a bowl and stir. Let sit until softened and syrupy (refrigerate if sitting for more than an hour).
When the shortcake is fully cooled and you are ready to serve, prepare the whipped cream. Add the cold cream to the bowl of a stand mixer fitted with the whisk attachment and mix on medium speed for about 30 seconds. When the mixture is just beginning to thicken, add the sugar and vanilla extract. Keep whipping on medium high speed just until the cream holds soft peaks.
To serve: slice the shortcake into 8 wedges. Slice each wedge in half horizontally and place in the bottom layer in a bowl, add a few spoonfuls of strawberries and a dollop of whipped cream and add the top layer of shortcake. Eat!
Notes
The shortcake is best on the day it is made, but keeps well for up to 3 days.
Recommended Products
As an Amazon Associate and member of other affiliate programs, I earn from qualifying purchases.
Nutrition Information:
Yield:
8
Serving Size:
1
Amount Per Serving:
Calories:

447
Total Fat:

28g
Saturated Fat:

17g
Trans Fat:

1g
Unsaturated Fat:

9g
Cholesterol:

82mg
Sodium:

398mg
Carbohydrates:

45g
Fiber:

3g
Sugar:

19g
Protein:

5g