I may earn from purchases through links in this post.
Pavlova, as a dessert, is about as close as a person can get to eating a cloud. Or at least the fluffy, airy, impossibly light idea of a cloud.
The pavlova is named for the Russian ballerina Anna Pavlova, and is a traditional dessert in Australia and New Zealand.
This strawberry pavlova is a frilly, foamy affair.
A layer of crisp-on-the-outside, marshmallowy-in-the-middle meringue gets topped with whipped cream which gets topped with strawberries that a get a subtle whiff of smoke and citrusy brightness from spending some time macerating with a bit of sugar and mezcal and lime.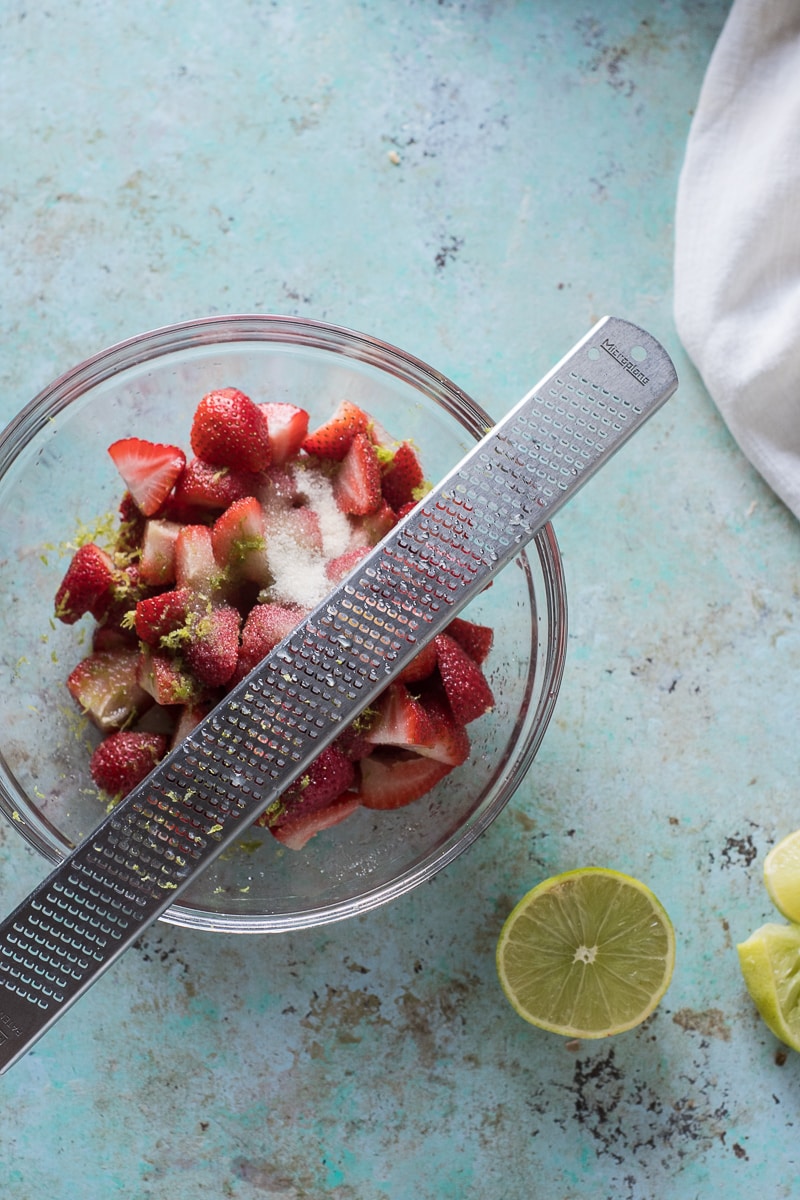 Pavlovas can be tooth-achingly sweet, but I like to mitigate that by using toasted sugar (which is optional, but like brown butter, can add delightful complexity to a dessert), and heaping on loads of fresh fruit with a good amount of natural acidity like strawberries.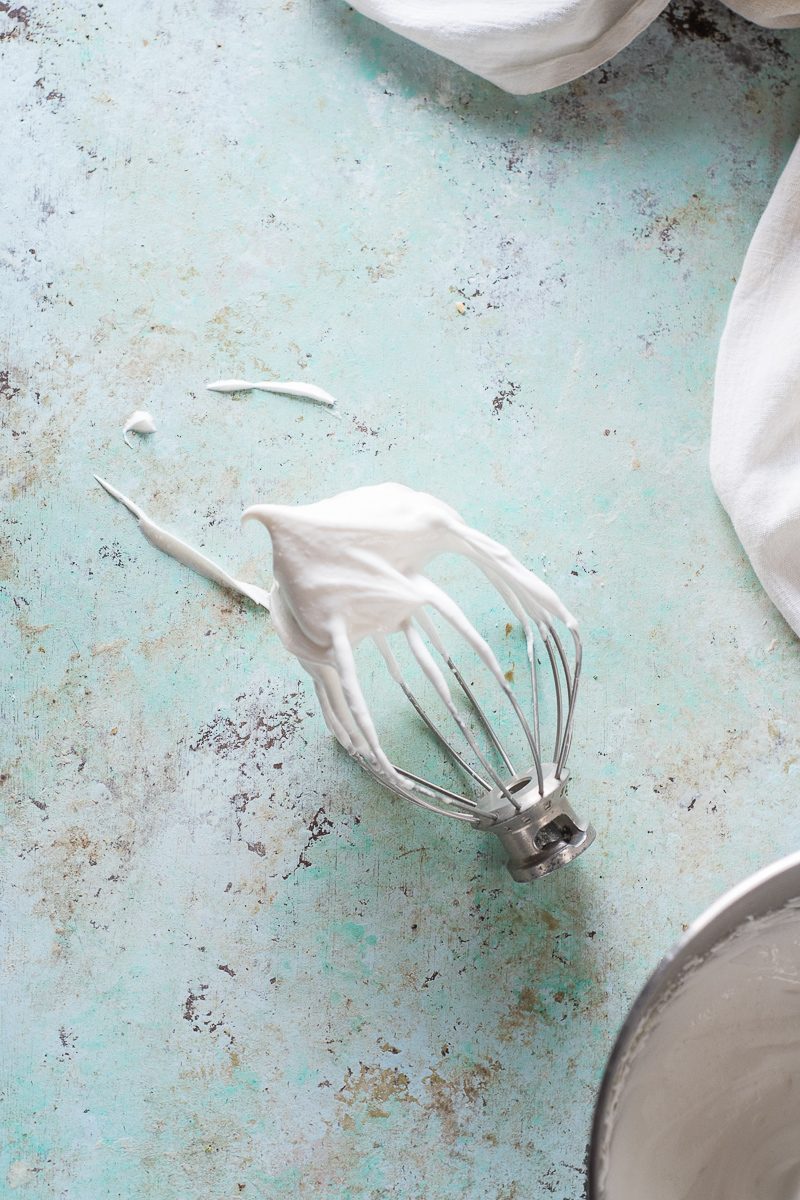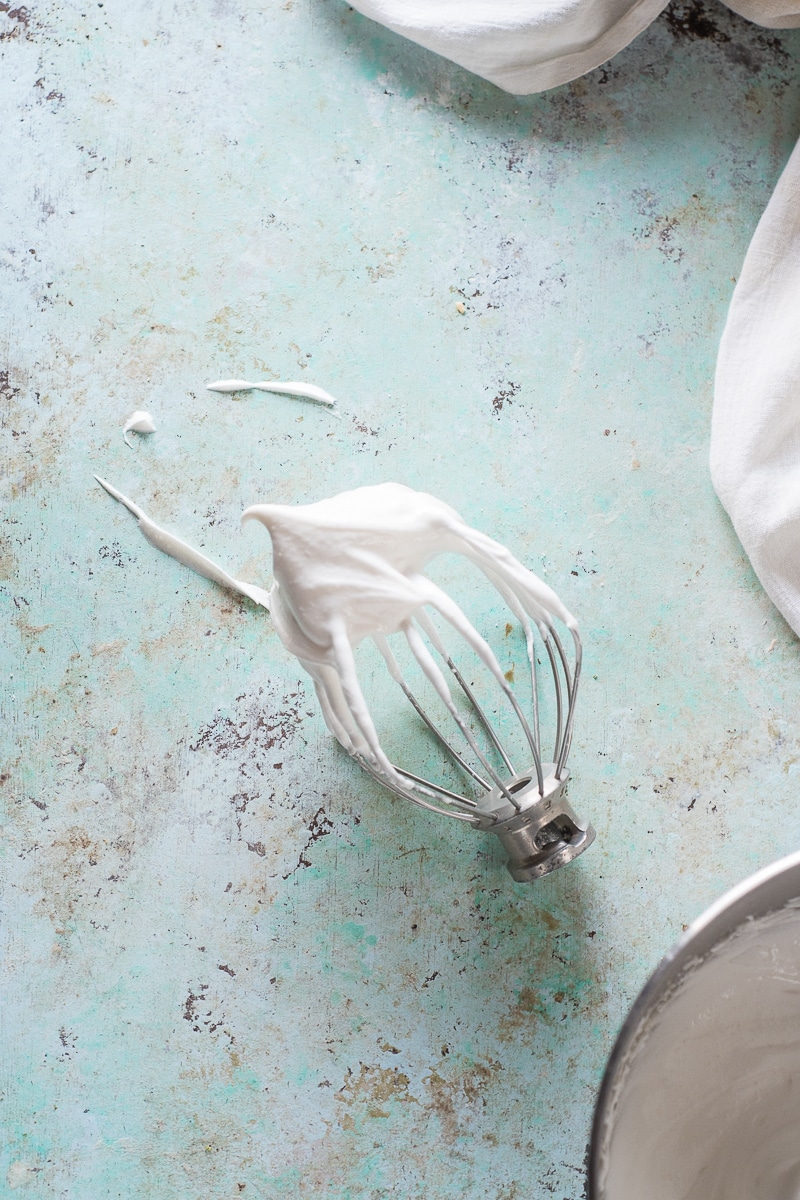 The mezcal and lime here are also optional–there's no need to make a trip to the liquor store if it's not the sort of thing you like to drink–but if you are at all tempted by the idea of strawberries punched up with a hint of smoke and sour then you should absolutely go for it. It's a combination I find delightful.
The strawberries are lovely with just a bit of lime, too, if you'd prefer to simplify just a little.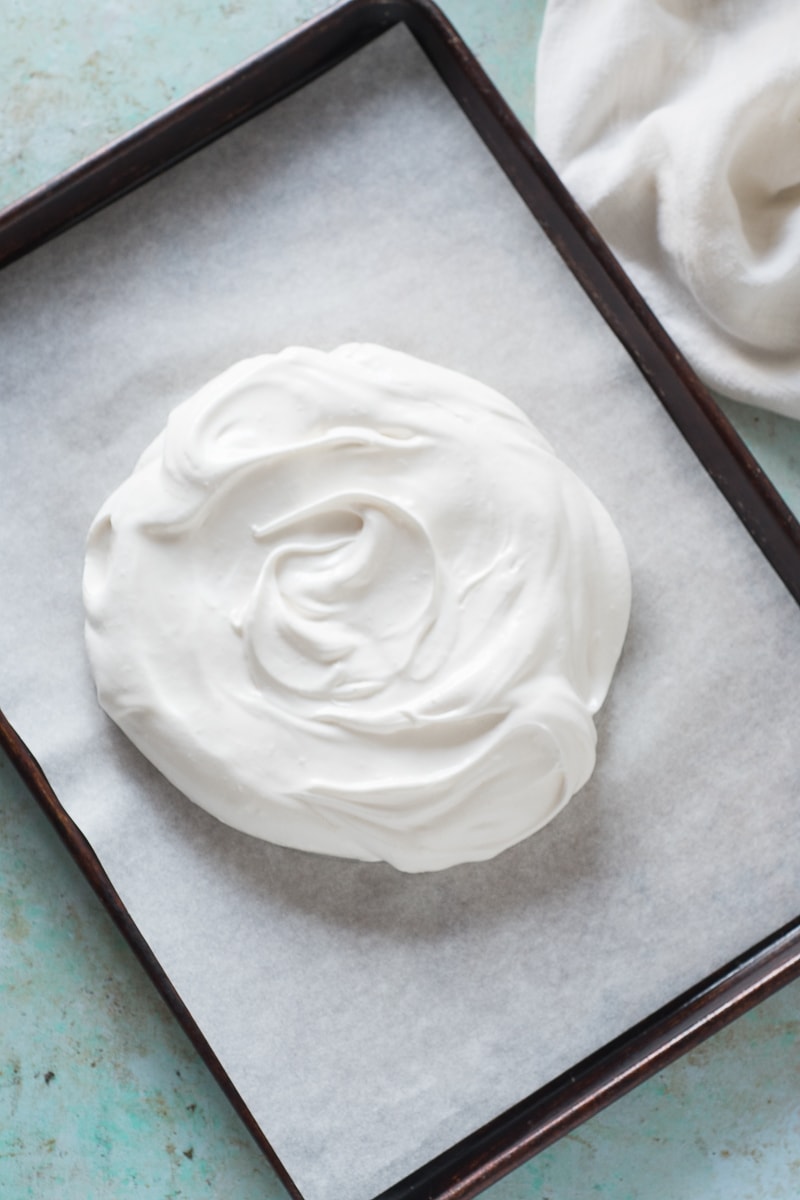 The whipped cream brings a welcome richness in between the lean meringue and fruit layers. It provides a welcome contrast in textures, and demonstrates that airiness comes in different varieties.
If you wanted, you could add some lemon curd (like, say, this Meyer lemon ginger curd) instead of or in addition to the whipped cream.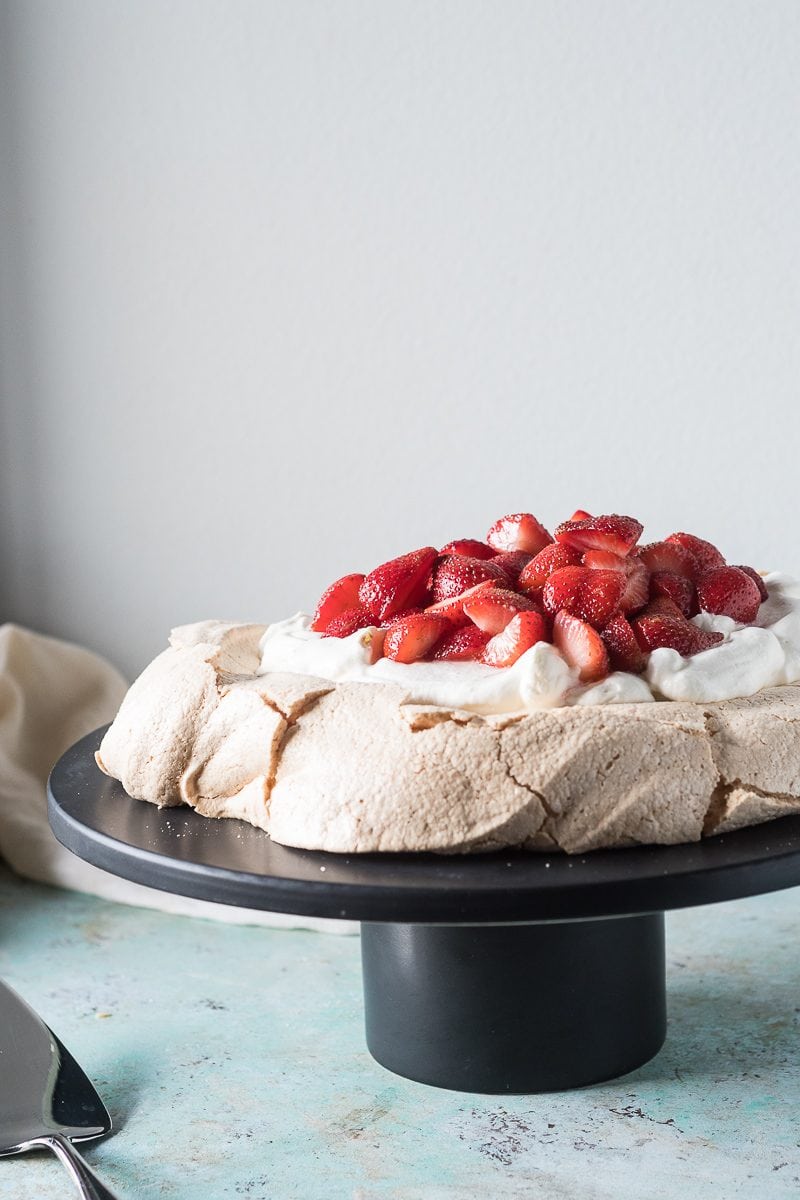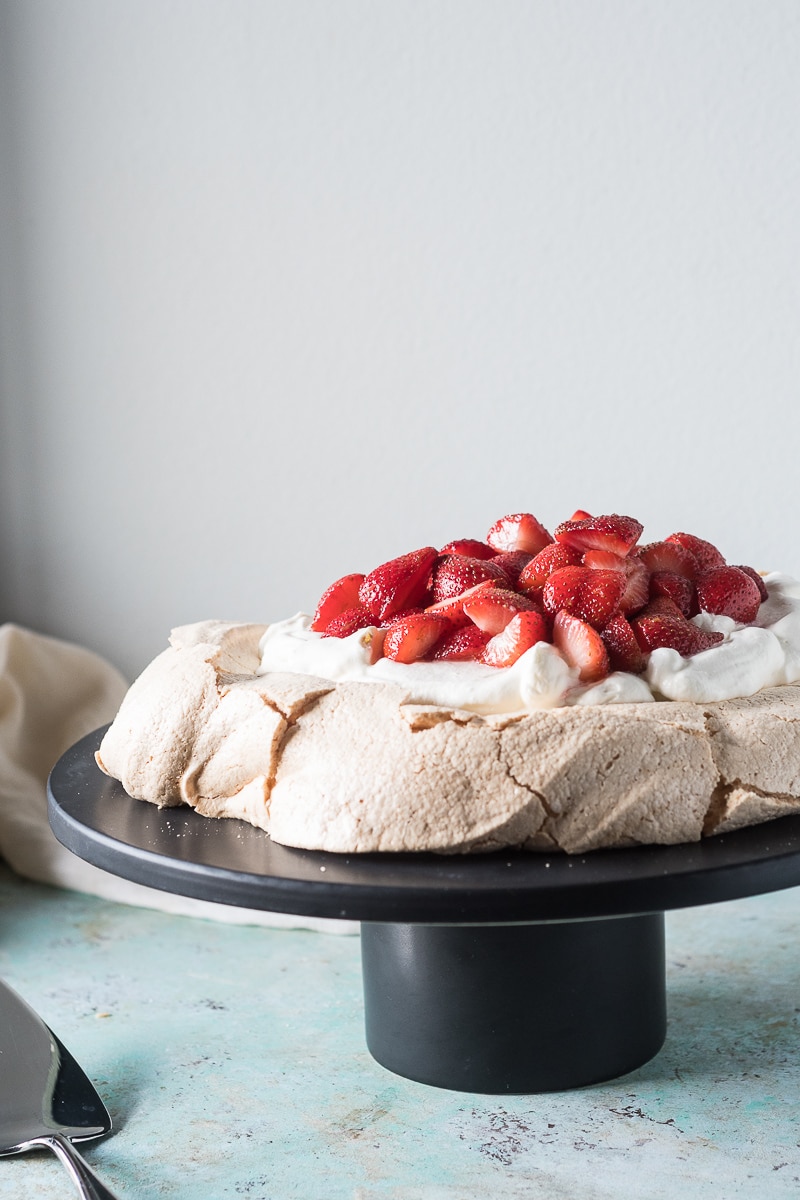 This is one of those desserts that looks fancy, tastes wonderful, and is actually pretty easy to make. (Oh, and don't worry if it cracks into pieces when you try to slice it, that's part of the charm.)
Go forth an fluff.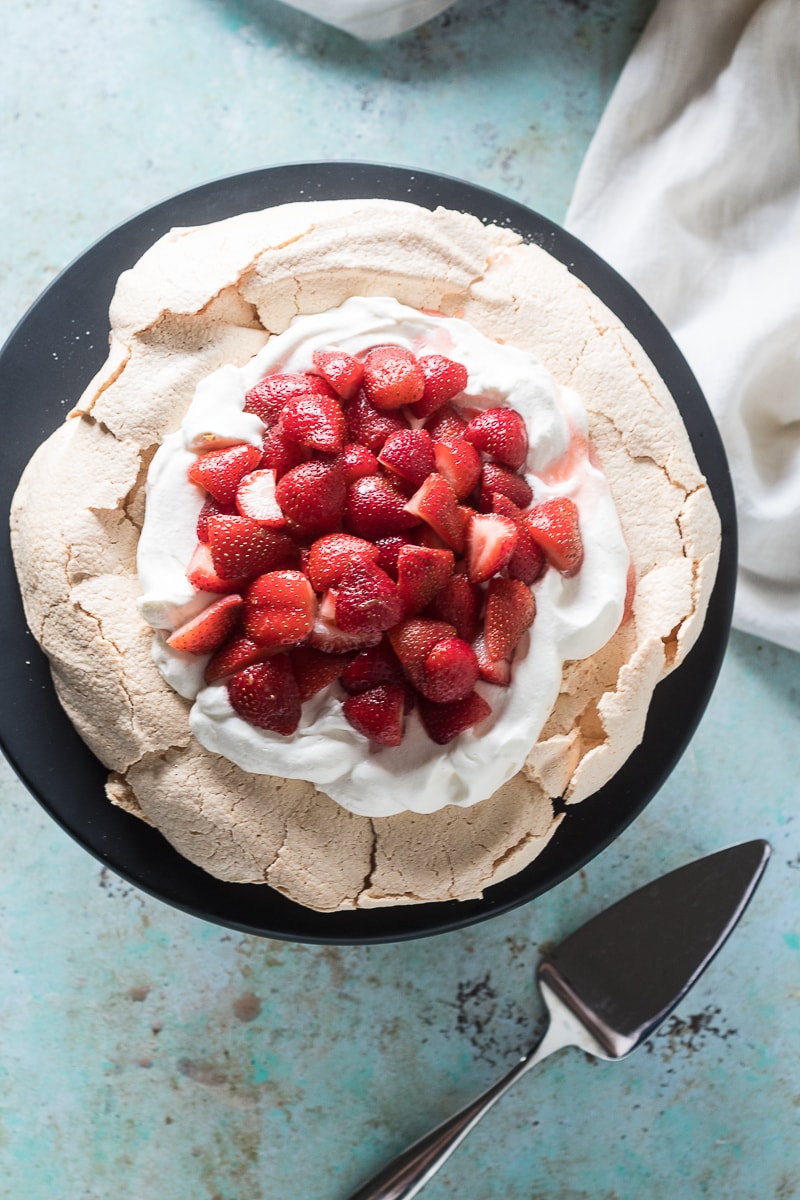 Looking for other strawberry recipes? Try these Strawberry Rhubarb Turnovers, Strawberry Lemon Curd, or Strawberry Lillet Fraisier.
Yield: 8 servings
Strawberry Pavlova with Mezcal and Lime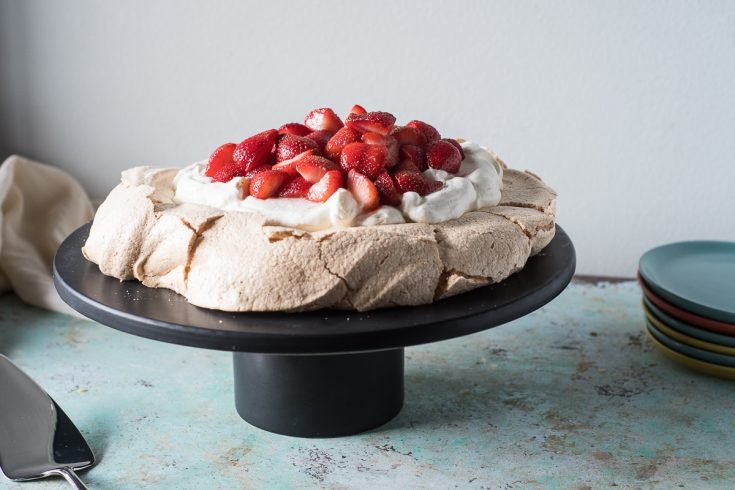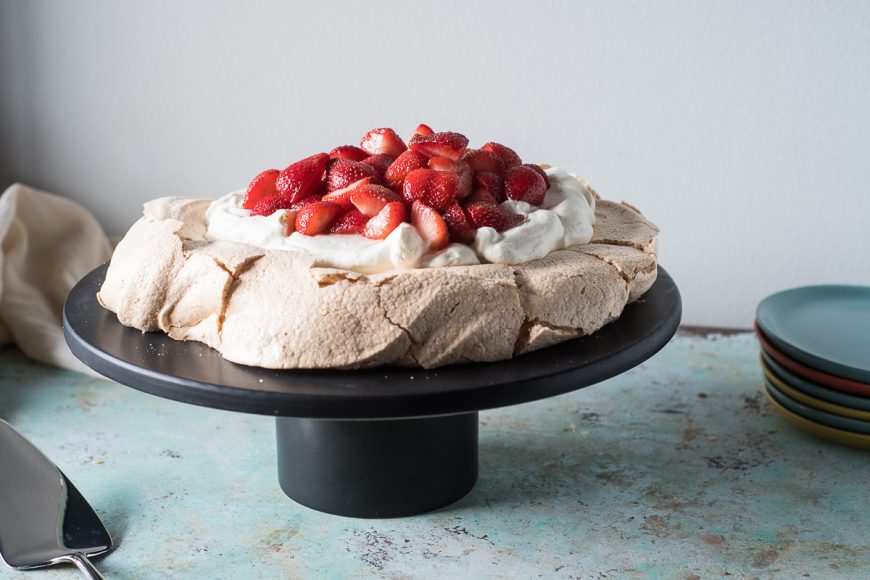 Strawberry pavlova is a traditional Australian dessert. This one gets punched up with a bit of smoky mezcal and citrusy lime. It's a dessert that can sometimes be too sweet, so I cut back on the amount of sugar you find in some versions, and I love to use lightly toasted sugar here. It's optional, but it brings in great caramel notes. You can, of course, skip the mezcal and/or the lime if it isn't your thing, but if you like smoky flavors you owe it to yourself to try the combination. This is a dessert that's best served soon after making.
Total Time
1 hour
20 minutes
Ingredients
For the meringue
4 egg whites (about 140 grams) at room temperature
1 cup (200 grams) granulated sugar
2 teaspoons cornstarch
1/2 teaspoon white vinegar
1/2 teaspoon vanilla extract
For the topping
1 pound strawberries, hulled and quartered
2 tablespoons (25 grams) granulated sugar
2 tablespoons mezcal (optional)
zest and juice of half a lime (optional)
1 cup (230 grams) whipping cream
1 teaspoon vanilla extract
Instructions
Preheat oven to 300°F. Trace a 9-inch circle on a piece of parchment paper. (I usually trace a cake pan, or you can get out your protractor.) Flip the parchment over so the pen or pencil doesn't transfer to the meringue and place on a baking sheet.
Add the egg whites to the bowl of an electric mixer fitted with a whisk attachment. Beat on medium-high speed until peaks begin to form, then add the sugar and beat until the peaks are stiff and glossy. Add the cornstarch, vinegar, and vanilla extract and beat for about 5 seconds more, just until incorporated. Mound the meringue onto the circle you drew on the parchment paper and smooth it into a circle. I like it to look a bit billowy and rustic, so don't worry about getting it perfect. Bake for 1 hour. It will be slightly browned and puffed and may have some cracks in it. Turn off the oven to let it cool.
Combine the strawberries, sugar, and mezcal and lime juice and zest (if using) in a mixing bowl and let macerate at room temperature for at least an hour.
When you're ready to serve carefully slide an offset spatula under the meringue to release if from the parchment paper and slide it onto a plate or cake stand. This is the most fiddly part of the whole process. Don't worry if it cracks a bit. Add the vanilla to the whipping cream and whip until if forms soft peaks. Mound the whipped cream onto the center of the meringue and spread, leaving about an inch around the edges. Then pile the strawberries and a bit of their juices on top. Slice into wedges and serve.
Notes
If you're interested in toasting sugar (and you should be, because it can add so much to so many desserts), you can learn how to do it here.
Nutrition Information:
Yield:
8
Serving Size:
1
Amount Per Serving:
Calories:

259
Total Fat:

11g
Saturated Fat:

7g
Trans Fat:

0g
Unsaturated Fat:

3g
Cholesterol:

34mg
Sodium:

55mg
Carbohydrates:

38g
Fiber:

1g
Sugar:

36g
Protein:

3g