I may earn from purchases through links in this post.
This strawberry rhubarb crisp with oat flour might be the best version of the humble, rustic dessert I've ever eaten. And it happens to be gluten free and 100% whole grain.
I've made plenty of versions of crisps and crumbles over the years. (Like this all rhubarb crumble with vanilla and orange zest, and this raspberry plum crisp with walnuts and cardamom, and even these hand-holdable strawberry crumb bars.)
As a category of dessert, they're wonderfully forgiving. They don't demand precision. They don't require much in the way of rise or structural integrity, which makes them amenable to all kinds of alternative flours.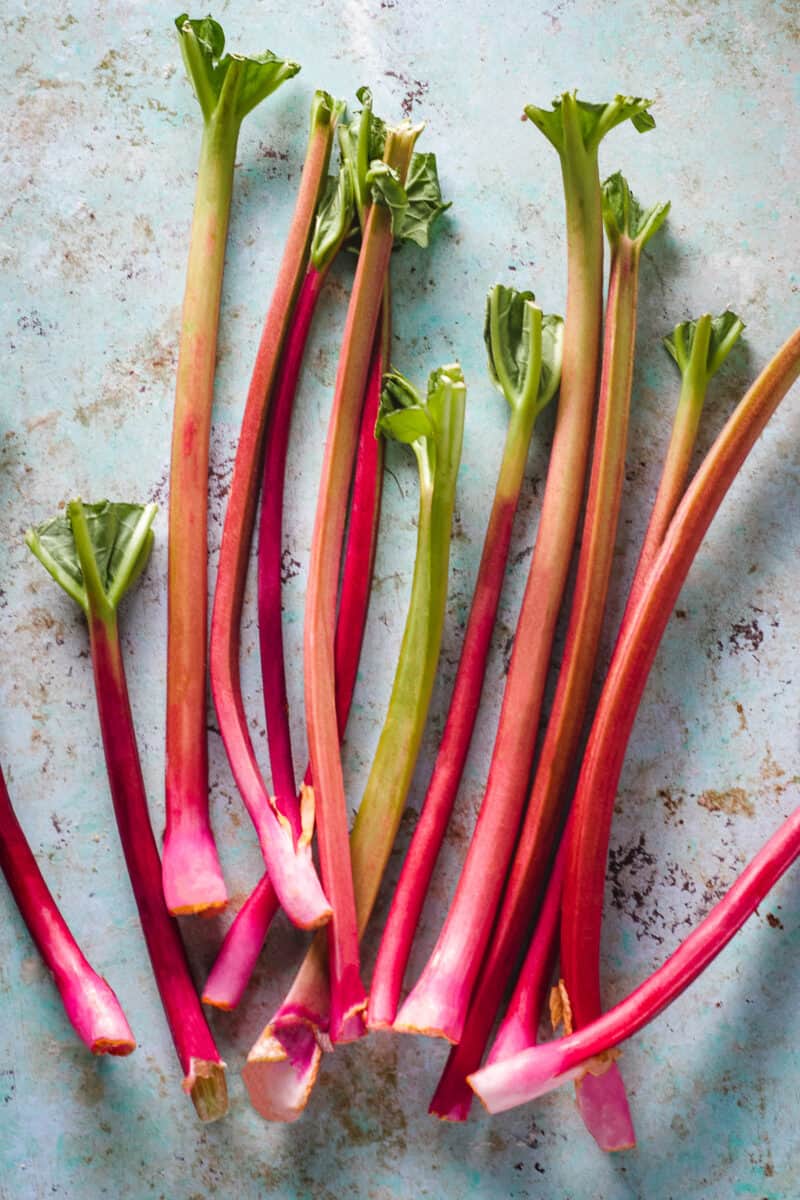 The strawberries and rhubarb more or less take care of themselves. They get cut into pieces and tossed with a bit of granulated sugar.
But the topping is a great place to play around.
I love baking with oat flour. (It's lovely in this brown sugar oat flour banana bread and in these cinnamon sugar oat muffins.)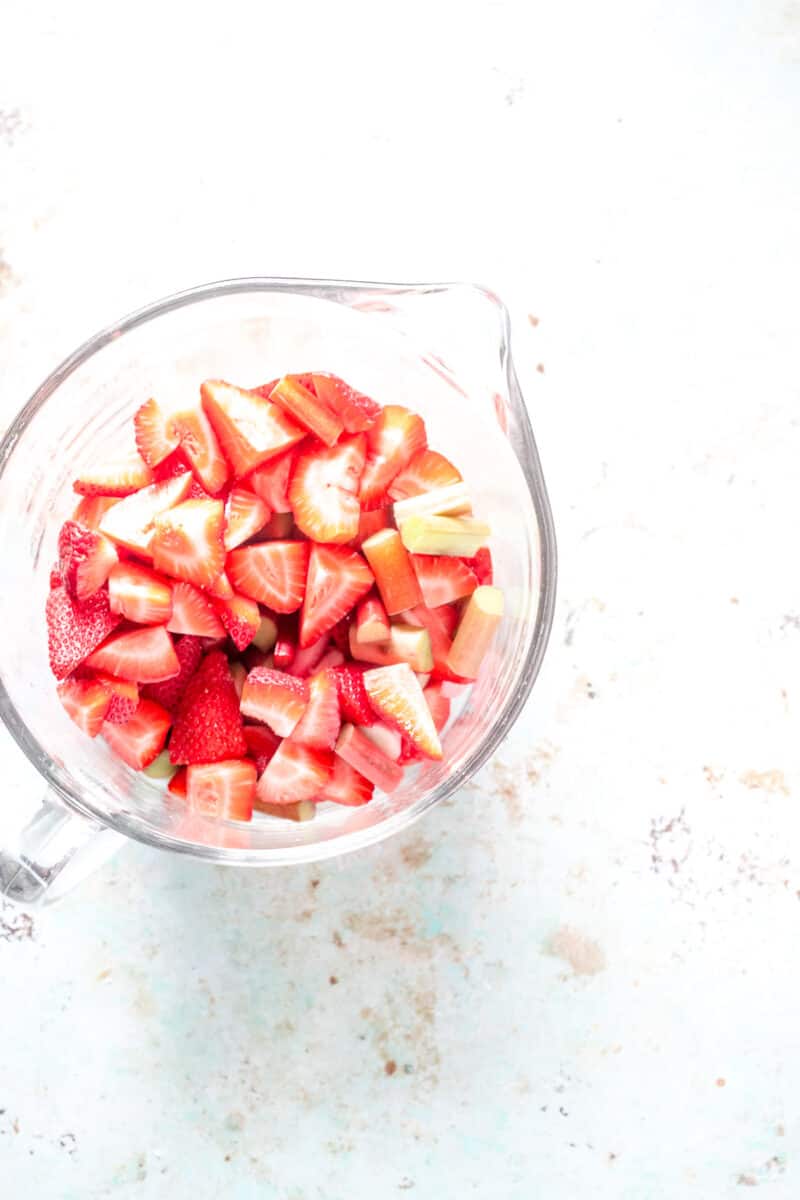 It's soft and has a comforting flavor that we already associate with familiar desserts like oatmeal chocolate chip cookies.
It's also one of the easiest flours to make–you can blitz rolled oats in a food processor until it forms a fine powder and bake with it. Or you can go the usual route and buy it already milled.
Oats and oat flour are naturally gluten free, but they're often processed in facilities that also process wheat which causes cross contamination. If you're baking for someone who avoids gluten, be sure to look for an oat flour that's certified gluten free.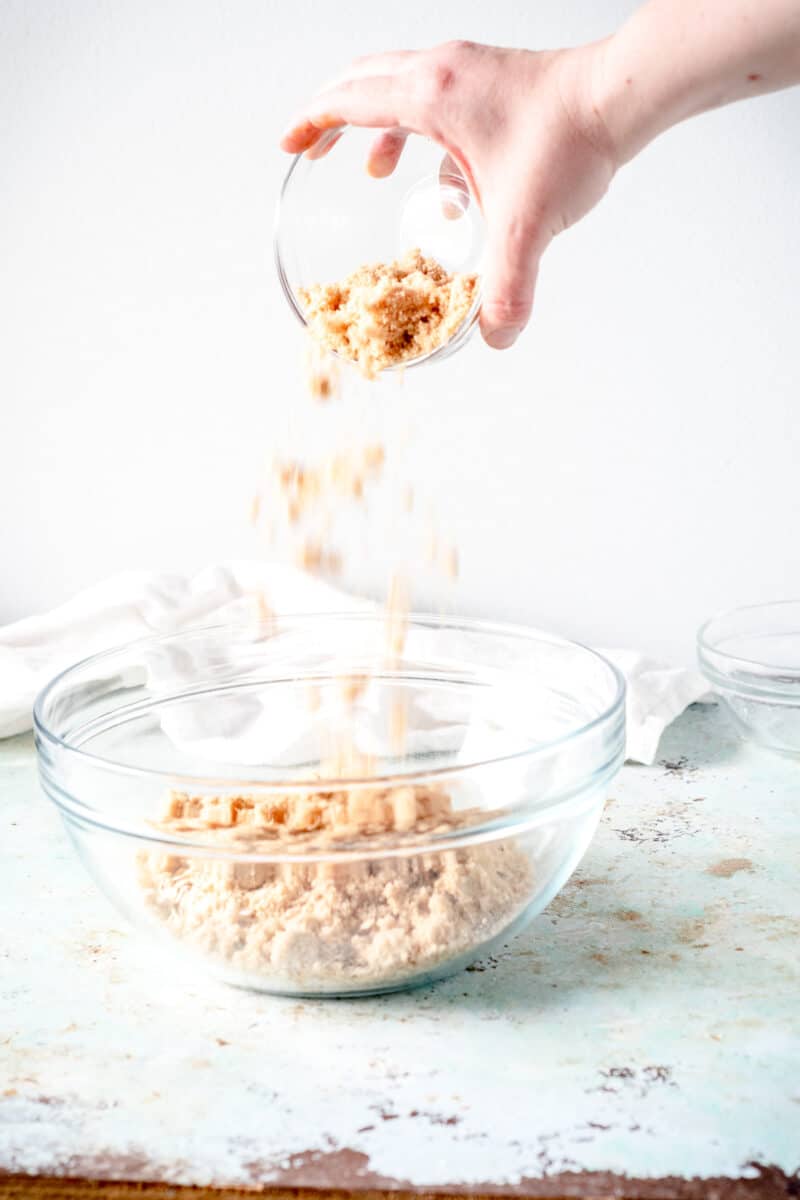 (It's worth noting that oats contain the protein avenin, which causes reactions in a small percentage of people with celiac disease, though uncontaminated oats are generally considered safe for people with gluten intolerance.)
Oat flour has subtle butterscotch notes that make it a natural fit with brown sugar, which I use in this crisp topping.
The generous amount of old fashioned rolled oats give the topping a wonderful nubbly, chewy texture. I add an egg to serve as a binder, which gives this crisp more of a soft cookie texture than the streusel texture some crisps have.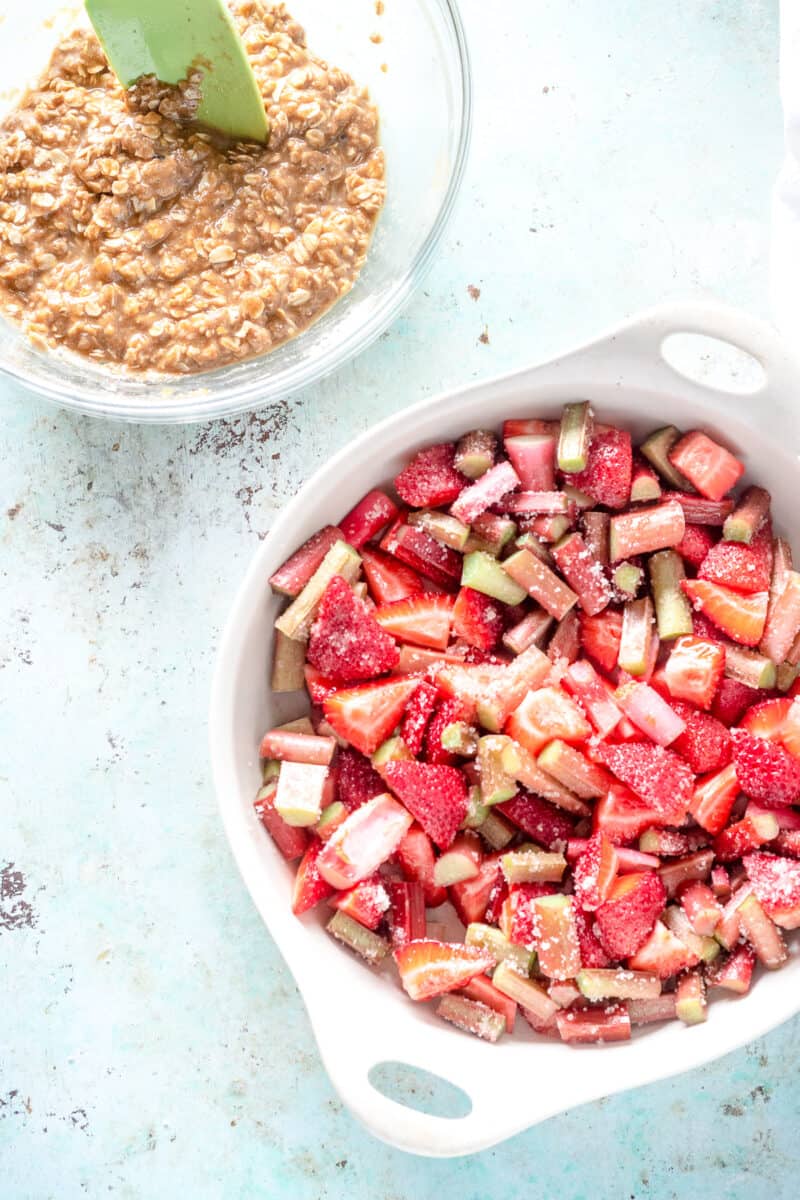 I also add in some cinnamon along with a pinch of cardamom and coriander which give the topping a bit of aromatic spice that I just love.
And then the whole thing gets mixed with melted butter (that you can brown if you want to go the extra mile) and a generous splash of vanilla because they make pretty much every dessert better.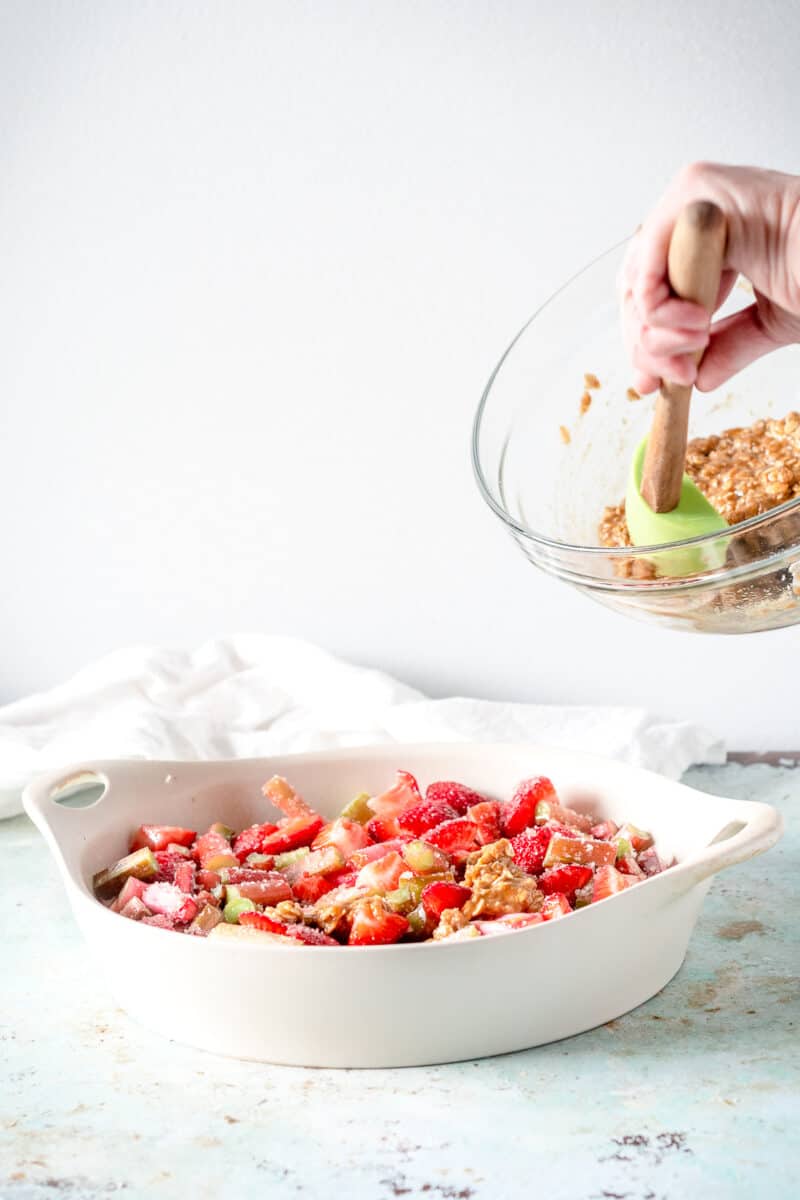 The topping has a rather wet, batter-like consistency that may look almost too wet.
But don't worry.
Just drop it by the spoonful over the fruit and sugar mixture and spread it the best you can.
After a trip in the oven, the topping turns a slightly deeper brown than golden with a craggy, undulating top.
It has the wonderful aroma of an oatmeal spice cookie with warm bubbling ruby-colored fruit slumped underneath.
After it cools a bit, the very top remains crisp but yields under a spoon to give way to a topping with the texture of a soft oatmeal cookie next to soft sweet-tart strawberries and rhubarb.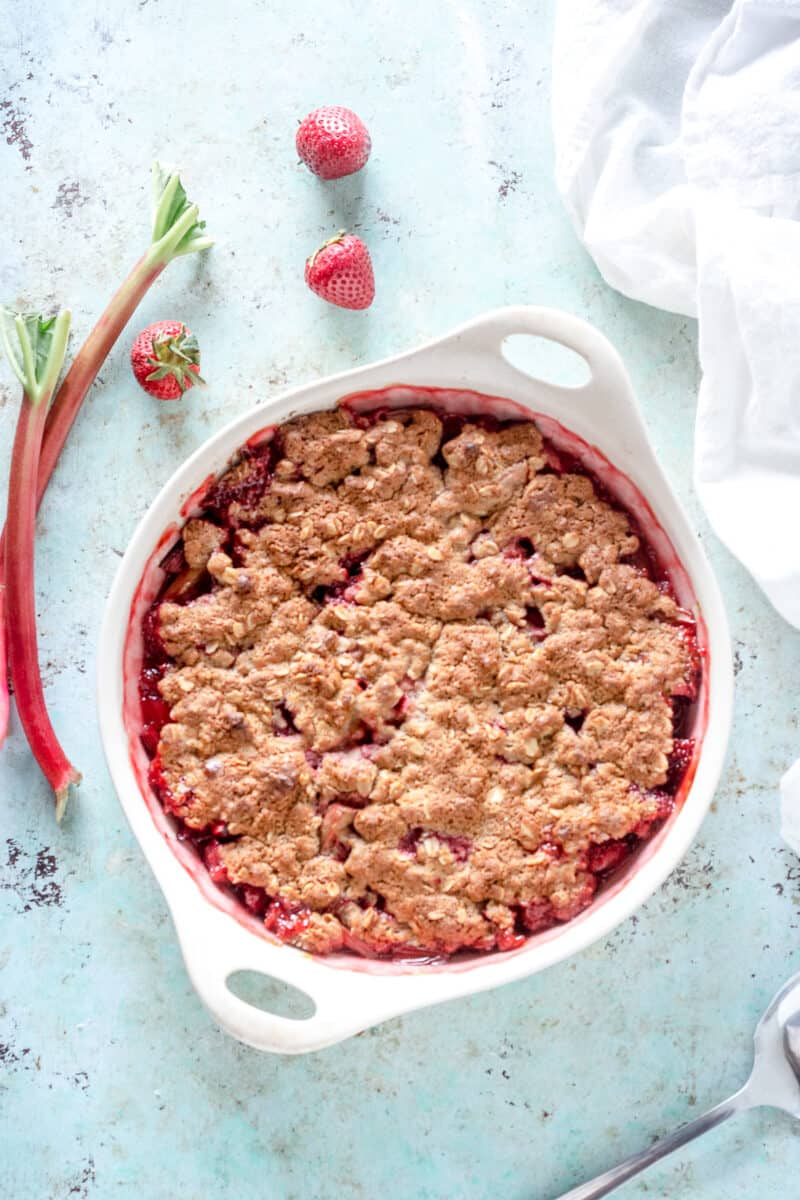 Compared to other crisps I've made, this one keeps better. The topping stays crisp and firm, uncovered at room temperature for several days rather than turning into a soft oatmeal mush.
This strawberry rhubarb crisp is delightful on its own, but of course, a scoop of vanilla ice cream would be welcome alongside.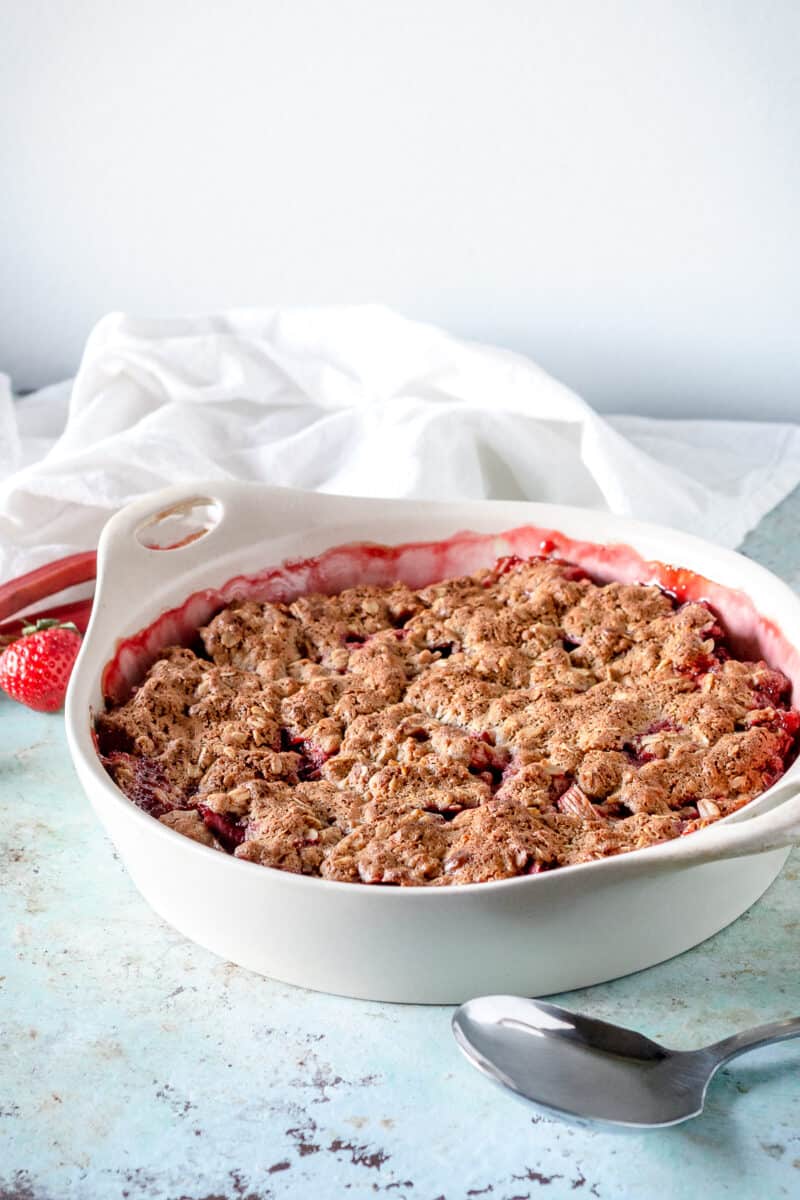 Strawberry Recipes for Spring and Summer
When strawberries are in season they're delightful to eat on their own or with a bit of freshly whipped cream, but you can do so much more with them than that! Here are 7 recipes perfect for when strawberries are in season (and they even work with out-of-season berries, even if they're rarely quite as good as the ones from the farm down the road...)
Yield: 8 servings
Strawberry Rhubarb Crisp with Oat Flour and Oats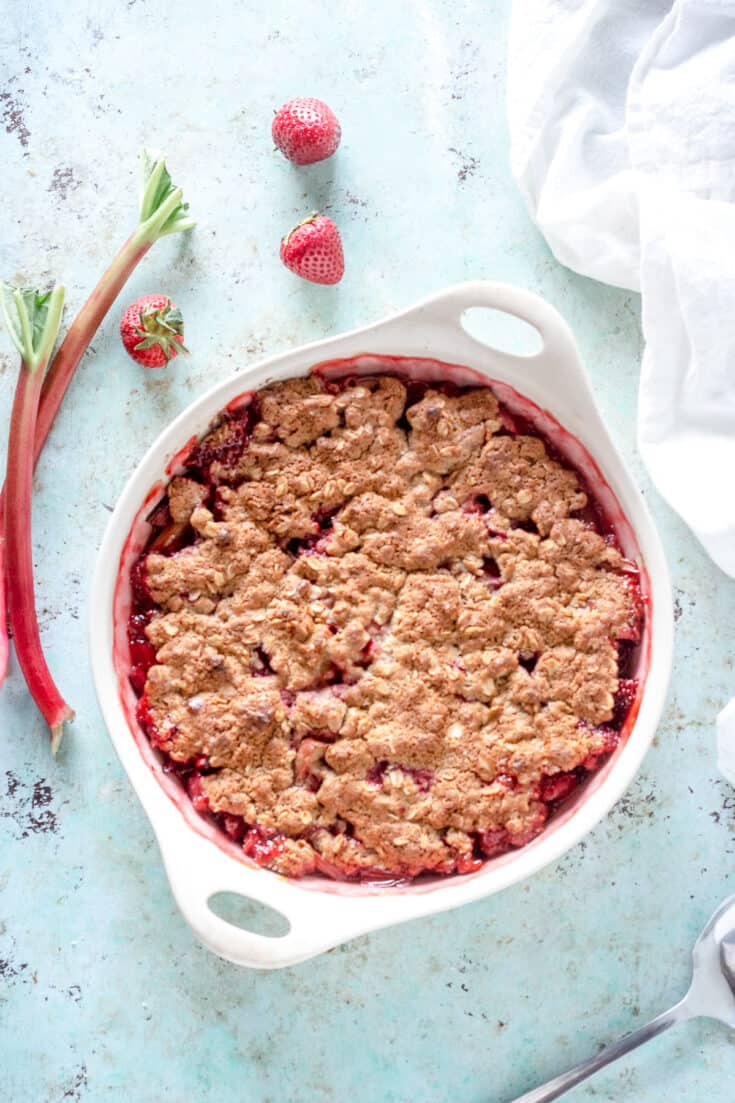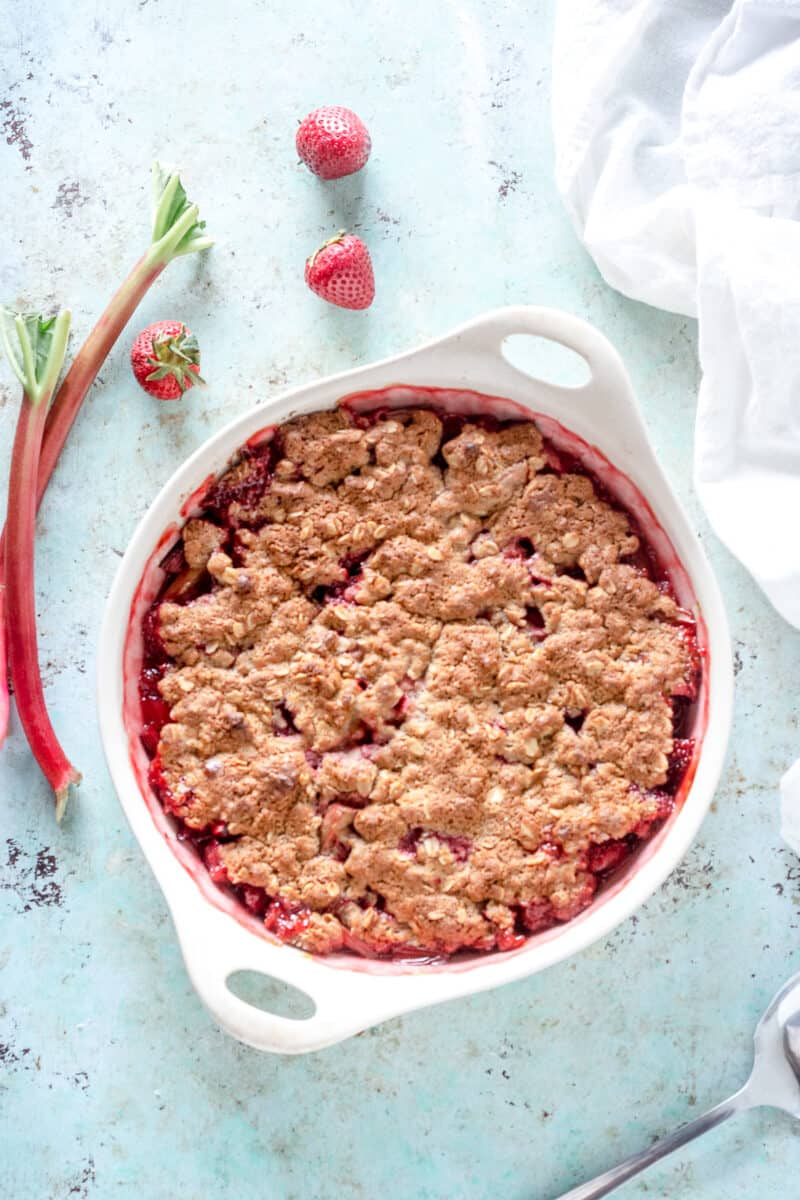 This strawberry rhubarb crisp is made with a mix of oat flour and old fashioned rolled oats. It's 100% whole grain and gluten free. (If you're making this for someone intolerant to gluten, be sure to look for certified gluten-free oats and oat flour because oats are often processed in facilities that also process wheat and can be cross contaminated.) The topping comes together in a few minutes. I sometimes like to take the extra step of browning the butter when melting it, but I leave that entirely up to you. I like the mixture of strawberries and rhubarb, but you could absolutely make this entirely with rhubarb with no other adjustments to the recipe.
Ingredients
1 cup (100 g) oat flour
1 cup (90 g) rolled oats
3/4 cup (150 g) light brown sugar
1/2 teaspoon ground cinnamon
1/4 teaspoon ground cardamom
1/4 teaspoon ground coriander
1/2 teaspoon kosher salt
1 large egg
1/2 cup (113 g) unsalted butter, melted
1 teaspoon vanilla extract
3 cups (about 350 g) strawberries, quartered (halved if small)
3 cups (about 300 g) rhubarb, cut into 3/4-inch pieces
1/4 cup (50 g) granulated sugar
Instructions
Preheat oven to 375°F. Add oat flour, oats, brown sugar, cinnamon, cardamom, coriander, and salt to a medium mixing bowl and whisk together.
Add the egg and stir until well distributed.
Add the vanilla extract to the melted butter then add to the oat mixture and stir until well combined.
Add the strawberries and rhubarb and granulated sugar to a large mixing bowl and stir. Add to a 9-inch pie plate or 2-quart baking dish. Spoon the topping over the fruit and spread until most of the fruit is covered.
Bake until the top is a deep golden brown and the fruit is bubbling, about 30 minutes. Let cool for at least 20 minutes before serving. Serve warm or at room temperature.
Recommended Products
As an Amazon Associate and member of other affiliate programs, I earn from qualifying purchases.
Nutrition Information:
Yield:
8
Amount Per Serving:
Calories:

349