I may earn from purchases through links in this post.
These cookies. Oh, these cookies. They're everything I want in an oatmeal chocolate chip cookie.
Best is a bold claim, I know. And obviously it's a subjective one. But I stand by it here.
They're chewy with a nubbly texture from the rolled oats. They have an almost butterscotch flavor from the dark brown sugar and generous amount of vanilla.
And they're so packed with chocolate that the dough barely contains it.
Oh, and they are topped with flaky sea salt because that makes everything better.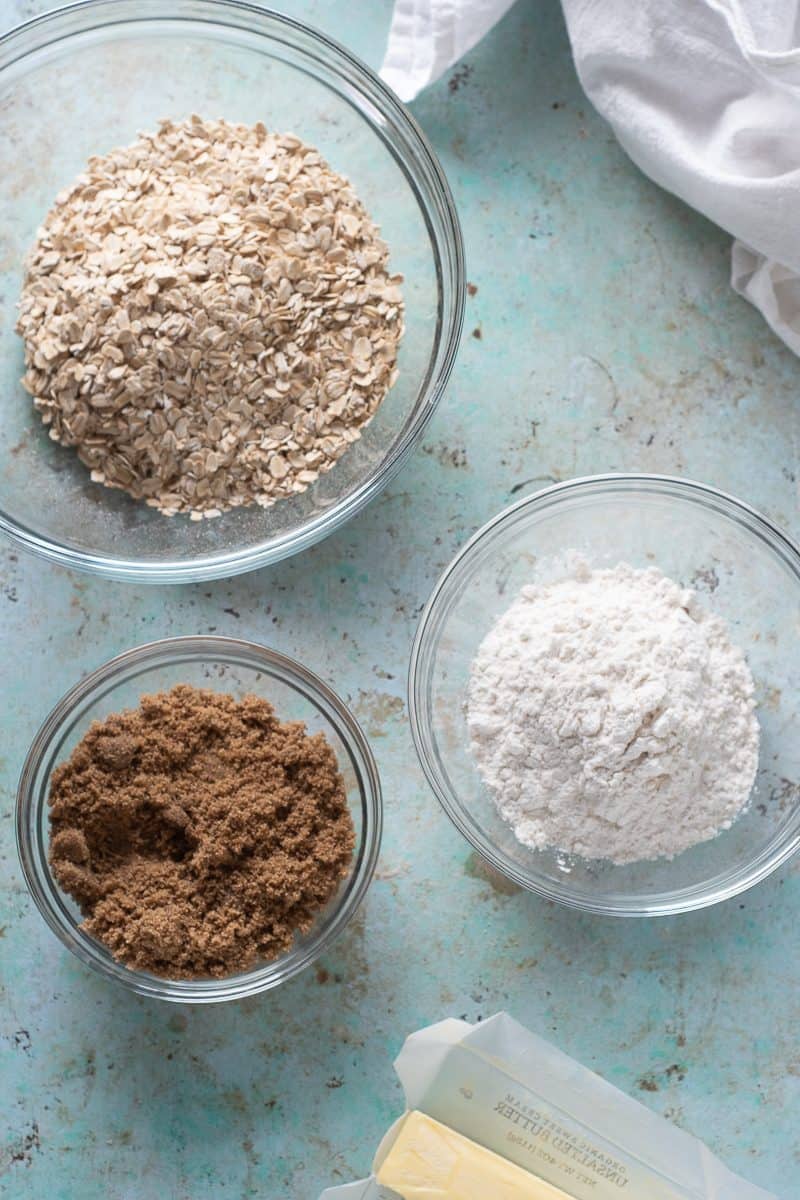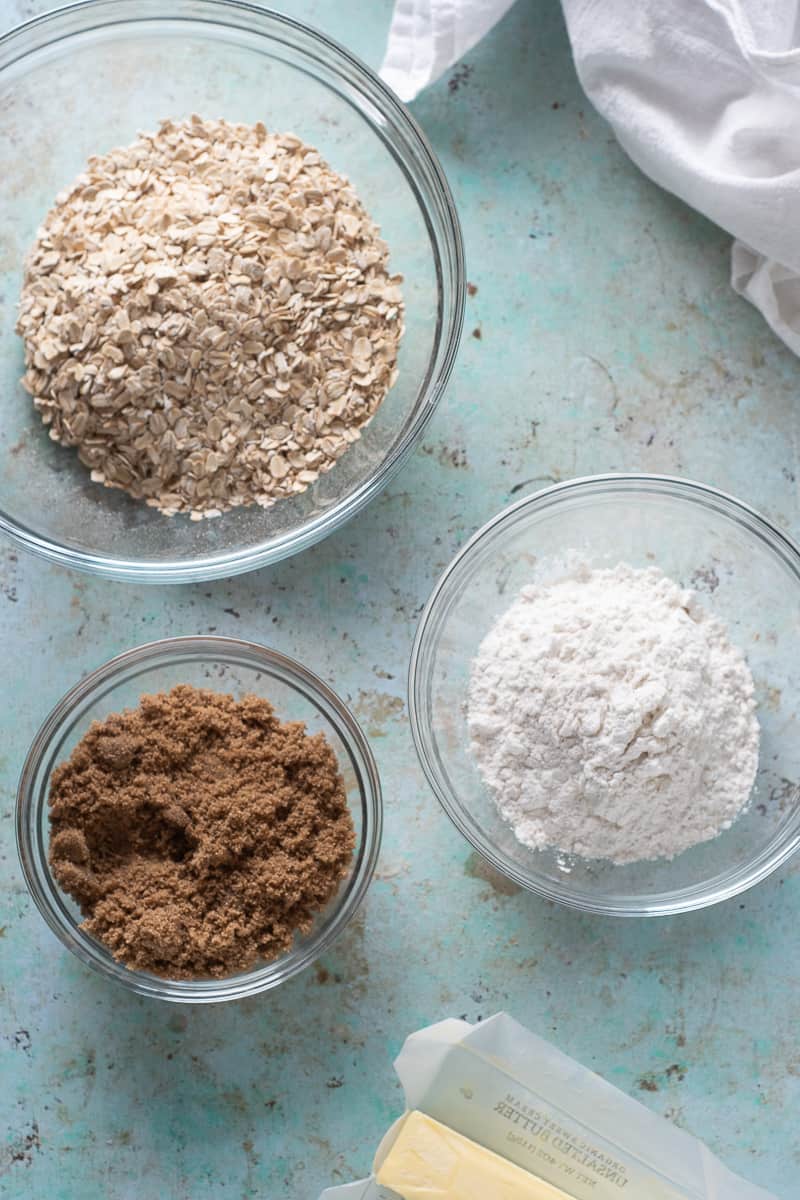 I love rolled oats in cookies. For reasons I don't quite understand, they never give cookies that whiff of health food that makes them seem stodgy and overly serious like some other whole grains do.
I might even [gasp!] like oatmeal chocolate chip cookies better than regular all-purpose flour chocolate chip cookies.
(Though I reserve the right to change my mind on that depending on what freshly baked cookie is in front of me. I mean I'm human. And fickle.)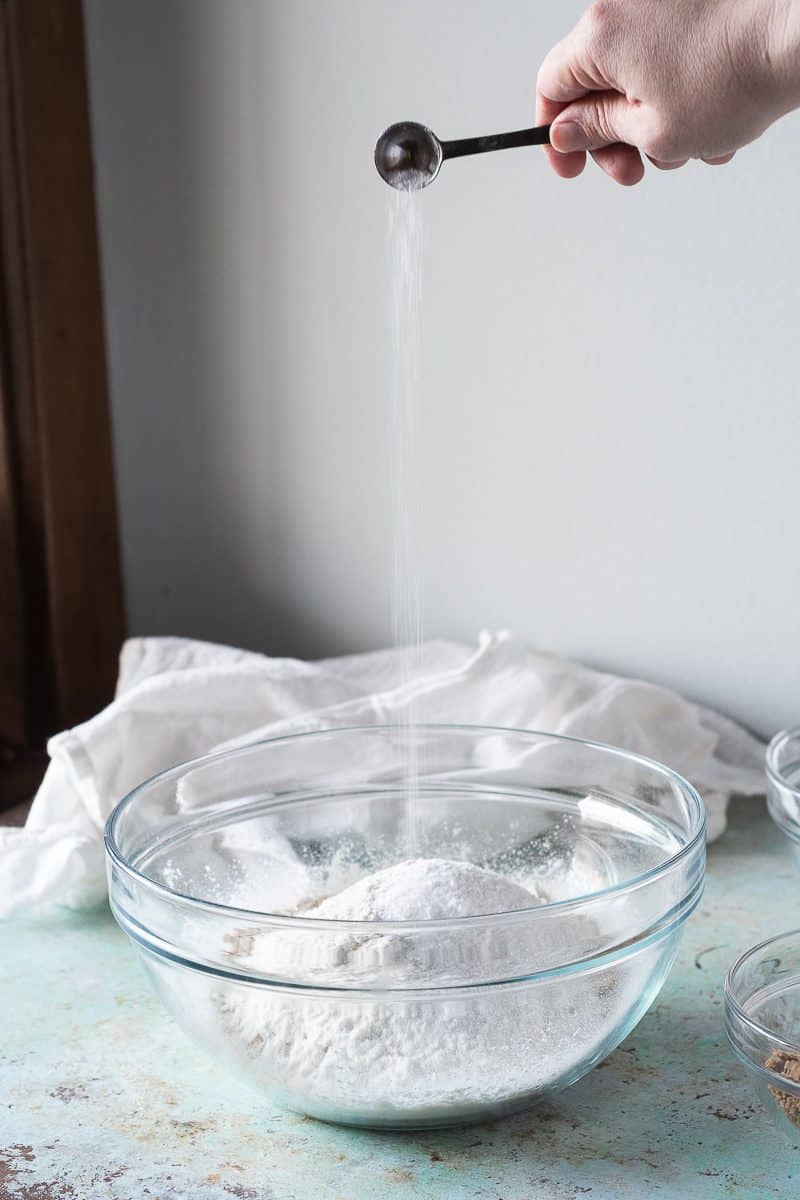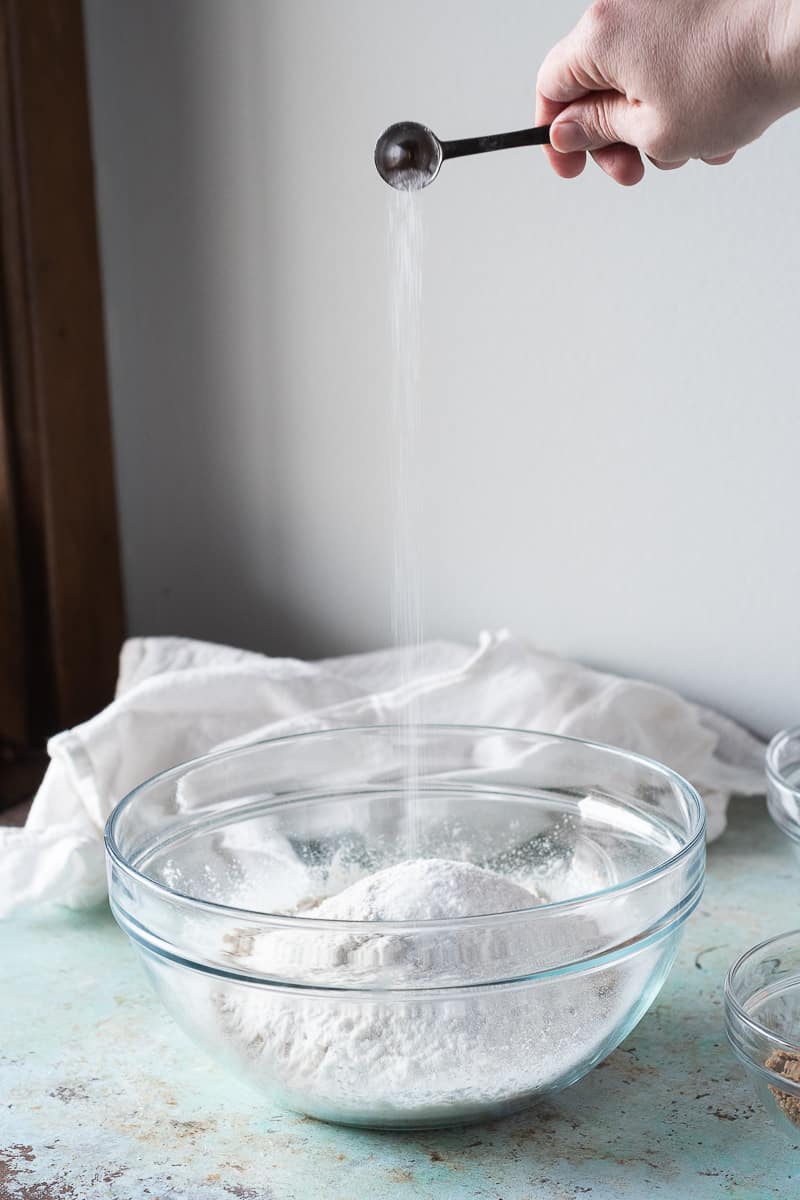 Also, unlike some cookies, these don't require a 24 or 36 hour resting period before baking.
Although I'll admit that letting pretty much any cookie dough rest overnight will improve the cookies, I almost never want cookies tomorrow or two days from now. I want them today. (Or preferably, like right now.)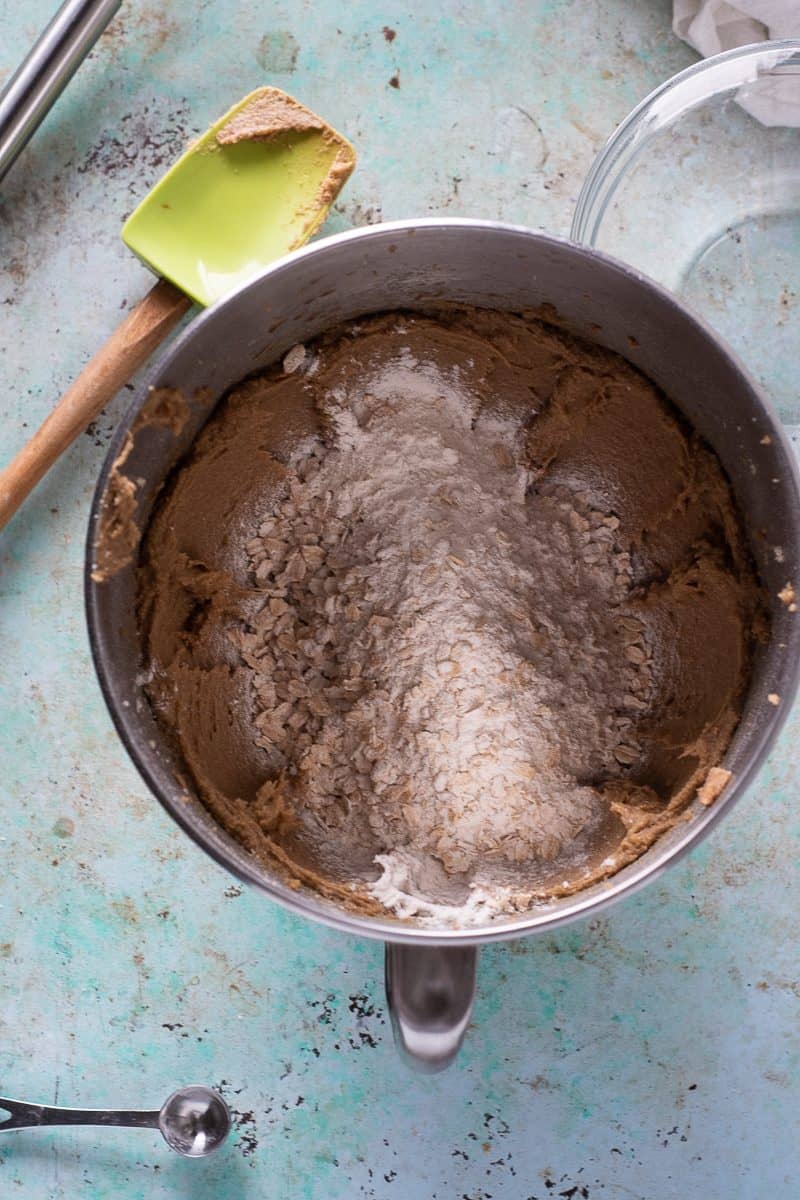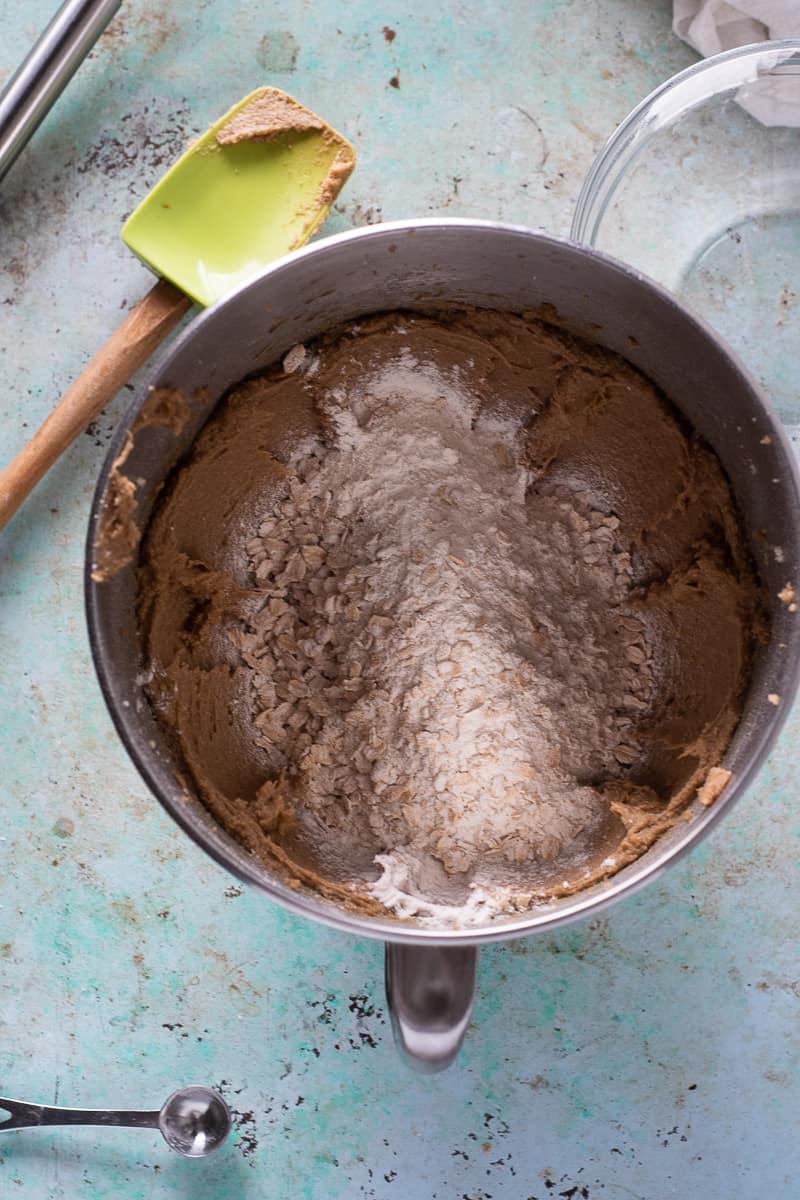 These manage to go from whisking some oats and flour together to coming out of the oven warm and melty in under an hour. And they don't require any exotic ingredients.
Okay, maybe flaky sea salt is a little bit fancy. But Maldon sea salt isn't expensive and it's probably at your grocery store (and definitely available on Amazon). And if you don't want to bother getting it you could even use kosher salt instead.
But everything else is just standard baking pantry ingredients.
The high ratio of brown sugar to granulated sugar helps to keep these cookies soft and gives them just the faintest molassesy undertones, especially if you use dark brown sugar (though light brown sugar will also absolutely work).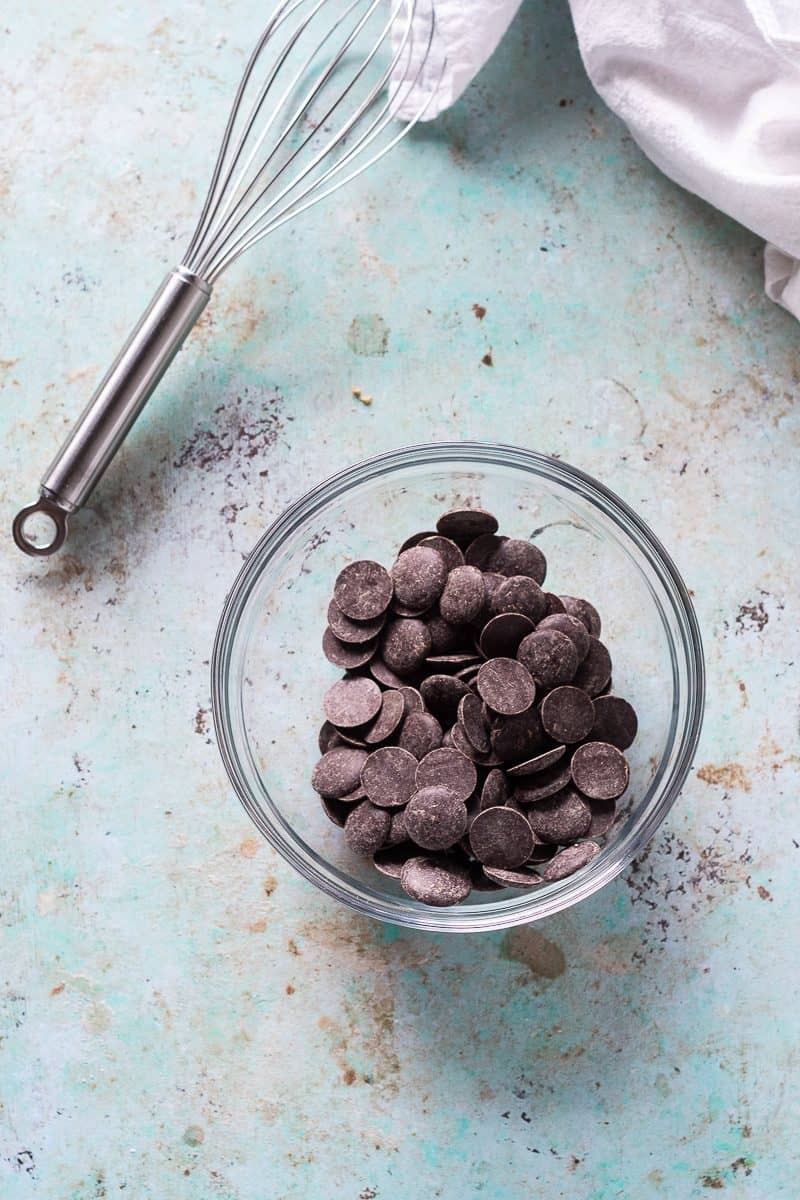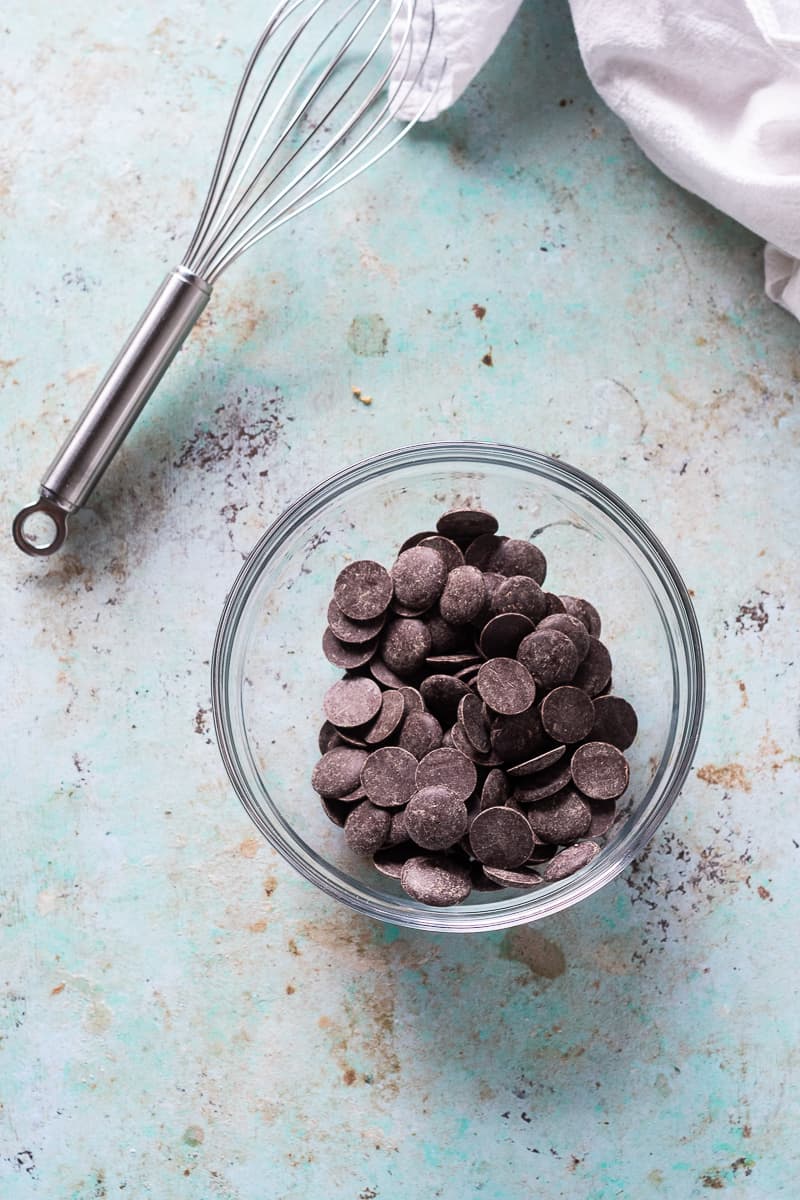 And the extra vanilla gives the flavor a boost, making them taste richer without going to the trouble of browning butter or toasting sugar. (I mean, those tricks are delicious and I won't stop you from doing them, but I am also lazy, and feeling like I have to do six step before I get started usually means I give up before I get started.)
It's the same trick I use in my blondies, and it's a good one to have in your back pocket to amp up any cookie recipe you find a little dull.
The thing you should splurge on is chocolate.
While I'm not going to tell you you need to get the most expensive and hard-to-find chocolate out there, I am going to be honest and tell you it's worth upgrading to the better chocolate chips at your grocery store like those from Ghirardelli or Guittard or chopping up a bar of Trader Joe's Pound Plus. It makes a difference.
I keep a giant bag of Guittard 64% baking discs around for these occasions because they are exceptionally delicious (and, uh, might come in handy for sneaking by the handful when you haven't baked anything), but I recommend going with whatever chocolate you like that you can easily get your hands on.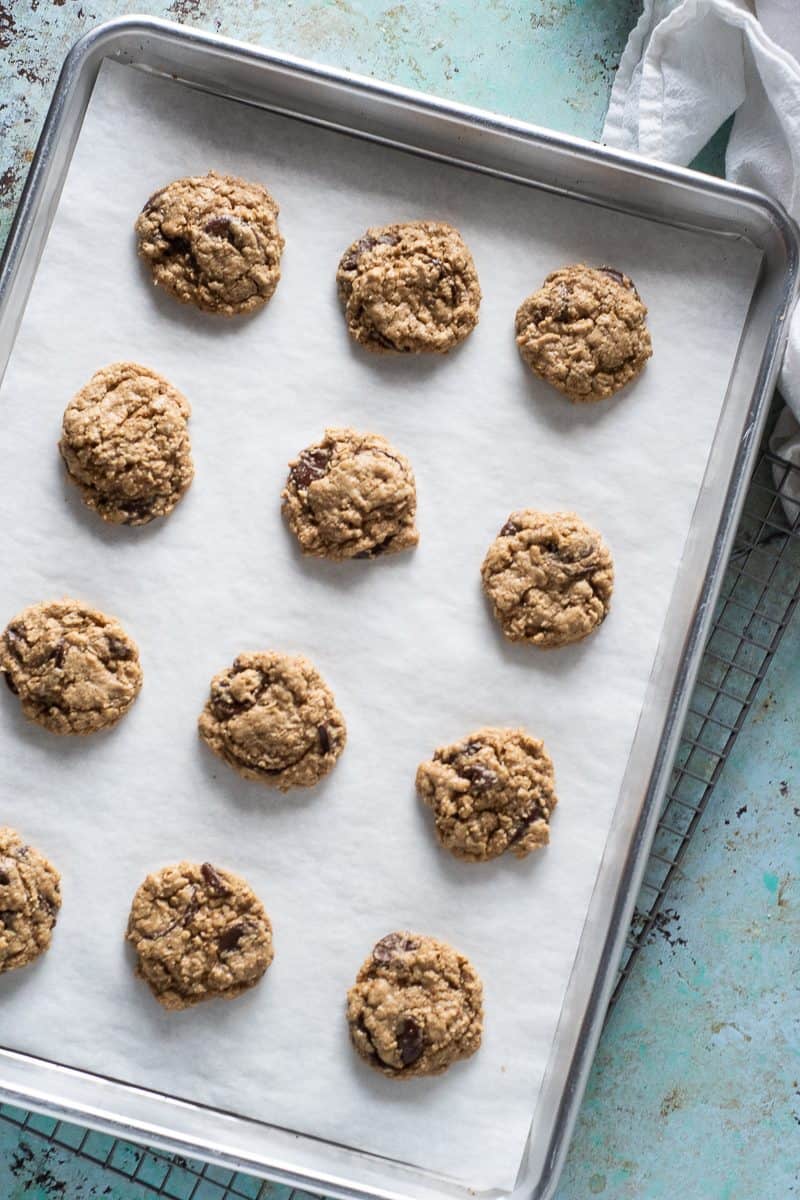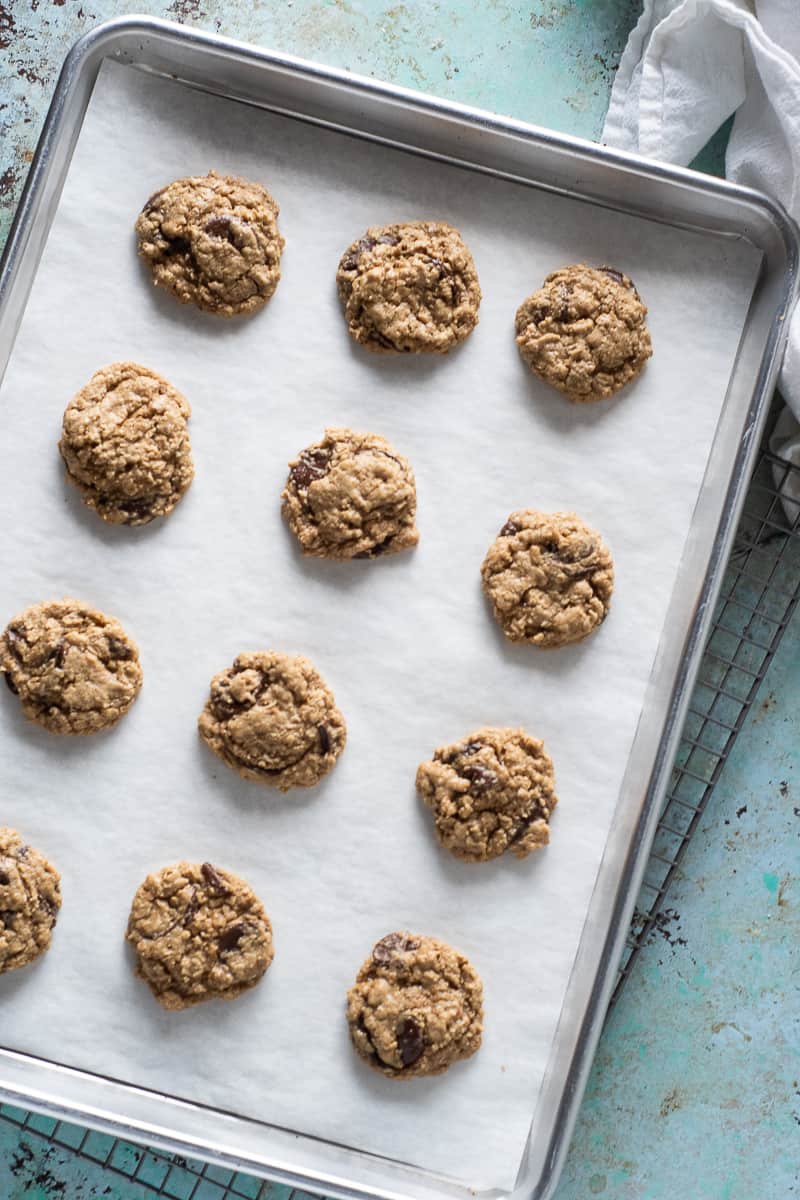 There's one more secret trick that takes these cookies over the top.
When they come out of the oven, gently tap down the rounded domes and little peaks with the back of a measuring spoon. (Avoid the exposed chocolate bits to prevent smearing it everywhere.)
This makes the cookies less airy and more chewy, which is what I always want in an oatmeal chocolate chip cookie. Now go ahead and make these your own.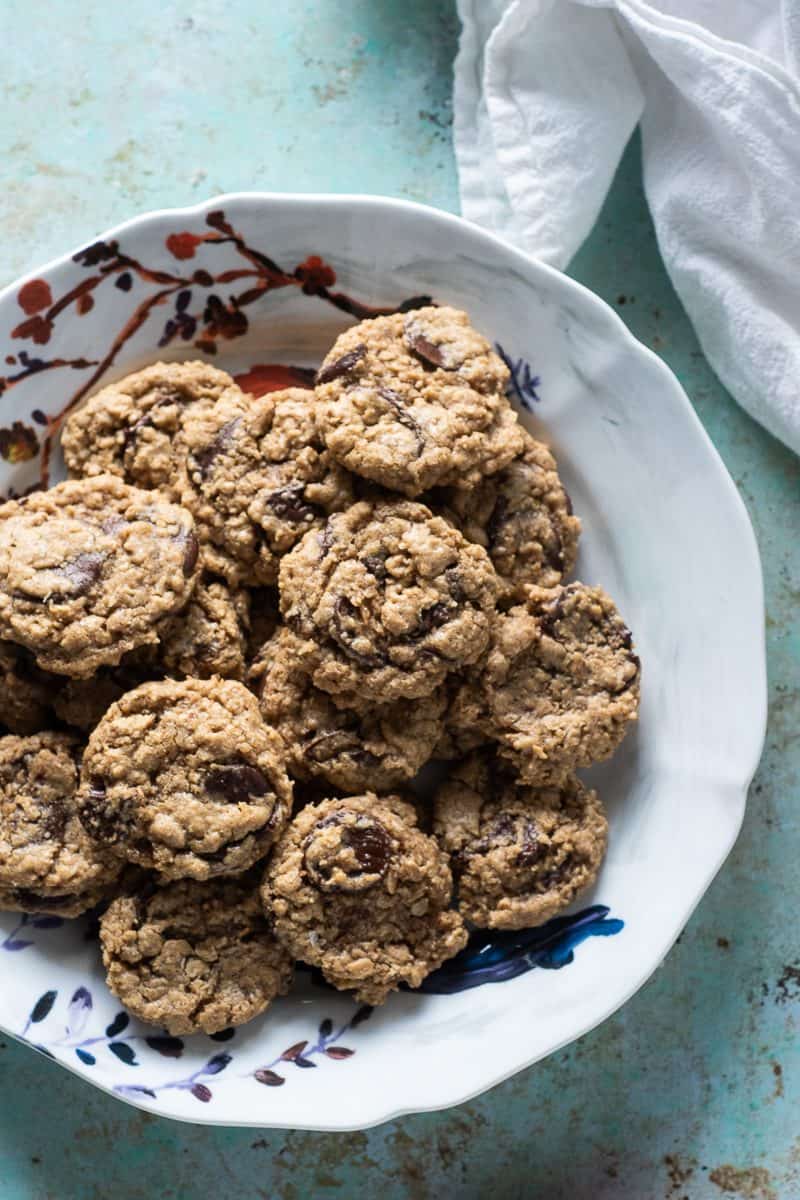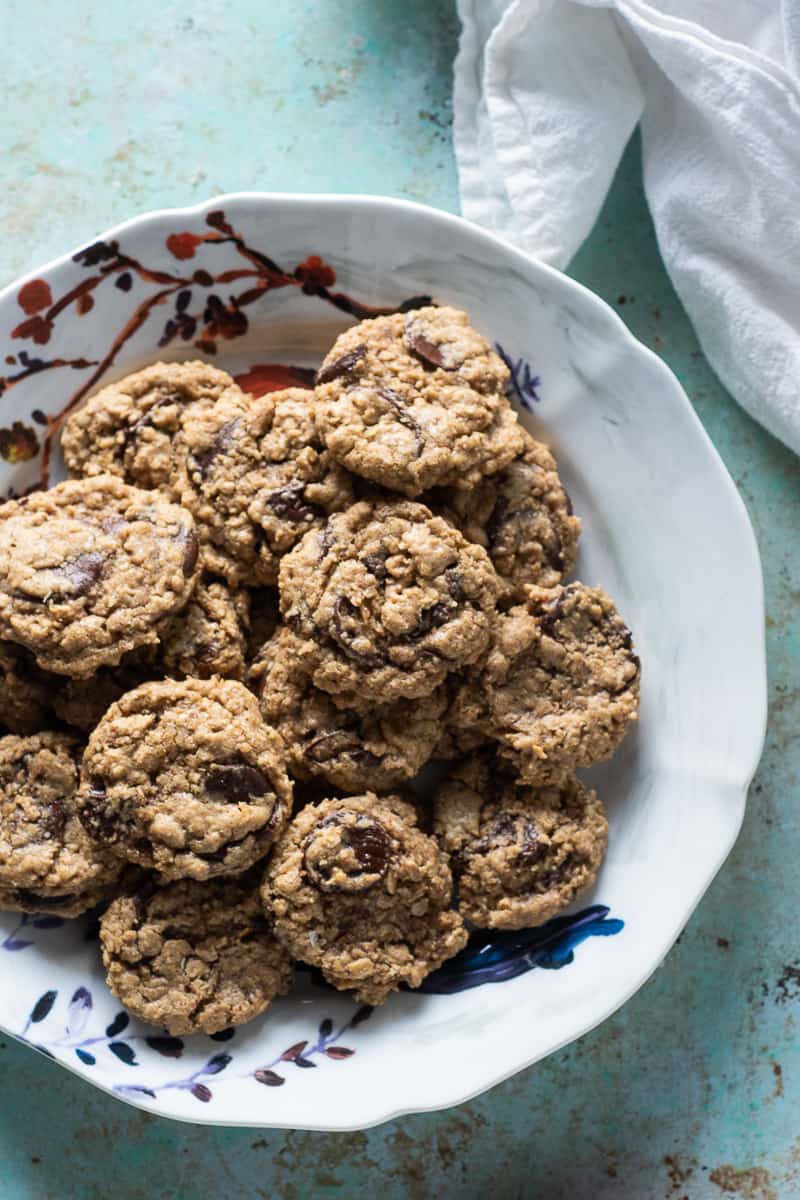 Yield: about 40 cookies
Oatmeal Chocolate Chip Cookies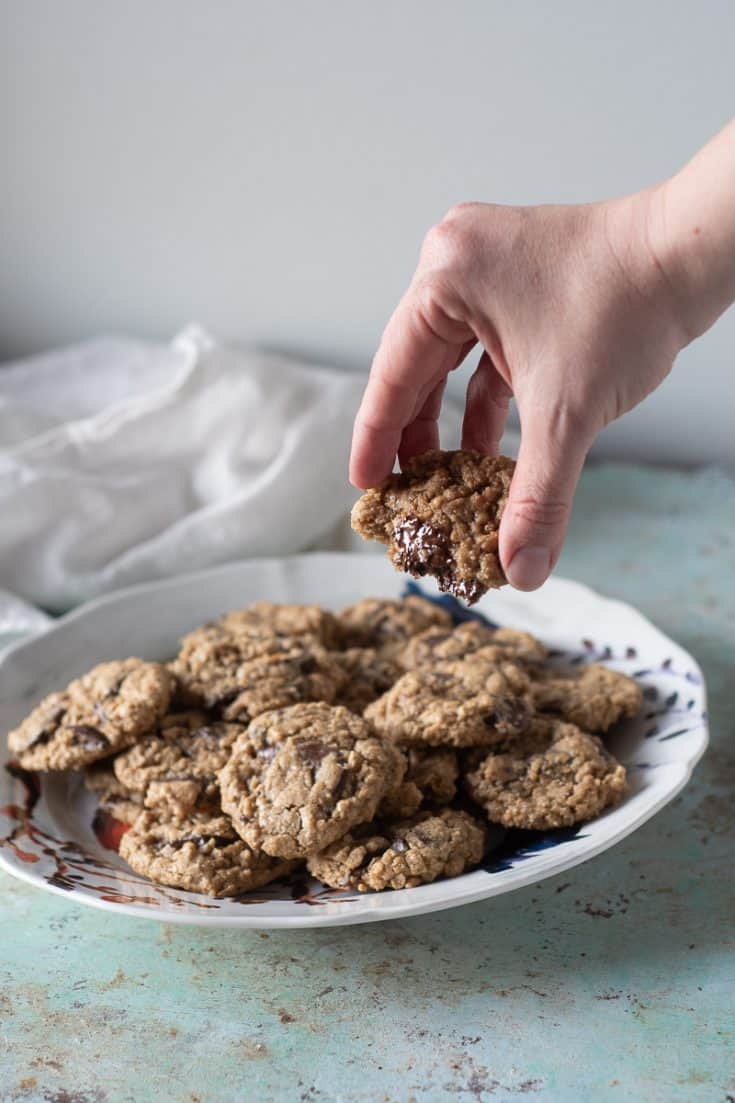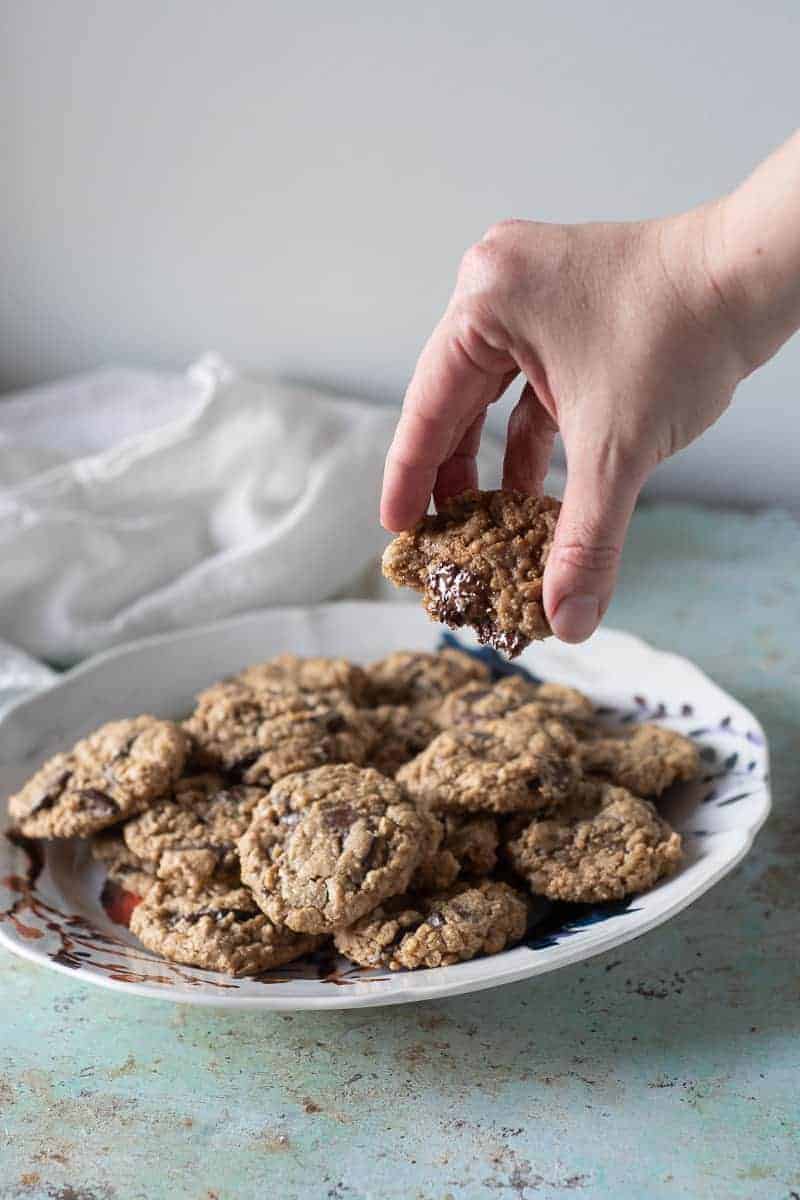 These oatmeal chocolate chip cookies are chewy, oaty, and so packed with chocolate the dough barely holds it together. I like to use dark brown sugar in these for its deeper flavor, but light brown sugar will absolutely work as well. You can either chop a chocolate bar or use chocolate chips for these, but whatever you do use a chocolate you like to eat on its own. It's worth splurging on the better grocery store chocolate chips like Ghirardelli or Guittard or chopping some Trader Joe's Pound Plus. I like to sprinkle the tops with a flaky sea salt like Maldon. If you don't want to buy that, you can skip it or sprinkle the tops very judiciously with kosher salt. You can scoop the dough ahead of time and freeze it if you want to bake them later.
Ingredients
2 cups (180 grams) rolled oats
1 cup (120 grams) all-purpose flour
1/2 teaspoon baking powder
1/2 teaspoon baking soda
1/2 teaspoon kosher salt
1/2 cup (113 grams, 1 stick) unsalted butter, at room temperature
3/4 cup (150 grams) dark brown sugar
1/2 cup (100 grams) granulated sugar
1 large egg
2 teaspoons vanilla extract
8 ounces (225 grams, 1 3/4 cups) chocolate chips or chopped chocolate
flaky sea salt, for topping
Instructions
Preheat the oven to 350°F. Line 2 baking sheets with parchment paper. Add the oats, flour, baking powder, baking soda, and kosher salt to large mixing bowl and whisk together.
Add the butter and both sugars to the bowl of a stand mixer fitted with a paddle attachment and cream on medium-high speed until the mixture is almost fluffy, about 4 minutes. Add the egg and vanilla and mix for another 30 seconds or until combined.
Add the oat mixture to the butter mixture and mix on low speed until thoroughly moistened, about 1 minute. Add the chocolate and mix on low speed until well distributed, about 30 seconds.
Scoop the dough into generous rounded tablespoon mounds, about the size of a walnut and place on the prepared baking sheet, allowing at least an inch between each cookie.
Bake for 8-10 minutes or until the cookies are just beginning to set. Err on the side of slightly underdone here. When the cookies come out of the oven, immediately tap down the tops of the cookies with the back of a measuring spoon (avoid the exposed chocolate to prevent smearing). This will give the cookies an extra chewy, less airy texture. Let cool on racks for a few minutes before eating.
Recommended Products
As an Amazon Associate and member of other affiliate programs, I earn from qualifying purchases.
Nutrition Information:
Yield:
40
Serving Size:
1
Amount Per Serving:
Calories:

62
Total Fat:

1g
Saturated Fat:

0g
Trans Fat:

0g
Unsaturated Fat:

0g
Cholesterol:

5mg
Sodium:

66mg
Carbohydrates:

12g
Fiber:

1g
Sugar:

7g
Protein:

1g