I may earn from purchases through links in this post.
One of my favorite techniques for making my baked goods more delicious is using brown butter in place of regular butter.
What is brown butter? It's butter that is heated until it reaches about 250°F, at which point the water boils off and the milk proteins and sugar begin to brown through a series of Maillard reactions.
And more to the point, for our purposes, browning gives butter a complex, nutty, almost butterscotch aroma and flavor.
The French call it beurre noisette, which means "hazelnut butter," the hazelnut here referring to the color and the nutty flavors the butter takes on.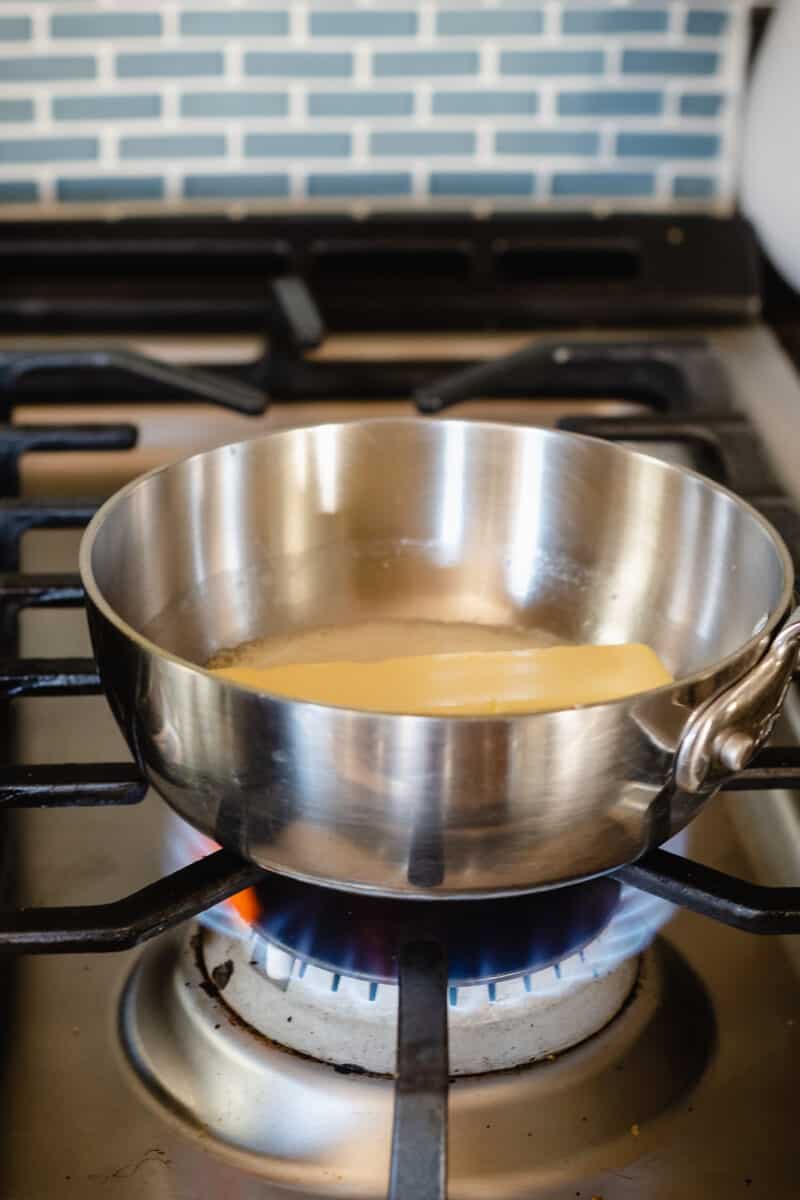 You melt butter in a pan over medium-high heat until the butter foams and sputters and sometimes pops like a geyser. Then you turn the heat down, swirl the pan around and take a look at the solids collecting in the bottom of the pan.
You can brown the butter solids to a pale tan for a mild brown butter, or you can keep cooking them until they turn a deep brown for a stronger, nuttier, sweeter flavor. (The pictures here show the darker variety.)
Be careful to avoid turning the solids totally black. That brings out acrid flavors, which are unpleasant.
The liquid part of the butter turns a lovely golden brown color.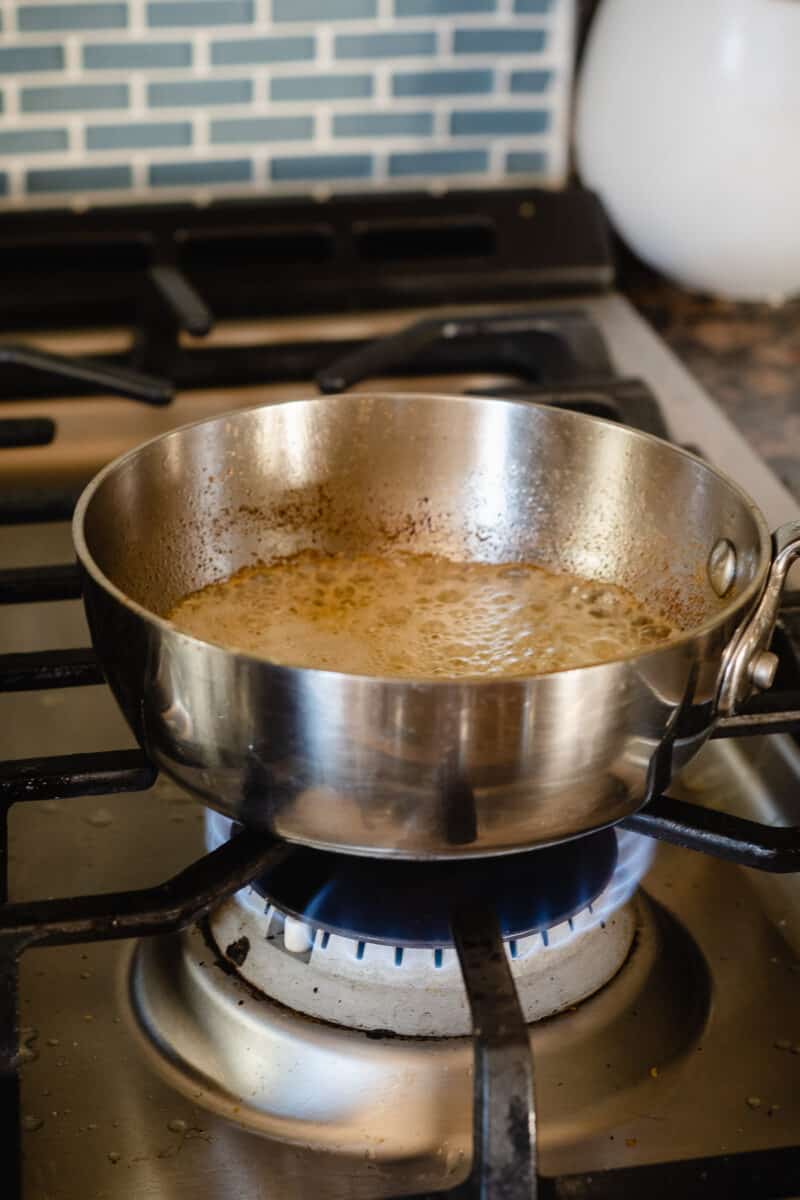 You can use brown butter in any place that calls for melted butter.
It brings a deeper, fuller flavor to just about any baked good. I especially love it with nuts, fruits, coffee, and caramel flavors (which covers a lot of baked-good territory, I know).
I love it in the brown butter apple bars, this peach-apricot buckle, these coffee-kissed blondies, and these salted brown butter caramel pots de creme.
It also makes a nice vinaigrette.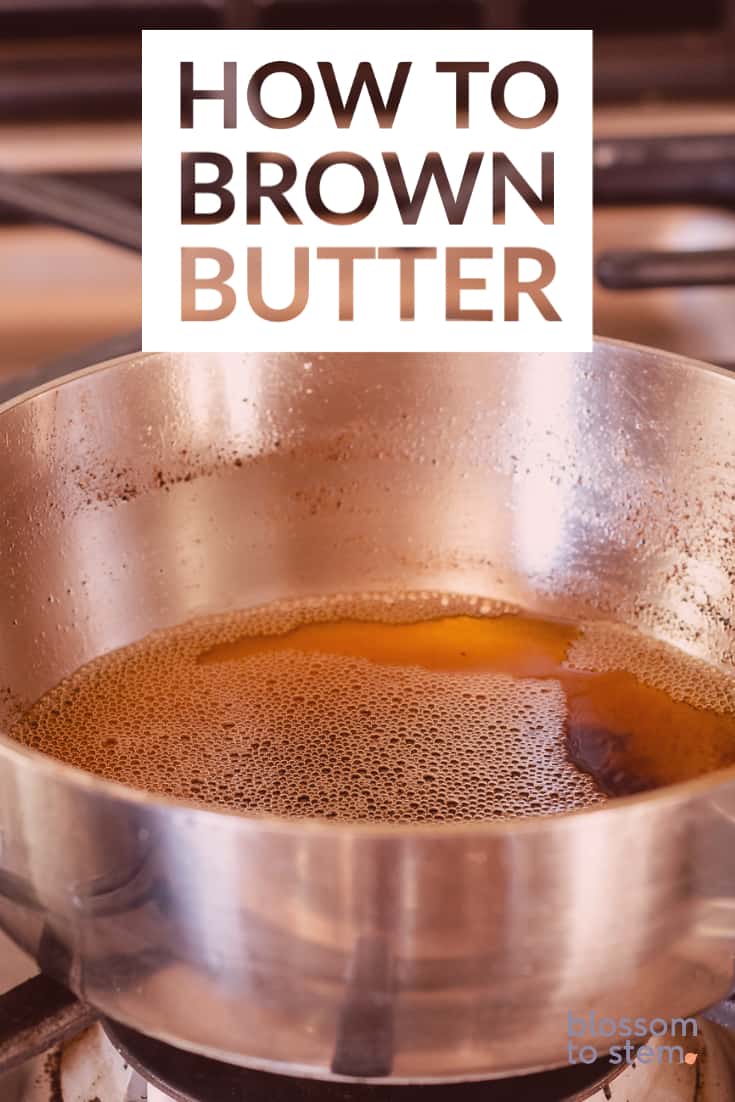 Because the water gets boiled off in the browning process, brown butter doesn't have as much moisture as regular butter, which means that in some cases you may need to add a teensy bit more liquid (like water or milk) to a recipe when making the swap.
You can refrigerate or freeze it to firm it up, but the lack of moisture makes it crumbly, which makes it tough to use in recipes that call for cold butter, like a pie crust. You can usually get away with swapping in brown butter for a portion of the butter in those recipes if you want some of the sweet, nutty flavor in there.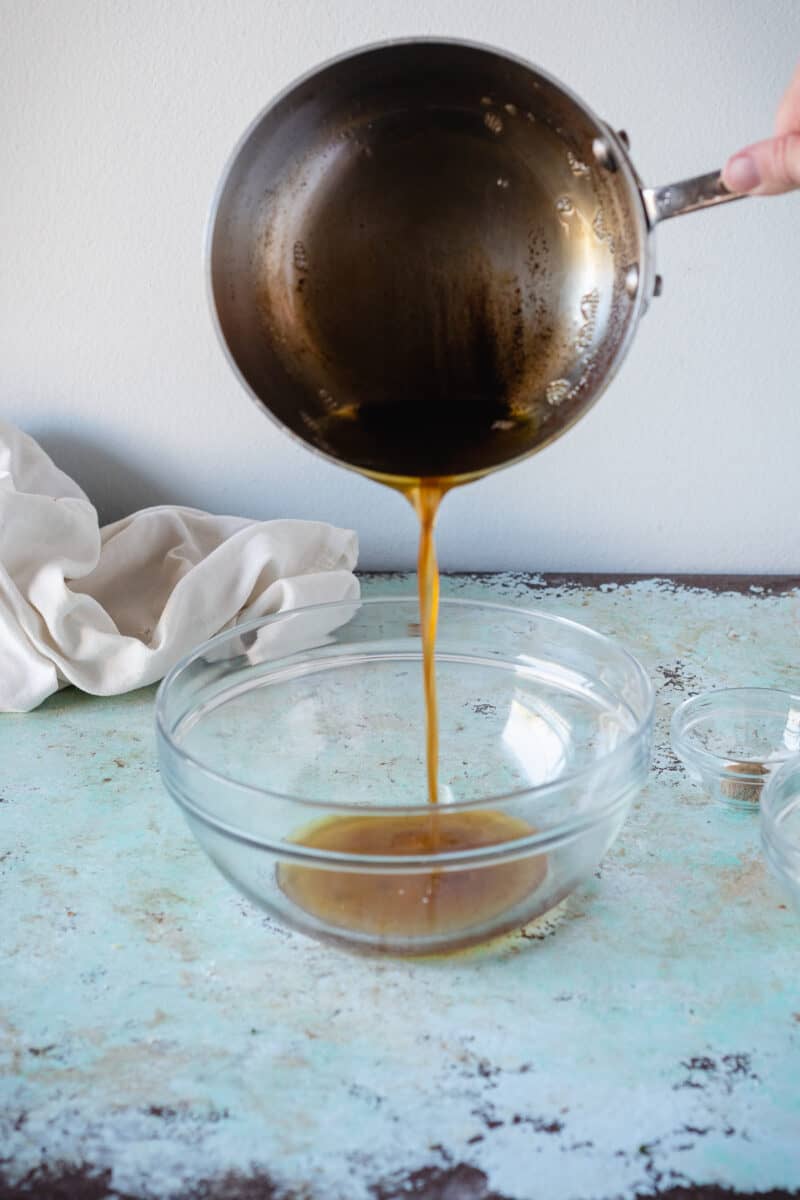 Yield: 1/2 cup brown butter
How to Brown Butter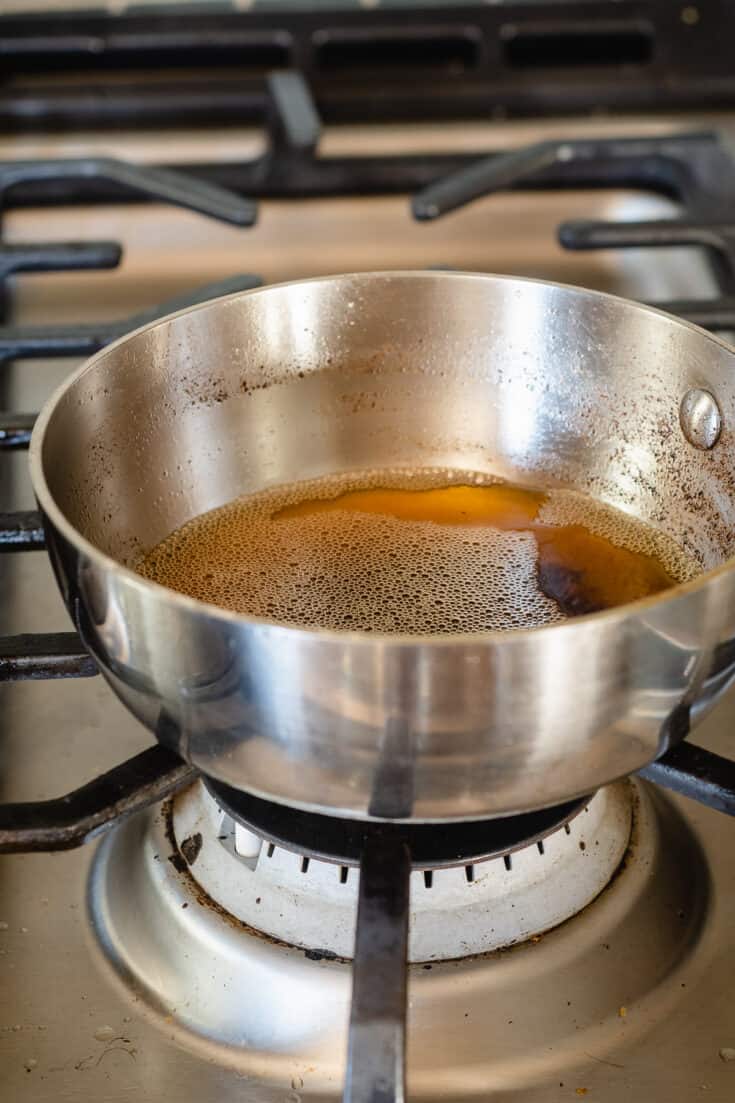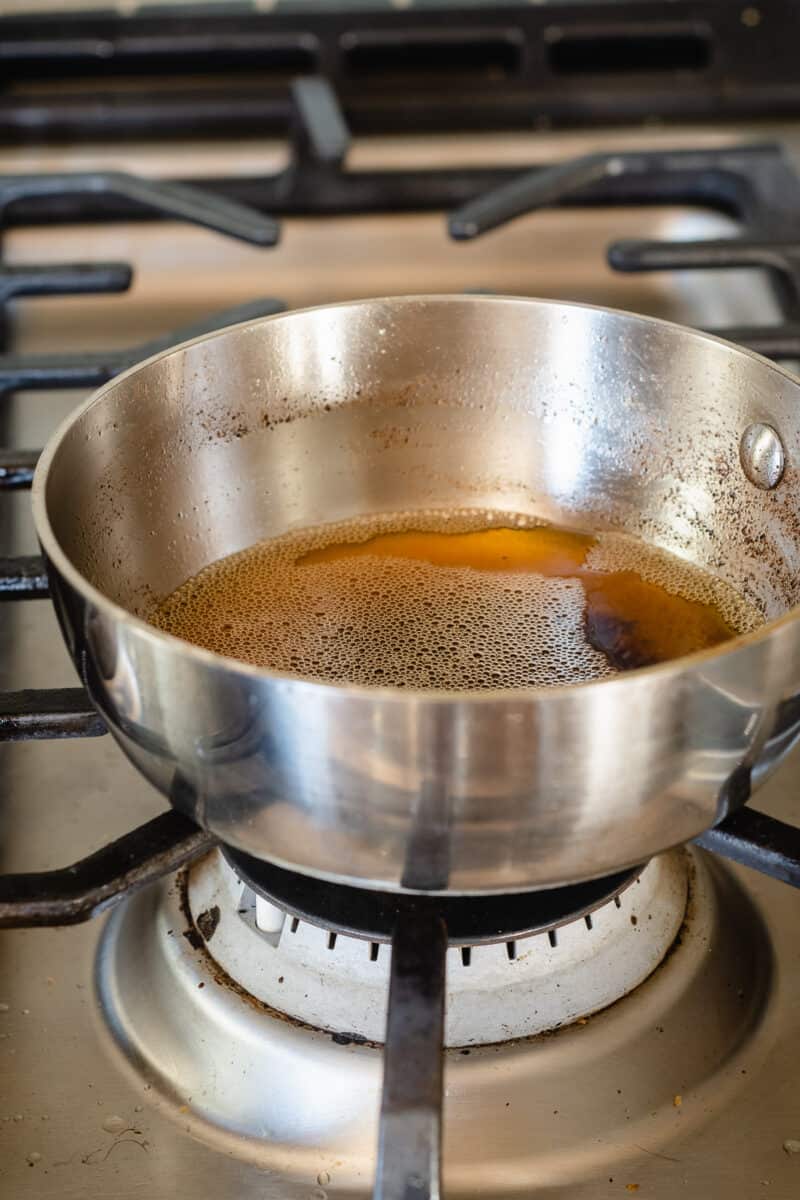 Brown butter, also called beurre noisette, is butter that's been heated until the water boils off and the milk solids turn brown through a series of Maillard reactions.
It has a wonderful nutty, butterscotch aroma and it adds serious depth of flavor to baked goods. It also makes a great vinaigrette.
You can cook the butter until the solids are just barely tan for a mild brown butter, or you can take them all the way to a dark brown (pictured) for a deeper flavor. Don't let the solids turn all the way black, or it will begin to taste acrid and burnt.
Materials
1 stick butter (or any amount)
Instructions
Heat butter in a saucepan with a light colored bottom (so you can see the color of the butter solids) over medium-high heat until the butter foams and sputters. (Watch out, it may send a big sputtering blast of butter out as the water evaporates.)
Turn the heat to low and swirl the pan to see the solids in the bottom. When they turn golden brown, remove from the heat. The solids will continue to darken a few shades from the residual heat from the pan. It should smell nutty and wonderful.
Recommended Products
As an Amazon Associate and member of other affiliate programs, I earn from qualifying purchases.