I may earn from purchases through links in this post.
In the summer, I love rustic fruit-filled baked goods. I've eaten my share of crisps and crumbles and cobblers, but until recently, I was unfamiliar with the buckle.
Buckles are crisps' and crumbles' cakier cousin. A buckle is similar to a torte or a coffee cake that's been loaded up with fresh seasonal fruit.
The center is so dense with fruit that it stays moist almost like a bread pudding while the edges get crisp and golden.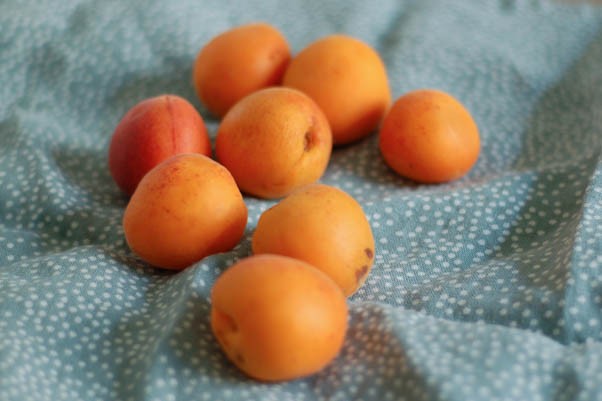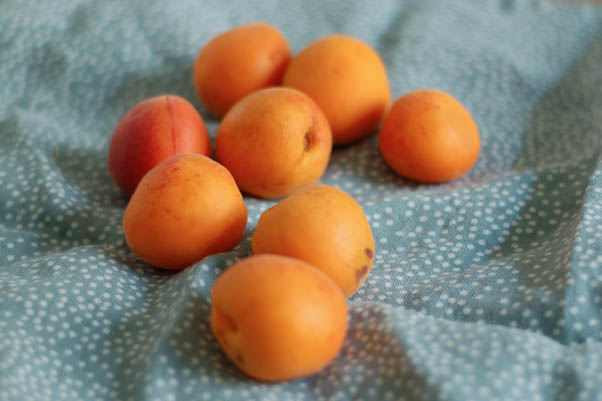 I wanted to make a dessert to take to one last dinner with our dear friends Maria and Tracy before they packed up and moved across the country to Seattle.
If the world is divided into cake people and pie people, they are definitely pie people. But while a buckle is a cake, I think it's a cake for pie people.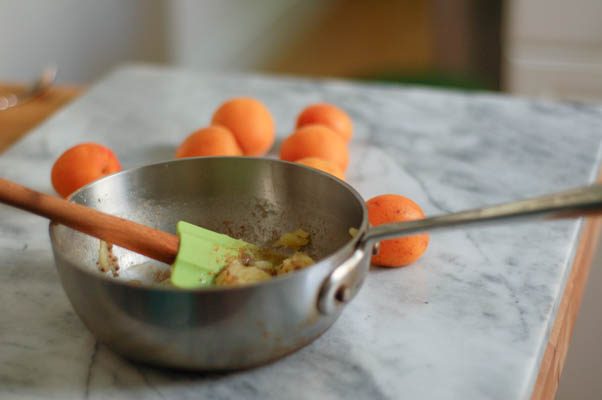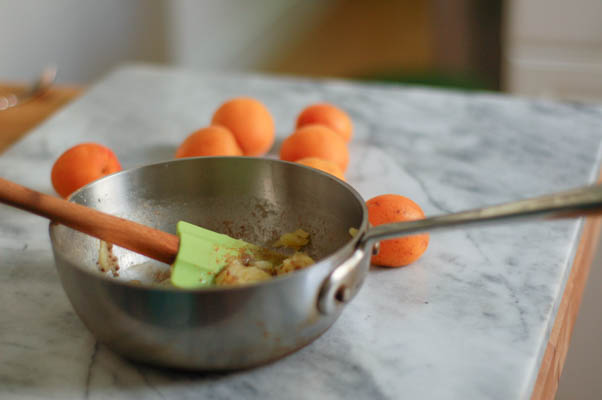 I had some apricots and peaches from the farmers market. I find fresh apricots to be inconsistent, and in their raw form these were only average, but when baked, even mediocre apricots become something special, sweet-tart and perfumey.
I also had a couple of spectacular peaches that had gone a little too soft to eat out of hand. I didn't want them to go to waste. I knew they would be just the thing to toss into a buckle.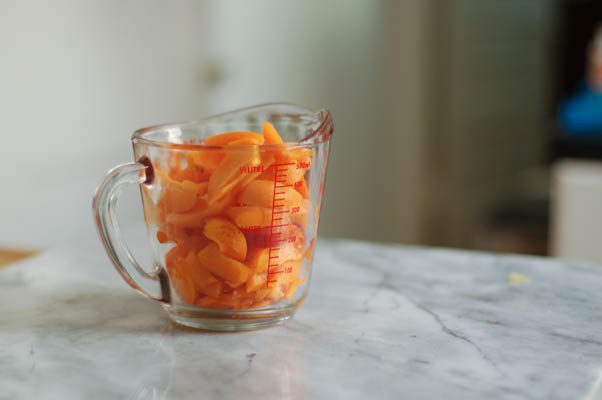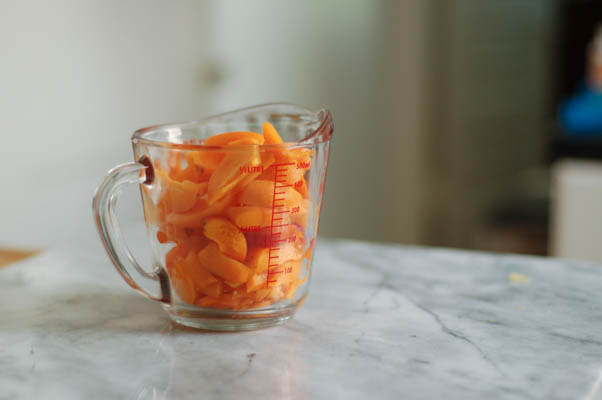 I like to peel peaches before baking with them, but apricot skins are delicate enough that they practically disappear in the buckle so I don't bother peeling them.
In this buckle, the apricots and peeled peaches get sliced and go into a thick batter enriched with brown butter and tenderized with tangy buttermilk.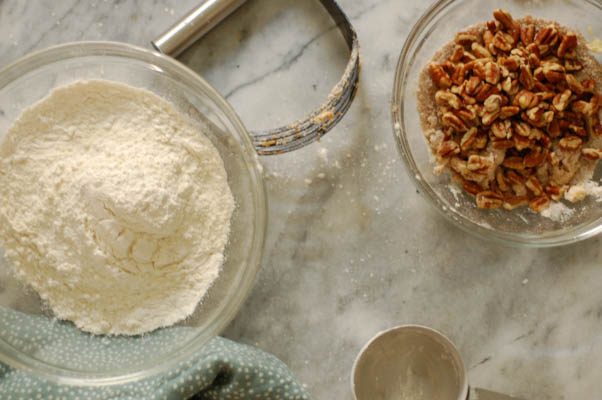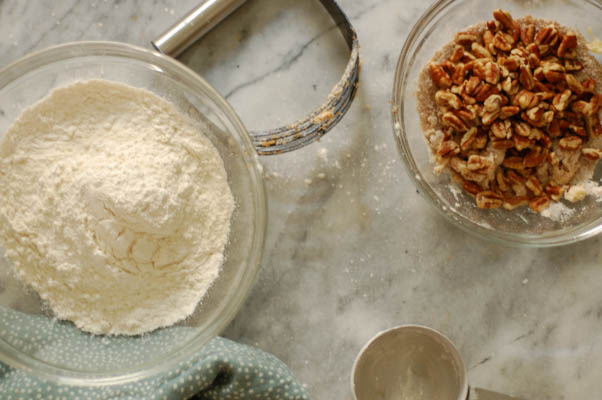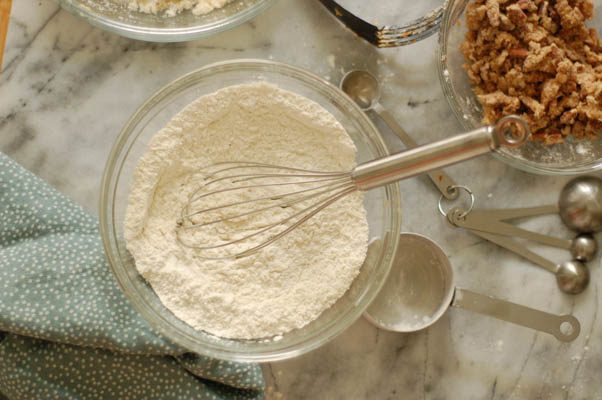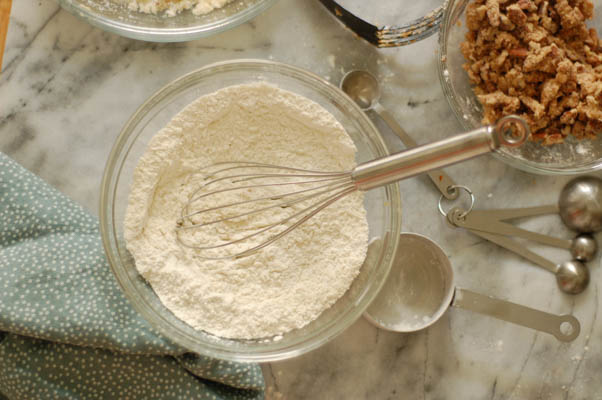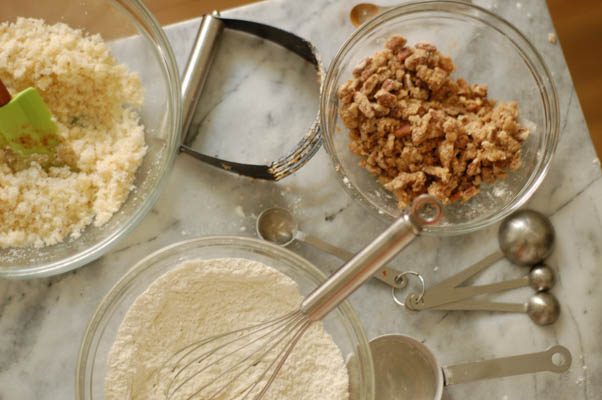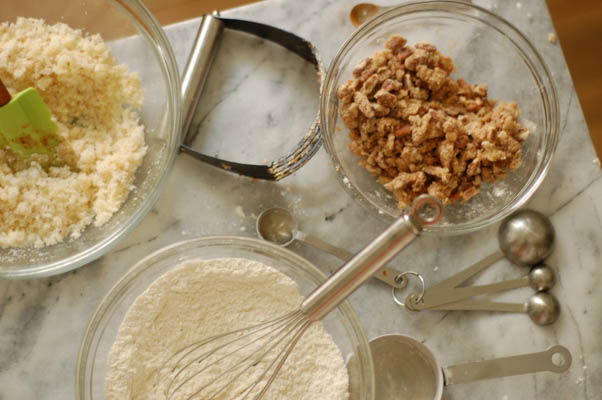 The whole thing goes into a parchment lined springform pan and is sprinkled with a cinnamon scented pecan streusel before it goes into the oven and makes the kitchen smell wonderful.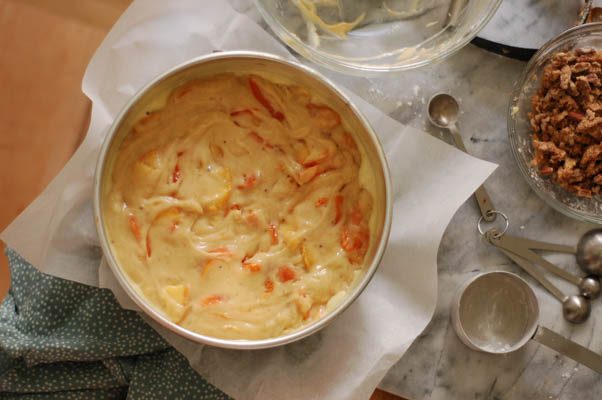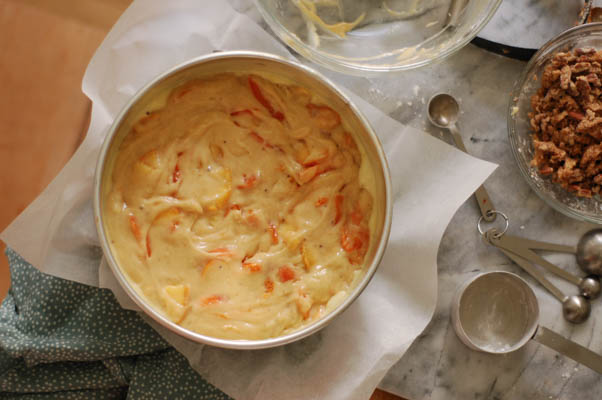 This buckle is incredibly flexible.
You could use all apricots or all peaches or combine them with other fruit. It would work with just about any stone fruit or berries (like in this strawberry rhubarb buckle).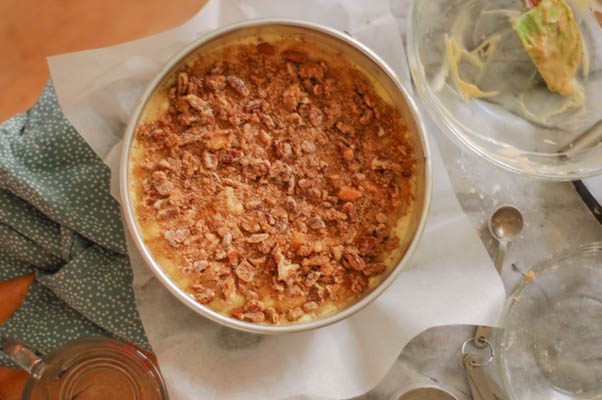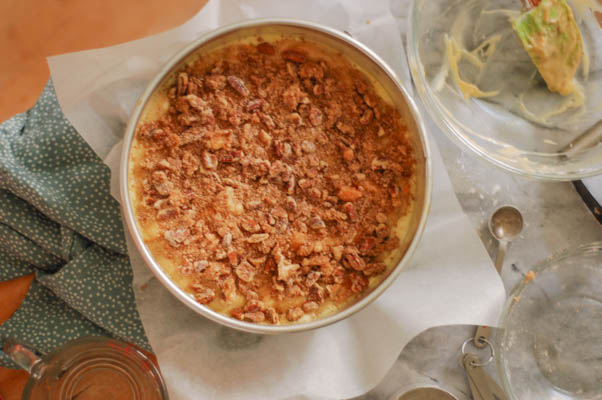 I think it would be lovely with the plums that have been coming into season. (It's a little bit like this almond anise plum torte.)
You could use walnuts or almonds or hazelnuts in the streusel or omit the nuts altogether if you prefer. You could skip browning the butter if you're pressed for time.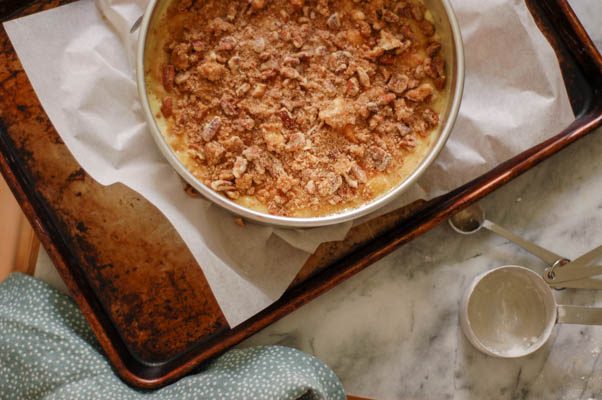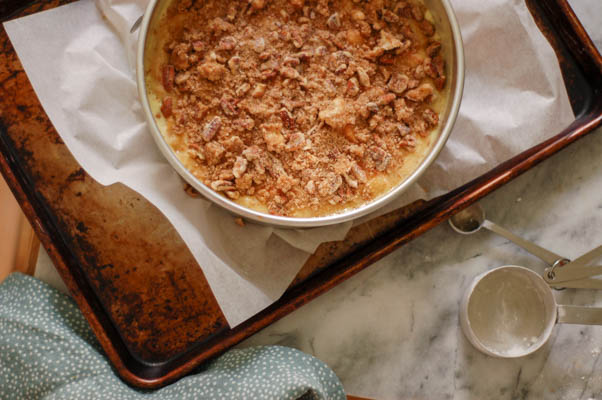 And while I haven't tested it, I'm pretty sure it would work with a any standard all-purpose blend of gluten-free flour.
But whatever you do, add this buckle to your homey summer baking repertoire. It's becoming a staple in mine.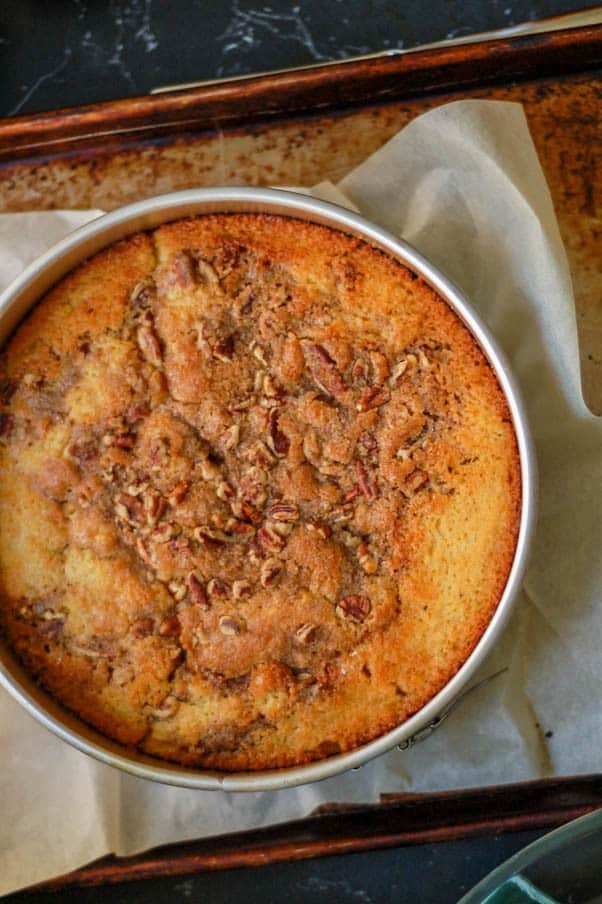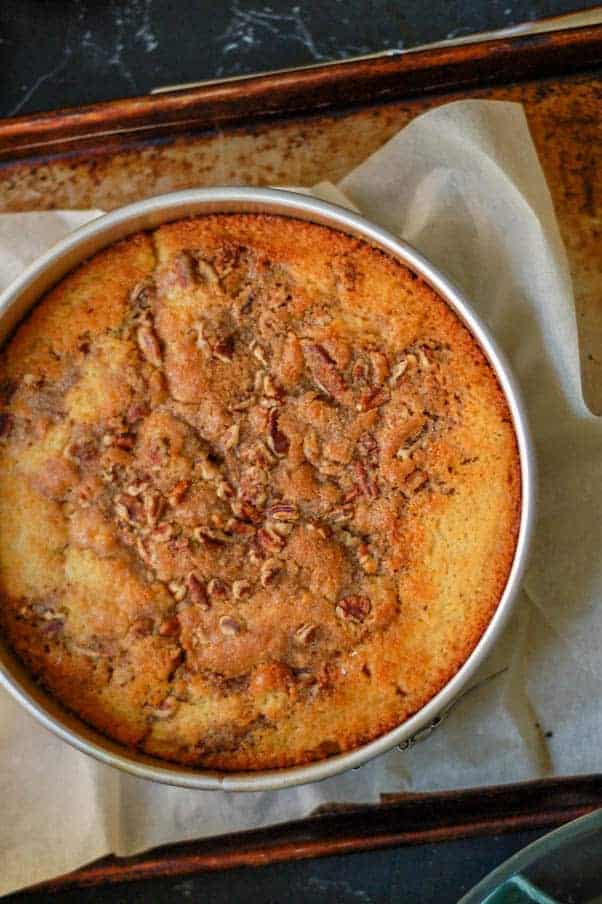 Yield: 1 9-inch round buckle. About 8 servings.
Peach-Apricot Brown Butter Buttermilk Buckle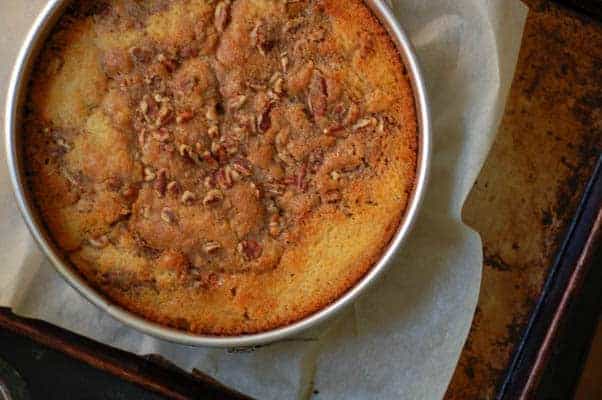 This buckle is a rustic fruit-laden cake. It would work with just about any combination of stone fruit or berries. The buttermilk helps to tenderized the crumb and adds a tangy note to balance the sweetness of the cake. You can skip browning the butter if you're in a hurry, but if you do have the time, I suggest giving it a try. It adds some nice depth of flavor. Peaches should be peeled before going into this–the easiest way to peel very ripe peaches is to blanch them in boiling water for about a minute and then run them under cold water–the skins should just slip off. The skins of most other stone fruits are thin and tender enough that they don't need peeling. I like to use turbinado (raw) sugar in the streusel topping, but any granulated sugar is fine.
Total Time
1 hour
15 minutes
Ingredients
For the streusel topping:
1/3 cup sugar
2 tablespoons all-purpose flour
2 tablespoons cold unsalted butter, cut into 1/2 inch cubes
1/4 teaspoon cinnamon
1/2 cup pecans, toasted and chopped
For the cake:
3 cups total of a combination of sliced peaches and apricots, or any berries or stone fruit
1/4 cup unsalted butter, browned
1 cup sugar
1 3/4 cups all-purpose flour
1 teaspoon baking powder
1/2 teaspoon baking soda
1/2 teaspoon kosher salt
1 large egg
1/2 cup buttermilk
1/2 teaspoon vanilla extract
Instructions
Preheat oven to 350°F. Line a 9-inch round springform pan with parchment paper and spray with nonstick spray.
Make the streusel topping. In a small bowl, combine the sugar, flour and butter. With a fork or a pastry cutter, cut the butter into the flour until the mixture is crumbly. Stir in the cinnamon and pecans.
In a large mixing bowl, whisk together the flour, baking powder, baking soda, and salt. In a separate mixing bowl, mix the brown butter and sugar until combined. Add the egg and mix until combined. Stir in the buttermilk and vanilla extract. Add the wet ingredients to the dry ingredients and stir until just combined. Stir in the fruit.
Spread the batter evenly over the bottom of the prepared pan with a spatula. Sprinkle the streusel over the top.
Bake for about 55-60 minutes, or until the buckle is a deep golden brown and a toothpick inserted into the center comes out clean.
Cool on a rack for at least 20 minutes before serving. Serve warm or at room temperature.
Recommended Products
As an Amazon Associate and member of other affiliate programs, I earn from qualifying purchases.
Nutrition Information:
Yield:
8
Serving Size:
1
Amount Per Serving:
Calories:

452
Total Fat:

15g
Saturated Fat:

6g
Trans Fat:

0g
Unsaturated Fat:

8g
Cholesterol:

47mg
Sodium:

383mg
Carbohydrates:

76g
Fiber:

4g
Sugar:

42g
Protein:

7g