I may earn from purchases through links in this post.
When you find yourself with extra strawberries or rhubarb or peaches or plums or apples or, well, I could go on, one smart thing to do is walk over to the kitchen, and see if you have flour, butter, and sugar around.
If so, you're about 90% of the way to a buckle, a crisp, a crumble, or a cobbler. They're all wonderful, delicious, and best of all easy ways to turn fruit into dessert.
(I mean real dessert, unless you're one of those people who maddeningly insists that fruit itself is dessert, in which case, I'm sorry but we can't be friends.)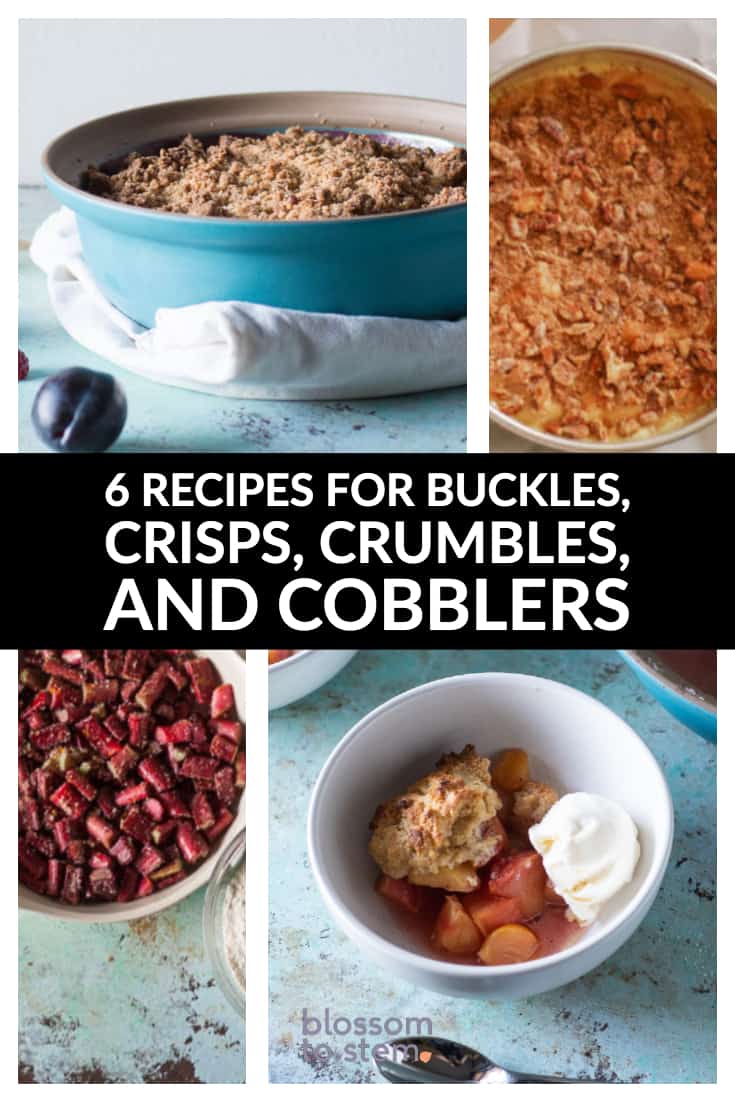 What's the difference between a buckle and a crisp and a crumble and a cobbler? I'm glad you asked!
(There's more historical detail here. And because these have been made by thousands of grandmothers in hundreds of towns, each with their own treasured assortment of hand-written recipe cards and church cookbooks, the interpretations can vary widely. But I'm giving you a tl;dr.)
Buckles are basically cakes with lots of fruit baked in the middle that cause the top to buckle in the middle. At least historically. The buckles I've made have baked pretty evenly. I think of them as cake for pie people.
Crisps and crumbles are terms that are used too interchangeably to meaningfully disentangle. But. Here goes: both involve a layer of fruit baked under a layer of streusel-like topping. Crisps tend to involve oats and/or nuts, the theory being that those toppings get crisp in the oven. Crumbles tend to be a simple mix of flour, butter, and sugar and sometimes a leavening agent like baking powder. But my research shows these boundaries to be porous and mostly meaningless.
Cobblers also involve a layer of fruit baked under some kind of topping. Usually, these days, that's a biscuit topping. But it's perhaps the most regionally diverse dessert of the group. There's a strong contingent in the south that makes them with various types of cake-batter topping. And there's historical president for using pie dough.
Buckles, Crisps, Crumbles, and Cobblers
Here are some of my favorite easy fruit desserts. They're the kinds of treats that exude a homey, welcoming nonchalance. They're simple to make, flexible with the kinds of fruit you can use, and most of them are amenable to alternative flours.
Almost all of these could be made with another fruit, swapped one-to-one. If you have berries, stone fruit, apples, or pears you just need to remove the pits and, if you like, peel them (which is optional on all of these, though I usually peel my apples before baking).
These are great for bakers of all skill levels. Feel free to play with the spices, or swap in pecans for walnuts or almonds if you prefer.
Happy baking!