I may earn from purchases through links in this post.
Plums are farmers markets' harbingers of fall. They come in with the peaches and the berries and go out with the apples and the pears.
When plums show up, summer heads out. This raspberry plum crisp is a sort of summer's last hurrah.
It's comfort baking at it's simplest and best, like a light sweater on one of the first cool autumn nights.
This is my favorite time of year in Chicago.
When we still have a good amount of daylight, but we get relief from the heat and humidity of August. When the beaches are closed, but it's still warm enough to dip your toes in the lake and wade around.
When that new-folder, fresh-crayons, school-supply smell still permeates seasonal displays. It's a time I've always felt imbued with a sense of possibility.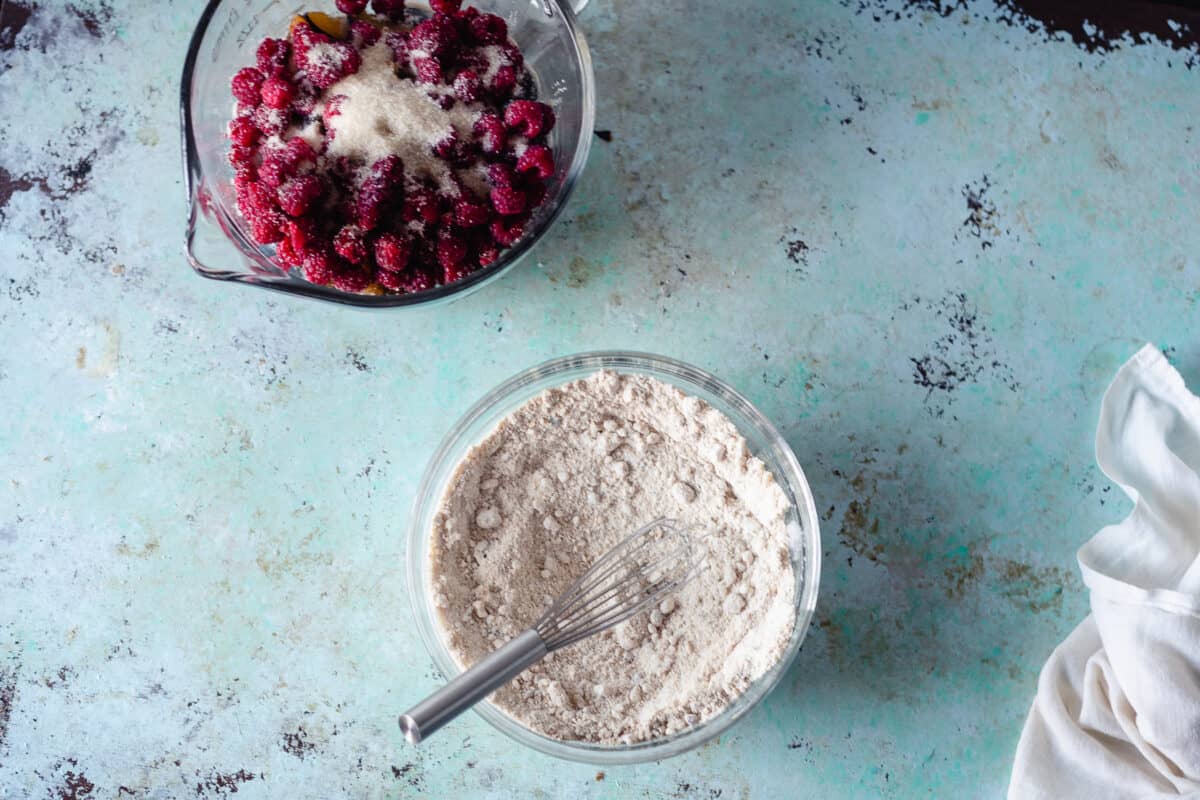 It's a time I like to celebrate. Not in a big, splashy way, but in that easy, putter-around-the-kitchen for a little while and then have something utterly delicious kind of way.
This raspberry plum crisp is very much that sort of thing. It's adapted from Claudia Fleming's excellent and sadly out-of-print cookbook The Last Course. (You can still find used copies floating around on Amazon, but sometimes the price gets steep.)
There's something special about Fleming's desserts that I can't quite put my finger on. Despite having a shelf full of baking books, I still find this book inspirational.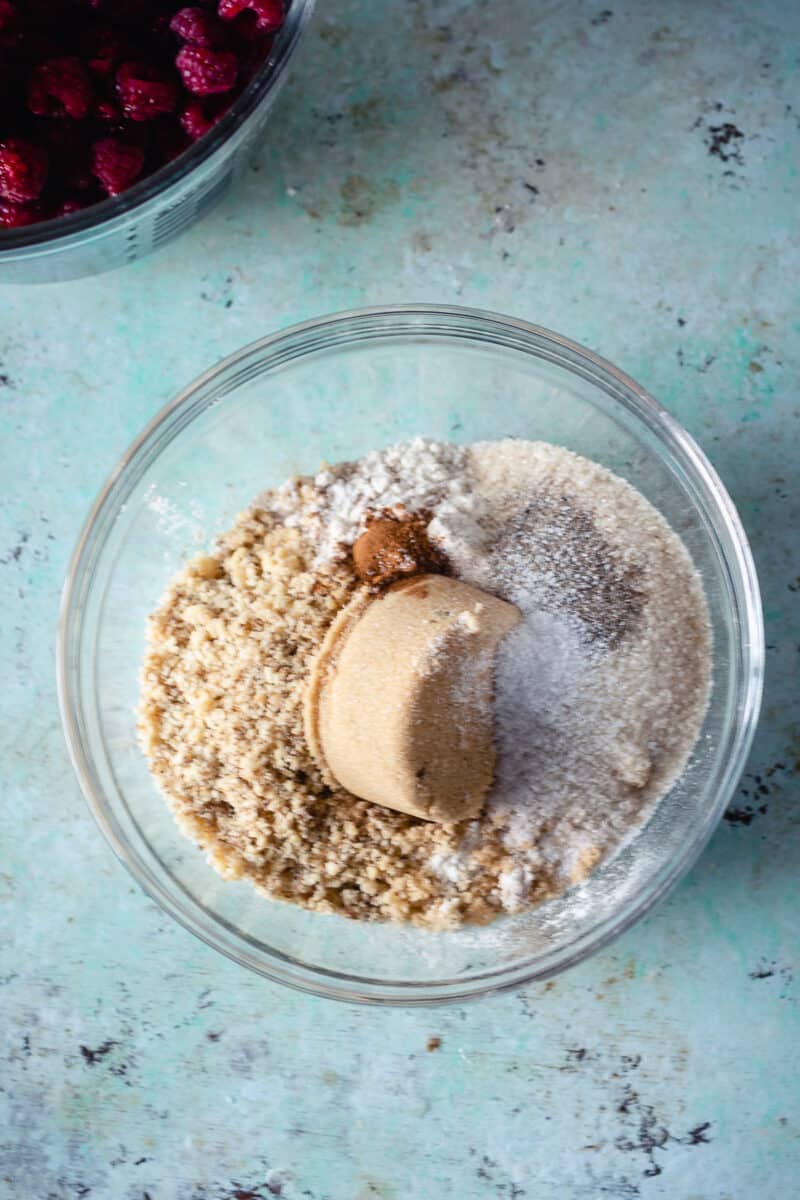 Though the desserts are based on her time at Gramercy Tavern, they aren't filled with the fussy plating with two-dozen components that you see at so many fancy restaurants today.
I admire desserts like that, but I'm not going to recreate them for a cozy evening at home. Fleming's desserts feel comforting and rustic with sophisticated flavors.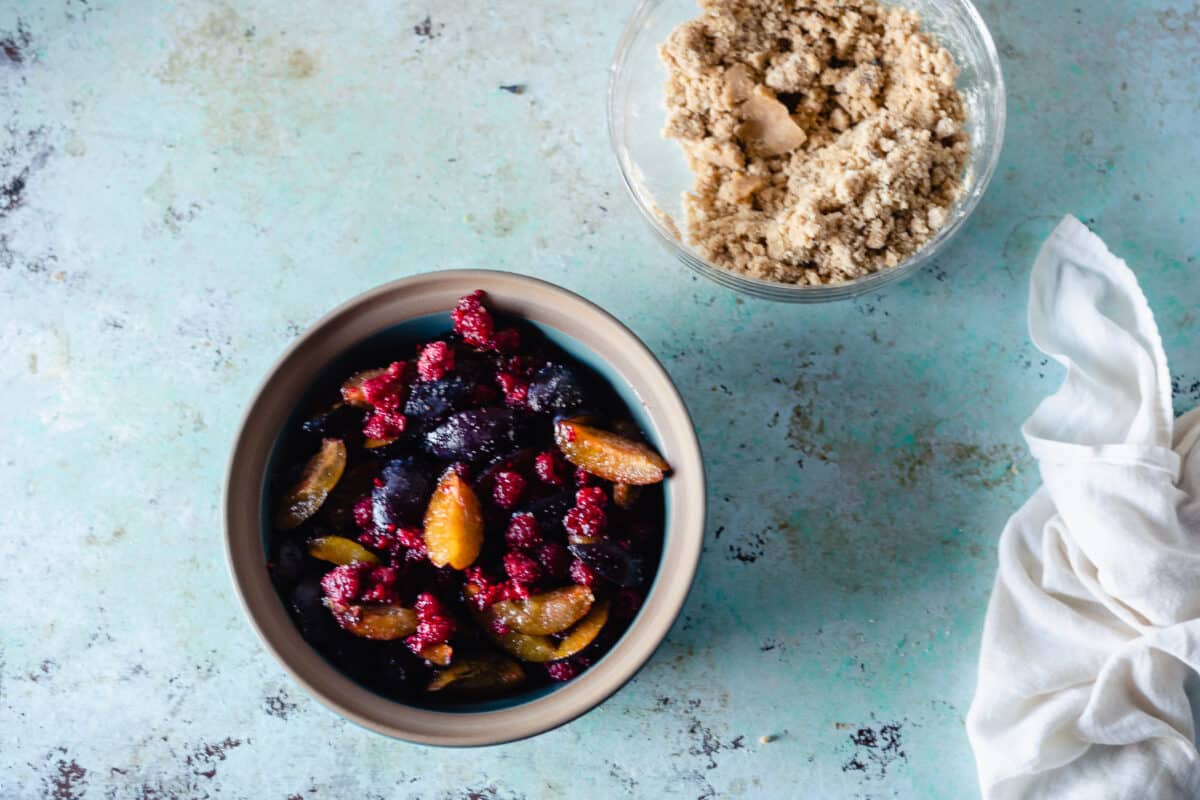 This crisp is as easy as any other crisp, but instead of using oats for textural variation it uses ground walnuts. The rich flavor and subtle bitterness of the walnuts pair beautifully with the sweetness of the fruit.
The topping also gets a healthy sprinkle of cardamom and a pinch of cinnamon which makes the kitchen smell heavenly while it's baking.
Cardamom makes a wonderful match with plums. (It's a combination I've loved since I first made cardamom plum jam.)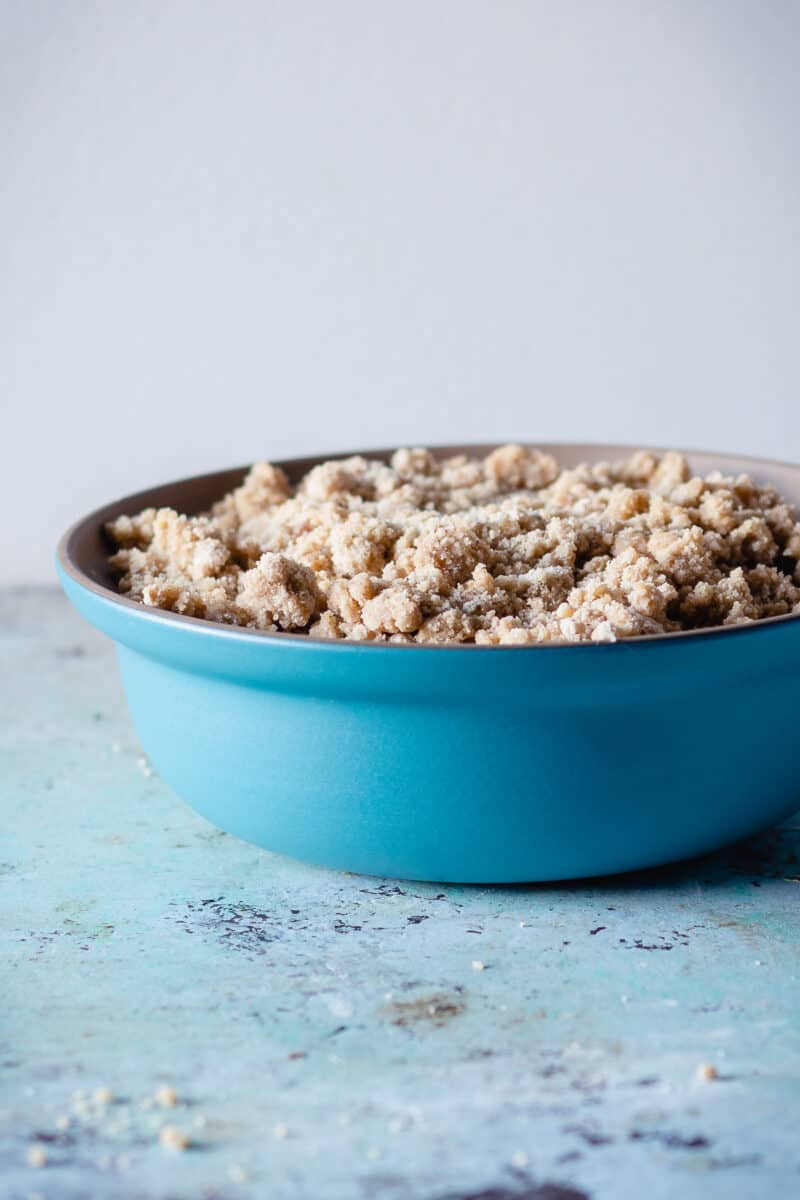 Fleming makes this just with plums, which I'm sure is lovely, but I love the addition of raspberries here. I don't bake with them often, but they turn wonderfully jammy with a little bit of sugar in the oven.
It's a perfect way to use raspberries that are so ripe they've gone soft and almost collapse between your fingers.
I wouldn't make this with all raspberries, which I think might be too much like eating a bowl of jam, the big pieces of plum retain enough texture to balance out the delicate berries. (But if you're looking to bake with raspberries, you might try these raspberry lemon muffins.)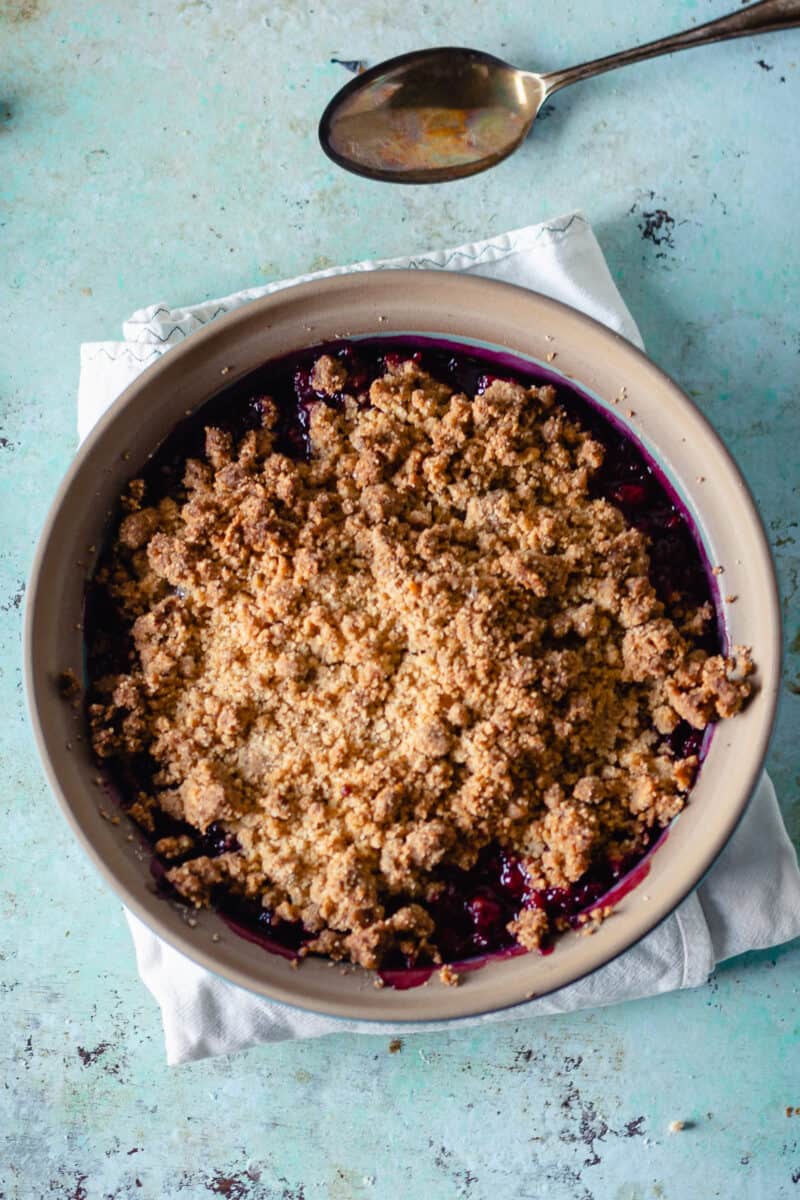 This raspberry plum crisp is exactly the sort of dessert you want to eat warm with a scoop of vanilla ice cream, or at room temperature with a scoop of vanilla ice cream, or cold from the refrigerator with a bit of yogurt for breakfast.
(Dan was eagerly "evening out the edges" after the first night we had it.)
It's just the thing for this transitional season.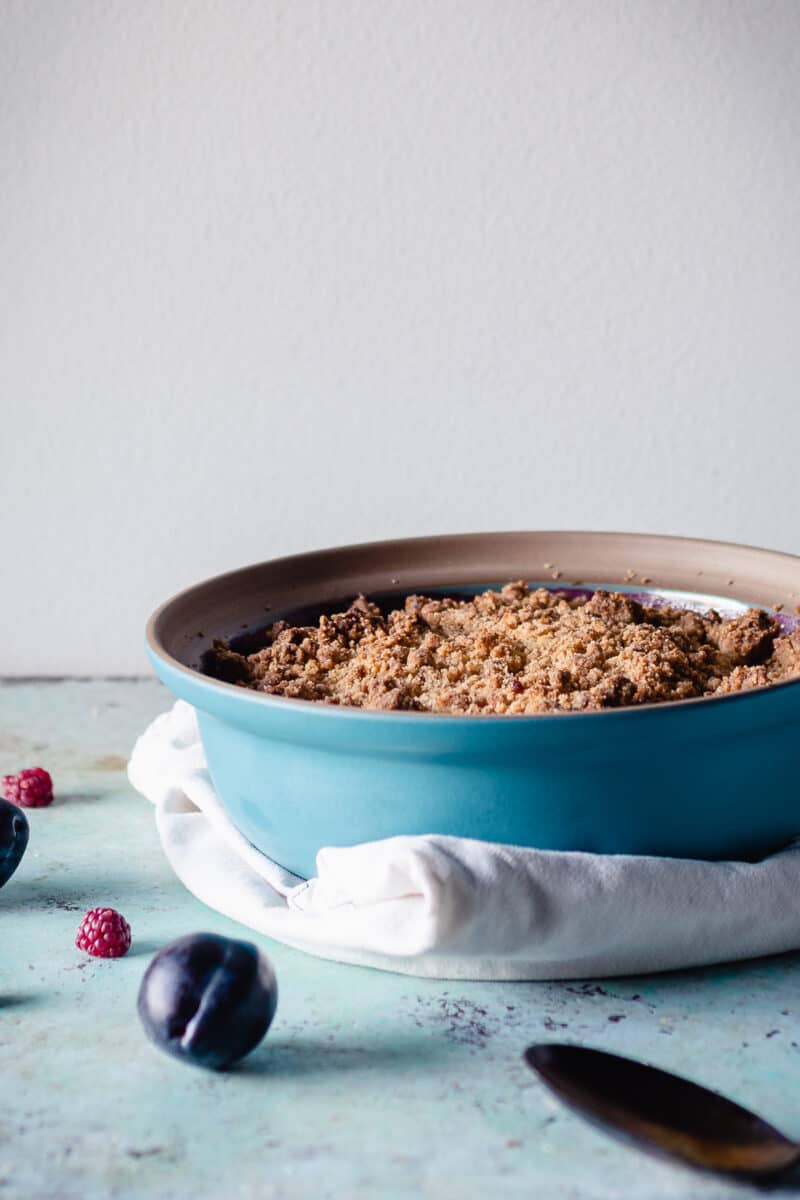 Yield: 8 servings
Raspberry Plum Crisp with Walnuts and Cardamom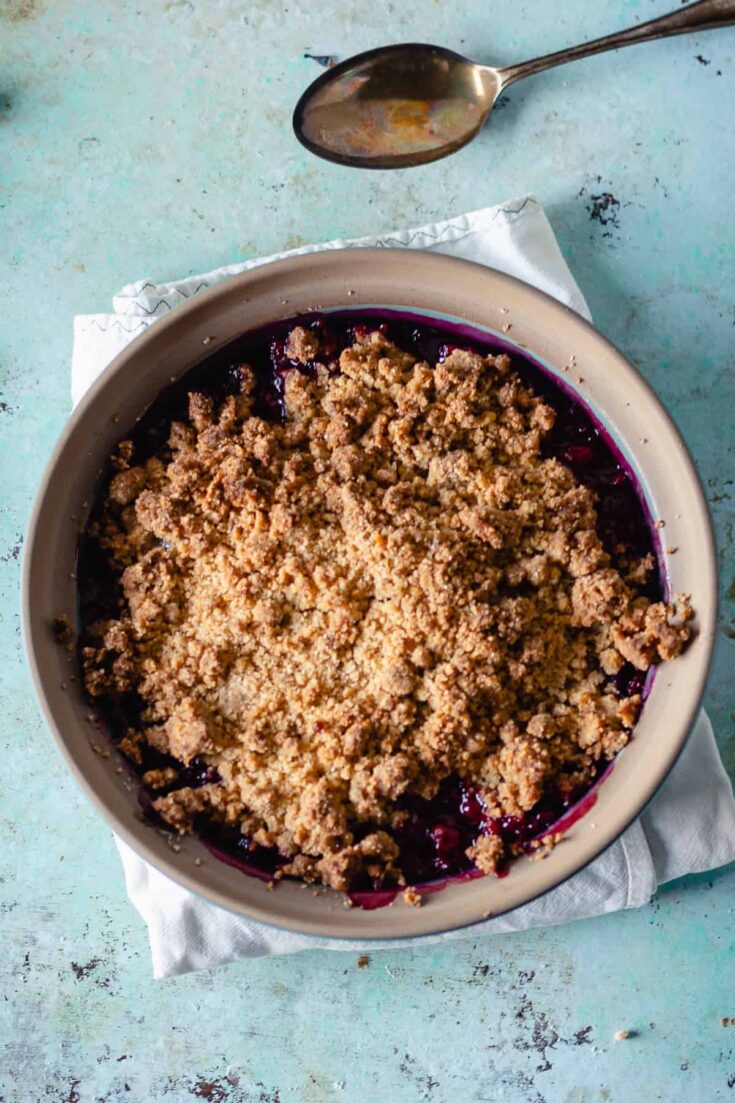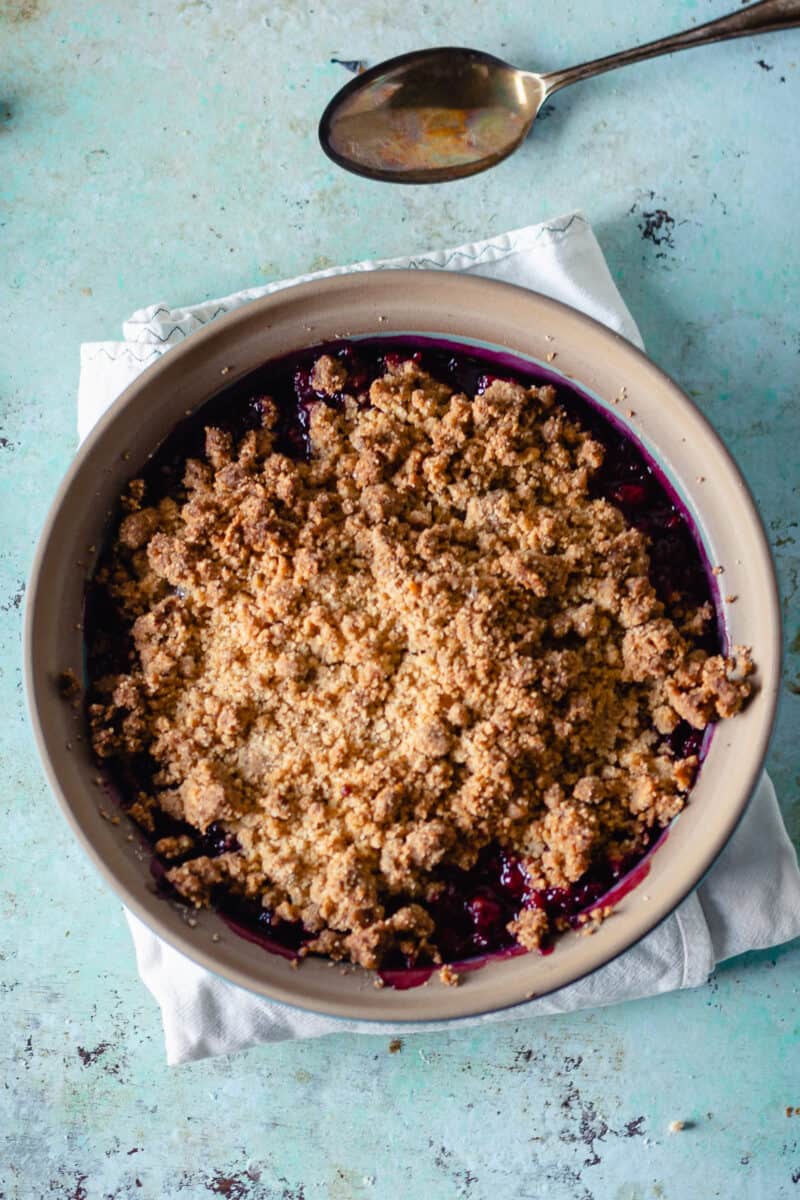 This crisp is a cinch to put together. Look for oblong Italian plums (sometimes called prune plums) or tiny Damson plums for this--they're my favorite varieties for baking. If you don't want to use raspberries you can use an equal amount of plums. When you melt the butter, you can take the extra step of browning it for more flavor (I usually do)--it brings out the nutty flavor and is really delightful--but it's not necessary.
Total Time
1 hour
5 minutes
Ingredients
140 grams (1 1/4 cups) all-purpose flour
55 grams (1/2 cup) ground walnuts
100 grams (1/2 cup) granulated sugar, divided in half
100 grams (1/2 cup packed) brown sugar, light or dark
1/2 teaspoon ground cardamom
1/4 teaspoon ground cinnamon
1/2 teaspoon kosher salt
115 grams (1 stick, 1/2 cup) unsalted butter, unsalted butter, melted and cooled to room temperature
1 teaspoon vanilla extract
4 cups plums, pitted and quartered
2 cups raspberries
Instructions
Preheat oven to 375°F. Add the flour, walnuts, half of the granulated sugar, the brown sugar, cardamom, cinnamon, and salt to a large mixing bowl and whisk until combined. Break up into large crumbs with your fingers.
Add the vanilla to the butter and stir. Pour the butter over the flour mixture and stir until the mixture is thoroughly moistened.
Add the plums, raspberries, and remaining sugar to another large mixing bowl and stir until the sugar and fruit are well distributed.
Add the fruit to a 2-quart baking dish (or 8-inch square baking pan). Sprinkle the crumbs evenly over the top. (It'll be a nice thick layer.)
Bake until the top is on the deeper side of golden brown and the fruit is bubbling, about 50-55 minutes.
Let cool. This is excellent warm or at room temperature, especially with a scoop of vanilla ice cream. It's also good cold from the refrigerator.
Recommended Products
As an Amazon Associate and member of other affiliate programs, I earn from qualifying purchases.
Nutrition Information:
Yield:
8
Serving Size:
1
Amount Per Serving:
Calories:

327
Total Fat:

18g
Saturated Fat:

9g
Trans Fat:

0g
Unsaturated Fat:

8g
Cholesterol:

35mg
Sodium:

138mg
Carbohydrates:

42g
Fiber:

4g
Sugar:

34g
Protein:

3g