I may earn from purchases through links in this post.
There are those who dismiss the muffin as a cupcake without frosting. But, well, they're wrong. And they're missing out.
Muffins are a similar-looking but entirely different creature. Muffins have a craggy, irregular crumb structure unlike the aerated, regular, sliceable cupcake interior.
And muffins tend to have significantly less sugar and sometimes they have whole grain flour (like these cinnamon sugar oat muffins), which makes the texture altogether more nubbly and breakfast appropriate.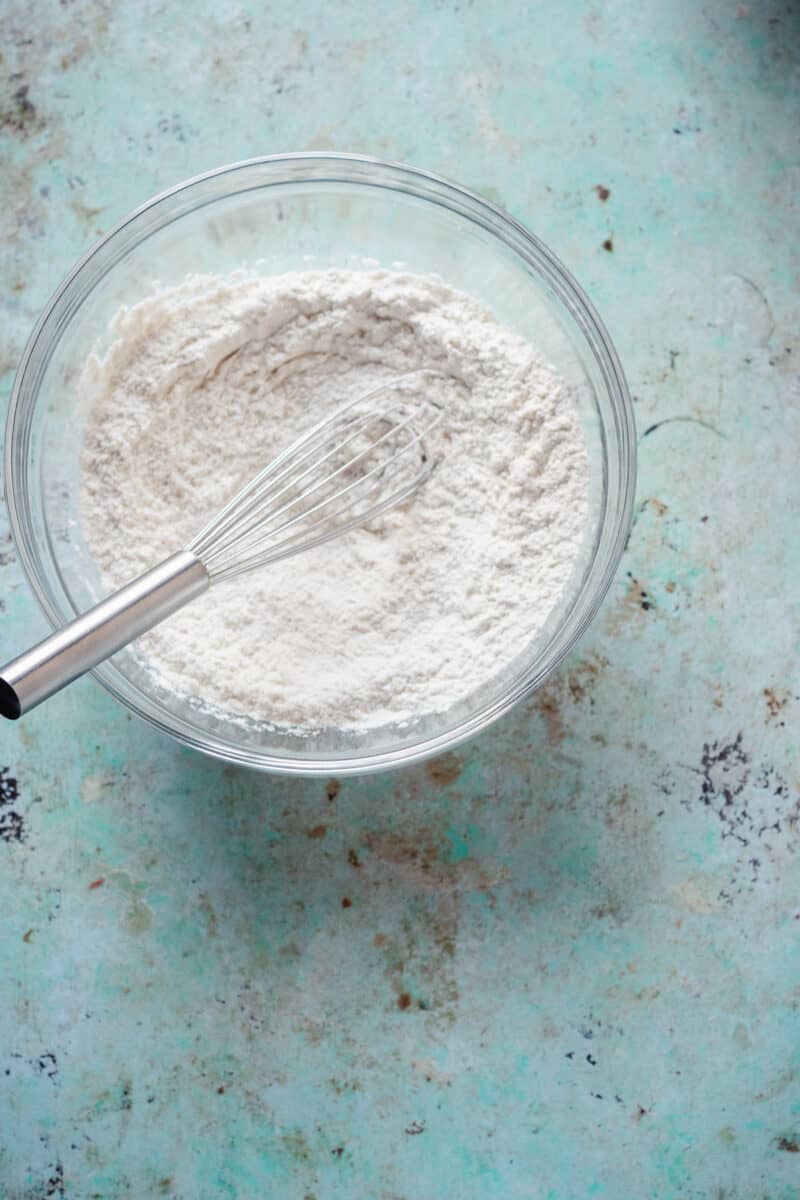 And when you add in fruit, like raspberries, and make them with olive oil and yogurt, like these raspberry lemon muffins, well you get something that makes you want to tiptoe into the kitchen on a weekend morning and turn on the oven.
These muffins are, at heart, lemon muffins. The batter is shot through with lemon zest and enlivened with olive oil, which plays well with the citrus flavor.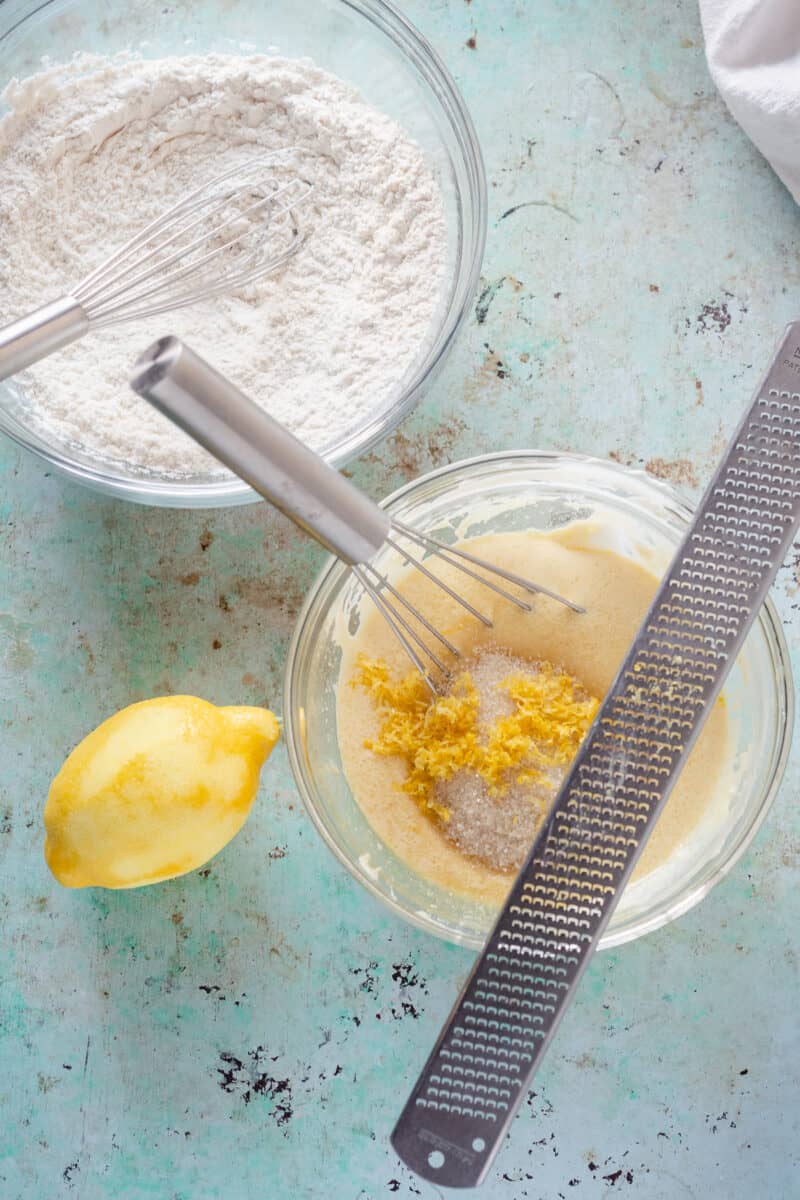 I like to use a gentle, fruity olive oil (I'm partial to Merula) for this and leave the assertive, peppery olive oils for my salads.
They also get a boost from the acidity in Greek yogurt, which brings in a subtle tang and makes the muffins moist and tender.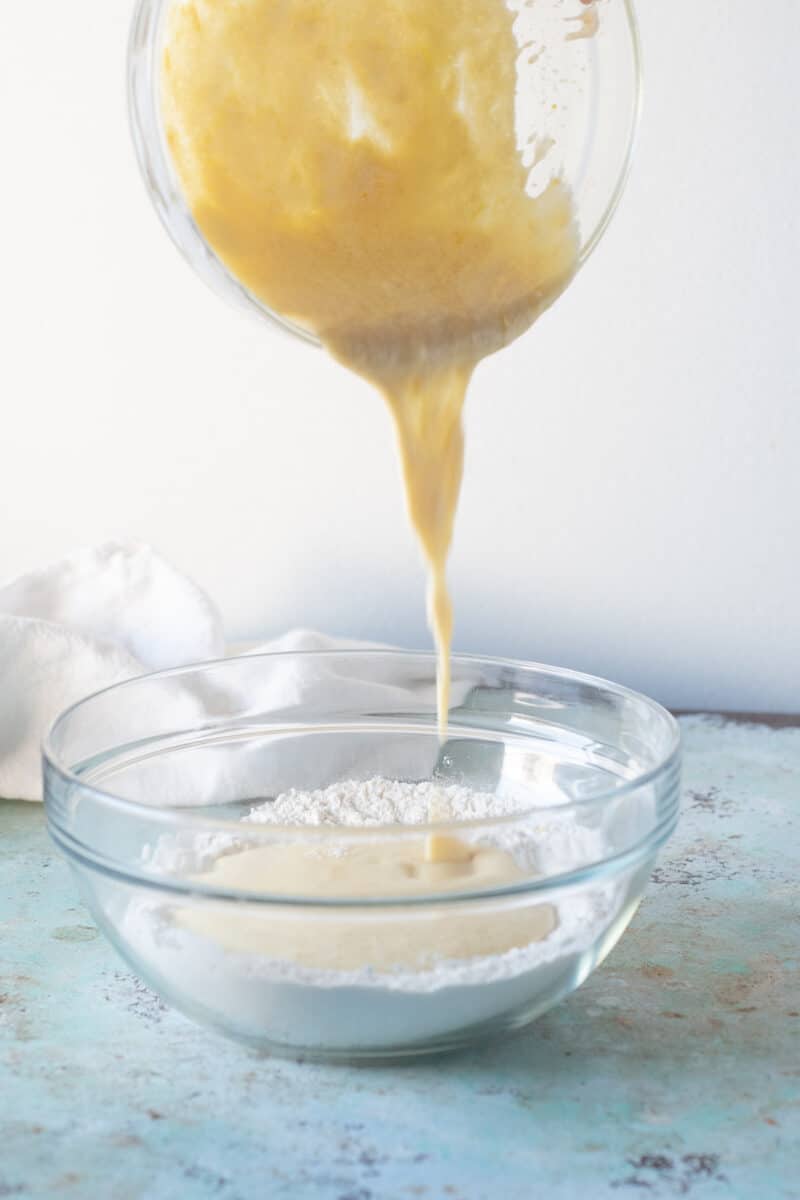 And, as for the raspberries, rather than being stirred into the batter, which is always a dicy proposition for such delicate berries, they get tossed with a little sugar and nestled into the middle of each muffin before they go into the oven.
And there the raspberries slump into jammy puddles of intense raspberry flavor that provide a lovely counterpoint to the lemon.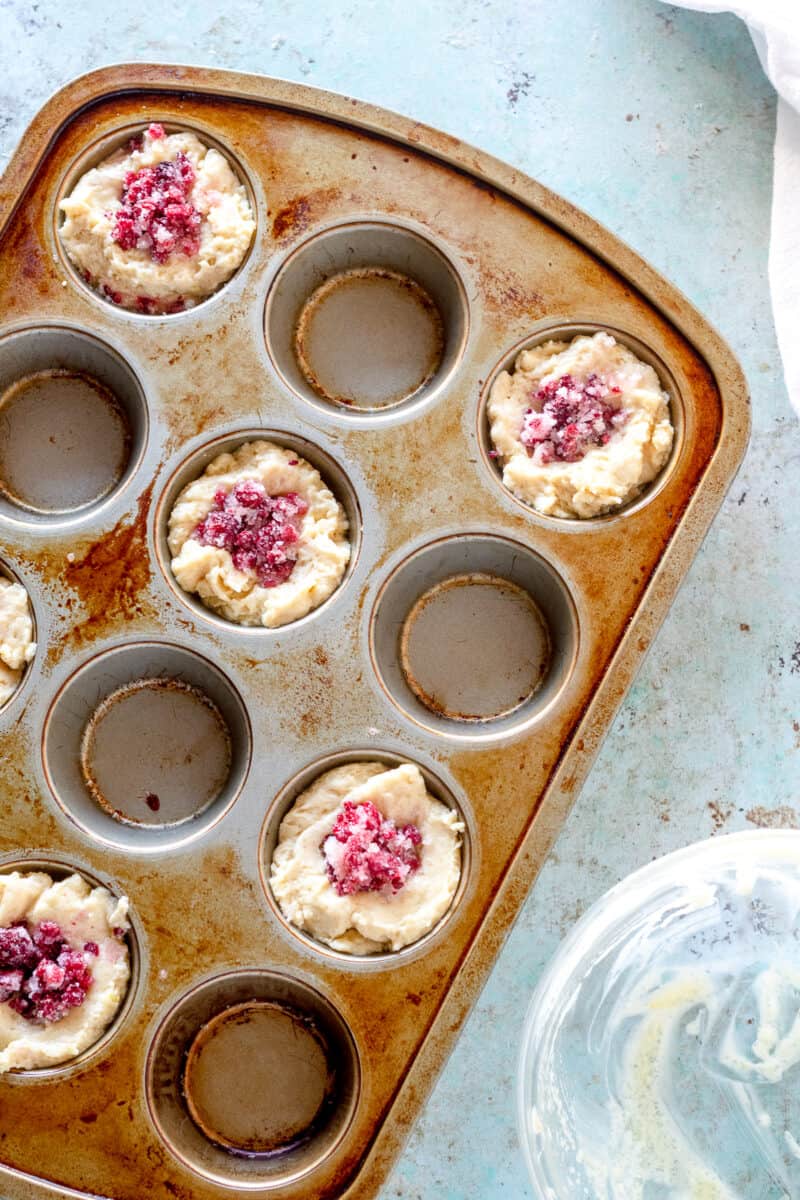 (P.S. It's also a great way to use frozen raspberries, which are easy to find year round, so you don't need to wait for those precious summer berries to be in season to make these.)
These muffins are rustic and lovely in that unfussy, I-just-threw-this-together-and-look-great kind of way.
It's a weekend breakfast that's special, and delicious, but also doable even for busy people.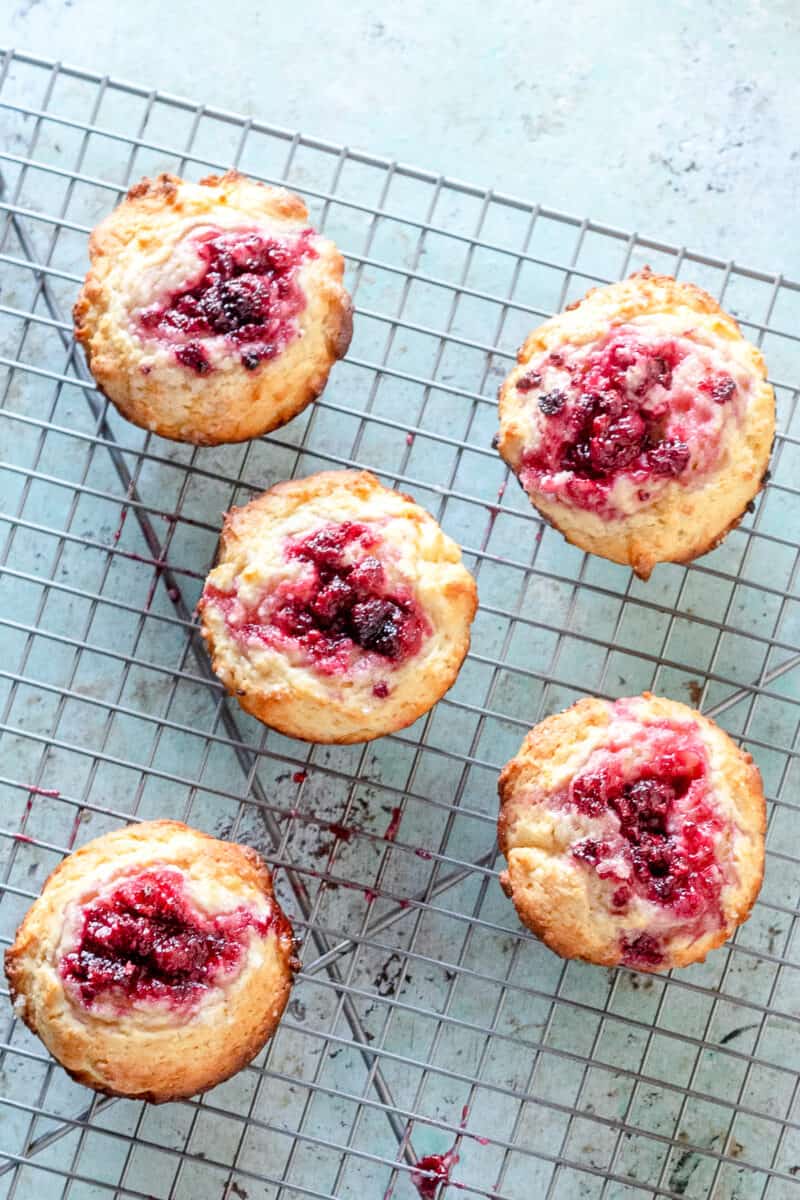 The only slightly tricky thing about them is that the raspberry middles can slip out a bit messily if you turn the muffins out onto a cooling rack.
That isn't the end of the world, and you can sort of gently put the stray raspberry bits back and no one will be any the wiser (I promise I won't tell).
But, if you want to avoid this (especially if you have counters that can stain), I recommend using a fork or a butter knife and an oven mitt to gently remove each muffin from the tin to cool.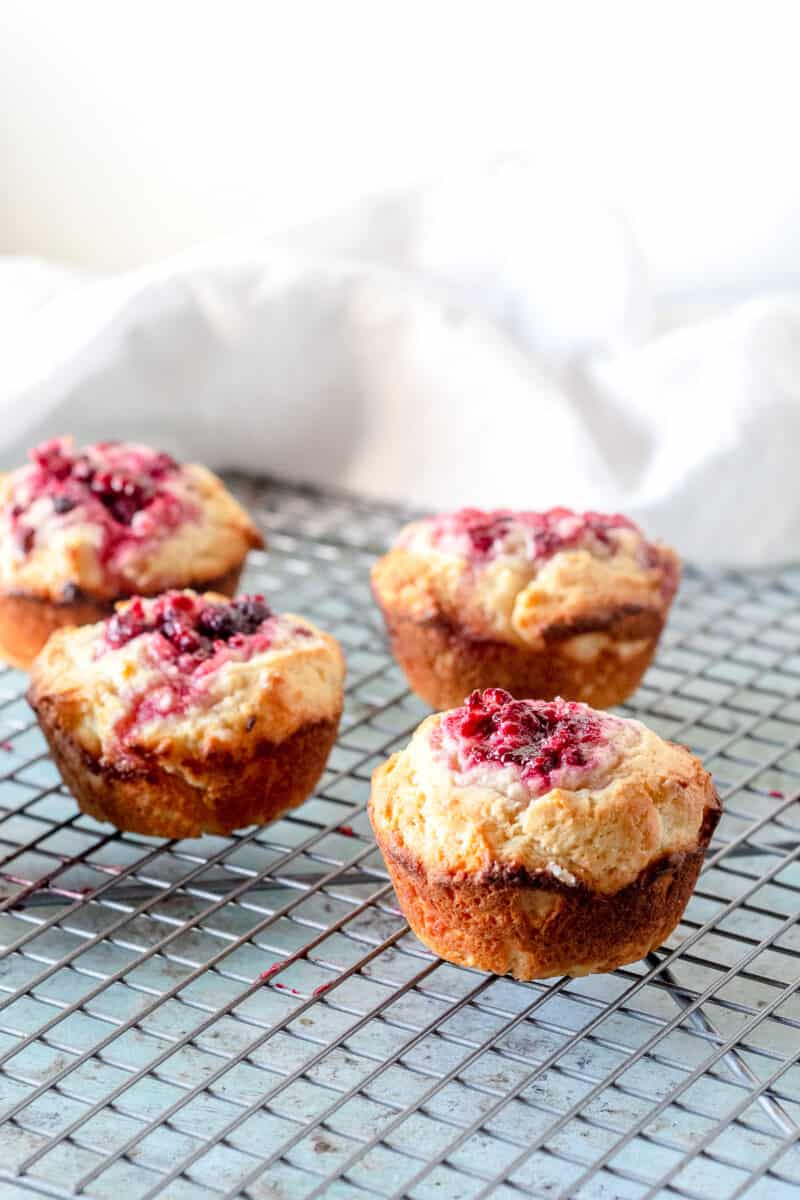 Just find a stray half hour on a lazy morning and treat yourself.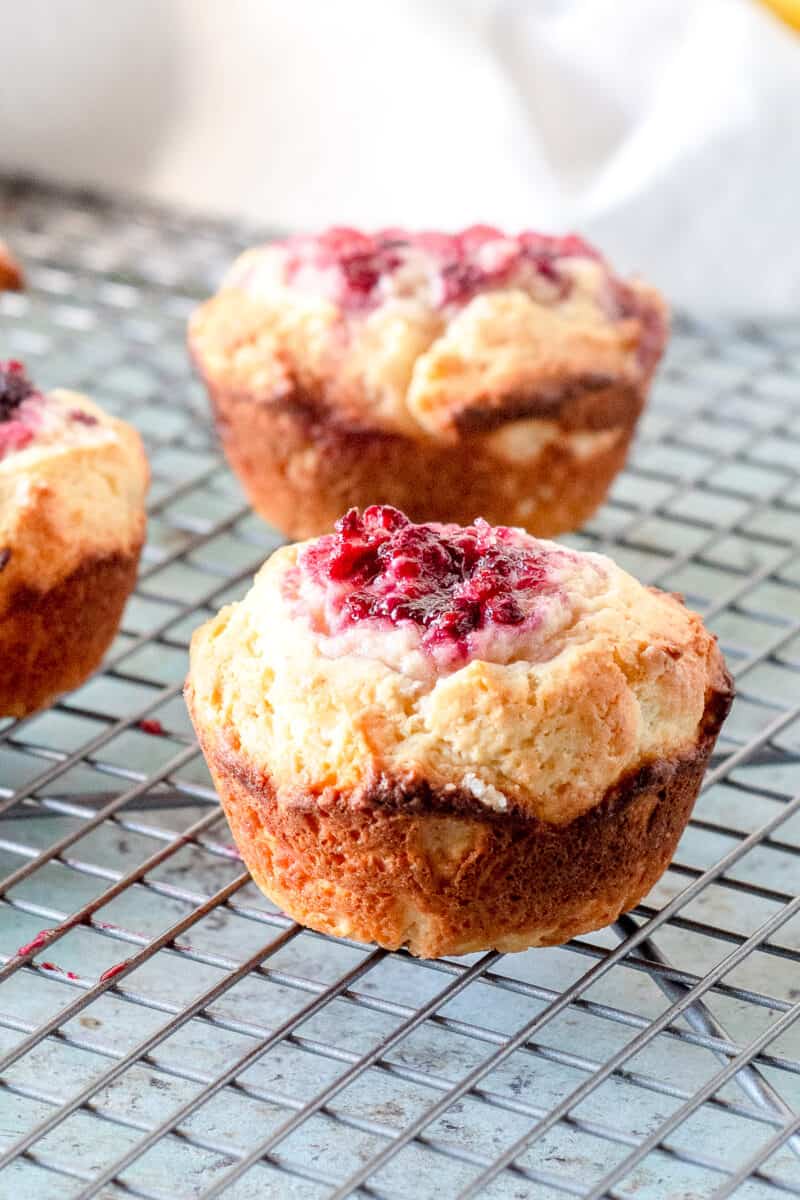 Yield: 12 muffins
Raspberry Lemon Muffins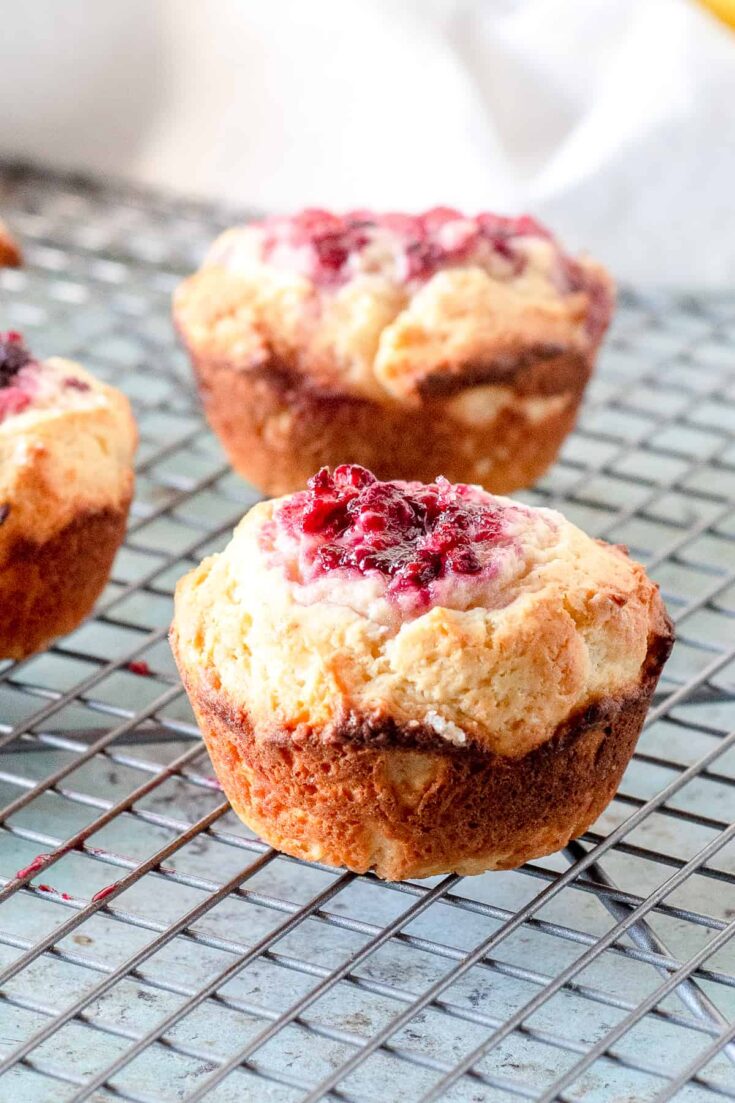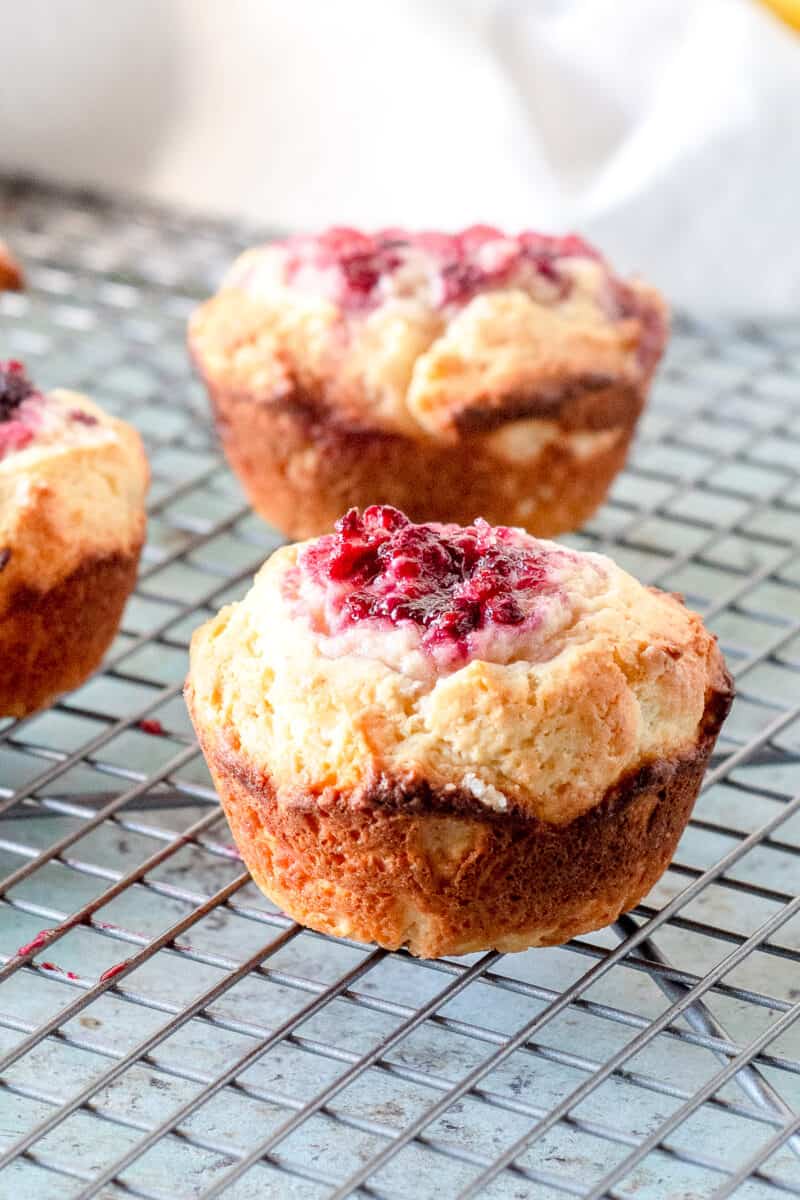 These raspberry lemon muffins are, at heart, lemon muffins with jammy raspberry middles. The fats in this batter come from olive oil (choose a mellow one) and Greek yogurt. I recommend full-fat or 2% here for the best texture. Be careful when removing the muffins from the tin--the raspberry middles can get a bit messy. You can turn them out and accept a little mess or carefully remove them one by one from the muffin tin, your call.
Ingredients
2 cups all-purpose flour
1 1/2 teaspoons baking powder
1/2 teaspoon kosher salt
1 cup plain Greek yogurt
1/2 cup extra virgin olive oil
2 eggs
1 teaspoon vanilla extract
1/2 cup + 2 tablespoons sugar, divided
zest of 1 lemon
1 cup raspberries (fresh or frozen)
Instructions
Preheat oven to 375°F. Spray a muffin tin with nonstick spray. Add flour, baking powder, and kosher salt to a mixing bowl and whisk together.
In a separate bowl add the yogurt, olive oil, eggs, and vanilla and stir. Add 1/2 cup of the sugar and zest the lemon over the sugar. Stir again.
Add the wet ingredients to the dry ingredients and stir until just combined. Divide the batter even between the 12 muffin cavities.
Add the remaining 2 tablespoons sugar and raspberries to a small bowl and stir. Press a rounded tablespoon of raspberry-sugar mixture into the center of each muffin. It should go about halfway down into the muffin batter.
Bake for 15-20 minutes or until golden brown around the edges (the raspberries will be slumped and bubbling). Carefully remove each muffin from the tin (with the help of a fork and an oven mitt) and let cool on a rack. Serve
Recommended Products
As an Amazon Associate and member of other affiliate programs, I earn from qualifying purchases.
Nutrition Information:
Yield:
12
Serving Size:
1
Amount Per Serving:
Calories:

195
Total Fat:

10g
Saturated Fat:

2g
Trans Fat:

0g
Unsaturated Fat:

8g
Cholesterol:

32mg
Sodium:

169mg
Carbohydrates:

21g
Fiber:

1g
Sugar:

3g
Protein:

5g