I may earn from purchases through links in this post.
Every September, I look forward to the baskets of fragrant grape varietals that Klug Farm brings to the Green City Market.
Canadice, Einset, Interlaken, Jupiter, and Thomcord grapes bear little resemblance to the blandly sweet red and green grapes that you find at most supermarkets. And unlike Concords, they don't have pesky seeds.
They're complex, spicy, tart, and so full of flavor that they remind me why we use grapes to make wine. Their season is short, and I tend to bring home a basket of mixed grapes every week, and we snack on them.
But sometimes my eyes are bigger than my stomach, and last week I realized I had grapes that were beginning to look at little raisiny on the vine. I used some to make spiced grape preserves, but I put the rest of them into this grape olive oil cake.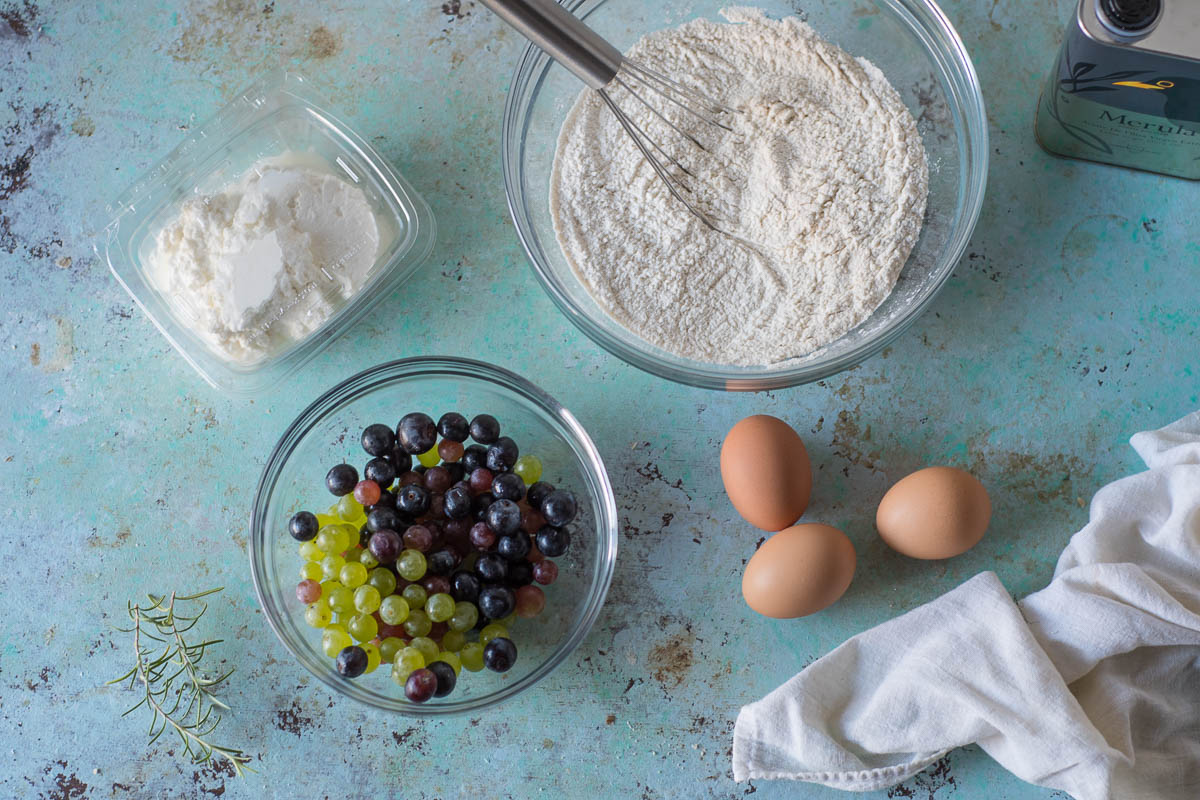 There are maddeningly few recipes for using grapes like these out there. And since recipes for Concords involve going through the trouble of removing all of those obnoxious seeds, they tend to be fussy and involve slicing–and if you've ever gone to the trouble of slicing lots of grapes you know that they roll all over the place–or mashing and pulping and straining out the seeds and skins.
I'm not one to shy away from complicated baking projects, but I wanted something that would put these grapes to use that would let them shine in their whole form and that wouldn't be such a hassle.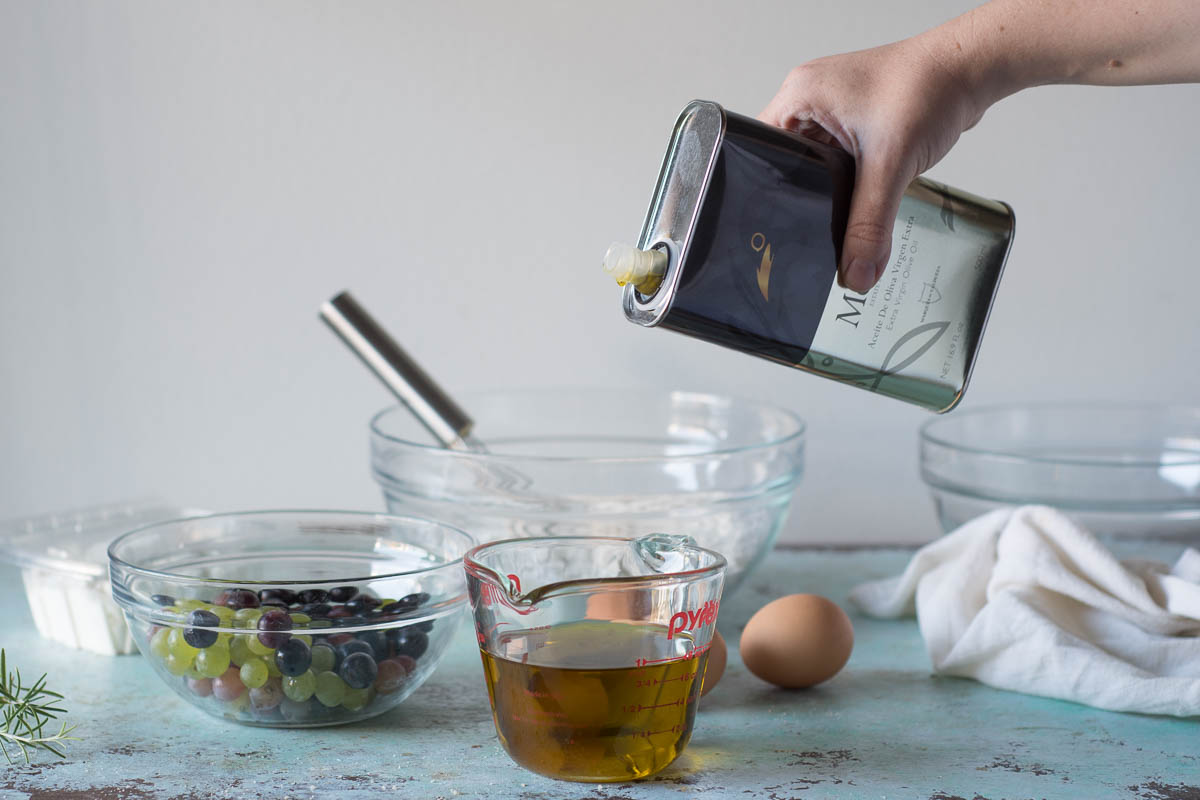 This grape olive oil cake was inspired by the flavors on a cheese plate. It's rich with olive oil and ricotta cheese and has just a hint of rosemary. I know rosemary has a tendency to be overused, but it pairs beautifully with these flavors. And while I'd definitely call this cake dessert, it's restrained on the sugar front.
It's the kind of dessert that flirts with the savory side. It's probably not going to be popular with the kids, but if you're the kind of grown-up who enjoys a little wine and a cheese plate, this grape olive oil cake is for you.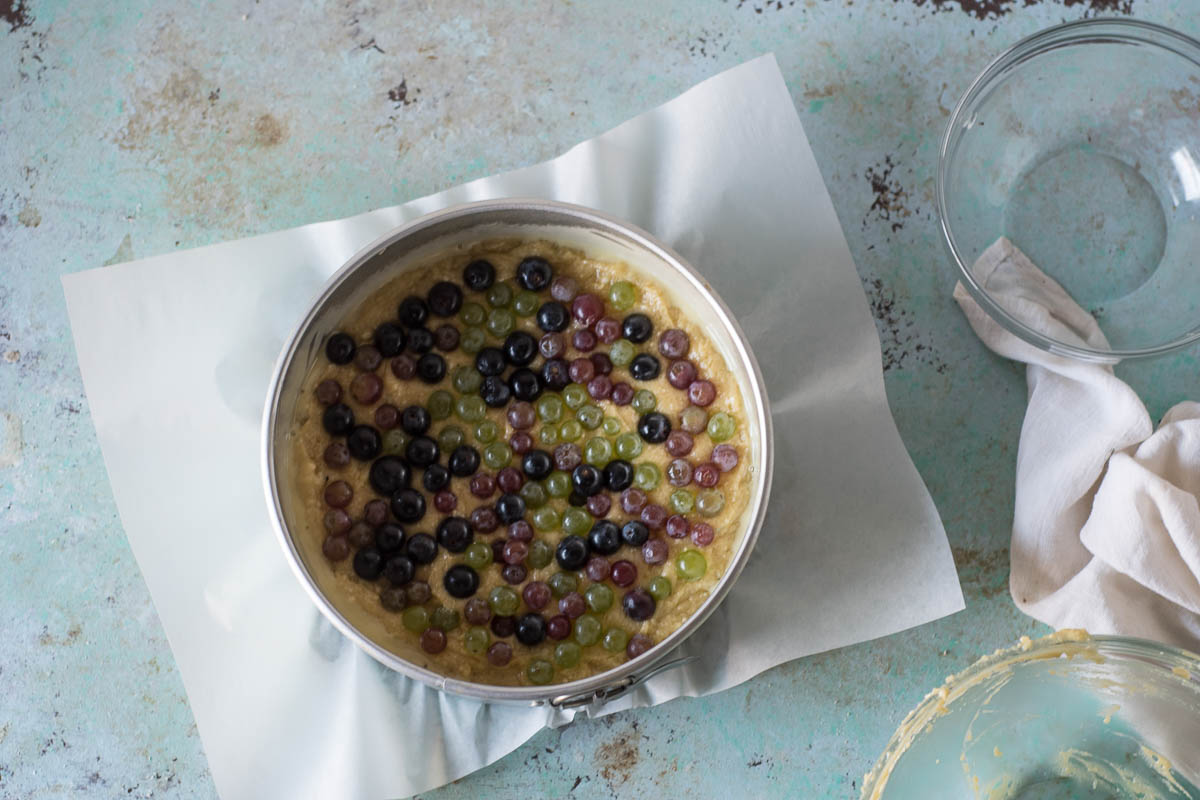 The batter comes together in a few minutes. And with the beautiful olive oil and ricotta it's incredibly moist. A springform pan gets lined with parchment paper, the batter gets spread evenly over the bottom, and the grapes get gently pressed into the top.
It's a lovely everyday sort of cake. Perfect with coffee or tea. And I'm sure it would be excellent with a dessert wine too. If you find yourself with too many delicious grapes, now you have something to bake with them.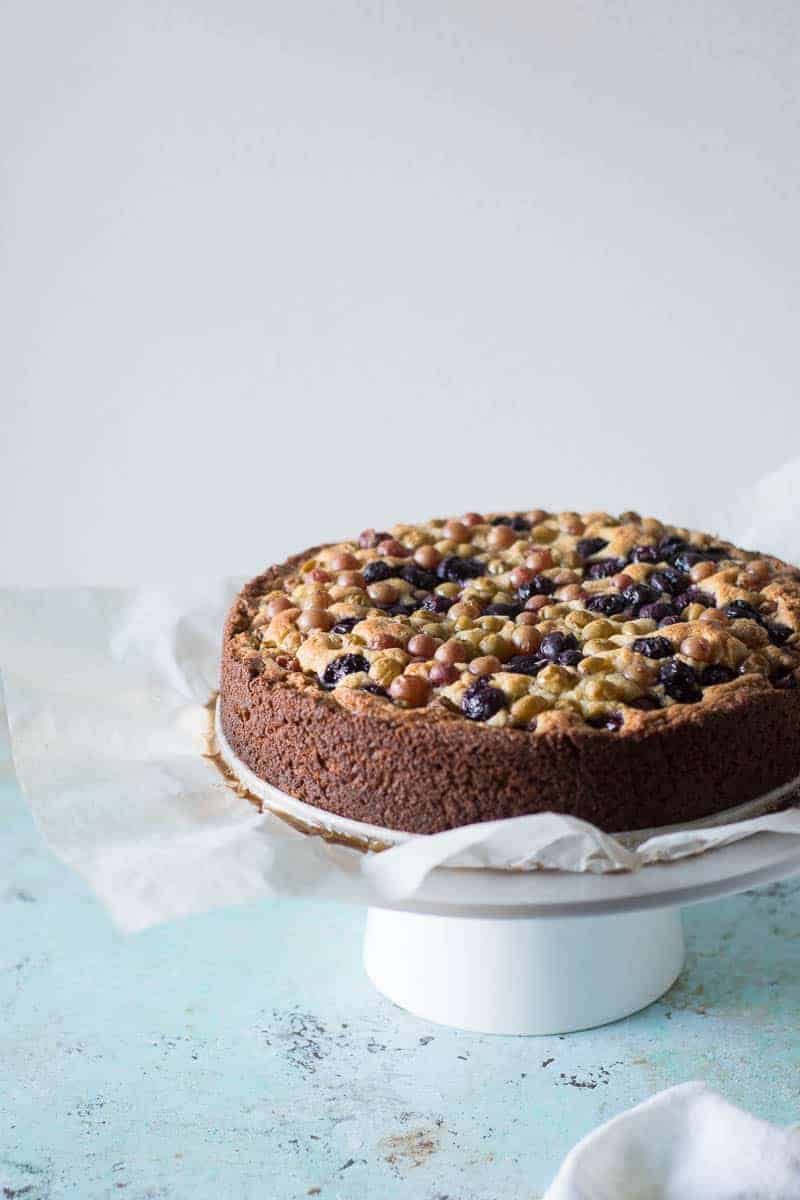 Yield: 8 servings
Grape Olive Oil Cake
This cake is only mildly sweet--perfect for grown-ups looking for a simple rustic dessert. I wouldn't make this with standard green and red grapes--you want seedless grapes that are fragrant and flavorful. Any mix of Canadice, Einset, Interlaken, Jupiter, Mars, Thomcord or similar grapes will work beautifully. I like to use a fruity olive oil here--an aggressively peppery one would feel wrong. The ricotta adds a lovely richness, and the rosemary is subtle (you can leave it out if you want). I have a hunch this would be beautiful with about a 1/2 cup of ground walnuts or pinenuts added, and I might give that a try next time I make it. This works best in a 9-inch springform pan.
Cook Time
1 hour
5 minutes
Total Time
1 hour
15 minutes
Ingredients
250 grams (2 cups) all-purpose flour
1 1/2 teaspoons baking powder
1 teaspoon kosher salt
195 grams (1 cup) extra virgin olive oil
3 large eggs
165 grams (2/3 cup) ricotta
150 grams (3/4 cup) granulated sugar, demerara or turbinado would be lovely
1/2 teaspoon fresh rosemary, finely chopped
250 grams (1 1/2 cups) fragrant seedless grapes, such as Canadice, Jupiter, or Thomcord grapes, stems removed
Instructions
Preheat oven to 350°F. Line a 9-inch springform pan with parchment paper (I do this by separating the sides and bottom, covering the bottom with the parchment leaving the overhang on the outside, then reclamping the sides around the parchment to hold it in place). Spray with nonstick spray.
Add the flour, baking powder, and salt to a large mixing bowl and whisk until combined.
Add the olive oil, eggs, ricotta, sugar, and rosemary to another large mixing bowl and whisk until thoroughly mixed.
Add the wet ingredients to the dry ingredients and stir until just combined. The batter will be thick.
Spread the batter evenly in the springform pan with a silicone spatula.
Spread the grapes over the top in an even layer--they should just about cover the cake--and gently press them about halfway into the batter to hold them in place.
Bake for 60-65 minutes or until a toothpick inserted in the middle of the cake comes out clean. Let cool in the pan, then gently release and remove the sides and serve.
Recommended Products
As an Amazon Associate and member of other affiliate programs, I earn from qualifying purchases.
Nutrition Information:
Yield:
8
Serving Size:
1
Amount Per Serving:
Calories:

464
Total Fat:

28g
Saturated Fat:

5g
Trans Fat:

0g
Unsaturated Fat:

22g
Cholesterol:

76mg
Sodium:

404mg
Carbohydrates:

46g
Fiber:

1g
Sugar:

20g
Protein:

8g