I may earn from purchases through links in this post.
Fall has always been my favorite season.
Lately, I've been focusing on the particular pleasures of the autumnal shift.
The apples and the sweaters and the foliage and pictures of my friends' with their baby on her first visit to a pumpkin patch. Stuff that makes me feel good. Like new socks. My dog's tentative new interest in cuddling. And this chile-lime squash and chickpea salad.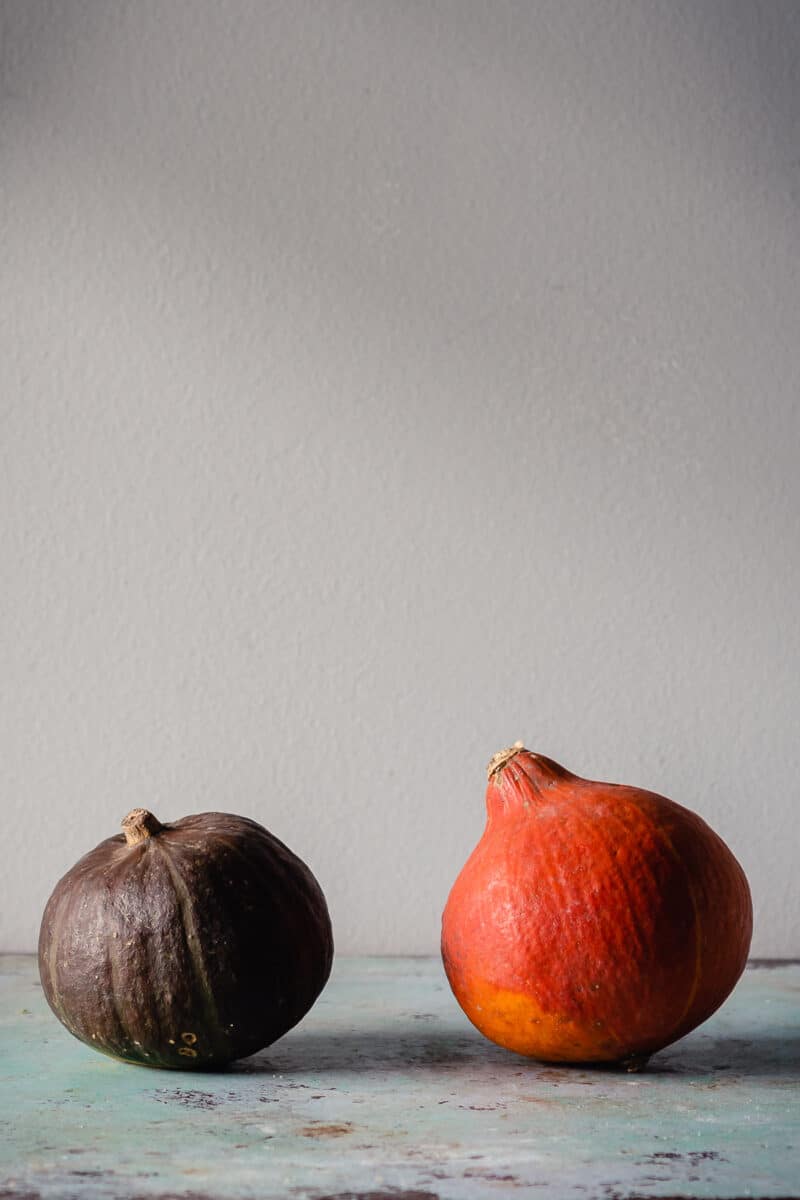 It's one of those dishes that is more than the sum of its simple parts. Just winter squash, garlic, limes, a bit of red onion, a chile pepper or two, chickpeas, a glug of olive oil and cilantro (which, for the haters, is optional).
It manages to hit the hot-sour-sweet trifecta and somehow feels both hearty and light.
The sweetness of the roasted squash balances the sharpness of the limes, the garlic and chiles add dimension and heat, the chickpeas make it feel more substantial, and the lightly pickled onions add a tangy crunch.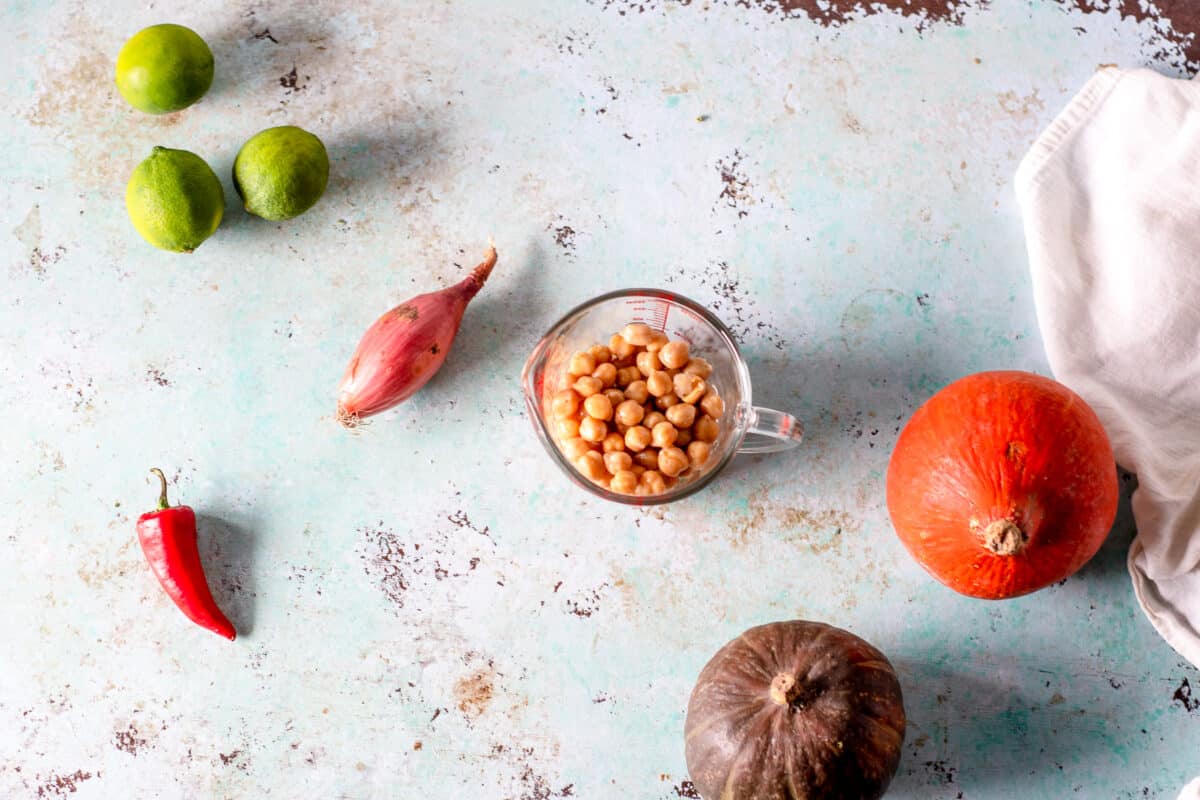 This chile lime squash and chickpea salad is the kind of recipe I'll love having in my back pocket when I'm looking for a break from the rich holiday foods we see so much of as we get deeper into fall and winter.
And the best part is it comes together in about half an hour. It's doable, even for a weeknight.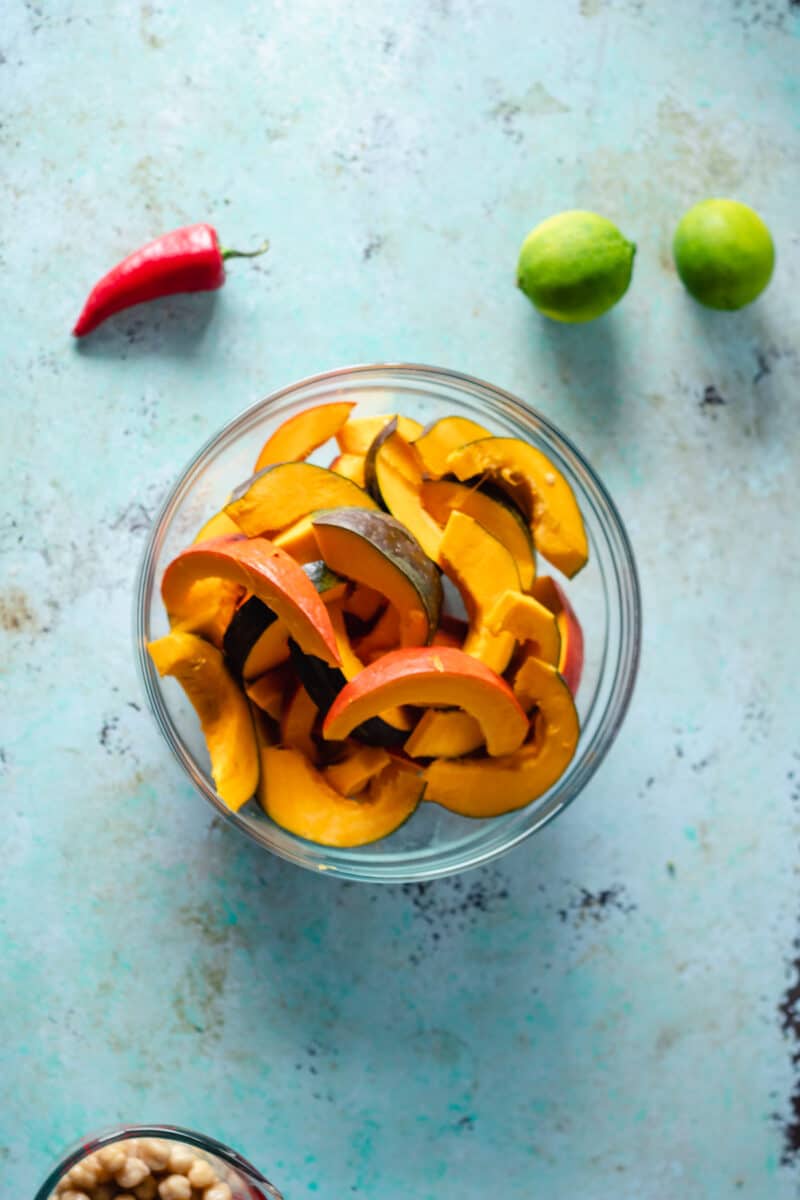 I love seeing all of the heirloom squash in the fall: the speckled carnival squash, the petite oblong delicatas, the deep dark green kabochas, and the saturated orange red kuri squash. I used the latter two varieties in this salad, but it would work equally well with a couple of acorn squash or a butternut squash.
Similarly, I used fresno chiles here, and I think the red chiles have a fruitier flavor and add some lovely color, but a jalapeno or serrano pepper would be just fine if that's what's available when you get to the grocery store.
If you're the kind of person who cooks beans from dried, knock yourself out and cook your own chickpeas, but if you're not, go ahead and use the kind from a can (or jar or tetrapak carton) and don't worry about it.
This is the kind of meal that is flexible, that will turn out fine, that needn't activate anyone's anxiety centers.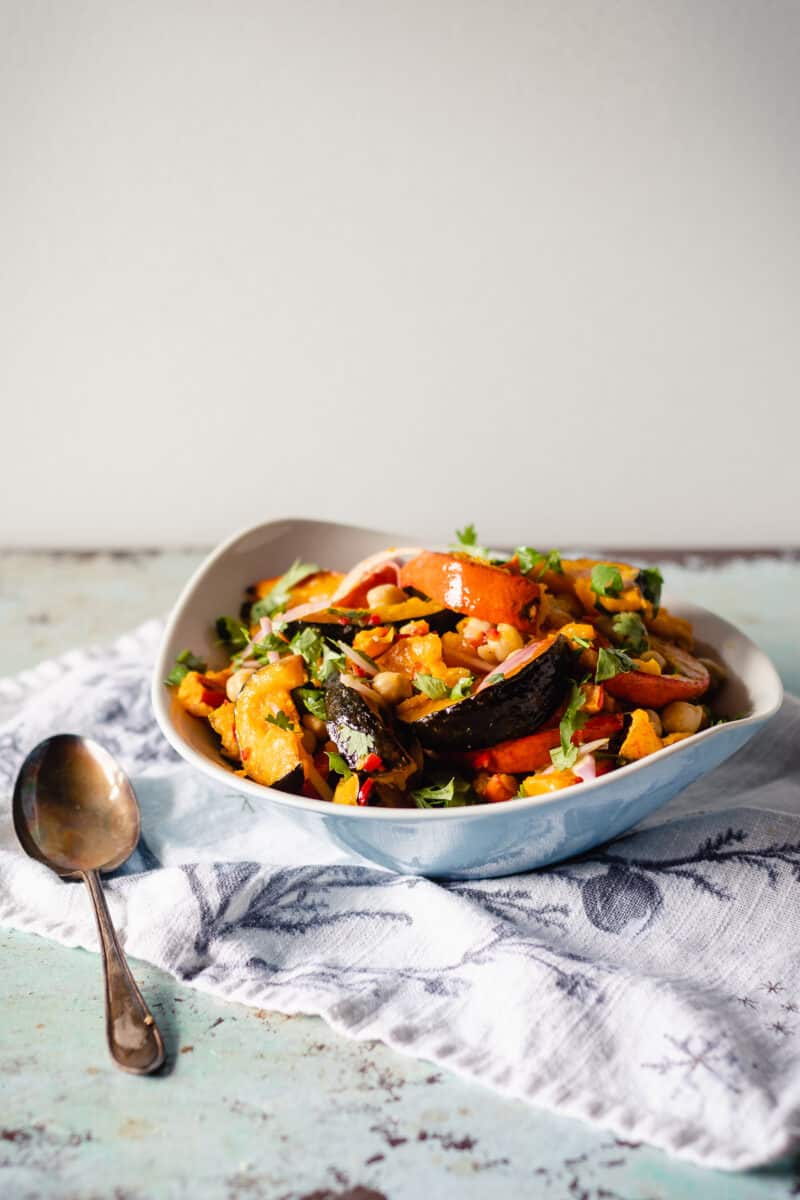 It's simple, and it's good. You're welcome.

Yield: 4 servings (approximate)
Chile-Lime Squash and Chickpea Salad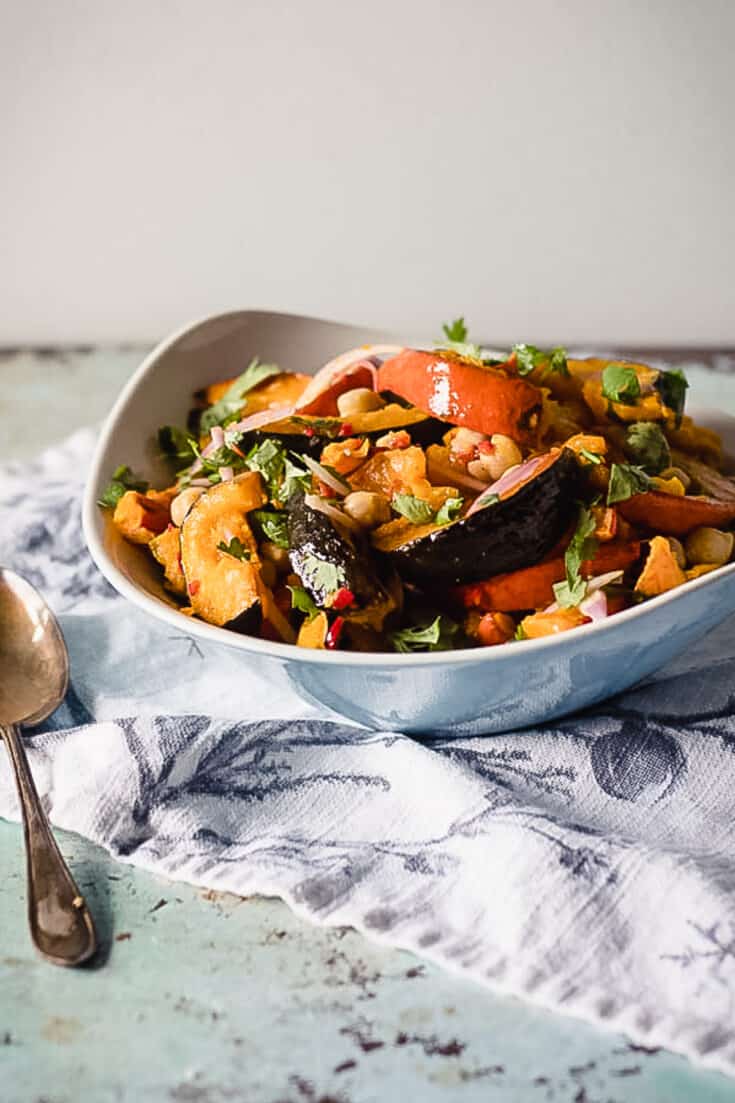 This recipe comes together in about a half hour. The hardest part is chopping the squash. Use a sturdy, sharp chef's knife and thoroughly dry your hands to avoid slippage. I like to use squash like kabocha and red kuri, which have a slightly richer and nuttier flavor than more widely available winter squash—if you see some at the market snatch them up—but acorn or butternut squash works as well. I like to grate the garlic for this with a microplane , which turns it into a nearly smooth pulp, but you can also use a garlic press or mash it with salt and a knife. I get better yield when I juice limes with a squeezer like this. This is good warm or at room temperature. It holds up well as leftovers for a day or two, but should be gently reheated or brought to room temperature before serving.
Ingredients
1/4 cup red onion, thinly sliced
2 medium limes
2 medium acorn squash, or similarly sized heirlooms like kabocha and red kuri
2 tablespoons neutral oil, such as canola or grapeseed
1 clove garlic, grated on a microplane
1-2 fresno chiles, seeds removed, finely diced, or 1-2 jalapeno or serrano chiles
4 tablespoons extra virgin olive oil
1 1/2 cups cooked chickpeas, strained and rinsed, from one 15-ounce can
a handful of fresh cilantro, stems removed, roughly chopped
kosher salt, to taste
Instructions
Preheat oven to 450°F. While the oven is preheating, add the sliced onions to a fine mesh strainer and run them under cold water for about 30 seconds to remove some of the bite, then transfer to a small bowl. Juice one of the limes and pour the juice over the onions and season with a generous pinch of kosher salt and refrigerate. They'll be lightly pickled by the time the squash is roasted. (You can do this well ahead of time for a more pronounced pickled effect.)
Line a large baking sheet with aluminum foil. Slice the squash in half and scoop out the seeds and the stringy bits with a spoon. Slice them about 3/4-inch thick. Add them to a large bowl and toss with the neutral oil and season with a generous pinch of kosher salt. Spread in an even layer on the baking sheet and roast until tender and turning golden at the edges, about 20-25 minutes.
Meanwhile, juice the other lime into a small bowl, add the garlic, chiles, and olive oil and whisk together.
Add the chickpeas to a large mixing bowl. When the squash is cooked, remove from the oven and add to the bowl. Toss gently with the chile-lime vinaigrette. Strain the pickled onions and add them to the bowl, add the cilantro and gently toss again.
Serve warm or at room temperature.
Recommended Products
As an Amazon Associate and member of other affiliate programs, I earn from qualifying purchases.
Nutrition Information:
Yield:
4
Serving Size:
1
Amount Per Serving:
Calories:

463
Total Fat:

26g
Saturated Fat:

3g
Trans Fat:

0g
Unsaturated Fat:

22g
Cholesterol:

0mg
Sodium:

168mg
Carbohydrates:

55g
Fiber:

15g
Sugar:

12g
Protein:

10g