I may earn from purchases through links in this post.
I'm always on the lookout for fall and winter dishes that feel light and fresh but still seasonally appropriate.
This mess of roasted butternut squash and Brussels sprouts in a red wine vinegar-based agrodolce (an Italian word meaning "sour and sweet") lands on that intersection with wintry roasted vegetables hit with an extra punch of acidity.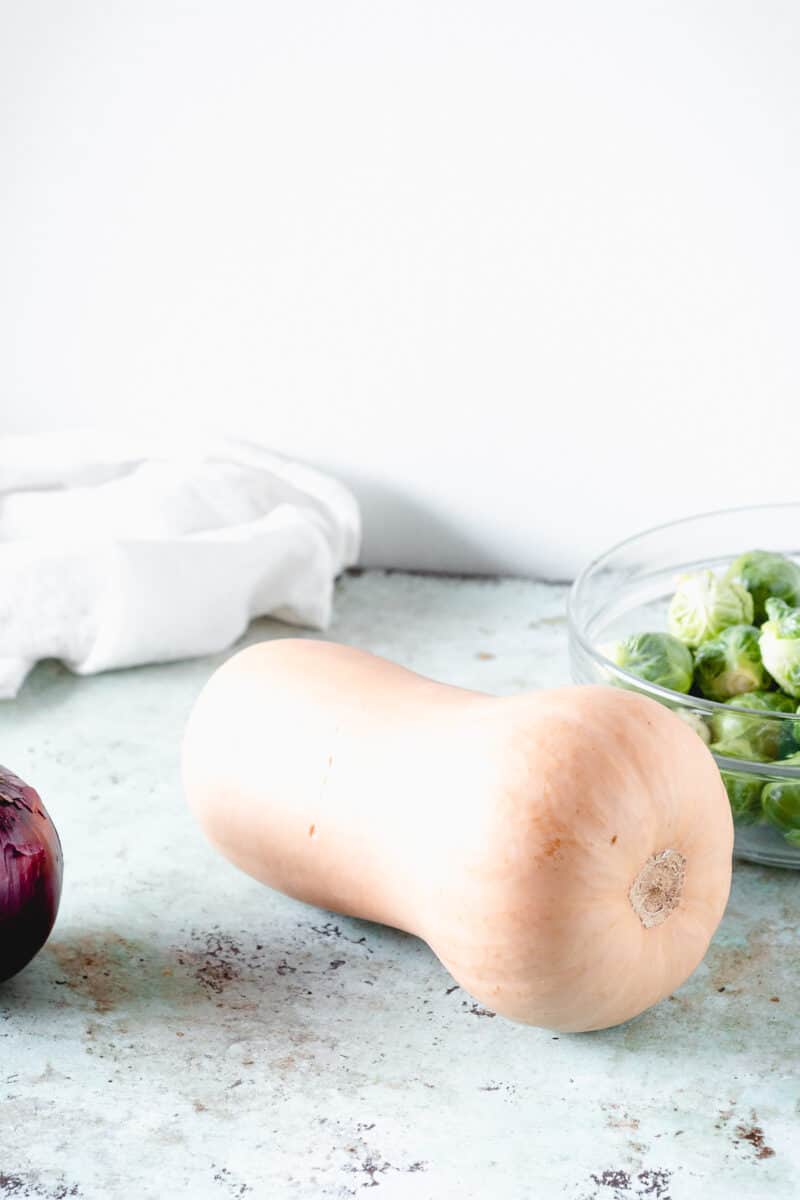 This one comes from Samin Nosrat's excellent book Salt, Fat, Acid, Heat, which, honestly, almost feels like cheating.
I mean, if you don't already love Samin and implicitly trust all of her cooking advice, then stop wasting time with me and go and watch her Netflix series or read her book or check out her New York Times cooking column.
She's charming and insightful and so good at breaking down the essentials of good cooking. And she's such a talented chef that I knew this one was going to be a winner before I even tried it.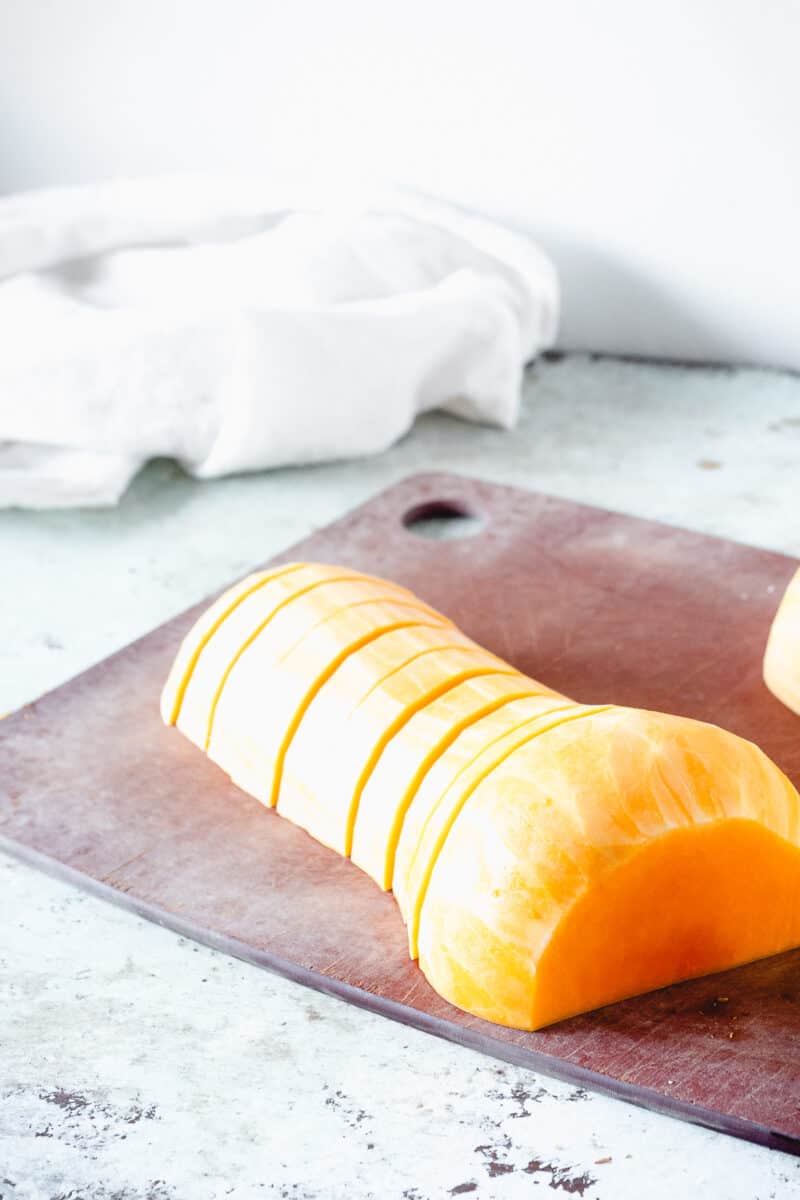 And I was right (because Samin is always right).
It's good. Really good.
The butternut squash and Brussels sprouts get roasted until they're caramelized. The squash gets smushably soft and the sprouts get tender with crispy edges.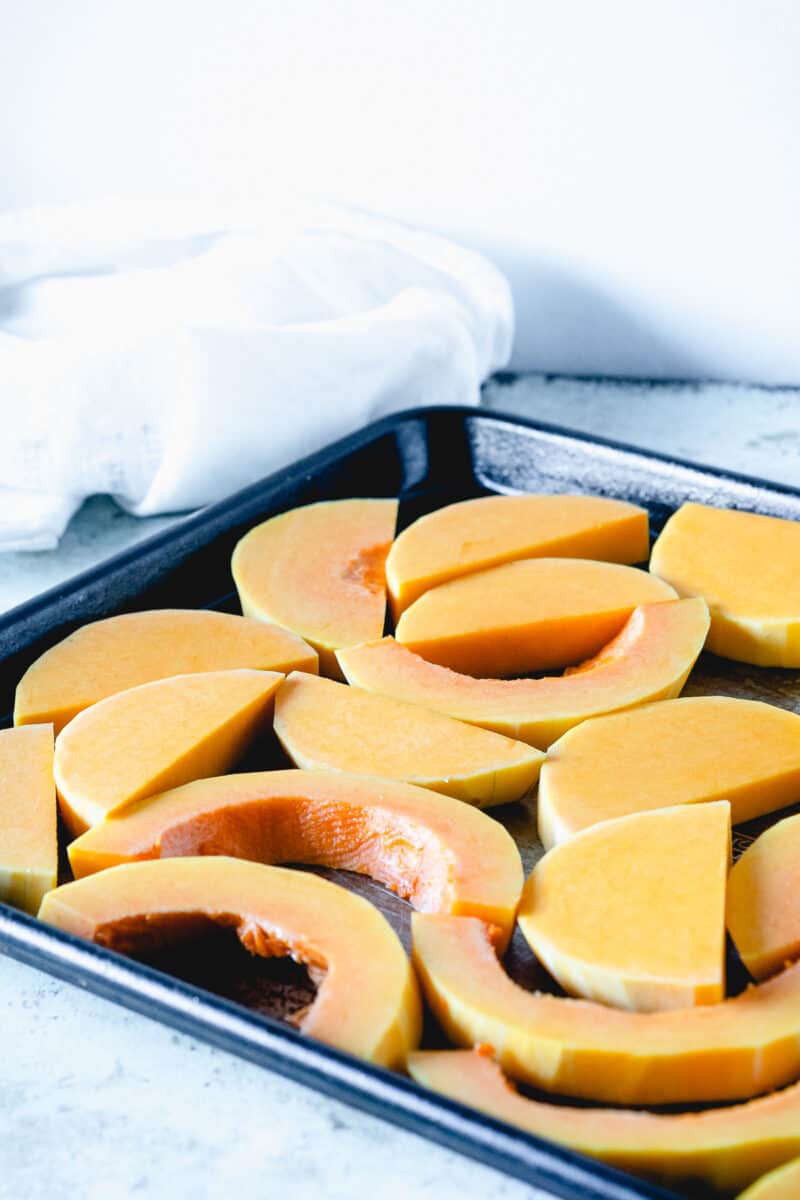 You get the natural sweetness from the butternut squash along with the magical trick that happens when you roast Brussels sprouts, or any brassica, really.
(Like in this roasted Korean cauliflower, this roasted broccoli in harissa yogurt sauce, or this grilled cabbage salad.)
But what makes this dish special, what really takes it over the top, is the generous splash of red wine vinegar, pickled onions, and olive oil with a pinch of sugar and crushed red pepper flakes.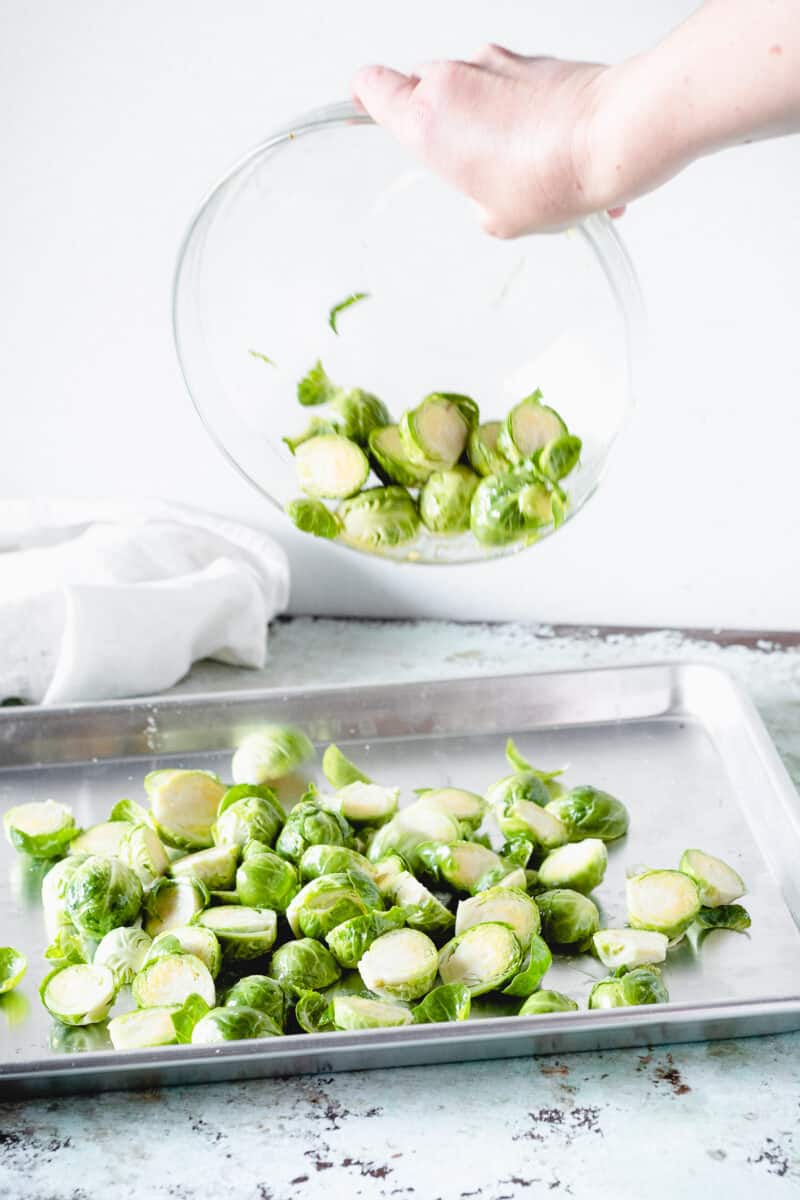 That mix pushes all of the hot-sour-sweet buttons (and yes, there's salt, too).
This dish has much in common in spirit with this chile-lime squash and chickpea salad, which treats winter squash in a similar way.
But this one swaps the particular vectors of heat and acidity from fresh hot peppers and limes for a more Mediterranean-inspired flavor profile with crushed red pepper flakes and red wine vinegar.
It's simple dish that's doable on a weeknight, but it's special enough to work as part of a Thanksgiving or holiday spread, which are the kind of meals that usually could benefit from some extra colorful vegetables and acidity.
(Looking for more Thanksgiving recipes, try these.)
It's vegetarian, vegan, and gluten free, which means it ticks most of the special-diet boxes if you're hosting a big group. And it's flexible on when you make it and easy to transport if you're contributing to a meal somewhere else.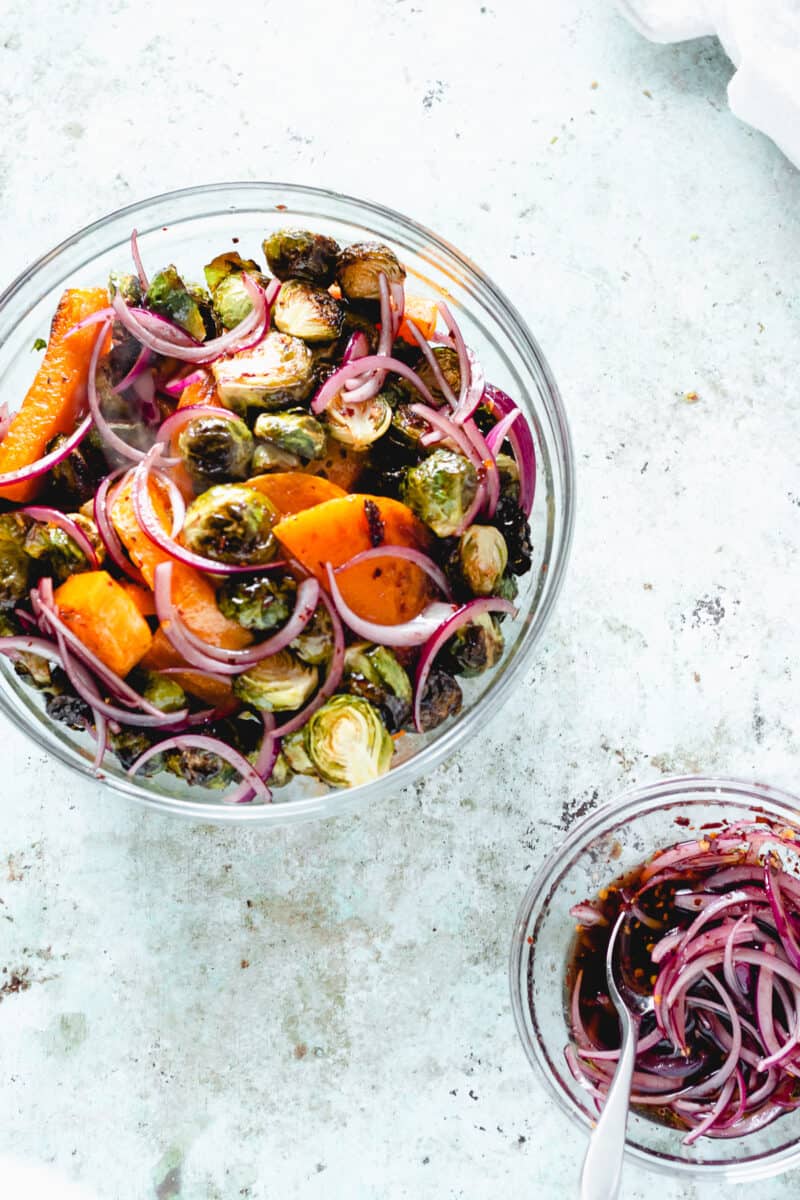 The peeling and slicing of the butternut squash and the trimming and halving of the Brussels sprouts can be done a few days in advance.
And the roasting and assembling, except for the addition of fresh mint can be done a day ahead of time. Then it just needs to be brought to room temperature (or gently warmed) and sprinkled with mint for serving.
I know I'll be making this again and again. And I bet you will, too.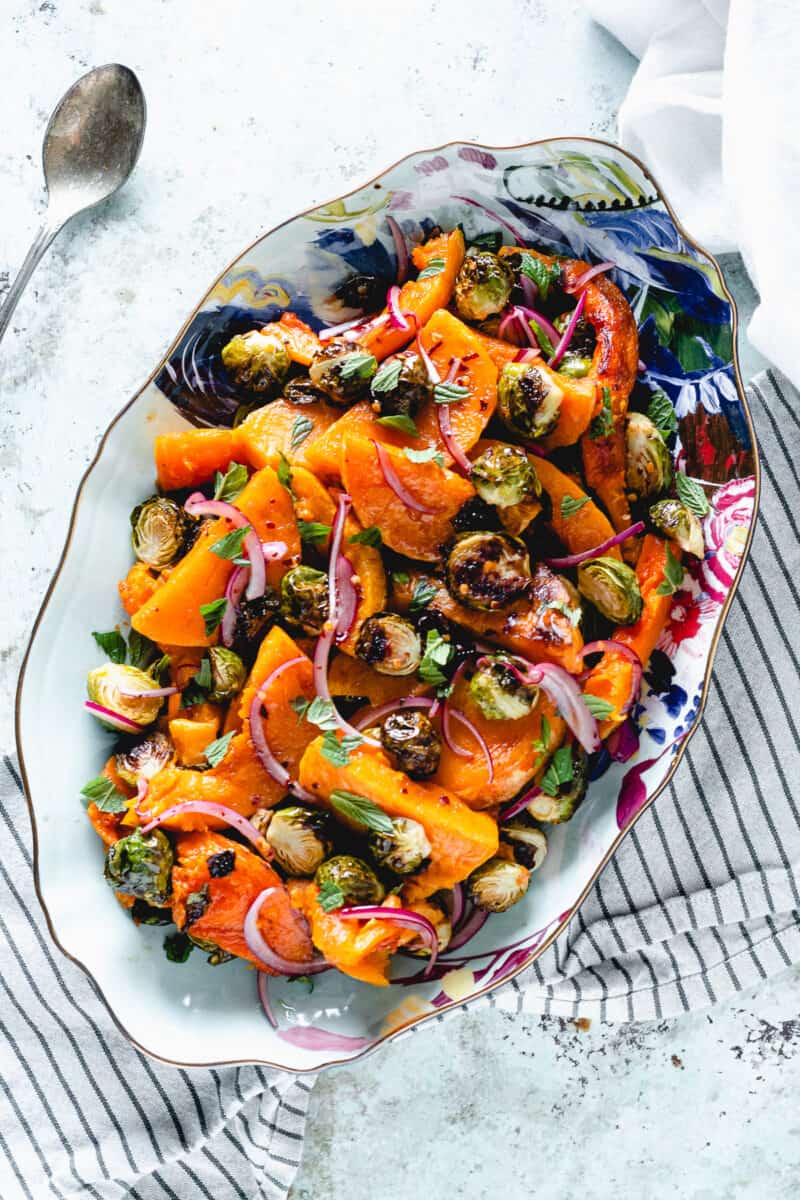 Yield: 6 servings
Roasted Butternut Squash and Brussels Sprouts in Agrodolce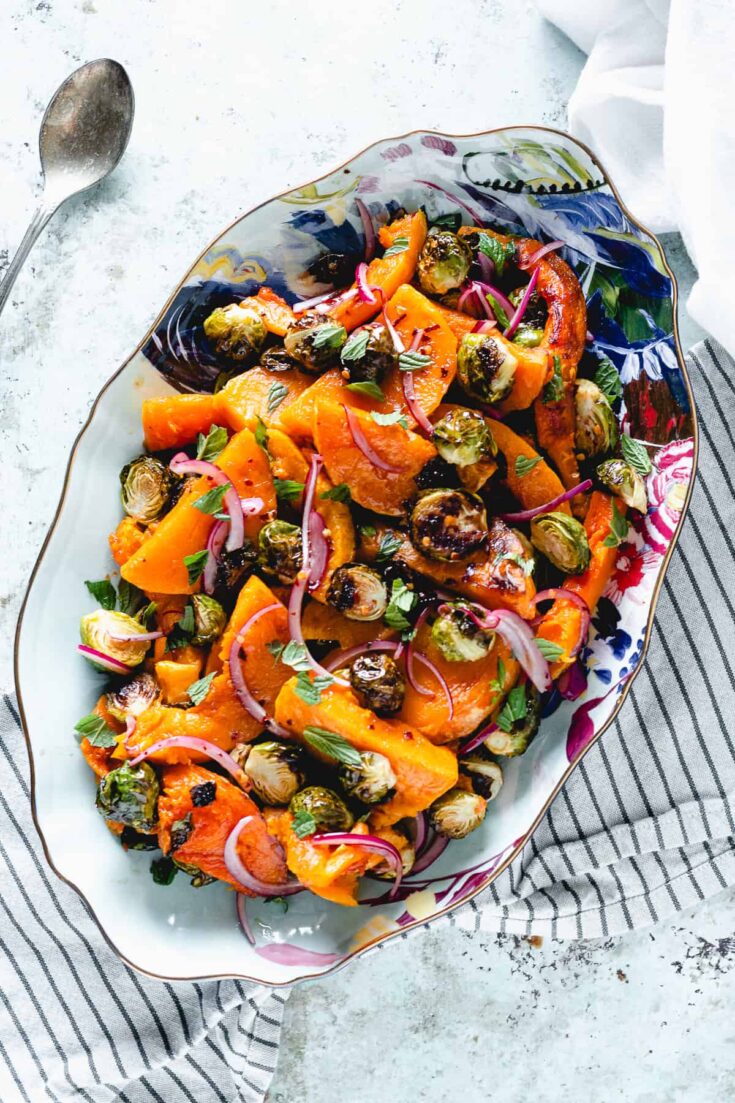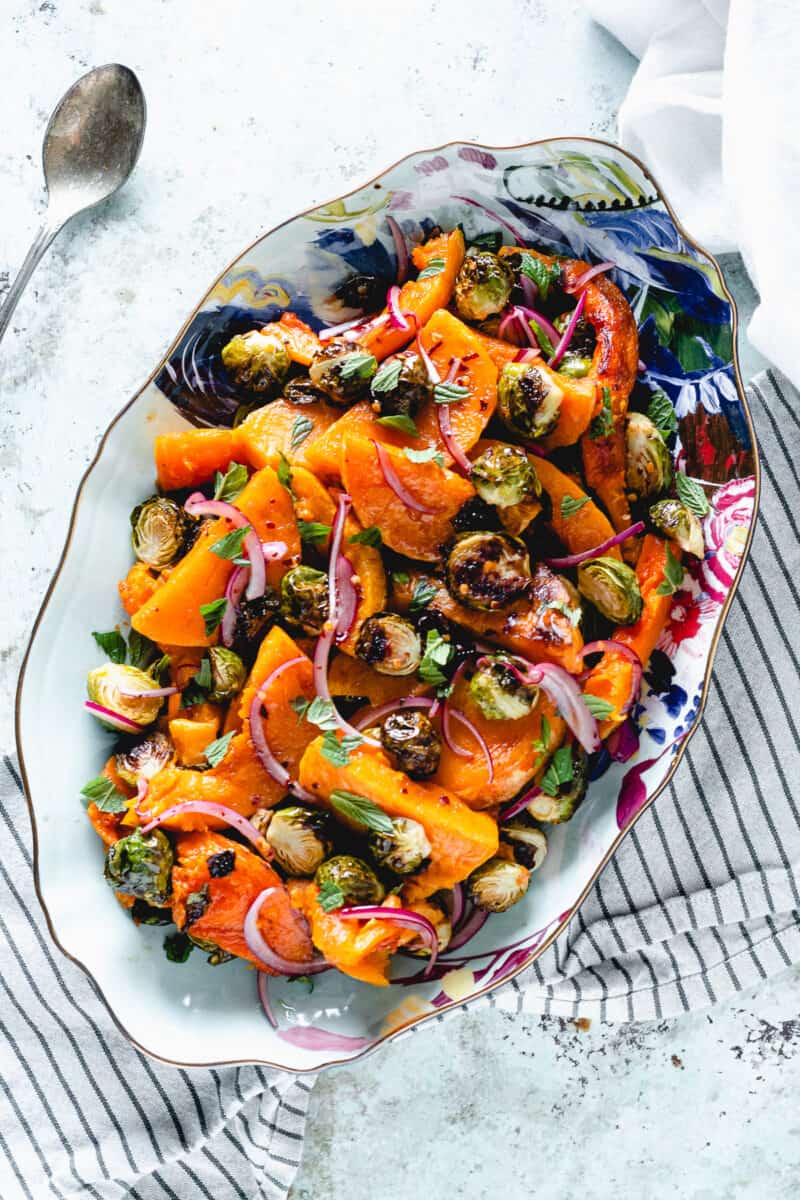 The red wine vinegar and olive oil and pickled onions and crushed red pepper bring a wallop of acidity and crunch and gentle heat to this dish.
The vegetables get roasted until the butternut squash is browned and soft and the Brussels sprouts are tender with crispy edges and outer leaves.
You could substitute any winter squash here for the butternut.
Ingredients
1 large butternut squash (about 2 pounds), peeled, halved lengthwise, seeds removed
7 tablespoons extra virgin olive oil
kosher salt, to taste
1 pound Brussels sprouts, trimmed, outer leaves removed
1/2 small red onion, thinly sliced
5 tablespoons red wine vinegar
1 tablespoon sugar
3/4 teaspoon red pepper flakes
1 garlic clove, finely grated
a handful of fresh mint leaves
Instructions
Preheat oven to to 425°F. While the oven is heating, slice each half of squash into 1/2-inch slices (these will be half-moons and crescents) and toss with a tablespoon of olive oil in a large mixing bowl and sprinkle with kosher salt. Place in a single layer on a large rimmed baking sheet.
Slice each Brussels sprout in half lengthwise, then add to the same mixing bowl and toss with another tablespoon of olive oil and generous pinch of salt and place in a single layer on another baking sheet.
Roast until the squash and sprouts are browned in spots and tender when poked with a knife, about 25-30 minutes. (If your sprouts are on the smaller side, they'll probably be ready a few minutes before the squash.)
Meanwhile, add the sliced red onion and red wine vinegar to a bowl, toss to combine, and let macerate for at least 20 minutes to lightly pickle the onions.
In a separate bowl, add the remaining 5 tablespoons of olive oil, sugar, red pepper flakes, garlic, and a pinch of salt and stir.
When the roasted vegetables are caramelized and tender, remove them from the oven and add to a large bowl. (Don't worry if the squash begins to fall apart.) Add the pickled onions and red wine vinegar to the olive oil mixture and stir to combine, then pour over the vegetables. Toss to combine. Sprinkle with torn mint leaves and serve warm or at room temperature.
Notes
Squash and Brussels sprouts can be sliced a few days ahead of time. The entire dish, except for the mint leaves, can be prepared a day in advance and chilled. Bring to room temperature or gently warm in the oven and garnish with mint leaves before serving.
Recommended Products
As an Amazon Associate and member of other affiliate programs, I earn from qualifying purchases.
Nutrition Information:
Yield:
8
Serving Size:
1
Amount Per Serving:
Calories:

149
Total Fat:

12g
Saturated Fat:

2g
Trans Fat:

0g
Unsaturated Fat:

10g
Cholesterol:

0mg
Sodium:

89mg
Carbohydrates:

10g
Fiber:

3g
Sugar:

3g
Protein:

2g