I may earn from purchases through links in this post.
For much of my life, I was largely indifferent to cauliflower. It was something I might pick from a veggie tray if the carrots and cucumbers were gone.
Raw, it was Bunnicula's broccoli, sort of crunchy and faintly bitter.
It was, I guess, okay.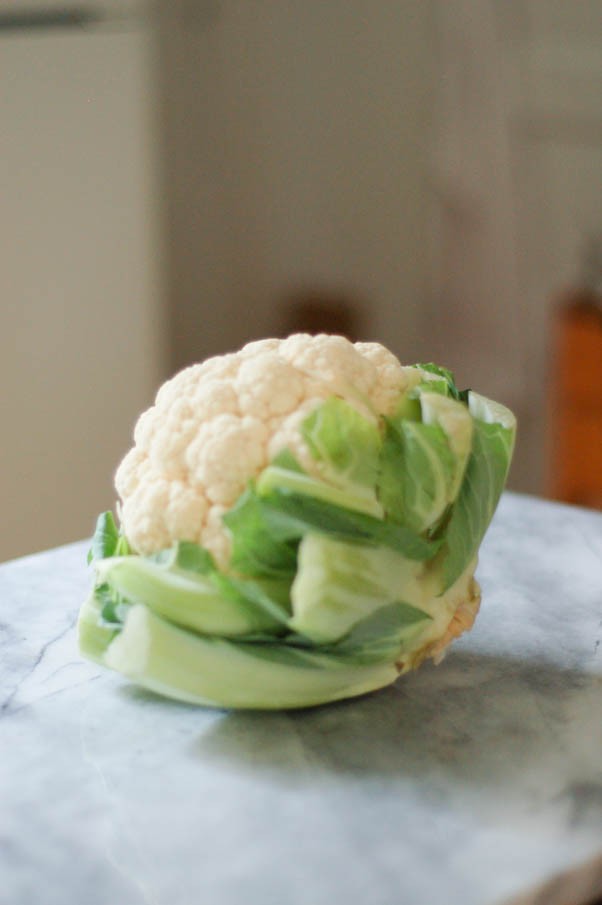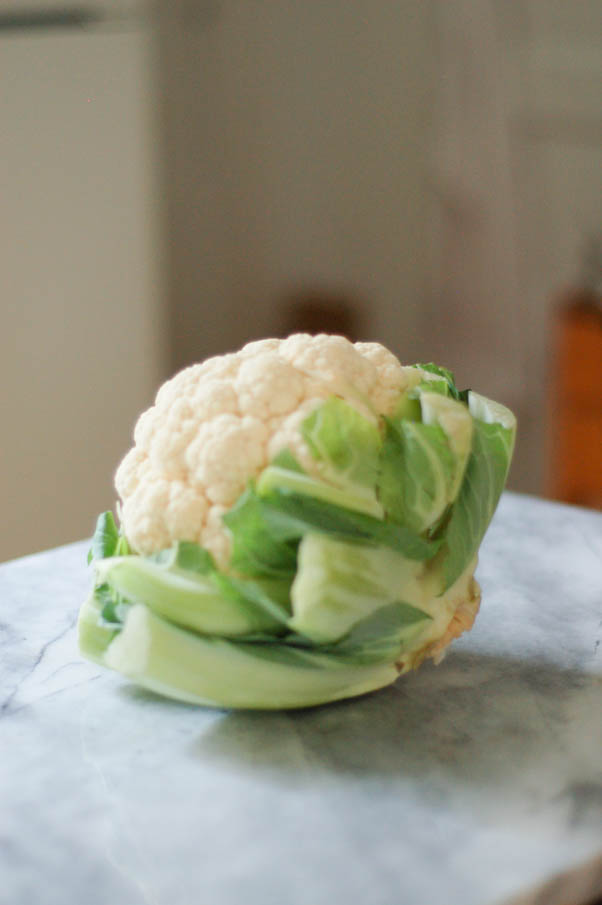 I felt similarly about steamed cauliflower. It was milder and softer. It was fine. I'd eat it if it was put in front of me, but it wasn't the sort of thing I felt compelled to make for myself.
And then I discovered roasted cauliflower, and my relationship with the palest of brassicas was no longer indifferent.
When roasted, cauliflower, like Brussels sprouts or broccoli or kale, transforms into something caramelized and nutty with deeply browned crispy edges. It's so much better than okay or fine. It's wonderful.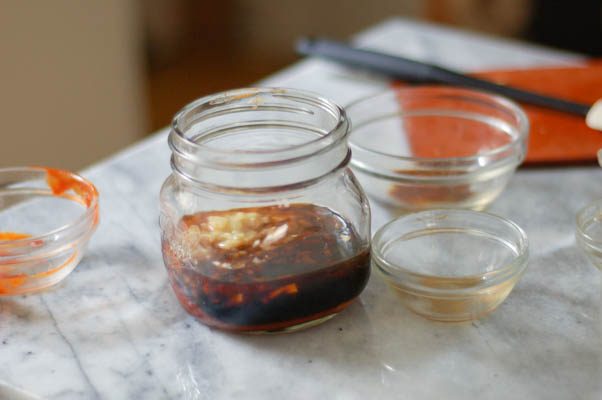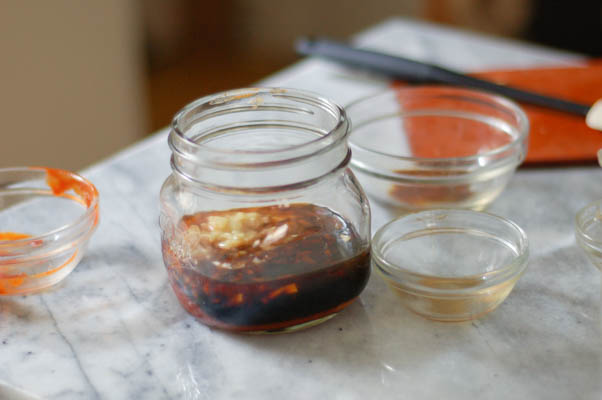 Since that discovery, cauliflower started making its way into my grocery basket on a regular basis. It's lovely roasted with olive oil and sprinkled with salt, but roasted cauliflower plays so well with so many other flavors, that it seems a shame to limit it.
It's lovely with Mediterranean flavors, like garlic and lemon and red pepper flakes, or Indian curry powders, or Middle Eastern notes like cumin and coriander.
Here, roasted cauliflower gets tossed in a sweet and spicy Korean barbecue sauce that's usually used for Korean fried chicken. And this way it is, I think, utterly beguiling.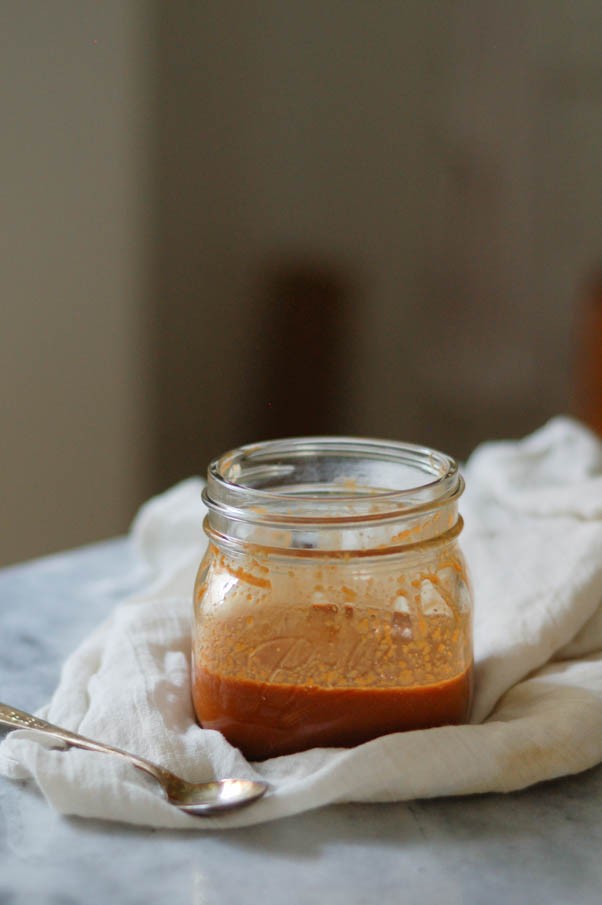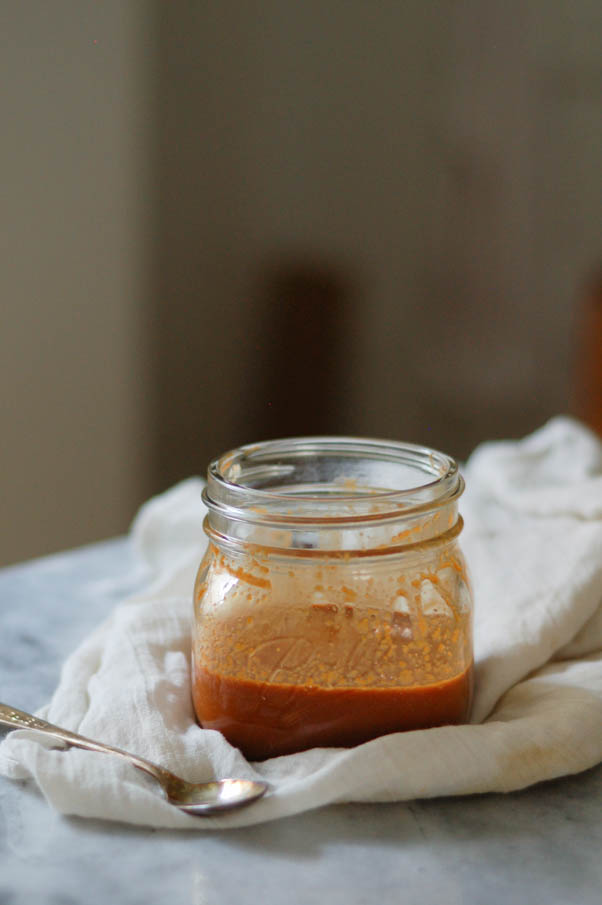 The sauce comes from Saveur and it involves gochujang and soy sauce and sesame oil and rice vinegar and generous amounts of garlic and ginger. It's salty and sweet and spicy with loads of umami.
I could, perhaps, eat the sauce on its own. It's the sort of sauce that I might, if no one is looking, swipe from the bottom of the bowl with my finger so I can have one more taste after I've eaten everything it was clinging to.
But, as good as it is on its own, somehow it tastes even better paired with the silky soft center and burnished edges of the roasted cauliflower.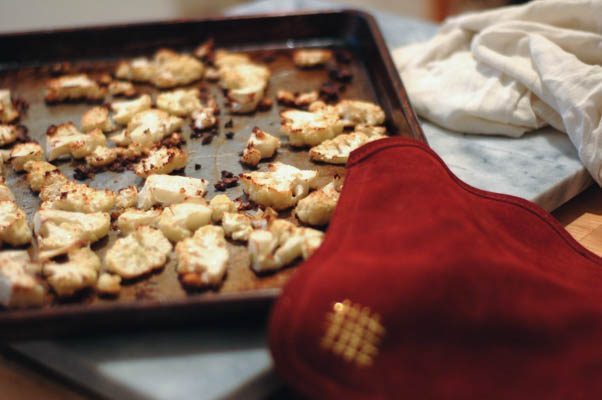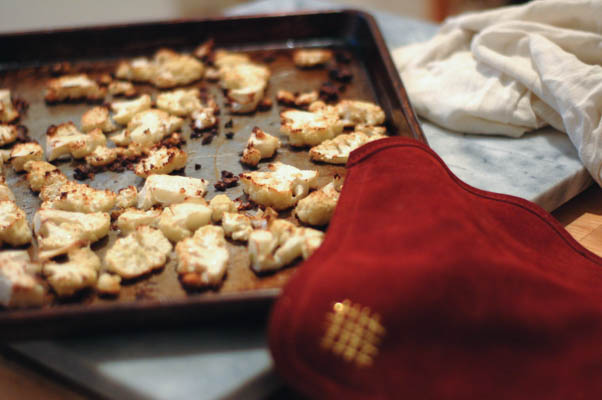 It makes a fantastic side dish to something like Korean fried chicken, but it can also be bulked into a full vegetarian meal when topped with a crispy fried egg or served with cubes of yellow tofu with or without rice.
It's the sort of preparation that doesn't just make me want to eat my vegetables. It makes me want to devour them.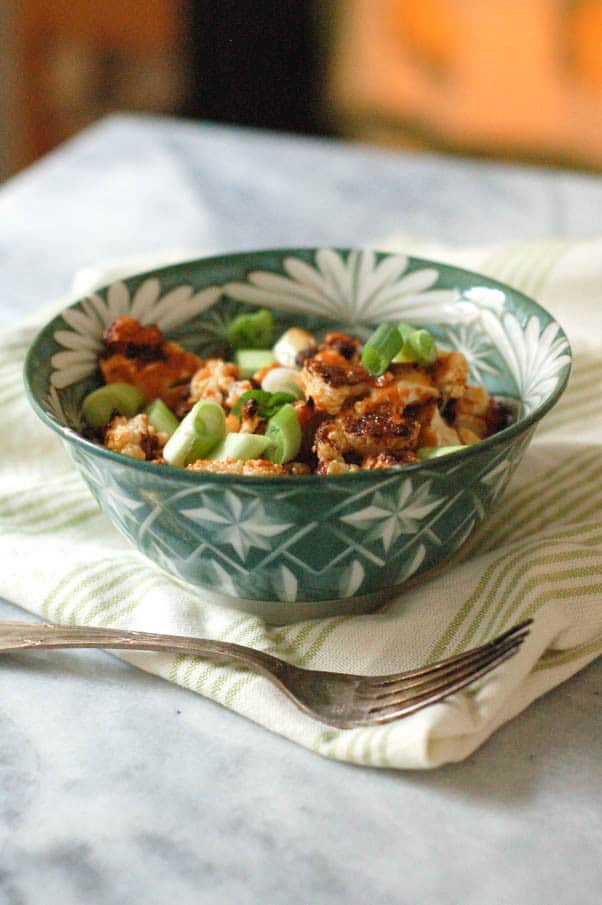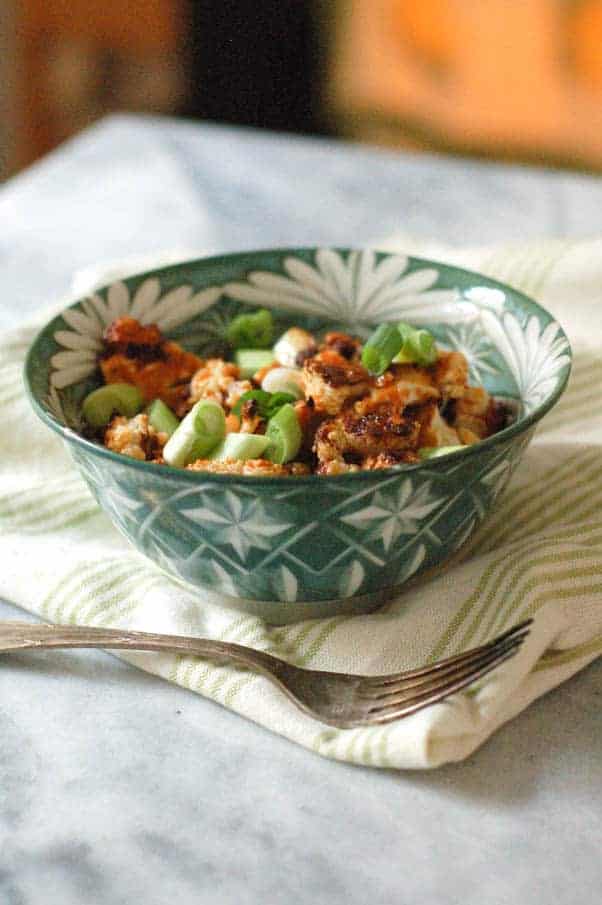 (P.S. Looking for something else to do with that gochujang? Try this gochujang roasted Delicata squash.)
Yield: 2 servings as a main, 4 as a side
Sweet and Spicy Korean Cauliflower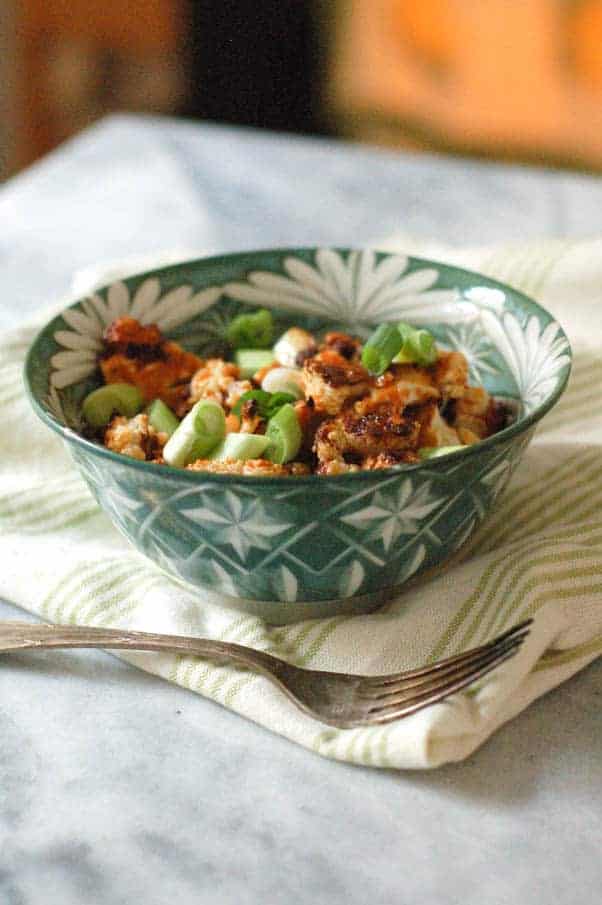 This is one of my all time favorite ways to eat cauliflower. The sweet, spicy, salty, garlicky, gingery Korean sauce is so good with the nutty roasted cauliflower. Gochujang, a Korean red chili paste, can be found at most Asian grocery stores or online. If you wish to make this gluten free, use tamari instead of soy sauce and check the label on your gochujang (some contain wheat, some don't). It is vegan if you use brown sugar or agave nectar instead of honey. You might want to double the sauce. It keeps well, and it's delicious on chicken, eggs, tofu, and probably lots of other things as well.
Ingredients
1 medium head of cauliflower, thick core and outer leaves removed, sliced into bite-sized pieces
3 cloves garlic, minced
1 inch piece of ginger, peeled and grated on a microplane or minced
1 1/2 tablespoons gochujang
1 1/2 tablespoons soy sauce or tamari
2 teaspoons rice vinegar
1 1/2 teaspoons toasted sesame oil
1 1/2 teaspoons honey or brown sugar
2 scallions, both white and green parts, trimmed and sliced into 1/4-inch pieces
neutral oil for roasting the cauliflower, such as canola or grapeseed
Instructions
Preheat oven to 425°F. Add the garlic, ginger, gochujang, soy sauce or tamari, rice vinegar, sesame oil, and honey or brown sugar to the bowl of a food processor (or blender or stick blender) and puree until smooth.
In a large mixing bowl, toss the cauliflower with neutral oil to coat it. Spread it out in a single layer on a baking sheet and sprinkle with salt (use restraint here, you want to season the vegetable, but there's plenty of saltiness in the sauce).
Roast for 25-30 minutes or until deeply browned. Toss with the sauce in a large bowl. Top with scallions.
Recommended Products
As an Amazon Associate and member of other affiliate programs, I earn from qualifying purchases.
Nutrition Information:
Yield:
4
Amount Per Serving:
Calories:

189
Total Fat:

10g
Saturated Fat:

1g
Trans Fat:

0g
Unsaturated Fat:

8g
Cholesterol:

0mg
Sodium:

961mg
Carbohydrates:

22g
Fiber:

7g
Sugar:

13g
Protein:

7g