I may earn from purchases through links in this post.
It's March, and it's about the time of year when I reach the point where I never want to see another winter squash again.
I mean, I love them in soups and in grain bowls and kicky salads, but I've been subsisting on dark leafy greens and cauliflower and root vegetables and squash, which were exciting in October and November, for months.
They start losing their magnetic appeal for me sometime around February, when I become temporarily convinced it will always be winter and Chicago will never see the sun again.
By March I'm pining for rhubarb and asparagus and ramps, which won't be available locally for at least another couple of months. And with this year's crazy early warm spell who knows what havoc's been wreaked on spring and summer crops…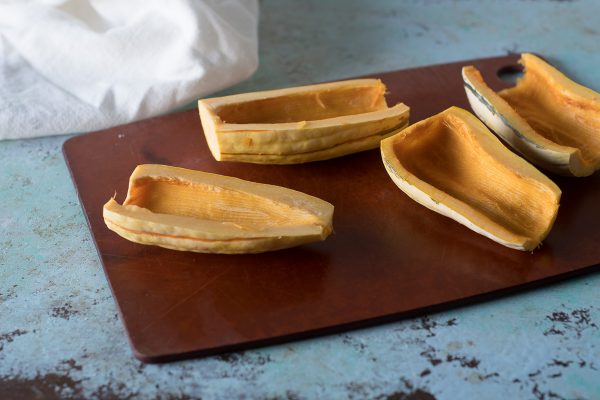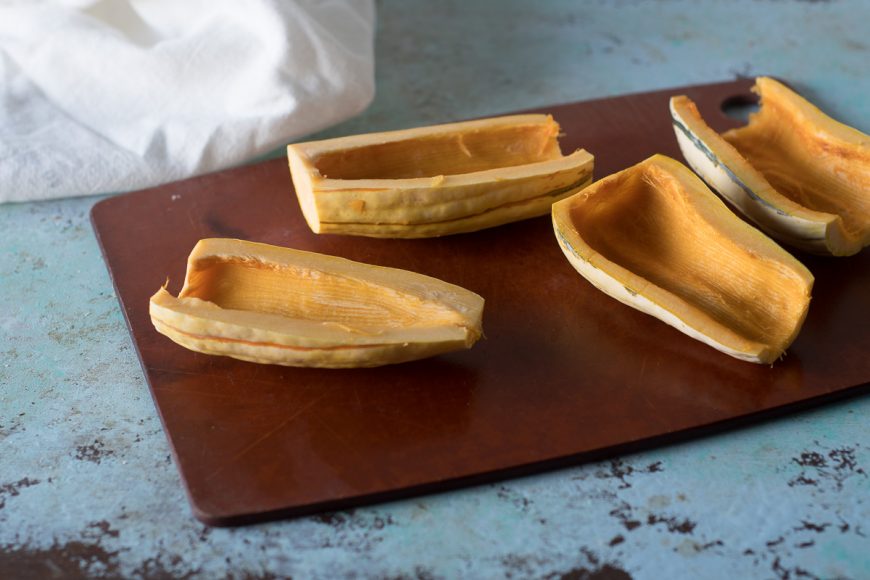 But this particular winter squash recipe is special enough that I'm willing to pick up a couple of Delicatas and cook with them even when other squash preparations have worn out their welcome.
It's adapted from a recipe from Sara Dickerman at Bon Appetit, and the secret, as with so much deliciousness, is the sweet, spicy, umami-packed Korean hot pepper paste gochujang.
If you haven't cooked with it and you like flavors in sriracha and miso or like Korean food, you should do yourself a favor and buy some.
This gochujang roasted Delicata squash is similar in flavor profile to my sweet and spicy Korean cauliflower (one of this site's most popular recipes and one of my all-time favorites), but unlike that dish where the cauliflower comes out of the oven and gets coated with sauce, this one is a dry side dish where the gochujang and soy sauce and sesame oil get baked into the slices of squash, permeating right into the center.
It's the sort of thing I reach into the pile and pick up and eat with my fingers, almost like a french fry. I like to shower it with a chiffonade of basil (you can use an Asian variety like Thai basil if you like), which adds a pop of color and bright flavor.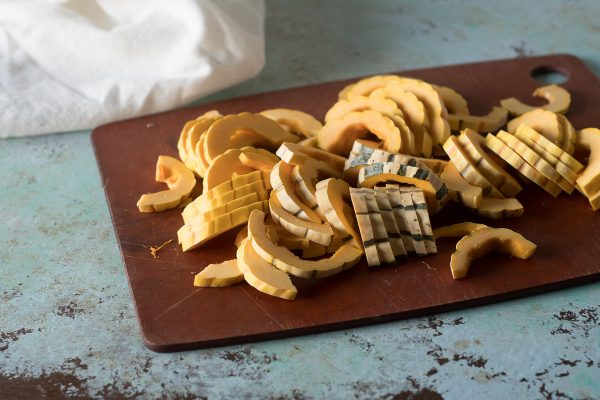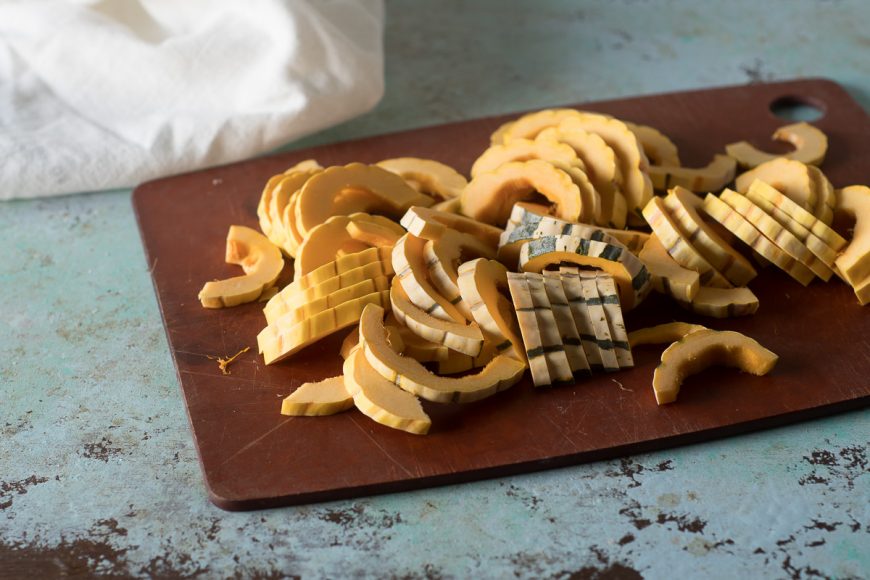 The gochujang mixture is incredibly simple with just three easy-to-keep ingredients, making this an easy pantry dish if you pick up some winter squash and some basil (and if you only find sad basil you can go with some thinly sliced cilantro or scallions for a pop of greenery).
It would be lovely alongside just about any protein. For vegetarians, it would be delightful tossed with some crispy cubes of tofu; for omnivores, it would be lovely alongside pan-seared chicken or pork. You don't need to futz too much with the rest of dinner, this is the kind of side that steals the show.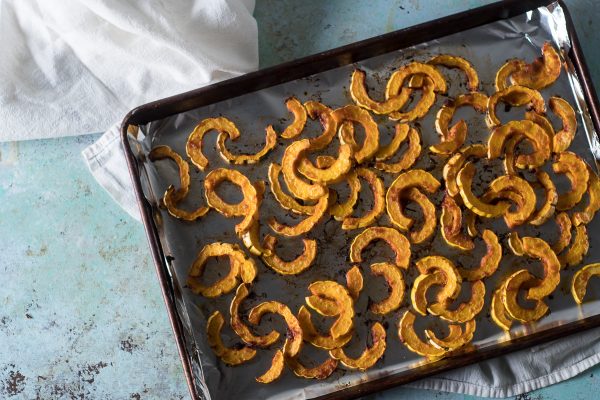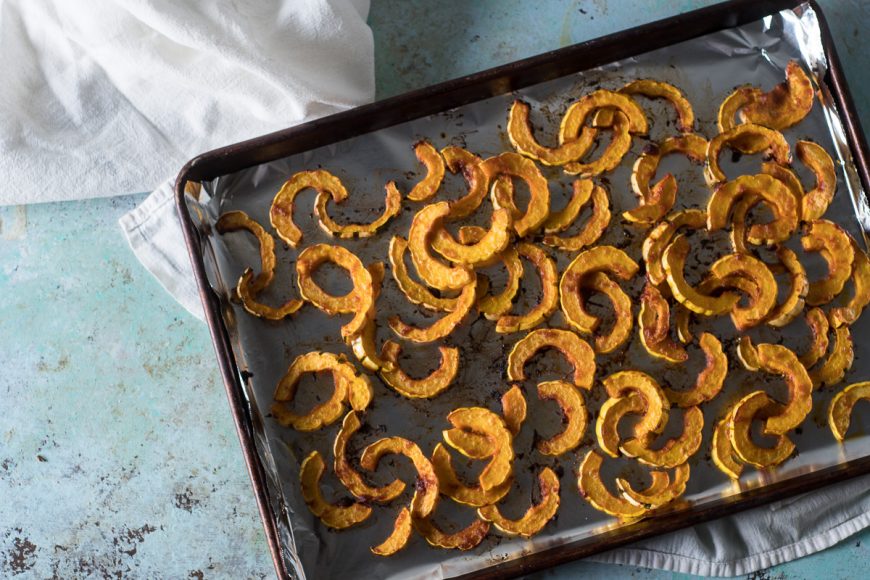 I make this with Delicata squash, which I love in part because they're little and cute and in part because their skin is so tender it doesn't need to be peeled, but you could use any winter squash here such as butternut, Kabocha, acorn, Red Kuri.
If you use butternut or Kabocha, you'll probably want to peel it before roasting (some people eat the skin on those, too, but personally I find it a tad thick). It's a great way to bring new life to any winter squash.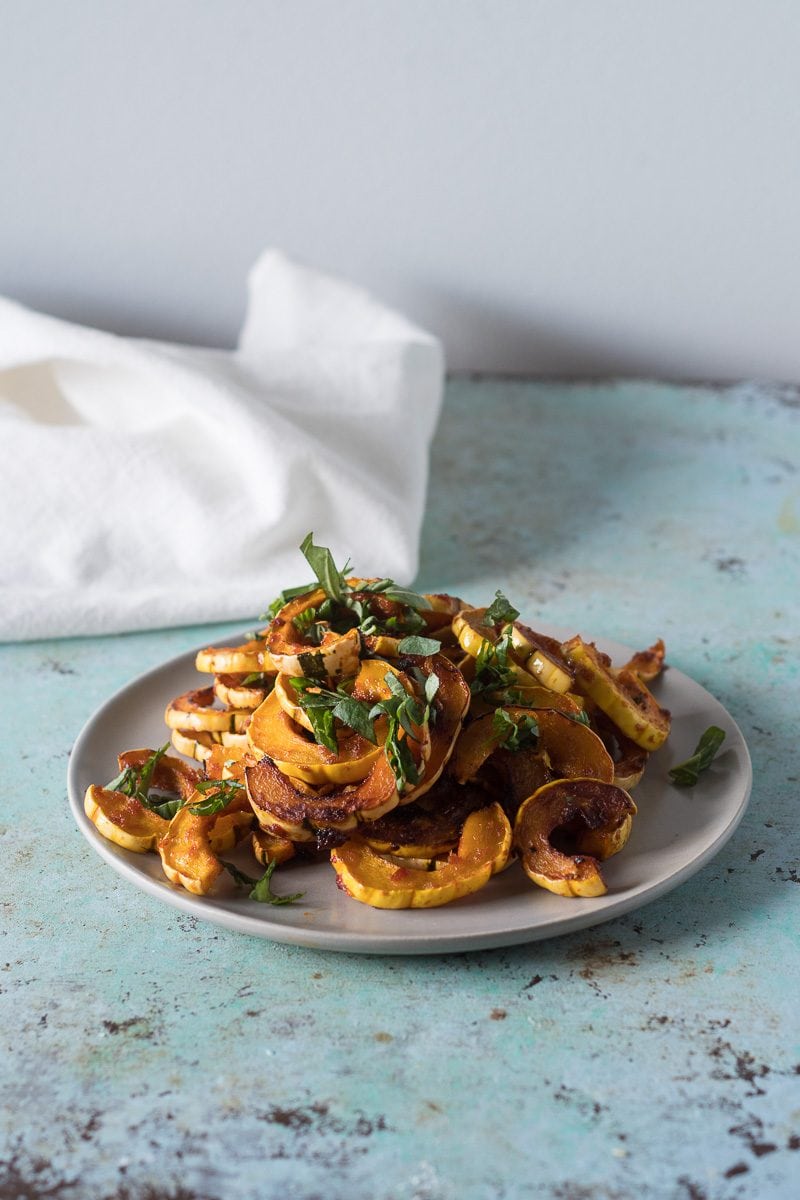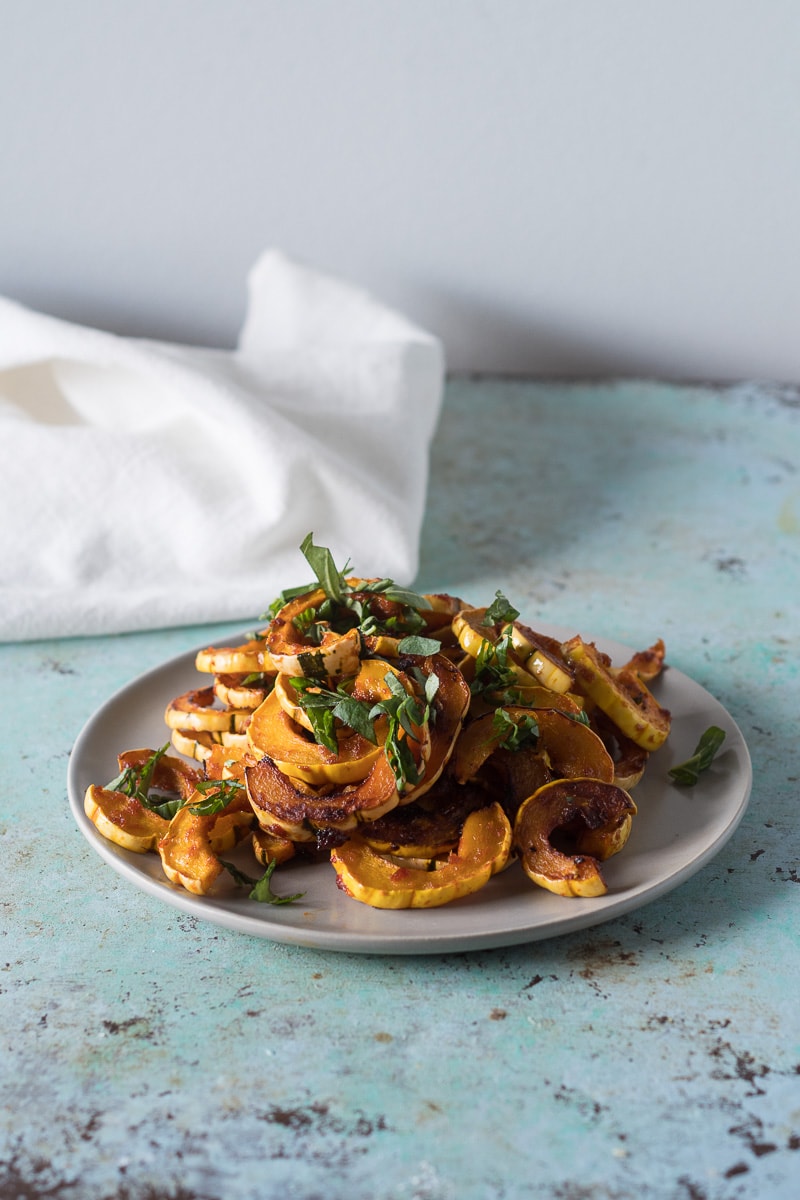 Yield: 4 servings
Gochujang Roasted Delicata Squash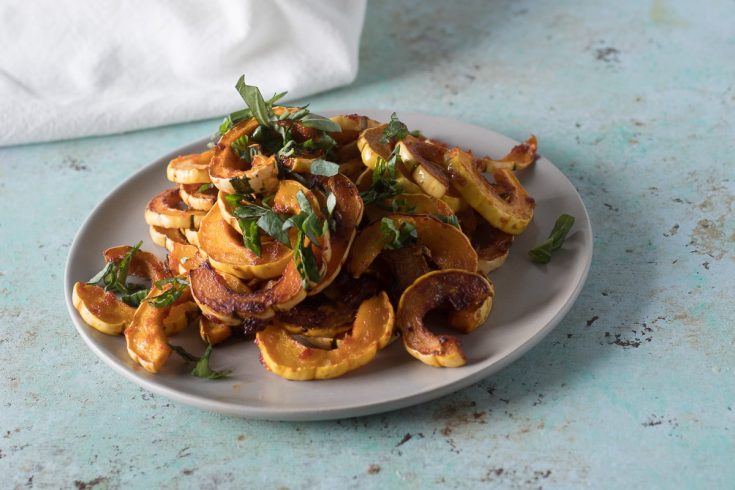 Gochujang is a delightful Korean hot pepper paste. It's thicker, sweeter, and more umami-packed than something like sriracha or sambal oelek (which won't work as substitutes here). You can use any winter squash you like. Delicata is nice because two of them are the perfect size to fill a half sheet pan and they don't need to be peeled, but a medium butternut squash or equivalent amount of Kabocha, acorn, carnival or similar squash will work here. If your winter basil is looking too sad, you can top it with thinly sliced cilantro or scallions instead.
Ingredients
2 tablespoons neutral oil, such as canola or grapeseed
1 tablespoon gochujang
2 teaspoons soy sauce or tamari
1/2 teaspoon sesame oil
2 medium Delicata squash, halved, seeded, and sliced 1/4-inch thick
1 small handful basil, thinly sliced
Instructions
Preheat oven to 425°. Line a baking sheet with aluminum foil (optional, but nice for cleanup). In a small bowl, whisk together the oil, gochujang, soy sauce and sesame oil until smooth. Place the sliced squash in a large mixing bowl and toss with the gochujang mixture until evenly coated.
Place the squash in an even layer on the baking sheet and roast until tender and browning at the edges.
Transfer to a serving dish and top with basil.
Recommended Products
As an Amazon Associate and member of other affiliate programs, I earn from qualifying purchases.
Nutrition Information:
Yield:
4
Serving Size:
1
Amount Per Serving:
Calories:

153
Total Fat:

11g
Saturated Fat:

1g
Trans Fat:

0g
Unsaturated Fat:

10g
Cholesterol:

0mg
Sodium:

622mg
Carbohydrates:

13g
Fiber:

3g
Sugar:

6g
Protein:

2g