I may earn from purchases through links in this post.
It's been too long since I've shared a cocktail recipe around here. This one, with Cynar (pronounced chee-nar), Cognac, and Punt e Mes, is a keeper.
In recent months, Dan and I have been spending lots of time with the herbaceous, bitter, primarily-Italian amaro section of our liquor cabinet. (And if you're interested in learning more about amari, you absolutely should check out Brad Thomas Parsons's excellent new book, Amaro.)
One of our favorite amaro cocktails, and, let's be honest, one of the best cocktails of all-time, is the Negroni and the seemingly infinite variations on it.
The Popinjay, a cocktail that I have to credit Dan with inventing, is a sort of variation on a variation, the Boulevardier, a richer take on the Negroni that's become a classic in its own right.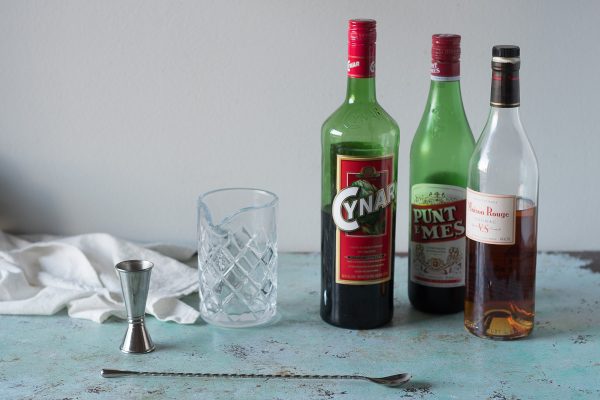 But where the Boulevardier uses bourbon instead of the traditional gin, the Popinjay swaps in Cognac for the bourbon and the fragrant, complex, herbal Cynar for the Campari, while keeping the sweet vermouth component in the form of the delightfully complex Punt e Mes.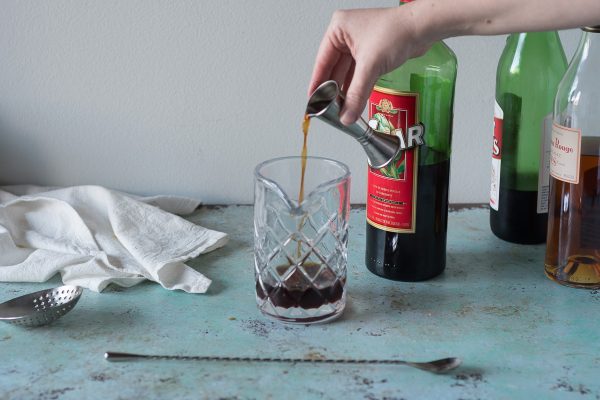 It's a simple equal-parts stirred cocktail that uses the richness and gentle sweetness of the Cognac and Punt e Mes to temper the bitter edges of the Cynar.
And it's a combination that just works. We've been drinking these regularly since Dan first made one. I decided to name it the Popinjay because it's a near-synonym for Boulevardier, and it's a splendid word that we simply don't have enough excuses to say.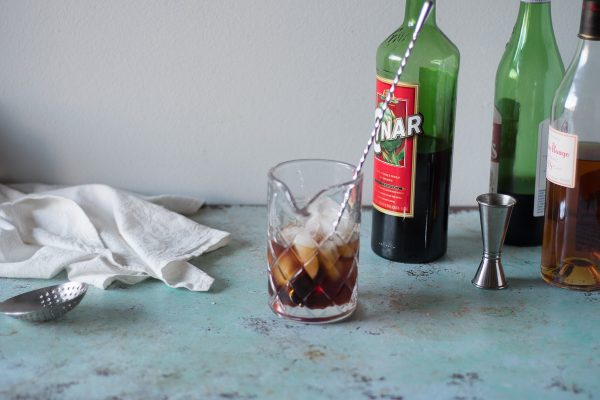 I know that bitter amari aren't for everyone. But if you've acquired a taste for them you know how their lingering complexity can beguile. This drink is a lovely little way to celebrate that bitter complexity in a rich, smooth package.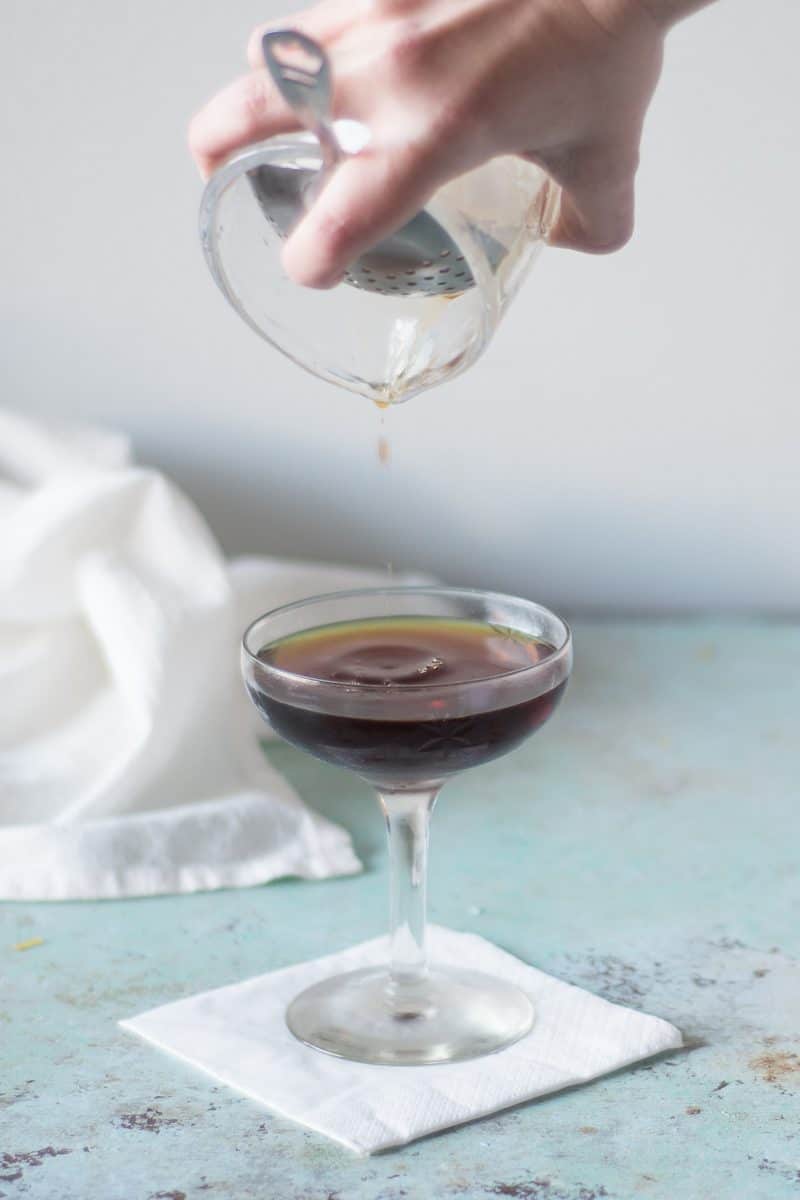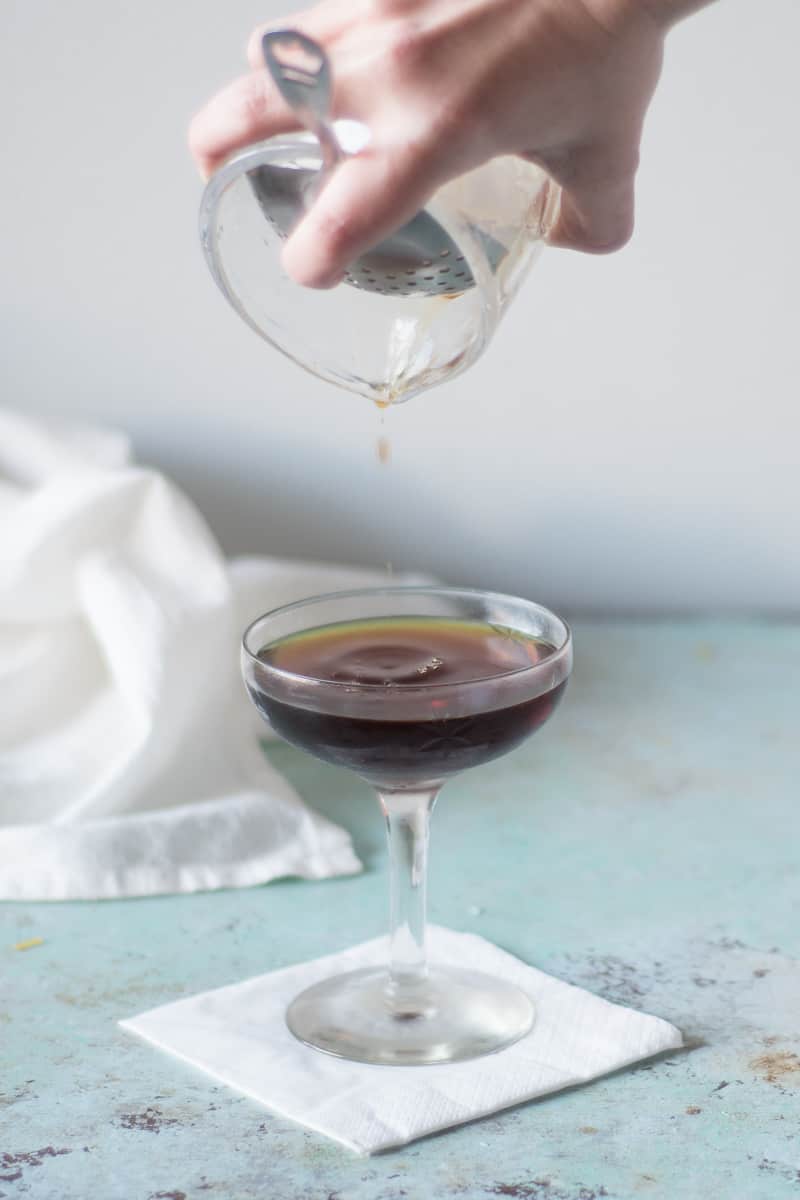 P.S. If you are looking for more ways to use that bottle of Cynar, you should try the Bitter Giuseppe.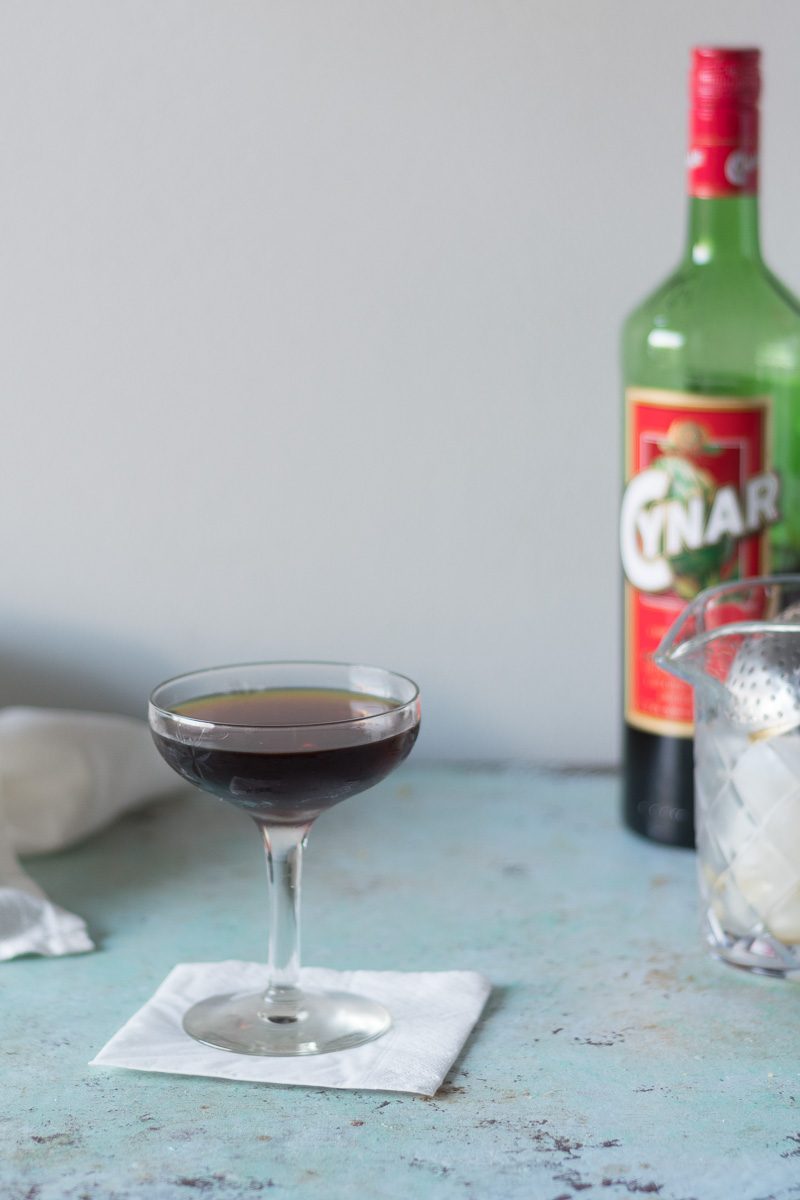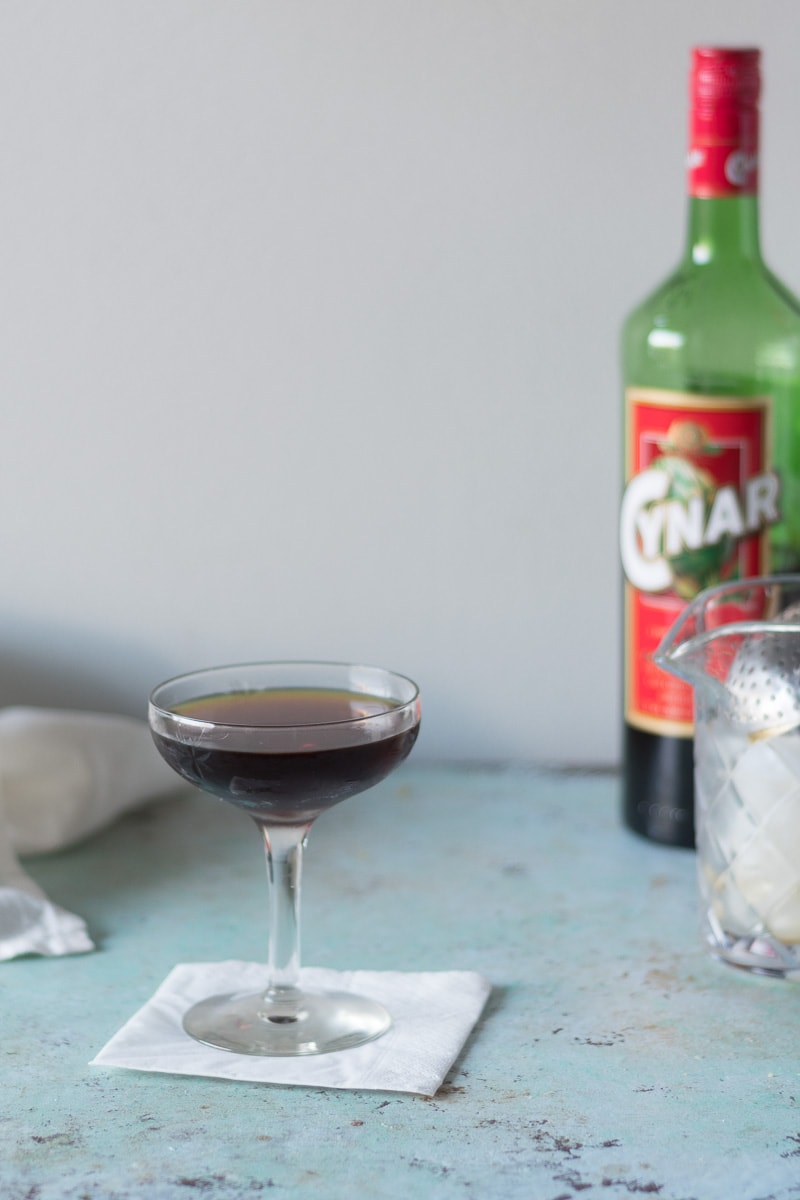 Yield: 1 drink
The Popinjay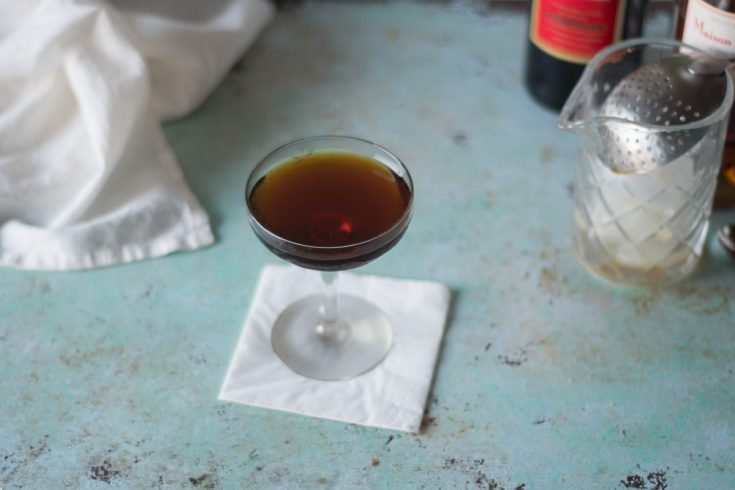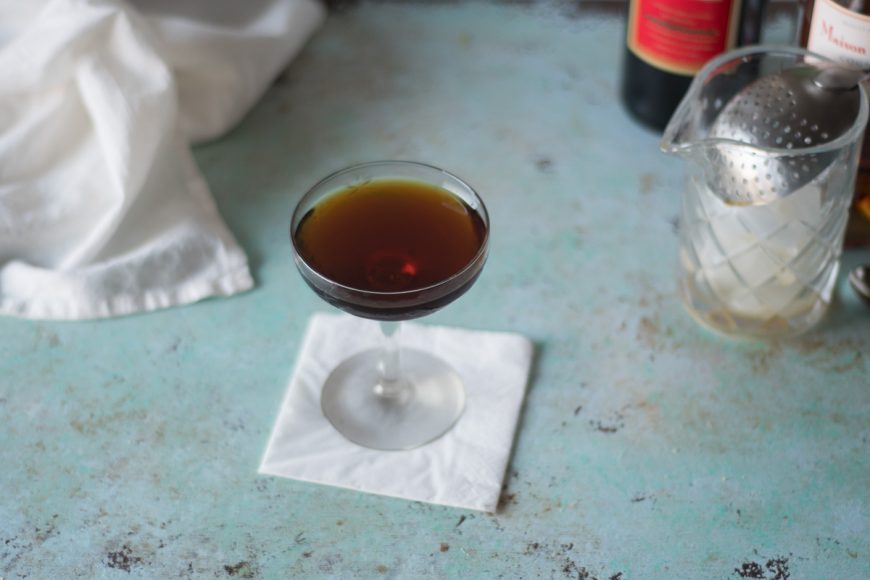 This cocktail with Cynar, Cognac, and Punt e Mes, is a riff on a Boulevardier, which itself is a riff on a classic Negroni. The herbal, bitter Cynar gets tamed by the rich Cognac and the sweetness of the Punt e Mes. It's a simple equal-parts cocktail for fans of amari. I like to use Maison Rouge VS for an easy to find, reasonably priced mixing Cognac (there are plenty of better sipping Cognacs but they get pricey).
Ingredients
1 ounce Cynar
1 ounce Cognac
1 ounce Punt e Mes
Instructions
Chill a coupe glass. Add the Cynar, Cognac, and Punt e Mes to a mixing glass. Add ice and stir until thoroughly chilled, about 30 seconds. Strain into the chilled coupe and serve.
Recommended Products
As an Amazon Associate and member of other affiliate programs, I earn from qualifying purchases.
Nutrition Information:
Yield:
1
Amount Per Serving:
Calories:

280