I may earn from purchases through links in this post.
It's tough to beat apple crisp for a low effort dessert that's pure comfort.
It's a dessert that's like my favorite well-worn hoodie. It's not flashy or particularly stylish, but when there's a chill in the air it's the first thing I reach for.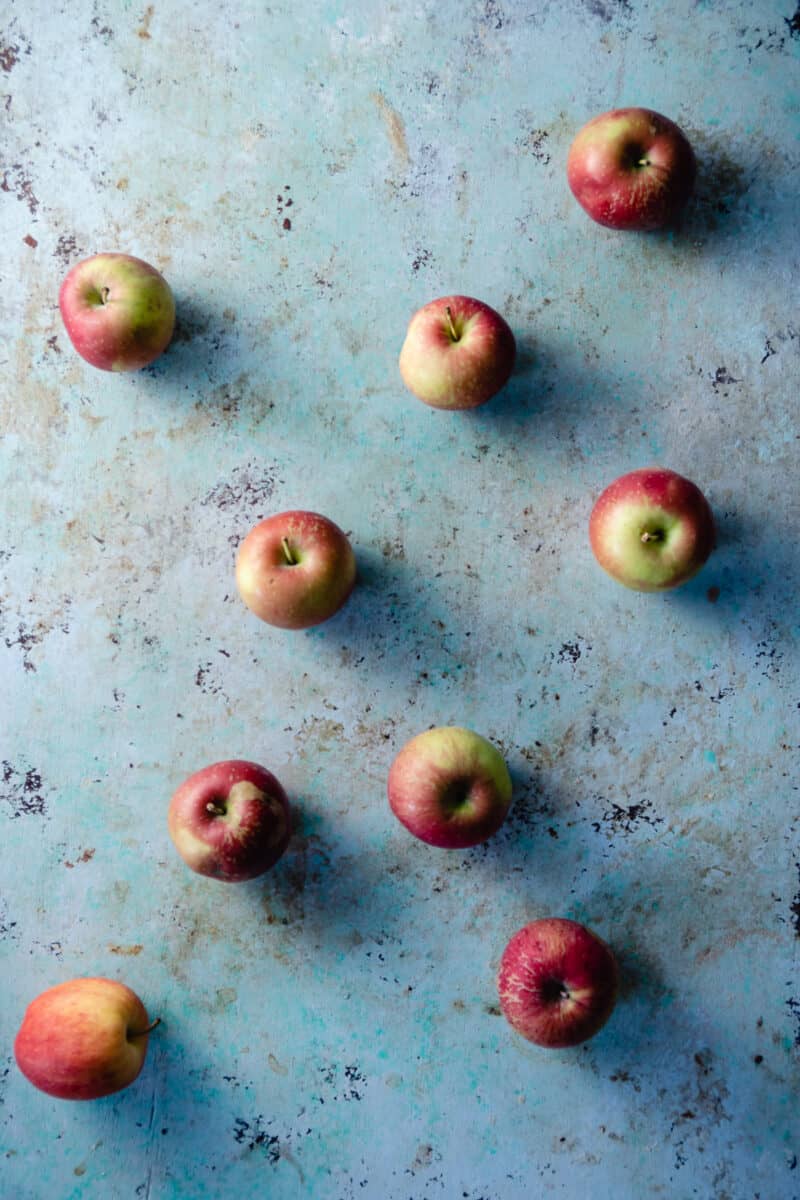 Everyone should have an apple crisp recipe or two in their back pocket, ready to pull out when autumn arrives.
This one will do nicely.
I am forever playing around with crisp and crumble toppings (there's an oatmeal cookie-like topping on this strawberry rhubarb crisp, a hearty sprinkle of walnuts and cardamom in this raspberry plum crisp, orange and vanilla notes in this rhubarb crumble), but the topping on this apple crisp is an especially good one.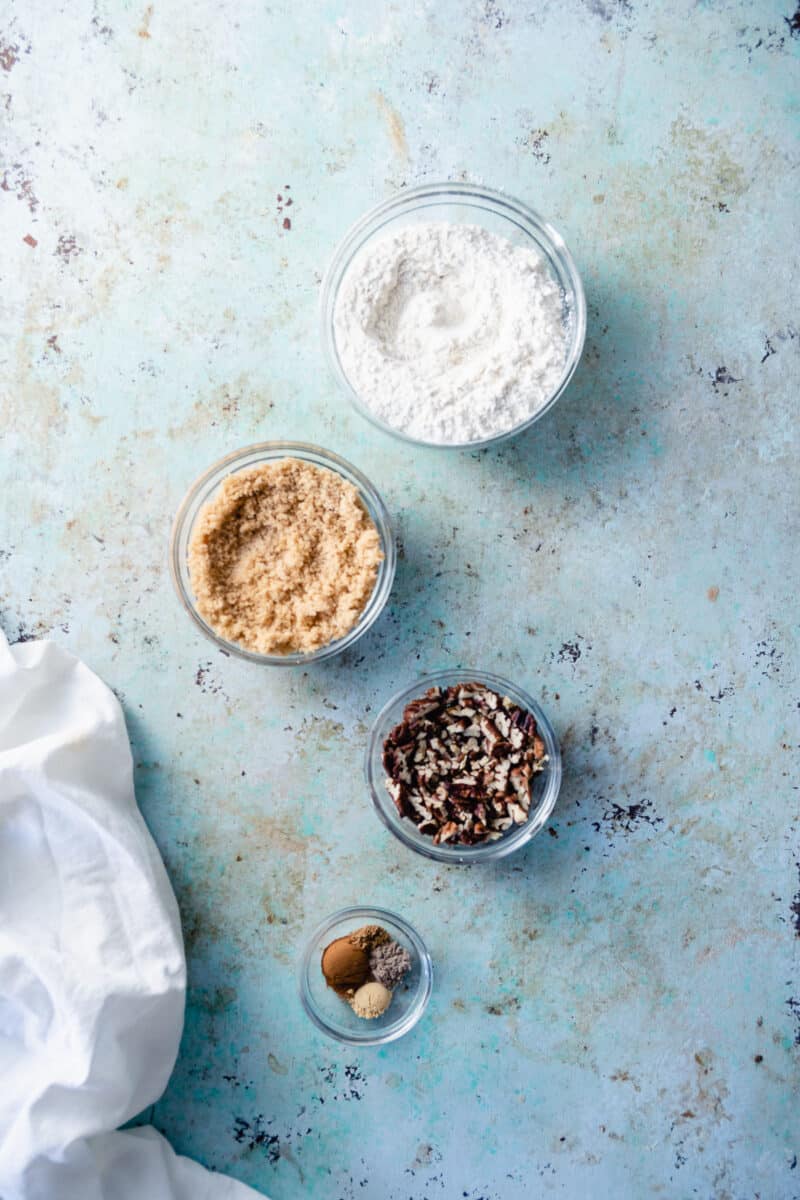 There's flour and brown sugar and pecans—and no oats in sight. Not that there's anything wrong with oats, but sometimes I think a simple streusel-like, big crumb texture is nice to have.
There's a stick of melted butter, which you can brown if you like to play up the toasty, nutty flavors going on.
And then there's a lovely mix of warm baking spices. There's the expected cinnamon, of course, but there's also a nice bit of ground ginger which plays nicely with the apples. And then in the background there's a hint of cardamom and a whisper of coriander which take us somewhere into chai flavor territory.
It's a blend of flavors that just works.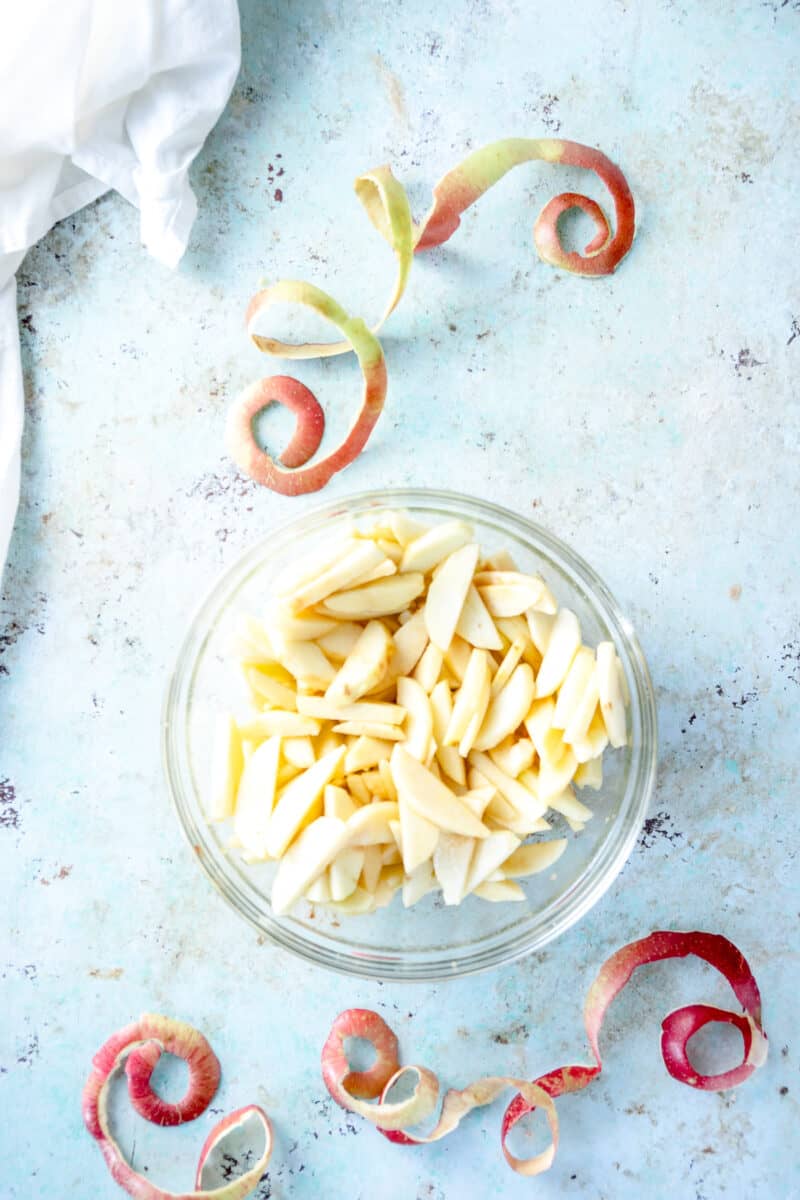 But the great thing about a crisp topping is that there's hardly any work involved.
It's just a dump-and-stir kind of process that doesn't require any advanced knowledge.
And unlike the kind of baking that requires precision for, say rising appropriately or having structural integrity, making a crisp is more like cooking. You can taste and throw in a bit of a different spice, adjust the sugar, swap in a gluten free flour, skip the nuts and it will all still pretty much work.
The topping just has to bring in some complementary flavors and textures here. So feel free to play.
It's good to make the topping to let it the flavors meld before you start on the apples.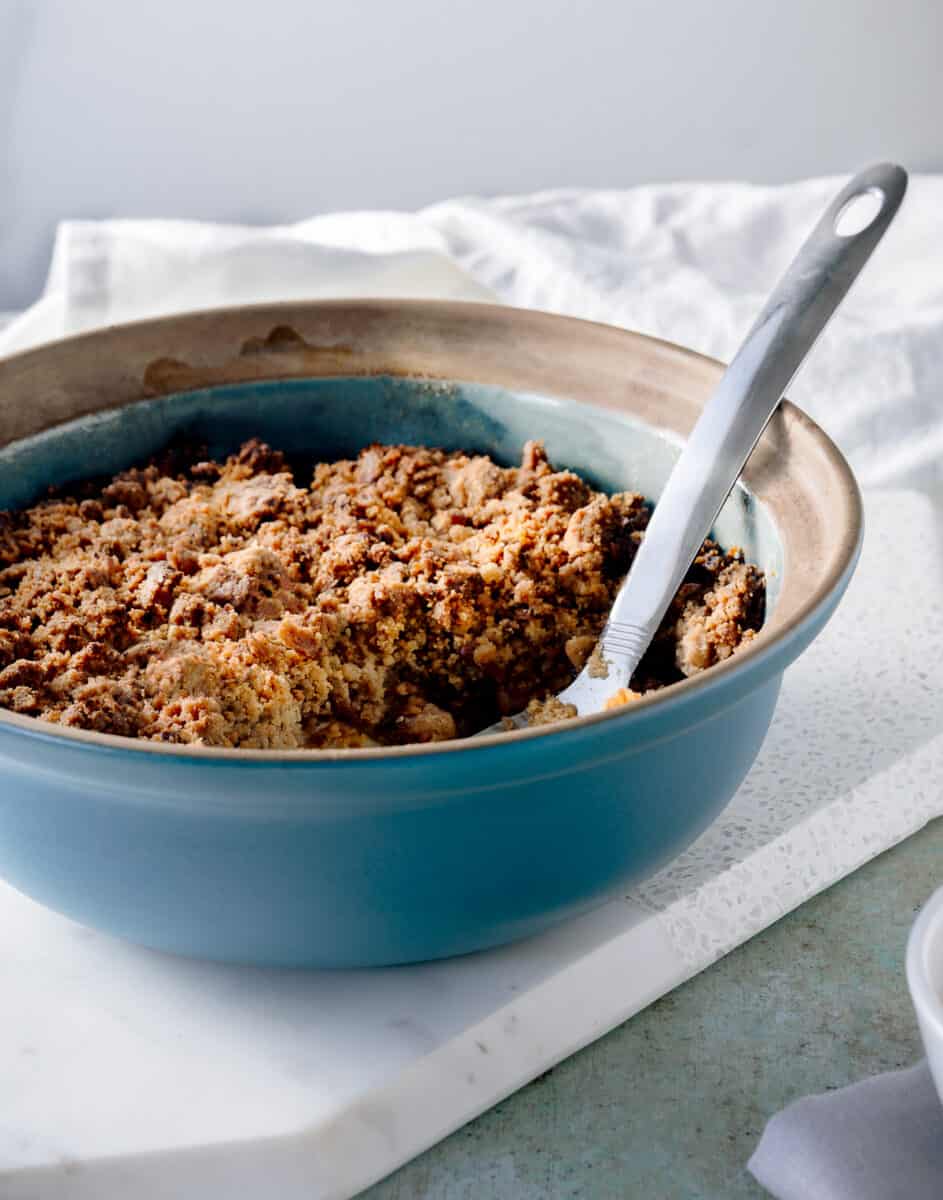 As for the apples, any baking apples work well. I used Haralson apples here, but there are so many great baking apples out there that you should use whatever you like.
Granny Smith, Braeburn, and Mutsu apples are widely available apple options that would all work well in this crisp.
The apples get sliced—thin enough to get soft but thick enough to hold their shape—and tossed with lemon juice and a bit of brown sugar.
Then they go into a baking dish where they get sprinkled with big clumps of crisp topping.
Then the whole thing goes into the oven where the apples slump, the topping turns golden brown, and the whole kitchen smells amazing.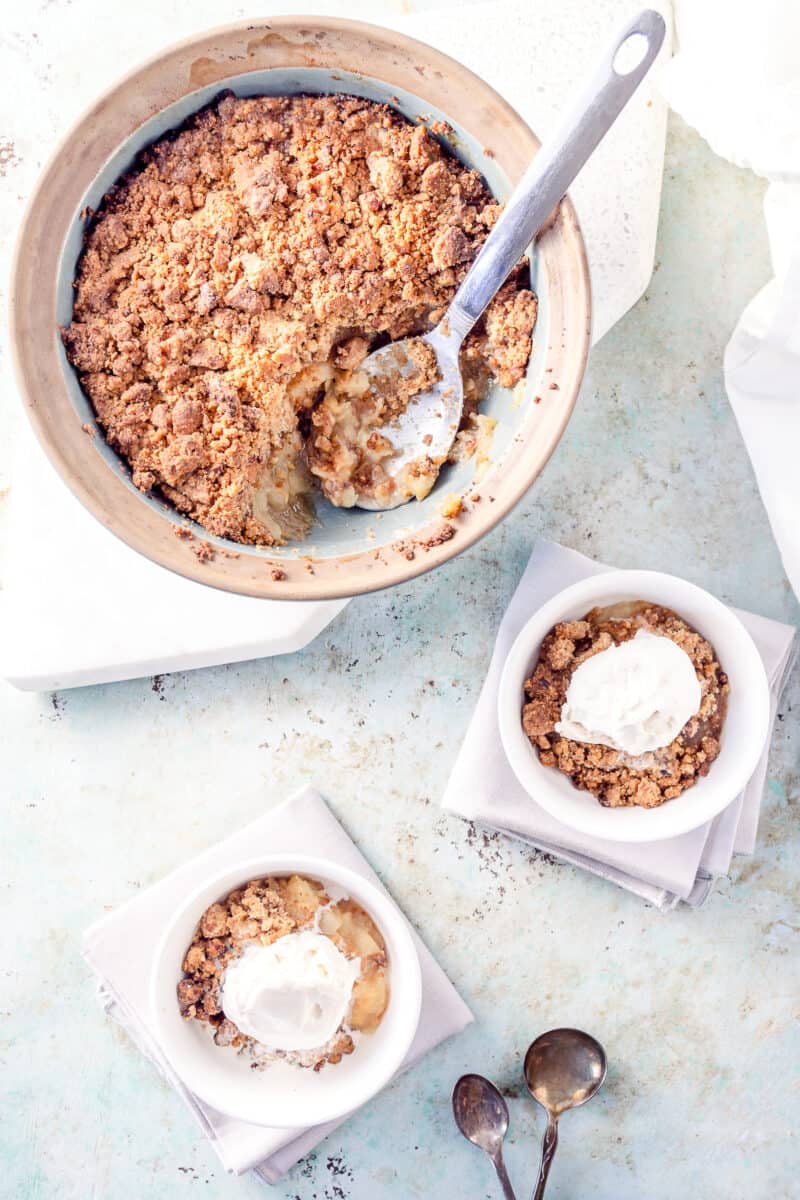 Then you need to let it cool enough that you can dish it out and top it with a scoop of ice cream (or not).
And then if you have any left you can eat it for breakfast tomorrow, which is honestly my favorite way to eat it.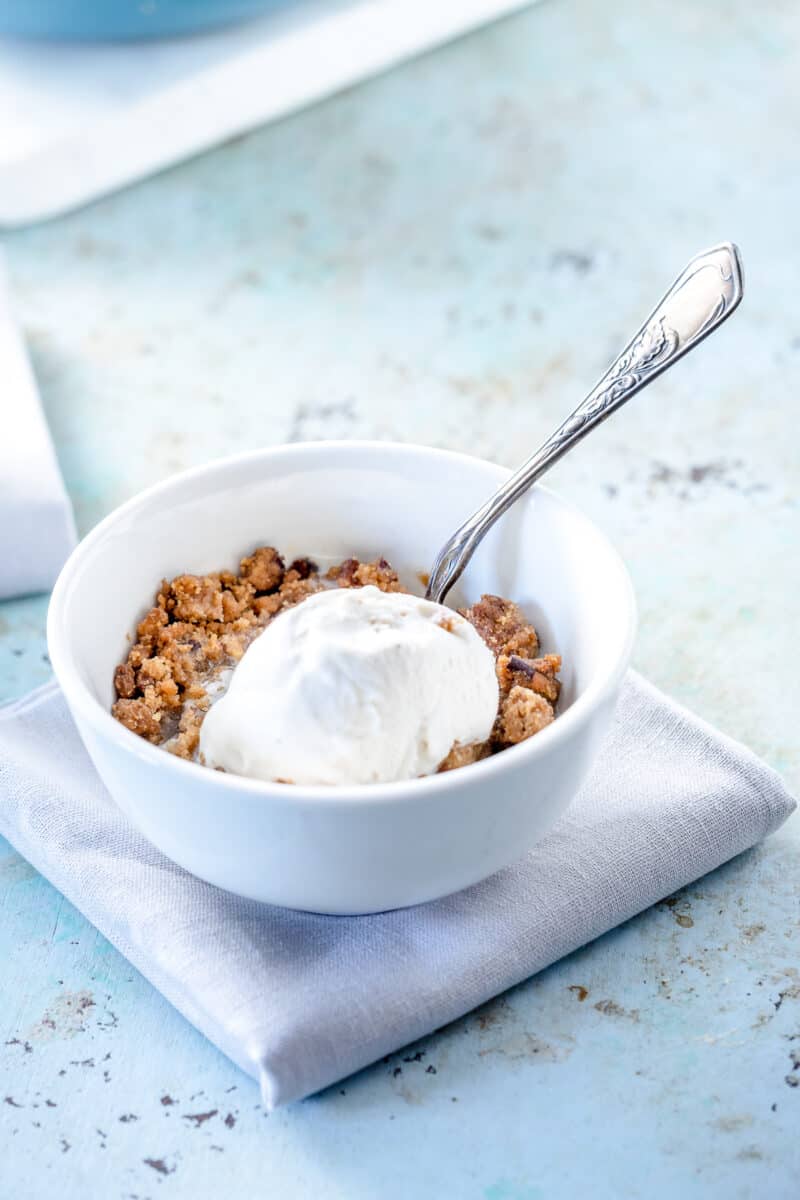 Yield: 8 servings
Apple Crisp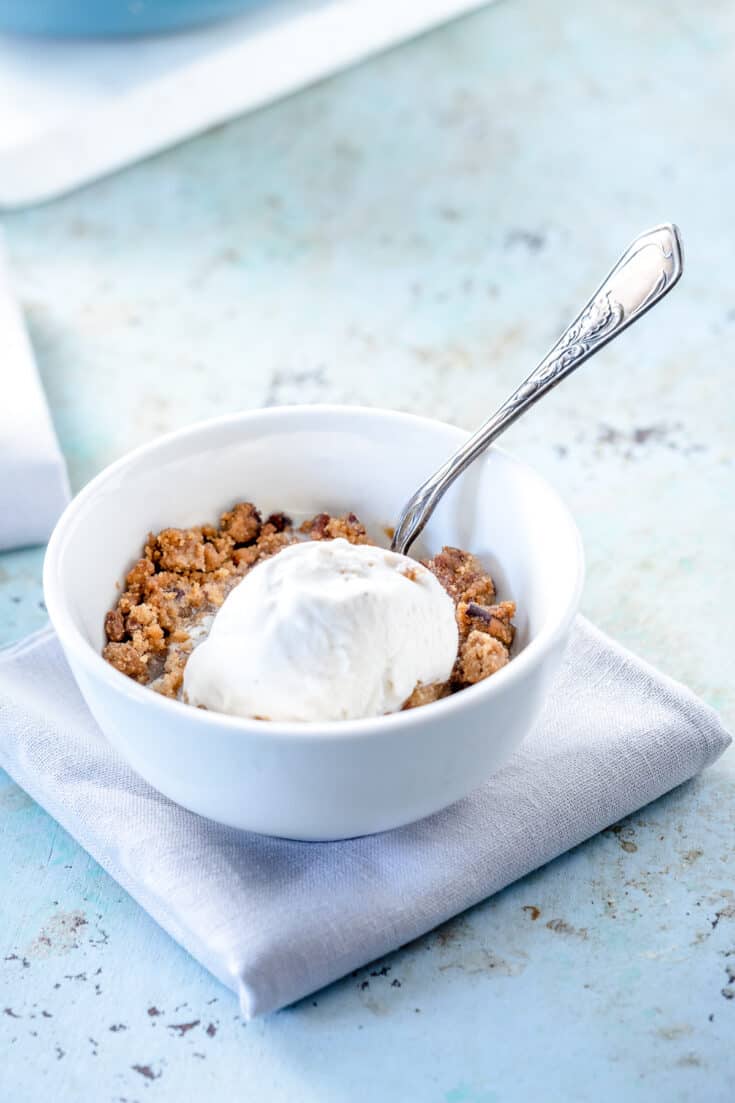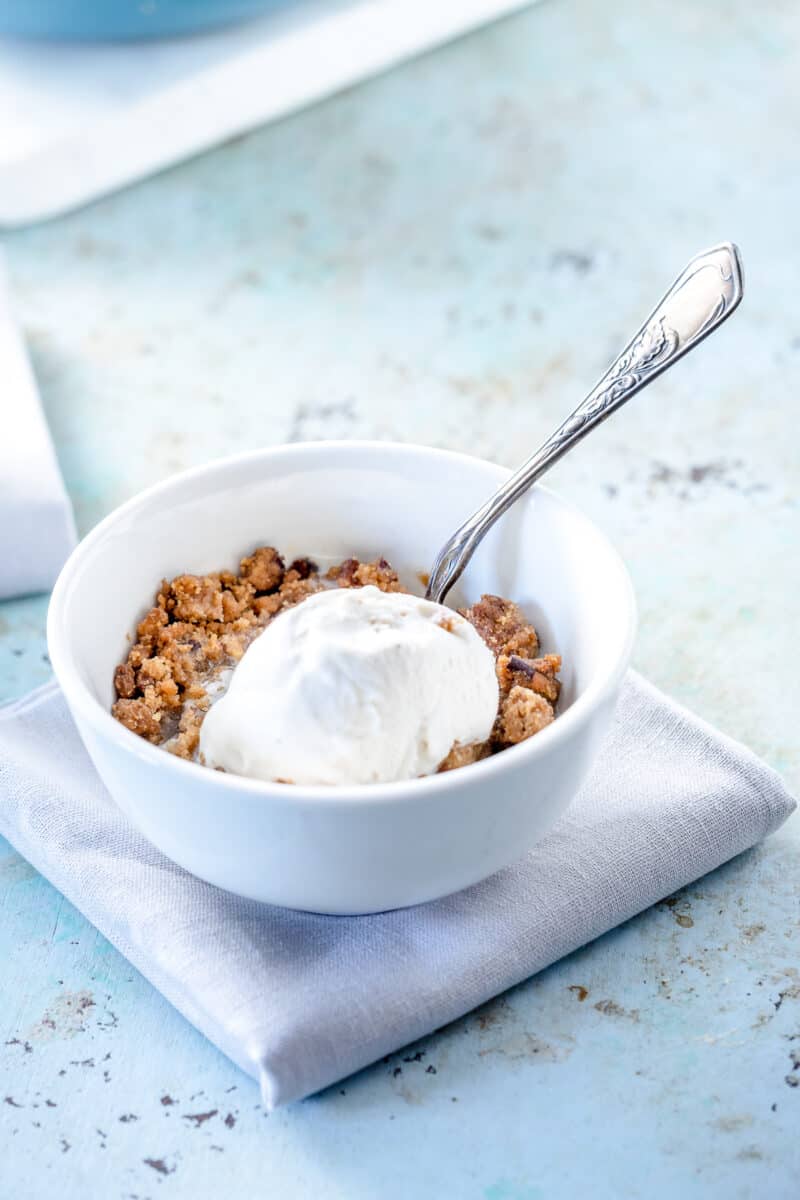 This crisp is so easy to make. The topping comes together quickly and can hang out while you work on the apples
When you melt the butter, you can take the extra step of browning it for more flavor (I usually do)—it brings out the nutty flavor and is really delightful—but it's not necessary.
Feel free to play around with the spices. I love this particular combination, but you can simplify and just use cinnamon or throw in other warm baking spices like nutmeg or cloves.
Use any of your favorite baking apples here. Granny Smith, Braeburn, Mutsu, and Haralson are all good options. A combination of apple varieties works well, too.
Ingredients
155 grams (1 1/4 cups) all-purpose flour
55 grams (1/2 cup) chopped pecans
150 grams (3/4 cup packed) light brown sugar, divided
1/2 teaspoon ground cinnamon
1/4 teaspoon ground ginger
1/4 teaspoon ground cardamom
1/8 teaspoon ground coriander
1/4 teaspoon kosher salt
115 grams (1 stick, 1/2 cup) unsalted butter, unsalted butter, melted and cooled to room temperature
2 1/4 pounds apples (about 6 cups) peeled, cored, and sliced about 1/4-inch thick
2 tablespoons lemon juice
Instructions
Preheat oven to 375°F. Add the flour, pecans, 100 grams (1/2 cup) of the brown sugar, cinnamon, ginger, cardamom, coriander, and salt to a large mixing bowl and whisk until combined.
Pour the butter over the flour mixture and stir until the mixture is thoroughly moistened. Break into large clumps with your fingers
Add the apples, lemon juice, and remaining brown sugar to another large mixing bowl and stir until the sugar and fruit are well distributed.
Add the apple mixture to a 2-quart baking dish (or 8-inch square baking pan). Sprinkle the crumbs evenly over the top. (It'll be a nice thick layer.)
Bake until the top is on the deeper side of golden brown and the fruit is bubbling, about 40-45 minutes.
Let cool. This is excellent warm or at room temperature, especially with a scoop of vanilla ice cream. It's also good cold from the refrigerator.
Recommended Products
As an Amazon Associate and member of other affiliate programs, I earn from qualifying purchases.
Nutrition Information:
Yield:
8
Serving Size:
1
Amount Per Serving:
Calories:

327
Total Fat:

18g
Saturated Fat:

9g
Trans Fat:

0g
Unsaturated Fat:

8g
Cholesterol:

35mg
Sodium:

138mg
Carbohydrates:

42g
Fiber:

4g
Sugar:

34g
Protein:

3g