I may earn from purchases through links in this post.
This banana custard tart is what I want banana cream pie to be.
I like banana flavor, and I don't mind banana texture when I'm just eating freshly peeled fruit or when it's baked into banana bread, but the mushy and slightly fibrous texture buried under a layer of smooth pastry cream just doesn't do it for me.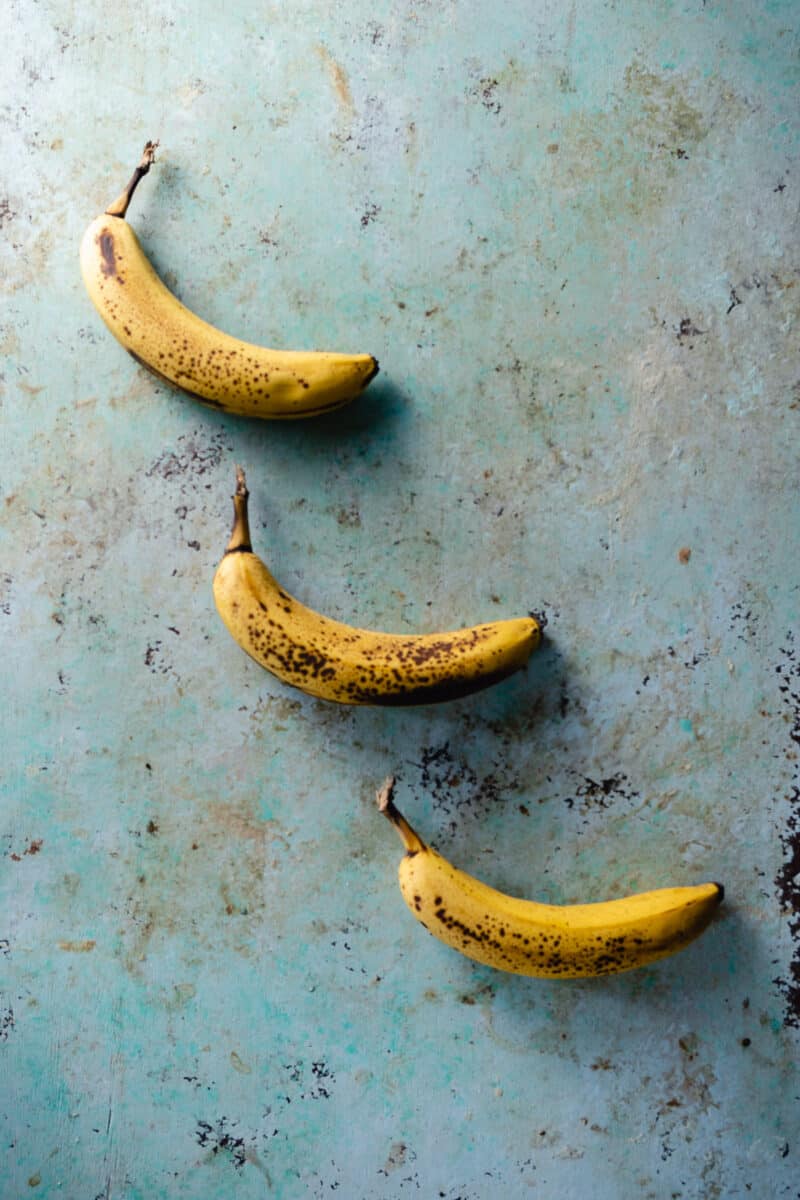 Still, the idea of a silky smooth custard tart replete with banana flavor still holds appeal for me.
Especially when I learned from Dana Cree's excellent book Hello, My Name is Ice Cream, that you can infuse extra ripe bananas in cream to make an ice cream base, which is remarkably similar to the filling of a custard pie or tart.
A long steep gives you deep banana flavor with none of the unpleasant mealiness.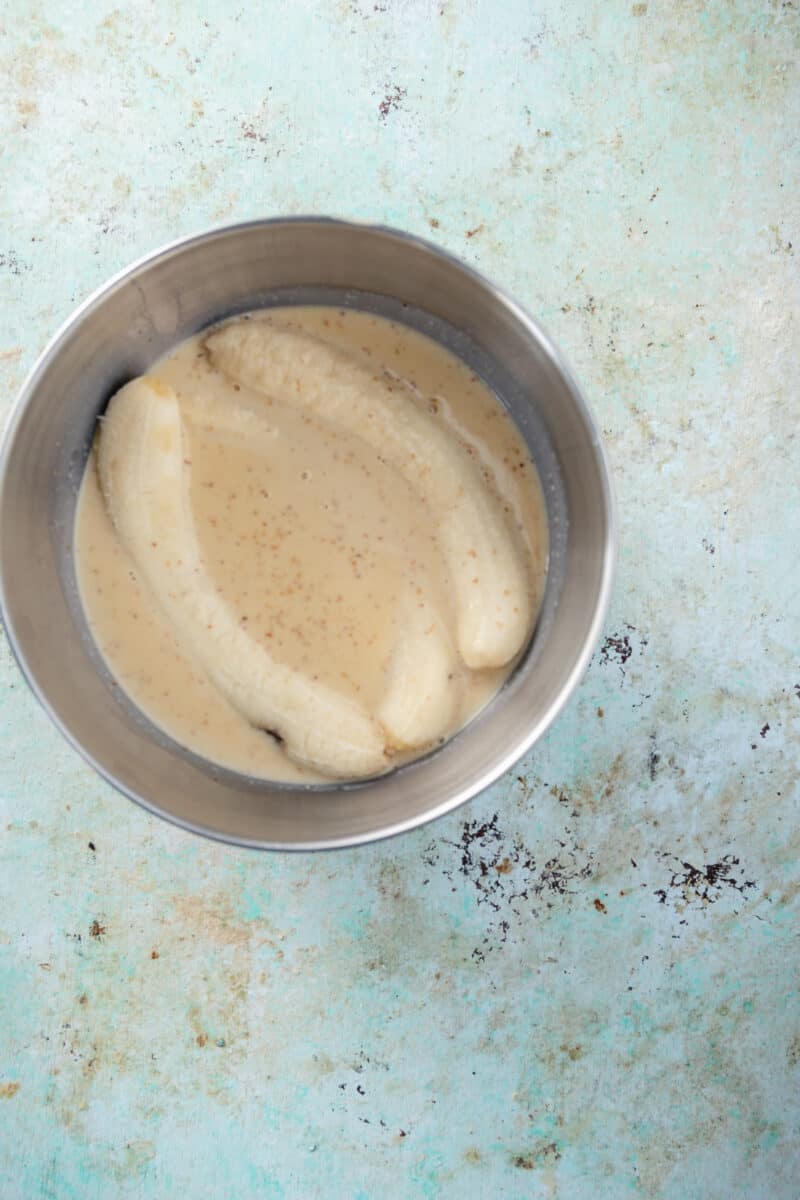 The other source of inspiration for this banana custard tart is Paula Haney's wonderful Hoosier Mama Book of Pie (and her Chicago pie shop is outstanding), which has a banana custard pie.
And so I use a mash-up of the two methods for infusing custard filling with bananas, skipping Haney's pre-roasting and mashing of the bananas but keeping her kiss of nutmeg in the infusion mixture.
I wanted to celebrate the wonderful and classic flavor combination that is banana and chocolate, so I swapped in my favorite easy chocolate shortbread tart crust for the standard pie crust.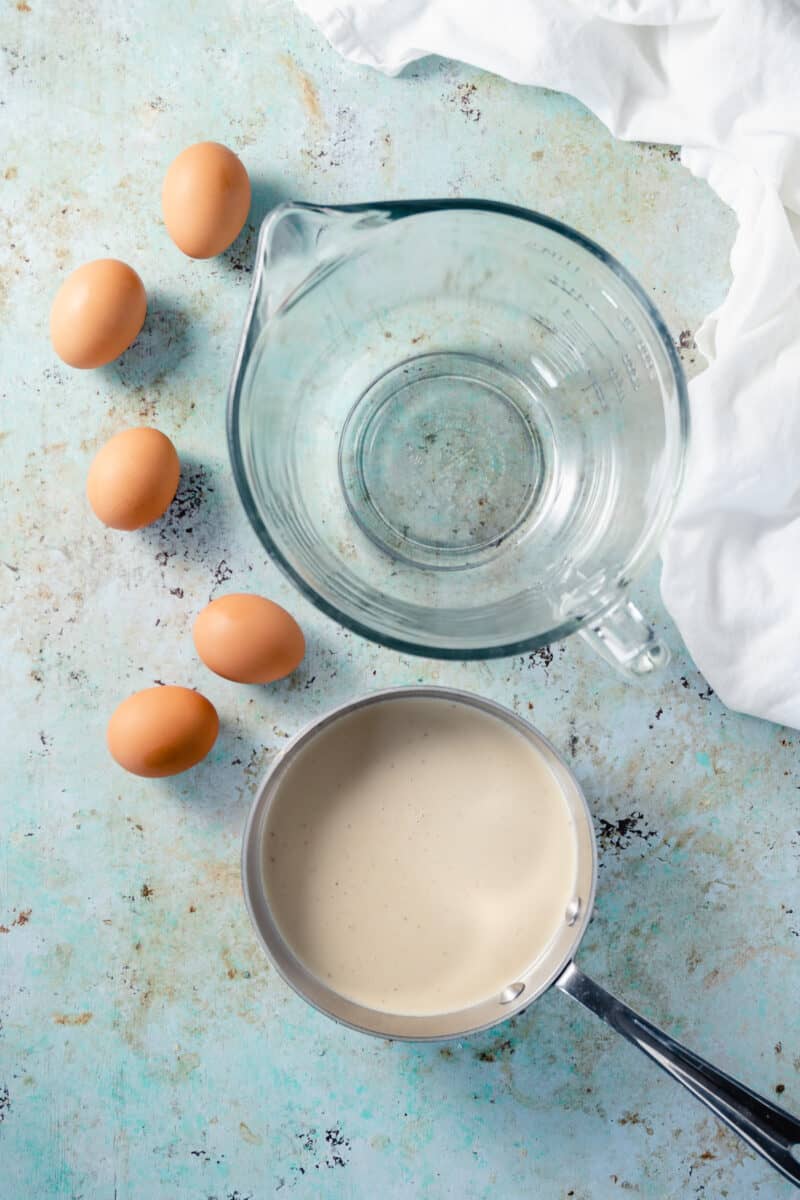 And I love the way that banana plays with brown sugar (like in this brown sugar oat flour banana bread). So I used a mix of dark brown sugar and granulated sugar to bring out those wonderful molasses-y butterscotch notes in the custard.
And you could make the banana custard and bake it in the chocolate tart crust and stop there and have a delicious rustic dessert with a sunny yellow filling.
But when I have a bunch of leftover egg whites—this custard filling leaves you with four of them—I cannot resist the urge to top a tart like this with meringue.
And not just any meringue, but my favorite Italian meringue that's made from a hot sugar syrup that cooks the egg whites while they're whipping, which means there's no need to bake the meringue and it's less prone to weeping.
I like this with the brown sugar variation of Italian meringue, again because of bananas' affinity for those deeper brown sugar notes.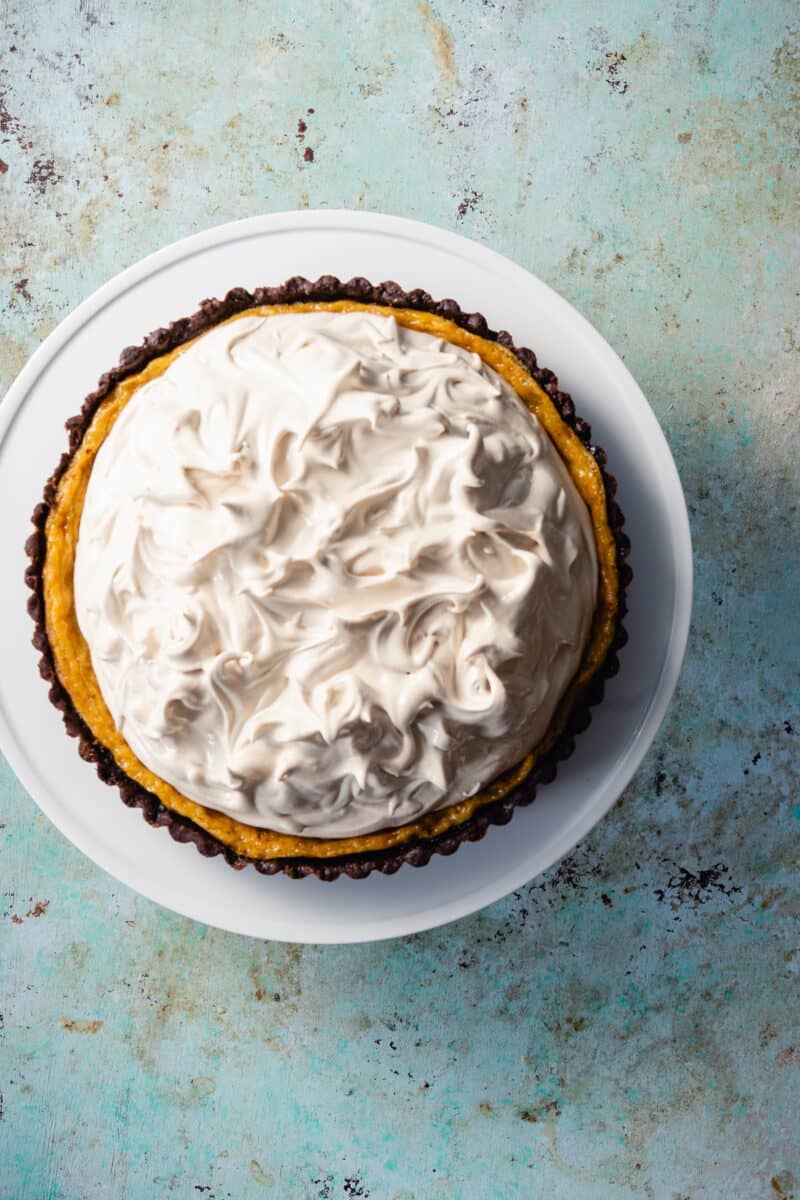 Adding swoops and swirls of billowing meringue makes the tart quite the showstopper.
It also adds another layer of light cream texture to the mix, which, along with the crisp chocolate crust and rich smooth banana custard, makes the whole tart sing.
And, then, if you really want to gild the lily, torch the meringue with a kitchen torch (or a blow torch) to add that caramelized toasted marshmallow flavor to the mix.
Then, enjoy!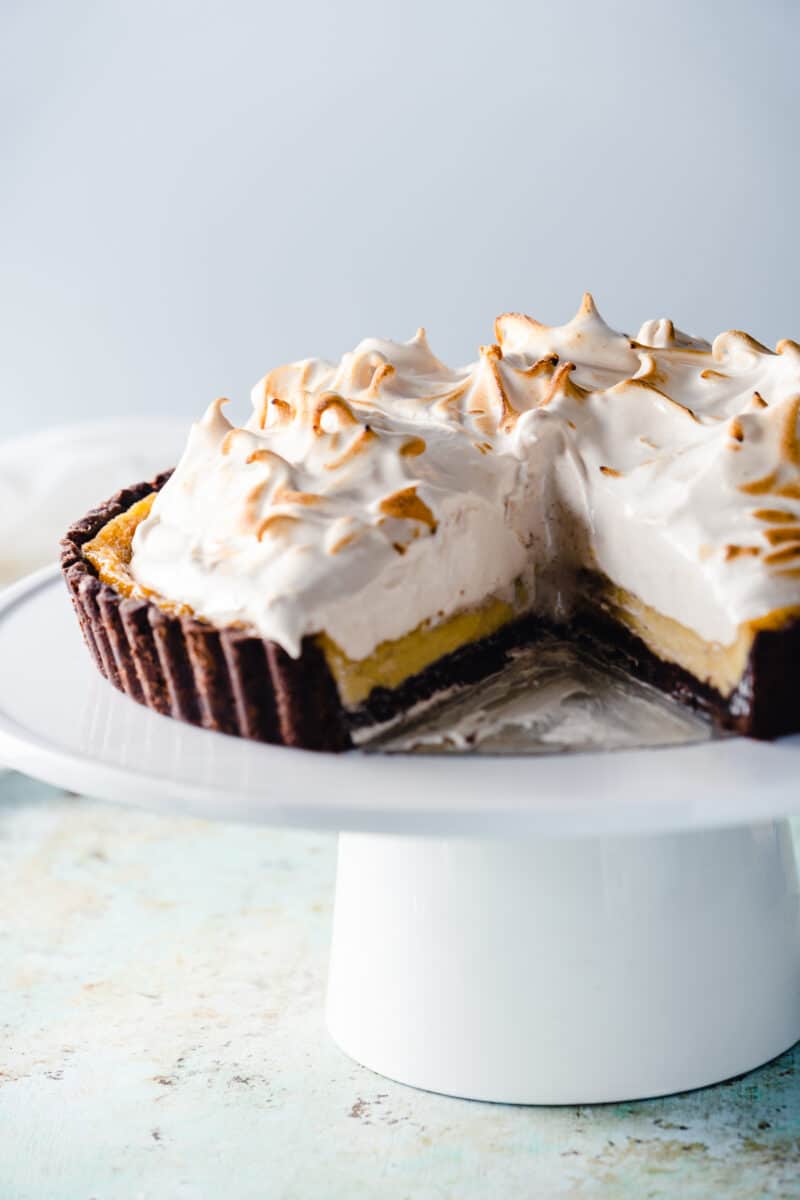 Yield: 1 9-inch tart
Banana Custard Tart with Chocolate Crust and Brown Sugar Italian Meringue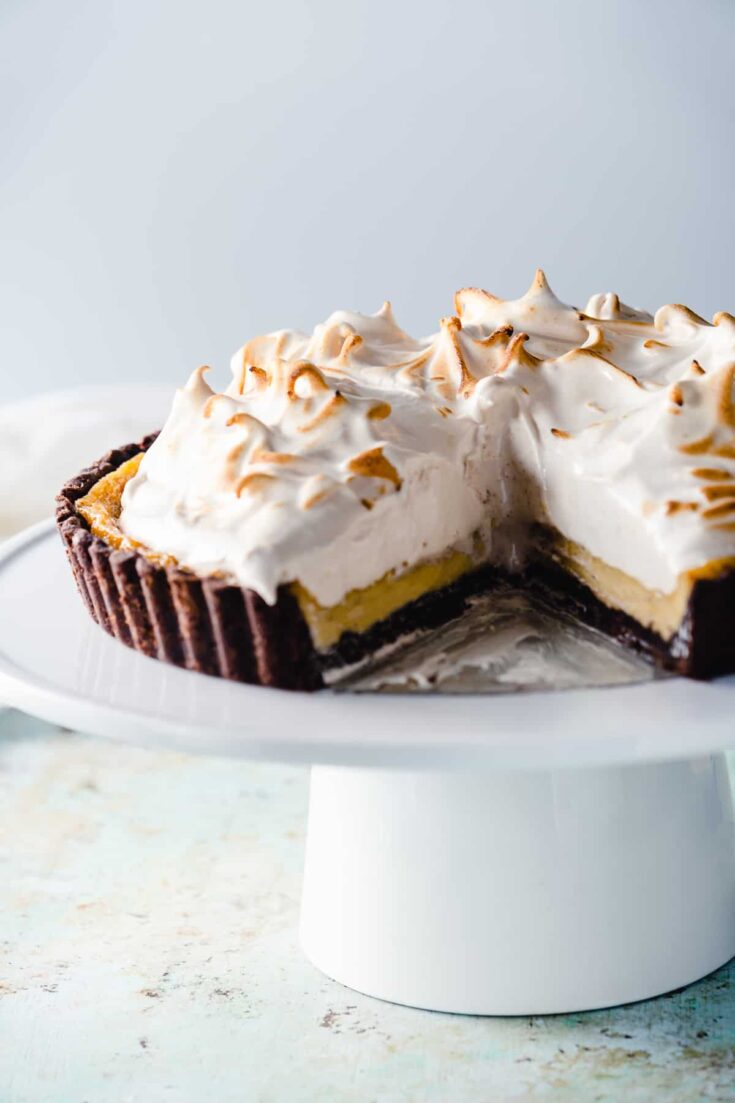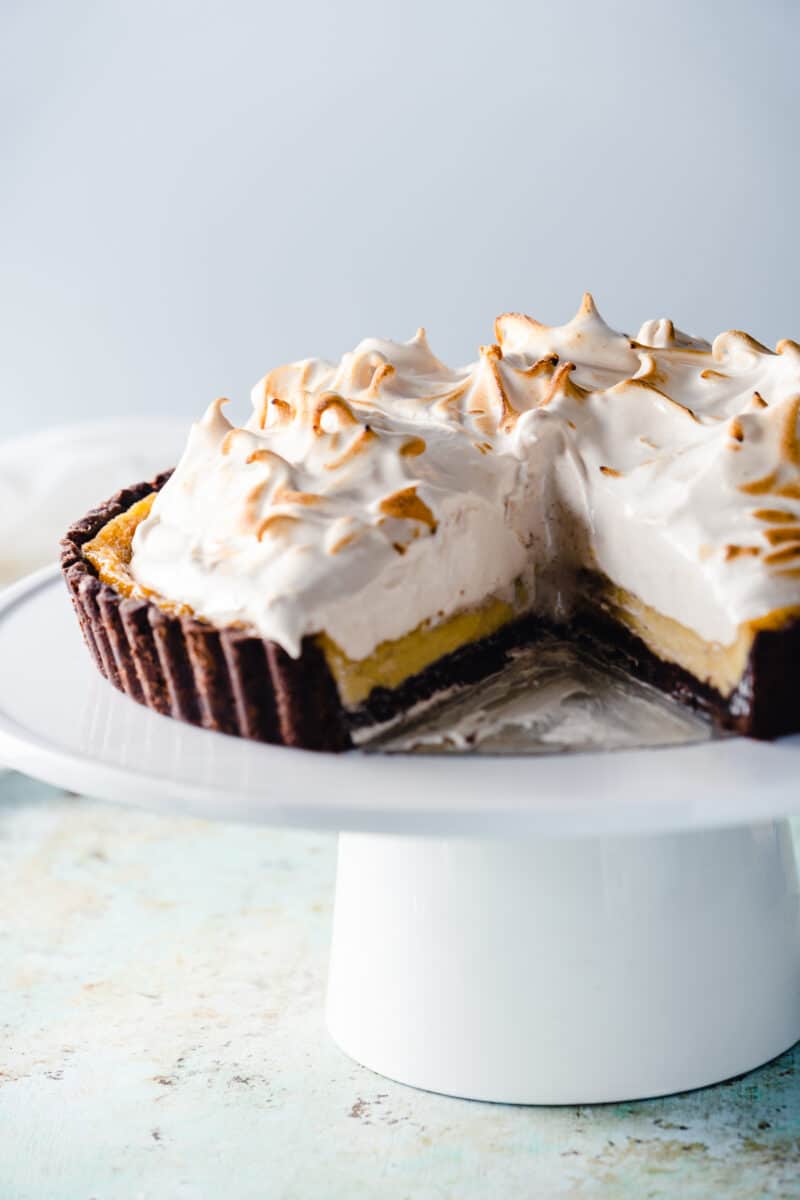 In this banana custard tart, bananas are steeped in a cream and sugar mixture to infuse the banana flavor, and then the bananas are strained out to make a silky smooth custard.
This tart uses my favorite easy chocolate shortbread crust, which is a cinch to make.
It also gets topped with brown sugar Italian meringue, which conveniently uses up the egg whites left over from the custard filling. It's easier to separate eggs when they are cold, so separate these straight out of the refrigerator.
I like to use dark brown sugar here for the extra molasses flavor. The nutmeg helps bring out the banana flavor. Freshly grated nutmeg is worth the trouble if you have a microplane.
You can make the crust up to a day ahead of time. You can make the meringue while the tart is chilling.
This works with a 9- or 9.5-inch tart pan.
Steeping and Chilling
5 hours
Ingredients
2 cups (480 grams) heavy cream
1/2 cup packed (100 grams) dark brown sugar
1/2 cup (100 grams) granulated sugar
1/4 teaspoon nutmeg, preferably freshly grated
3 overripe bananas, peeled
4 large egg yolks
1 large egg
1 teaspoon vanilla extract
1/2 teaspoon kosher salt
Instructions
Add the heavy cream, brown sugar, granulated sugar, and nutmeg to a medium saucepan and heat over medium heat, stirring occasionally until the sugars dissolve and the mixture comes just to a boil. Remove from heat.
Add bananas to a heat safe bowl and pour the cream mixture over the bananas. Cover, refrigerate, and let steep for at least 2 hours or up to overnight.
After the bananas have steeped, preheat oven to 350°F. Place the chocolate tart crust in its pan on a parchment-lined baking sheet.
Strain the cream mixture into a saucepan, discarding the bananas. Heat over medium heat until the mixture is warm to the touch. Pour into a large mixing bowl and add the egg yolks, whole egg, vanilla, and kosher salt. Whisk to combine.
Pour the mixture through a mesh strainer into the prepared tart crust. The filling will be near the top of the tart crust rim. Carefully transfer to the oven (don't worry if there's a minor slosh) and bake until the custard is puffed and lightly browned around the edges and jiggles slightly when moved, about 40 minutes.
Remove from oven and let cool to room temperature. Remove outer ring of tart pan before transferring to the refrigerator on a plate or small baking sheet to protect the edges of the tart from bumps (it can be difficult to remove the tart ring when chilled). Chill for at least 3 hours.
Make the Italian meringue shortly before removing the tart from the refrigerator. Add the meringue to the top of the chilled tart and use an offset spatula or the back of a spoon to create peaks and swirls. Toast the meringue with a kitchen torch, if desired. Serve. Store any leftovers in the refrigerator.
Notes
Keeps, refrigerated, for up to 3 days. Meringue may weep slightly when chilled.
Nutrition Information:
Yield:
8
Serving Size:
1
Amount Per Serving:
Calories:

234
Total Fat:

9g
Saturated Fat:

5g
Trans Fat:

0g
Unsaturated Fat:

4g
Cholesterol:

154mg
Sodium:

208mg
Carbohydrates:

33g
Fiber:

1g
Sugar:

24g
Protein:

6g