I may earn from purchases through links in this post.
Italian meringue is easily my favorite meringue.
It's glossy and marshmallowy and incredibly versatile.
Unlike basic French meringue, which involves simply whipping egg whites and sugar together and must later be cooked to be safe for eating (which is great in things like a pavlova), Italian meringue is cooked in the process of making it.
This makes it more stable than basic meringue and less prone to weeping.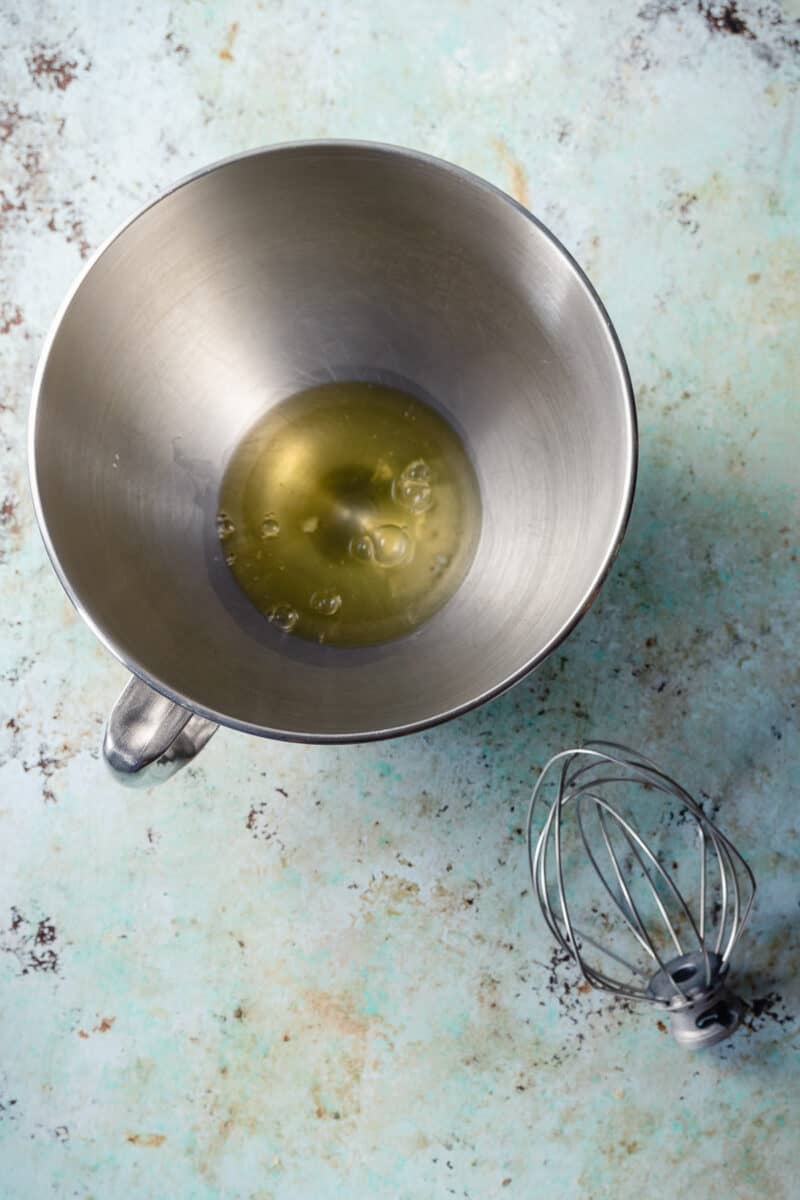 The process is simple, but it does require some precision and attention to detail.
Like pretty much any meringue, you need to aerate egg whites with sugar to get that lofty, billowing quality meringue is known for.
But the technique here involves heating sugar and water to make a sugar syrup that's hot enough to cook the egg whites to a safe temperature, but not so hot that the sugar is crystallized into hard candy (that's great for something like cashew brittle, but not what we're going for here).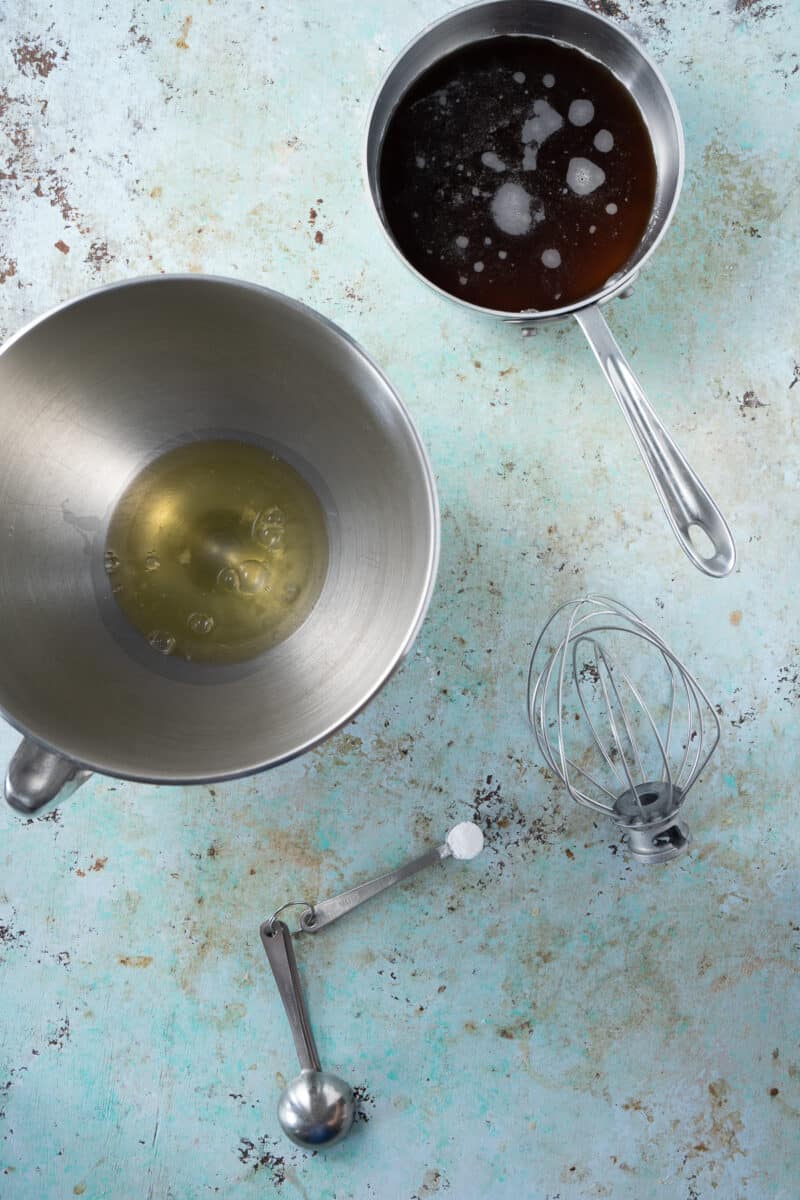 The temperature we want in the syrup is 240°F. So you're going to need a candy thermometer.
Sometimes people get intimidated when a thermometer and hot syrup are involved, but it's pretty much as simple as boiling water. You just need to pay attention to the temperature.
While the syrup is heating, you begin whipping the egg whites with a little bit of cream of tartar (or lemon juice) at low speed to loosen up the proteins and get them frothy. The acid helps to stabilize the aerated eggs.
But before the egg whites get into the bowl of your mixer, it's worth paying attention to a few things:
Make sure your bowl and whisk attachment are impeccably clean (no dust, no remnant of butter or grease) because any fat can interfere with the egg whites whipping and stabilizing. Carefully inspect your equipment and give it a good wash before you start.
Eggs are easier to separate while they are cold, so separate your eggs straight out of the refrigerator.
Be careful not to let any yolk into the egg whites, because the fat from the yolk can interfere with the whipping of the egg whites.
Egg whites whip more easily at room temperature, so let your egg whites hang out at room temperature for a while after you separate them.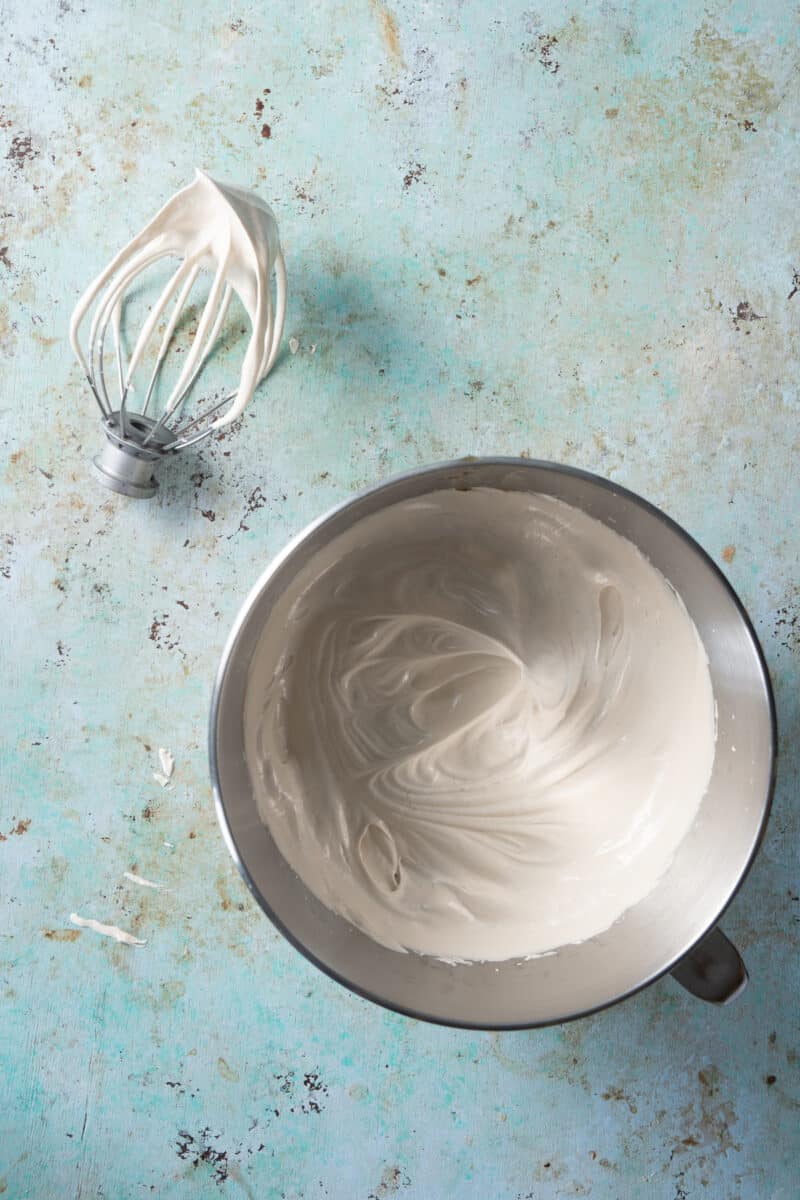 When the sugar syrup reaches 240°F, you kick up the mixing speed to high and slowly, carefully pour the syrup into the whipping egg whites.
You should pour the syrup close to the edge of the bowl to avoid hitting the whisk, which could fling hot syrup away from the egg whites.
And then you just need to let the mixer keep going until the meringue is glossy and light and holds the kind of peaks that you're looking for.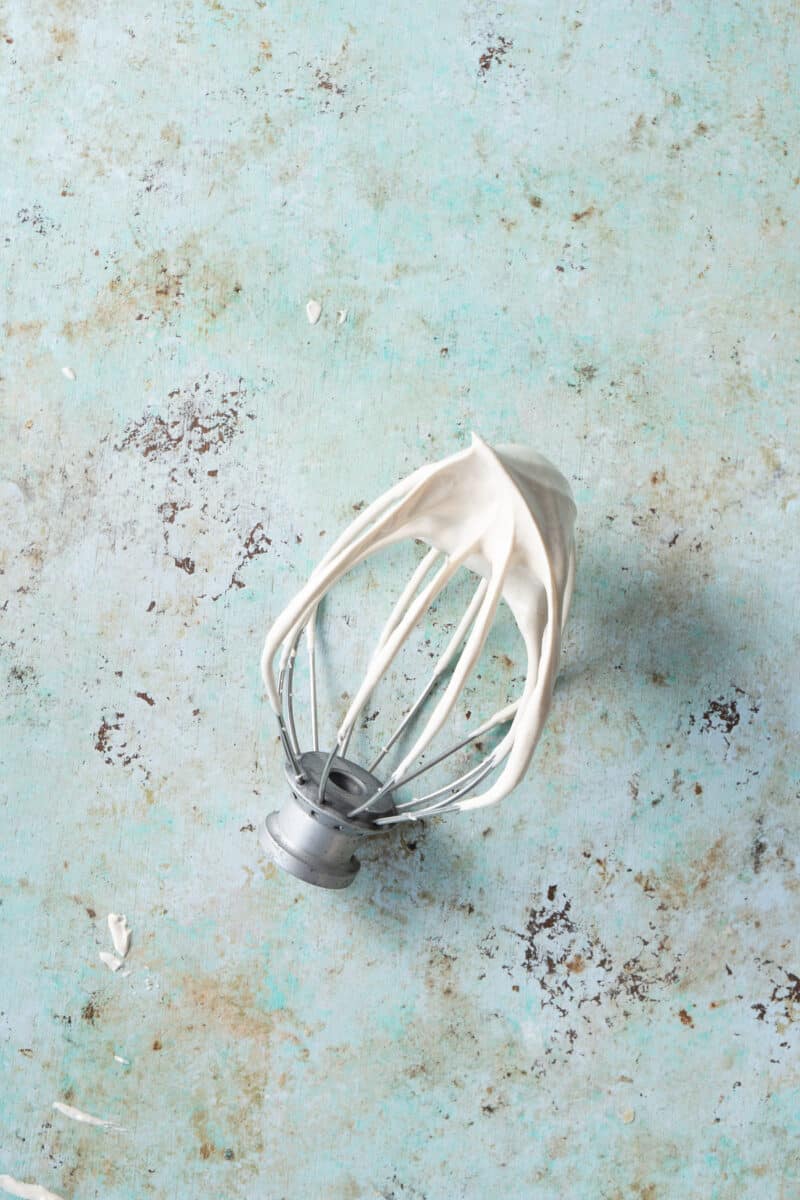 I usually aim for medium-soft peaks, which hold their shape but droop a little when using this to top pies.
This gives me plenty of leeway to avoid over whipping the meringue and ending up with a broken grainy mess, at which point there's no saving it and you just need to toss it and start over.
But you can absolutely whip this to soft, medium, or stiff peaks depending on what you're using it for.
Italian meringue can be toasted with a kitchen torch for a beautiful look and a sort of toasted-marshmallow flavor and texture.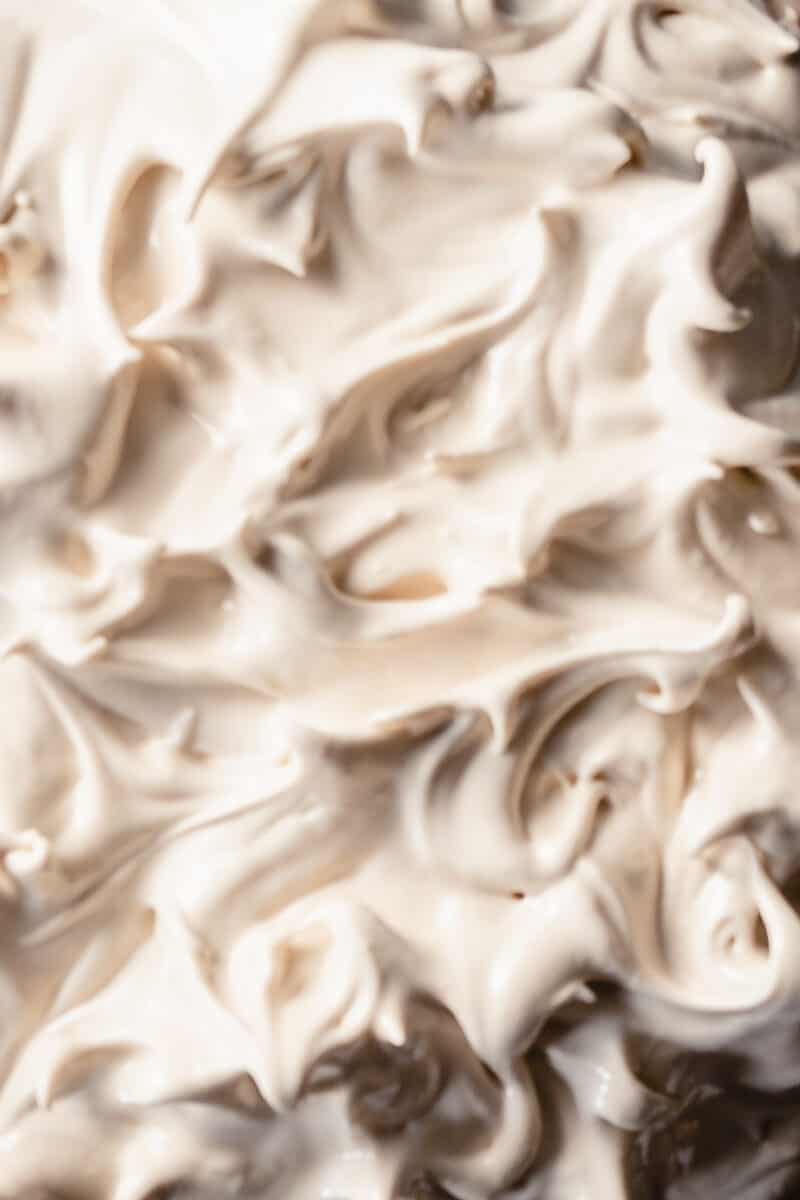 Yield: 3 cups
Italian Meringue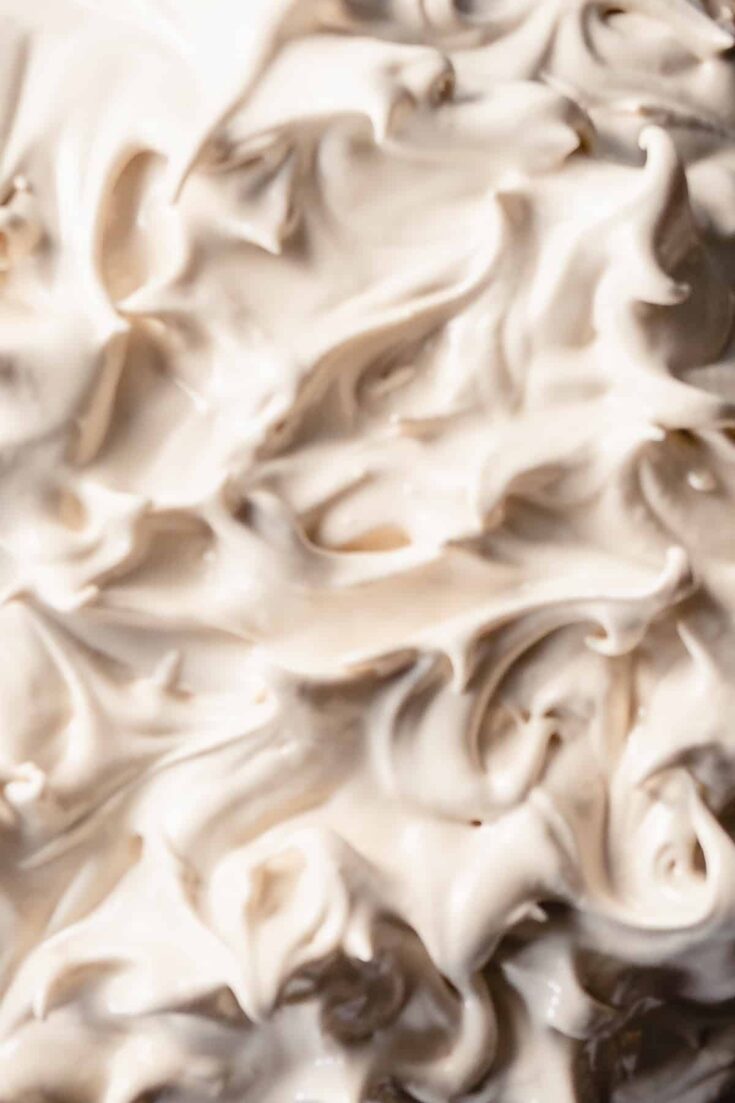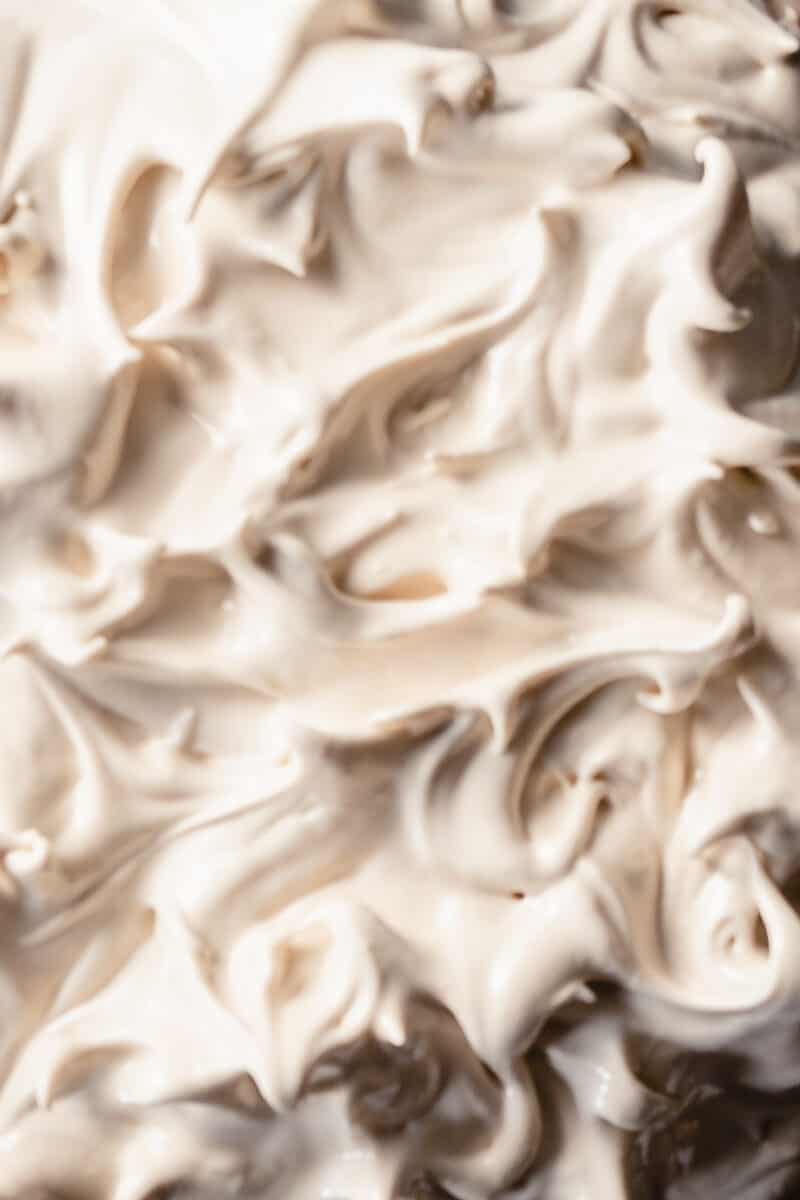 Italian meringue is made by pouring a hot sugar syrup into whipping egg whites. The syrup cooks the eggs to a safe temperature, which means this meringue doesn't need any further cooking. You can eat it right off the whisk.
This makes it more more stable than a basic French meringue and less likely to weep or split.
Make sure all of your equipment is impeccably clean before you start whipping the egg whites. Any fat residue can interfere with their stable whipping.
Separate your eggs when they are cold, and let the whites come to room temperature for best results.
You'll need a candy thermometer for this recipe. (See note for a variation with brown sugar.)
Ingredients
4 large (140 grams) egg whites
1/4 teaspoon cream of tartar
1 3/4 cups (350 grams) granulated sugar
3/4 cup (170 grams) water
Instructions
Add egg whites and cream of tartar to the bowl of a stand mixer and begin whipping on low speed.
Add the sugar and water to a heavy saucepan and stir until the mixture begins to simmer. Then stop stirring, add a candy thermometer, and heat until mixture reaches 240°F. Remove from heat.
Turn mixer speed to high, and slowly pour in the sugar syrup over the egg whites. Pour near the edge of the bowl taking care to avoid hitting the whisk attachment. Continue whipping on high speed until meringue reaches your desired texture (about 4-5 minutes for soft peaks, 5-6 minutes for medium peaks, 7-8 minutes for stiff peaks).
Notes
To make a Brown Sugar Italian Meringue, replace 1/2 cup (100 grams) of the granulated sugar with dark brown sugar and proceed as directed.
Recommended Products
As an Amazon Associate and member of other affiliate programs, I earn from qualifying purchases.
Nutrition Information:
Yield:
16
Serving Size:
1
Amount Per Serving:
Calories:

2
Total Fat:

0g
Saturated Fat:

0g
Trans Fat:

0g
Unsaturated Fat:

0g
Cholesterol:

0mg
Sodium:

0mg
Carbohydrates:

0g
Fiber:

0g
Sugar:

0g
Protein:

0g