I may earn from purchases through links in this post.
At the peak of summer's bounty, it can be tricky to figure out what else to do with all of the tomatoes and sweet corn.
If you've had as many BLTs or tomato sandwiches or panzanella and as much corn on the cob as you want, how do you honor the pint of sungold tomatoes on the counter and the extra ear of corn in the crisper drawer?
That's where this corn and tomato farro salad comes in (unless you're actually in the mood for corn with miso lime butter).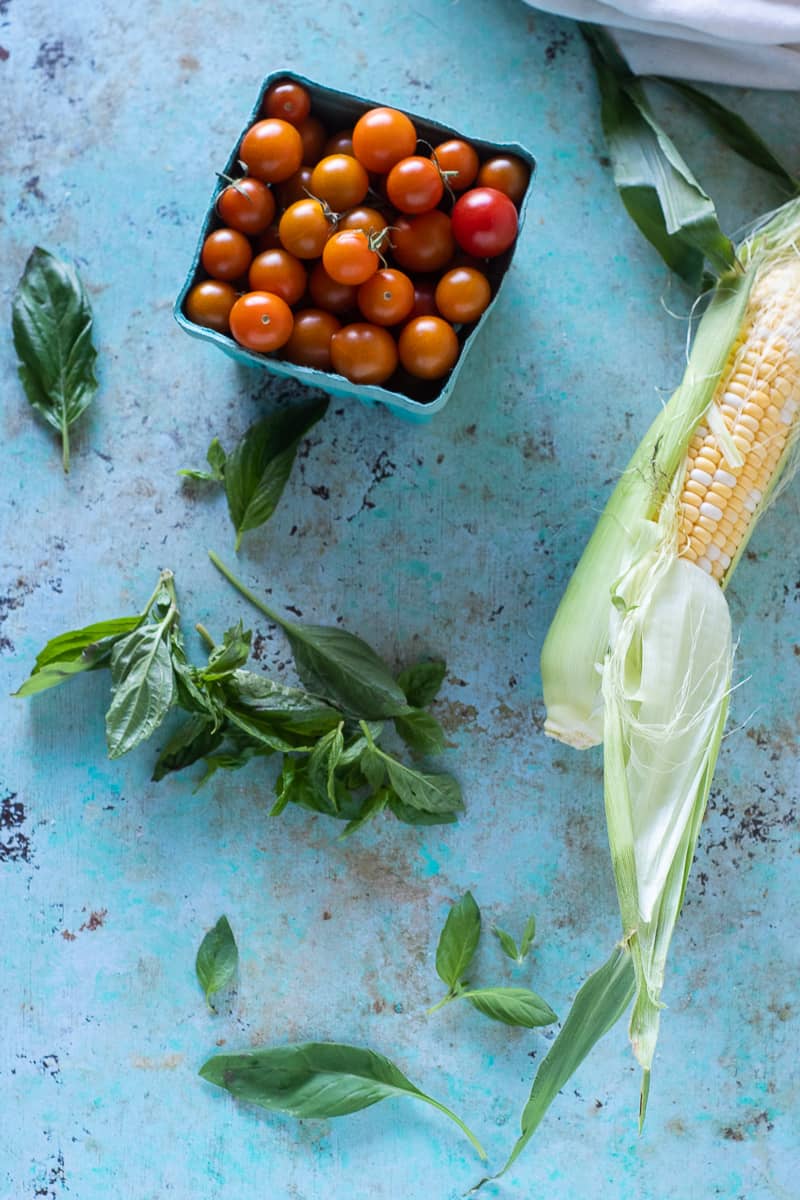 Farro salads are workhorse meals for me.
They walk the line between sturdy and light, they keep well, and they work with all sorts of flavors. (Like this sugar snap pea farro bowl with buttermilk dressing; or this roasted delicata squash, kale, and leeks with farro; or this asparagus and spring onion farro salad.)
I can't get enough of farro's nubbly, chewy texture and it's nutty flavor. Farro is an ancient wheat variety that Romans have been eating for centuries.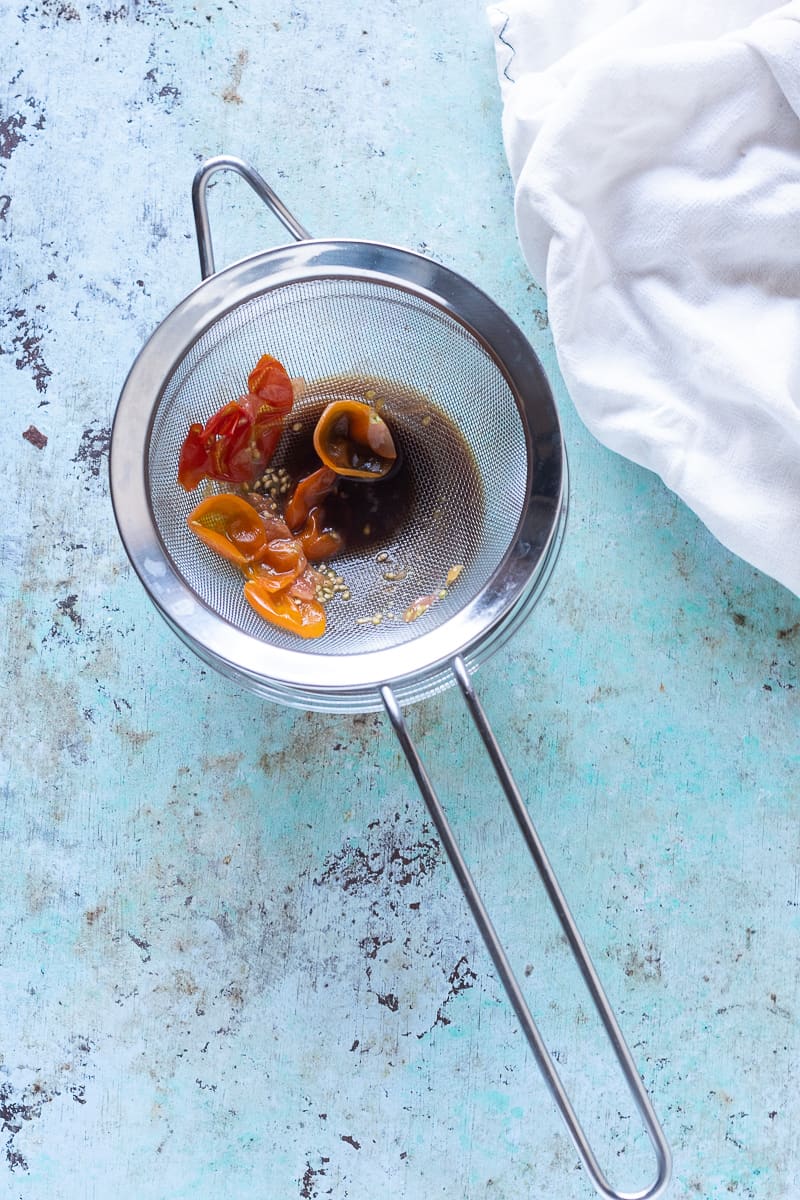 This corn and tomato farro salad honors that Italian heritage, bringing in tomatoes, fresh mozzarella, and basil.
I like to use sungold cherry tomatoes here, which are orange, petite, and intensely sweet. Any cherry or grape tomatoes on the sweeter side would work though.
The dressing is a kicky blend of shallots, sherry vinegar, the juice of some of the sungold tomatoes, a pinch of smoked paprika, and some olive oil.
Juicing a handful of the tomatoes into the dressing swathes the whole salad with that wonderful peak-season tomato flavor.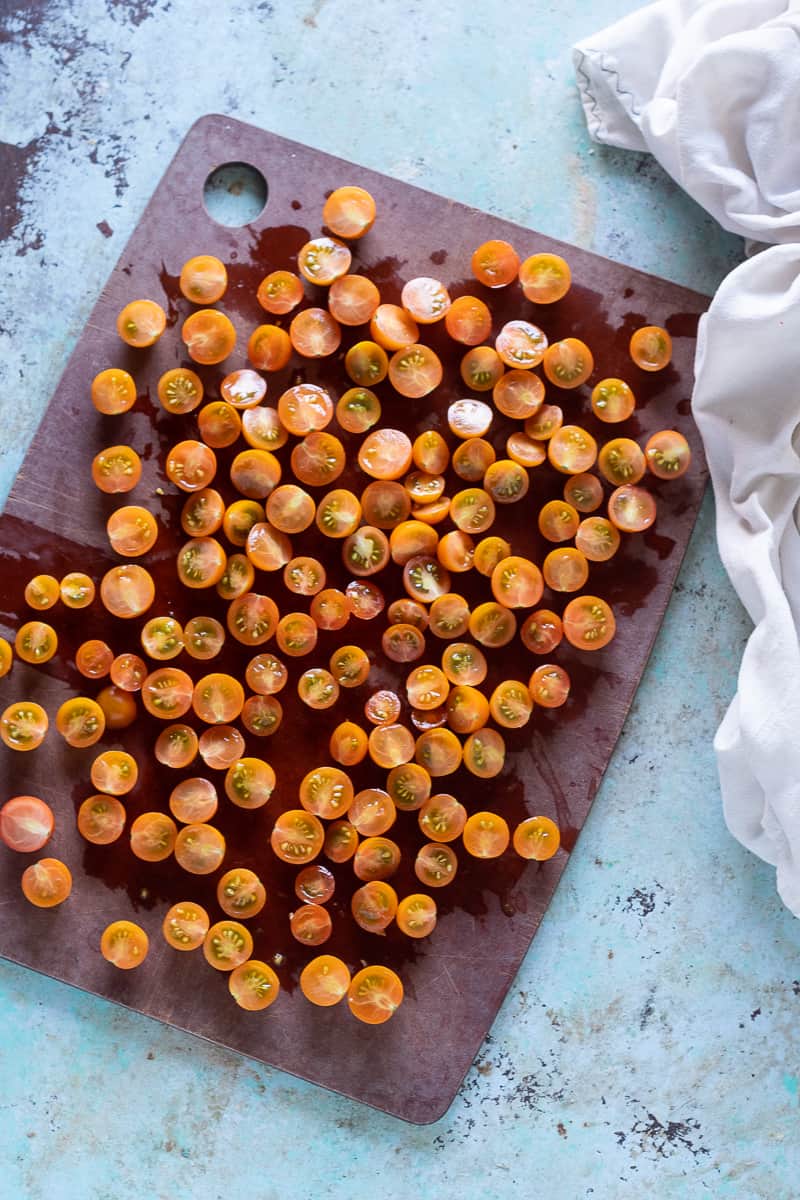 For flavoring the farro, I steal a technique from bruschetta or crostini where a raw clove of garlic is swiped across toasted bread.
Here, I add a smashed clove of garlic to the mixing bowl where I add the freshly cooked farro and toss it around, then discard the clove of garlic.
The farro takes on a wonderful garlic fragrance, but it doesn't get overwhelmed by raw garlic.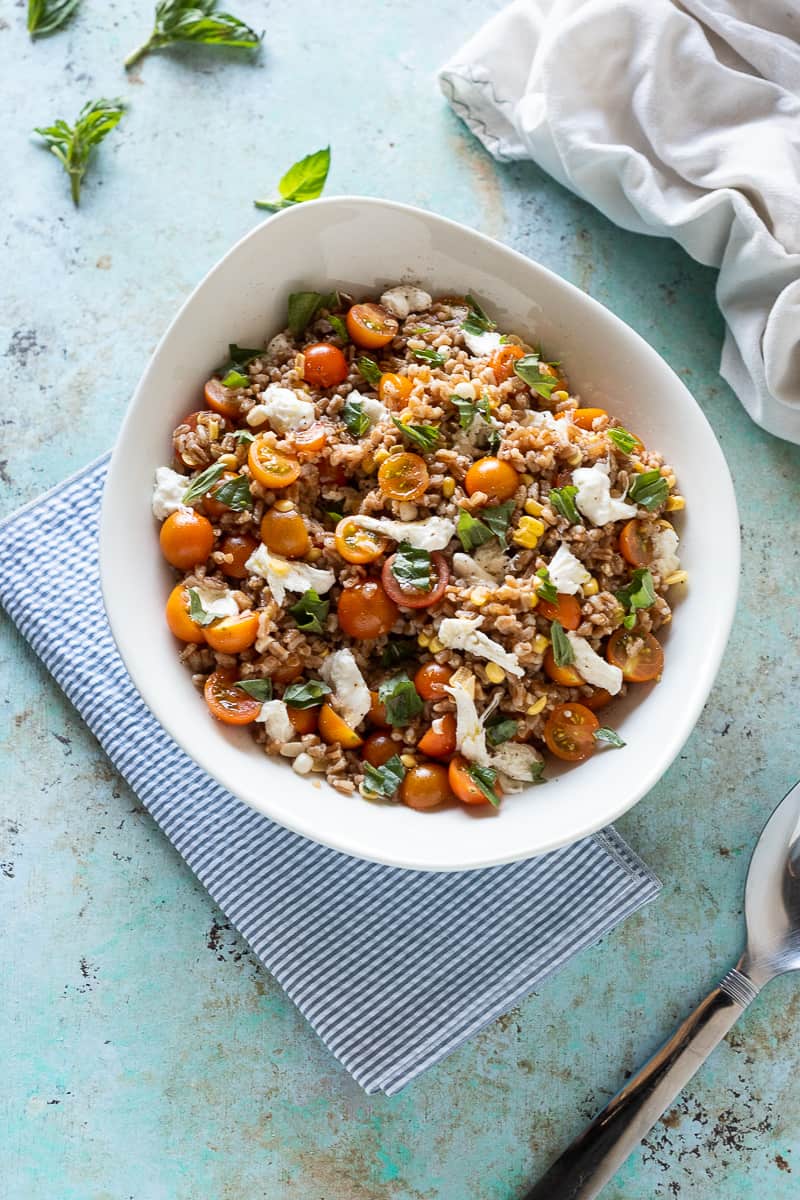 Then the warm farro gets tossed with the dressing, which it greedily soaks up.
Then the fresh sweet corn kernels sliced right off the cob get tossed in, along with the halved sungold tomatoes.
And then torn bits of fresh mozzarella get mixed in to add some richness and heft to the dish.
Then the whole thing gets showered with a flurry of basil leaves.
And that's when it's time to dig in.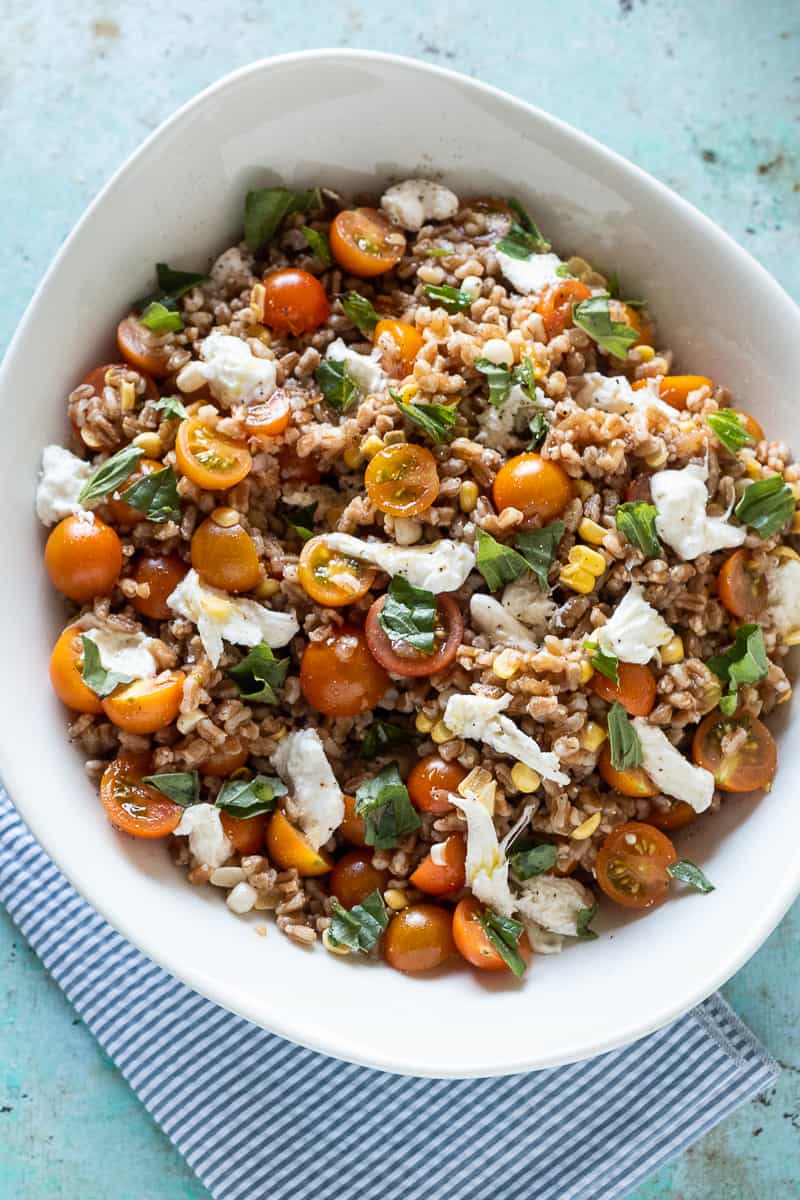 Yield: 4 servings
Corn and Tomato Farro Salad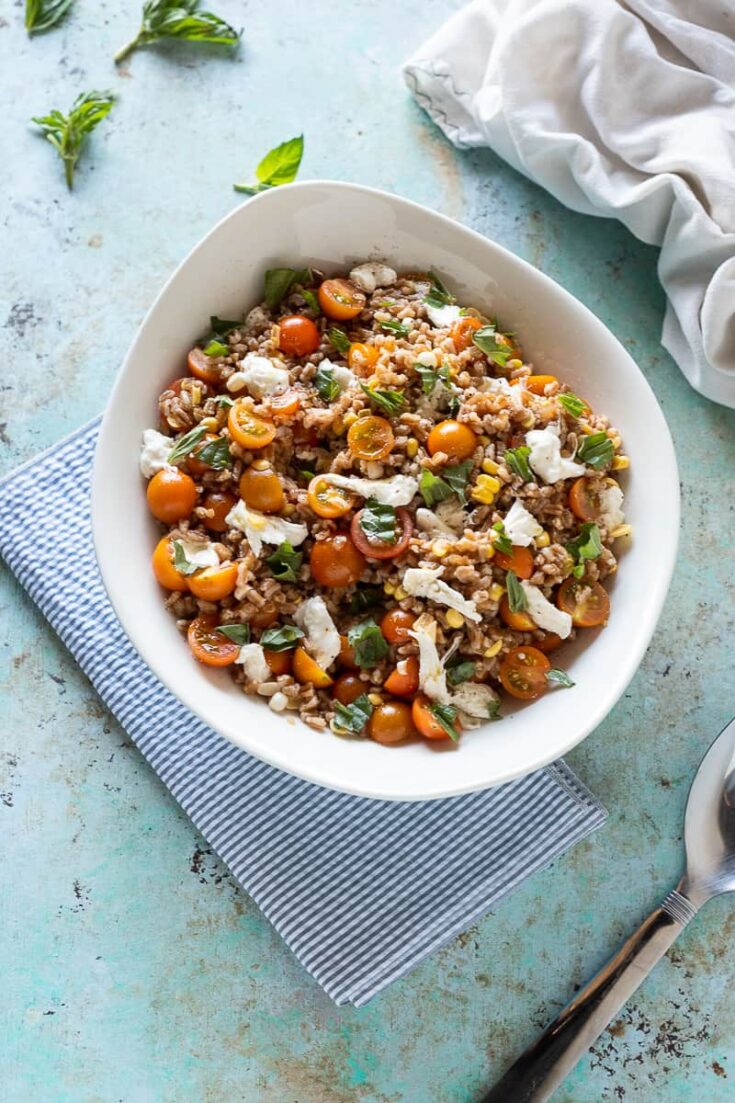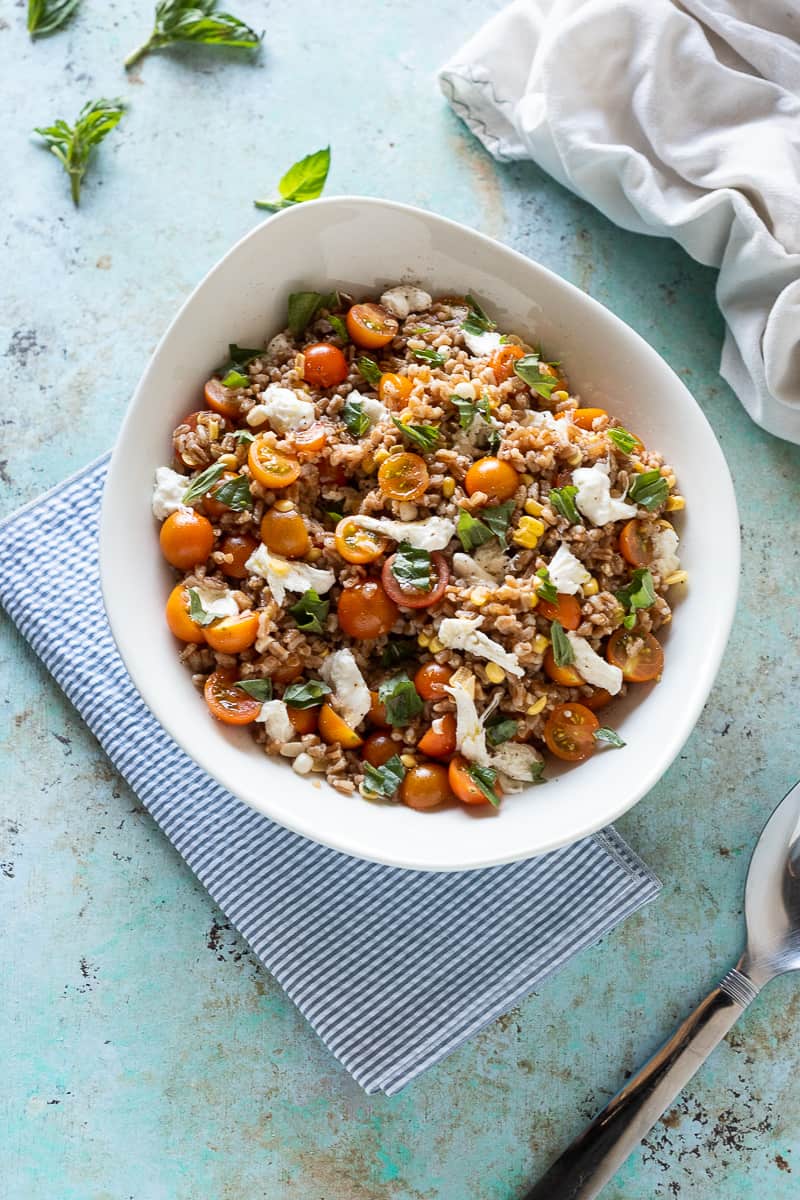 This corn and tomato farro salad is a great way to enjoy sweet corn and peak-season tomatoes.
I like to use sungold tomatoes, which are incredibly sweet with a nice acidity for this, but any good cherry or grape tomatoes will work well here.
Several small tomatoes get juiced and strained into the dressing to help make the tomato flavor shine.
The fresh mozzarella adds some lovely creamy richness to the dish, but you could swap it out for shaved parmesan or leave the cheese out altogether to make the dish vegan.
This keeps well for a few days. I like it warm or at room temperature, but it's not bad straight out of the fridge either.
Ingredients
For the shallot-tomato vinaigrette
2 teaspoons minced shallots
1 tablespoon sherry vinegar
5-6 sungold tomatoes, halved
3 tablespoons extra virgin olive oil
1/8 teaspoon smoked paprika
For the farro tomato salad
1 cup farro
1 pint sungold tomatoes (or other cherry tomatoes), halved and lightly salted
1 ear of sweet corn, kernels sliced off the cob
1 clove garlic, peeled and smashed
4 ounces fresh mozzarella
a handful of basil
salt and pepper, to taste
Instructions
Bring a medium saucepan 2/3 full of water to a boil.
Meanwhile, make the dressing. Add the minced shallots to a mixing bowl, cover with sherry vinegar and a pinch of salt, and let sit for 15 minutes to lightly pickle.
Take 5-6 of the sungold tomatoes and juice them over the shallot and vinegar mixture, pressing the cut side over a strainer to remove all of the liquid. Discard the skins and seeds. Stir in the olive oil and smoked paprika.
When the water comes to a boil, add a pinch of salt along with the farro. Cook until al dente according to package instructions (usually around 25 minutes).
Add the smashed garlic clove to a large mixing bowl. When the farro is finished cooking, drain through a fine mesh strainer and immediately add to the mixing bowl with the garlic. Toss the garlic around through the farro with a silicone spatula until the farro is fragrant with garlic. Discard the garlic clove.
Add the dressing, tomatoes, and corn kernels to the farro and toss.
Tear the fresh mozzarella into bite-sized pieces and add to the farro and toss again.
Taste and season with more salt (and pepper if desired). Roughly chop the basil and sprinkle over the salad.
Serve.
Notes
Keeps well in the refrigerator for 3-4 days.
Recommended Products
As an Amazon Associate and member of other affiliate programs, I earn from qualifying purchases.
Nutrition Information:
Yield:
4
Serving Size:
g
Amount Per Serving:
Calories:

316
Total Fat:

17g
Saturated Fat:

5g
Trans Fat:

0g
Unsaturated Fat:

11g
Cholesterol:

18mg
Sodium:

234mg
Carbohydrates:

34g
Fiber:

7g
Sugar:

10g
Protein:

12g