I may earn from purchases through links in this post.
The Green City Market is finally back outside, which means my Wednesday mornings are occupied with shopping for local produce.
It's been a late spring rendering the early markets a little more sparse than usual. The first week there were almost more storage apples and overwintered potatoes and frozen berries and pickles and preserves than new crops on offer.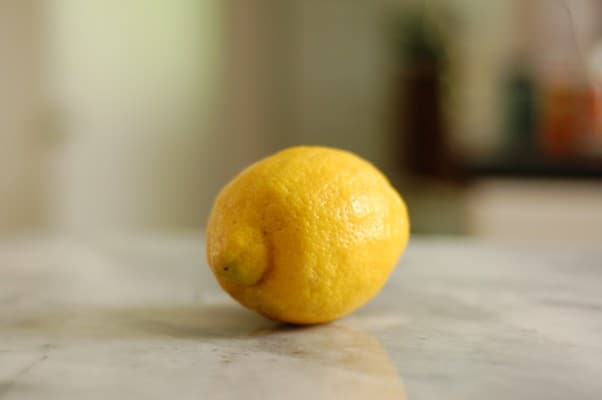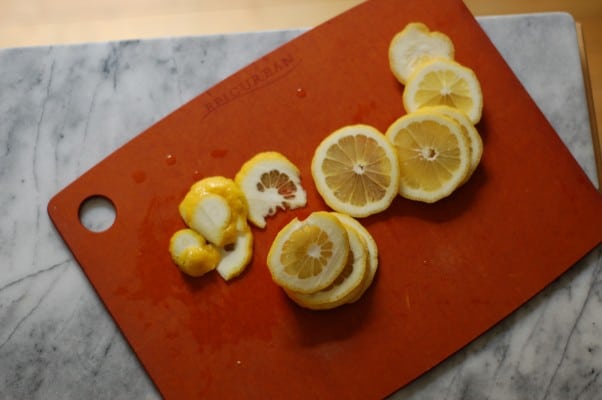 It's that time at the market where it seems that the only vegetable that is currently being harvested in Illinois, Indiana, Michigan, and Wisconsin is asparagus. And so in the last couple of weeks, I've probably eaten asparagus about half a dozen times.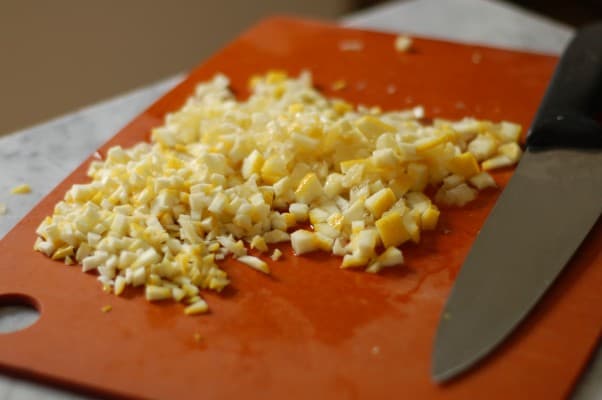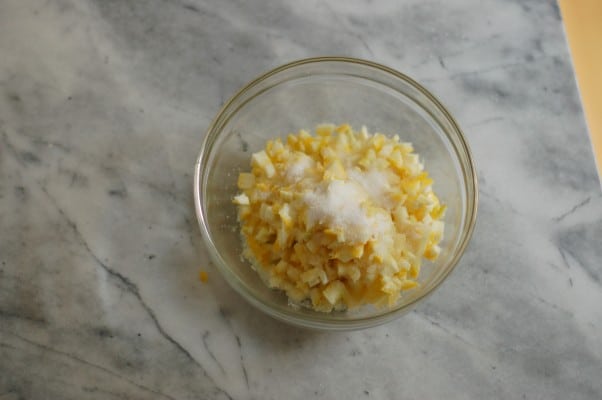 Lucky for me, I love the bold grassy, vegetal flavor of asparagus. When I had my first bite of it this year, I was reminded of just how much more fresh and vibrant it tastes when it has just come out of the ground than when it's spent days on a truck.
It reminded me why I go to the trouble of visiting the farmers markets in the first place.
Of course I like the idea of supporting sustainable agriculture and small farmers in the region, but I'm not just doing it out of a sense of obligation. The fruits and vegetables there really do taste better than what I can usually find at the grocery store.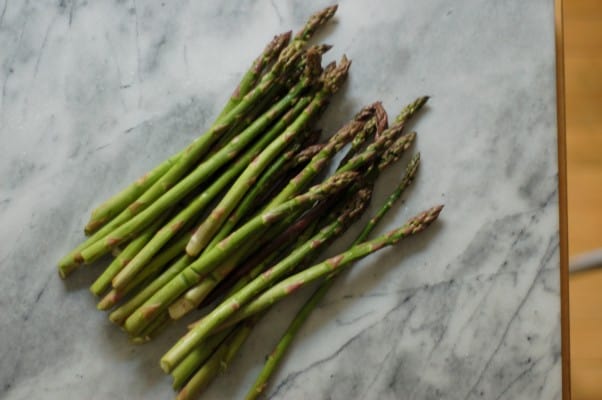 Asparagus is great paired with rich and salty flavors like eggs and prosciutto or roasted and topped with shavings of parmigiano reggiano. But I especially love the way asparagus plays with lemon and bright herbs. The combination accentuates rather than blunts asparagus's inherent grassiness.
Here, I've sautéed it with the sweet and mild spring onion and spring garlic that I also found at the market and tossed it with farro, which is probably my favorite whole grain. (Later in spring, I also love it in this sugar snap pea farro bowl with buttermilk dressing; and in fall I love it in this roasted delicata squash, kale, and leeks with farro.)
I then topped it all with a preserved lemon vinaigrette and some flat-leaf parsley and chives.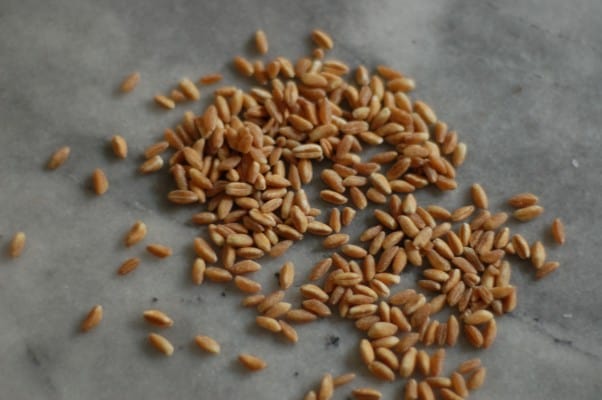 Because I didn't plan this out weeks or months in advance, I didn't have time to make traditional preserved lemons, so I used a quick version that only takes a few minutes of work and a few hours of sitting that I learned from Mark Bittman.
It's easy enough that I could imagine throwing it together before work if you wanted to have it ready for dinner.
And it keeps for at least a week, so you could really make it whenever you find ten minutes to spare and have it ready when you are. You just dice a lemon, rind and all, remove the seeds, toss it with some kosher salt and granulated sugar and let it sit in a jar for three hours (or longer).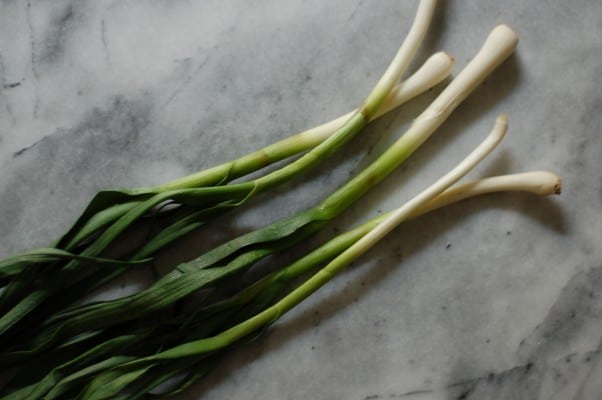 Then you whisk some of the preserved lemon bits with some lemon juice, champagne vinegar, honey, and olive oil to make the vinaigrette.
This lemony, herby, asparagus farro dish tastes like spring. I can't get enough of it.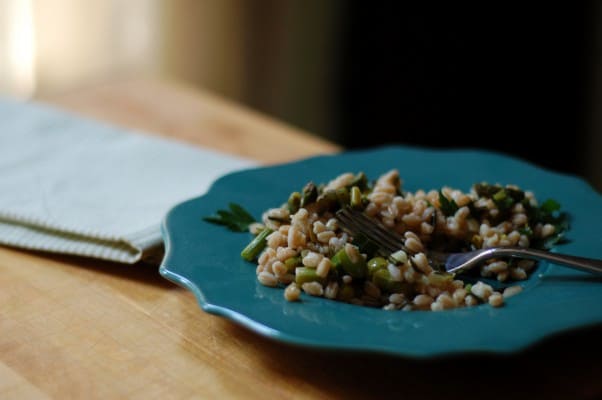 Yield: 4 servings
Asparagus and Spring Onion Farro Salad with Quick Preserved Lemon Vinaigrette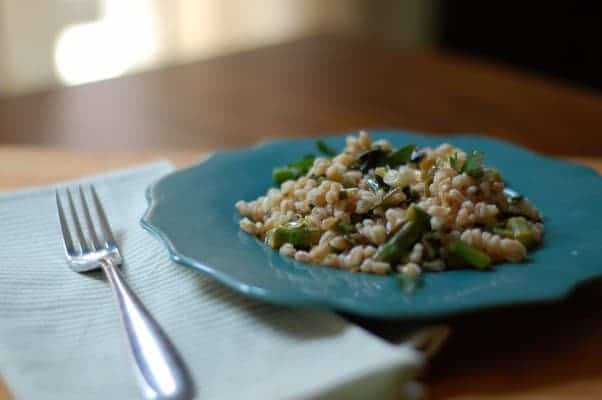 I love the combination of asparagus with lemon and herbs, especially when combined with the nubbly texture of farro. The quick preserved lemons are easy to make, but they do need to sit for at least 3 hours before they're ready to use (traditional preserved lemons take weeks to be ready). They can be made up to a week in advance. In a pinch, you could substitute grated lemon zest. You can also substitute scallions or leeks and mature garlic if you have trouble finding spring onions and spring garlic. This is great warm or at room temperature. It's also good cold from the refrigerator the next day.
Total Time
3 hours
45 minutes
Ingredients
Quick Preserved Lemons
1 lemon, preferably unwaxed organic
1 1/2 teaspoons kosher salt
1 tablespoon sugar
Preserved Lemon Vinaigrette
1 tablespoon preserved lemons, finely diced
juice of half a lemon
1 tablespoon champagne vinegar
1 1/2 teaspoons honey
3 tablespoons extra virgin olive oil
Asparagus and Spring Onion Farro Salad
1 cup farro
1 pound bunch asparagus, about 1
5-6 spring onions, you could substitute scallions or leeks if you can' find them
4-5 cloves stalks of spring garlic, you could substitute a couple of of mature garlic if you can't find spring garlic
a handful of fresh flat leaf parsley
a small bunch of chives
salt, pepper, and olive oil for seasoning and sautéing
Instructions
At least 3 hours in advance, make the quick preserved lemon. If you have a conventional waxed lemon, scrub it under hot water to remove the wax. Dice the lemon, rind and pith and all. Remove the seeds. Scrape the diced lemon along with its juice into a bowl and stir in the kosher salt and sugar. Transfer to a jar, cover, and let stand for at least three hours at room temperature. (It will be fine at room temperature much longer than that if you want to let it sit out overnight or while you're at work.) Stir. Refrigerate if not using right away.
Fill a medium saucepan about two-thirds full with water and bring to a boil. Add the farro and a generous pinch of salt, lower heat to medium-low and simmer until the farro is al dente, about 22-25 minutes. Drain through a fine mesh strainer.
While the farro is cooking, trim the woody bottom few inches from the asparagus and cut into 1/2 inch pieces. Trim the roots from the spring onions and spring garlic, and slice finely, both green and white (or purplish) parts.
Heat a large skillet with about a tablespoon of olive oil over medium-high heat. Add the asparagus and spring onions and garlic and saute, stirring frequently, until the asparagus is crisp-tender and the onions and garlic have softened, about 2-3 minutes.
Add the farro and the asparagus mixture to a large bowl.
Make the vinaigrette. In a small bowl, whisk together the preserved lemons, lemon juice, champagne vinegar and honey. Slowly whisk in the olive oil until emulsified. Pour over the farro and vegetables and toss to coat.
Chop the parsley and chives and sprinkle over the salad. Season with salt and freshly cracked pepper. Serve warm or at room temperature.
Recommended Products
As an Amazon Associate and member of other affiliate programs, I earn from qualifying purchases.
Nutrition Information:
Yield:
4
Serving Size:
1
Amount Per Serving:
Calories:

327
Total Fat:

15g
Saturated Fat:

2g
Trans Fat:

0g
Unsaturated Fat:

12g
Cholesterol:

0mg
Sodium:

1152mg
Carbohydrates:

47g
Fiber:

9g
Sugar:

18g
Protein:

8g