I may earn from purchases through links in this post.
This granola has been a breakfast staple for me for years. I've made more batches of it than I can count.
It has evolved slowly as I've figured out how to make it the big-clustered, not-too-sweet, crunchy-but-not-so-hard-it-scrapes-the-roof-of-my-mouth cereal I crave.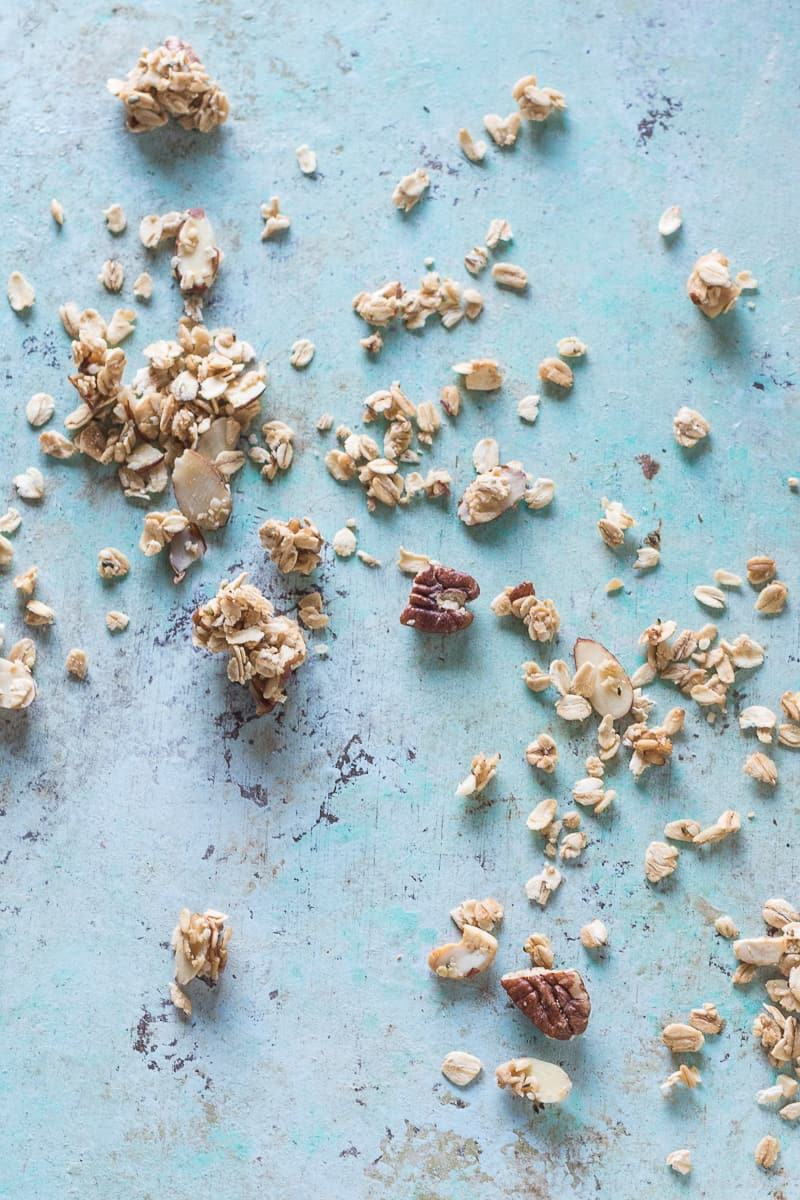 There are, if I count correctly, approximately eleventy-billion versions of granola out there.
People add everything from cinnamon to chocolate to shredded coconut, not to mention all the various seeds and dried fruits that get casually tossed in.
It gets sweetened with everything from brown sugar to honey to maple syrup. People play fast and loose with the ratio of oats to nuts and use neutral oils like vegetable oil or canola oil or flavorful ones like olive oil or coconut oil or omit the oil altogether.
It's one of those foods that's hard to make wrong.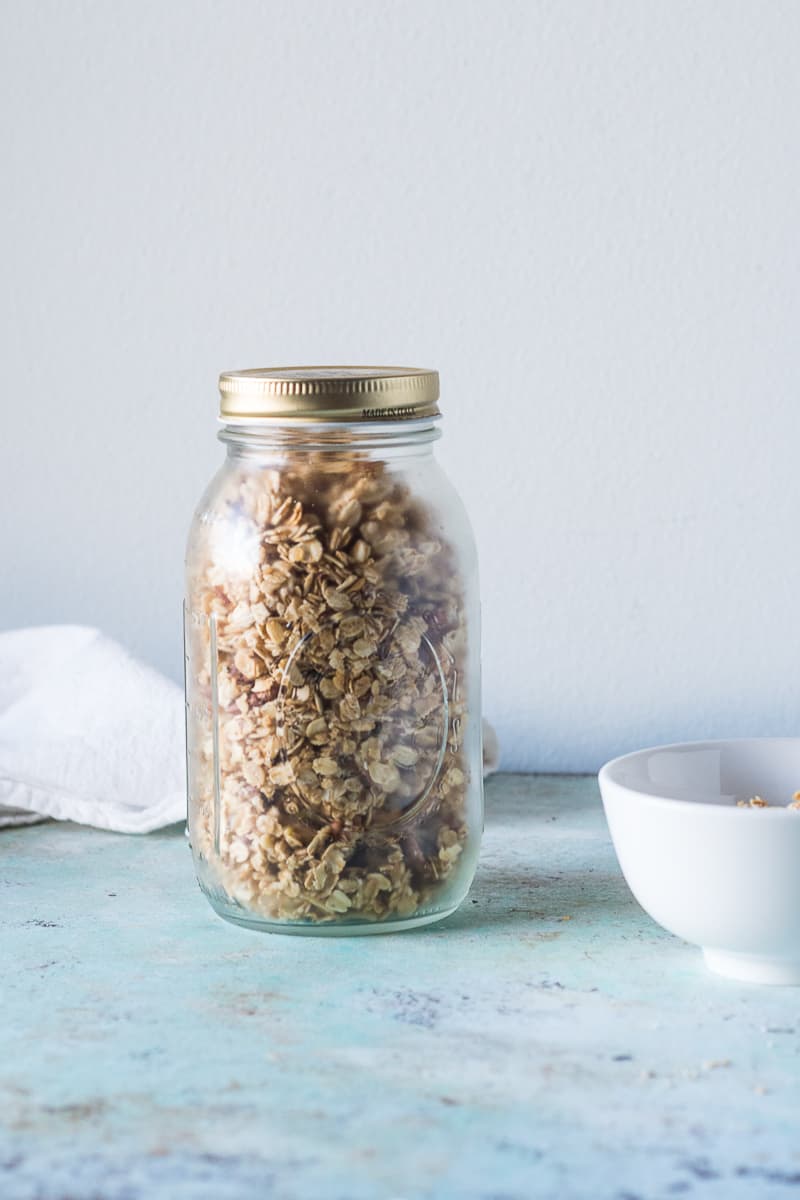 But this maple nut granola version is, I think, something special.
It's not the cheapest version of granola out there. It relies on a triad of good quality ingredients–maple syrup, coconut oil, and vanilla bean–for flavor (though you can substitute vanilla extract for the vanilla bean if you'd prefer).
It gets its big clusters from a combination of quick oats and classic rolled oats and a restrained hand when it comes to stirring. I personally love the textural combination of sliced almonds, chopped pecans, and chopped cashews here.
I sometimes add fruit, either dried or fresh, to a bowl of granola along with milk or yogurt just before serving, but I never add fruit before baking because dried fruits have a tendency to get unpleasantly tough and leathery when they spend that long in the oven.
I no longer bother with seeds, which invariably seem to collect at the bottom of the container (I don't need a bowl of flax seed and oat dust, thank you), and I think that pretty much everything else is extraneous.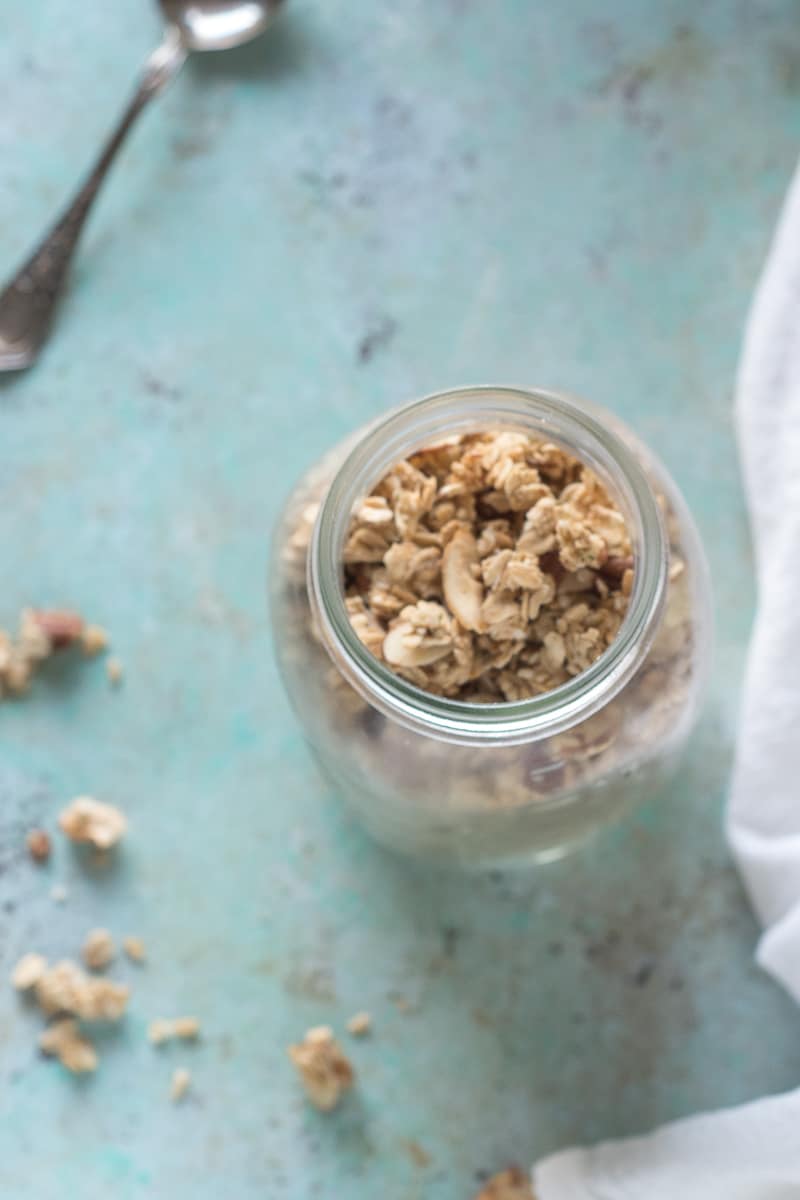 Granola is incredibly easy to make. It's a simple dump-everything-in-a-mixing-bowl, stir, and bake job. As I said before, it's hard to screw up, even for a beginner in the kitchen. If you like granola, this one is worth trying.
Yield: 6 cups
Maple Nut Granola with Big Clusters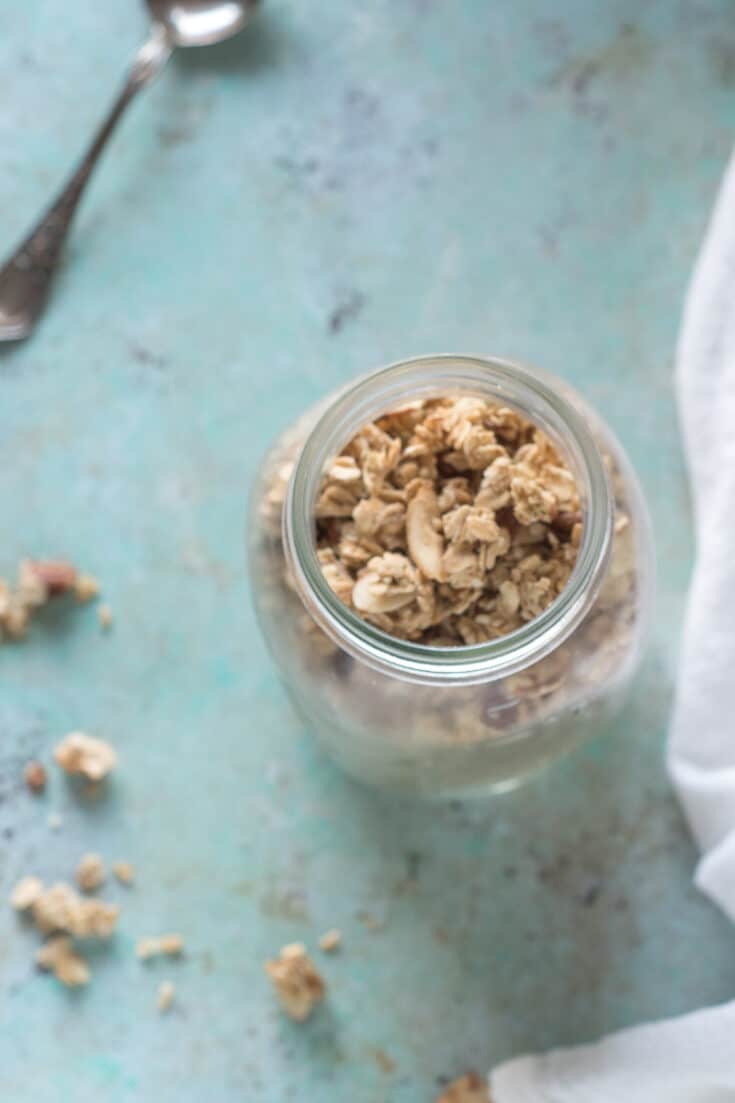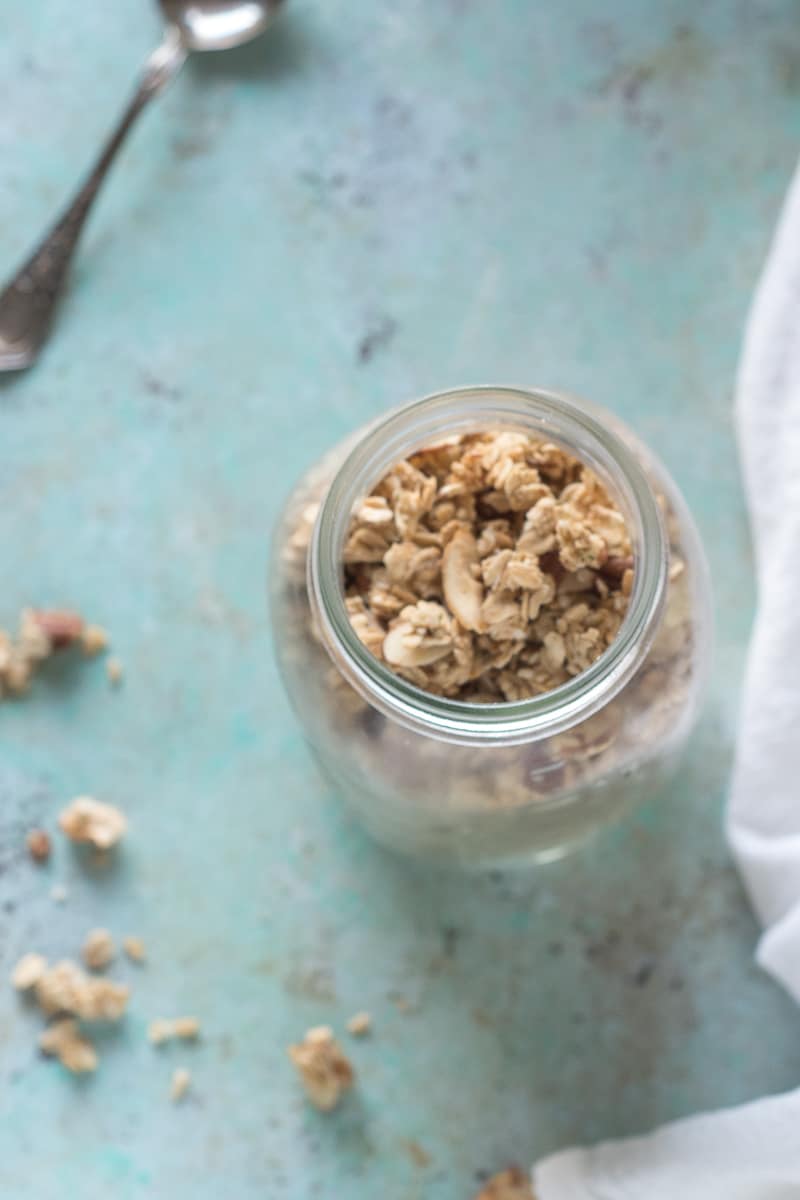 This is granola is almost always present in my kitchen. When I run out of it, I don't quite know what to do for breakfast, so I quickly go out to get the ingredients to make more. Granola is so easy to make, and it's easy to scale up or down to suit your needs (I usually make a double batch). The real maple syrup is essential to the flavor here. It looks like a lot, but this granola isn't too sweet. I look for the darker, more flavorful grade B maple syrup when I can find it. The vanilla bean is nice if you have it, but these days I usually make this with vanilla extract and it's delicious. I discovered that I get better clusters when I use half of the finer quick oats along with the old fashioned rolled oats. If you don't want to buy two kinds of oats, you can zizz some rolled oats in a food processor to approximate quick oats. Look for unrefined coconut oil, which has more coconut flavor than the refined versions. This is vegan as is and it could be gluten free if you use certified gluten free oats. Because nuts can go rancid, I like to store this granola in the refrigerator to prolong freshness.
Cook Time
1 hour
15 minutes
Total Time
1 hour
20 minutes
Ingredients
2 1/2 cups old fashioned rolled oats
2 1/2 cups quick oats
3/4 cup sliced almonds
1/2 cup cashews, chopped
1/2 cup pecans, chopped
1/4 teaspoon kosher salt
3/4 cup maple syrup, I use grade B
2 tablespoons coconut oil, preferably unrefined
1/2 vanilla bean, split or 1 teaspoon vanilla extract
Instructions
Preheat oven to 250ºF and have a 9×13-inch metal baking pan ready. In a large mixing bowl, add both kinds of oats, the almonds, cashews, pecans, and salt, and stir until mixed.
In a small saucepan, add the maple syrup, coconut oil, and vanilla bean (if using) and heat until the coconut oil is melted (this should smell fantastic). Remove from heat, add the vanilla extract (if using) and stir.
Pour over the dry ingredients and stir with a rubber spatula until all of the oats and nuts are moistened. This can take a few minutes of stirring.
Pour the mixture into the 9″ x 13″ pan and spread in a relatively even layer.
Bake for an hour and 15 minutes, never stirring (don't worry! at this low temperature it won't burn), until the oats begin to look golden and the mixture feels mostly dry to the touch. Let cool completely in the pan (it will get crisper as it cools).
Transfer to an airtight container, breaking up any oversized clusters. Serve with milk, yogurt, fruit or just eat by the handful.
Notes
This will keep at room temperature for a few weeks or in the refrigerator for at least a month.
Recommended Products
As an Amazon Associate and member of other affiliate programs, I earn from qualifying purchases.
Nutrition Information:
Yield:
18
Serving Size:
1/3 cup
Amount Per Serving:
Calories:

195
Total Fat:

9g
Saturated Fat:

2g
Trans Fat:

0g
Unsaturated Fat:

6g
Cholesterol:

0mg
Sodium:

81mg
Carbohydrates:

25g
Fiber:

3g
Sugar:

9g
Protein:

5g