I may earn from purchases through links in this post.
It took me years to get around to making granola bars (or energy bars or fruit and nut bars or whatever you'd like to call them). Until finally, I made these homemade Kind bars.
You see, I have this granola that I love and that I made regularly for years. But for reasons I can't quite pinpoint, I seem to have lost the ability to keep it around.
I still love it, and it is still my favorite breakfast cereal, but these days when I make it, it seems to disappear more quickly (ahem, Dan) and I don't seem to be able to get into the rhythm of making a new batch in a timely fashion.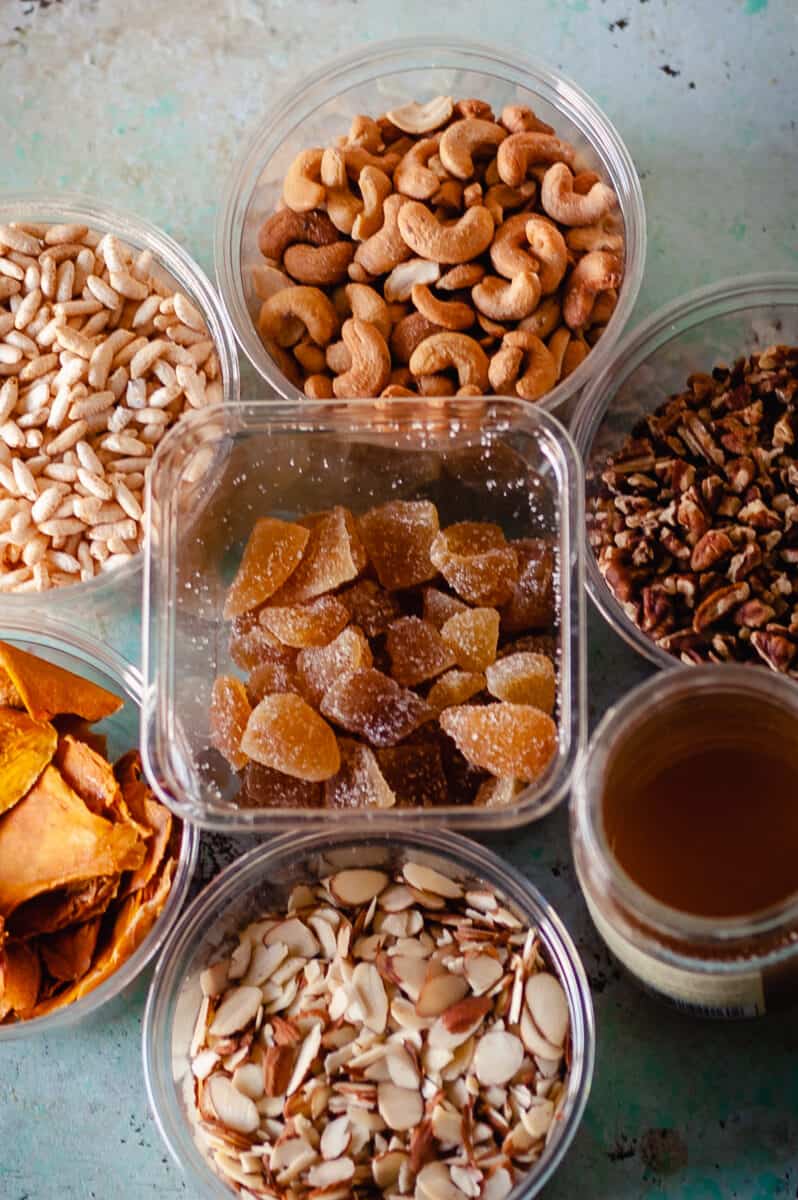 Also, so many granola bars are overly hard or, like the Kudos I pined after in my youth, are basically candy bars with a wholesome veneer.
But I'll admit I have a soft spot for Kind Bars–the chewy, nutty, sometimes fruity, sometimes chocolatey, not-too-sweet snacks.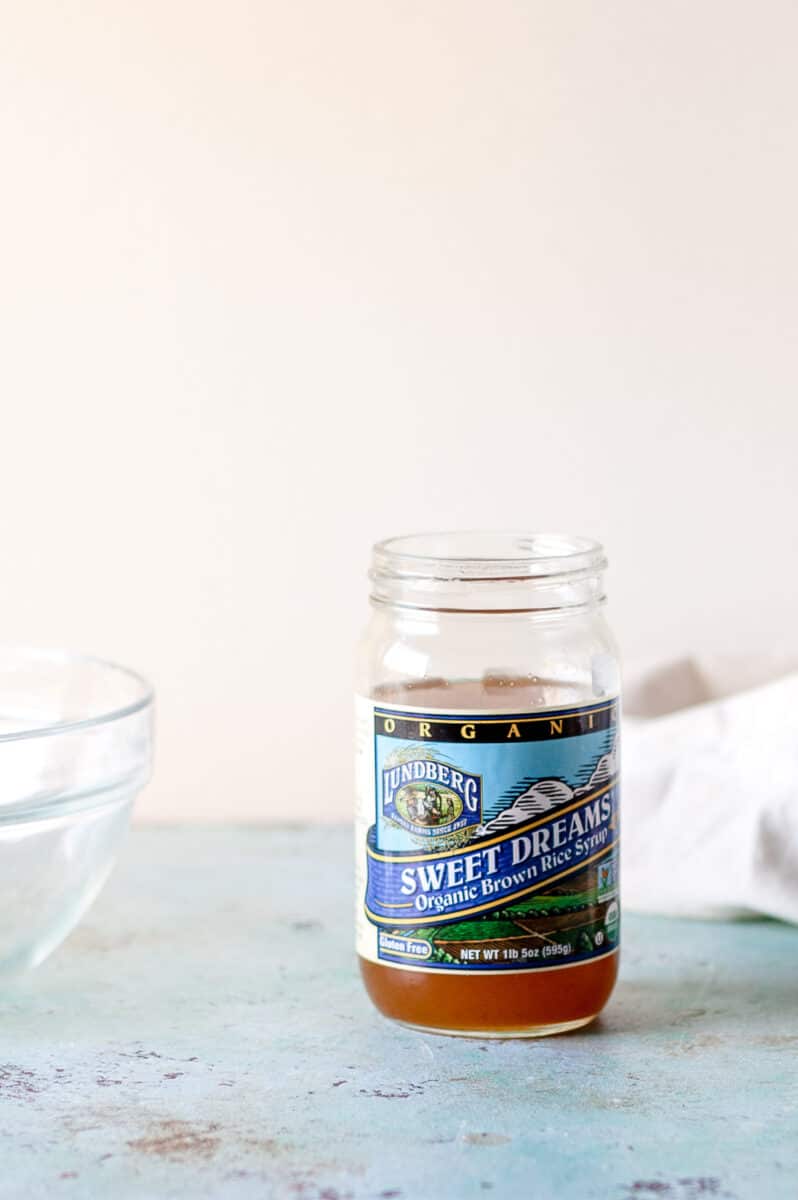 They're the type of thing I'll grab when I'm on the verge of hangry in the grocery store and want something that will get me some quick nourishment without leaving me feeling crashy.
What I didn't realize is that they're actually incredibly easy to make.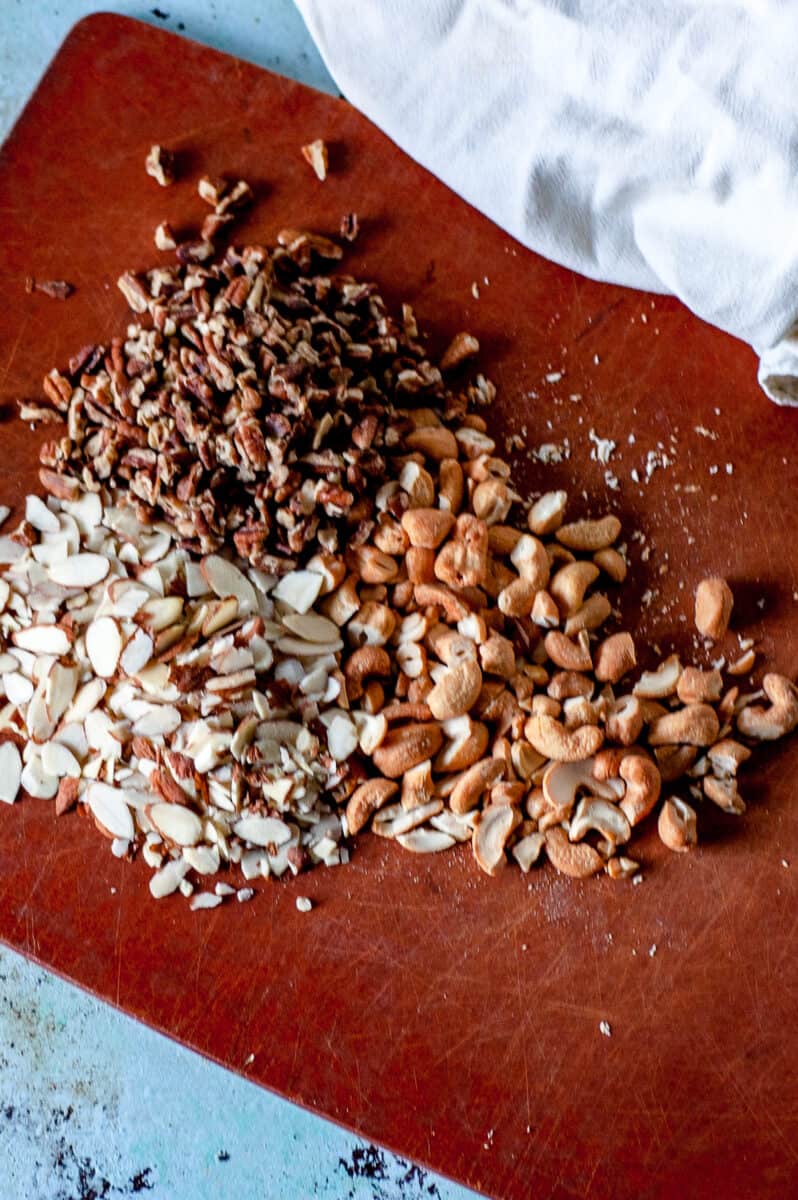 Mix some chopped nuts and puffed brown rice and dried fruit in a bowl, add some chopped crystallized ginger or unsweetened coconut flakes and maybe some some spices, pour some warmed brown rice syrup over the whole thing, pat it in a parchment-lined pan, bake, cool and cut.
That's it.
It's about 5 minutes of works and 20 minutes of baking and you're set with convenient snacks for the rest of the week.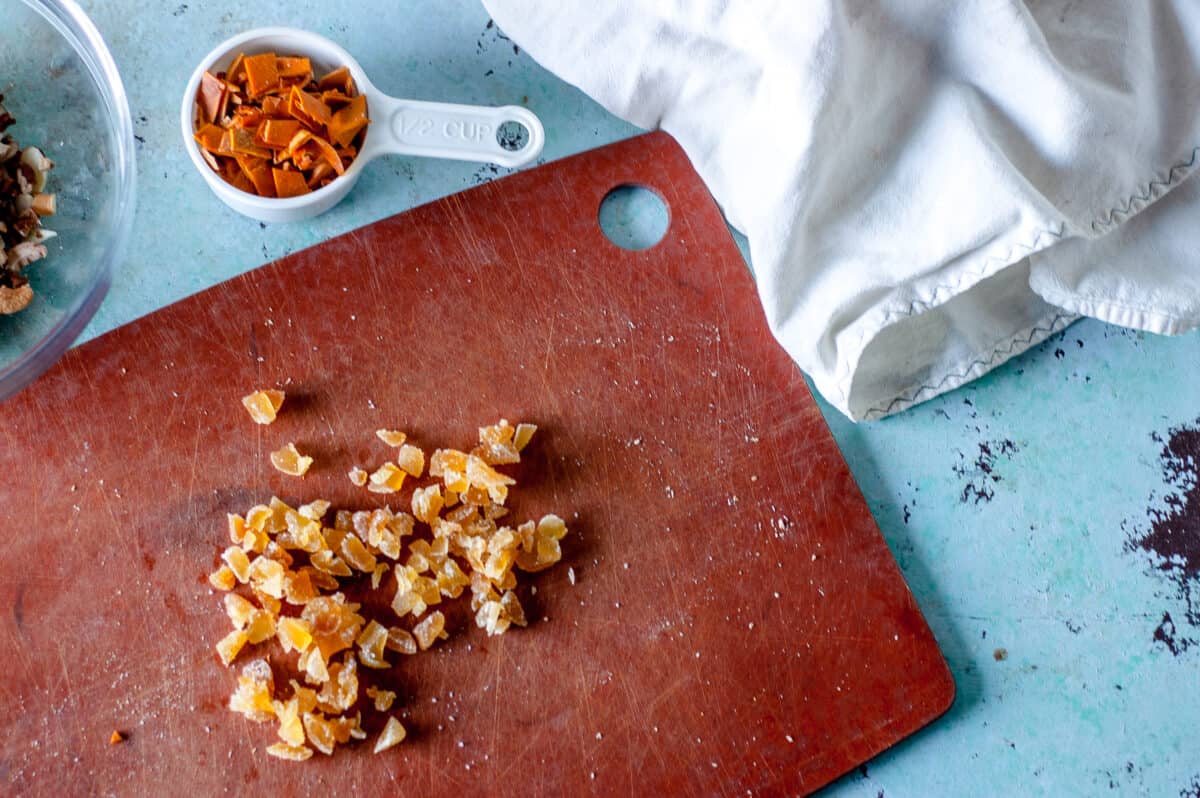 And you can make any flavor you want. I'm partial to a mix of almonds, pecans, and cashews with chewy nubs of crystallized ginger added in.
I've been experimenting with different kinds of dried fruit, and I'm playing around with a chocolate version too.
These are gluten free, vegan, and highly adaptable to your particular tastes. They're a snack I've been thrilled to have around.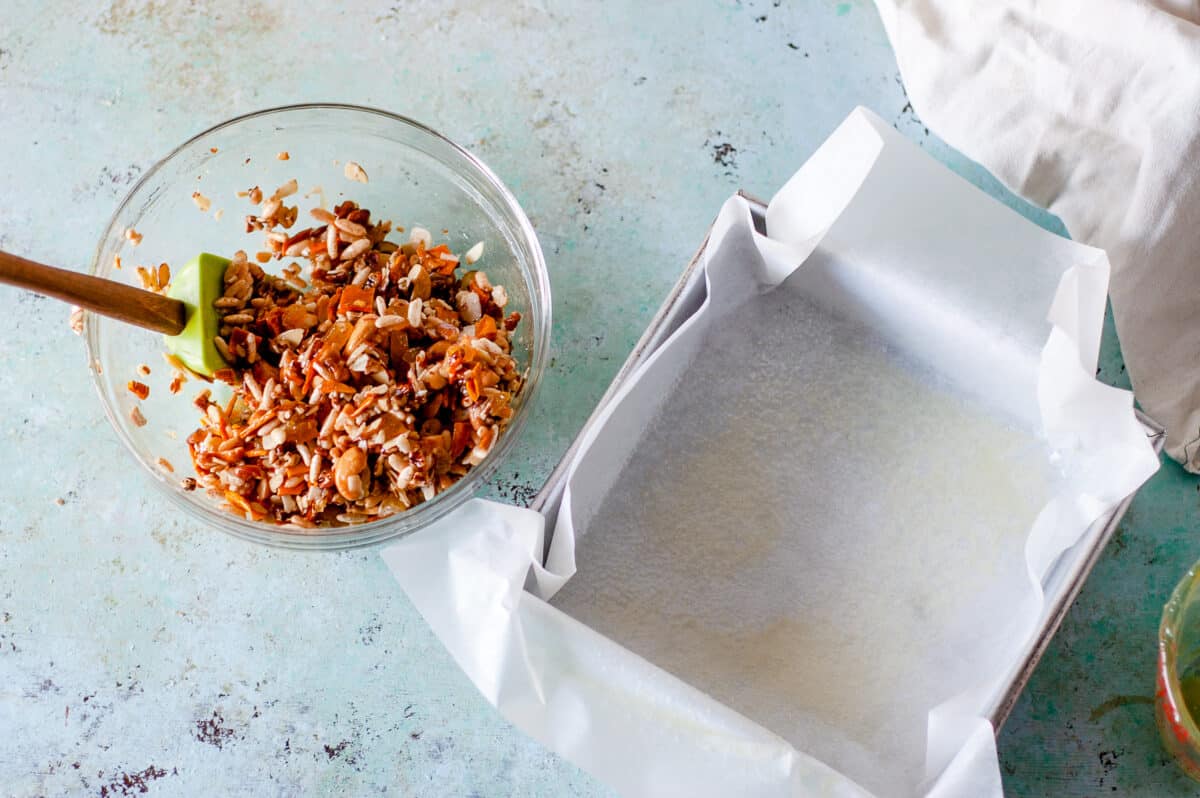 I'm sending a batch of them to some dear friends who are about to welcome a brand new person (!) into the world.
I hope that the one-handed sustenance will help to sustain them through these sleep-deprived days and nights.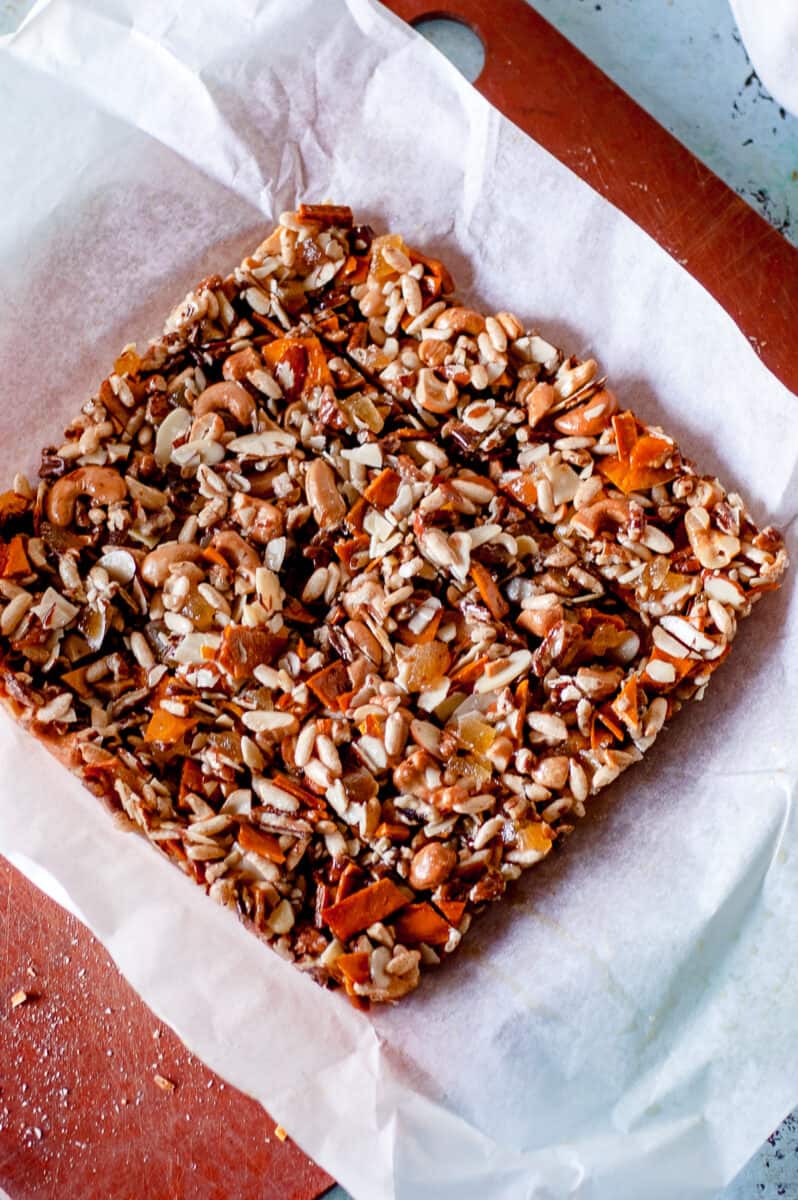 But regardless of what is keeping you busy these days, you'll be glad to have these around.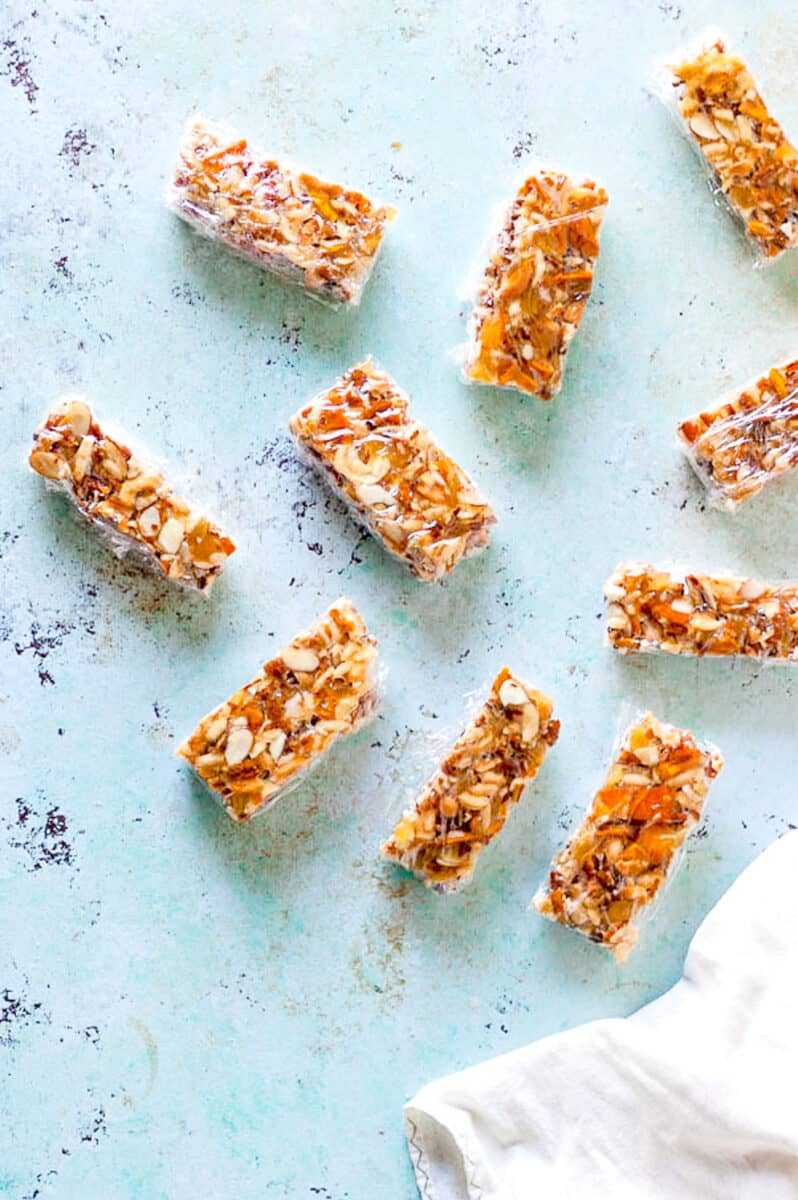 Yield: 10 bars
Homemade Kind Bars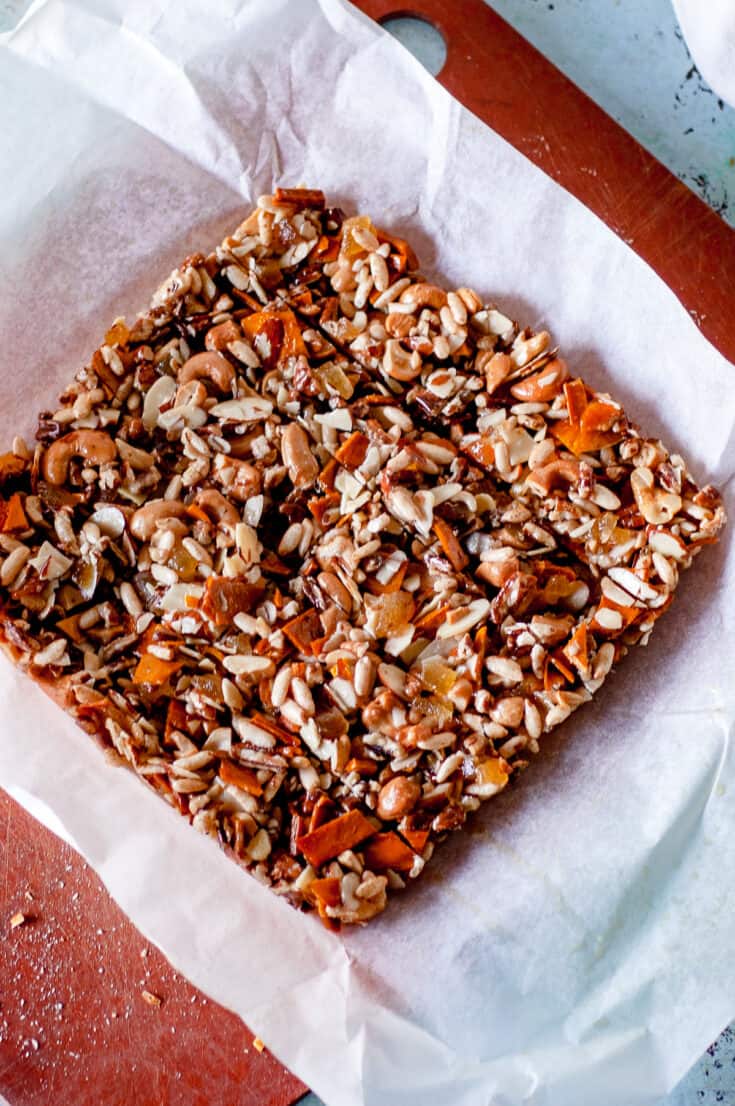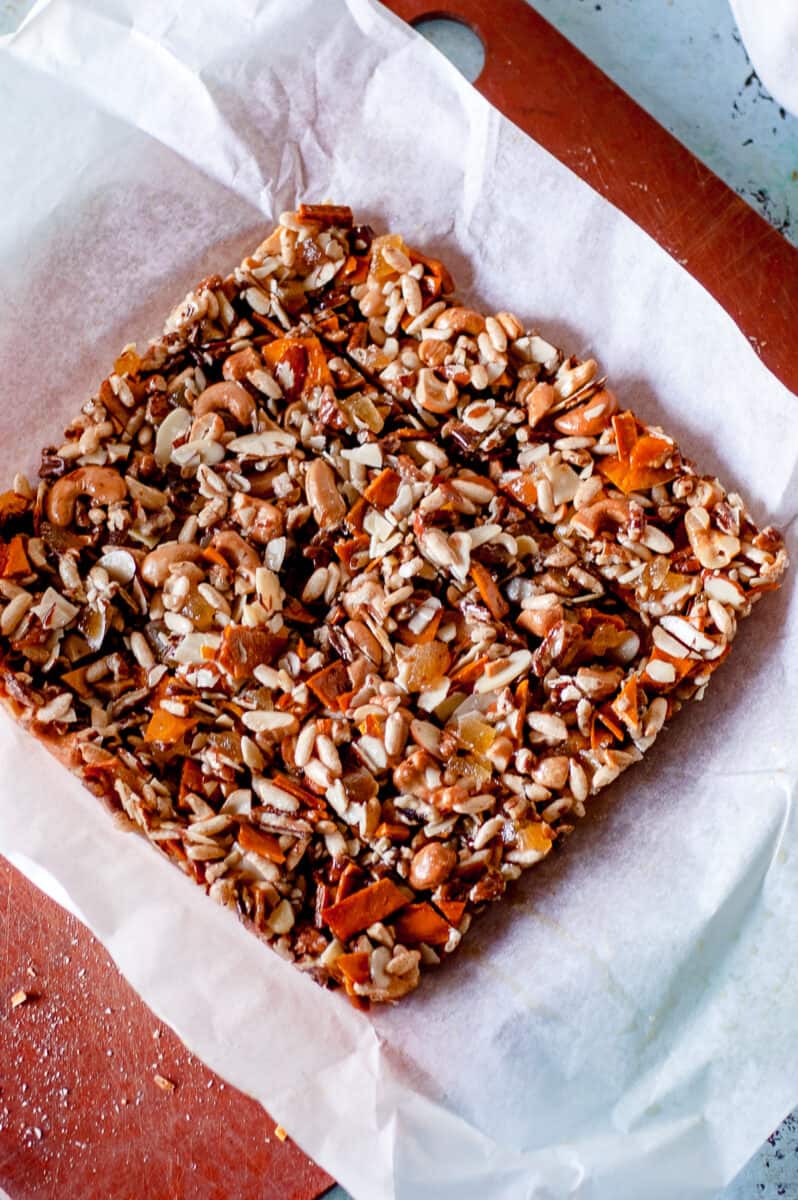 These chewy, nutty bars take about five minutes to put together and 20 minutes to bake. They are easily adaptable–you can use any dried fruits or nuts or seeds you like. You can use any puffed grain cereal from rice to millet to amaranth (even Rice Krispies will work). You can also add spices like cinnamon, unsweetened shredded coconut, or even chocolate. Be advised, however, that not all sweeteners will work here. I use brown rice syrup, which is available at many natural food stores (and online). If brown rice syrup is not available where you are, you can also use corn syrup or glucose syrup. Don't try to substitute agave nectar or maple syrup or honey here–they won't work. These are vegan and gluten free, but because of the variability of these products, if you have dietary restrictions or gluten sensitivities it's important to read the labels since some of these items may be processed on equipment that's used for wheat products.
Ingredients
1 1/2 cups assorted chopped nuts and/or seeds, (I usually use equal parts almonds, pecans, and cashews)
1/2 cup dried fruit, chopped (I like dried cranberries, strawberries, mango, apricots)
1/3 cup puffed brown rice cereal, or puffed millet or amaranth
2 tablespoons chopped crystallized ginger or unsweetened coconut flakes, optional
1/3 cup brown rice syrup, or glucose syrup
pinch of salt
Instructions
Preheat oven to 325°F. Line an 8 x 8 inch square baking pan with parchment paper and spray with nonstick spray or lightly coat with oil.
Add the nuts, fruit, cereal, and ginger or coconut (if using) into a medium bowl and mix until combined. Heat the brown rice syrup in the microwave for about 15 seconds or until easily pourable. (Optional, but makes the mixing easier). Pour over the nut and fruit mixture and stir until everything is coated with syrup.
Transfer the mixture to the parchment-lined baking pan and press into an even layer with a silicone spatula. Be sure to get into the corners and along the edges for more even bars.
Bake for about 20 minutes, or until the edges are looking a little golden but the center still has some give.
Let cool for 20 minutes, remove from the bars and parchment from the pan and place on a cutting board. With a sharp knife, slice into 10 bars. Wrap individually in plastic wrap. Store at room temperature for up to a week or freeze for up to a month.
Recommended Products
As an Amazon Associate and member of other affiliate programs, I earn from qualifying purchases.
Nutrition Information:
Yield:
10
Serving Size:
1
Amount Per Serving:
Calories:

215
Total Fat:

10g
Saturated Fat:

2g
Trans Fat:

0g
Unsaturated Fat:

8g
Cholesterol:

0mg
Sodium:

89mg
Carbohydrates:

42g
Fiber:

4g
Sugar:

23g
Protein:

6g