I may earn from purchases through links in this post.
We've had a bit of a cold snap around these parts. A little autumnal chill that hints at the jacket weather to come. The kind of weather that begs for closing up windows and putting on warm socks.
Of course, yesterday it was too warm for long sleeves, and even though there was apple pie and roasted squash, it was clear that fall has only been teasing us and has yet to be reliably here.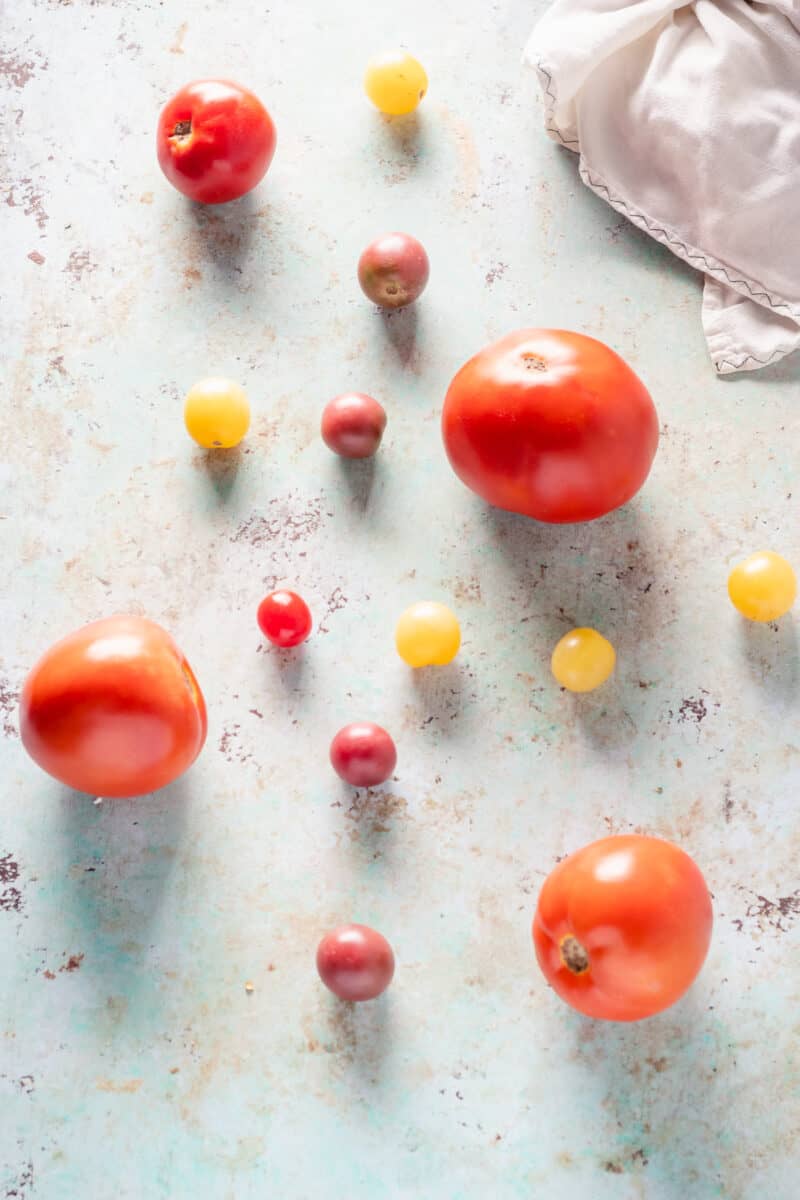 In the midst of this fitful seasonal hot and cold, there are still odds and ends of summer to use up.
And this is something you need to know how to make if you have a few odd tomatoes lying around waiting to be put to good use.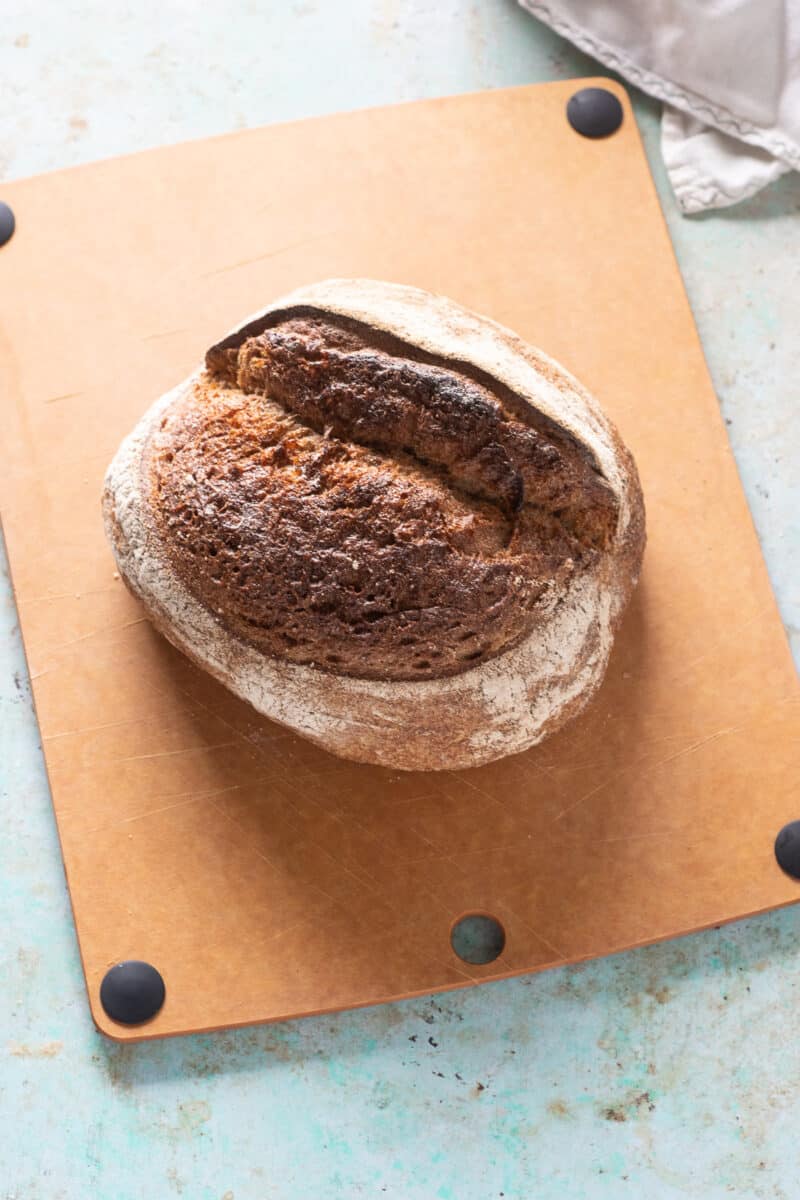 It's so easy it's hardly even a recipe.
It was invented by those thrifty Tuscans who were always looking for ways to use up old bread (their saltless pane Toscano seems to have left them with an overabundant supply of the stuff).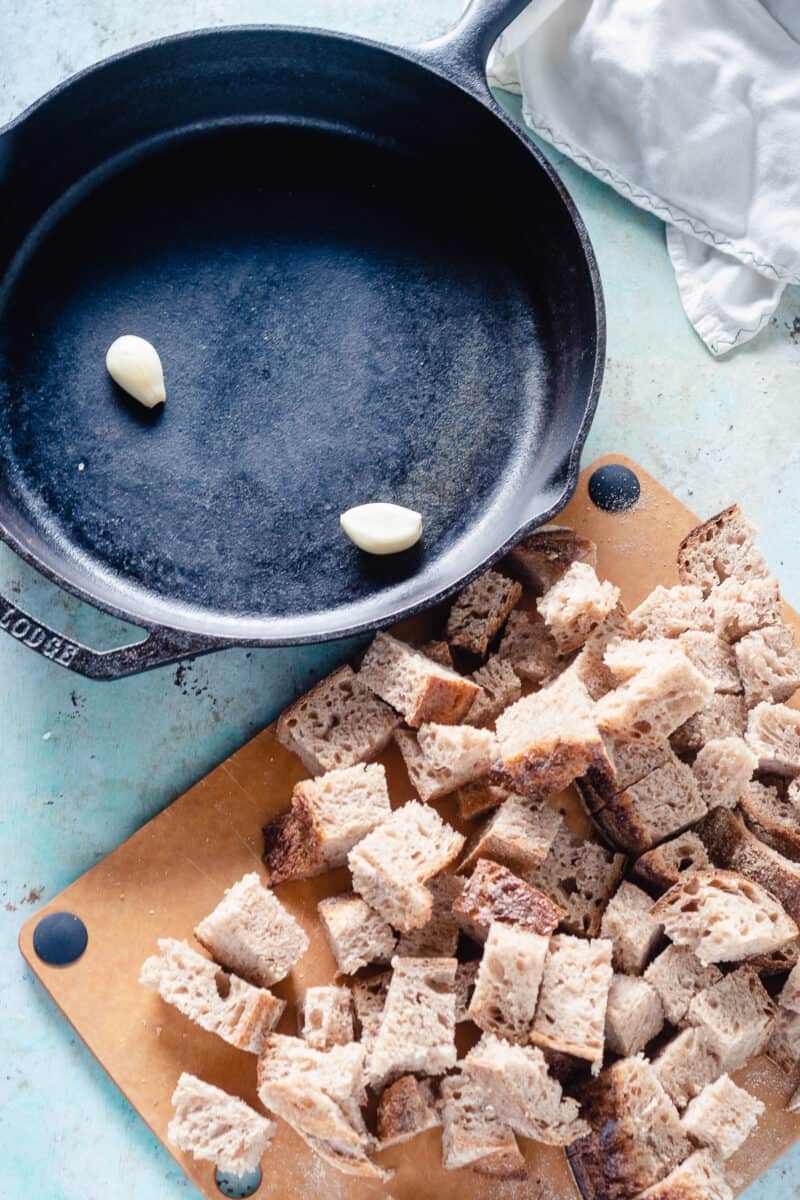 Panzanella is the sort of dish everyone should have in their back pockets, ready to pull out and assemble in hungry moments.
It sounds too simple to be so incredibly delicious. But it isn't. Really.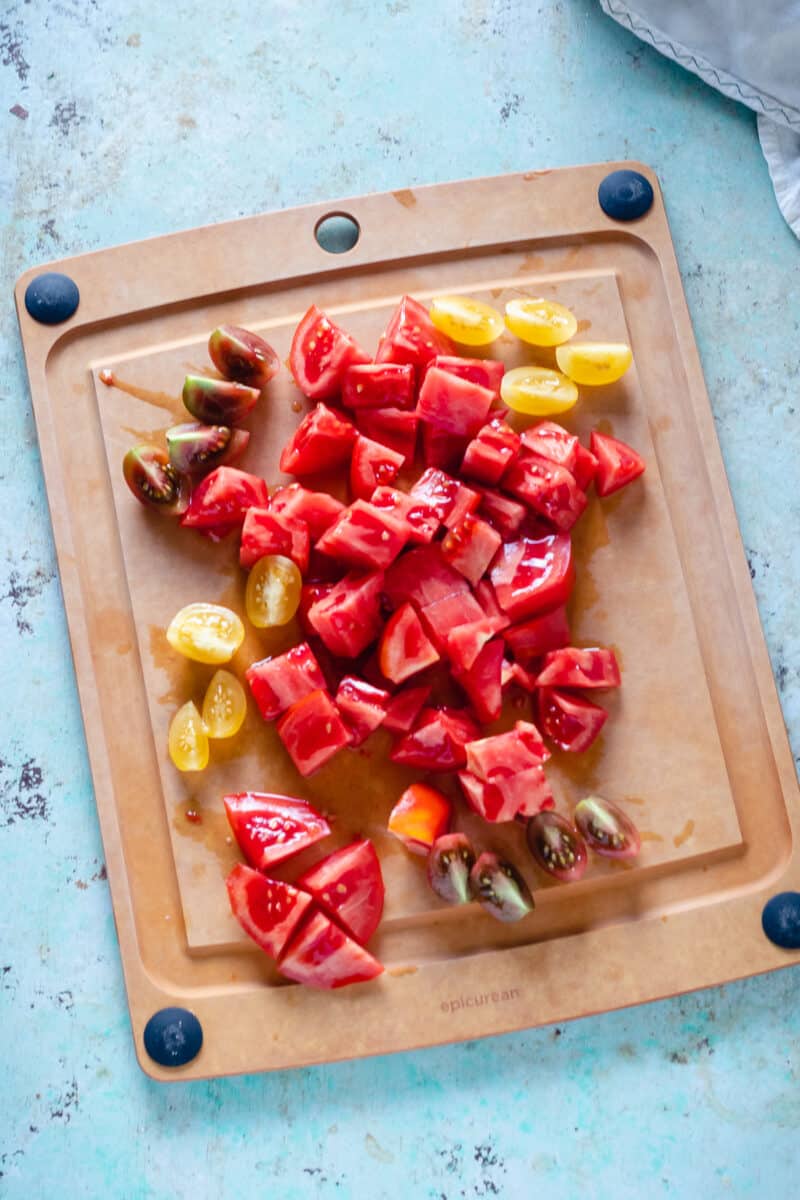 It's another take on the familiar combination of tomatoes and starch so popular in spaghetti and pizza and bruschetta, and it can hold its own against any of them. (See also, corn and tomato farro salad.)
When I made it for the first time about a year ago, I couldn't believe I hadn't been eating it forever.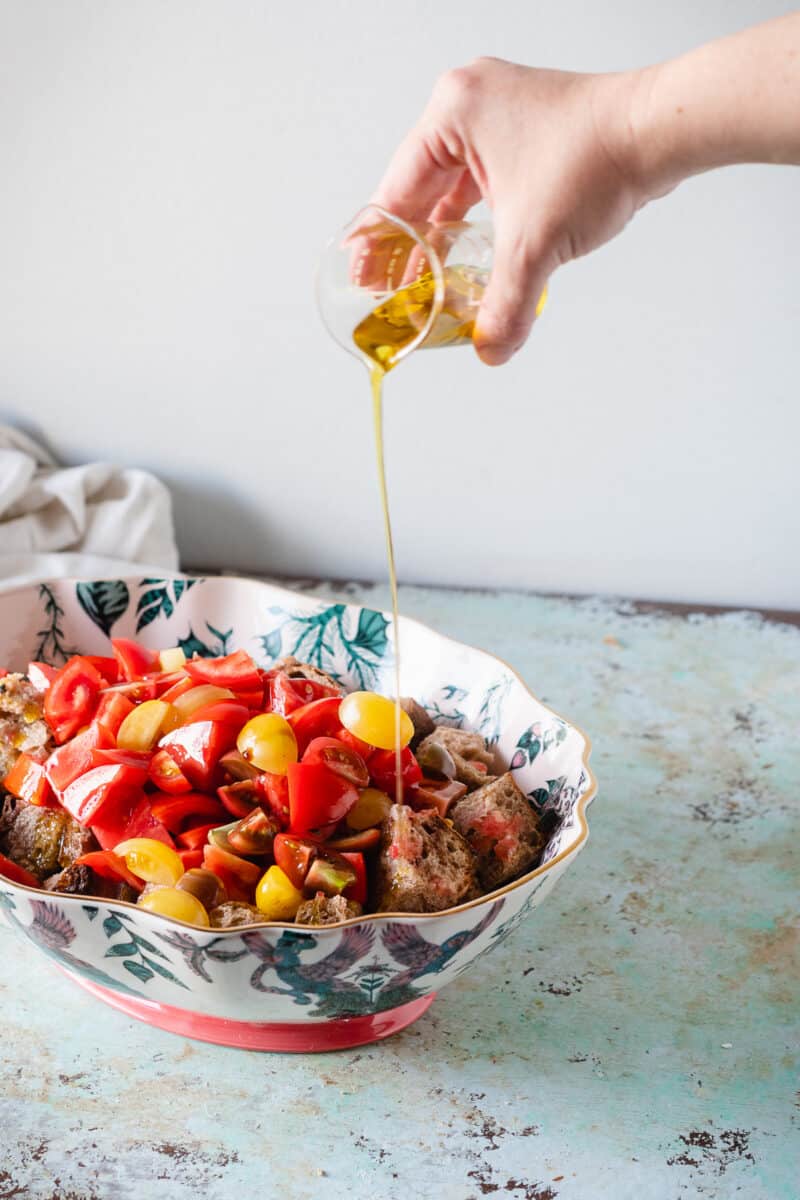 Just crusty bread, tomatoes, olive oil, balsamic vinegar, and basil. And some good salt and a few cracks of black pepper.
And you have a dinner to devour.
Really.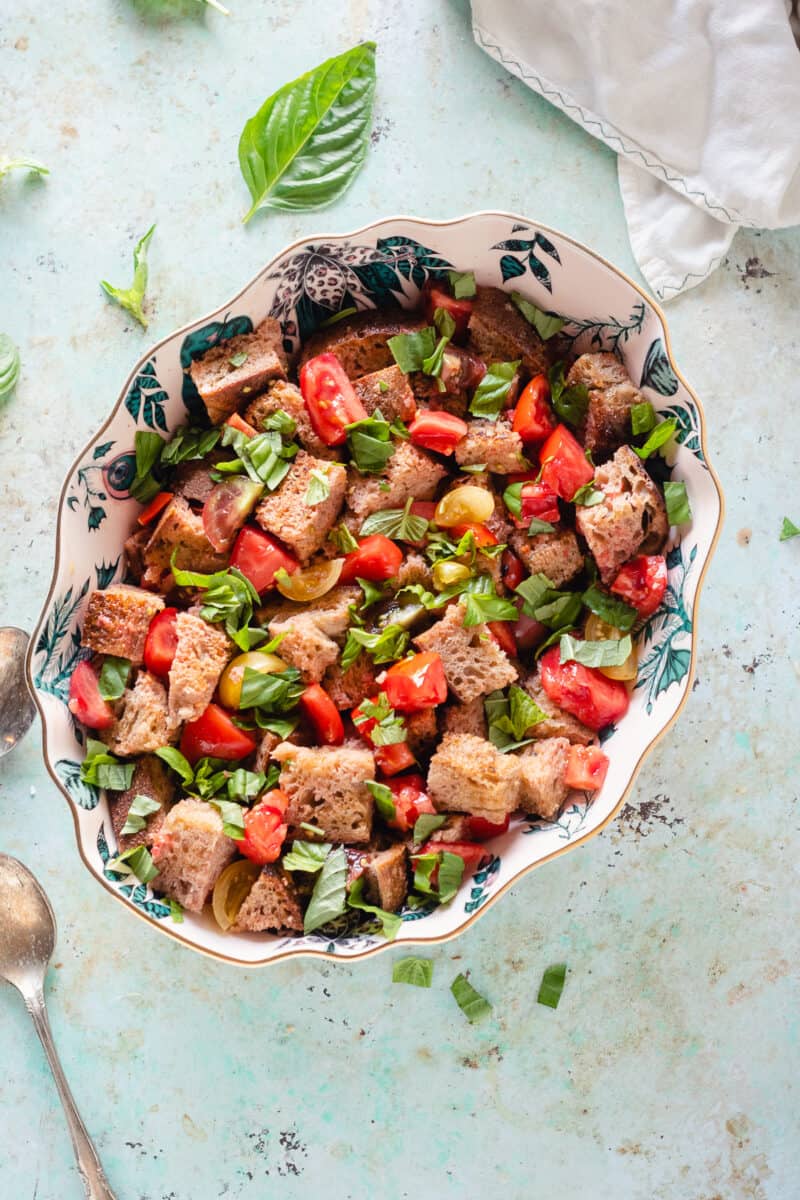 Yield: 1 serving
Panzanella, or Tuscan Tomato Bread Salad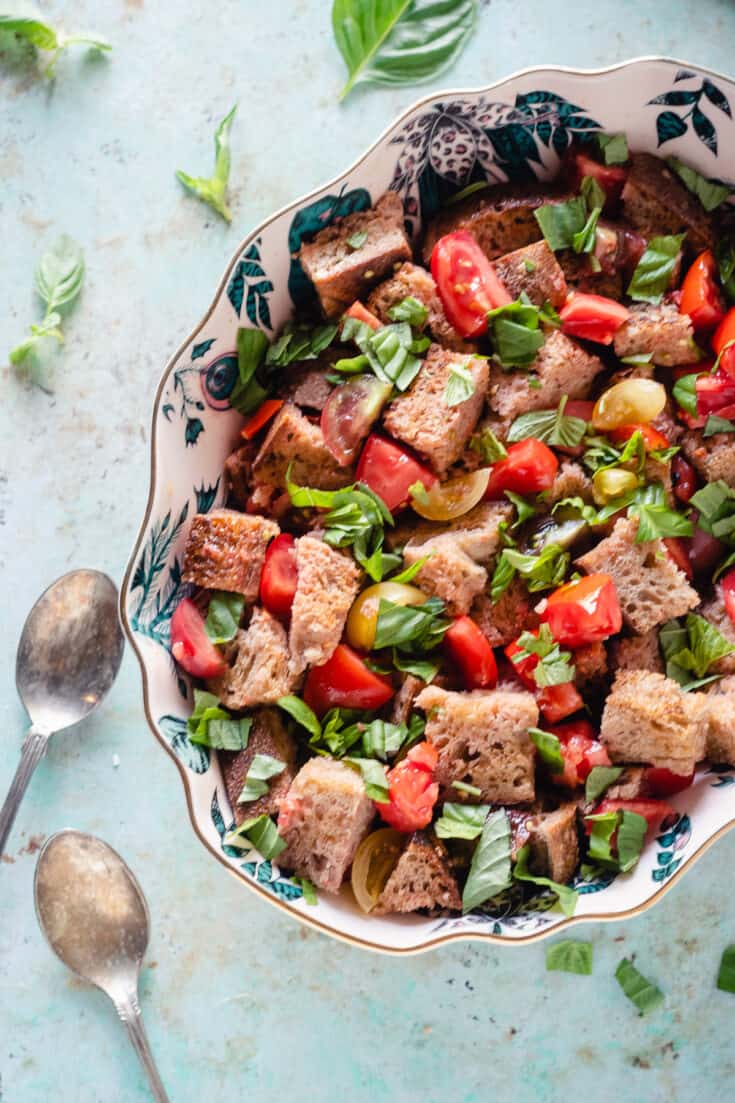 This is a dish with so many variations.
Some versions add slices of cucumbers or onions or olives, some use balsamic or sherry vinegar instead of the red wine vinegar I use here.
The traditional method seems to be to soak pieces of day-old bread in water, but I prefer the depth of flavor and complex texture that toasted bread brings to the dish, especially since I usually make this with fresh bread that needs to be a little dried out to soak up the oil and vinegar and tomato juices.
If I'm feeling decadent, I sometimes add some fresh mozzarella. Feel free to experiment, but do use a good artisan loaf of bread and the best tomatoes you can find. I've given rough amounts here for one person for a main dish, multiply as you see fit.
Additional Time
15 minutes
Ingredients
1 medium tomato, sliced into bite-sized pieces
2-3 slices thick of crusty bread, cut into rough 1-2 inch cubes
1 clove garlic, peeled and smashed with the flat side of a knife
1 teaspoon red wine vinegar
3 teaspoons good quality extra virgin olive oil, plus an optional smidge of any old olive oil
leaves a few big of fresh basil
kosher or sea salt
freshly cracked black pepper
Instructions
In a heavy-bottomed skillet over medium heat add a smidgen of olive oil (optional) and add the garlic clove and the bread cubes and toast until the bread gets golden on a few sides. Stir and toss the bread cubes and garlic occasionally and watch to be careful that they don't burn. This should only take a few minutes.
Add the bread and garlic to a medium bowl.
Add the tomatoes and the olive oil and red wine vinegar.
Tear up the basil and add it to the bowl.
Add a pinch of salt and a few good cracks of black pepper.
Give everything a stir and let it sit for about 10-15 minutes. Give it a stir again. (You can pull out the garlic clove if you like. Its flavor should have rubbed off on everything.) And eat–either straight from the bowl or on a plate if you can wait that long.
Recommended Products
As an Amazon Associate and member of other affiliate programs, I earn from qualifying purchases.
Nutrition Information:
Yield:
1
Serving Size:
1
Amount Per Serving:
Calories:

358
Total Fat:

28g
Saturated Fat:

4g
Trans Fat:

0g
Unsaturated Fat:

23g
Cholesterol:

0mg
Sodium:

742mg
Carbohydrates:

24g
Fiber:

3g
Sugar:

6g
Protein:

4g
Originally published October 1, 2007