I may earn from purchases through links in this post.
There's little I like more than discovering a new dish that folds seamlessly into my life, like it's always been there.
That's how I feel about this sweet corn and blueberry spoon cake.
It's the sort of dish that my grandmother would have made, except as far as I know she didn't. But lots of other people's grandmothers made it, and—lucky for us—passed it down.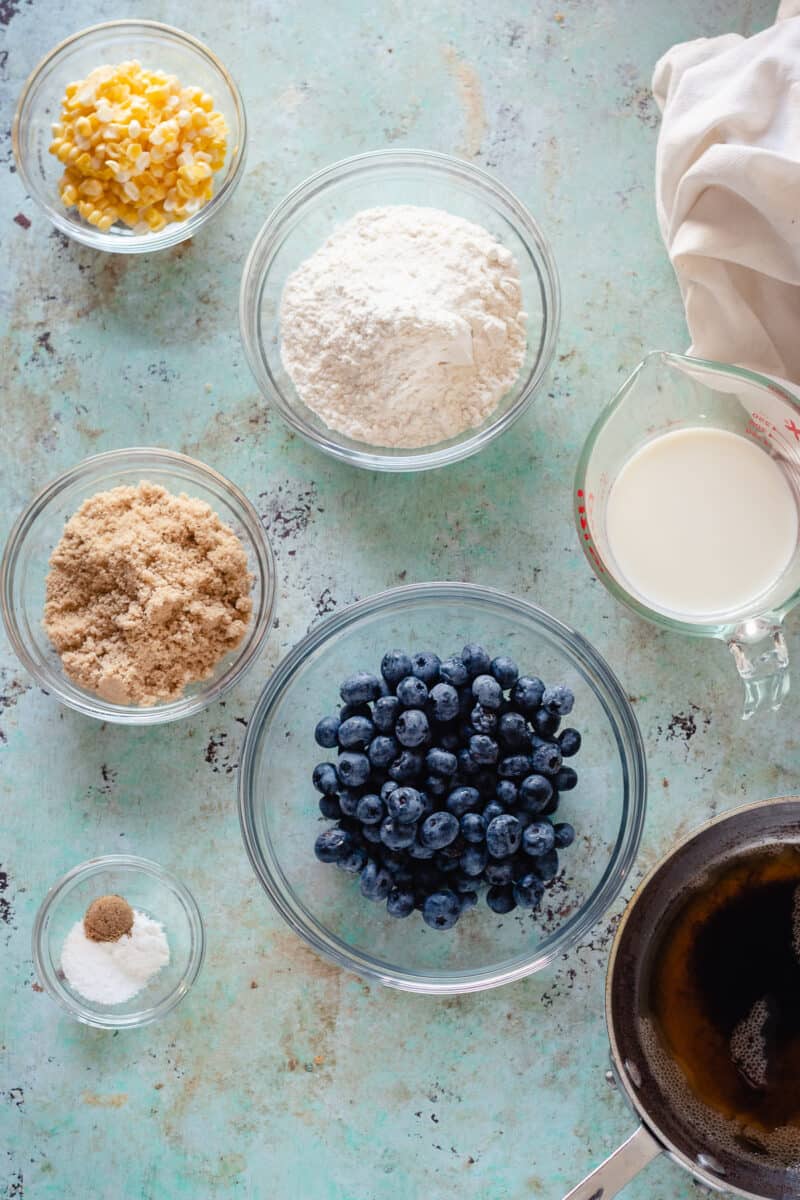 Spoon cake is a rustic fruit dessert that I associate with the likes of buckles, crisps, crumbles, and cobblers.
It's a soft, barely set cake that steams under a layer of soft fruit as it bakes, which makes it a slumped and, as its name implies, spoonable dessert. It isn't a cake for slicing but rather for heaping into a bowl along with some ice cream.
And I can't get enough of it.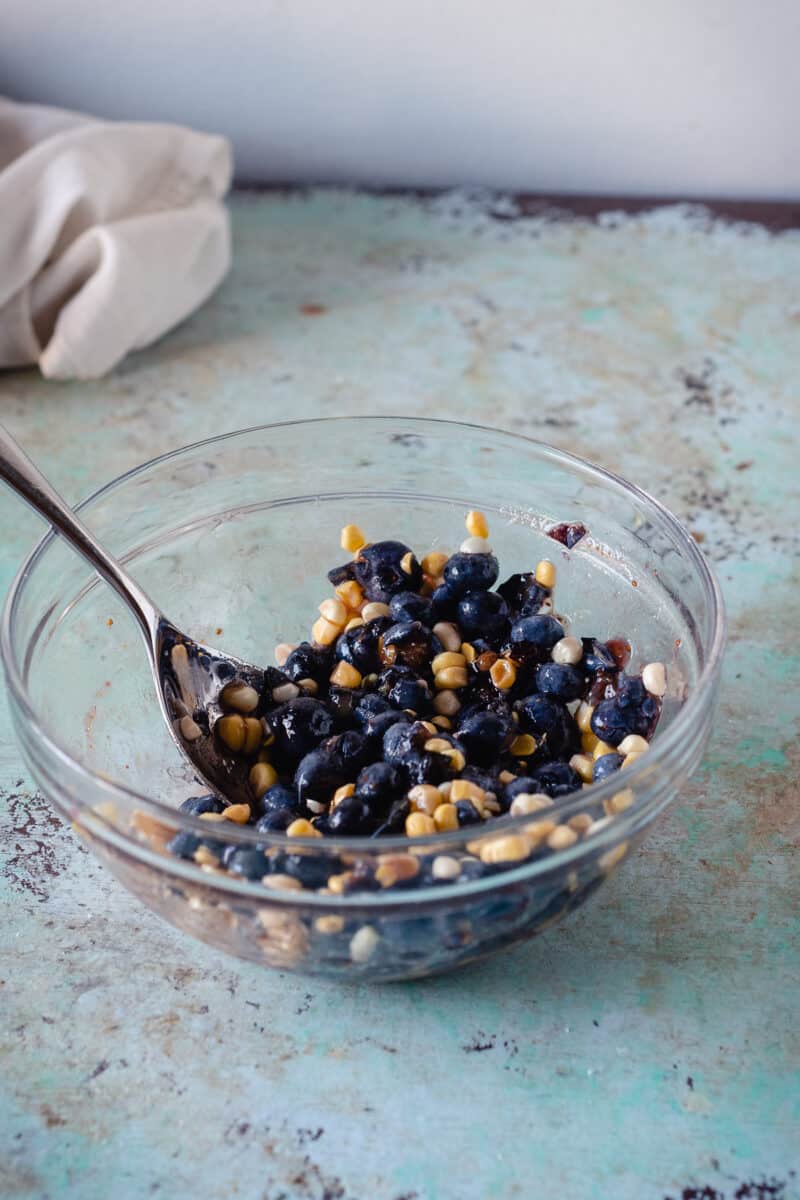 This spoon cake is adapted from Jerelle Guy's strawberry spoon cake, which ran in the New York Times a few months ago.
I couldn't resist tinkering with it.
I browned the butter and added vanilla and a pinch of ground coriander to the batter.
And I swapped in blueberries for the strawberries along with some tender kernels of fresh sweet corn.
Sweet corn in a dessert might seem a little out of the ordinary, but its sweetness makes it welcome here.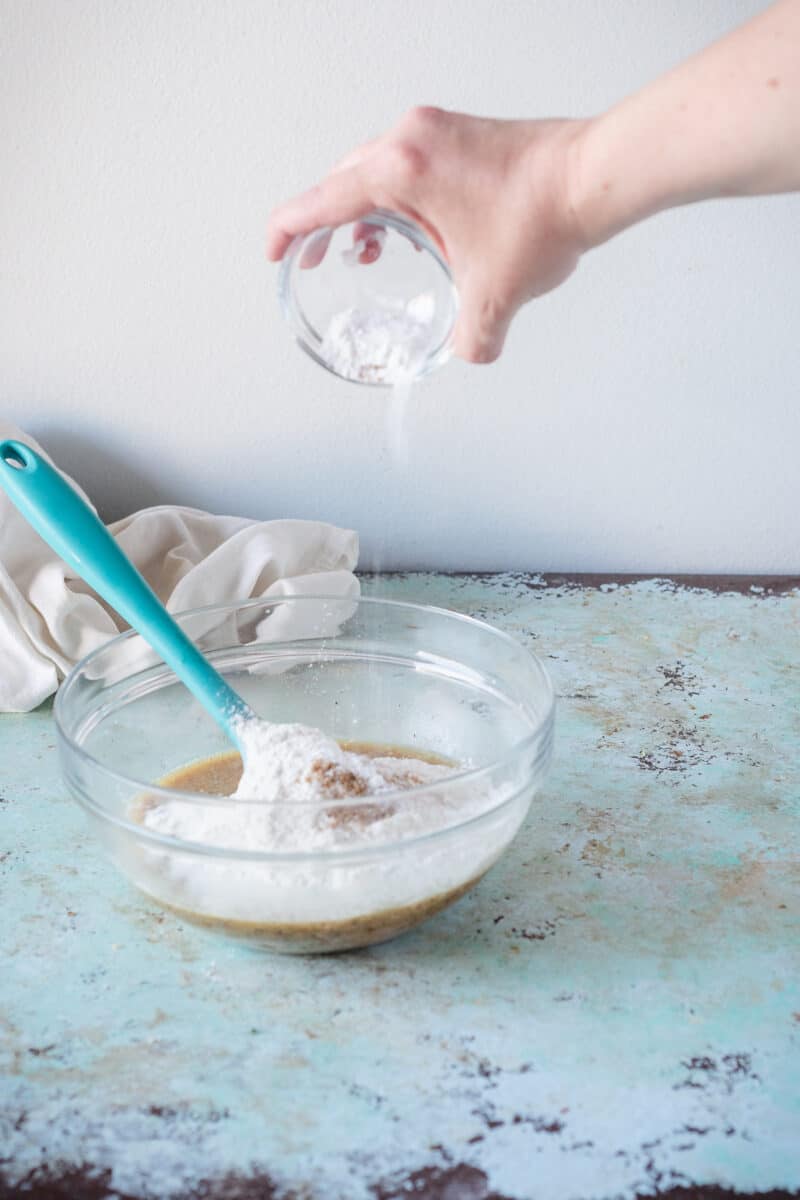 There's a saying among farmers and chefs who cook seasonally: "if it grows together, it goes together," meaning that fruits and vegetables that ripen around the same time tend to have a natural affinity for each other.
With blueberries and sweet corn both at their peak in the season right now, I couldn't resist pairing them here.
They get gently mashed to release their juices and stirred with a bit of brown sugar to help turn them jammy.
The sweet corn adds some lovely textural contrast to the soft baked blueberries. But if you don't have sweet corn to spare or think it sounds too weird, feel free to make it a simple blueberry spoon cake.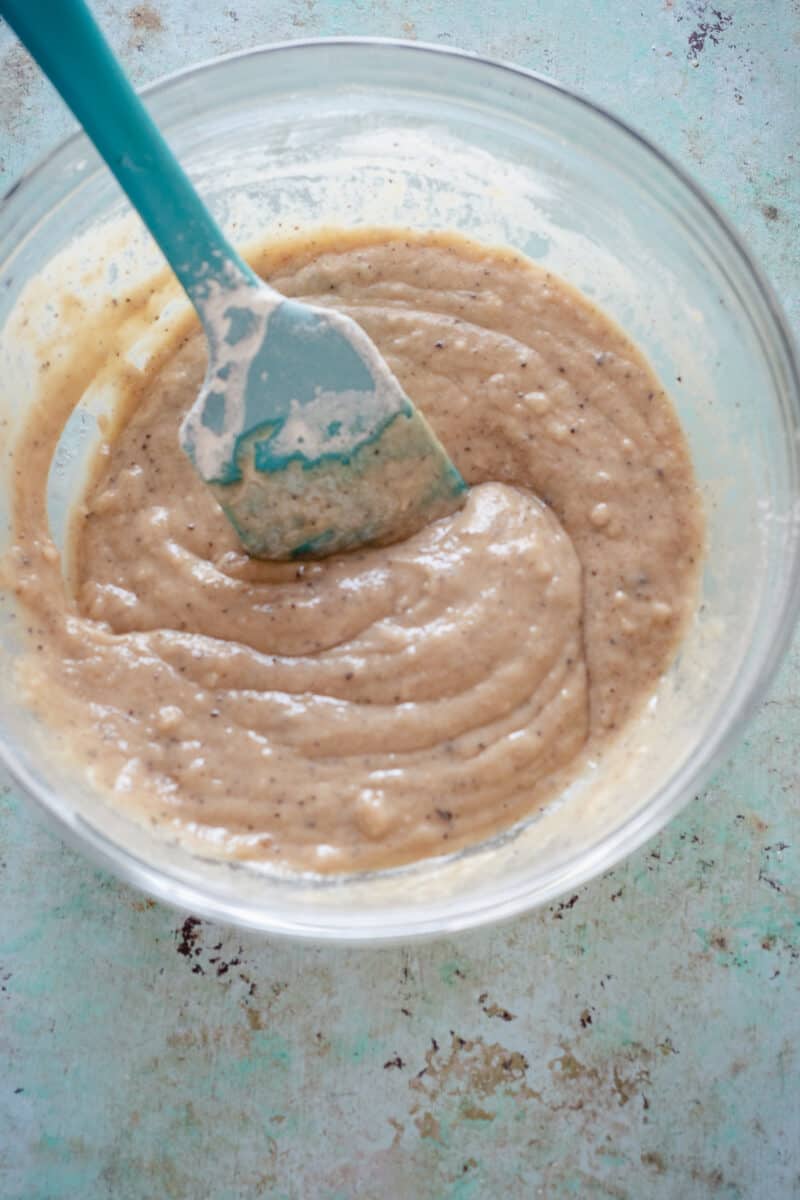 The batter is about as easy as they come.
After you brown the butter, it's just a matter of dumping all of the ingredients into a bowl and stirring.
Then the batter gets spread into a baking dish that's been rubbed with butter.
And the dish you use here is whatever's in your kitchen that's somewhere in the vicinity of 8 inches in diameter. This spoon cake will work in a round or square baking dish, metal or ceramic or glass. If what you have is a 9-inch pie plate, that'll be fine, just expect it to bake a little quicker.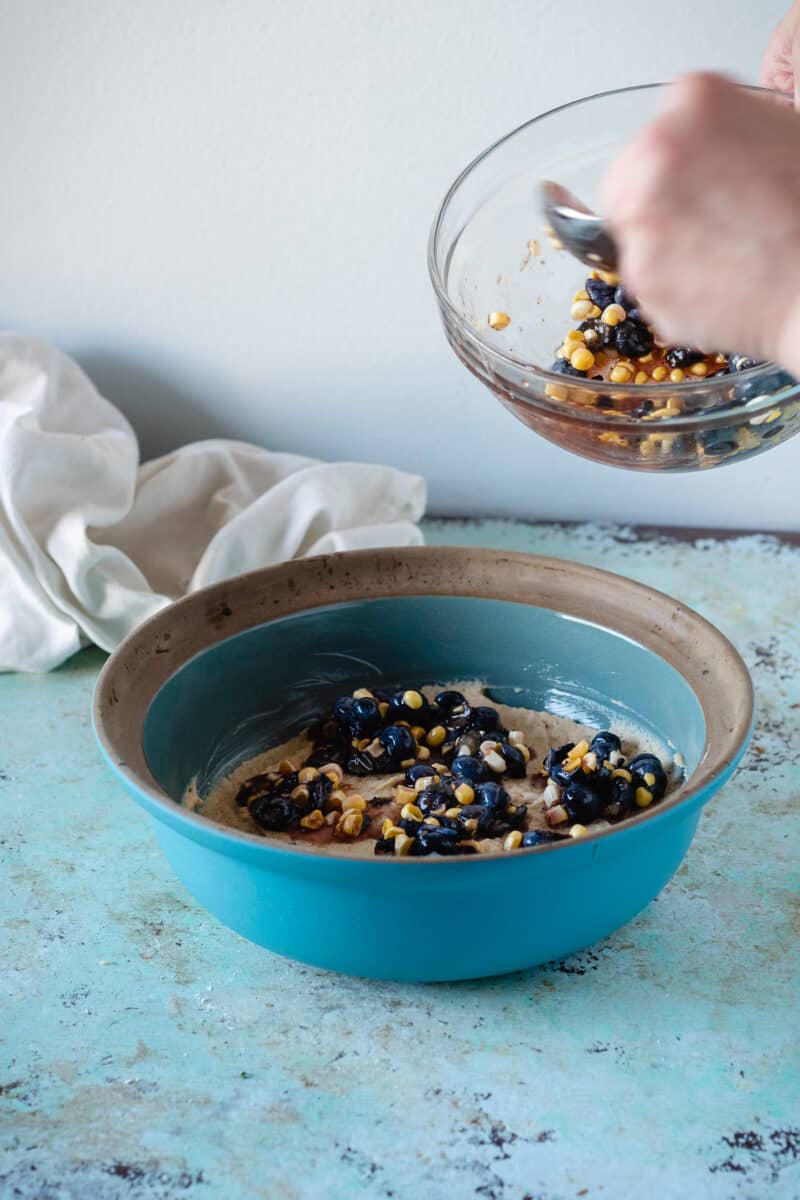 Then the fruit topping gets spooned over the batter and the whole thing goes into the oven.
The cake part basically steams under the juices from the fruit. At the edges it feels lighter and in the center it will seem so soft that it's almost like pudding.
The blueberries slump and burble and turn incredibly soft and jammy, while the sweet corn kernels add pops of color and a pleasing bit of chewiness.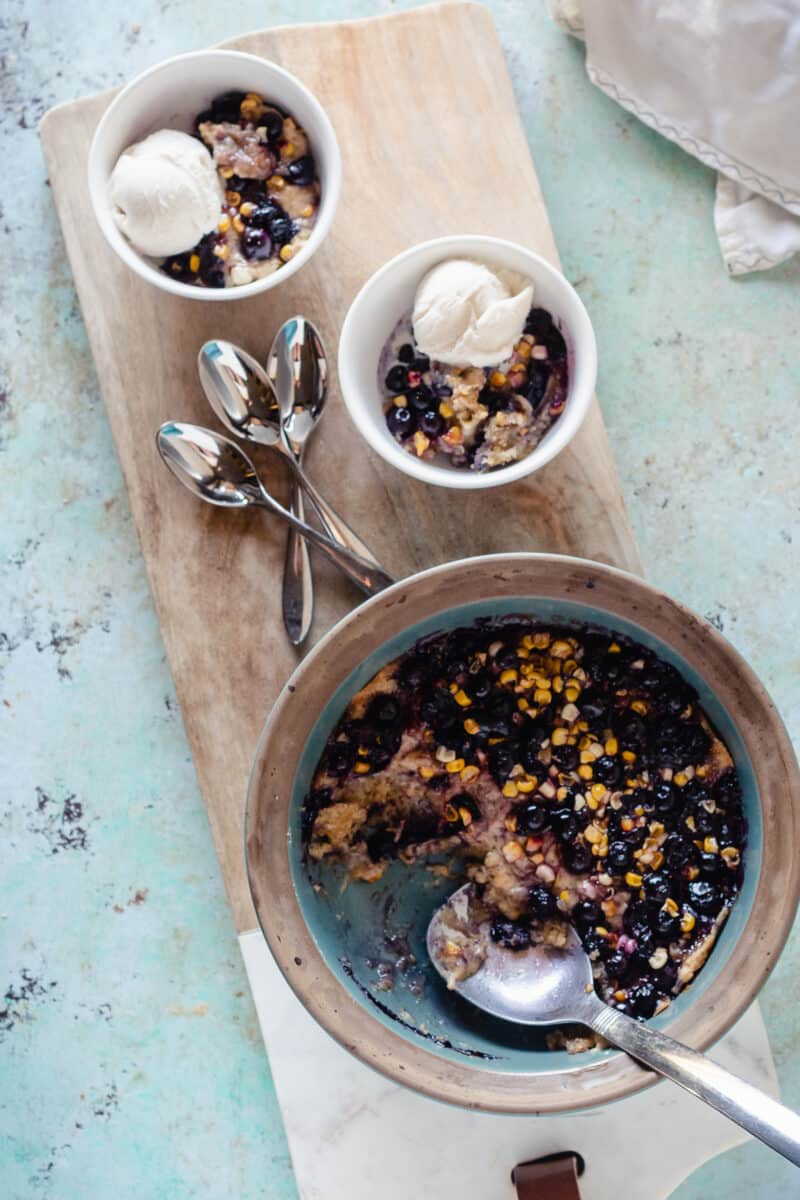 It's a dessert that's best heaped into bowls and served while it's still warm, nestled alongside a scoop of vanilla ice cream.
You'll be making this one again and again.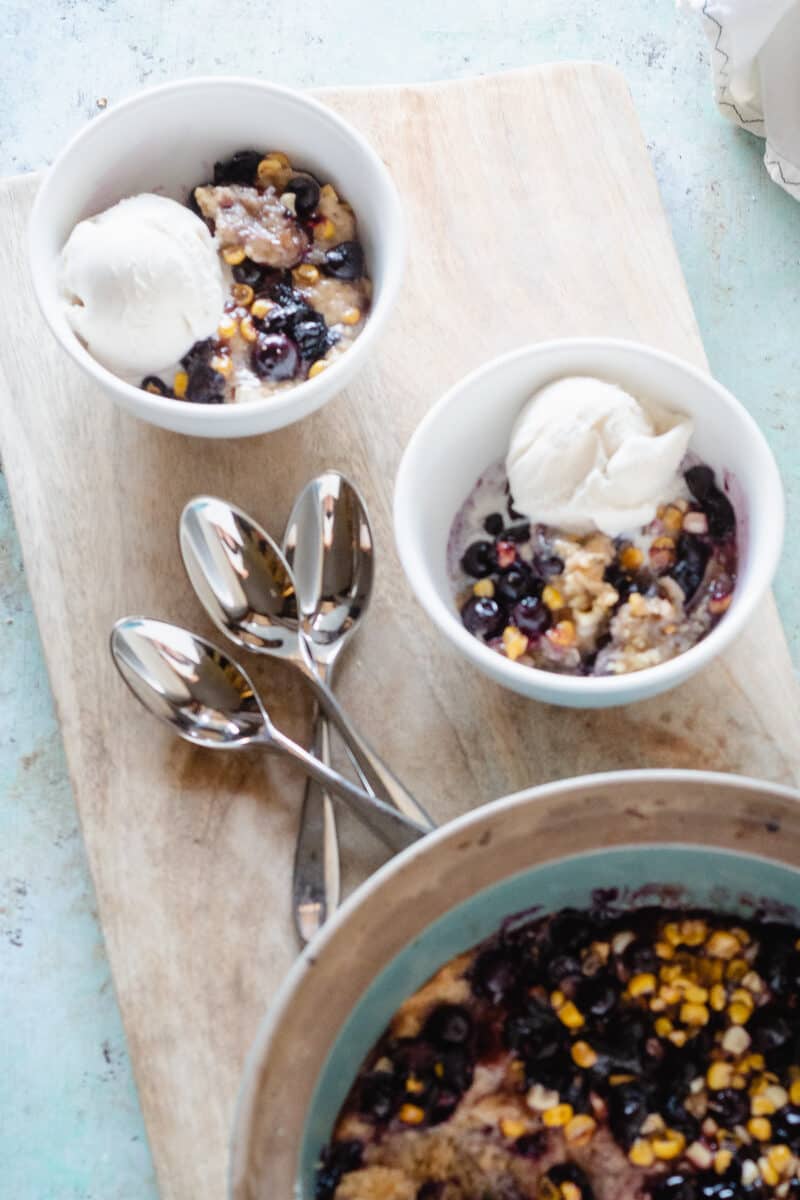 Yield: 6 servings
Sweet Corn & Blueberry Spoon Cake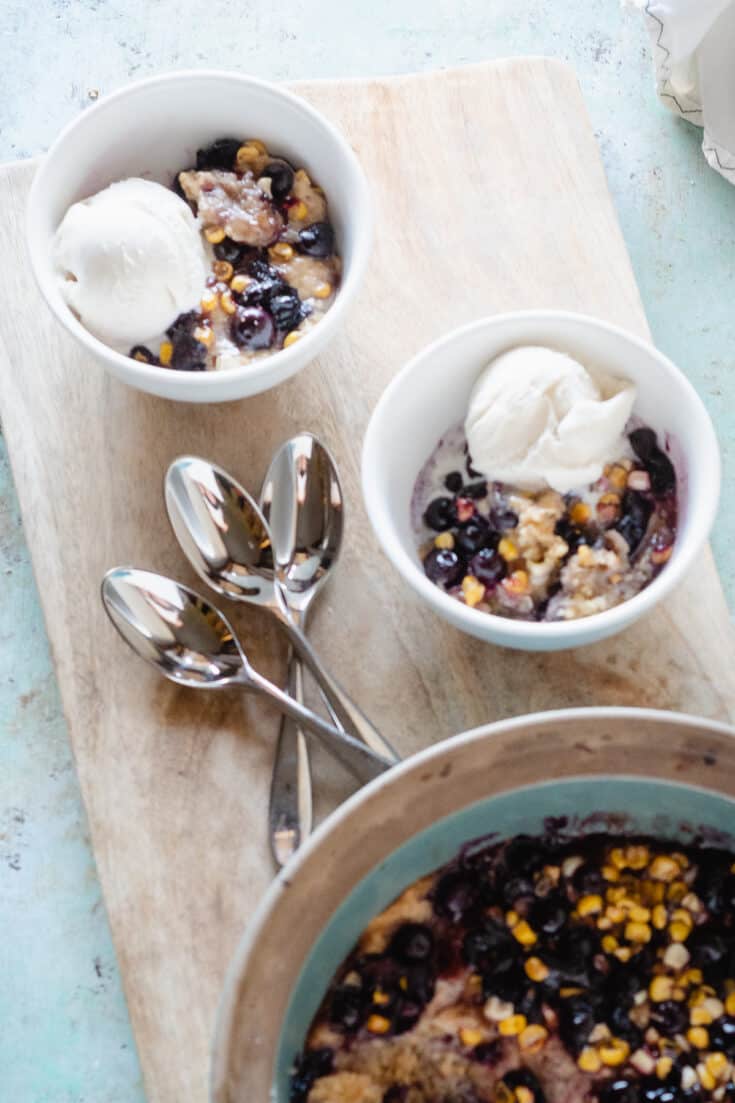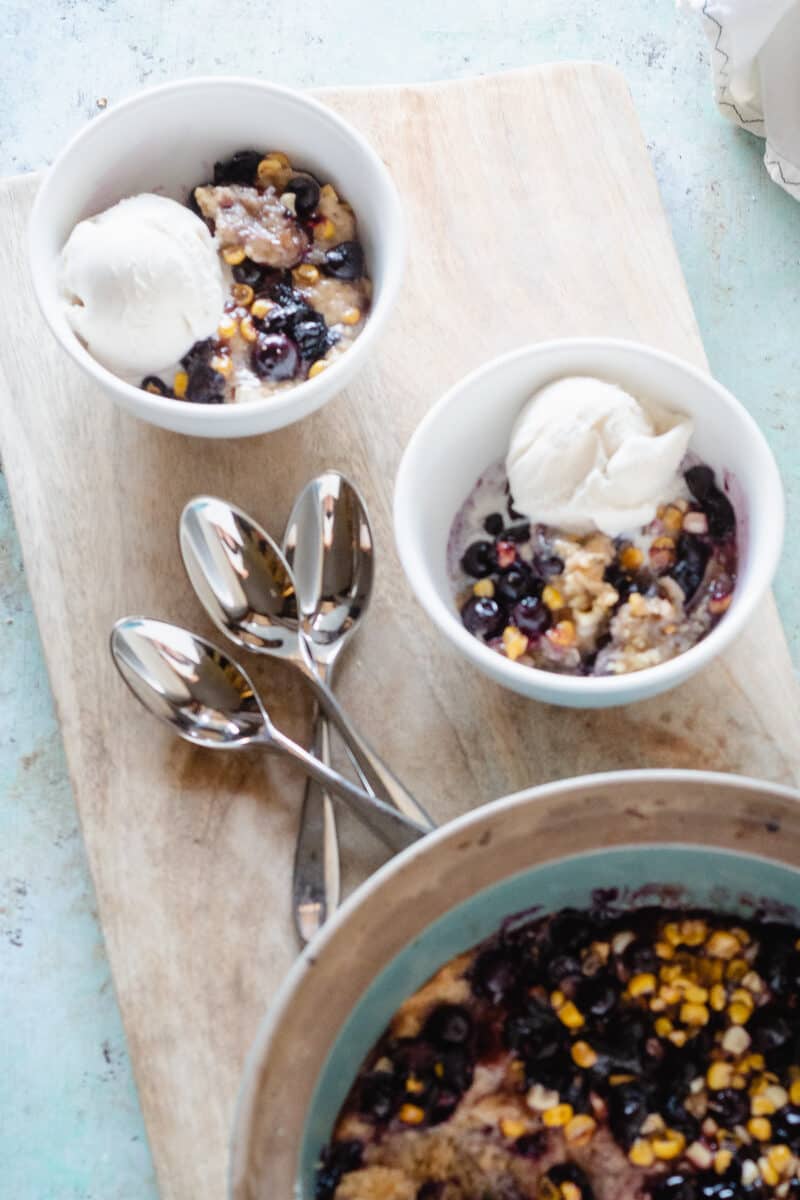 This spoon cake is a wonderful rustic dessert.
The cake basically steams under the blueberry juices and has a soft texture that's best spooned into bowls in a delightfully messy heap. The center gets just barely set and has a texture somewhere between cake and pudding.
Sweet corn pairs well with blueberries, and they add some nice textural contrast and pops of color, but you can leave them out if you want.
This works with a variety of baking dishes. Look for something that's roughly 8 inches across—round, square, ceramic, glass, metal, whatever. The bake times here are for an 8-inch ceramic round baking dish. This might bake a bit quicker in something metal or in something larger like a standard pie dish. But don't worry, it's forgiving.
And don't skip the ice cream with this one.
Ingredients
1 cup (165 grams) blueberries
1/2 cup (70 grams) sweet corn kernels, sliced off the cob
2/3 cup (150 grams) packed light brown sugar, divided
1/2 cup (120 milliliters) whole milk
1 cup (125 grams) all-purpose flour
1/2 teaspoon vanilla extract
1 teaspoon baking powder
1/2 teaspoon kosher salt
1/4 teaspoon ground coriander
Instructions
Preheat oven to 350°F. Brown the butter and let it cool.
Add the blueberries to a bowl and mash gently with a fork or potato masher to release the juices. Add the sweet corn kernels and about half of the brown sugar (1/3 cup, 75 grams) and stir.
Make the batter. Add the brown butter, the rest of the brown sugar, the milk, flour, vanilla, baking powder, salt, and coriander and stir until smooth.
Butter an 8-inch round baking dish, and spread the batter into the bottom of the dish in an even layer.
Spoon the corn and blueberry mixture over the batter.
Bake until a toothpick inserted into the center comes out clean, about 25-30 minutes.
Let cool for about 10 minutes, scoop into bowls and serve warm, preferably with vanilla ice cream.
Recommended Products
As an Amazon Associate and member of other affiliate programs, I earn from qualifying purchases.
Nutrition Information:
Yield:
6
Serving Size:
1
Amount Per Serving:
Calories:

369
Total Fat:

31g
Saturated Fat:

20g
Trans Fat:

1g
Unsaturated Fat:

9g
Cholesterol:

83mg
Sodium:

512mg
Carbohydrates:

19g
Fiber:

1g
Sugar:

1g
Protein:

3g