I may earn from purchases through links in this post.
People often ask me how often my cooking experiments fail. And I have to be honest—not often.
Not everything gets into the "good enough to share with the world" category, but pretty much everything is good enough to eat.
But there have been a few notable exceptions.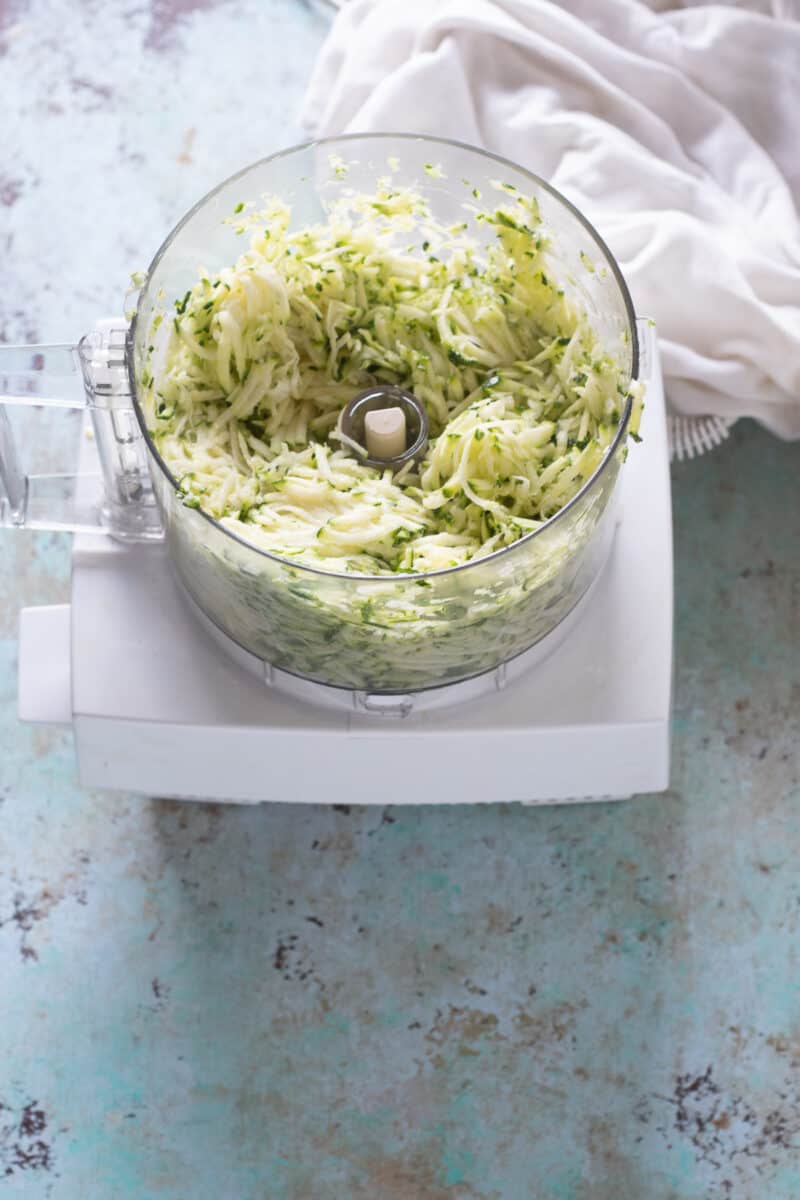 There were some very old dried chickpeas that refused to soften even after several hours of cooking that made me toss a chickpea stew.
There was a cauliflower curry thing that I managed to make so spicy that it became inedible.
There were the croissants proofing in the refrigerator that were ruined when a jar of roasted red peppers on the shelf above got knocked over and leaked all over them. (I remade those. They were for company.)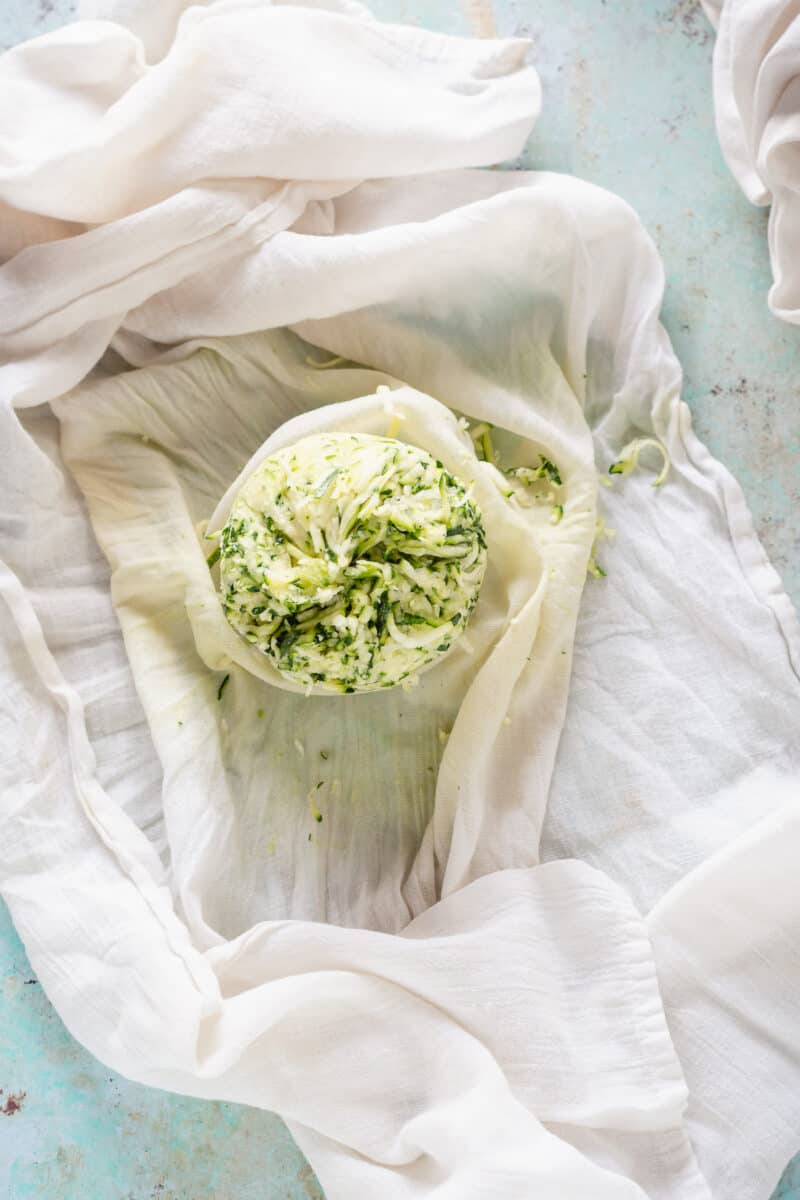 And then, my friends, there were the zucchini fritters.
In the annals of cooking-that-got-tossed in our household, they hold the top spot.
They were a pain to make. They never held together. They were somehow both too wet and too dry. Their flavor was overwhelmed by a combination of fresh marjoram and sage.
Everything about them was bad and wrong.
And they've become shorthand around here for what we don't want for dinner.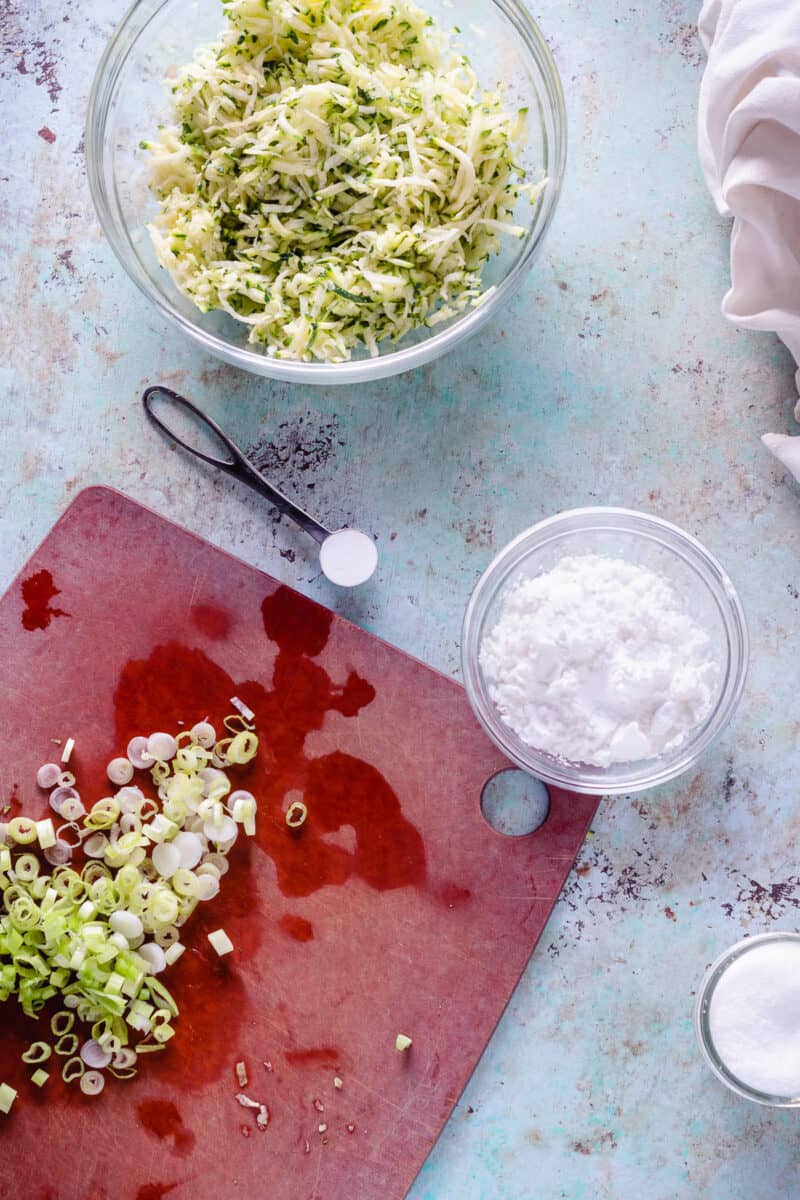 But that was a long time ago, and in the intervening years I've learned a few things about cooking. I've even come around on other vegetable fritters (like these curried sweet potato latkes.)
And I'm happy to report that these zucchini fritters are not those zucchini fritters.
These ones are crisp and light and simple and delicious.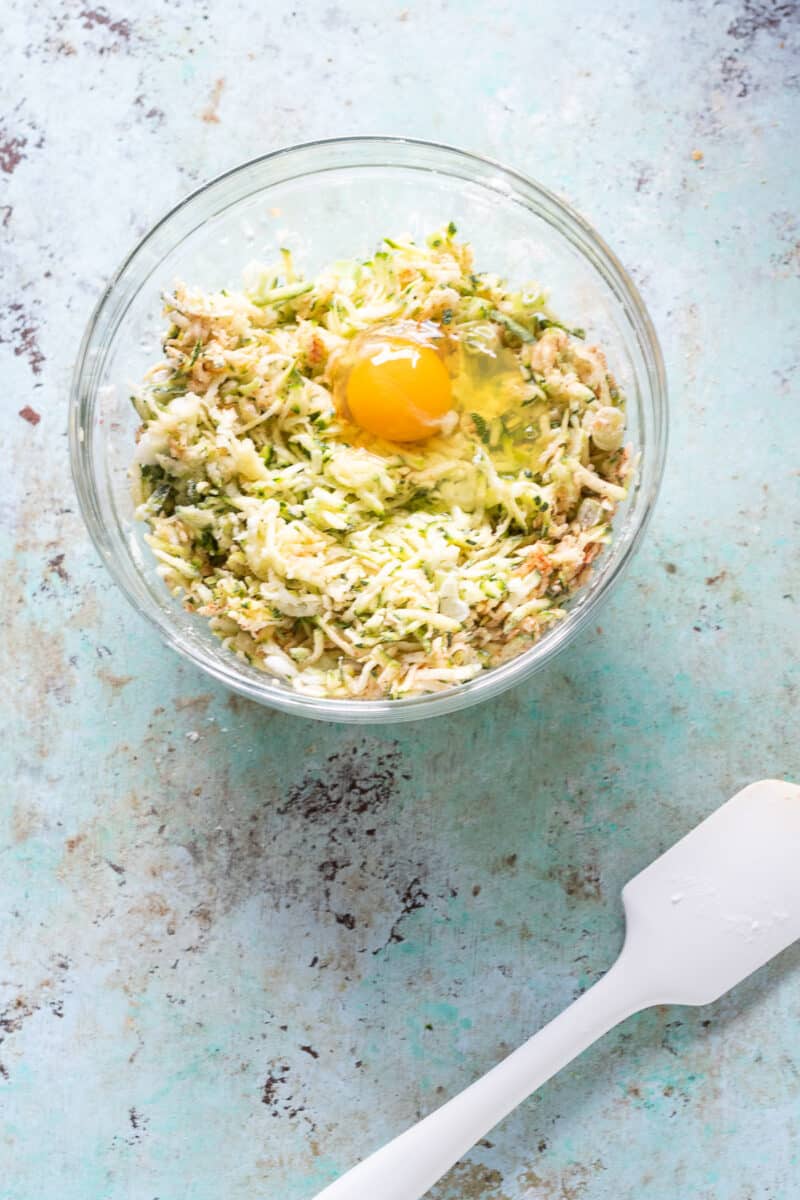 There are a few tricks to getting them right.
The most important one is to squeeze out as much moisture as you can from the shredded zucchini.
I like to gather them up in a clean tea towel and just really give them a good squeeze to wring out as much of that pale green liquid as they'll give up.
The other trick I like for these is using potato starch instead of all-purpose flour. I find it helps to bind them together better and makes them crisp up just beautifully. It also happens to make them gluten free.
(You can make these successfully with flour if you prefer, but I like them better with potato starch.)
Keep the add-ins simple.
These get some thinly sliced scallions and a pinch of smoked paprika for flavor.
You can absolutely switch up the spice profile or add some fresh herbs, but keep them finely chopped and don't go adding big handfuls of them or the fritters may not hold together.
Lastly, I think they come out best when cooked in a cast iron pan. It isn't strictly necessary, and not having one shouldn't stop you from making them, but cast iron seems to give them an extra little bit of golden brown-ness and crispness that I find ever so slightly lacking in other cooking surfaces. (Or maybe it's just a sort of superstitious confirmation bias.)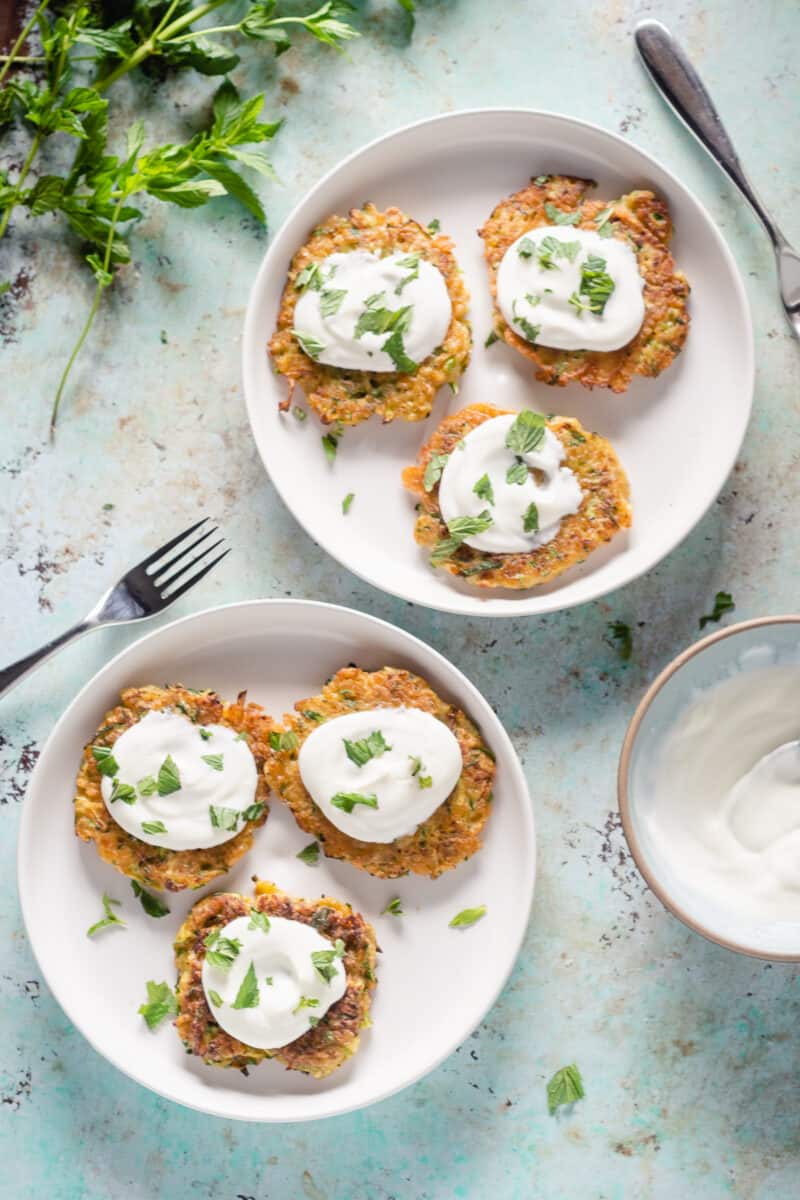 They don't need much adornment, but a bit of Greek yogurt with a squeeze of lemon juice is welcome along with a smattering of fresh herbs. Some fresh ricotta or sour cream would also be good.
You could top them with some sliced avocado and tomatoes and a generous sprinkle of salt if you wanted to avoid dairy.
They'd be delightful topped with a fried or poached egg.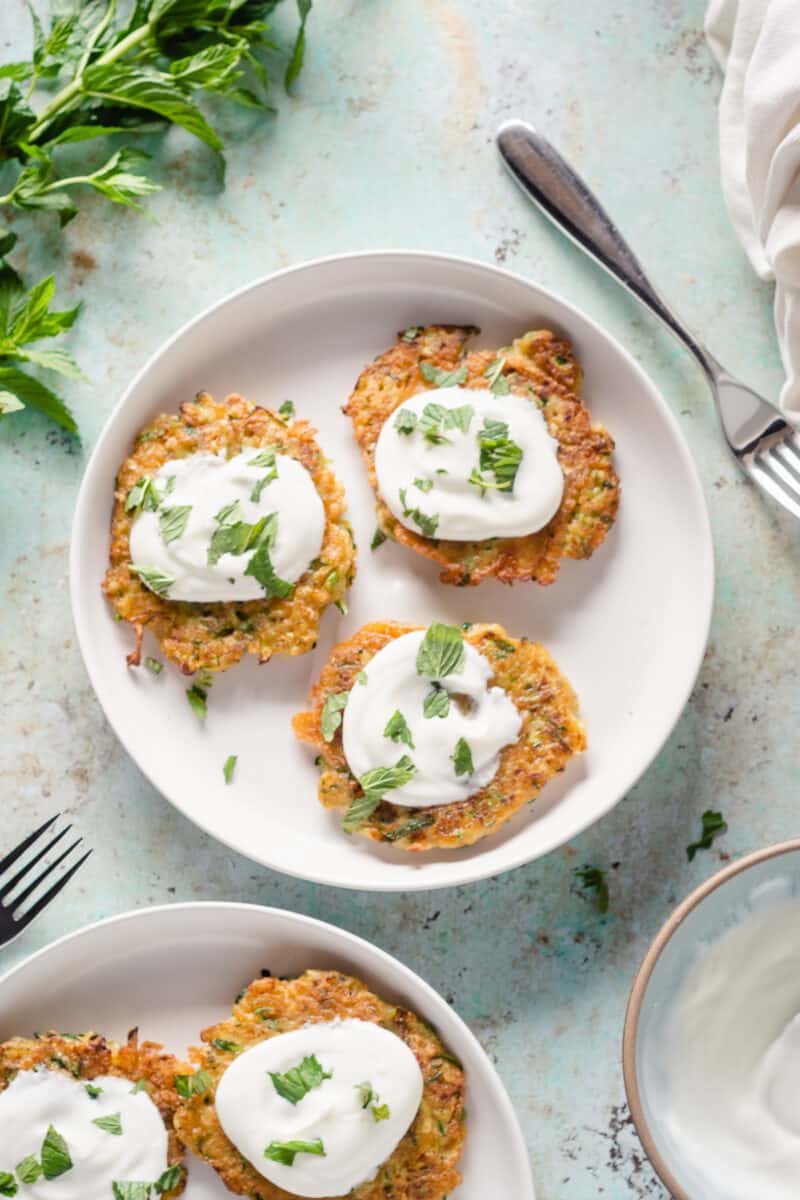 But however you top them, you'll be glad you made them.
The zucchini fritter is finally redeemed.
Yield: 8 4-inch fritters
Zucchini Fritters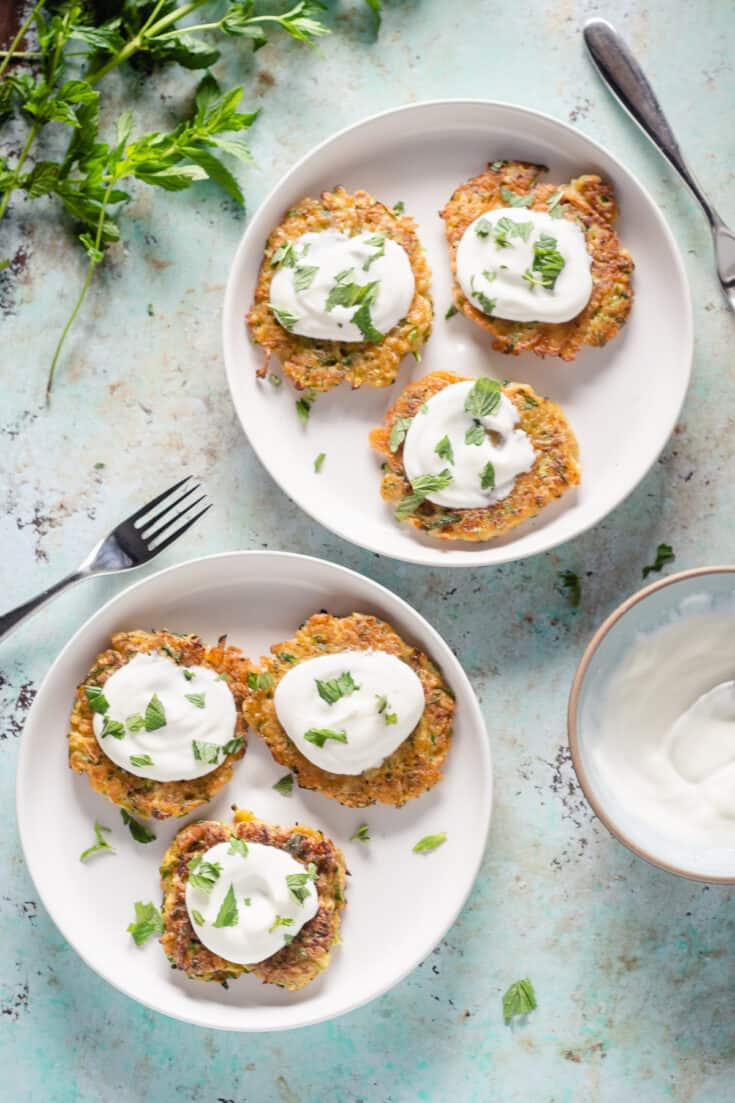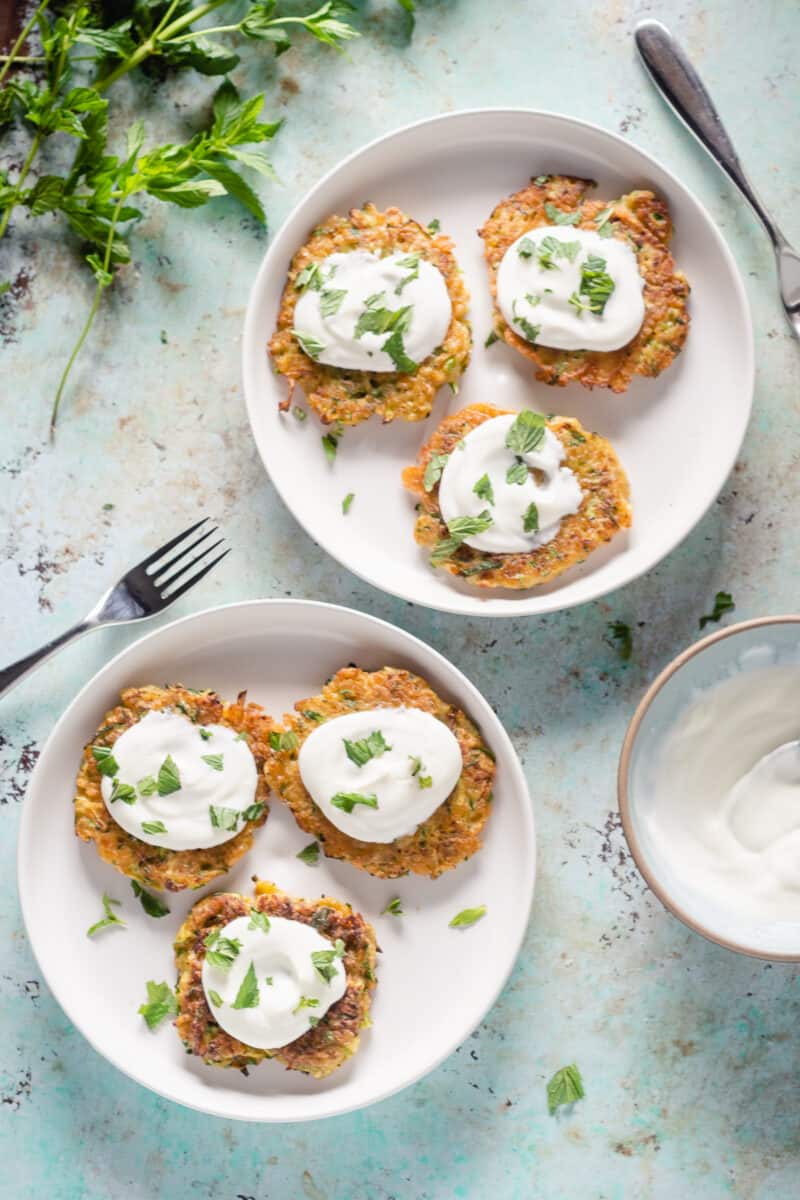 These fritters are a great way to use extra zucchini you may have lying around.
They come together in a few minutes with the help of a food processor, but you can also shred the zucchini on a box grater. The important thing is to squeeze out as much moisture from the zucchini as you can so that the fritters get nice and crispy.
I like to use potato starch for binding here rather than all-purpose flour. It's easy to find in the alternative flours section in grocery stores and it helps hold these fritters together and gives them a lovely light and crisp texture.
Top these with Greek yogurt and a squeeze of lemon juice and a flurry of mint or dill or basil. Or serve them with a fried egg or some avocado and tomatoes or whatever you like.
Ingredients
1 pound zucchini, shredded (about 2-3 medium zucchini)
2 scallions, white and green parts, thinly sliced
1/2 cup potato starch
1/2 teaspoon baking powder
1/2 teaspoon smoked paprika
1/2 teaspoon kosher salt
1 egg
neutral oil, such as canola or grapeseed, for frying
Instructions
Make the latkes
Place the shredded zucchini on a clean kitchen towel or large piece of cheese cloth, gather up the ends, and twist the bundle over the kitchen sink to squeeze out as much moisture as you can.
Add the shredded zucchini, scallions, potato starch, baking powder, smoked paprika, salt, and to a large mixing bowl and stir until well mixed. Add the egg and stir until the mixture is thoroughly moistened.
Heat a few tablespoons of oil in a cast iron skillet or frying pan over medium-high heat until the oil shimmers and almost smokes. Add a piece of shredded zucchini to test the heat—if it sizzles immediately it's ready. Drop about 1/4 cup of batter into the pan and flatten. Add as many fritters as fit comfortably in the pan. Fry on each side for a few minutes, or until golden. Drain on paper towels. Serve, topped with yogurt and herbs or whatever you prefer.
Notes
Can be made ahead of time and frozen. Reheat in a 350°F oven for about 15 minutes or until crisp.
Recommended Products
As an Amazon Associate and member of other affiliate programs, I earn from qualifying purchases.
Nutrition Information:
Yield:
8
Serving Size:
1
Amount Per Serving:
Calories:

114
Total Fat:

4g
Saturated Fat:

1g
Trans Fat:

0g
Unsaturated Fat:

4g
Cholesterol:

23mg
Sodium:

184mg
Carbohydrates:

17g
Fiber:

2g
Sugar:

2g
Protein:

3g