I may earn from purchases through links in this post.
This peanut sauce is seriously delicious.
It's easy to fall for such sweet-salty-spicy-creamy goodness whether it's paired with chicken, noodles or serving as a dipping sauce for egg rolls or satay.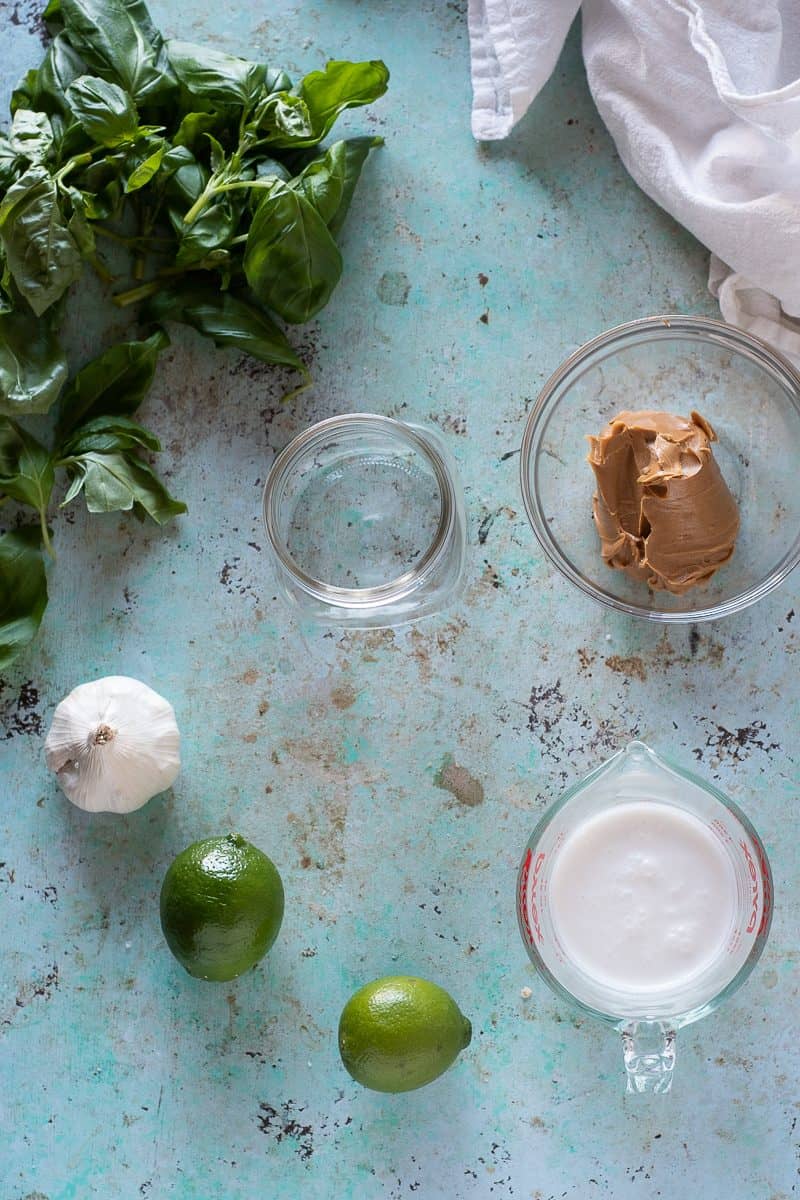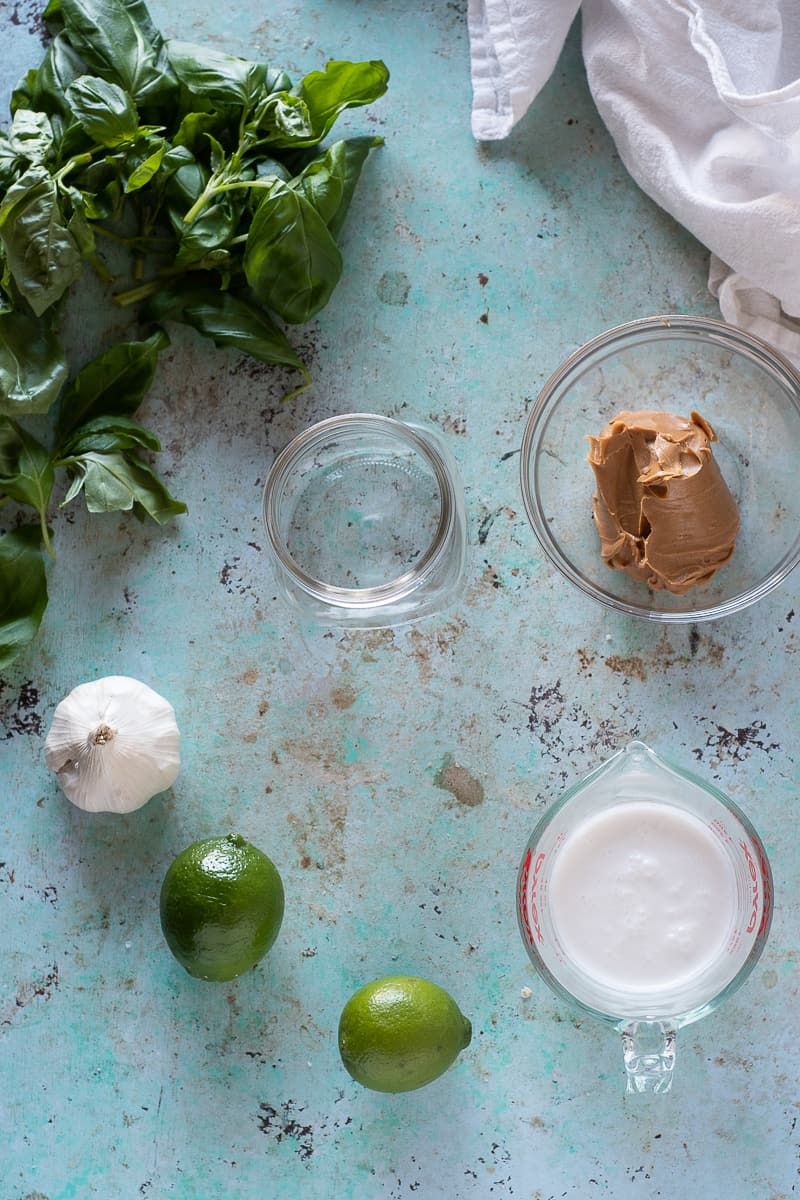 I've made various versions of peanut sauce for years (for a long time this peanut sauce, with a generous dose of sesame oil and without coconut milk, was my go-to). I wasn't sure I needed another one in my repertoire.
But, oh my, this particular version is something special. And honestly, I couldn't believe I hadn't thought of making it this way before.
It's rich with coconut milk, savory with soy sauce and garlic, sweet from a sprinkle of brown sugar, and spicy from sambal oelek. It gets a burst of acidity from freshly squeezed lime juice.
But the thing that separates this peanut sauce from the pack is the generous handful of basil that gets blended in.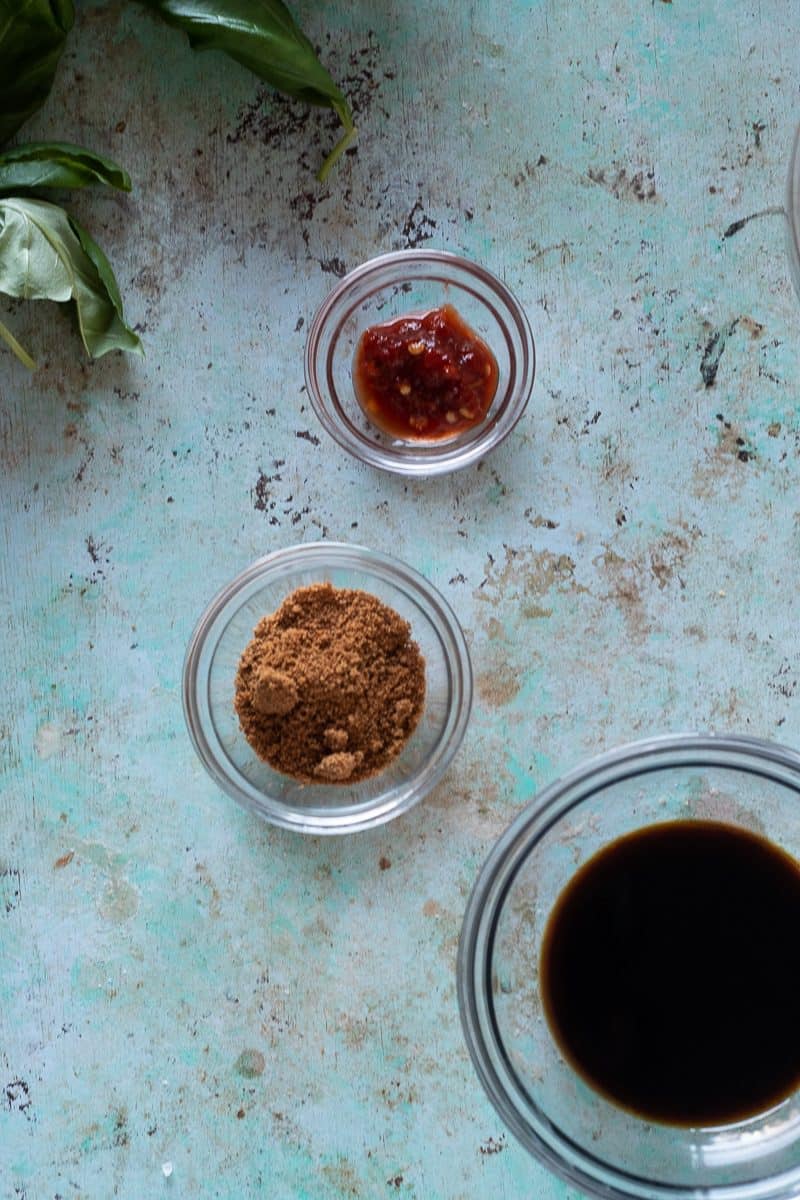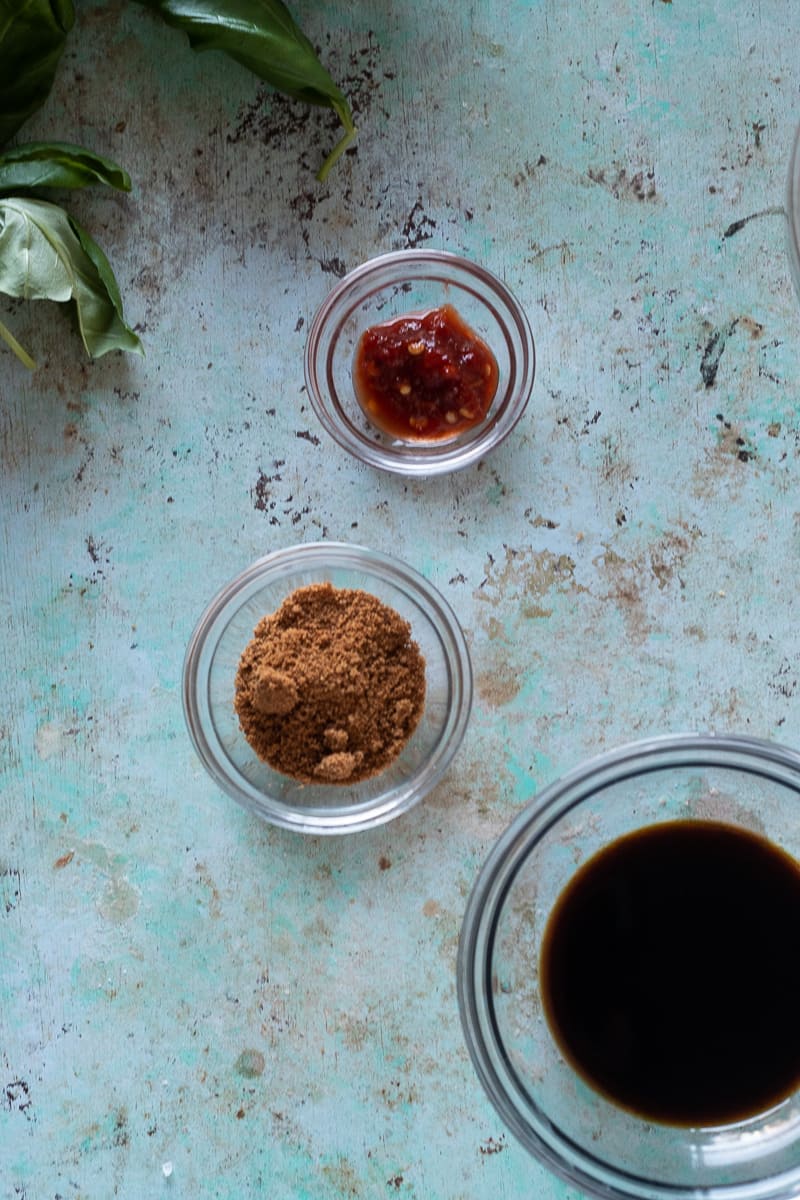 It means this sauce is flecked with green and has a noticeable hit of aromatic basil flavor in every bite.
It's definitely a lick-every-last-drop off the spoon kind of sauce.
You can use pretty much any basil variety you like here. Thai basil would be a natural fit, and its distinctive anise notes would work beautifully here.
But Genovese or any sweet Italian varietals are also lovely in this. (Even less common purple or lemon or lime or cinnamon basil varieties would be nice.)
Use whatever is fresh and abundant where you are.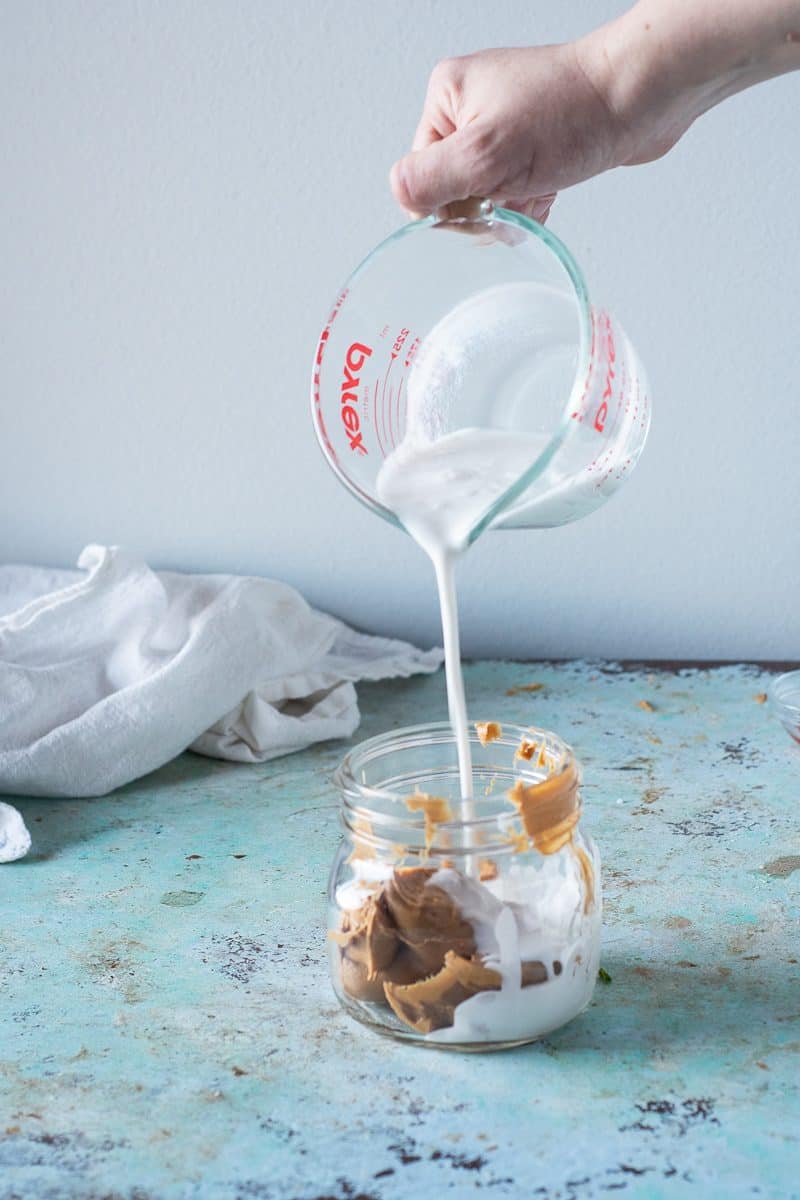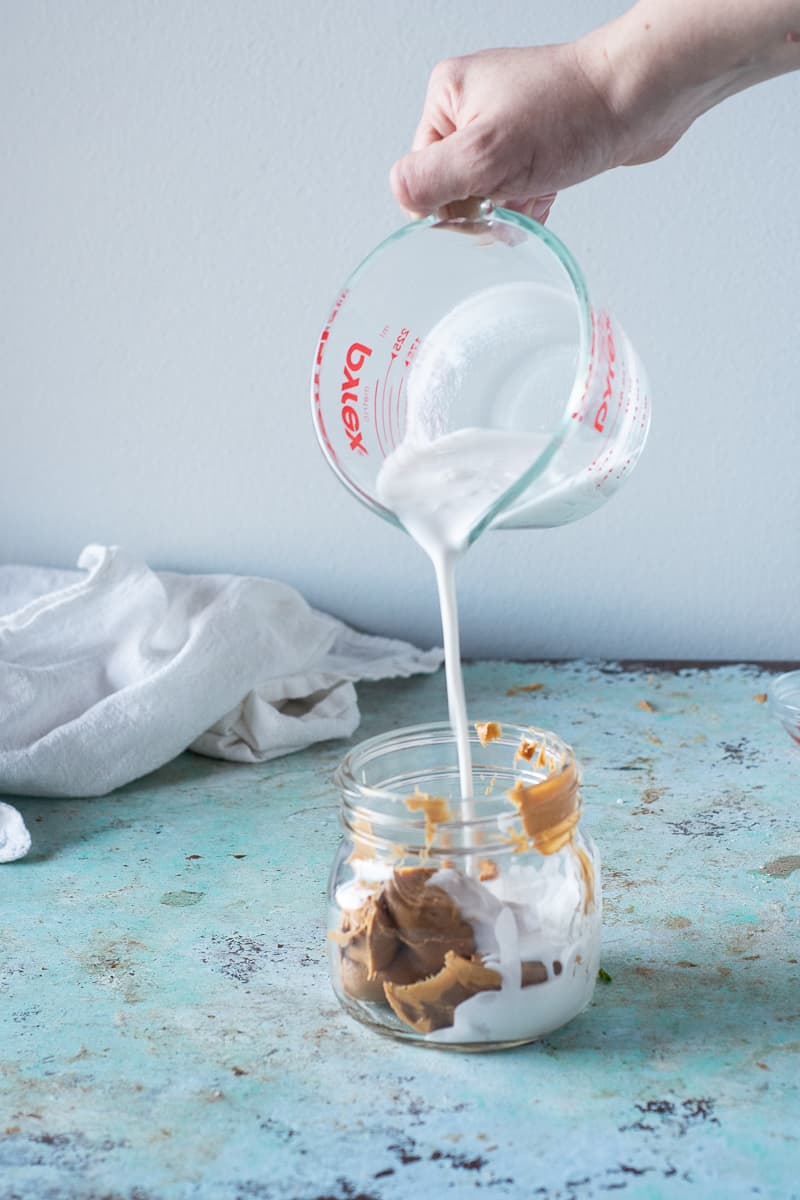 While peanut butter is plenty creamy on its own, this sauce gets an extra dose of creamy richness from coconut milk, which serves as the primary liquid here.
It loosens the peanut butter into a lush, velvety consistency while imparting a subtle coconut flavor that plays nicely with the garlic and basil.
I like using sambal oelek to bring the heat in this. It's similar to sriracha, and you could certainly use that if you like, but sambal oelek doesn't have sugar and using it allows you to fine tune the sweetness and spice levels to your liking.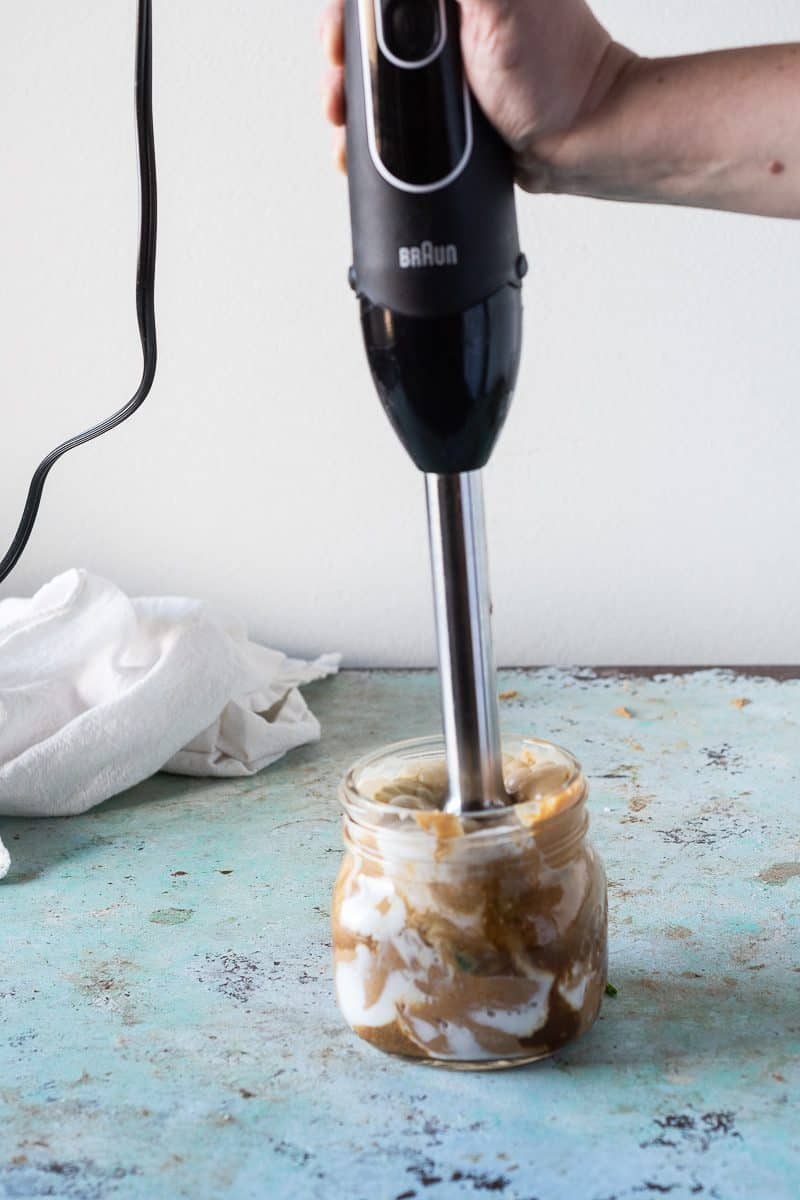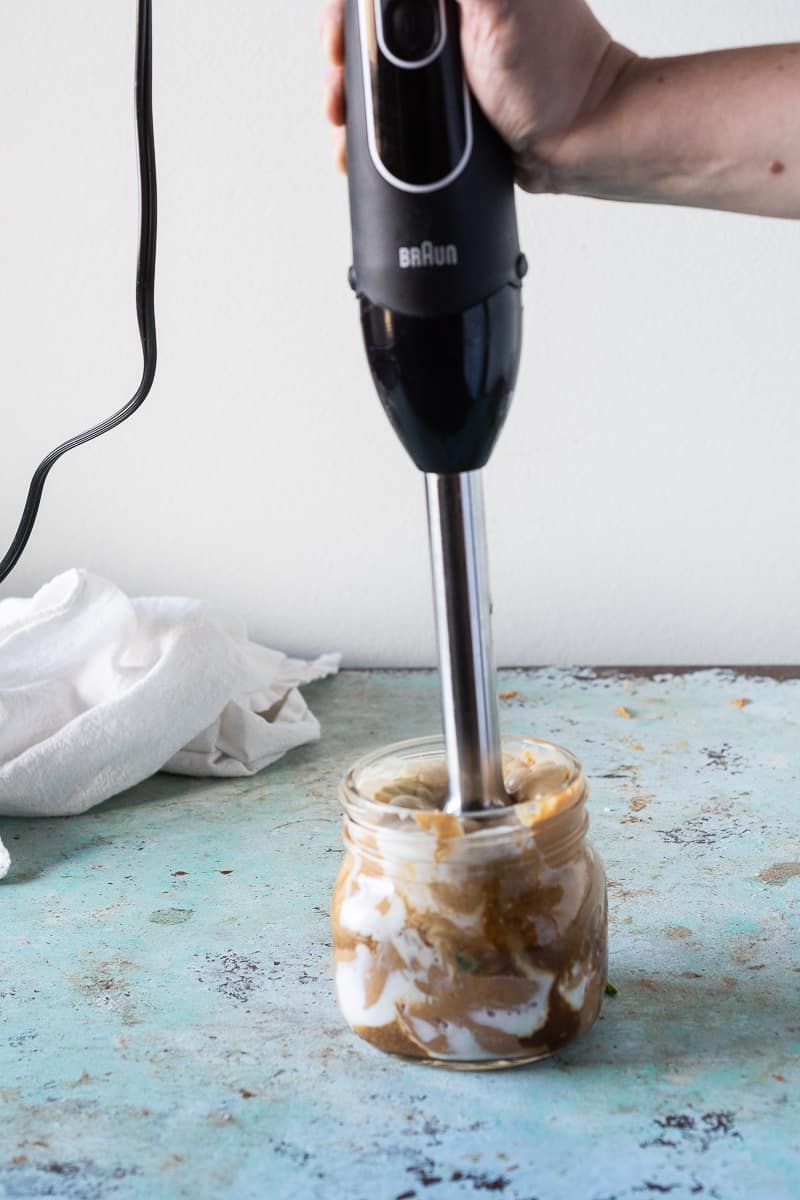 This comes together in a couple of minutes. It's basically a dump everything in and blend job.
Then give it a taste. Tweak if you want to. And go ahead and lick the spoon.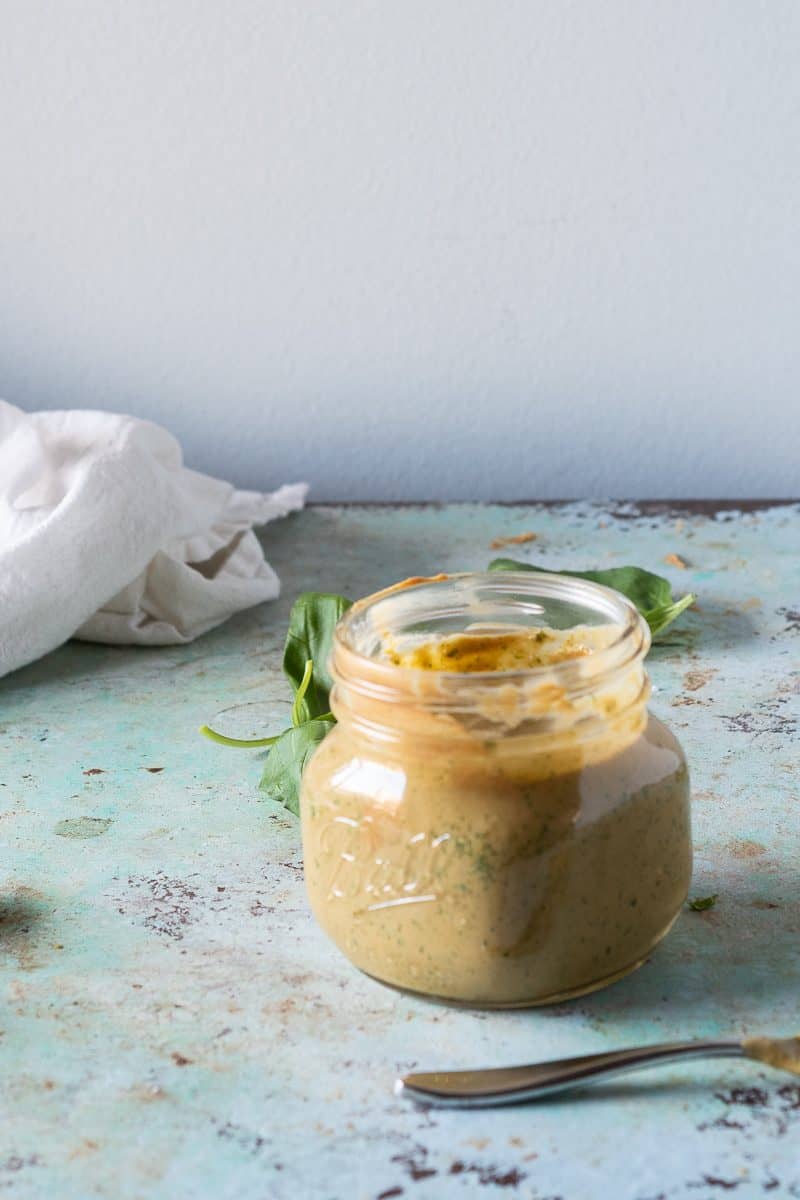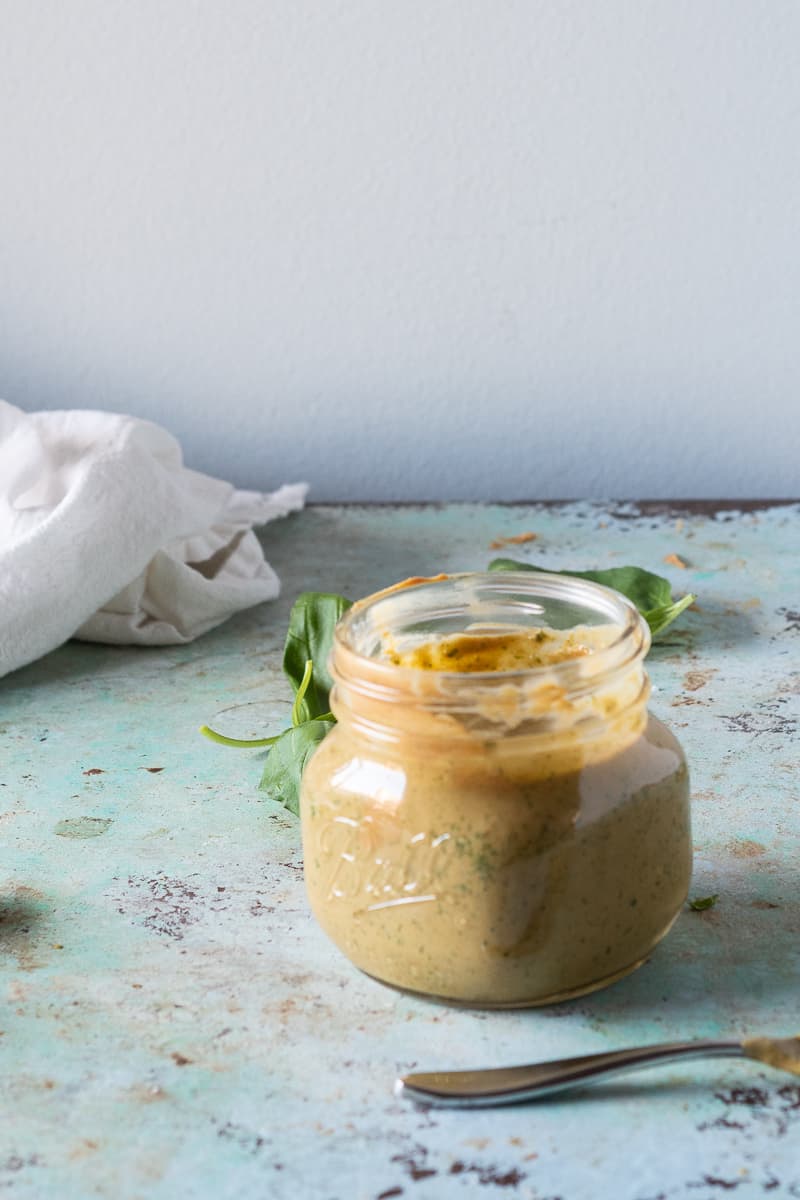 Serve this one on chicken (it would be great as a swap in this chicken with garlicky cashew sauce), on roasted or grilled vegetables (it would be great as a dressing on this grilled cabbage salad), on noodles (kinda like these sesame lime soba noodles), or use it as a dipping sauce for egg rolls, satay, or fresh vegetables.
Or really, anywhere you like.
You'll thank yourself for making this one.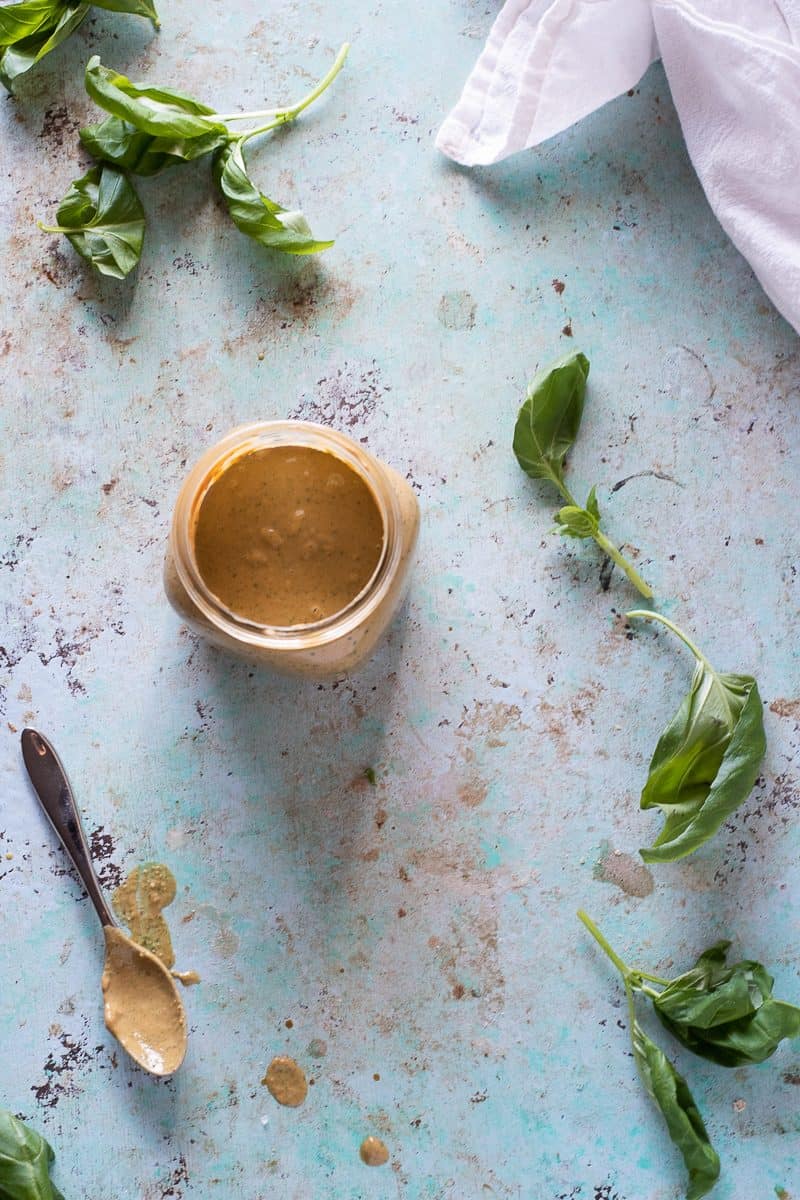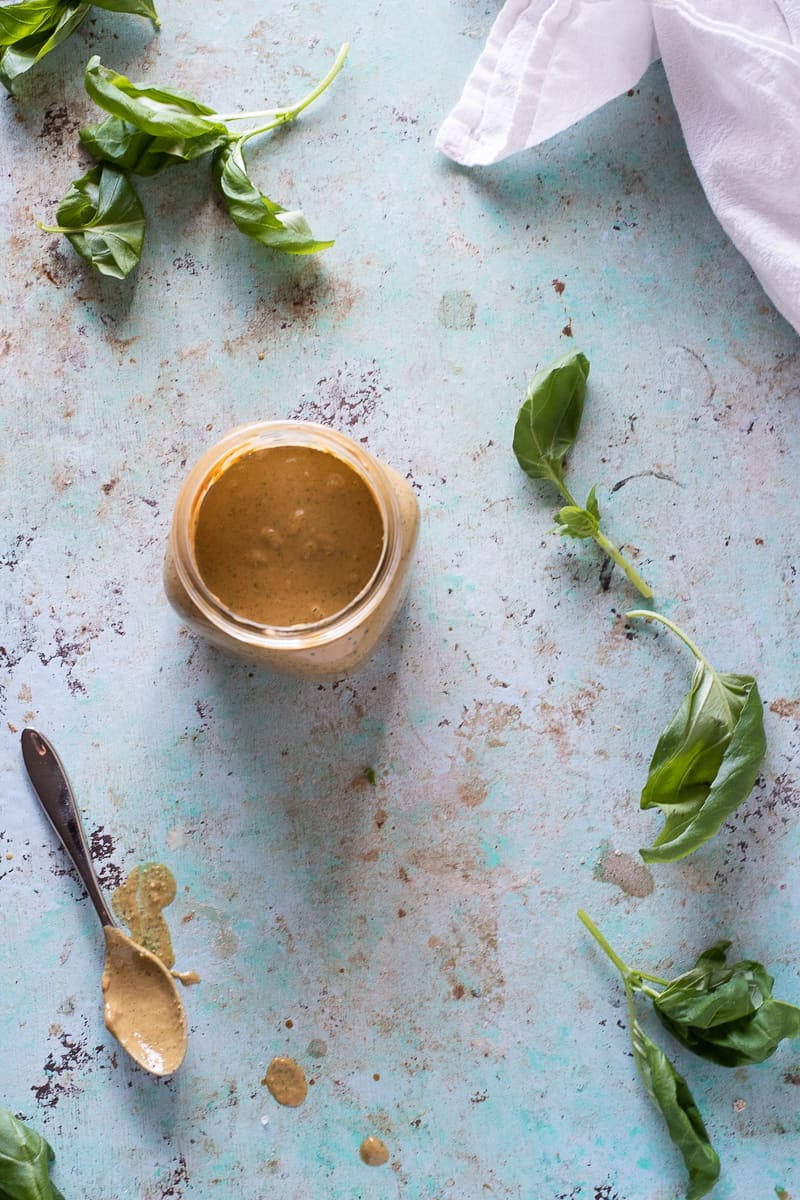 Yield: About 2 cups
Peanut Sauce with Coconut Milk and Basil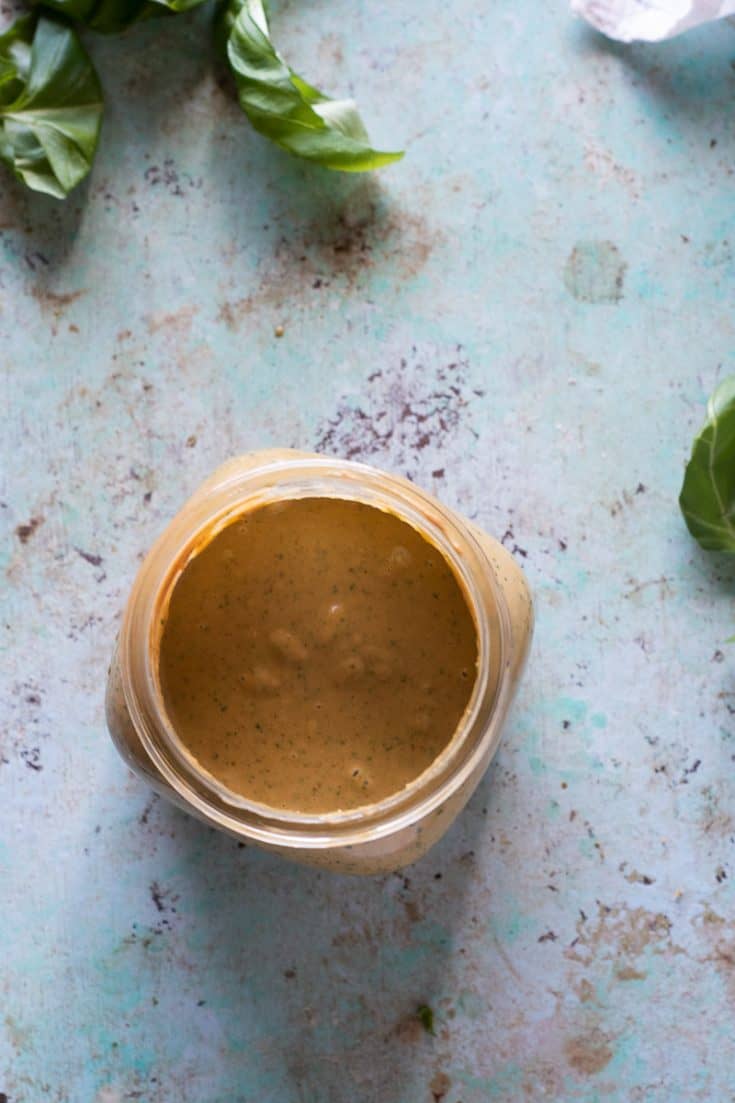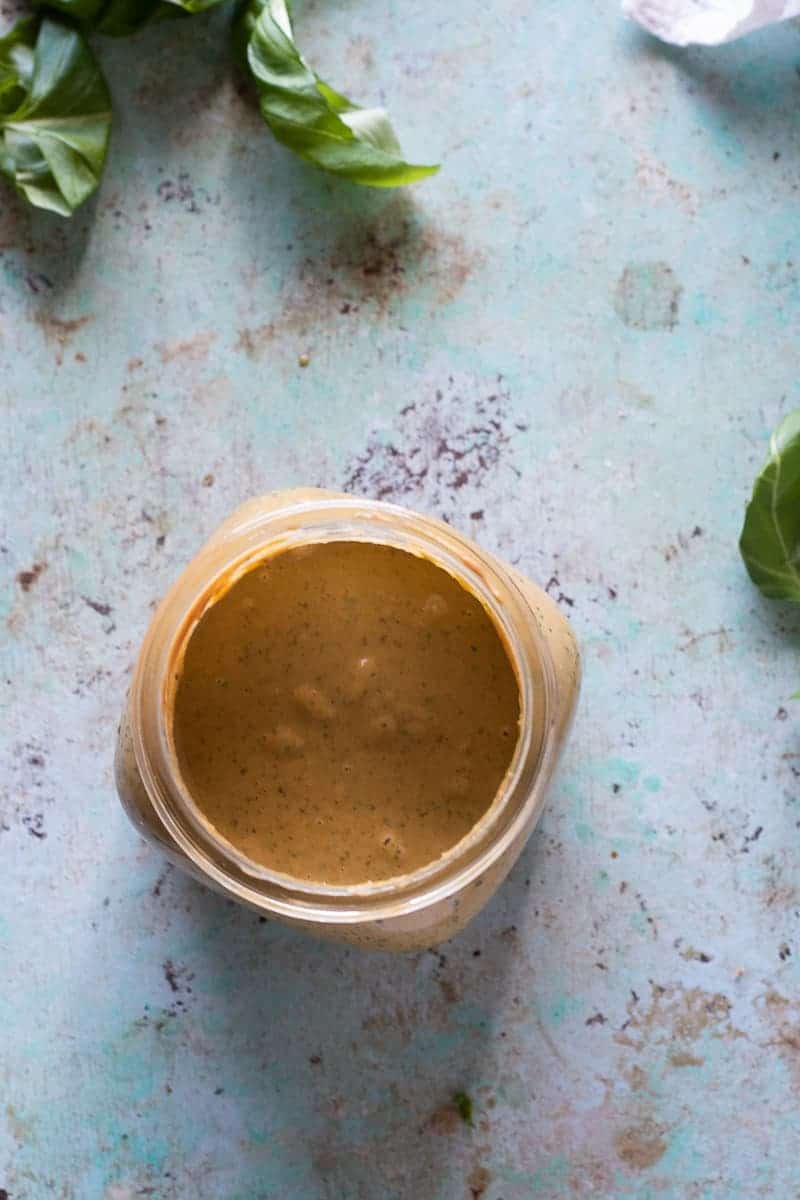 This peanut sauce is quick and easy to make. I like to use a creamy emulsified peanut butter like Skippy here for a smooth sauce, but a natural peanut butter will also work. I like to build this right in the jar I store it in and blend it with a stick blender for easy clean up, but a regular blender will work just as well here. Use an unsweetened coconut milk here (preferably full fat), and do squeeze your own lime juice--the bottled stuff just isn't the same. This is gluten free if you use tamari in place of the soy sauce, and it is vegan as written. The spice level on this is medium. Spice fiends may want to add more sambal oelek, and people with a low spice tolerance might want to reduce it. If you're not sure where you fall, start with less, taste, and adjust to your preference.
Ingredients
1/2 cup creamy peanut butter
1/2 cup unsweetened coconut milk, well stirred
4 cloves garlic, minced
1/4 cup freshly squeezed lime juice
2 tablespoons soy sauce (or tamari)
1 tablespoon brown sugar
1 teaspoon sambal oelek
a big handful of basil leaves, about a cup
Instructions
Add the peanut butter, coconut milk, garlic, lime juice, soy sauce (or tamari) and brown sugar to a jar or blender. Add the basil leaves and press them down to make them fit. Blend with a stick blender (or regular blender) until smooth.
Notes
This keeps in the refrigerator for about a 1 week. Let warm to room temperature if using as a dipping sauce.
Recommended Products
As an Amazon Associate and member of other affiliate programs, I earn from qualifying purchases.
Nutrition Information:
Yield:
12
Serving Size:
1
Amount Per Serving:
Calories:

74
Total Fat:

6g
Saturated Fat:

1g
Trans Fat:

0g
Unsaturated Fat:

3g
Cholesterol:

0mg
Sodium:

207mg
Carbohydrates:

5g
Fiber:

1g
Sugar:

2g
Protein:

3g