I may earn from purchases through links in this post.
Here they are. Warm, soft whirls of dough. They're coffee cardamom morning buns.
And they're just the thing for a weekend brunch.
When you want something sweet but not too sweet.
And familiar and comforting but not boring.
And special but not too much trouble to make from start to finish in one morning.
These tick all those boxes and then some.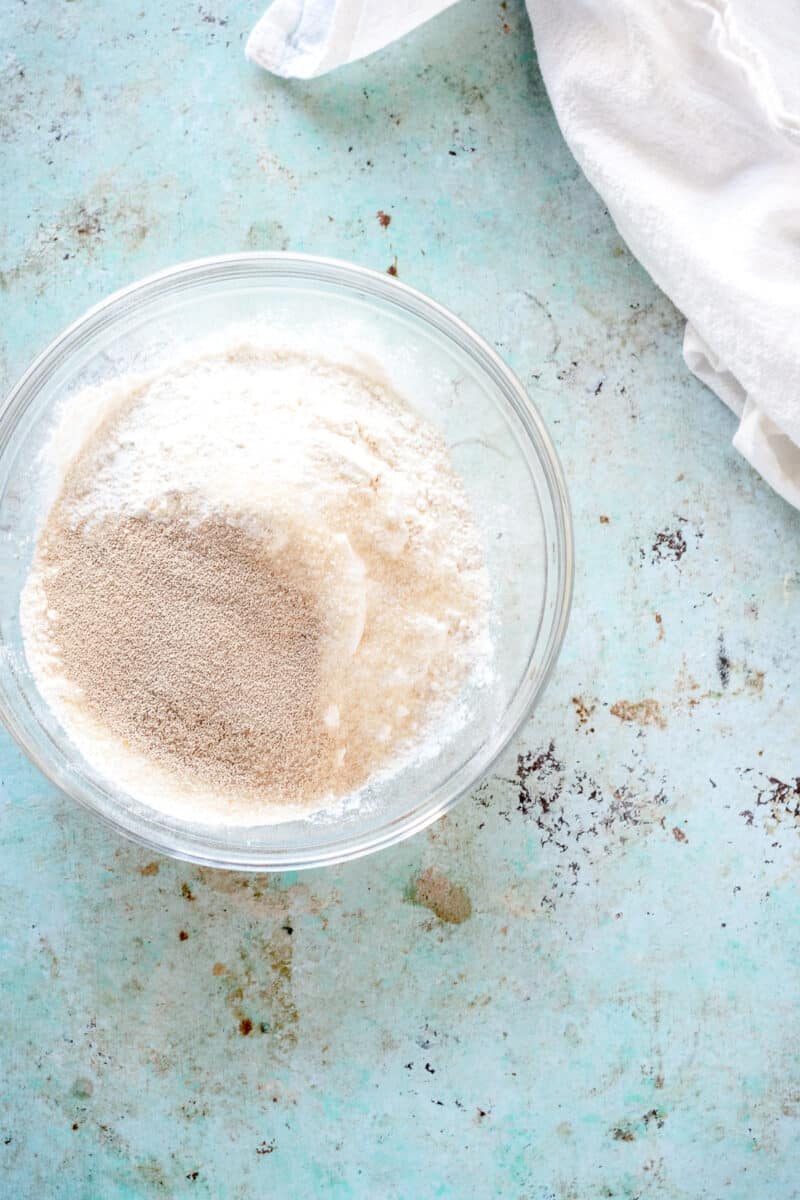 I love cinnamon rolls as much as the next person (especially brioche cinnamon rolls), but sometimes I want a different flavor profile in a breakfast roll.
I have a soft spot for cardamom (like in these orange cardamom cookies). It's a warm baking spice that isn't quite as popular here as it is in Swedish baked goods, in savory dishes in Indian and Middle Eastern cooking, and in masala chai and Turkish coffee.
The last of which inspired the flavor combination here.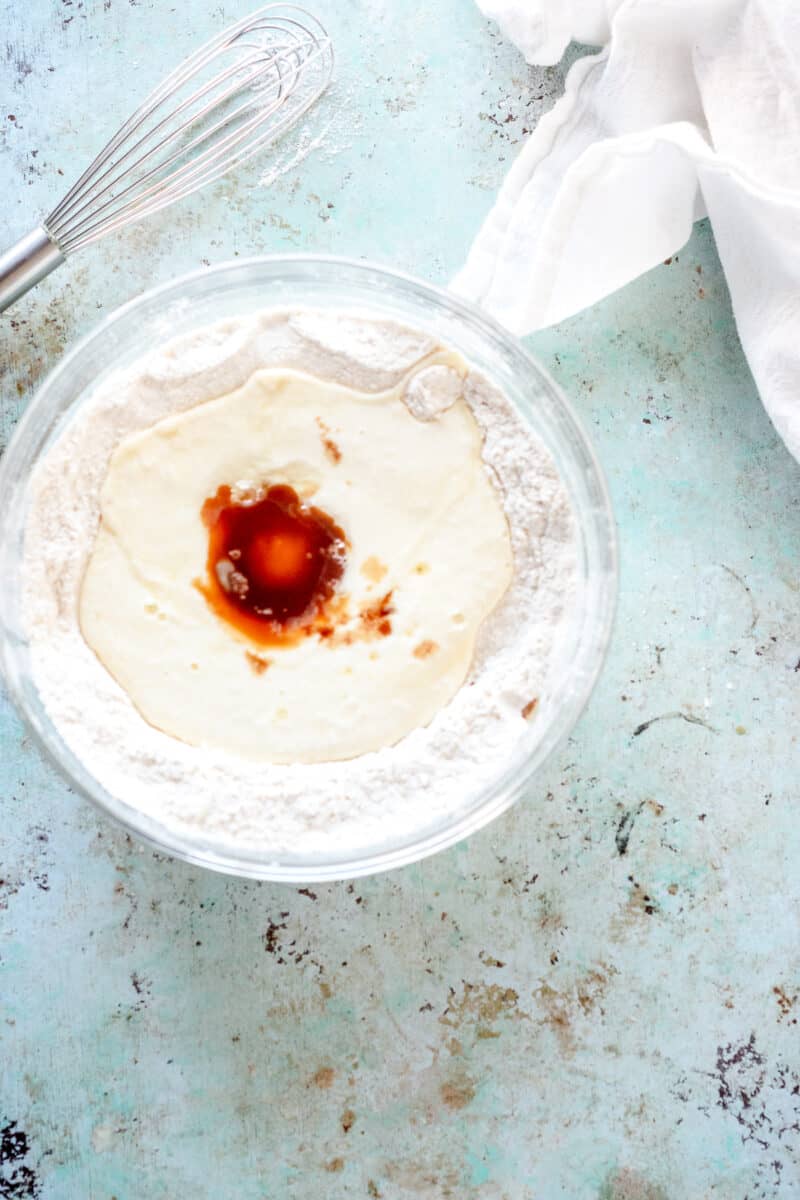 I like this dough for how quick and easy it is for one that involves yeast.
I love overnight cinnamon rolls and morning buns, but sometimes I want a morning bun that can be started and finished in the space of a weekend morning.
This one goes from scooping some flour into a bowl to warm morning buns fresh from the oven in about 90 minutes.
It's inspired by one Nigella Lawson uses in her chocolate pistachio whirligig buns.
With the help of some extra instant yeast, the dough doubles in 40 minutes (30 if your kitchen is warm).
(Don't use active dry yeast, which has to be proofed in liquid before mixing here. It doesn't work the same way.)
The dough becomes soft and supple with a bit of yogurt, butter, and an egg. It's not nearly as rich as brioche dough, but it still feels like a treat.
The filling is a simple one, and it comes together while the dough is proofing. Just some softened butter mixed with brown sugar, instant espresso, and ground cardamom.
It forms a rough paste that gets sprinkled over the rolled-out dough.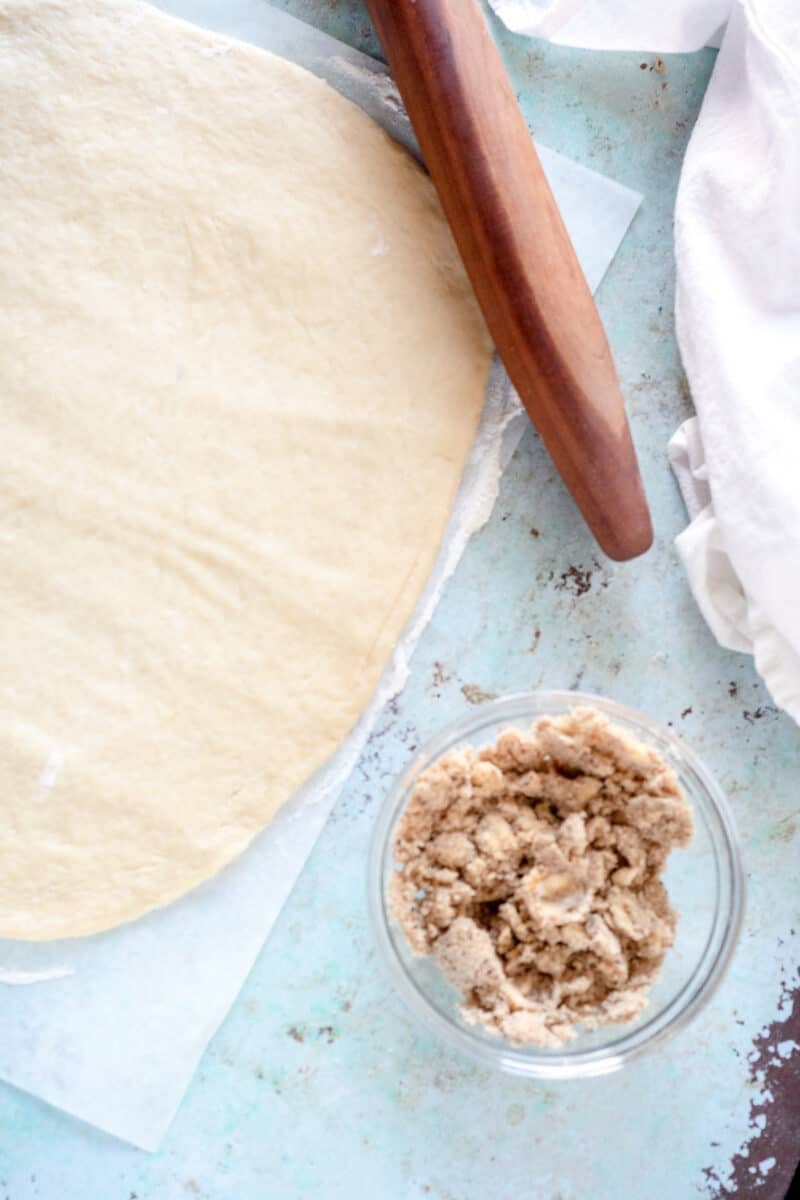 Then the whole thing gets rolled up. The long seam gets pinched together. And the long roll gets carefully sliced with a sharp knife.
Then the individual buns get nestled into a parchment-lined pan and popped into the oven straightaway.
Unlike many cinnamon rolls or morning buns, these don't need a second rise.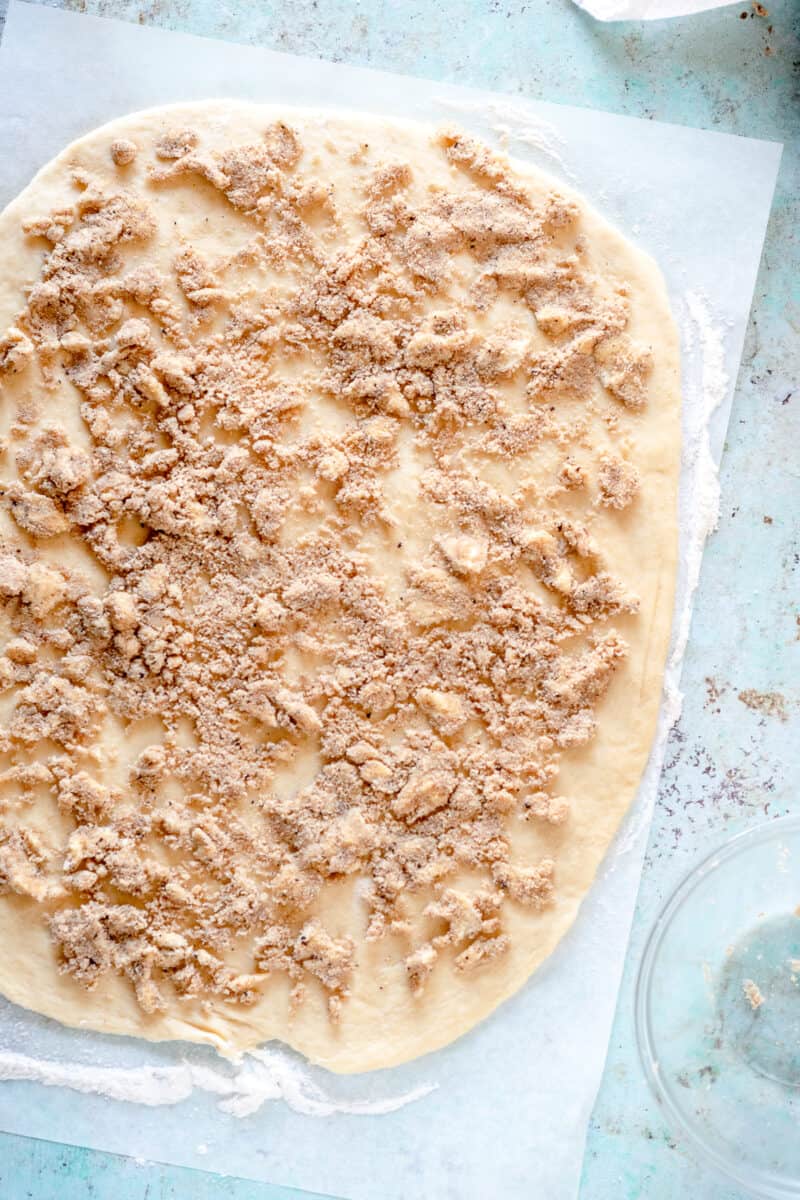 In the oven they puff and brown and squish into each other. The filling turns sticky and gooey and caramelly.
And the wonderful scents of coffee and cardamom and freshly baked bready stuff wafts through your kitchen, which is a definite bonus.
While the buns are in the oven, you can stir together the crème fraîche icing (similar to the one I use on these orange ginger scones).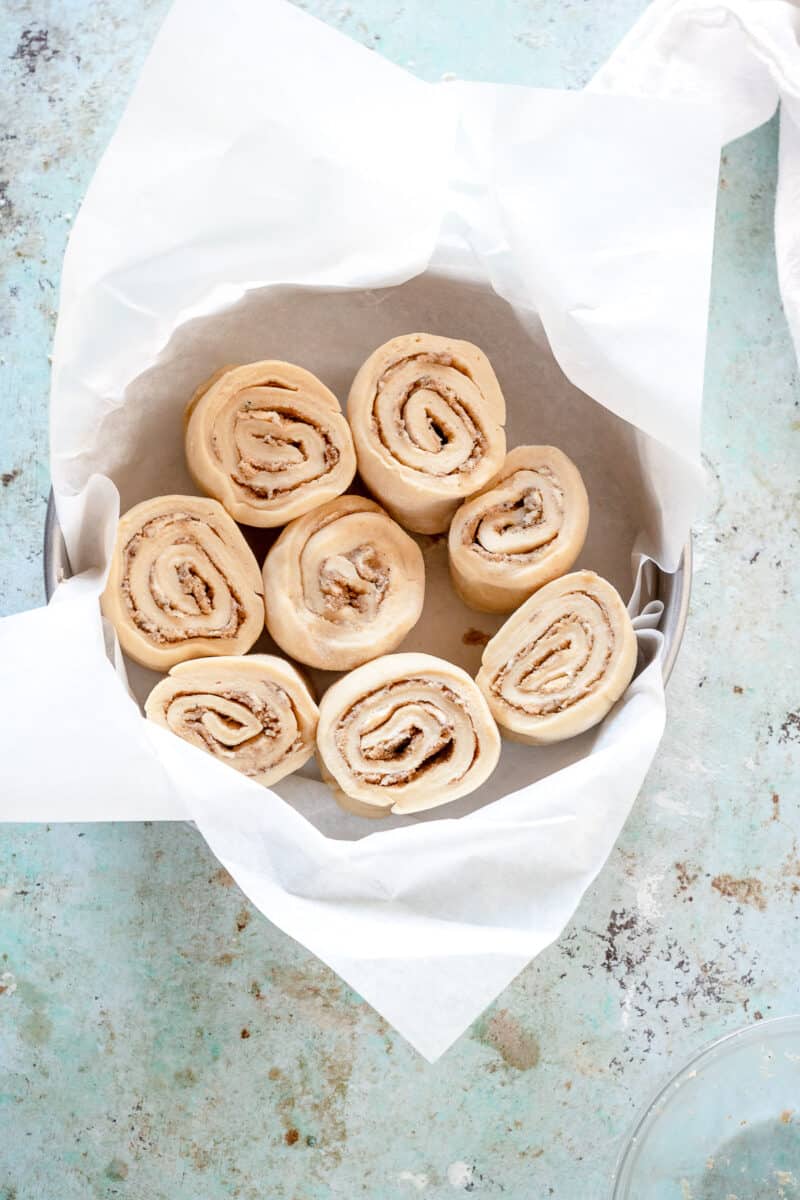 It's simple to throw together. Just scoop crème fraîche, powdered sugar, and a bit of vanilla extract or vanilla bean paste (if you want those lovely black specks of vanilla bean throughout) and stir.
It has the pleasing tang of a cream cheese icing, but it isn't quite as thick or as mouth-coating. It's plenty rich, but it feels looser and lighter and the vanilla rounds out the flavor nicely.
I might be guilty of stealing swipes of this one from the spatula (shh!).
After the coffee cardamom morning buns have had a few minutes to cool, the crème fraîche icing gets drizzled and spread over the top of them.
If you put the icing on when the morning buns are too hot, the icing will melt right off. You want to strike while they are warm to the touch, but not hot.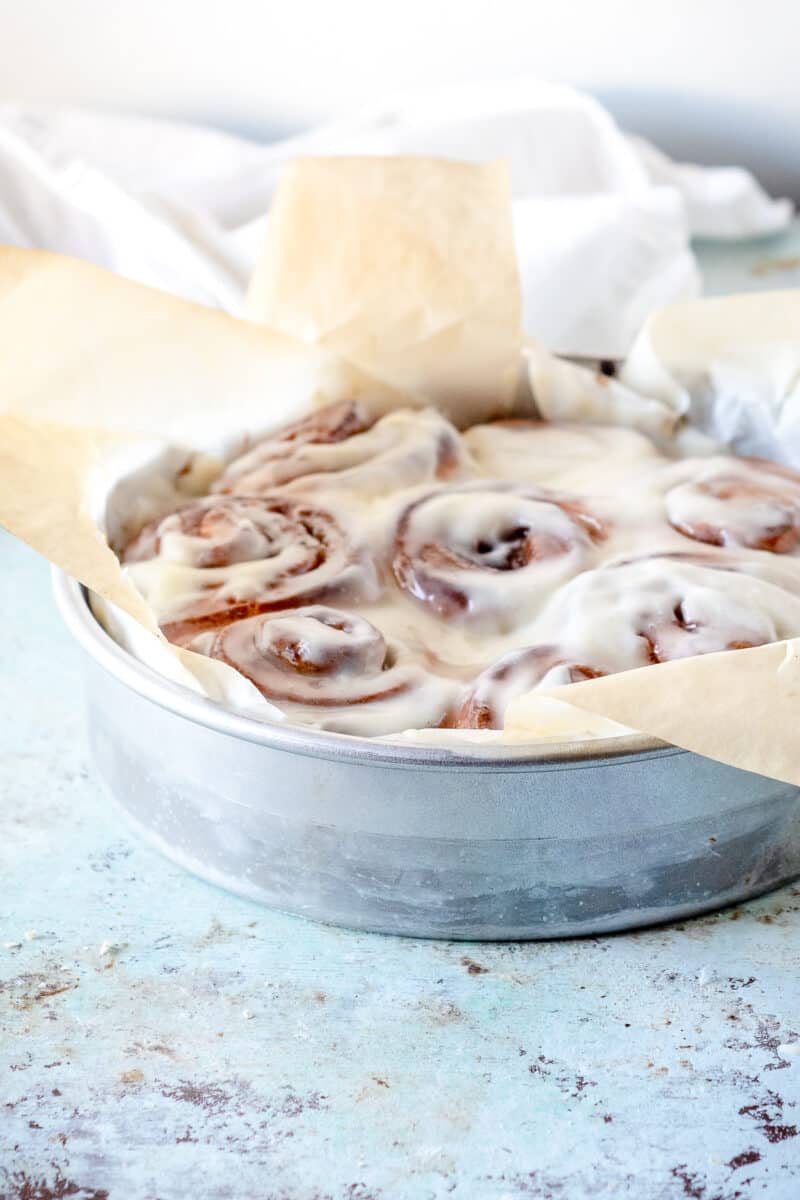 At that point the crème fraîche icing will puddle around the edges, but mostly stay put on top.
Then, why then, you'll want to tear into these. Enjoy.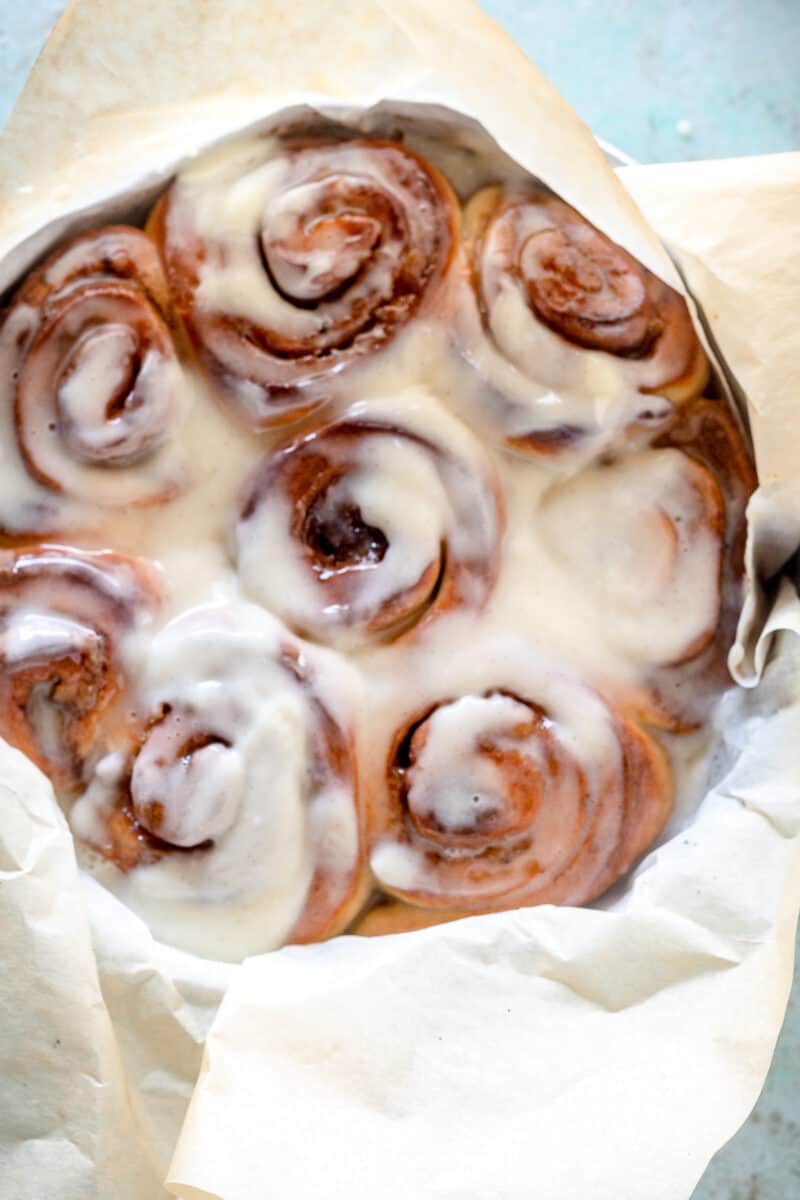 Yield: 8 morning buns
Coffee Cardamom Morning Buns with Crème Fraîche Icing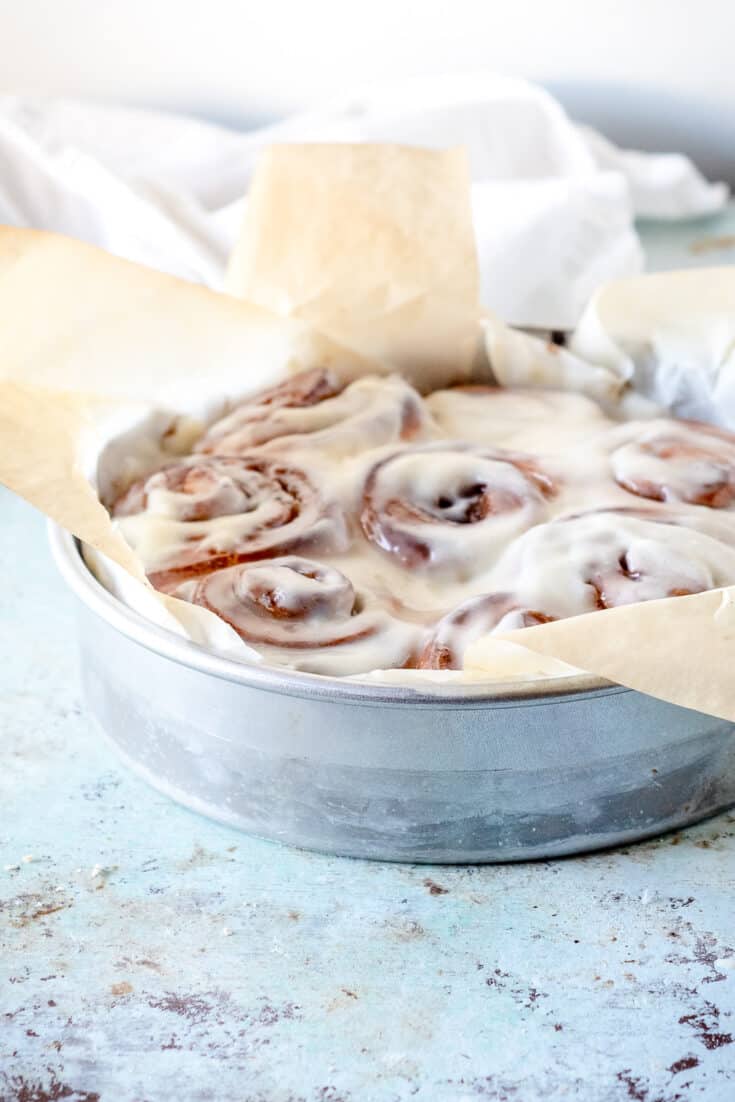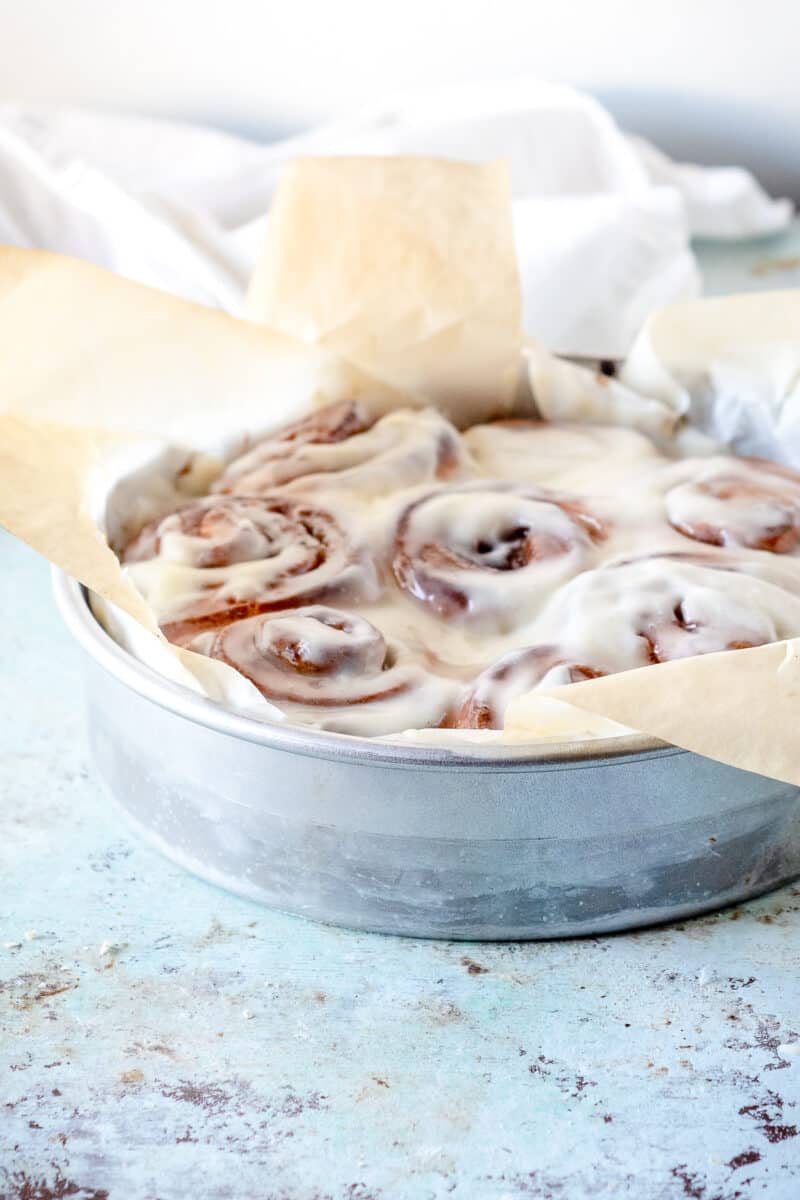 These morning buns pretty quick for anything involving a yeasted dough. They're warm from the oven about 90 minutes after you start them. You'll need to use instant yeast here (I like SAF Red Label), which can be mixed right in with the flour. Don't use active dry yeast, which needs to be proofed in liquid first. The filling is a simple mix of butter, brown sugar, instant espresso, and ground cardamom. The crème fraîche icing is rich with a generous hit of vanilla and a pleasant tang. You can make it with vanilla extract or, if you want to go the extra mile, swap in vanilla bean paste. (The Vermont Creamery Crème Fraîche with Vanilla Bean would also be a natural fit here.)
Total Time
1 hour
20 minutes
Ingredients
For the dough
2 1/2 cups (300 g) all-purpose flour
1/4 cup (50 g) sugar
2 teaspoons instant yeast
1/4 teaspoon kosher salt
3/4 cup (185 g) plain yogurt
3 tablespoons (45 g) unsalted butter
1 large egg
1 teaspoon vanilla extract
For the coffee cardamom filling
3 tablespoons (45 g) unsalted butter, softened
1/2 cup (100 g) light brown sugar
1 teaspoon instant espresso powder
1/2 teaspoon ground cardamom
For the crème fraîche icing
1/2 cup (115 g) crème fraîche
1/3 cup (35 g) confectioners' sugar
1/2 tsp vanilla extract
Instructions
Make the dough. Add the flour, sugar, yeast, and salt to a large mixing bowl and whisk together.
Add the butter and yogurt to a small saucepan and heat until the butter is fully melted and the mixture is warm to the touch. Add to the dry ingredients.
Add the egg and vanilla and mix until combined.
Knead the dough on a lightly floured surface for about 6 or 7 minutes until it forms a smooth, tacky dough.
Shape into a ball, place in your mixing bowl, coat with a bit of neutral oil and cover with plastic wrap. Let proof in a warm place until doubled, about 40 minutes.
Meanwhile, make the filling. Add the softened butter, brown sugar, espresso powder and ground cardamom to a small mixing bowl. Mix with a fork or a pastry cutter until it forms a rough paste.
Preheat the oven to 400°F. Line an 8-inch round cake pan with parchment paper. On a lightly floured surface, roll the dough into a rectangle about 9 by 14 inches and sprinkle the filling over the surface in an even layer.
Starting from the long side, roll the dough into a fat sausage. Pinch the outer seam together to seal in the filling and slice into 8 pieces. Place cut side up in the pan, allowing a bit of space between each bun. Bake until puffed and browned, about 20-25 minutes.
Make the crème fraîche icing. Add the crème fraîche, confectioners' sugar, and vanilla to a small bowl and mix together until smooth. When the morning buns have cooled for 5-10 minutes, ice the buns and eat while they're still warm.
Notes
These are best on the day they are made.
If you want to make these the night before, reduce the yeast to 3/4 teaspoon and let rise for at least an hour before rolling and assembling the buns in the pan. Cover and refrigerate overnight before baking in the morning.
Recommended Products
As an Amazon Associate and member of other affiliate programs, I earn from qualifying purchases.
Nutrition Information:
Yield:
8
Serving Size:
1
Amount Per Serving:
Calories:

390
Total Fat:

16g
Saturated Fat:

10g
Trans Fat:

0g
Unsaturated Fat:

5g
Cholesterol:

66mg
Sodium:

119mg
Carbohydrates:

54g
Fiber:

1g
Sugar:

24g
Protein:

7g