I may earn from purchases through links in this post.
This baked sweet potato stuffed with marinated feta is perfectly balanced between hot and cold, sweet and salty, creamy and crunchy, bright and mellow.
It's a spin on a stuffed baked potato.
But this time it's a sweet potato, and the filling takes a turn for the Mediterranean with salty olives and tangy feta and crunchy sweet bell peppers and red onion all drizzled with olive oil and sprinkled with mint.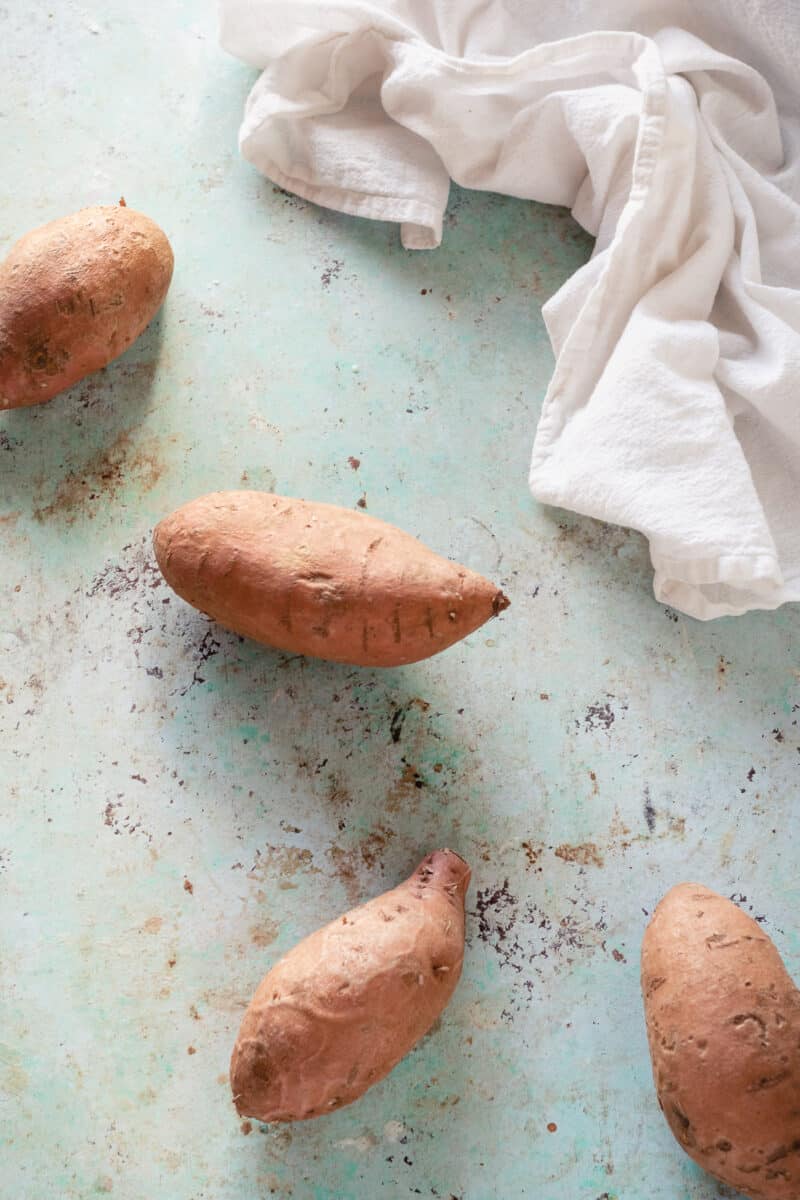 It's a dish I used to make all the time, but had somehow sort of forgotten about as I took on new cooking projects.
I was reminded of it when I was leafing through some of the older residents of my cookbook shelves, looking for inspiration and little gems on their pages I might previously have overlooked.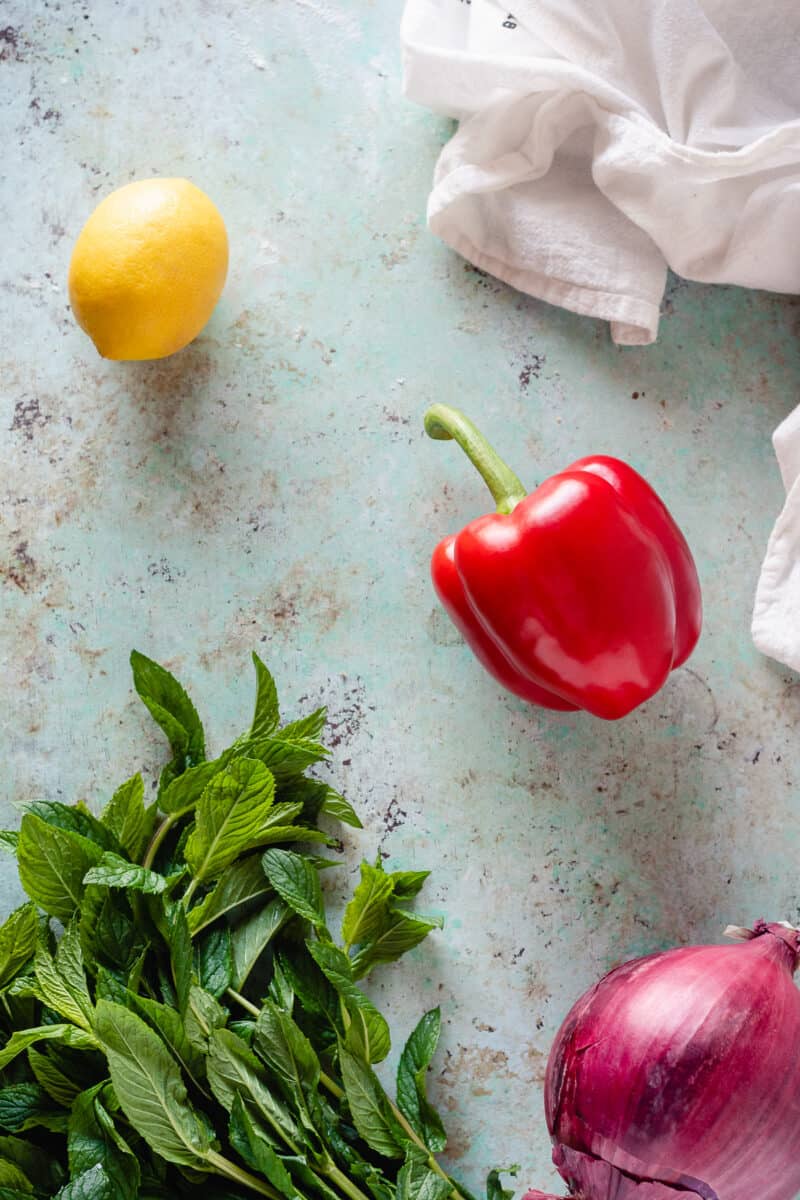 When I saw this recipe when I was flipping through Diana Henry's wonderfully titled cookbook Crazy Water Pickled Lemons, I remembered just how much I loved it and knew I had to make it right away.
It's a dish that feels perfect for the cusp of spring.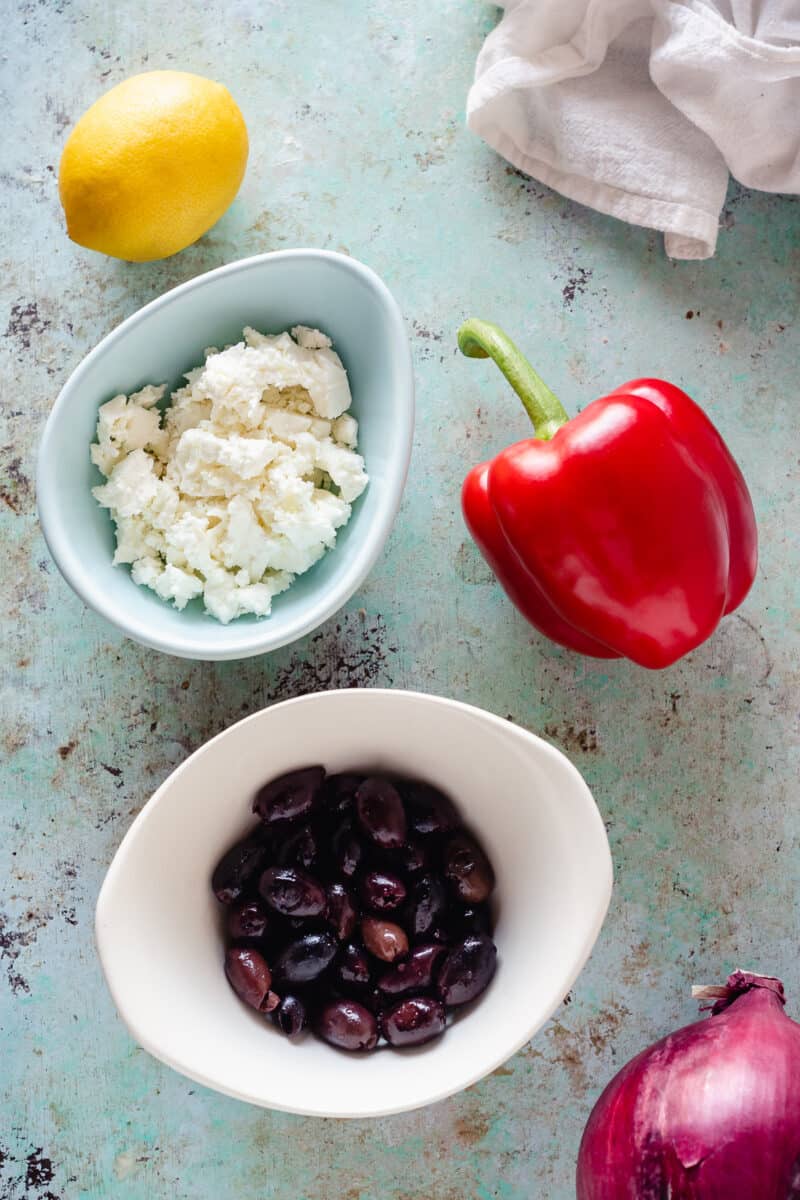 It relies on produce that is easily findable in winter, but manages to combine them in surprising ways that wake up the palate and feel fresh and new.
And it uses so many colors that it's a feast for the eyes as well.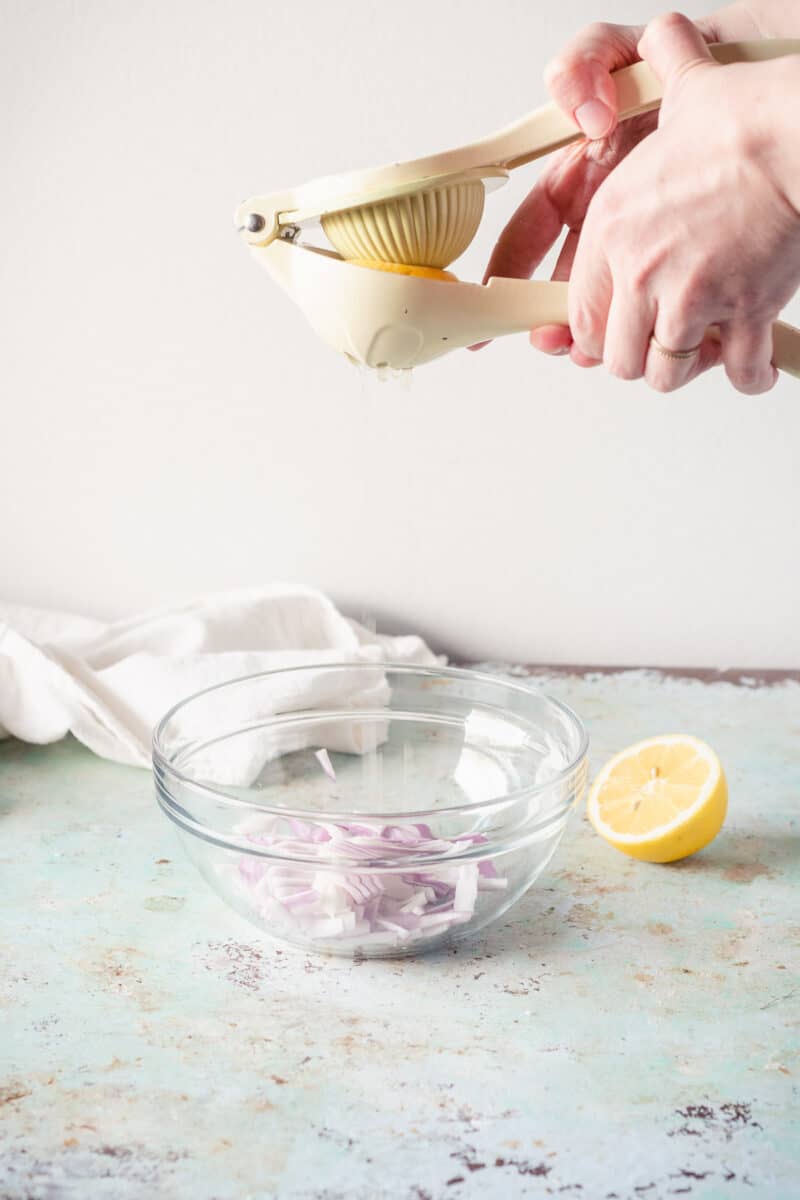 And it could barely be easier.
You throw the sweet potatoes in the oven to bake for about an hour, and while they're roasting, you chop some olives, some red pepper, some red onion, some mint.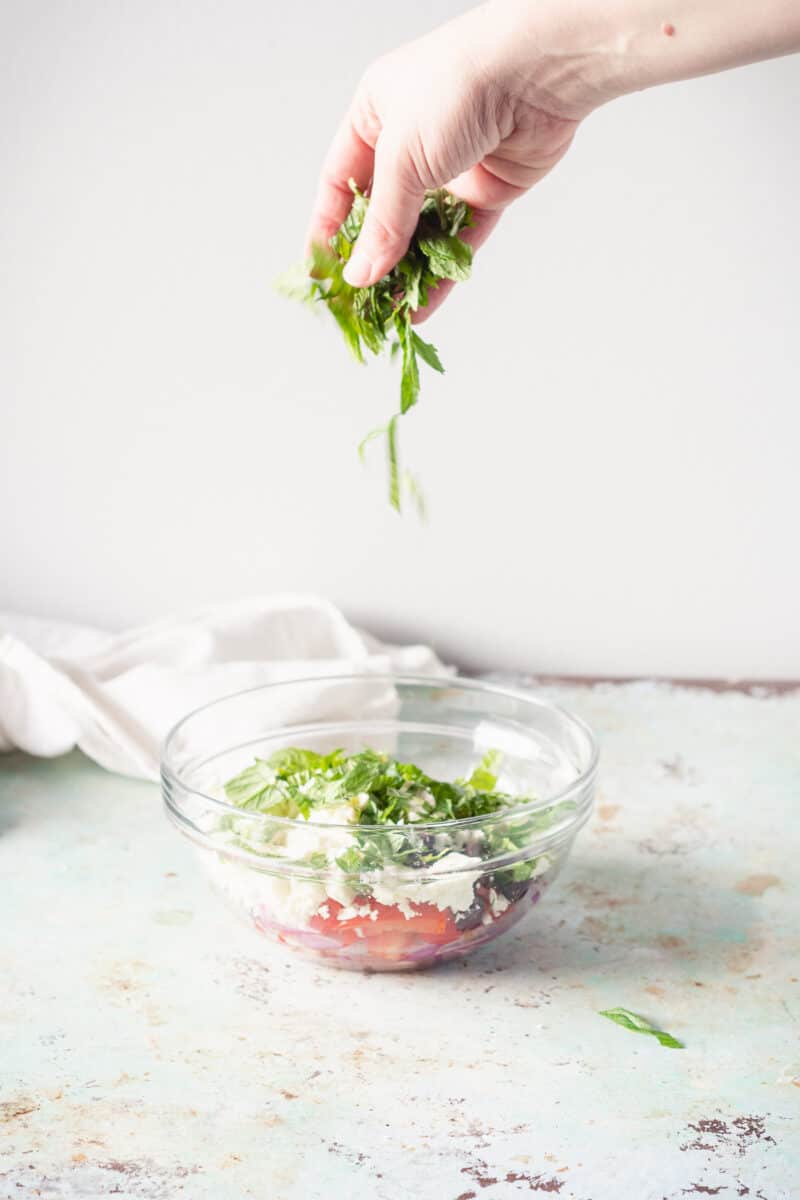 You squeeze some lemon, crumble some feta, toast some spices, toss it all together in a bowl and drizzle in some olive oil and let everything marinate while the sweet potatoes finish baking.
Really, it's a great time to put your feet up, maybe open a bottle of wine or scroll through Instagram or whatever, because you're letting your oven do the rest of the work.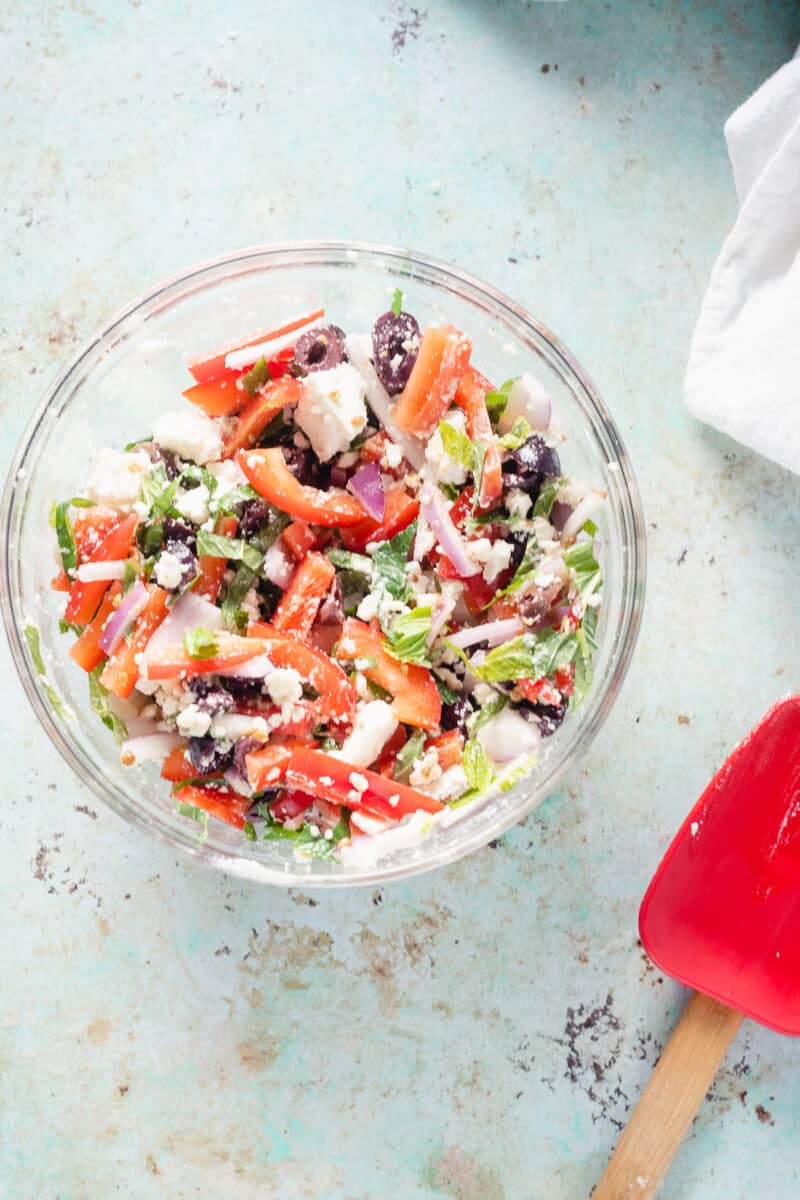 Then, when the sweet potatoes have turned soft and tender on the inside with dry papery skin on the outside, you split them open, let a little of the steam escape, and pile in the minty marinated feta-olive-red-pepper mixture and viola, you've got a meal.
Or I suppose it could also make a pretty spectacular side dish next to your protein of choice, if you're the organized, fancy sort of person whose meals tend to include main dishes and side dishes.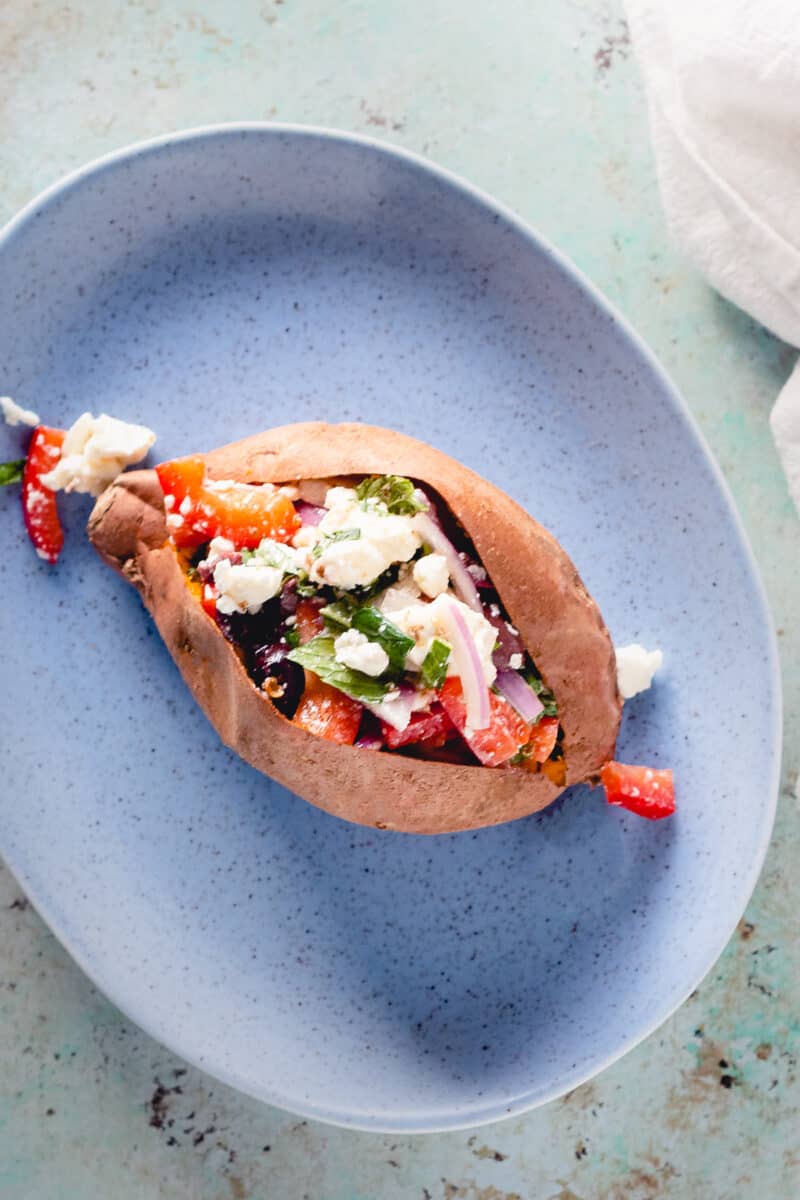 It pushes all the sweet, salty, tangy buttons and manages to feel hearty and light at the same time.
Keep this one in your back pocket. It's the sort of dish that you'll turn to again and again.
Looking for more sweet potato inspiration? Give these curried sweet potato latkes a try.
Yield: 2 servings as a main
Baked Sweet Potatoes with Marinated Feta, Olives, and Red Peppers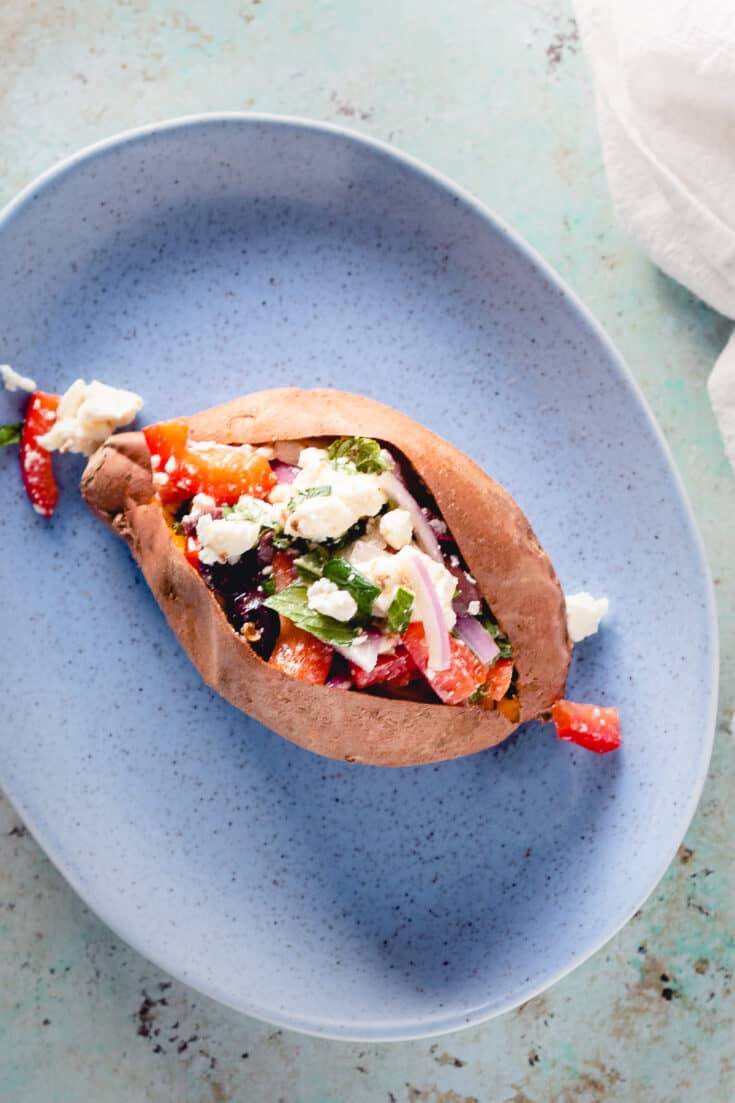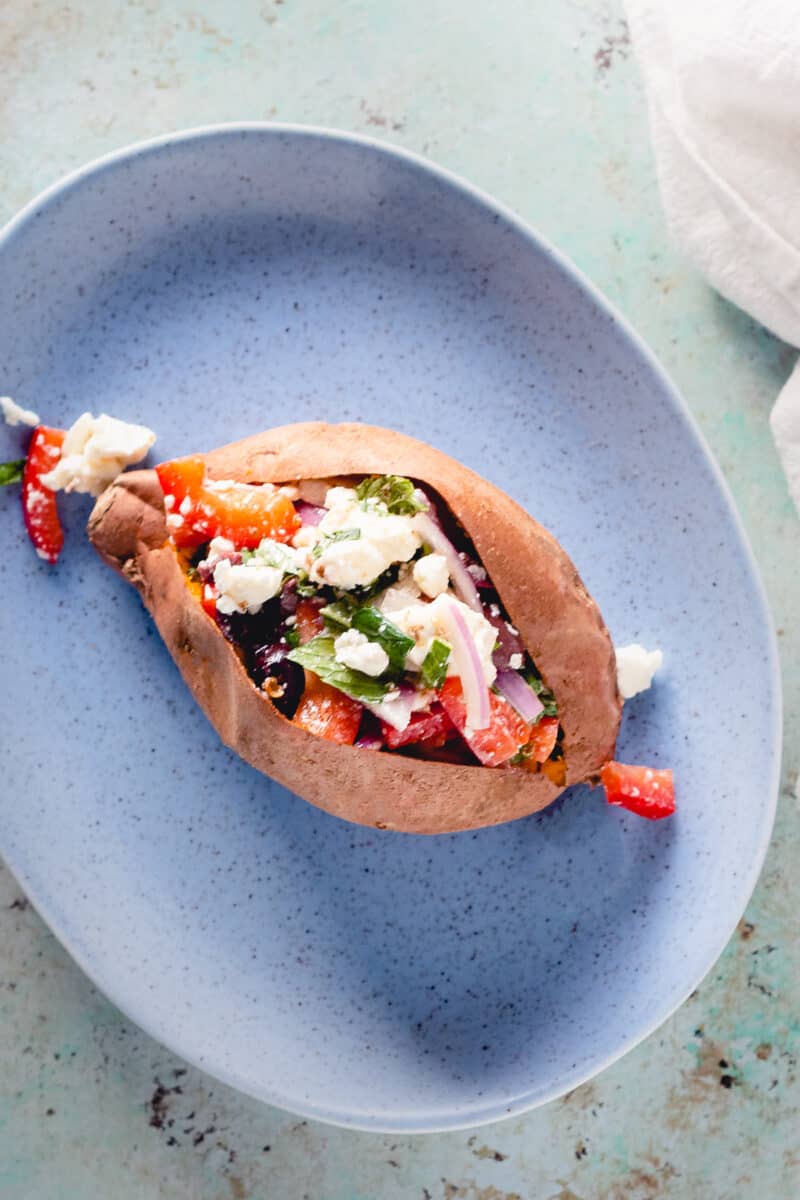 I love this dish so much. It combines familiar flavors in an unexpected way and the combination just works. If you're an olive hater, you can leave them out and still have a great dish. The amounts here are pretty flexible given the variable sizes of sweet potatoes. I try to look for ones that are on the medium-small side rather than the huge ones that so often populate the grocery store islands. If all you can find are huge ones, you can certainly cut them in half after roasting and pile the feta-olive-red pepper mixture on top.
Total Time
1 hour
15 minutes
Ingredients
2 medium sweet potatoes
4 ounces feta cheese, roughly crumbled
1/2 cup kalamata olives, pitted and chopped
1/2 medium bell pepper, thinly sliced and chopped into 1-inch segments
1/4 medium red onion, thinly sliced and chopped into 1-inch segments
juice of 1/2 a lemon
1/2 teaspoon fennel seeds
1/2 teaspoon coriander seeds
small bunch of fresh mint, roughly chopped
2 tablespoons extra virgin olive oil
Instructions
Preheat oven to 375° F. Line a baking sheet with aluminum foil. Scrub the sweet potatoes under cold water to remove any stray dirt, place them on the foil lined baking sheet (no need to x or prick the skin) and bake for 45-60 minutes (depending on size) until they feel tender to the touch.
While the potatoes are baking, add the chopped red onion to a medium bowl and pour the lemon juice over it and let it sit for a few minutes. This will help to take the bite out of the raw onion.
Toast the fennel and coriander seeds in a dry skillet over medium heat for about 1 minute, or until fragrant. Crush the seeds in a mortar and pestle and add them to the bowl.
Add the olives, bell pepper, mint and olive oil to the bowl and stir to combine. Cover and refrigerate until the sweet potatoes are finished baking.
When the sweet potatoes come out of the oven, put them on plates, slice them open lengthwise, and divide the feta-olive-red pepper mixture between them. Eat.
Notes
Depending on the size of the sweet potatoes and how full you stuff the sweet potatoes, you may have some of the feta mixture left over. It will keep, refrigerated, for a couple of days. You can roast up another sweet potato or toss it with chickpeas for another meal.
Recommended Products
As an Amazon Associate and member of other affiliate programs, I earn from qualifying purchases.
Nutrition Information:
Yield:
2
Serving Size:
1
Amount Per Serving:
Calories:

542
Total Fat:

33g
Saturated Fat:

11g
Trans Fat:

0g
Unsaturated Fat:

21g
Cholesterol:

50mg
Sodium:

845mg
Carbohydrates:

52g
Fiber:

7g
Sugar:

27g
Protein:

11g
First published April 9, 2014