I may earn from purchases through links in this post.
The Vieux Carré is what it would look like if the Manhattan had an eccentric, worldly, New Orleanian great aunt.
It's rich and spirit forward with a split base of rye and cognac. Like the Manhattan it also gets rounded out with sweet vermouth.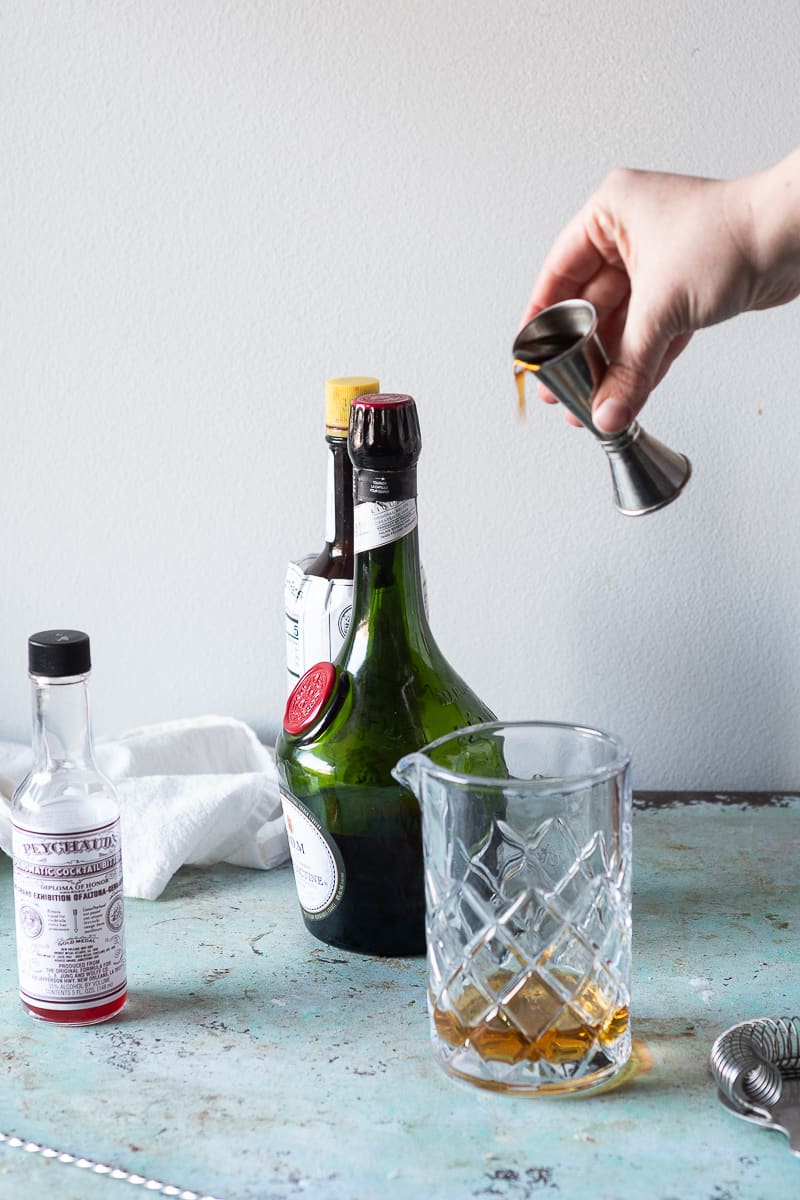 But unlike her straight-laced nephew, the Vieux Carré has an unruly tangle of fragrance and flair from herbal Benedictine, anise-y Peychaud's Bitters, and warm baking spices from the Angostura Bitters.
The words "vieux carré" mean "old square" in French. And Vieux Carré is also the French term for the most oldest and most famous section of New Orleans, the French Quarter.
The drink was created in 1938 by Walter Bergeron, the head bartender the Swan Bar at the Hotel Monteleone in the French Quarter.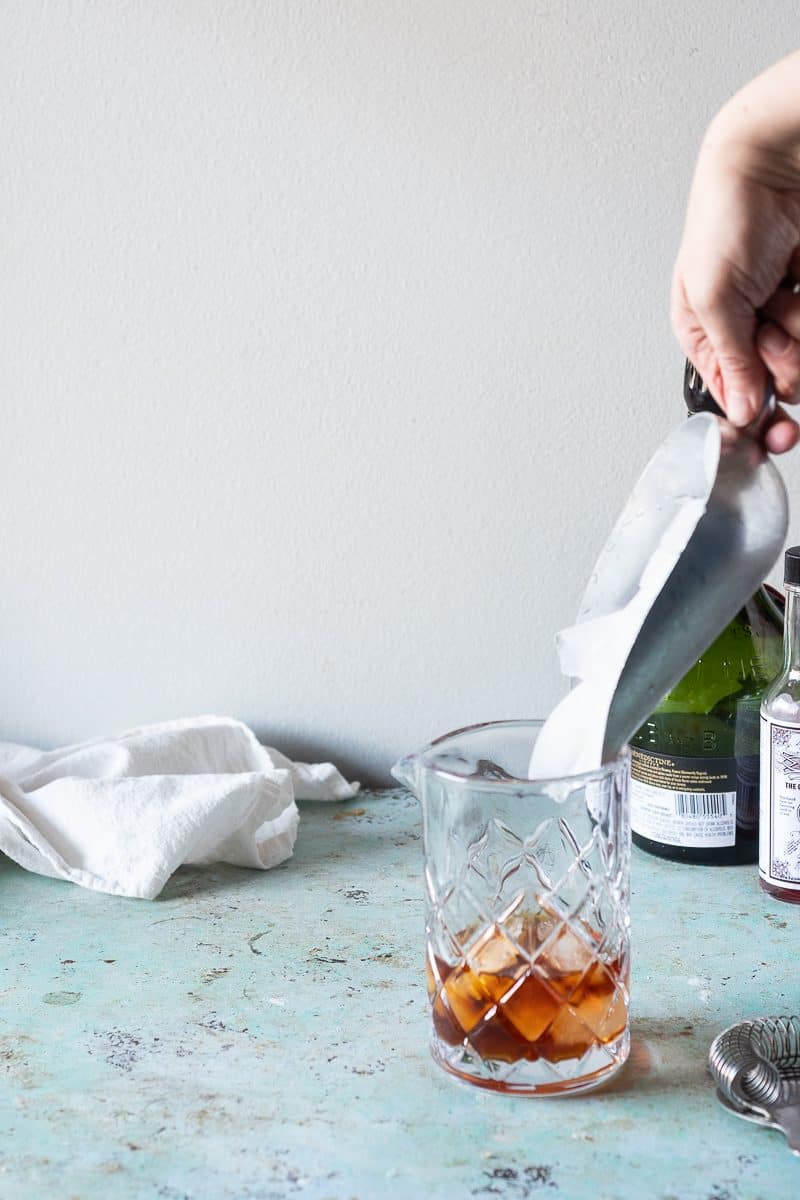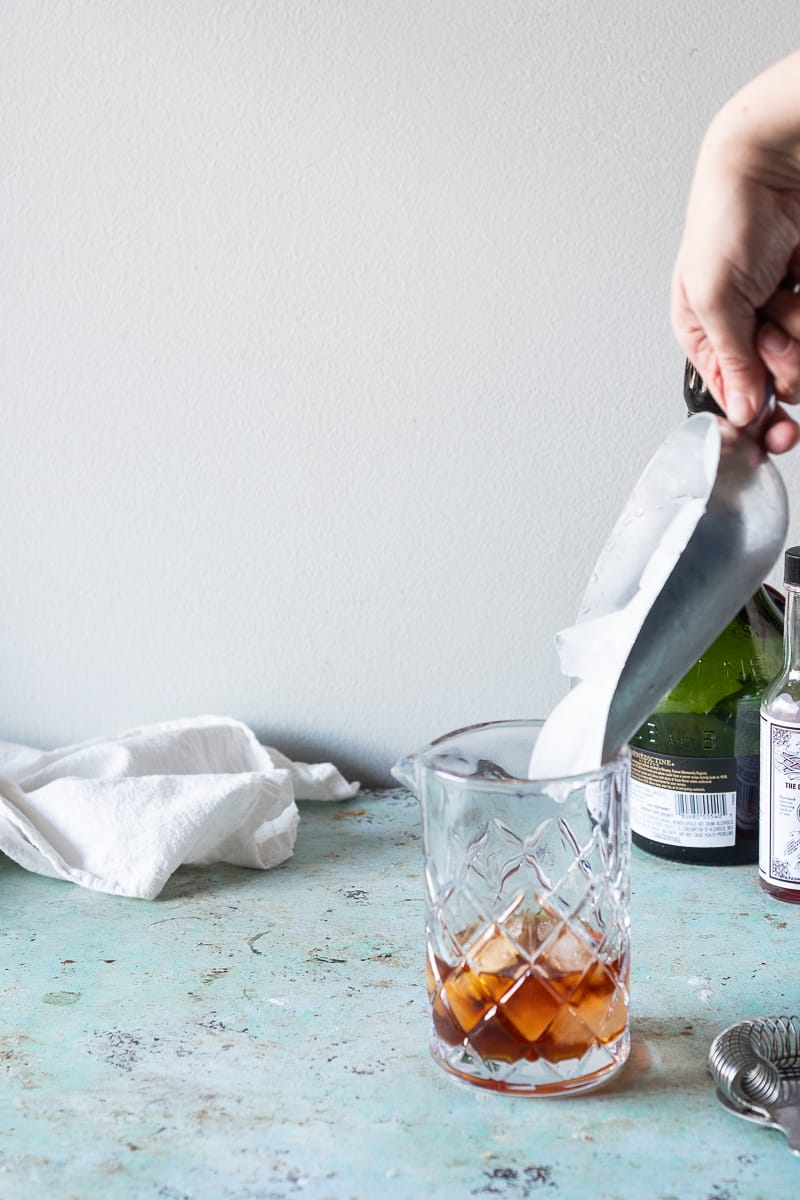 The hotel is now famous for its rotating carousel bar, which replaced the Swan Bar and still carries on the tradition of serving Bergeron's drink as its signature cocktail. (And they serve plenty of New Orleans' other famous drink, the Sazerac, too.)
The drink has remained mostly the same over the years, though different bartenders certainly tweak it to their own liking. But the equal parts rye, cognac, and sweet vermouth is the same in every version I've come across.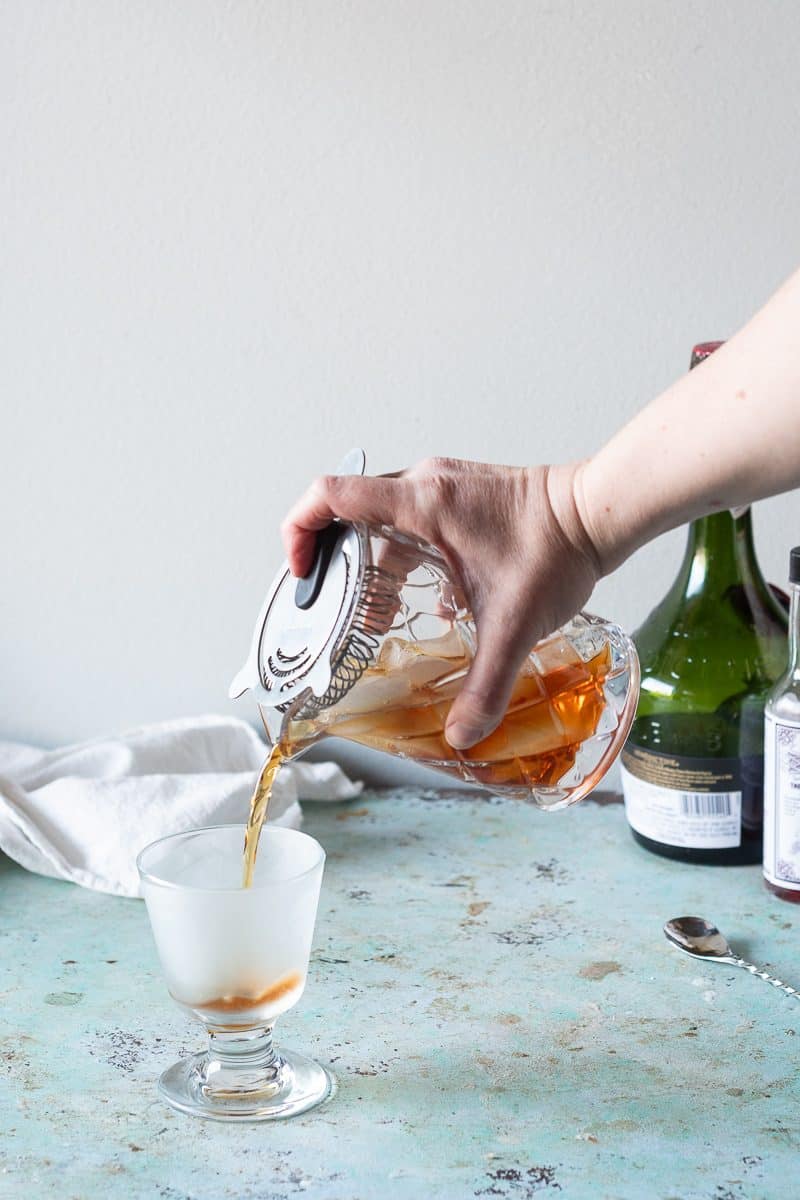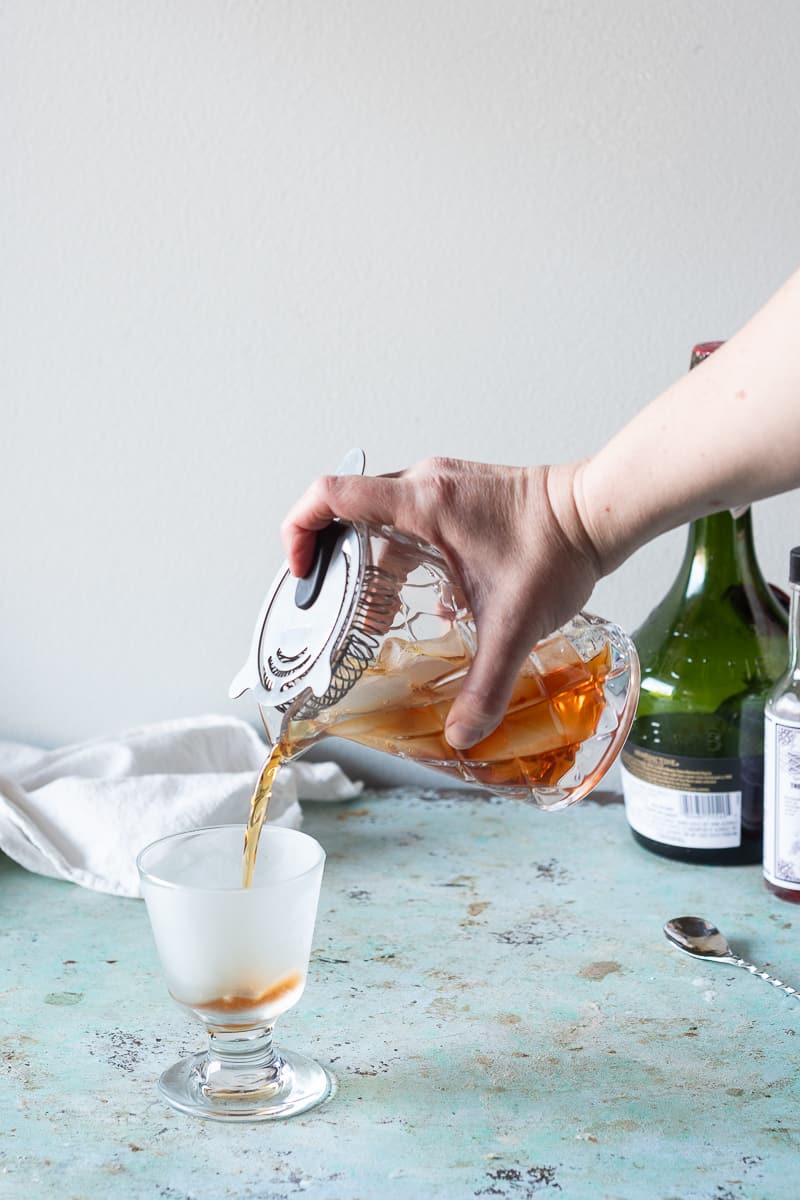 Some go with 3/4 of an ounce, and some 1 ounce for each of these components. And the dashes of Peychaud's and Angostura remain constant as well (except for the occasional swapping in of one of the newer Creole bitters on the market).
The thing that varies the most is the amount of Benedictine. I've seen it go anywhere from a barspoon to 1/2 an ounce.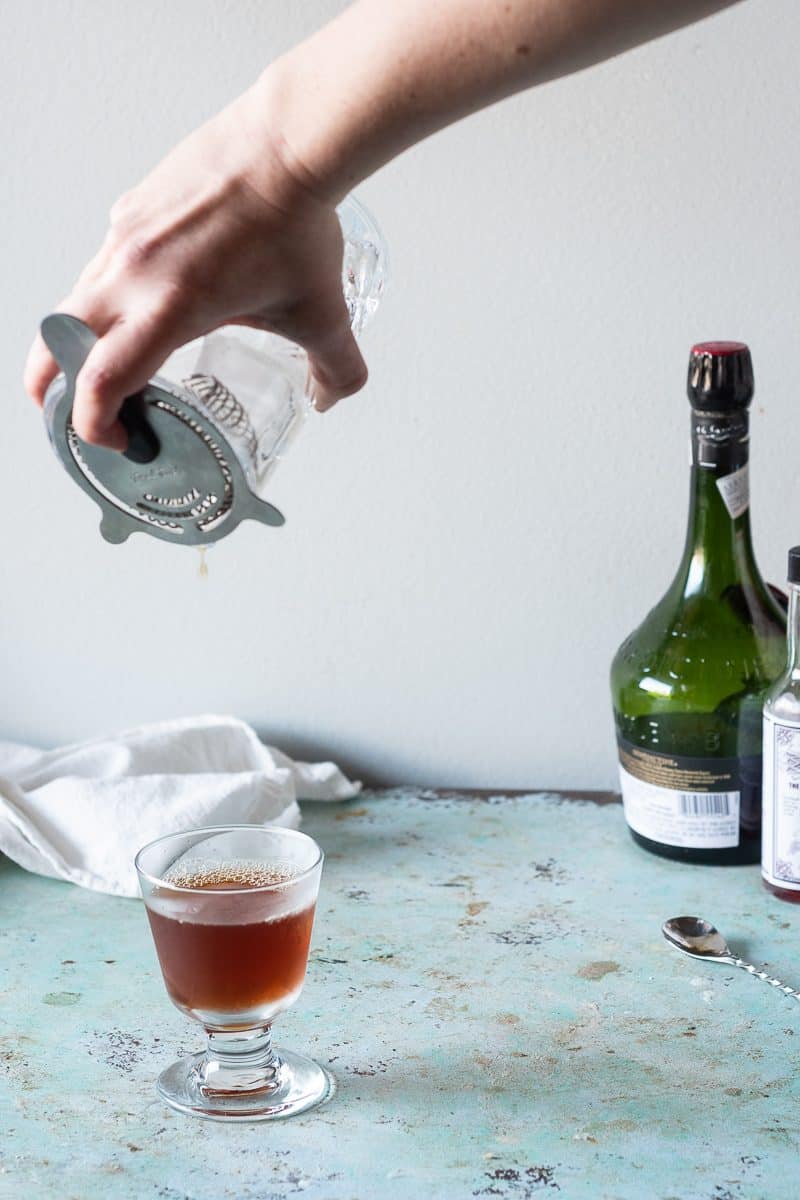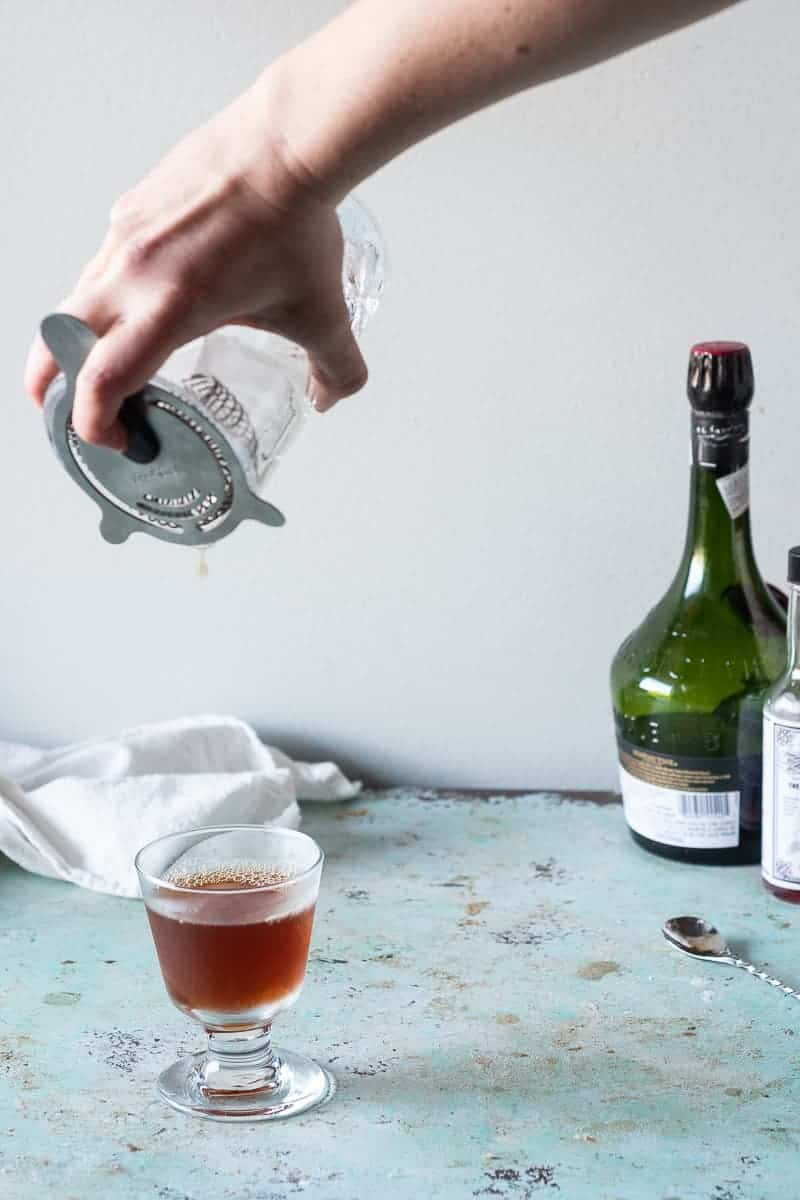 The original uses 3/4 of an ounce of the rye-cognac-vermouth and a 1/2 ounce of Benedictine, which to me feels a little heavy on the Benedictine's honey notes. I tend to pull that back to a 1/4 ounce or a barspoon, depending on my mood.
I also tend to forego the traditional lemon twist, in part because I am lazy and don't always have lemons around, and in part because I don't feel like it adds much to this particular drink.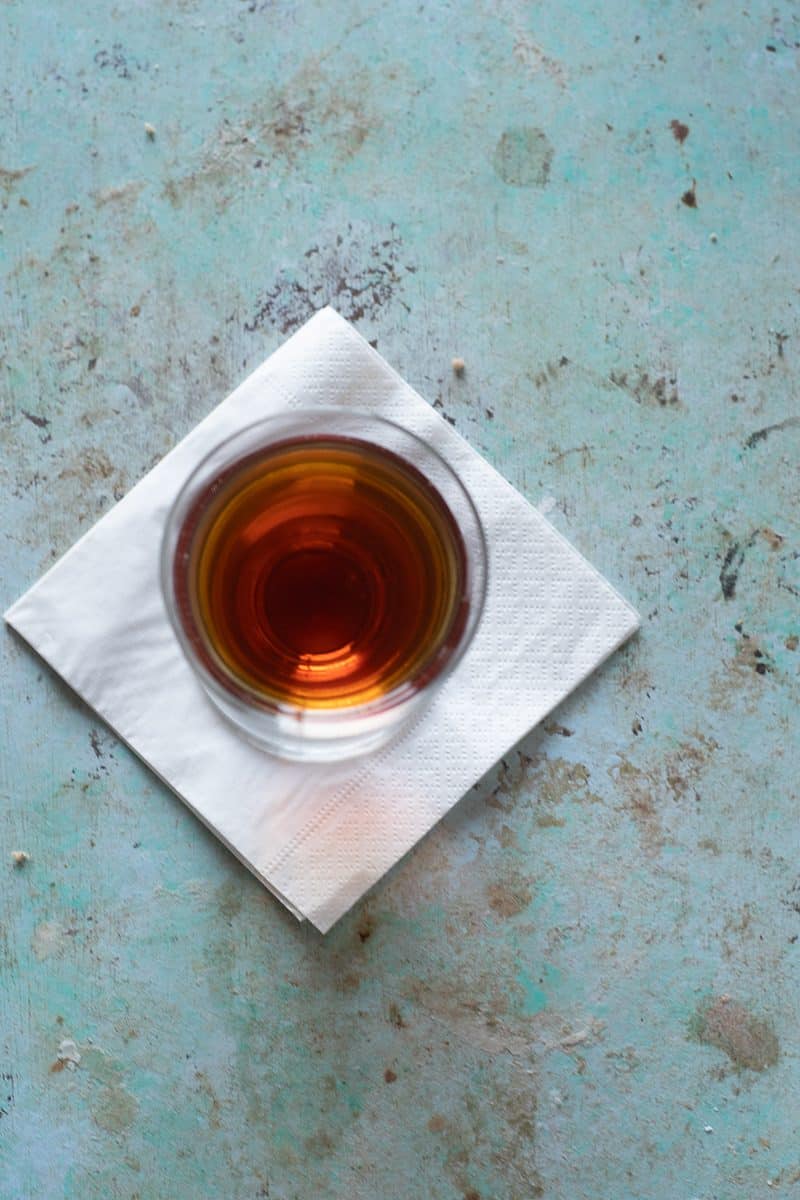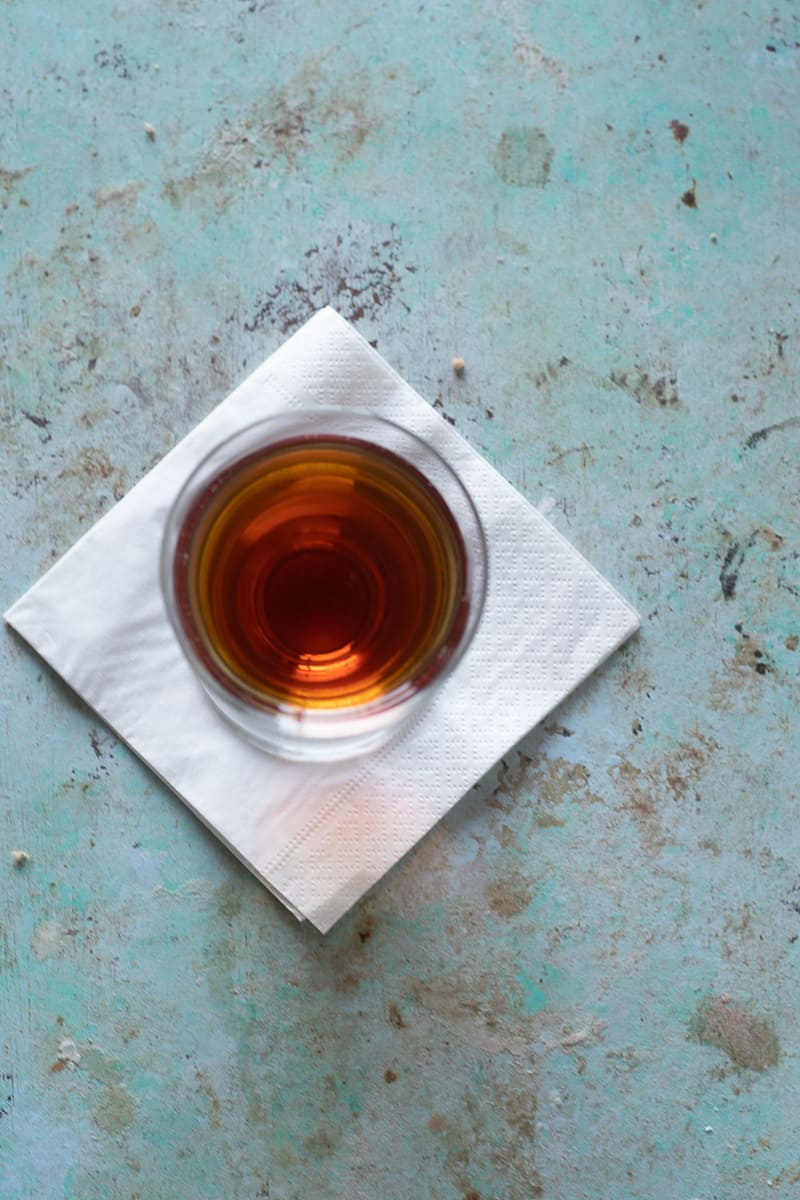 I actually prefer it with an orange twist if I'm going add a citrus garnish, but you should absolutely go with a lemon twist if you want it to make it the standard way.
On the spectrum of Manhattan variations from dryer and less sweet takes like the Brooklyn to the sweeter classic, the Vieux Carré is on the richer and sweeter end. I love it as an after dinner drink when I want something full flavored and boozy.
It's a lovely way to end the night.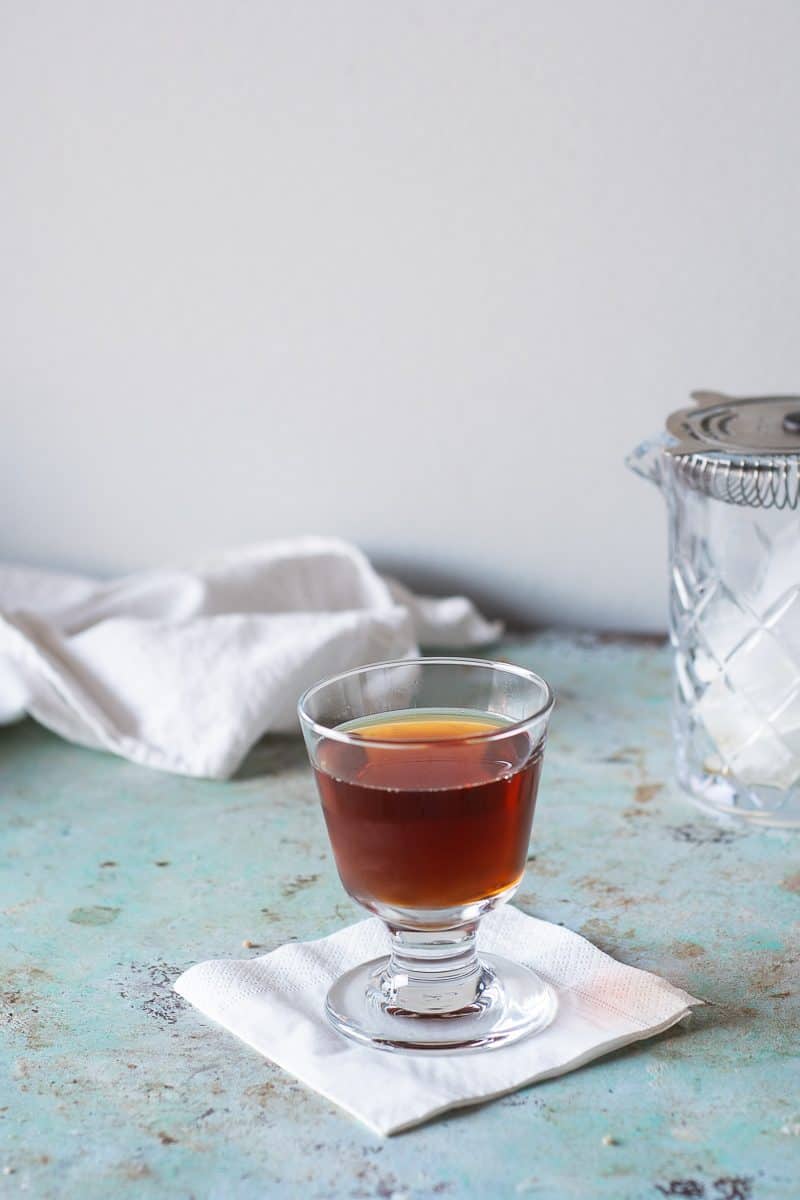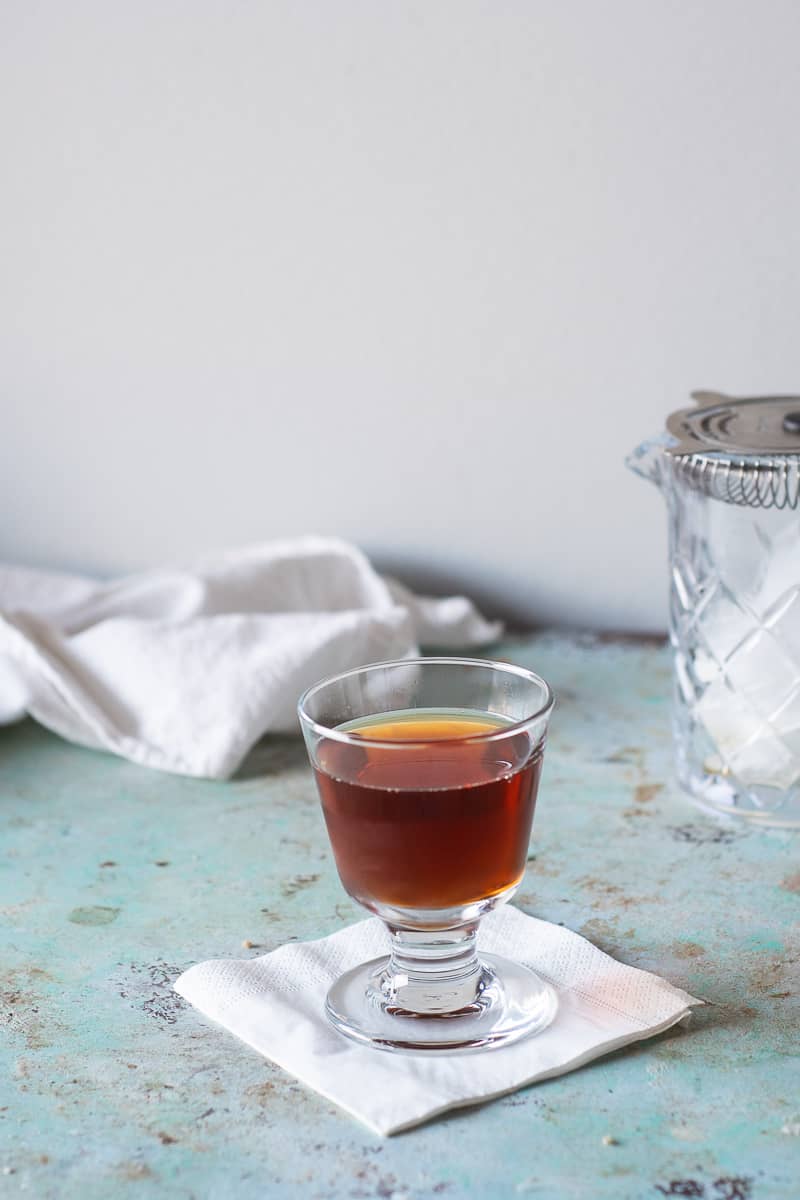 Yield: 1 drink
Vieux Carré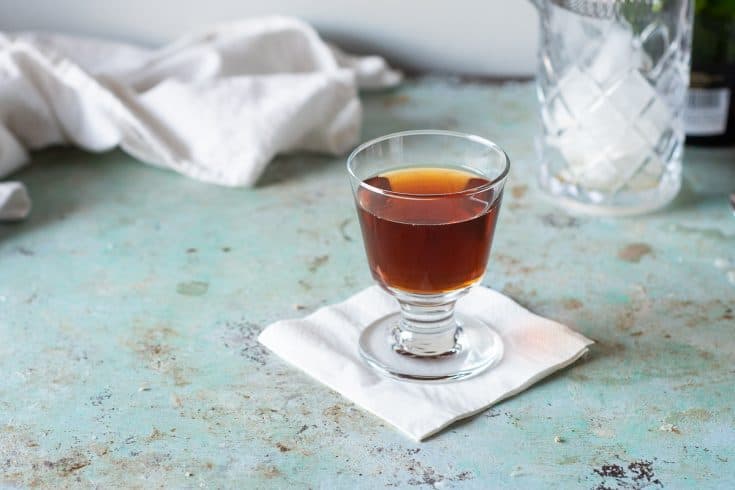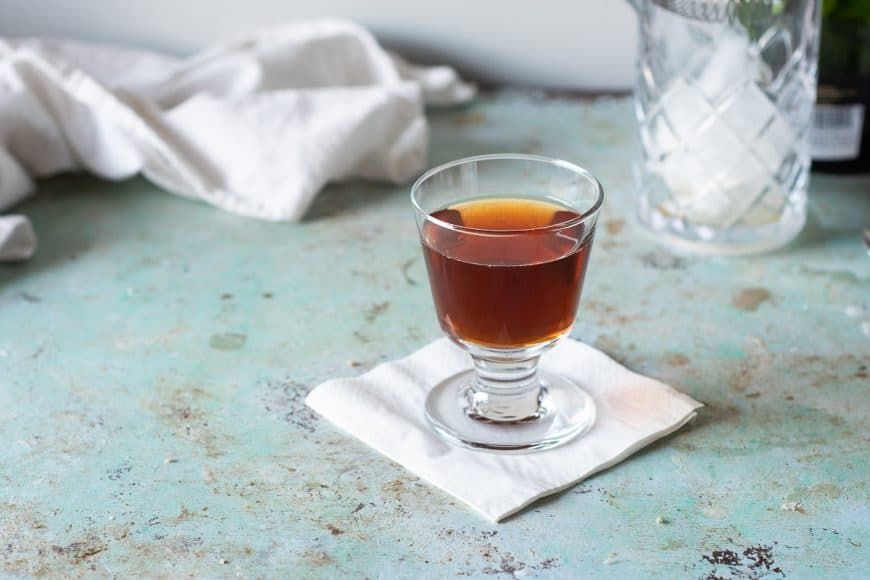 The Vieux Carré spirit-forward New Orleanian take on the Manhattan. It's a richer, more complex drink than classic the Manhattan. The base is split between rye whiskey and cognac, and in addition to sweet vermouth there is a splash of Benedictine and dashes of Peychaud's and Angostura bitters. This drink is especially nice with Pierre Ferrand cognac and Carpano Antica sweet vermouth (though some people think the vanilla notes in Carpano Antica are too overpowering and prefer a more straightforward sweet vermouth like Cocchi Vermouth di Torino). It's often garnished with a lemon twist. I usually skip that, but feel free to add it if you like.
Ingredients
1 ounce rye
1 ounce cognac
1 ounce sweet vermouth
1/4 ounce Benedictine
1 dash Peychaud's bitters
1 dash Angostura bitters
lemon twist (optional)
Instructions
Add the rye, cognac, sweet vermouth, Benedictine, Peychaud's and Angostura bitters to a mixing glass. Add ice and stir until chilled, about 30 seconds. Strain into a chilled footed rocks glass. If desired, garnish with a lemon twist.
Recommended Products
As an Amazon Associate and member of other affiliate programs, I earn from qualifying purchases.
Nutrition Information:
Yield:
1
Serving Size:
1
Amount Per Serving:
Calories:

203
Total Fat:

0g
Saturated Fat:

0g
Trans Fat:

0g
Unsaturated Fat:

0g
Cholesterol:

0mg
Sodium:

5mg
Carbohydrates:

12g
Fiber:

2g
Sugar:

4g
Protein:

1g