I may earn from purchases through links in this post.
Who wants chicken for dinner?
It turns out I do. At least if it's crispy and rubbed with a spicy garlicky cashew sauce.
I was a vegetarian for a long time, and most of what I eat is still plant-based, but it's meals like this that make me appreciate my carnivorous side.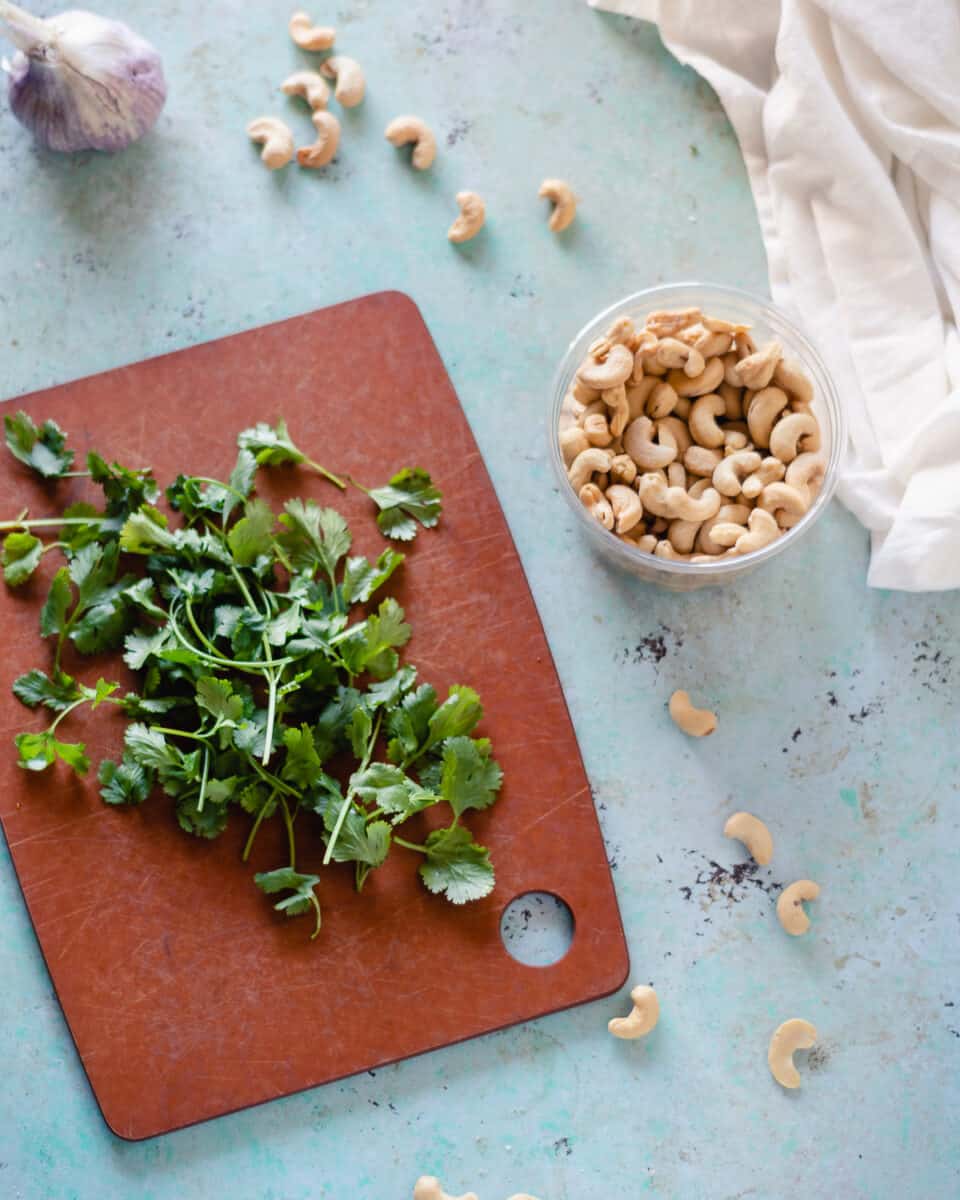 This recipe comes from Melissa Clark. She's one of my favorite food writers. You might know her from her from the column she writes for the the New York Times. Or you might see her name as the co-writer on one of your favorite chef's cookbooks.
I love the way she cooks. Her food is simple and seasonal. It's usually a manageable amount of work for a weeknight, and it's always delicious.
Her book In the Kitchen with A Good Appetite was one of the first I turned to when I was trying to figure out how to approach cooking meat.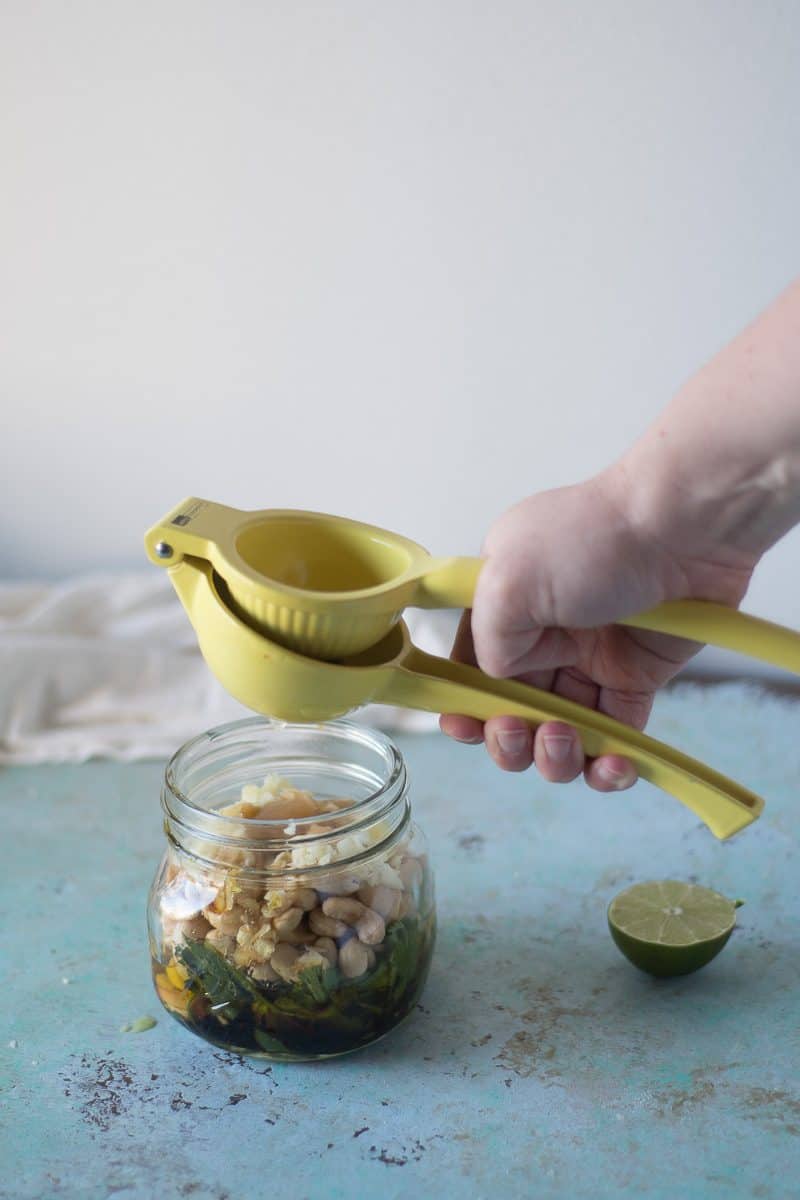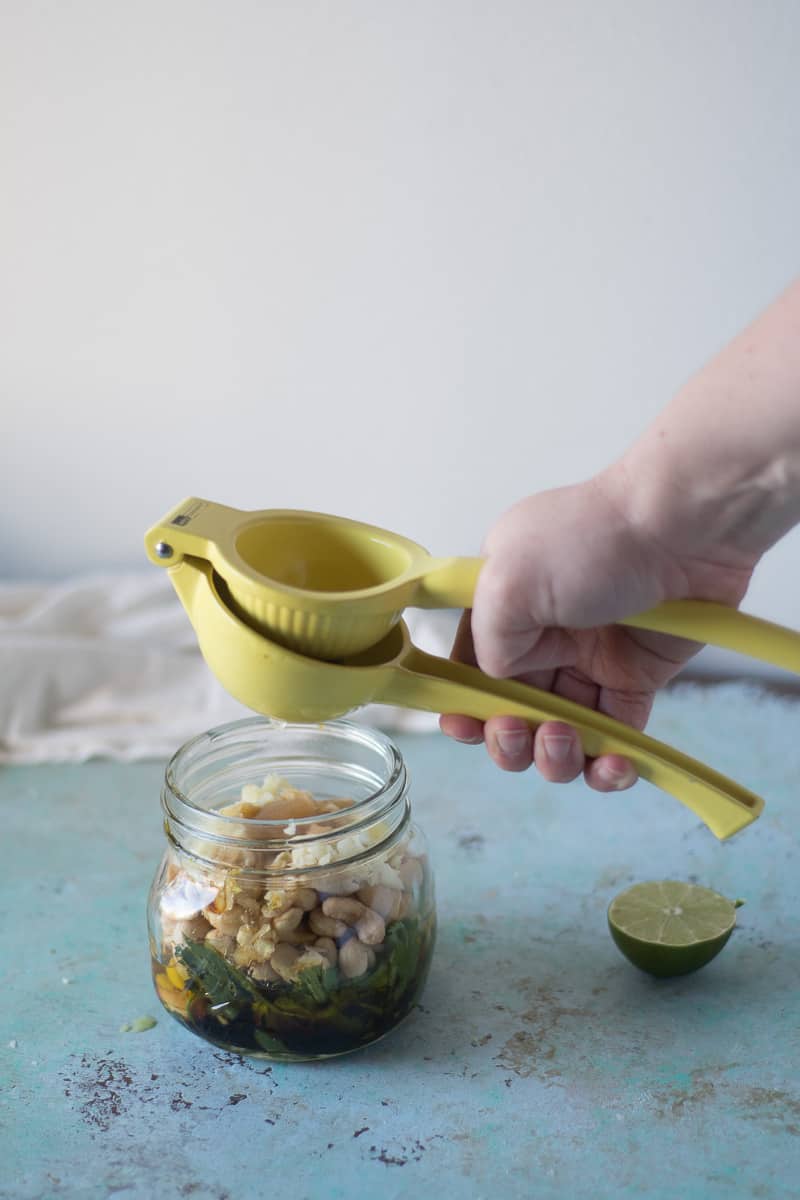 This one is a winner.
Toasted cashews get blended with garlic and cilantro and tamari and lime and a squeeze of sriracha. (This sauce is seriously amazing. I love using it on pretty much anything. Like slicing some cucumbers or carrots and just dipping them in it.)
Then chicken legs get salted and rubbed with the sauce while the broiler preheats.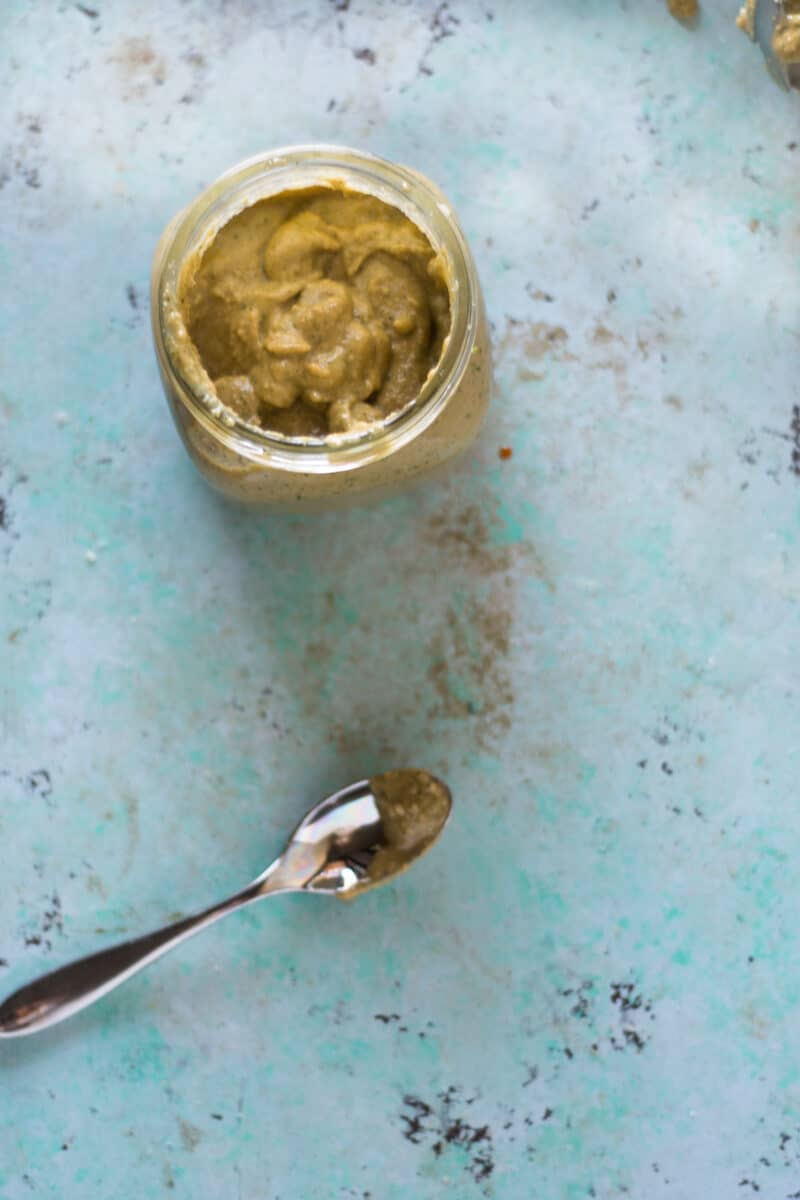 Then they go under the broiler where they get crispy and blackened in spots. (Although you could, as I have, absolutely do this on the grill if the weather is cooperative and you have one available.)
Then you smear the extra cashew sauce on the plates to make a nice spot for the chicken to land, throw together a simple green salad, and you have dinner.
And a pretty amazing dinner at that.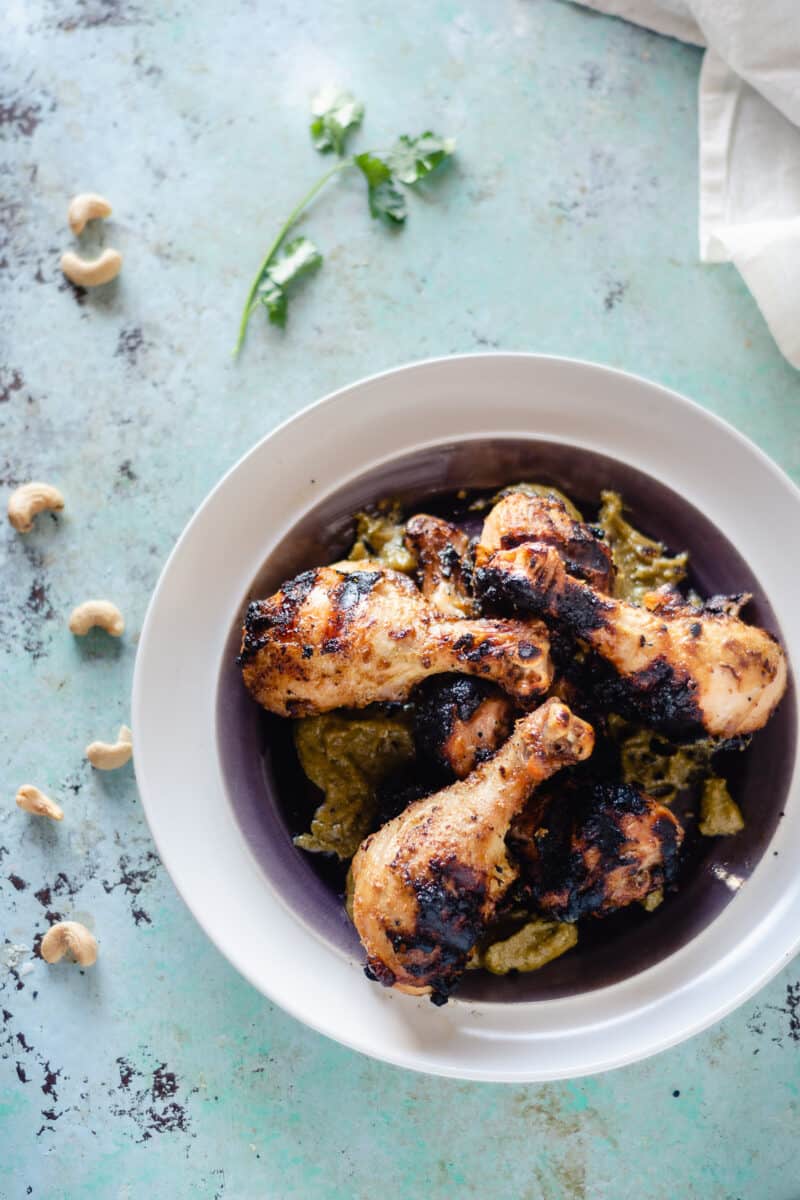 Yield: 4 servings
Chicken with Garlicky Cashew Sauce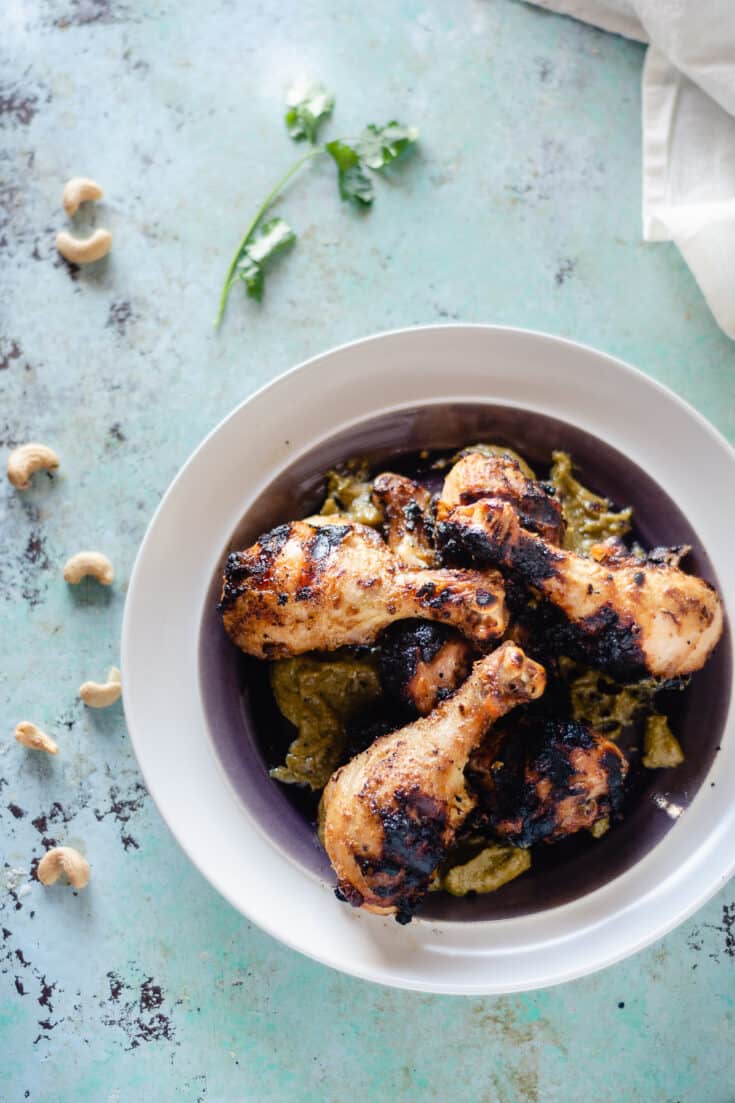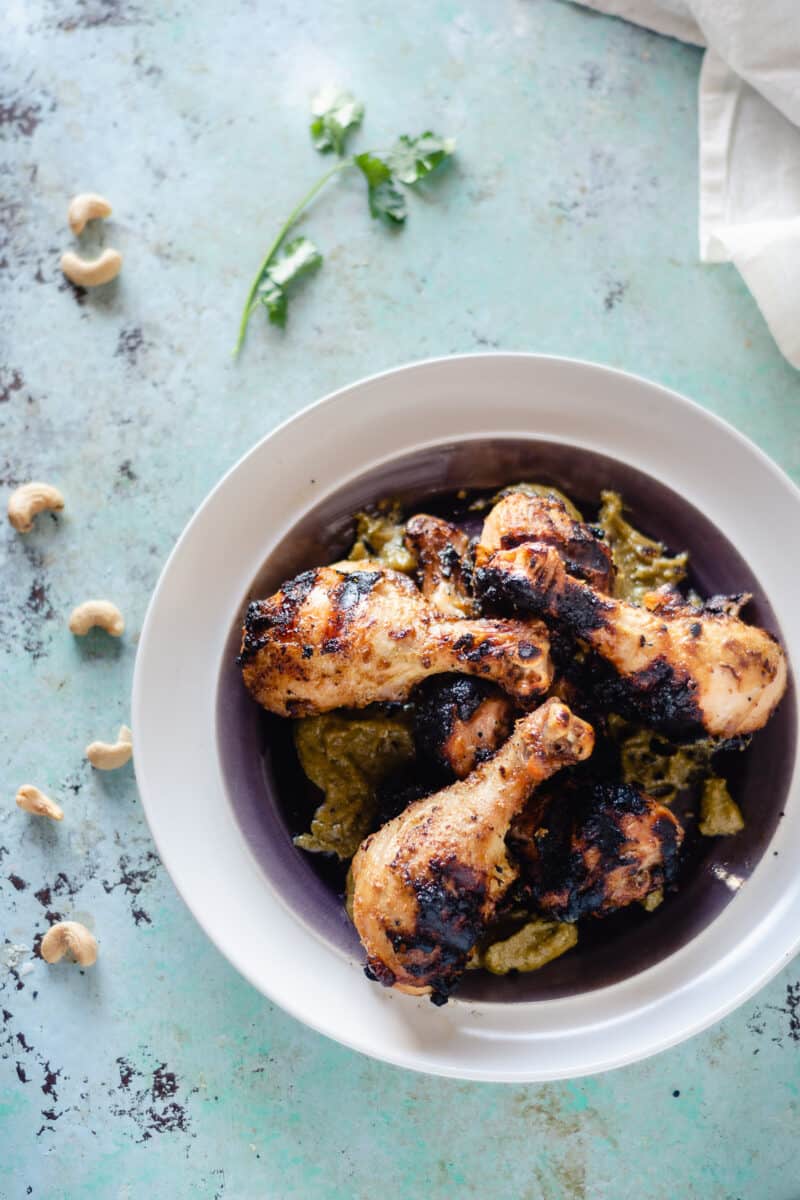 This cashew sauce is rich and salty with sour and spicy notes from the lime and sriracha. It comes together in a few minutes and the chicken takes about a half hour in the broiler. You could also do this on the grill, if you're so inclined. This is a simple meal with great flavor that's totally manageable for a weeknight. Cilantro haters could substitute basil or leave out the herbs entirely. It's gluten free if you use tamari.
Ingredients
1 cup roasted salted cashews
6 tablespoons chopped cilantro
1/4 cup olive oil
4 cloves garlic, peeled and chopped
2 tablespoons soy sauce or tamari
2 teaspoons brown sugar
Juice of one lime
2 tablespoons water
1/2 teaspoon sriracha, or more to taste
kosher salt
3 pounds chicken legs
Instructions
With a stick blender or food processor, blend the cashews, cilantro, olive oil, garlic, soy sauce/tamari, brown sugar, lime juice, water, and sriracha until it forms a smooth paste.
Season the chicken with kosher salt and smear each piece with a light coat of the cashew sauce. Reserve the extra cashew sauce for serving. Preheat the broiler. Line a baking sheet with aluminum foil and place the chicken pieces on it.
Broil the chicken, turning frequently, for 20-30 minutes or until the chicken is crispy and blackened in spots and registers 160ºF on an instant read thermometer.
Smear the remaining cashew sauce on each plate, and divide the chicken legs between the plates, placing them over the sauce. Let rest for 5 minutes before serving.
Recommended Products
As an Amazon Associate and member of other affiliate programs, I earn from qualifying purchases.
Nutrition Information:
Yield:
4
Amount Per Serving:
Calories:

570
This post was originally published on May 2, 2014.