I may earn from purchases through links in this post.
After spending nine years, most of my adult life, as a vegetarian, it's still a little strange for me to base a dinner around meat. My cooking repertoire is made up of stir fries and grain salads and soups and pastas and frittatas and pizzas and all sorts of beans and lentils.
These days, I find myself standing in front of a meat counter wondering what I even like, let alone what I can do with a particular cut or how much I need to get to feed the two of us or if something is hormone and antibiotic free and sustainably raised.
I'm still learning, but I can say one thing with certainty: I love these chicken thighs.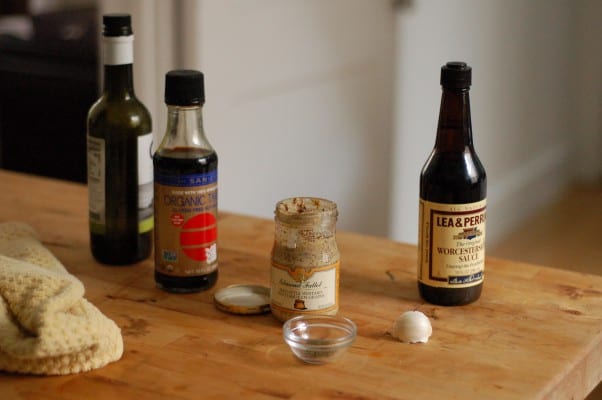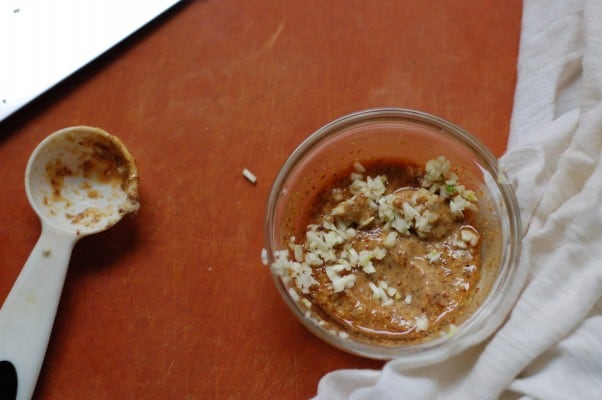 These are bone-in, skin-on chicken thighs. That is, it seems, the consensus pick on the best cut of chicken, and I have to agree. They're flavorful and succulent and have a nice ratio of meat-to-bone, which makes them seem worth the effort to cook and eat.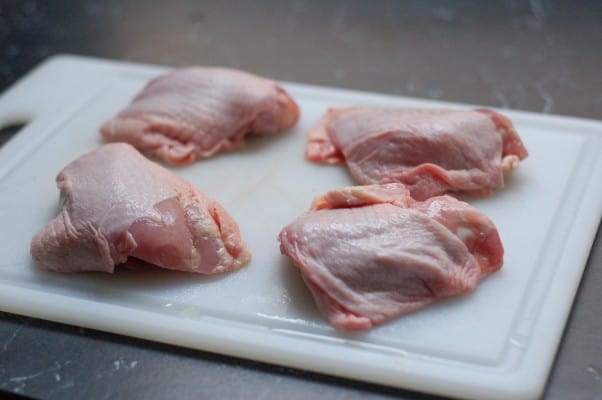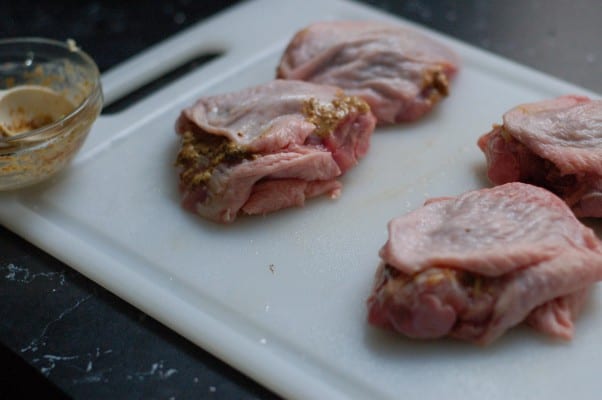 This preparation is a snap to make, and the results are OMG DELICIOUS. The fat gets rendered out of the skin, which turns wonderfully crispy, and the garlicky, herby, Dijon mustard rub adds a layer of deeply savory flavor to the whole thing.
It takes maybe ten minutes of prep and about a half hour of cooking and all it needs is a simple salad or some other deep green vegetables alongside it to make a complete meal.
It is the first chicken dish that's become a regular for me, and I should mention Dan can't get enough of it either. It is a great example of just how good a simple chicken dinner can be.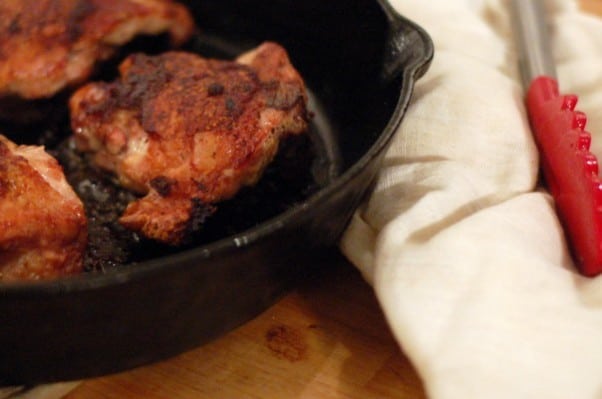 Looking for more chicken inspiration? Try this chicken with garlicky cashew sauce or this lemon balsamic grilled chicken.
Yield: 2 servings
Crispy Mustardy Pan Fried Chicken Thighs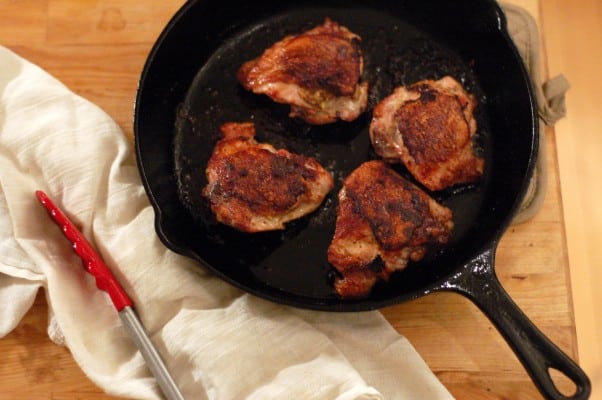 This chicken is so delicious. The key is rendering out the fat and getting the skin nice and crispy. The mustard rub is just gilding the lily. I try to buy chicken that's at the very least hormone and antibiotic free, and ideally organic and pasture-raised. The last ones I got were from Slagel Farm, which I found at Andersonville's Urban Orchard. (Note that if you intend to make this gluten free, you should make sure to use gluten-free tamari and read the labels on your mustard and Worcestershire sauce.) It's great with a salad or dark leafy greens on the side.
Ingredients
4 bone-in, skin-on chicken thighs, (about 1 1/4 pounds)
1 tablespoon Dijon mustard
1 tablespoon tamari
1 tablespoon extra virgin olive oil
1 teaspoon Worcestershire sauce
1 clove garlic, minced
1/2 teaspoon dried thyme
kosher salt
neutral oil such as grape seed or canola
Instructions
Preheat oven to 475°F.
Make the mustard rub. In a small bowl, stir together the Dijon mustard, tamari, olive oil, Worcestershire sauce, garlic, and thyme.
Pat the chicken thighs with a paper towel to remove the surface moisture and sprinkle both sides with kosher salt.
Carefully slip your fingers under the chicken skin to create a pocket for the mustard rub. Spread a quarter of the rub between the skin and the meat of each thigh. (Wash your hands thoroughly.)
Heat a heavy cast iron skillet over high heat, and add enough grape seed or other neutral oil to lightly coat the bottom of the pan. Add the chicken thighs, skin side down and cook for about two minutes. Reduce heat to medium, and continue cooking until the fat renders out of the skin and the skin is golden brown, about 8 minutes.
Transfer the skillet to the oven and bake for 13 minutes. Turn the chicken skin side up and continue baking for another 5 minutes, or until the skin is crispy and the meat registers 165°F on an instant read thermometer.
Remove from the oven, and let it rest in the pan for 5 minutes before transferring to a plate and serving.
Recommended Products
As an Amazon Associate and member of other affiliate programs, I earn from qualifying purchases.
Nutrition Information:
Yield:
2
Serving Size:
1
Amount Per Serving:
Calories:

293
Total Fat:

23g
Saturated Fat:

4g
Trans Fat:

0g
Unsaturated Fat:

18g
Cholesterol:

83mg
Sodium:

1138mg
Carbohydrates:

7g
Fiber:

1g
Sugar:

4g
Protein:

17g