I may earn from purchases through links in this post.
I am an inveterate procrastinator. In school, I was one of the kids who stayed up into the wee hours of the night the day before the project or paper was due, frantically trying to get the thing done. From elementary school onward, it only got worse.
In college, I felt pretty good if I had formulated a thesis by midnight. It meant I might get an hour or two of sleep in before I had to go to class.
(It was, I now realize, a classic strategic deployment of what Julie Norem calls defensive pessimism, but that's more than enough about my armchair psychological self-diagnosis.)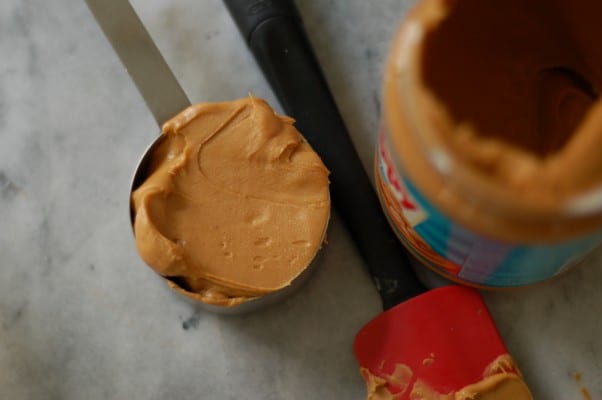 In keeping with that procrastinatory mode, I have resisted making things ahead of time, meal prep included.
When I hear people say they make all of their meals for the upcoming week on Sunday and put them in the freezer to reheat later, I wonder what planet they come from and why on earth they think that sounds easier than making dinner on the same day they're going to eat it?
But I have begun to relent here and there. I now make extras of some things to stash for later.
I have homemade chicken stock in the freezer and jars of jam stacked high on top of the refrigerator. I have a big container of granola in the refrigerator, and usually, somewhere close by, I have a pint-sized jar of this peanut sauce.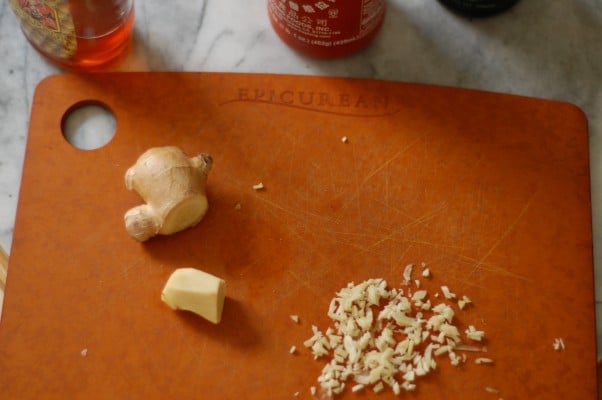 This peanut sauce has saved me more times than I can count. It's become my go-to back up dinner plan.
If I have some kind of long noodles–spaghetti, soba, rice noodles–in the pantry and some vegetables with crunch–cucumbers, snow peas, carrots, red peppers–knocking around the crisper drawer, I can have peanut noodles ready in about 15 minutes, give or take the amount of time it takes the pot of water to boil and the particular noodles to cook to al dente.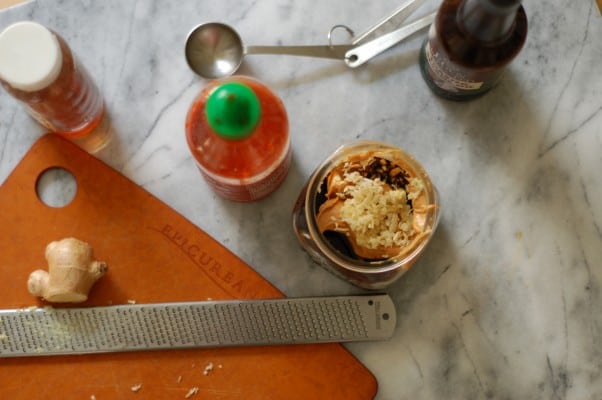 I no longer remember exactly where the recipe came from. It was something I scratched down on a piece of paper years ago.
I've fiddled with the proportions and probably made a few dozen different versions of it over the years.
This particular version is, I think, easy to like. It's a well balanced sauce that's rich from the peanut butter and the sesame oil, salty from the soy sauce, sweet from the honey, sour from the rice vinegar, and hot from the sriracha, with added flavor from the garlic and ginger.
(And if you like this sort of flavor profile, you'll probably also like this garlicky cashew sauce or this other peanut sauce with basil and coconut milk.)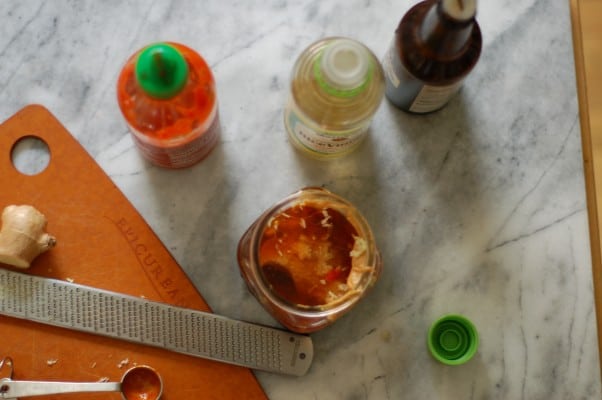 It isn't particularly aggressive on any front, it's smooth and thin enough to coat noodles without feeling like spackle. It keeps easily for a few weeks in the refrigerator, and it would make a nice dipping sauce for satay or spring rolls or fresh vegetables.
It doesn't take long to come together. And even better, it because it can be made and stored in the same container if you have a stick blender and a wide-mouth jar, it barely takes any effort to clean up.
And when I have it around, I know we have a good option for a dinner when we're hungry and want to eat now. We have yet to get tired of this one.
It's worth making ahead of time, but if you, like me, tend toward procrastination, it's even doable on a weeknight at the last minute.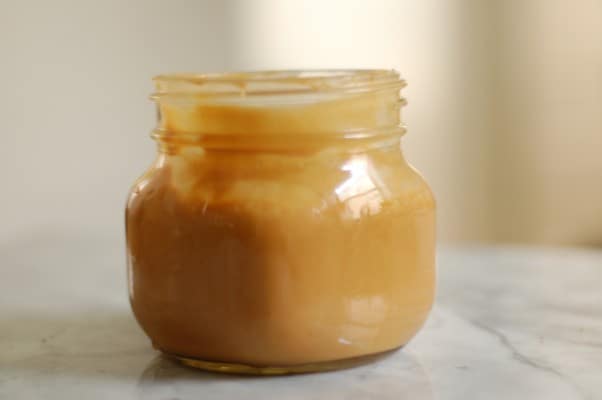 Yield: 2 cups
My Go-To Peanut Sauce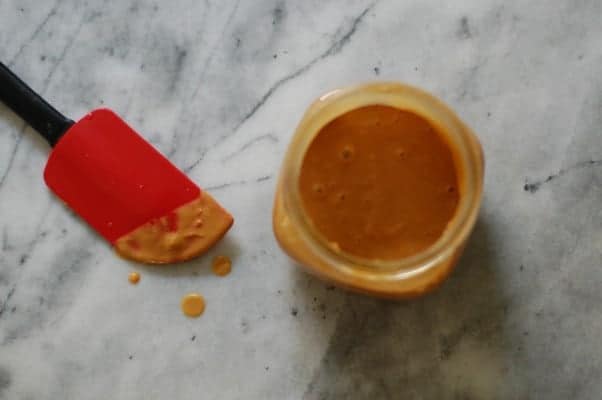 This is a simple sauce with a big payoff. I've made many different variations on it over the years. Sometimes I use sugar instead of honey (which would make it vegan) or limes instead of rice vinegar or sambal oelek instead of sriracha. Sometimes I up the hot sauce for extra heat. I've skipped the ginger if I don't have any around. It's a flexible sauce that you can adapt to your tastes. I used to make it with natural peanut butter, and philosophically I still think I should use the natural stuff, but I just think it tastes better with Skippy, and for now I'm okay with that. I like to make it in a wide-mouth pint jar and blend it in the jar with a stick blender, which means I don't need to transfer it to another container for storage and makes for easy clean up, but you could also use a blender, food processor, or even just stir until it comes together. This is great on any long skinny noodles you like. I often use it on soba noodles, good old fashioned thick spaghetti, or rice noodles (lately I've been loving this on Tinkyada brown rice spaghetti, which happen to be gluten free). I've used it as a dressing on a cabbage and carrot slaw and drizzled it over a bowl of blanched sugar snap peas. It would also make a good dipping sauce for satay, tofu, fresh vegetables, or spring rolls. It's also pretty good right from the spoon.
Ingredients
1/2 cup smooth peanut butter, (natural works, but I usually opt for Skippy for this)
1/4 cup soy sauce or tamari
2 tablespoons rice vinegar
1 tablespoon toasted sesame oil
1 tablespoon honey
1 inch piece of ginger, grated on a microplane or finely minced
1 clove medium garlic, minced
1 teaspoon sriracha or sambal oelek
1/4-1/3 cup water, start with the smaller amount and add more to thin the sauce to your liking
Instructions
Combine all of the ingredients in a wide-mouth pint jar and zizz with a stick blender until smooth (alternately, blend in a blender or food processor or stir in a bowl until thoroughly combined). Add a little more water if you'd like your sauce thinner. I usually go with about 1/3 cup total, but depending on the thickness of your peanut butter, you might want an extra tablespoon or two to thin it to your preferred consistency.
Store in an airtight container (if you blended it a jar, just screw on the lid) in the refrigerator. Keeps for at least two weeks (probably safe for longer).
Recommended Products
As an Amazon Associate and member of other affiliate programs, I earn from qualifying purchases.
Nutrition Information:
Yield:
8
Serving Size:
g
Amount Per Serving:
Calories:

159
Total Fat:

12g
Saturated Fat:

2g
Trans Fat:

0g
Unsaturated Fat:

8g
Cholesterol:

0mg
Sodium:

763mg
Carbohydrates:

9g
Fiber:

2g
Sugar:

5g
Protein:

6g