I may earn from purchases through links in this post.
We're in the long slog part of winter. The holiday season is far behind us, and spring in Chicago is still months away.
This is, for me, the toughest time of year. I get stir crazy. I long for sunlight that stays past five o'clock and for sidewalks that don't end in ankle-deep gray slush puddles.
I long for bright colors and bright flavors. But there isn't much in the way of fresh fruit to be found beyond your average grocery store apples and pears and bananas.
I lean heavily on citrus this time of year. I'm pretty sure I've eaten my weight in clementines by now. But when I want something more than that, something deeper and more complex, but still wintery, I turn to cranberries.
My friend Traci turned me onto to these spiced cranberries. They come from Liana Krissoff's excellent Canning for a New Generation a book that I turn to frequently in the summer when I come home from the farmers' market laden with fruit that I want to preserve (the plum cardamom jam is a favorite of mine).
But I had completely overlooked this recipe, perhaps because I don't spend much time with canning on my mind in late fall and winter when cranberries are abundant or perhaps it looked too basic, like it wouldn't turn out to be anything special. I had no idea it would turn out to be something I'd crave.
It's simple really, just cranberries simmered in sugar and orange juice with a few dashes of warm baking spices, but the result is lovely and comforting and so worth the effort.
The cranberries relax in a deep garnet jammy heap with just the right balance of acid and sweetness and spice. They're just the thing to brighten up a bowl of steel cut oats, to stir into plain yogurt, to top pancakes or waffles, and they're also right at home as an accompaniment on a cheese plate.
Just make them already.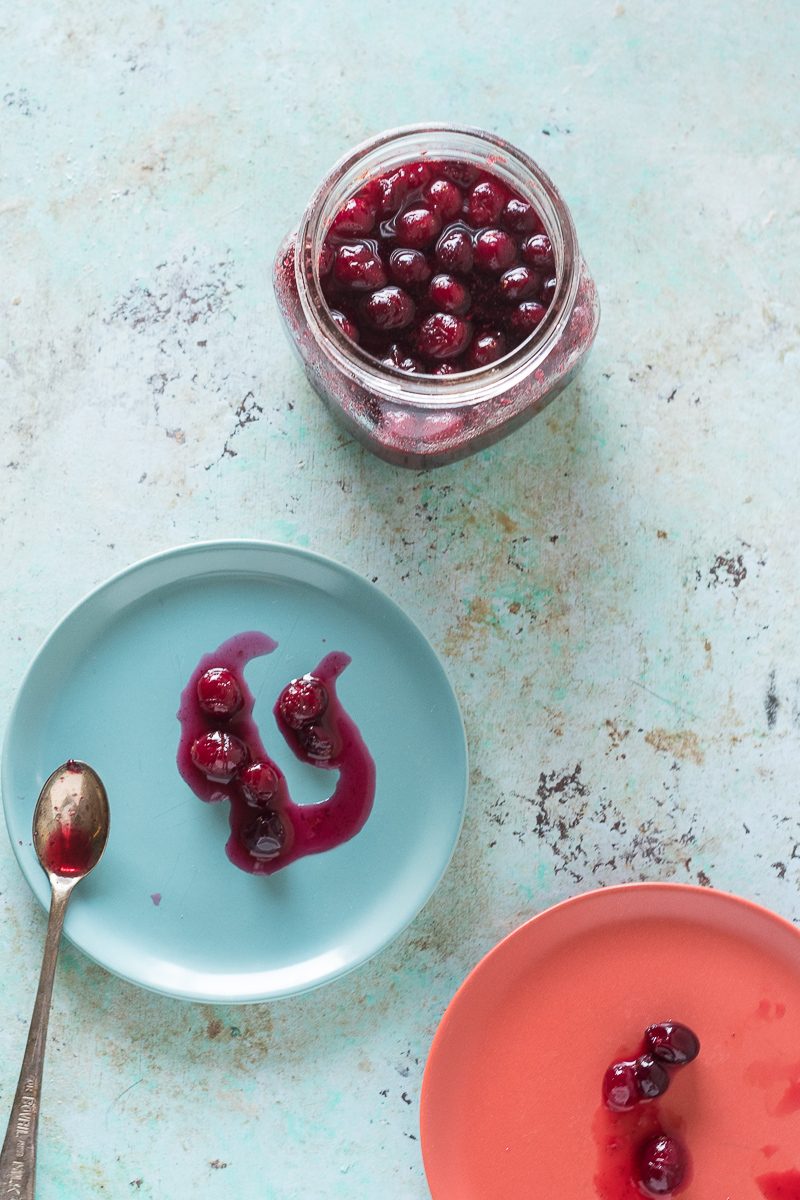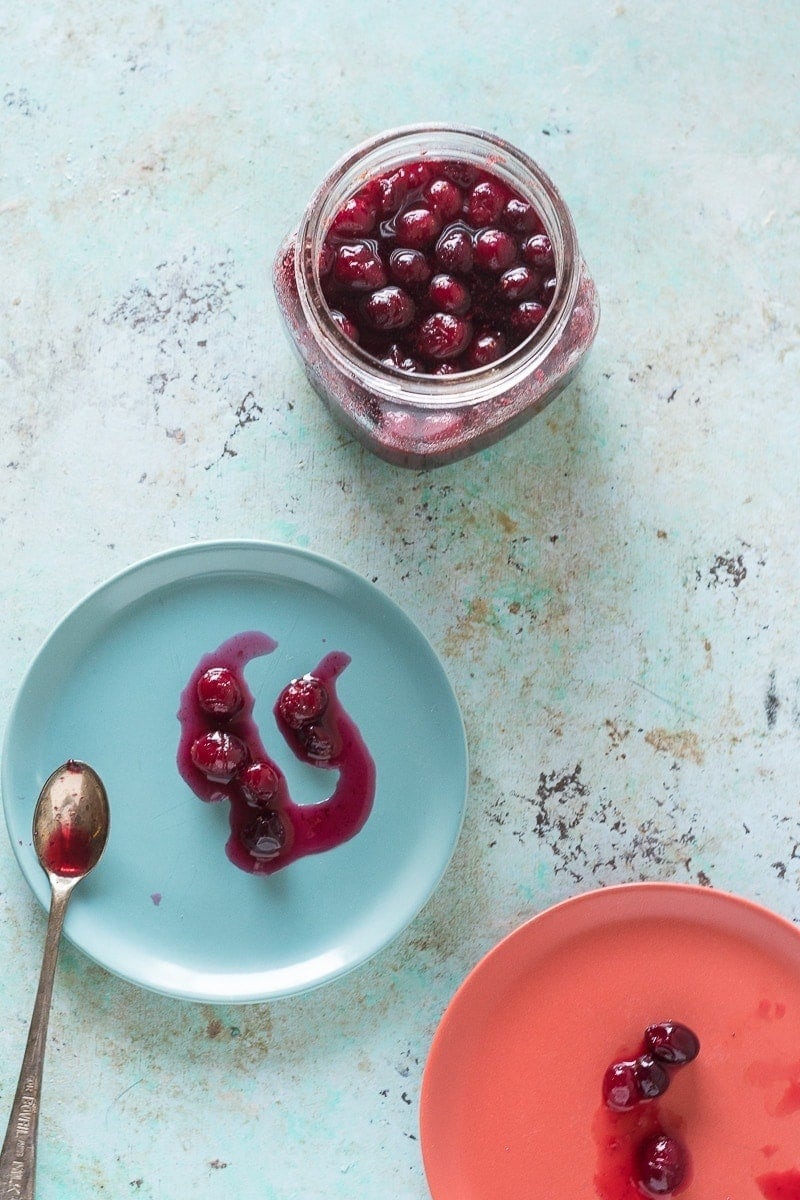 Yield: 3 cups
Spiced Cranberries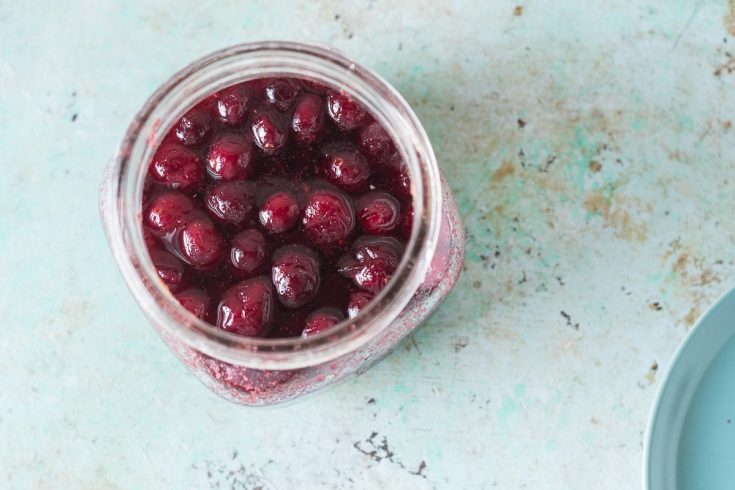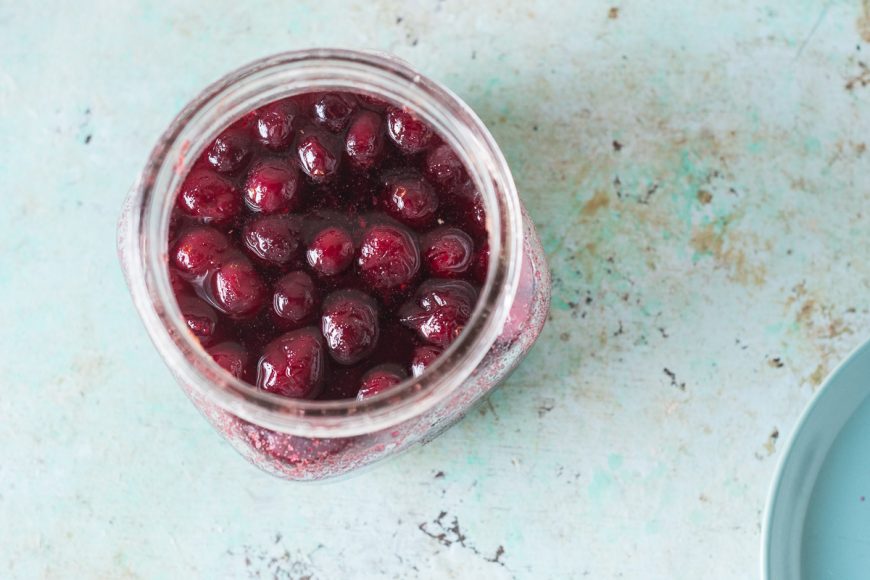 These cranberries are more than the sum of their simple parts. They are excellent on oatmeal, in yogurt, as a topping for pancakes, waffles, or french toast. They are also wonderful with cheese. You can use fresh or frozen cranberries here. I always buy an extra bag or two of fresh cranberries to stash in the freezer to have on hand for times like these. I like to make these with raw cane sugar, which adds a little more complexity than white sugar, but whatever granulated sugar you have on hand will be fine. If you are comfortable with water bath canning, feel free to do that with these. They should be processed for five minutes and will keep for a year. If not, you can just jar them and store them in the refrigerator where they'll keep for several weeks.
Additional Time
5 minutes
Ingredients
3 cups fresh or frozen cranberries, one 12 oz. bag
1 1/2 cups granulated sugar, raw or white
1/2 cup freshly squeezed orange juice, from 2-3 oranges
1/4 cup orange liqueur such as Cointreau, Curacao, or Grand Marnier, (optional)
1/2 teaspoon ground cinnamon
1/2 teaspoon ground cloves
1/2 teaspoon ground nutmeg, preferably freshly grated
Instructions
Have 3 half-pint jars (or containers of equivalent volume) and a ladle clean and ready to go. If you are canning these, prepare your water bath.
In a heavy saucepan, combine all of the ingredients. Over high heat, bring the mixture to a boil. Reduce heat to low, and simmer, stirring occasionally, for about fifteen minutes. Some of the cranberries will likely sputter and pop open, that's fine. The mixture will be slightly thickened. Ladle into jars. Wipe the rims and screw on the lids.
Process in a water bath for five minutes or refrigerate right away.
Recommended Products
As an Amazon Associate and member of other affiliate programs, I earn from qualifying purchases.
Nutrition Information:
Yield:
36
Serving Size:
1
Amount Per Serving:
Calories:

52
Total Fat:

0g
Saturated Fat:

0g
Trans Fat:

0g
Unsaturated Fat:

0g
Cholesterol:

0mg
Sodium:

1mg
Carbohydrates:

12g
Fiber:

1g
Sugar:

11g
Protein:

0g
(Originally published February 4, 2014.)