I may earn from purchases through links in this post.
If you've made the best pizza dough ever, you might as well top it with the best pizza sauce. Especially when the best pizza sauce is also a 5-minute pizza sauce.
I mean, I don't blame anyone for going with a premade sauce. I've done it myself loads of times. But I used to think making good sauce took time and required the kind of effort I didn't want to make. Now I know better.
The best pizza sauce starts with canned whole peeled tomatoes. If the tomatoes are surrounded by a watery kind of liquid you can strain it off, but if the liquid is thick-ish you don't have to bother.
Then you add some minced garlic, some salt, some dried oregano and zizz everything together with an immersion blender. Ideally, you can do this right in the jar you keep the sauce in, so there's hardly anything to wash.
Then you taste the sauce, and if it feels like it's missing something, add a little bit of cheap balsamic vinegar–this adds a little sweetness and a little acidity which can vary from tomato to tomato.
(If you don't even want to have to blend things, you can start with passata, which is strained tomato puree commonly used in Italy and increasingly available at American grocery stores.)
You don't need to cook the sauce. It will get cooked on the pizza, but this way it's flavor will remain brighter and bolder.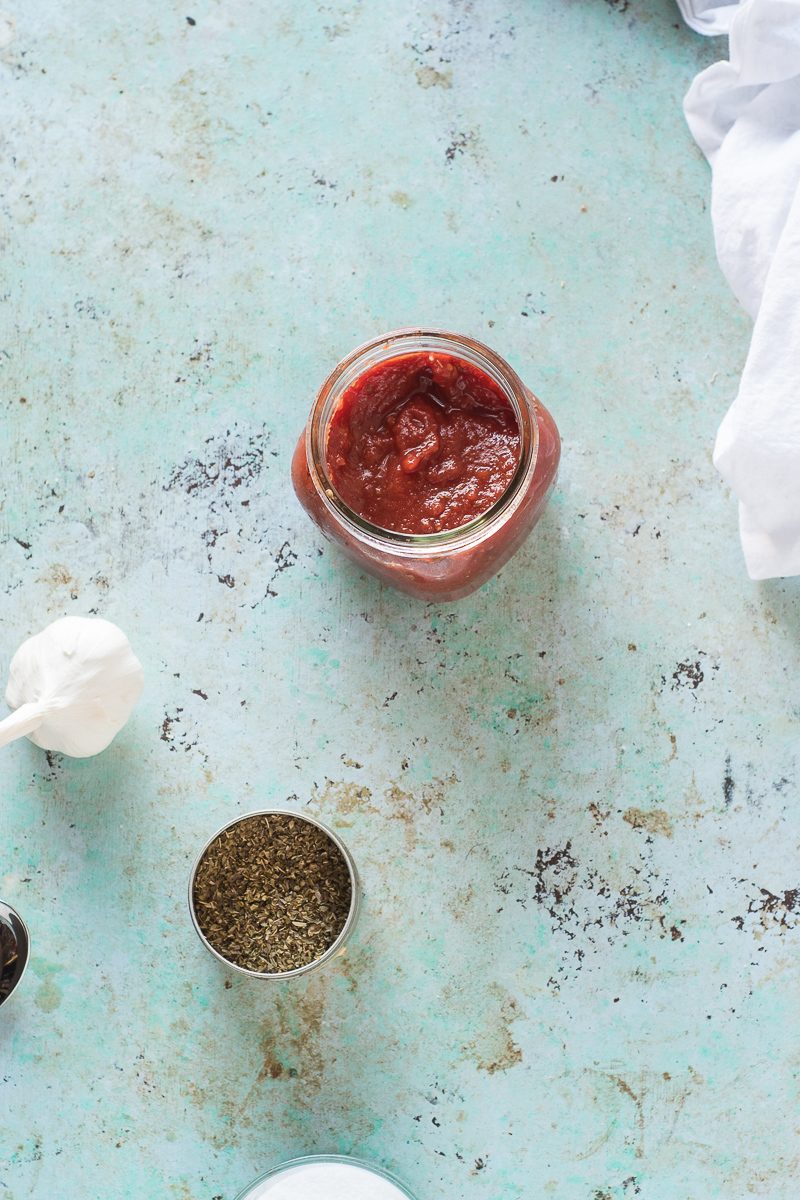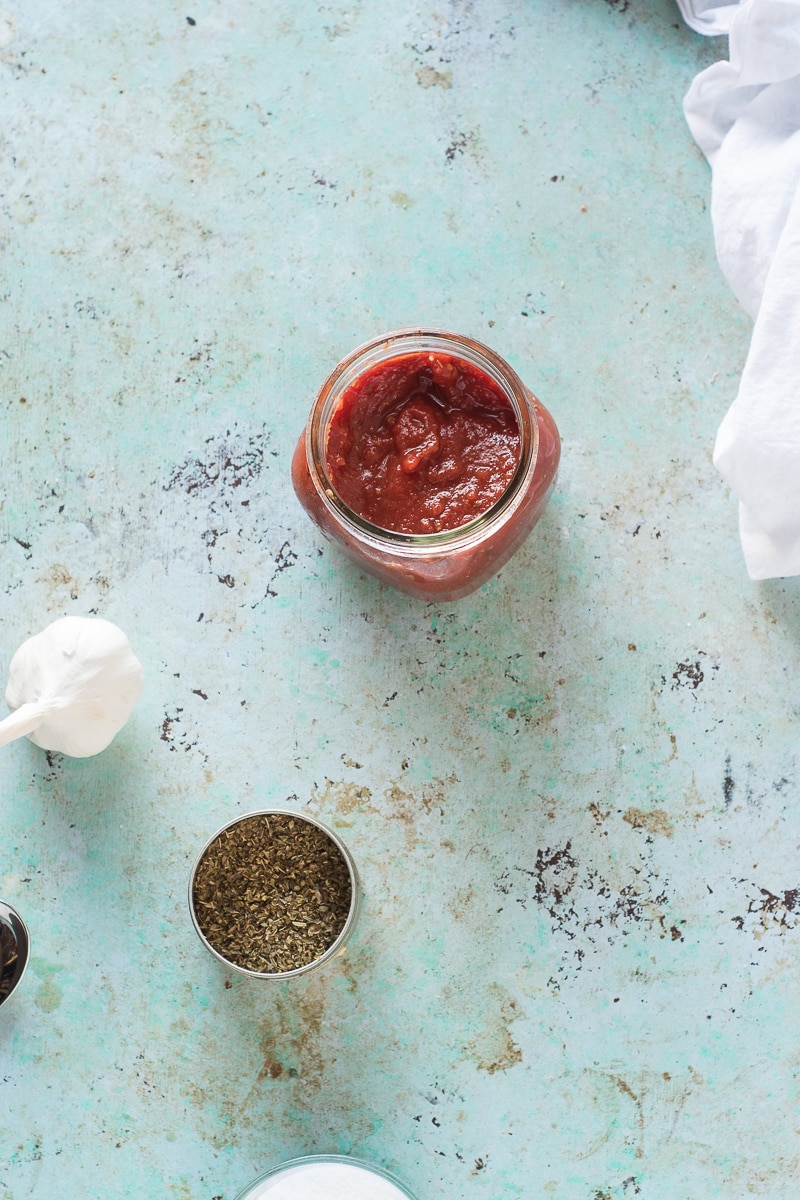 And really that's it.
But also, you should know that you just want to apply a thin layer of pizza sauce to your dough.
That will prevent it from weighing down your pizza, help the crust cook correctly, and keep everything in balance. The most common error is putting too much on, so err on the scant side.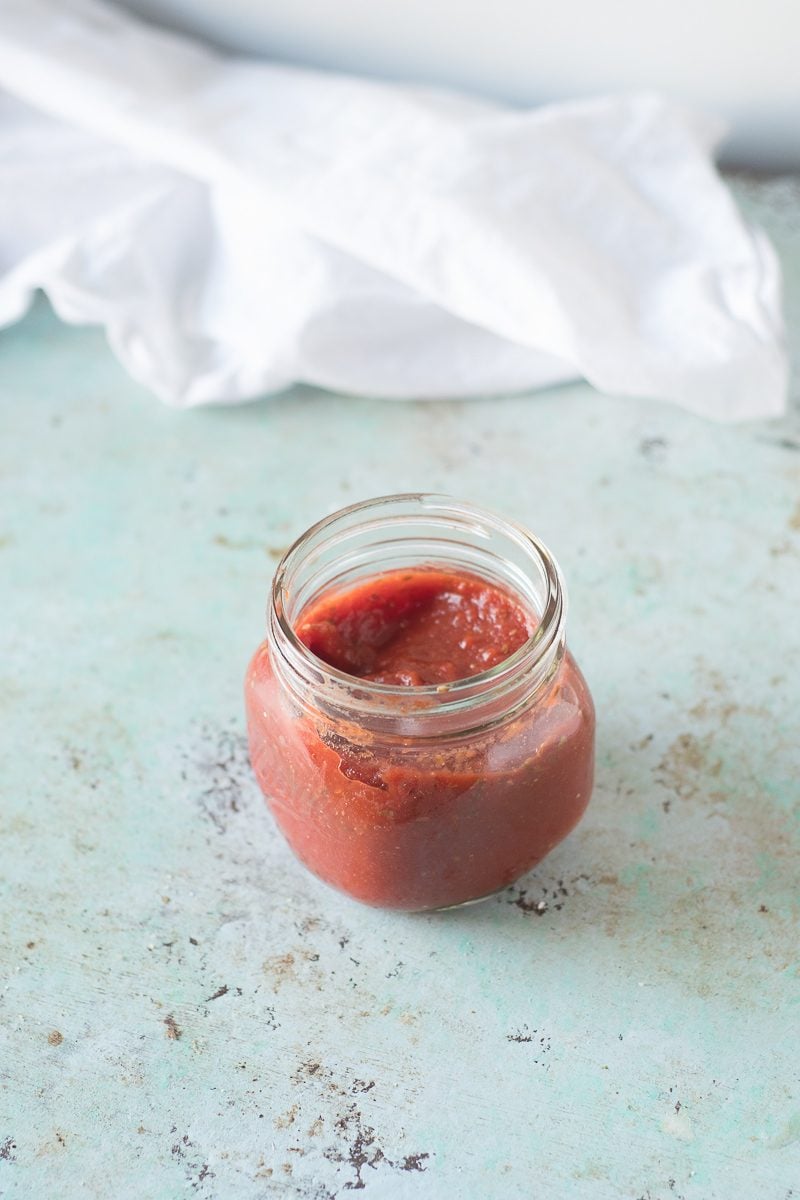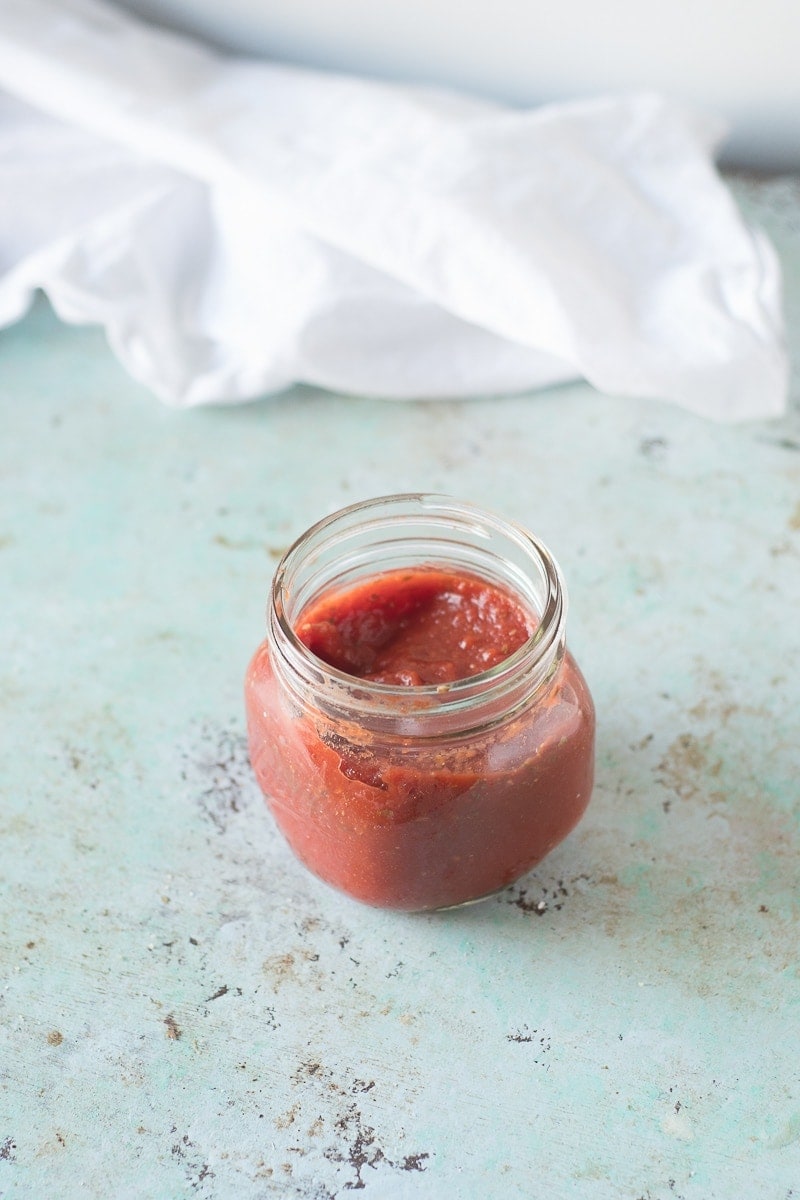 Yield: 1 cup
5-Minute, No-Cook Pizza Sauce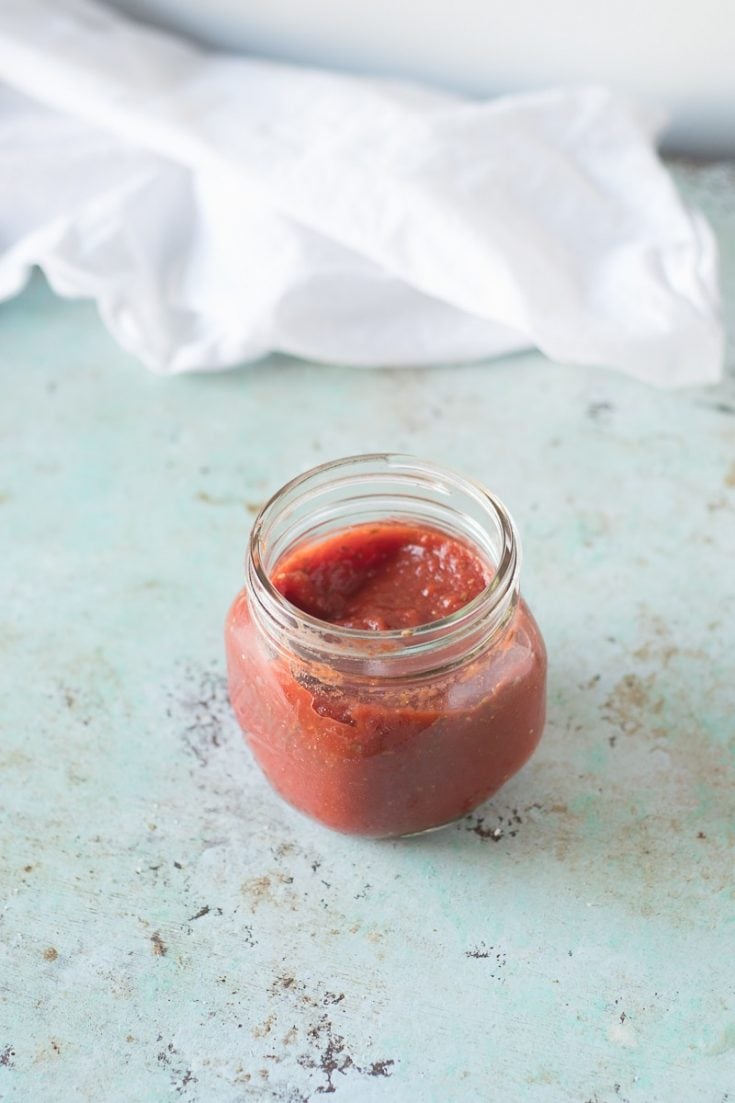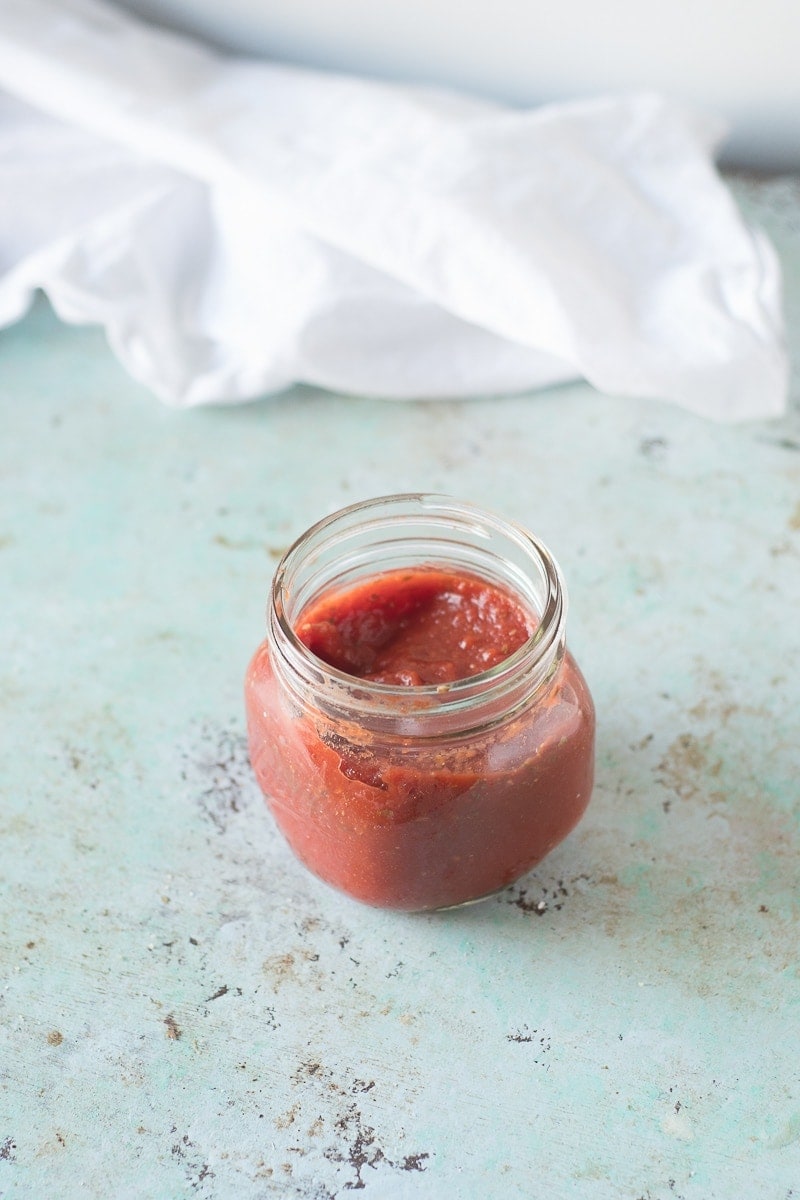 This is a case where the simplest pizza sauce is also the best. Start with whole peeled tomatoes.There are plenty of brands out there, and the consistency of the liquid the tomatoes are packed in varies. If it's watery, you'll want to strain the tomatoes first, if not you don't have to bother. (I also like to make this with high quality crushed fire roasted tomatoes for extra depth of flavor. I've linked to my favorite brand below.) If you want an even easier sauce, you can start with passata, which is already a strained tomato puree. Then you just stir in the other ingredients and call it a day. The uncooked sauce helps the pizza sauce to retain bright tomato flavor after it's cooked on the pizza--so there's no need to cook it twice! (Please use restraint when topping your pizza. Apply just a thin layer to the dough.)
Ingredients
1 14.5-ounce can whole peeled tomatoes, (if surrounded by watery liquid, strained)
1/2 teaspoon kosher salt
1/2 teaspoon dried oregano
1 clove garlic, minced
Instructions
Put the tomatoes into a wide-mouth pint jar, add the salt, oregano, and garlic. Blend, briefly, with an immersion blender. That's it!
Notes
Will keep in the refrigerator for a week. Will keep in the freezer for several months.
Recommended Products
As an Amazon Associate and member of other affiliate programs, I earn from qualifying purchases.
Nutrition Information:
Yield:
24
Serving Size:
1
Amount Per Serving:
Calories:

15
Total Fat:

0g
Saturated Fat:

0g
Trans Fat:

0g
Unsaturated Fat:

0g
Cholesterol:

0mg
Sodium:

44mg
Carbohydrates:

0g
Fiber:

0g
Sugar:

0g
Protein:

0g