I may earn from purchases through links in this post.
In the summer, I love to make the sort of meals that can be tossed together in a big bowl and served at room temperature.
I get cranky in the heat, and it's better for everyone if I don't spend much time standing over a hot stove.
It's better still if, after everything is done, I can step away from the kitchen with a cool drink in my hand and relax for a while before eating.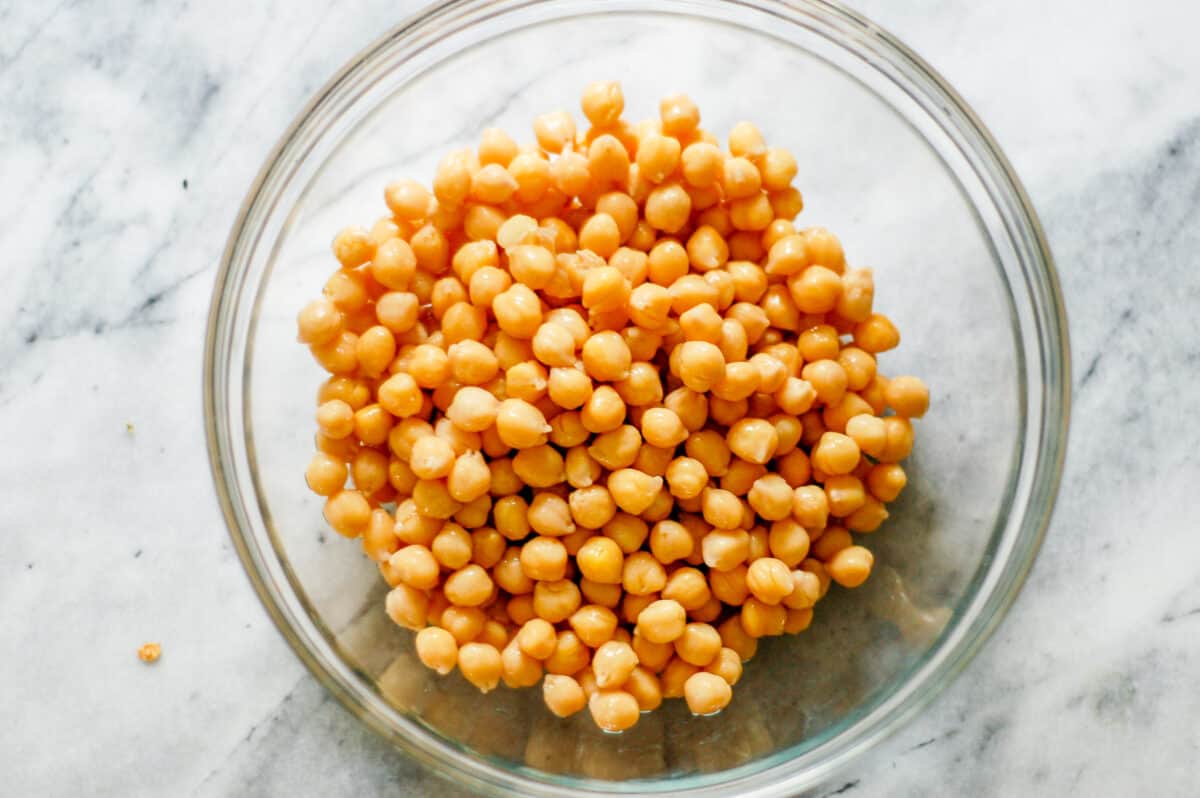 These yogurt chickpeas with Indian-ish spices are perfect for days like that.
It doesn't look like much, but it's something special. It's fragrant with aromatic spices and creamy from the yogurt sauce.
The chickpeas make it feel substantial but the lemon and fresh herbs keep it light. It's been a staple in my summer kitchen ever since I first learned about it on Dana's site back in 2009.
It shares some characteristics with a more traditional chana chaat, and I'm sure it would be delicious with the full chaat treatment with various chutneys and crunchy bits of sev and a sprinkling of chaat masala. But this dish is meant to be doable on a weeknight for people who don't have access to an Indian grocery store. (But if you want to go all out, by all means, do so!)
It's incredibly simple to throw together. A kicky blend of brown mustard seeds and cumin and fennel seeds get heated with some coconut oil to make a spice infused oil.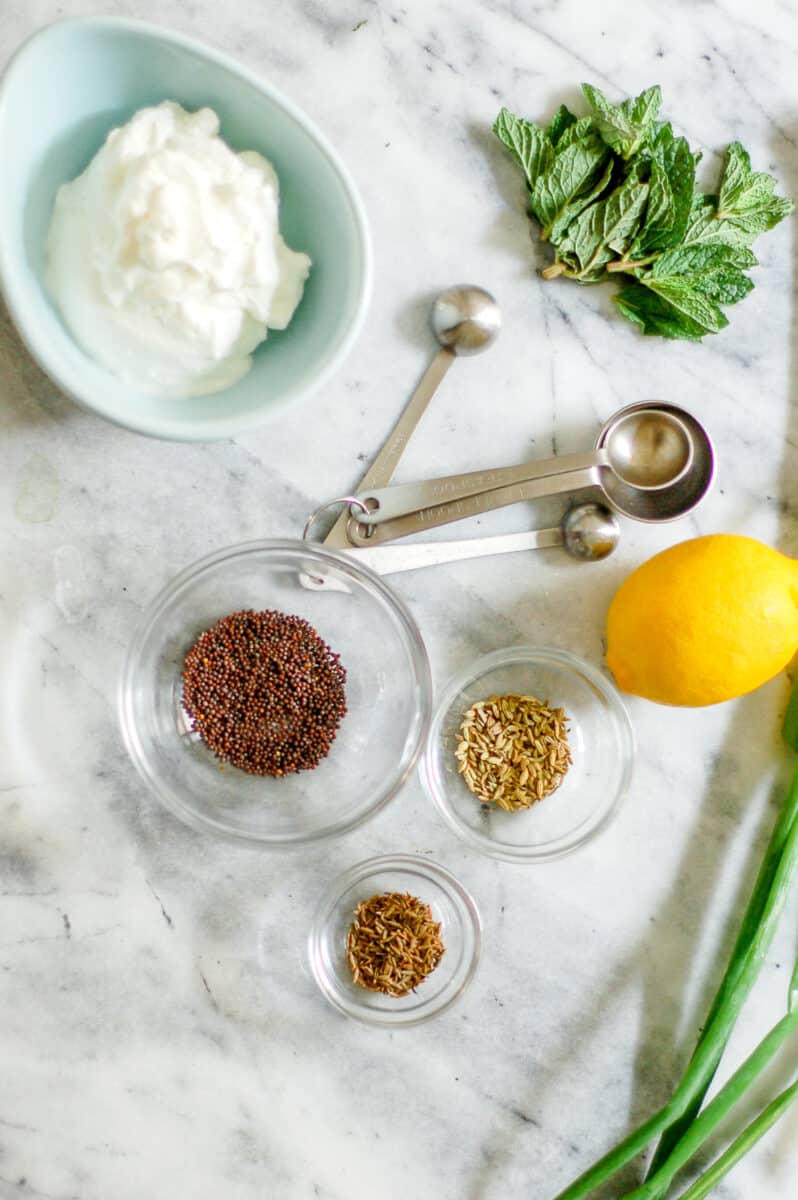 (Basically, a tadka, which is an excellent technique for getting more flavor from your spices.)
Then the oil and spices get poured over a waiting bowl of chickpeas. Some cooling yogurt and a squeeze of lemon juice go in next, and then the whole thing gets topped with a flurry of sliced green onions and mint.
I usually serve this with some fragrant basmati rice, but it's also great on it's own or with some naan or tucked into baked sweet potatoes or as a component alongside other Indian-inspired dishes, like these curried sweet potato latkes.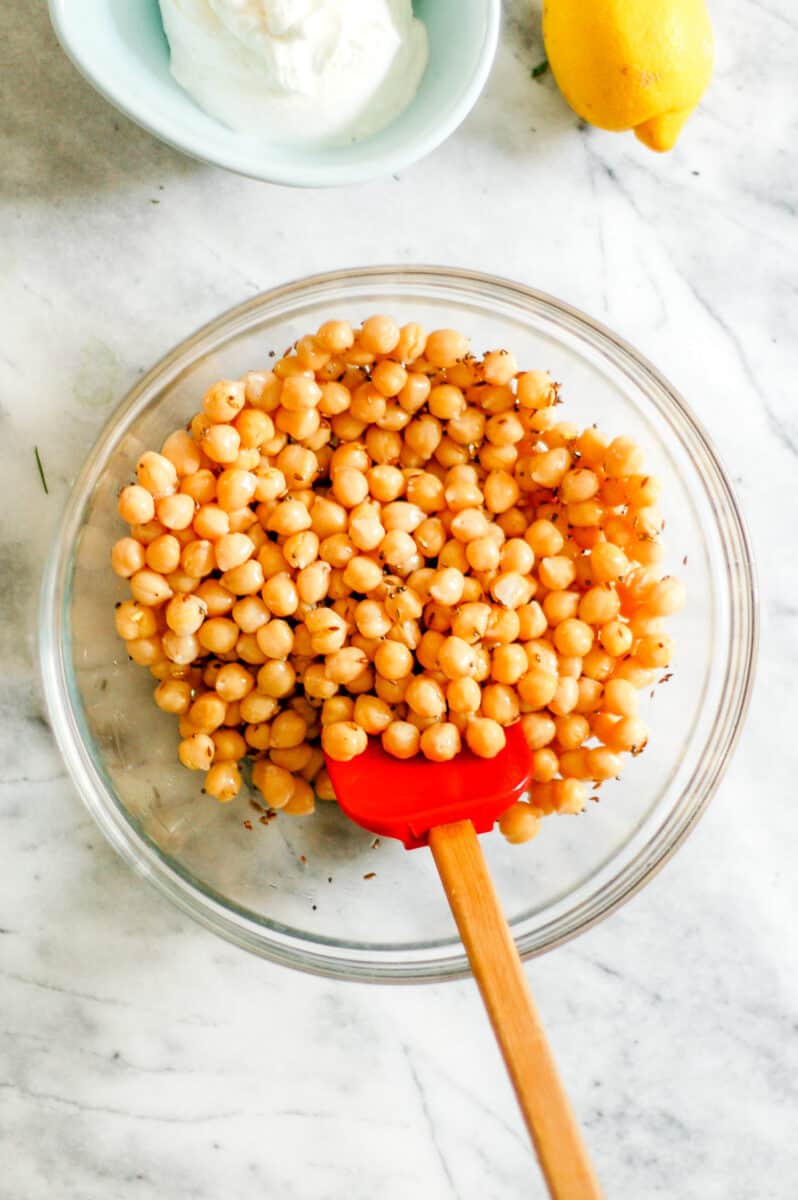 I've done some variations on this, sometimes adding cucumber slices or tender leafy greens like spinach. I sometimes add cilantro along with or instead of the mint.
I usually use scallions, but because I had some milder green spring onions on hand I used those this time.
I like it best with coconut oil, but I've also enjoyed it with peanut oil and canola oil and safflower oil, and although I've never used it in this, I'm sure ghee would also be delicious here.
Don't use olive oil in this one. As much as I love it, the flavor is all wrong for this dish.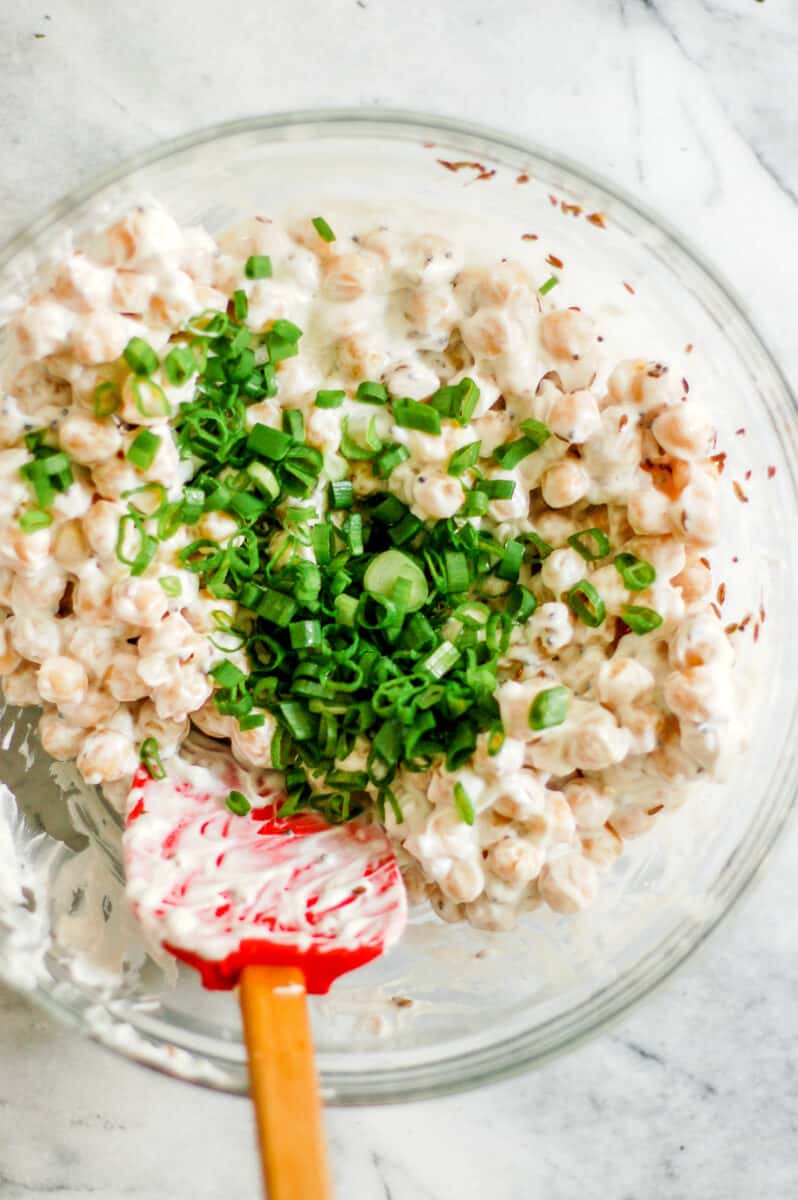 And it holds up well for leftovers, which makes it a great make-ahead lunch or dinner for later in the week.
It's an incredibly flexible dish with a great reward to effort ratio.
And, even better, it can wait patiently on the kitchen counter while you pour yourself a cold drink.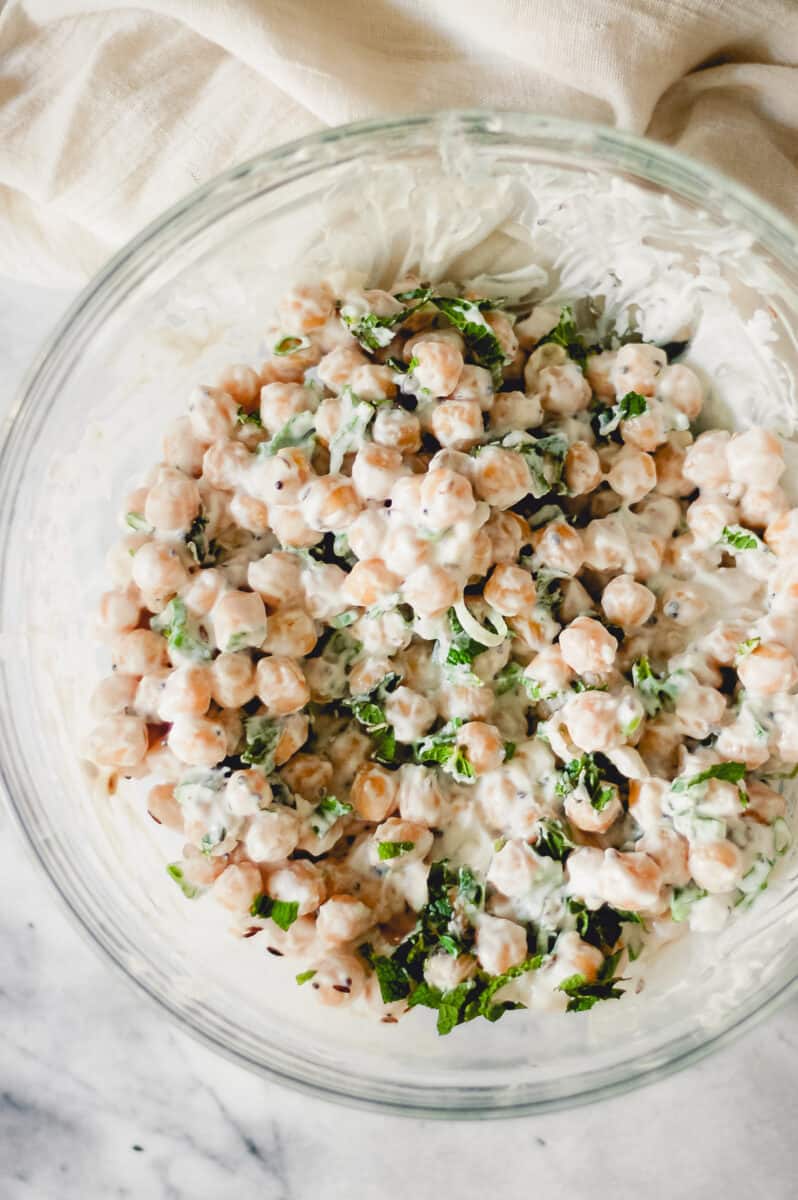 Yield: 4 servings as a main, more as a side
Yogurt Chickpeas with Indian-ish Spices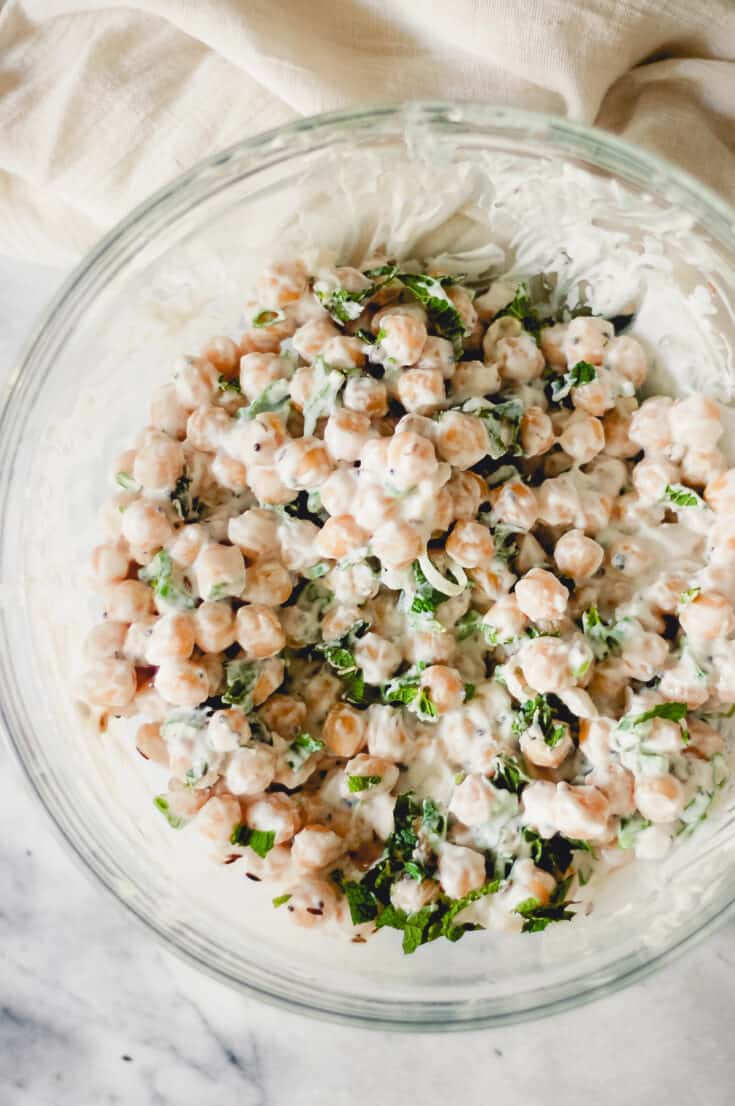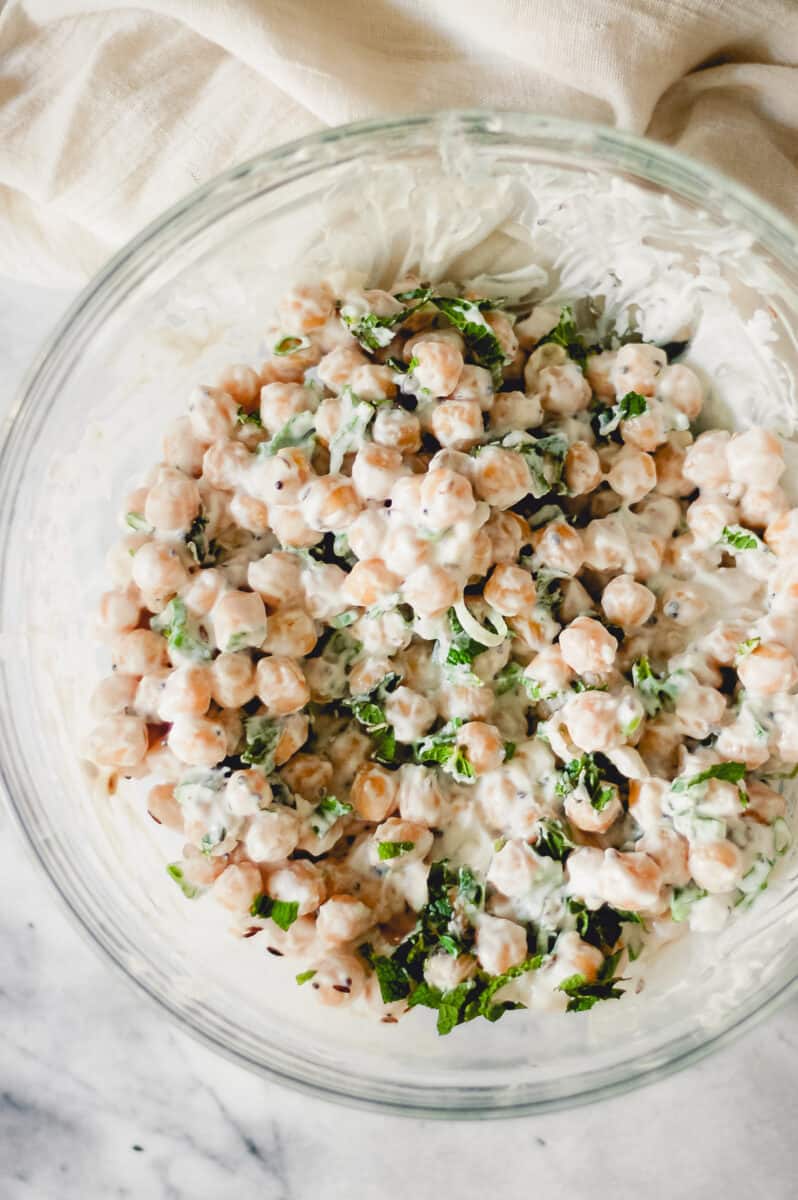 These chickpeas are a regular in my summer kitchen.
The brown mustard seeds give it a subtly spicy kick, the yogurt gives it a creamy richness, the lemon and mint brighten the flavors.
I like this with coconut oil, but any neutral oil will work.
It will taste best with full fat yogurt (of course) but it's also still really good with low or no fat yogurt. I usually make it with Greek yogurt, but it's also good with thinner yogurt varieties, which simply make it saucier.
I usually serve this with basmati rice, but it's also great with naan or as part of a larger spread of dishes.
Ingredients
3 cups cooked chickpeas, rinsed and drained, from about 1 cup dried or 2 15-ounce cans
2 tablespoons coconut oil, or peanut oil or other neutral oil
1 teaspoon brown mustard seeds
3/4 teaspoon fennel seeds
3/4 teaspoon cumin seeds
1 cup plain yogurt
juice of half a lemon
1 teaspoon kosher salt
1-2 green onions, white and green parts, thinly sliced
handful of mint, thinly sliced
Instructions
Place the chickpeas in a large heat safe mixing bowl. Heat the oil in a small saucepan over medium-high heat until shimmering. Add the mustard seeds and cook for about one minute or until they begin to pop. Add the fennel and cumin seeds and cook for about 30 seconds. Remove from heat and immediately pour over the chickpeas. Stir to coat. Add the yogurt, lemon juice, and salt, and stir until the chickpeas are coated. Add the green onions and mint and fold in gently.
Serve at room temperature. (This can be stored overnight in the refrigerator, but bring to room temperature before serving.)
Recommended Products
As an Amazon Associate and member of other affiliate programs, I earn from qualifying purchases.
Nutrition Information:
Yield:
4
Serving Size:
1
Amount Per Serving:
Calories:

321
Total Fat:

16g
Saturated Fat:

7g
Trans Fat:

0g
Unsaturated Fat:

7g
Cholesterol:

3mg
Sodium:

630mg
Carbohydrates:

39g
Fiber:

4g
Sugar:

23g
Protein:

7g