I may earn from purchases through links in this post.
Whenever we order Indian food, regardless of whatever else we get, we pretty much always include naan. That wonderful pliant and chewy white flatbread that's such a wonderful vehicle for soaking up sauces.
It's traditionally baked in a clay oven, which makes the translation to the typical American home kitchen a bit tricky. Most of us don't have tandoors, alas.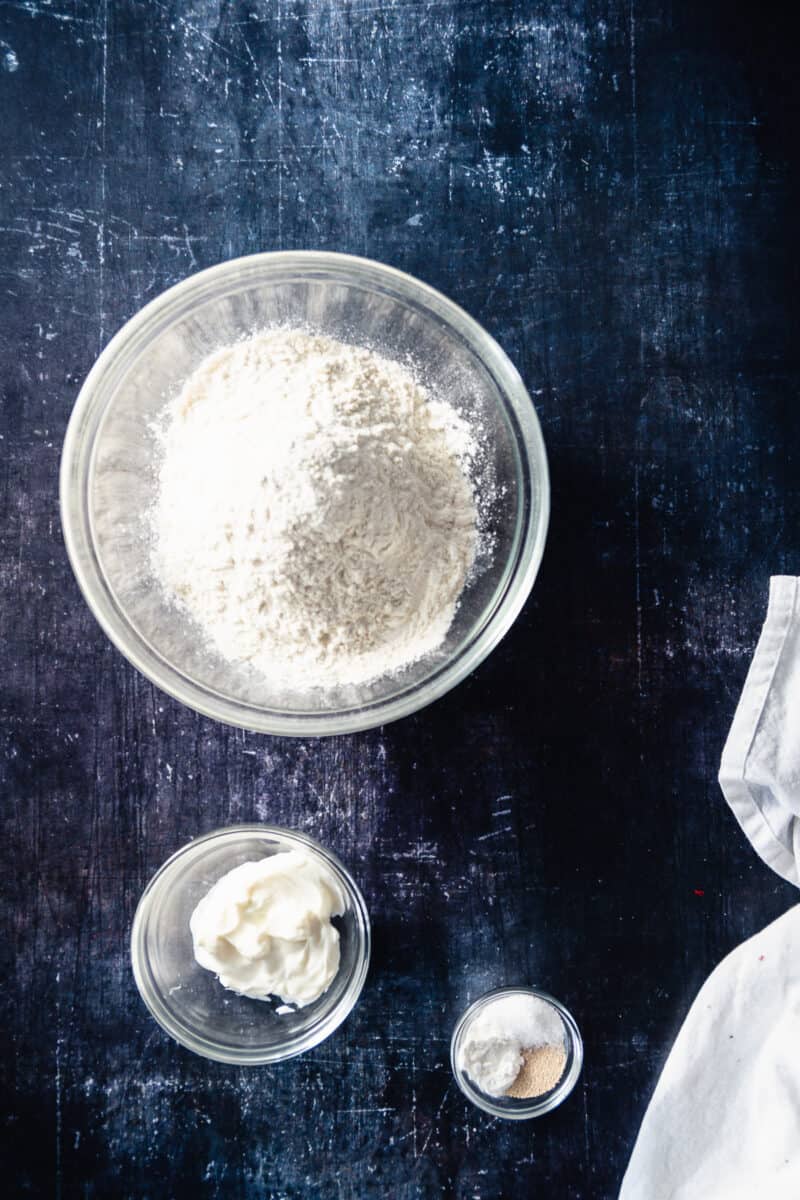 While many homemade versions of naan, including that of esteemed Indian food write Madhur Jaffrey, are made in a hot oven, others, including the one that newer-on-the-scene but still highly esteemed Indian food writer Meera Sodha makes are made on the stove top in a cast iron pan.
And while I'm a white lady with no Indian ancestry and I have no place telling Jaffrey how to make naan (the woman is brilliant and you should buy Jaffrey's books), I've found better luck with Sodha's method. (I also love her Bombay rolls. And you should also buy Sodha's books.)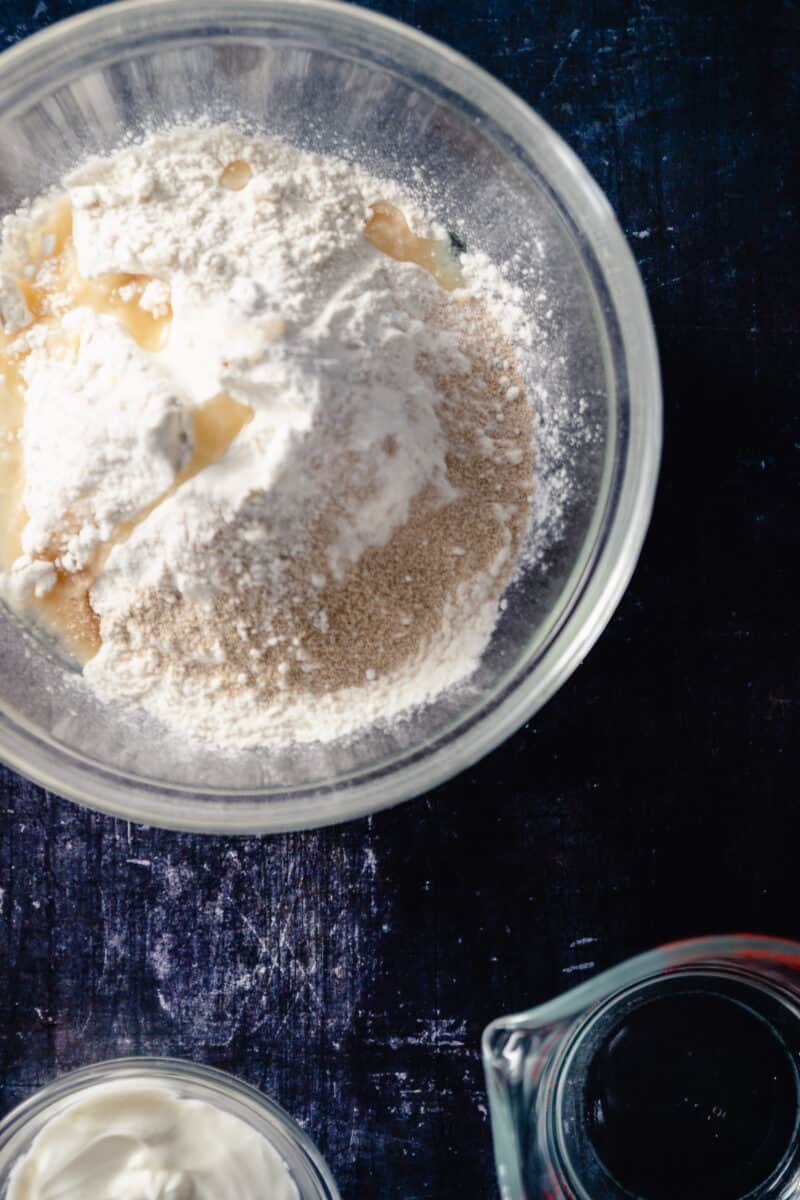 Even at the highest my home oven will go, the naan dough spends too much time in the oven and dries out before it gets baked through. It's not as flexible or as charred as I'd like.
The stovetop method, on the other hand, takes only about a minute and a half for each naan to cook.
And it develops wonderful bubbles that get slightly charred while the bread stays pliable and easy to tear into and soak up the remainder of the korma or dal (or these totally not traditional but still delicious yogurt chickpeas with Indian-ish spices).
There are, similarly, differences of opinion on what ingredients should go into naan.
It's traditionally made with yeast, and the further back you go, wild fermented yeast, but these days many home versions call for baking powder or baking soda either in addition to or instead of yeast.
These chemical leaveners work more quickly than yeast, cutting down on the rising time required for the dough.
And while I love the flavors that develop during a long slow rise, like in my go-to pizza dough, I can't deny the convenience of a flatbread that can be ready from start to finish in the space of an hour and a half.
So I've settled here, like in the majority of versions I've consulted, on a combination of yeast and baking powder.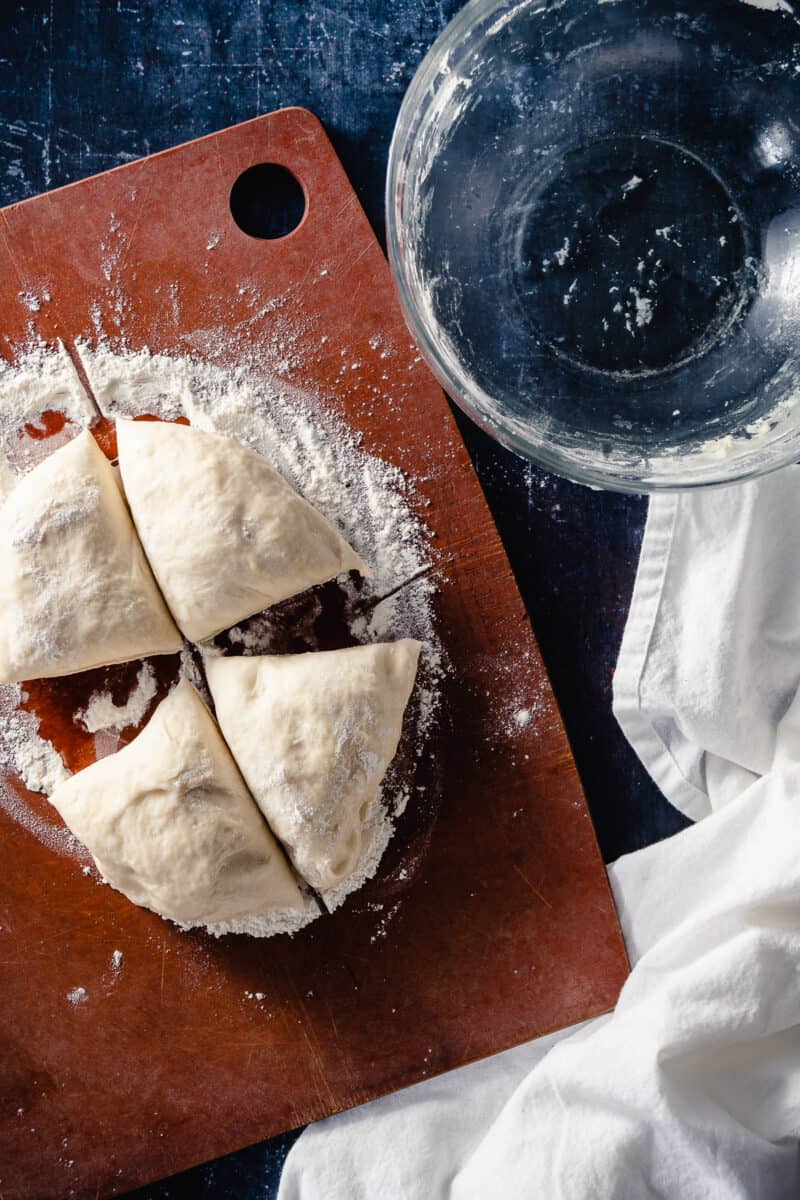 Most naan recipes include yogurt, which provides flavor and also acts as an enriching tenderizer. Some also call for milk, while others call for water.
My version uses Greek yogurt and water rather than adding extra milk which would further tenderize the dough.
I like the chewy results of this naan and don't think you need to have two kinds of dairy here. Yogurt is necessary, milk optional.
But, if you have milk on hand you could absolutely use it in place of the water here.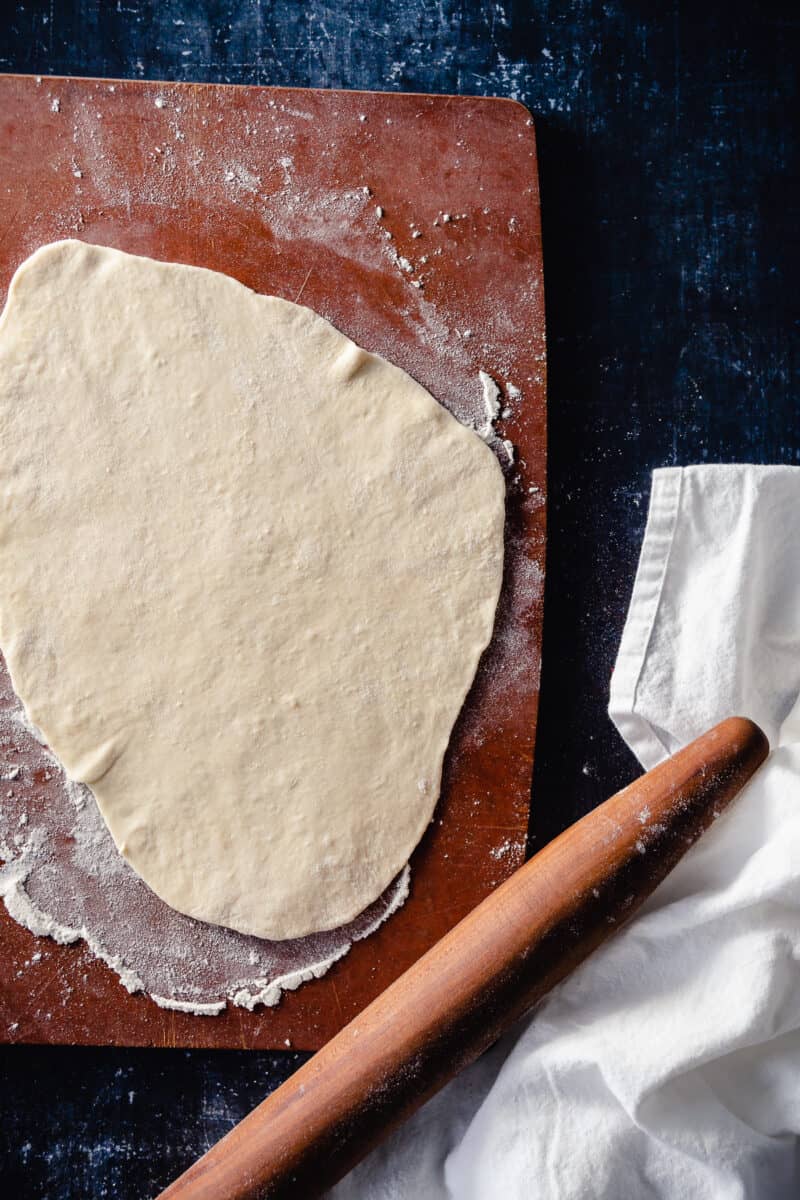 Then all you have to do is mix everything together and knead it for about 5 minutes until it comes together in a ball and let it rise in a warm place for about an hour (if you're in a cold and drafty kitchen it might be more like 90 minutes).
Then divide and roll out on a flour-dusted surface while you heat a cast iron skillet to medium-high heat.
Then you just cook the naan, one at a time, until they are bubbled and charred and they smell like freshly baked bread, about 45 seconds on each side.
Then you have glorious, soft, chewy, bubbled, charred naan.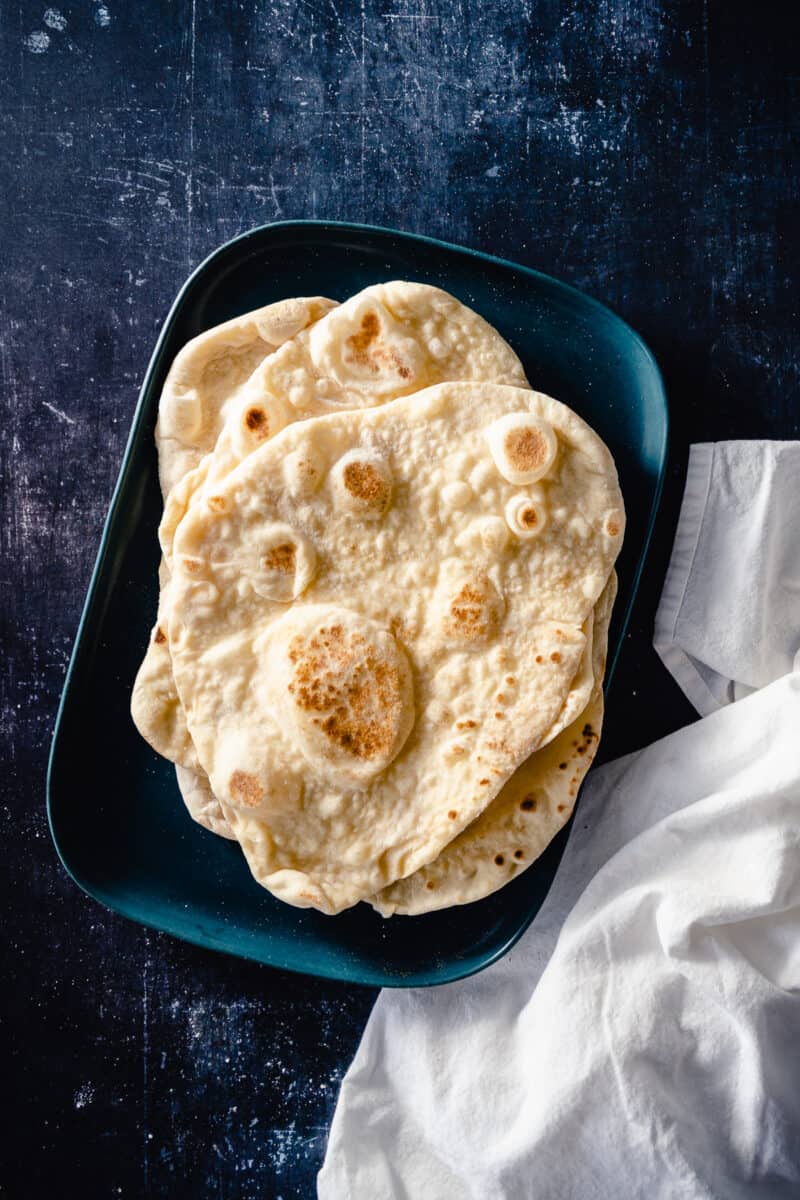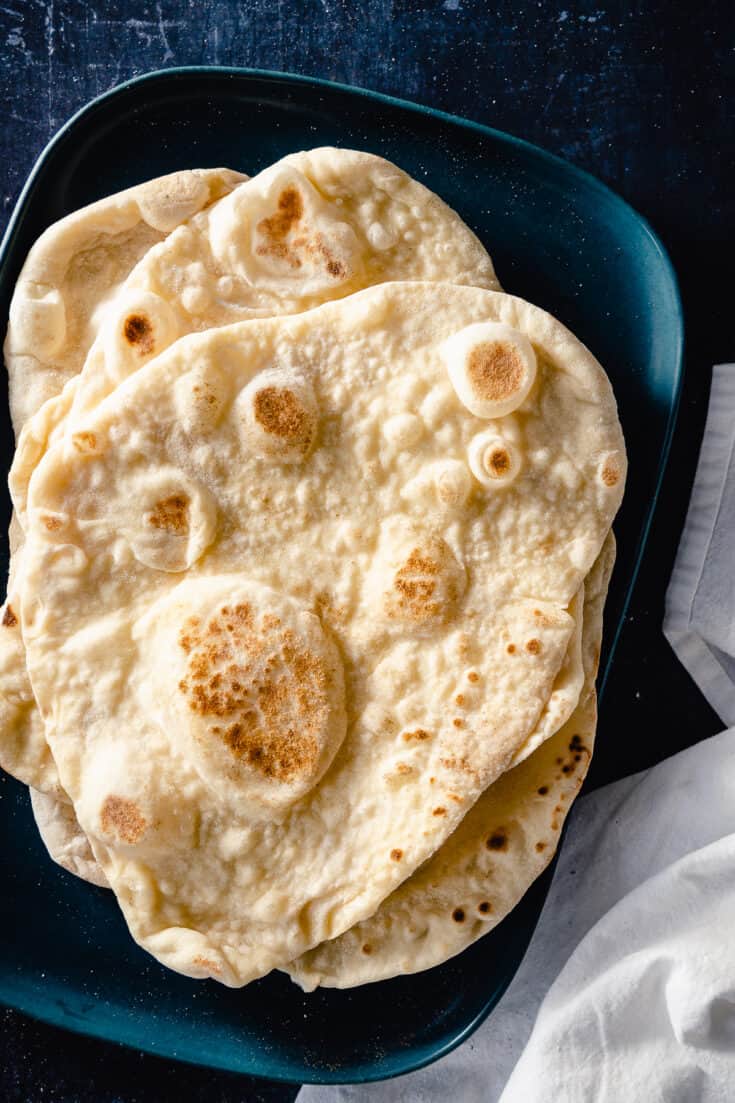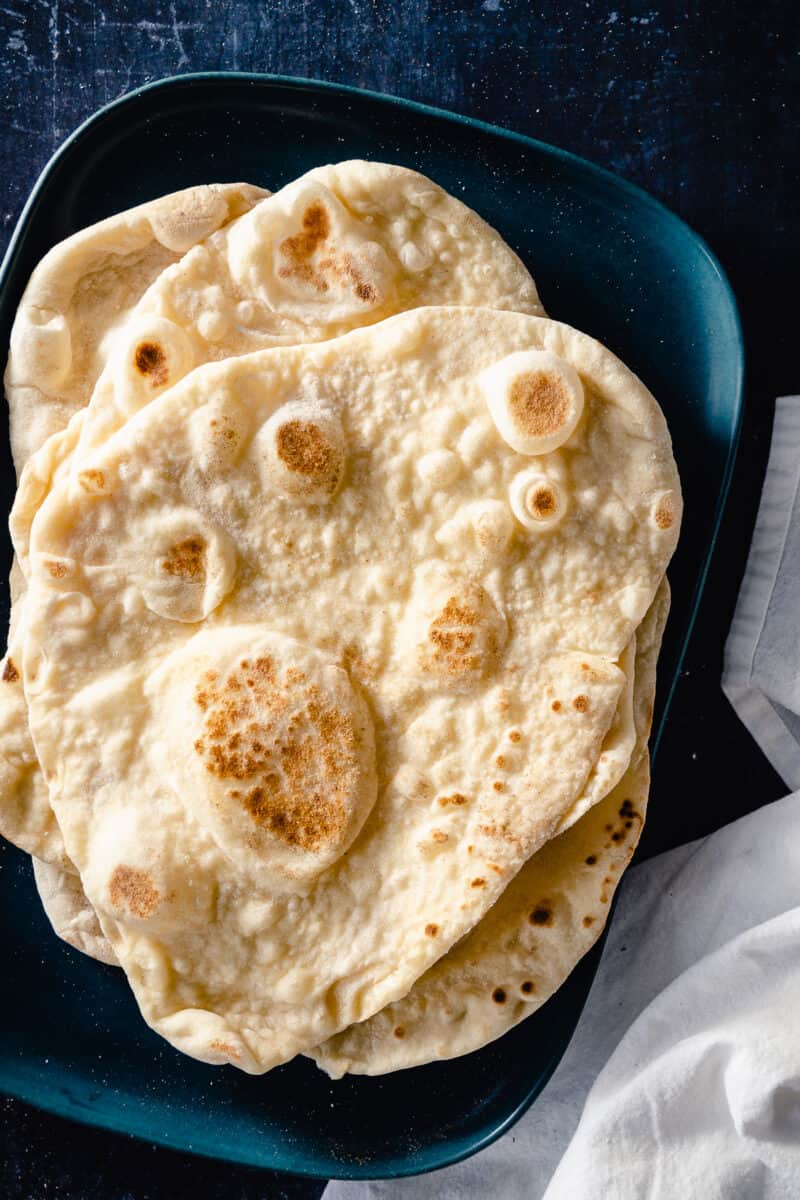 This produces a chewy and pliable naan at home with a minimal amount of fuss.
The combination of yeast and baking soda allows for a quicker rise than yeast alone. The yogurt adds flavor and also works to keep the bread tender.
This makes 4 large pieces of naan, but if you don't have a skillet large enough to accommodate a 10"x7" piece of dough, you could divide the dough into 6 pieces and make slightly smaller naan.
Total Time
1 hour
16 minutes
Ingredients
2 cups (250 grams) all-purpose flour
1 teaspoon instant yeast
1 teaspoon Diamond Crystal kosher salt (1/2 teaspoon Morton's)
1/2 teaspoon baking powder
1 tablespoon neutral oil, such as canola or vegetable oil
3 tablespoons plain whole milk Greek yogurt
1/2 cup warm water
Instructions
Add the flour to a large mixing bowl. Add the yeast, salt, and baking powder and stir to combine. Add the oil and yogurt and stir to combine. Then add the warm water and stir until the mixture comes together into a shaggy and very sticky dough.
Generously dust a work surface with flour, transfer the dough to the work surface, and knead with your hands until it forms a smooth, stretchy, tacky ball, about 5 minutes. Return to the mixing bowl, add enough oil to coat the dough ball, and cover with plastic wrap. Let rise in a warm place until doubled in size, about 1 hour to 90 minutes. You can tell the dough is risen enough if you stick a finger in the dough and it doesn't spring back.
Divide the dough into 4 pieces. Dust the dough with flour on both sides and roll out into a rough oval about 10"x7". Repeat with the remaining pieces of dough. Dust off any excess flour. (Raw flour will burn in the pan
Heat a large cast iron skillet over medium-high heat until the skill is hot. Cook the naan until it forms bubbles, has charred brown spots, and smells toasty, then flip over and cook on the other side. This takes about 45 seconds on each side. Repeat with remaining naan. (Wrap naan in a clean towel to keep warm.)
Notes
You can brush with ghee or butter after cooking.
Recommended Products
As an Amazon Associate and member of other affiliate programs, I earn from qualifying purchases.
Nutrition Information:
Yield:
4
Serving Size:
1
Amount Per Serving:
Calories:

302
Total Fat:

8g
Saturated Fat:

1g
Trans Fat:

0g
Unsaturated Fat:

7g
Cholesterol:

1mg
Sodium:

596mg
Carbohydrates:

49g
Fiber:

2g
Sugar:

1g
Protein:

8g