I may earn from purchases through links in this post.
There are days when all I want to eat are crispy chicken tenders.
And maybe some french fries. (Though crispy roasted potatoes will work, too.)
And I'll be honest that is pretty much every day.
It's not that I don't love a broad range of cuisines, from Sichuan fish-fragrant eggplant to Mediterranean baked sweet potatoes with marinated feta to Indian-inspired Bombay rolls.
I love all those things.
But sometimes I just want the glorious breaded white meat middle-American kid food that is usually called the chicken tender but also goes by the name chicken strip or chicken finger.
I want them almost as often as I want pizza.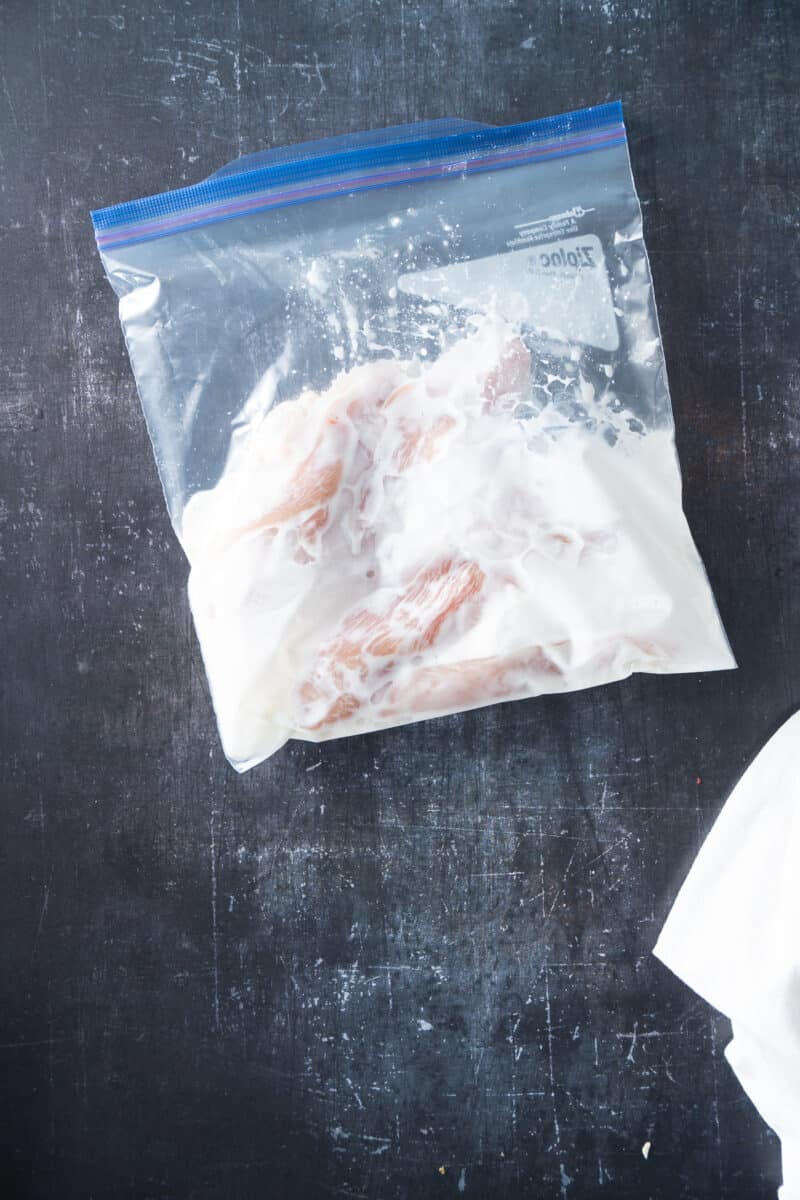 And I'll be honest that these are not tenders, in the strictest sense, because they do not come exclusively from the tenderloin of the chicken.
Rather they are sliced boneless skinless chicken breasts that spend about a half hour marinating in buttermilk with a bit of salt.
And then they are dredged in a mixture of flour and cornmeal and a smattering of seasonings. I like a bit of smoked paprika and garlic and onion powder along with the all important salt and pepper, though you can adjust those according to your preference.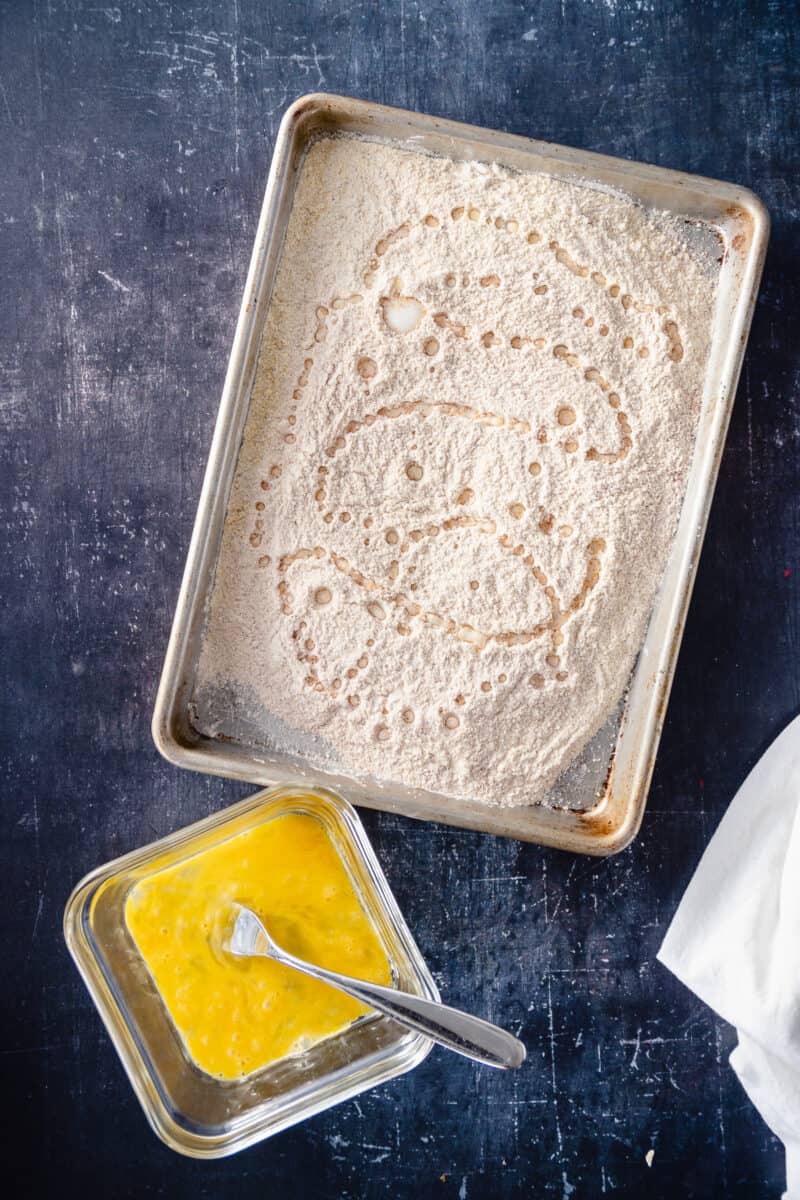 Then they're dredged in a beaten egg mixture and coated in the flour mixture again.
One trick to getting more of those all important crispy bits is drizzling a bit of buttermilk into the breading mixture before dipping the chicken in it.
It helps to make more bits of breading cling on for maximum textural goodness.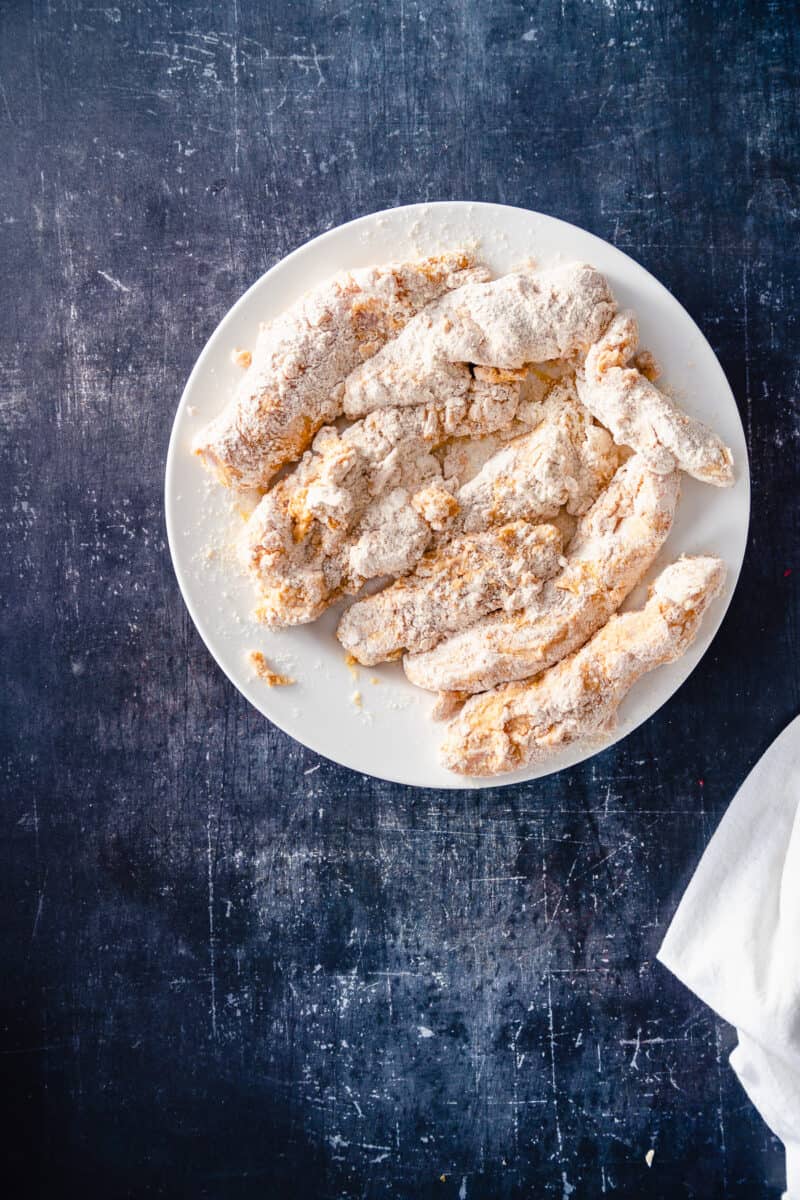 Then a pan with about a half-inch of oil gets heated up to about 350°F, which, if you don't have a thermometer, is approximately when you drop in a little blob of batter in and the oil immediately bubbles and sizzles around it.
Then the breaded chicken pieces go in and fry until they are golden brown on each side, which takes about 3 or 4 minutes per side.
Then they get set on a paper-towel lined plate to absorb any excess oil.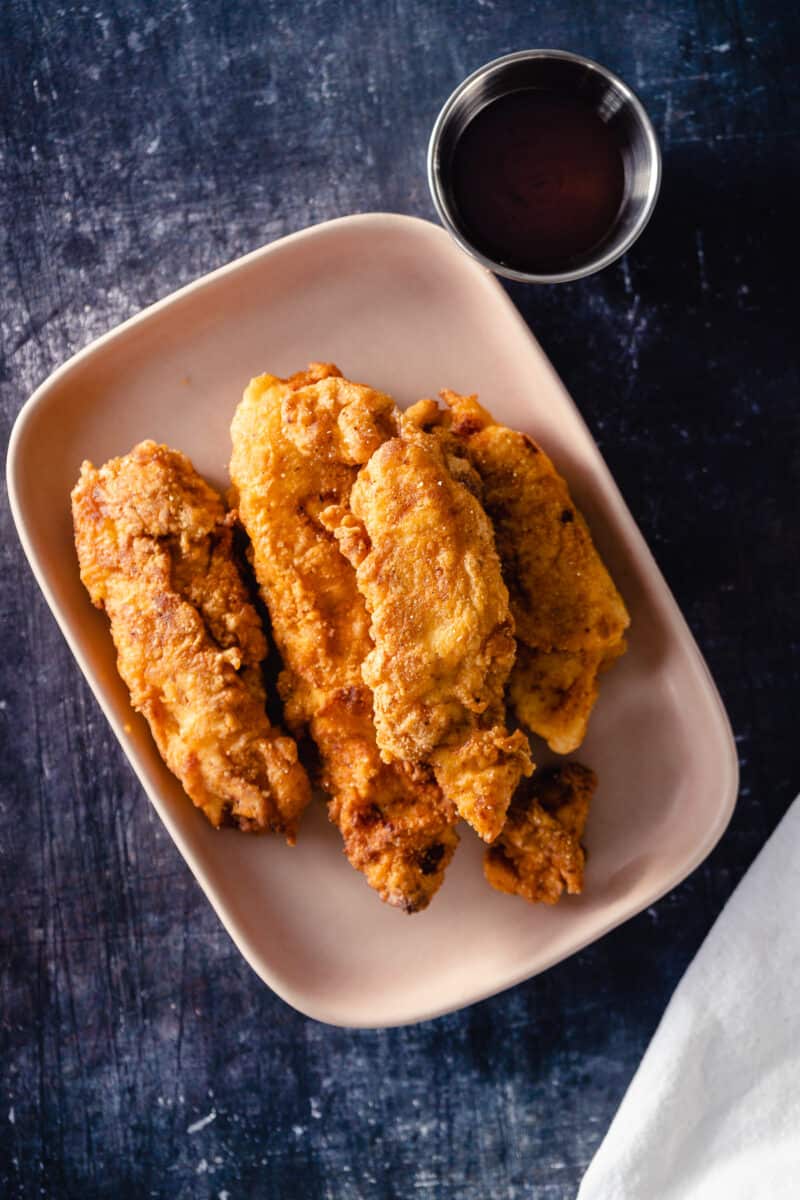 And then you have marvelously crispy chicken tenders, ready for dipping, if that's your thing, though they don't need any adornment.
They're crisp, salty, savory, simple kid food.
And they're easy for grownup to love, too.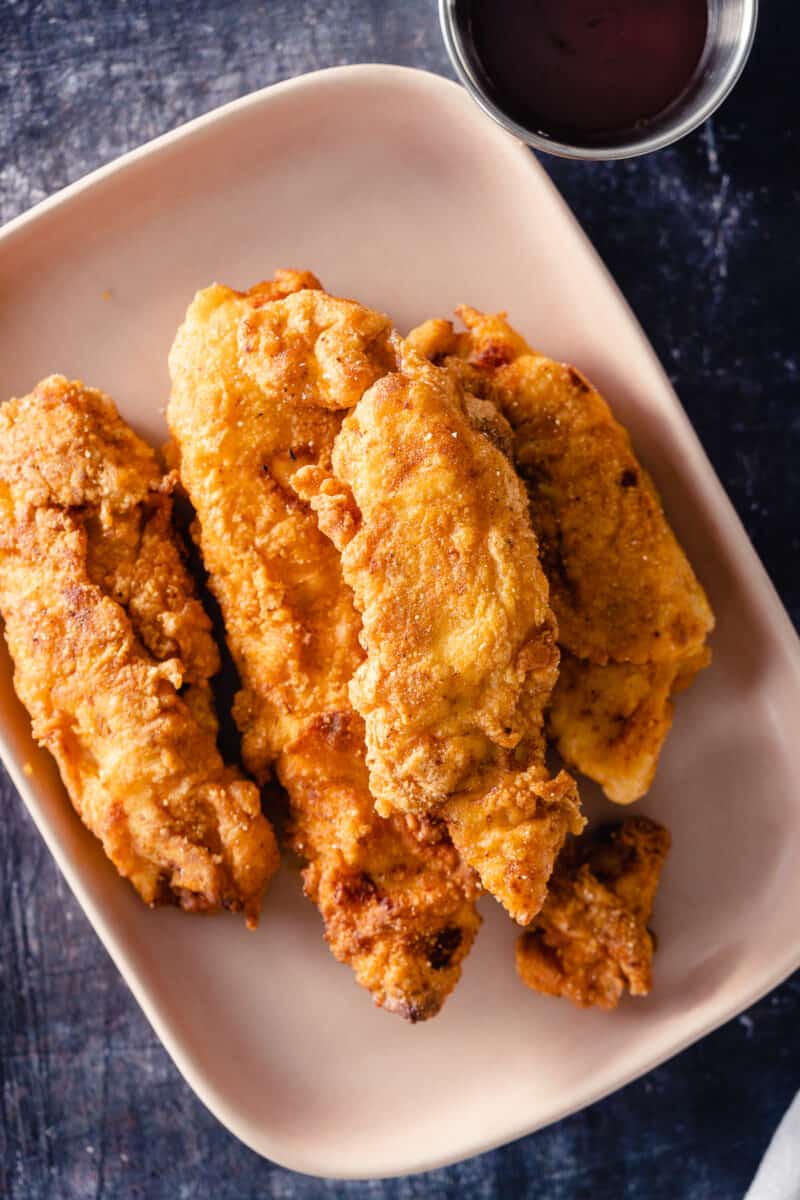 Yield: 4 generous servings
Crispy Chicken Tenders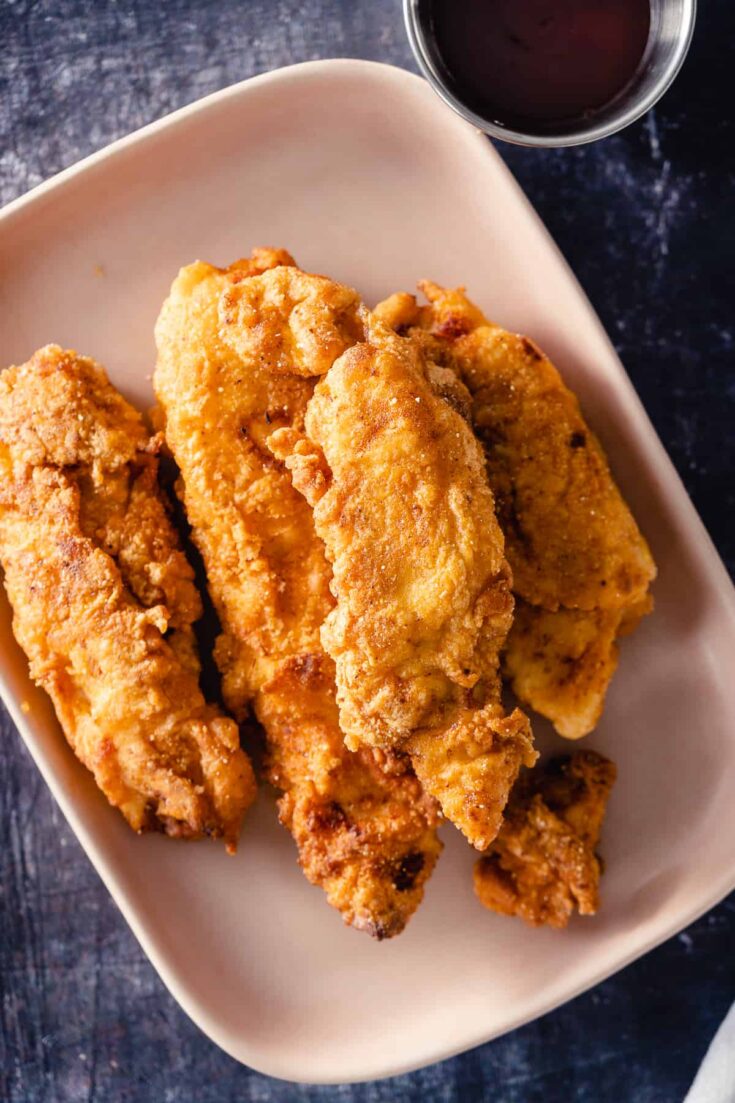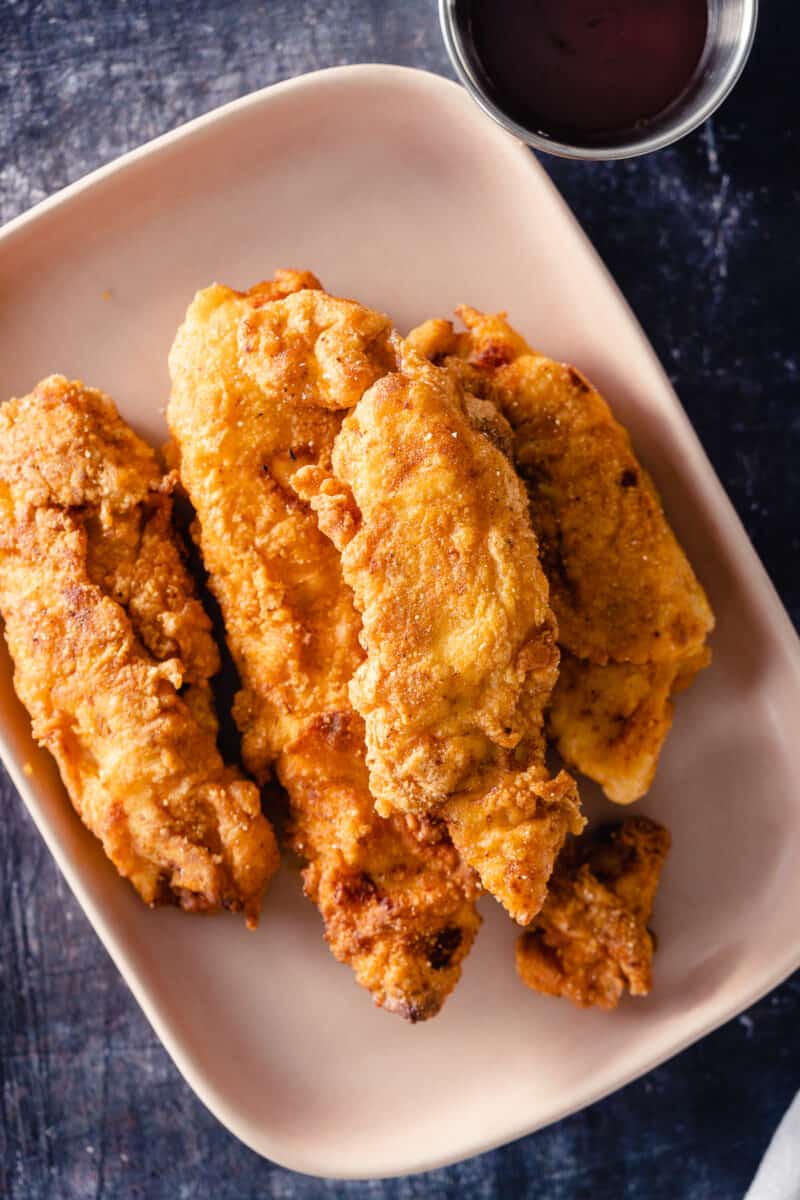 These chicken tenders are breaded in a simple flour and cornmeal mixture. Fine ground cornmeal works better here than a coarse grind, but any standard cornmeal is fine.
You can also omit the cornmeal and just use all-purpose flour instead. But the cornmeal adds nice texture and flavor.
The buttermilk marinade helps to keep the chicken moist. Just a half hour makes a big difference.
Adding a bit of buttermilk to the breading mixture before adding the chicken helps to enhance the crispy bits that form around the edges of tenders when they fry
These are shallow-fried to create the delightful crisp texture you can only get from frying while using less oil than is necessary for deep frying.
Marinating Time
30 minutes
Ingredients
4 boneless skinless chicken breasts
1 cup buttermilk
2 teaspoons kosher salt
2 eggs, beaten
neutral oil, such as vegetable, canola or peanut oil, for shallow frying
For the breading
2 cups all-purpose flour
1 cup cornmeal
1 1/2 teaspoons smoked paprika
1 teaspoon kosher salt
1/2 teaspoon garlic powder
1/4 teaspoon onion powder
1/4 teaspoon black pepper (or to taste)
Instructions
Slice each chicken breast into 4 strips, lengthwise. Add the chicken, buttermilk, and salt to a zip-top bag and let marinate, refrigerated for 30 minutes.
Add the beaten eggs to a wide, shallow dish.
Add the flour, cornmeal, smoked paprika, salt, garlic powder, onion powder, and black pepper to a wide shallow dish, such as a pie plate or baking pan and carefully mix together.
Remove the chicken from the refrigerator and add about a tablespoon of the buttermilk marinade to the dry breading mixture.
Remove the chicken pieces from the marinade, one at a time, and place in the breading mixture to lightly coat. Then transfer to coat with the beaten egg mixture and return to the breading mixture to coat a second time. Place on a wide plate or baking sheet and continue with remainder of the chicken pieces.
Add about 1/2-inch of oil to a wide skillet and heat to 350°F. You can test to see if the oil is hot enough by adding a small bit of moistened breading mixture to the oil—if the oil sizzles and bubbles immediately the temperature is right. Line a plate with paper towels and set aside.
Add the chicken pieces to the oil, a few at time, be sure not to crowd the pan. Fry until golden on one side, then flip over and fry until golden brown on the other. This will take about 3 to 4 minutes per side, or about 7-8 minutes total, to cook through. Remove with tongs or a slotted spoon and place on the paper towels to absorb any excess oil. Repeat with the remaining chicken pieces. Serve.
Recommended Products
As an Amazon Associate and member of other affiliate programs, I earn from qualifying purchases.
Nutrition Information:
Yield:
4
Serving Size:
1
Amount Per Serving:
Calories:

673
Total Fat:

16g
Saturated Fat:

3g
Trans Fat:

0g
Unsaturated Fat:

11g
Cholesterol:

197mg
Sodium:

1851mg
Carbohydrates:

78g
Fiber:

5g
Sugar:

4g
Protein:

52g