I may earn from purchases through links in this post.
These crispy potatoes are something I make all the time.
They're everything I want in a roasted potato: crisp on the outside, soft on the inside, and thoroughly seasoned throughout.
They are pretty much as satisfying as french fries without requiring any messy vats of hot oil.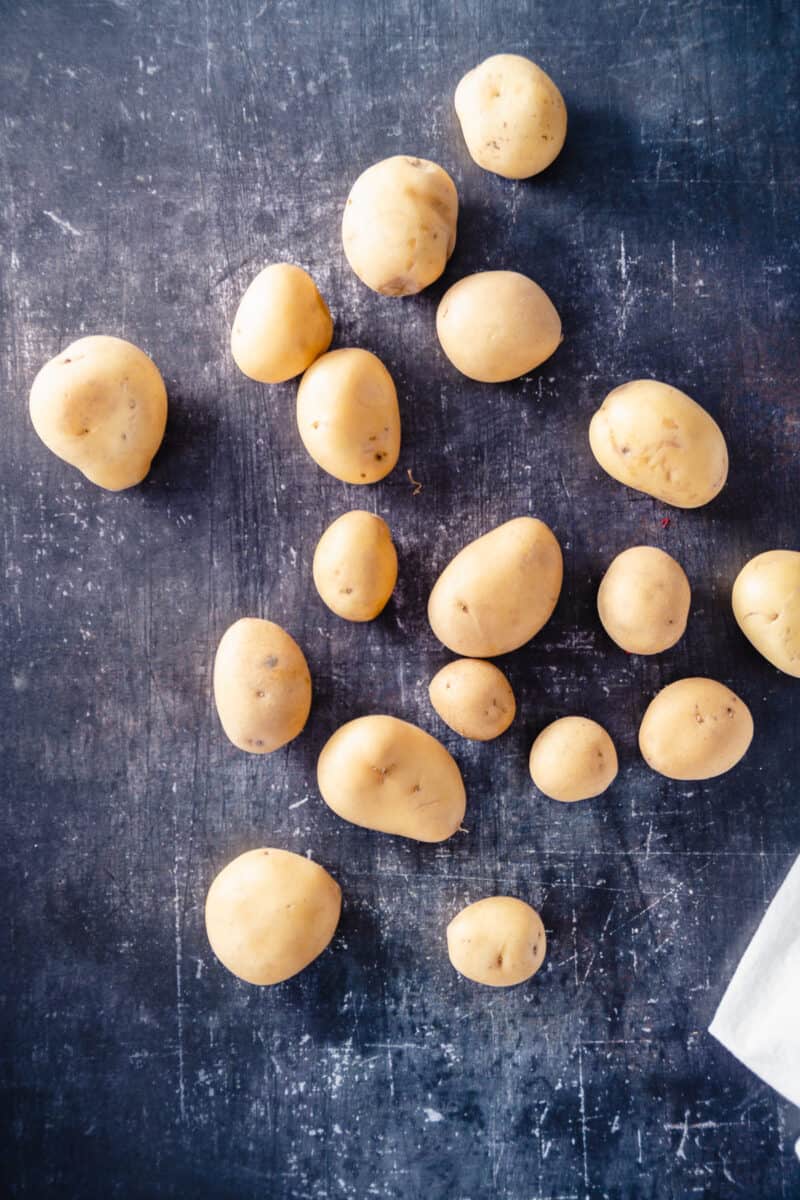 There are a few tricks to getting there. The first is choosing the right variety of potato.
I like to use Yukon gold potatoes here, because the outsides get sufficiently crispy and insides have a creamy tenderness. But the same general principles work for Russets, which have a similarly crisp exterior and a fluffier interior.
Red potatoes don't get quite as crisp, so save those for other purposes.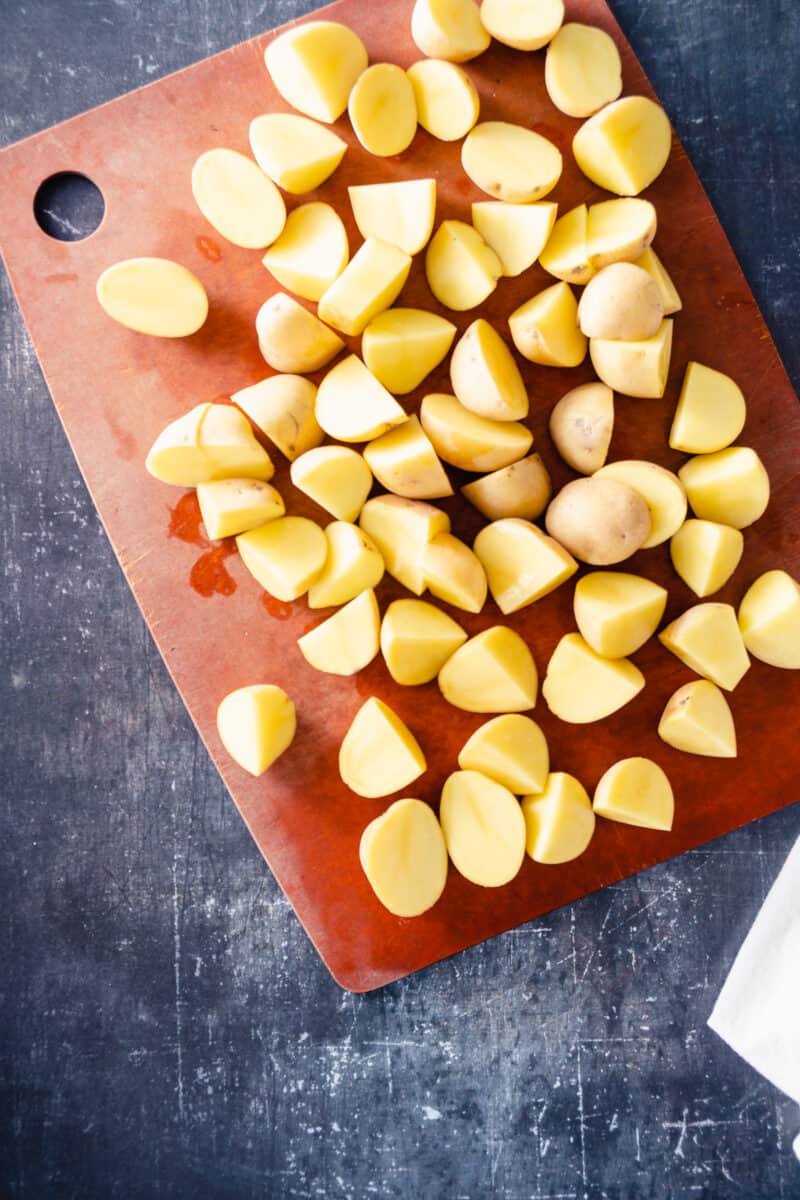 The next important key is to slice your potatoes into pieces that are roughly the same size. That is so they'll cook at the same rate.
I usually go with something around 1 1/2-inch cubes, but the same method will work for any size or shape as long as you keep an eye on them and adjust the cooking time as needed.
You don't need to get out the ruler and go crazy about it, just keep them close to the same.
Then add them to cold or room temperature water (whatever you get from the tap) that's been generously salted.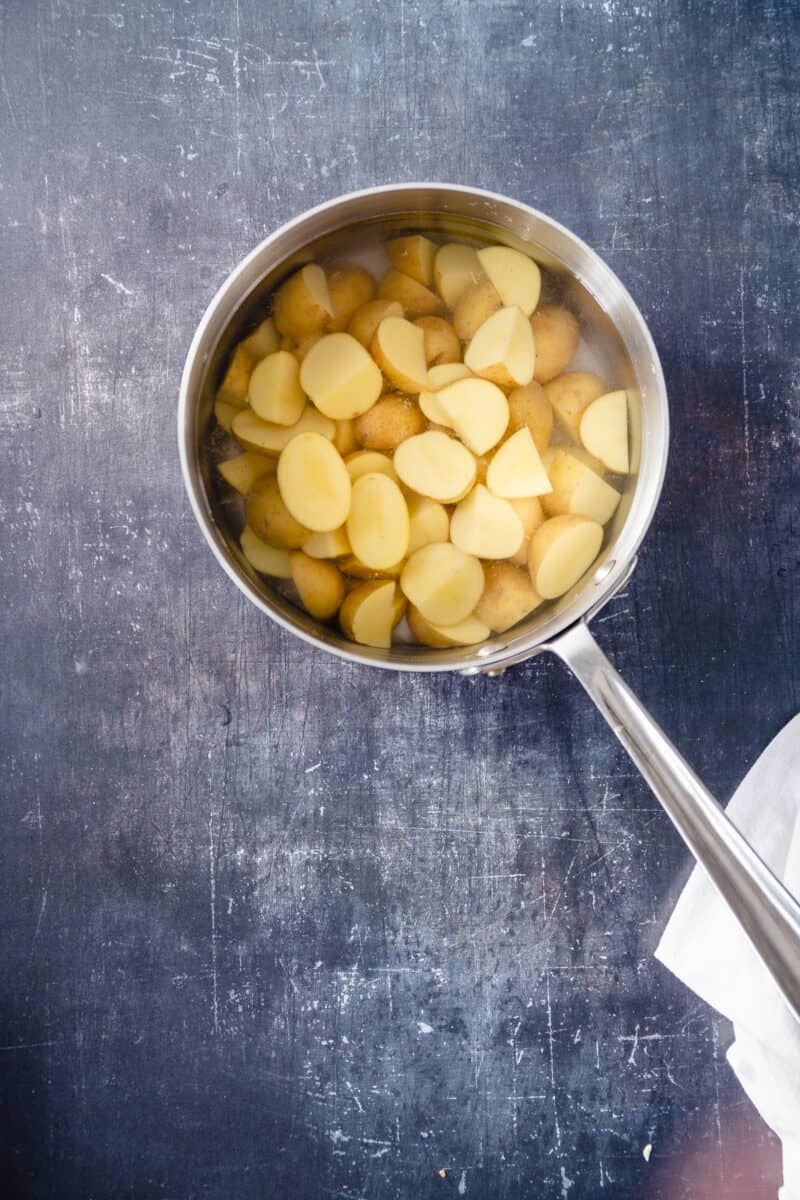 And I mean generously salted. I pour about 1/4 cup of kosher salt into the pot here.
The cold start is to help the potatoes to cook evenly and have the interior soft before the exterior is mush.
The salt is so that the potatoes are seasoned all the way through. You won't need to add any salt to the outside of these. They won't taste salty, but they will taste good.
(I've seen methods that call for adding baking soda to the water for added crispness, but I haven't found that it makes a noticeable difference, so I don't use it here.)
Then you need to bring them to a boil and cook them until you don't feel any resistance when you poke them with a paring knife.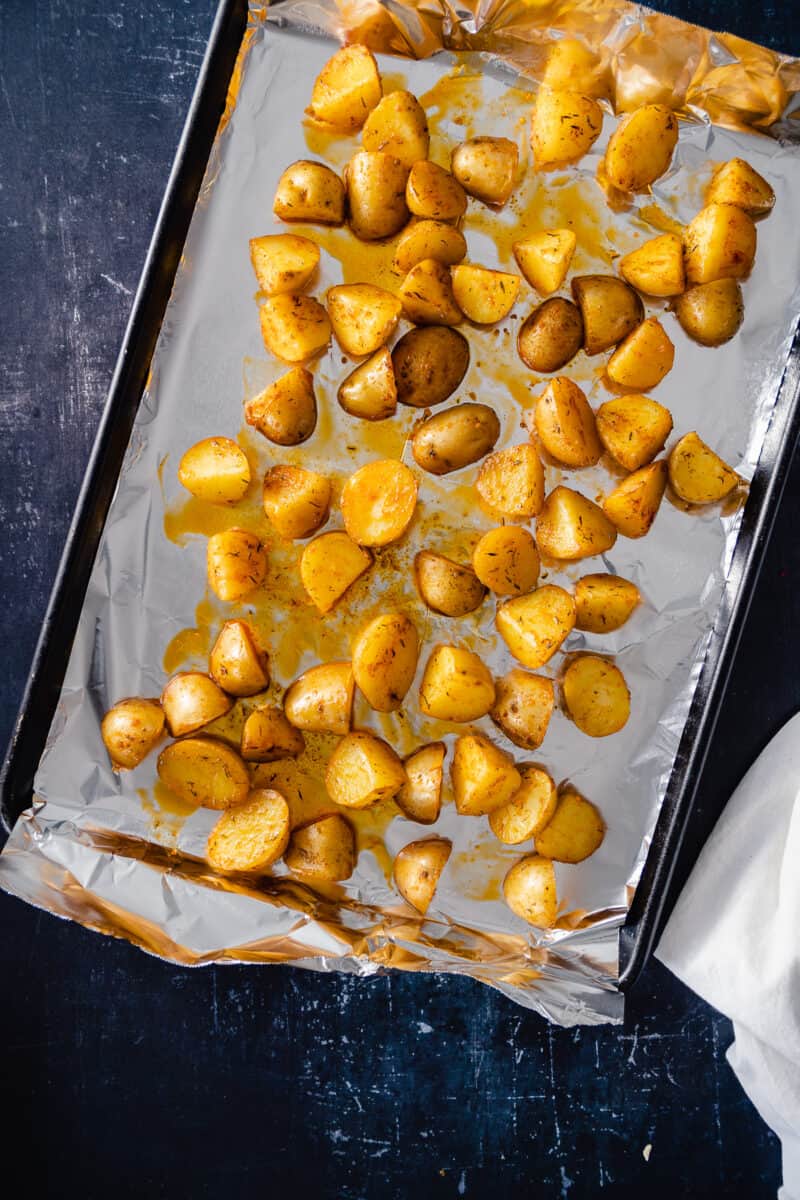 Then they get drained in a mesh strainer or through a colander. I like to shake them around a little to rough up the edges, which create more opportunities for little crispy bits.
Then return them to the saucepan (you could use a mixing bowl, but why dirty another dish if you don't need to?) and add enough oil to coat them and whatever seasonings you like.
My go-to is smoked paprika and some dried thyme, but you can go with whatever flavors you want here. I've done minced garlic and rosemary or a bit of chili powder or just a few cracks of black pepper.
Then they get spread on a sheet pan. I usually line it with aluminum foil for easy cleanup, but that part is optional.
They go into a hot oven (it's a nice time to use convection if you have that option available, though it isn't necessary) where they get browned and crisped.
They get flipped about halfway through their cook time so that they get crispy on multiple sides.
And that's it.
It's a template for crispy potatoes whenever you want them.
Enjoy!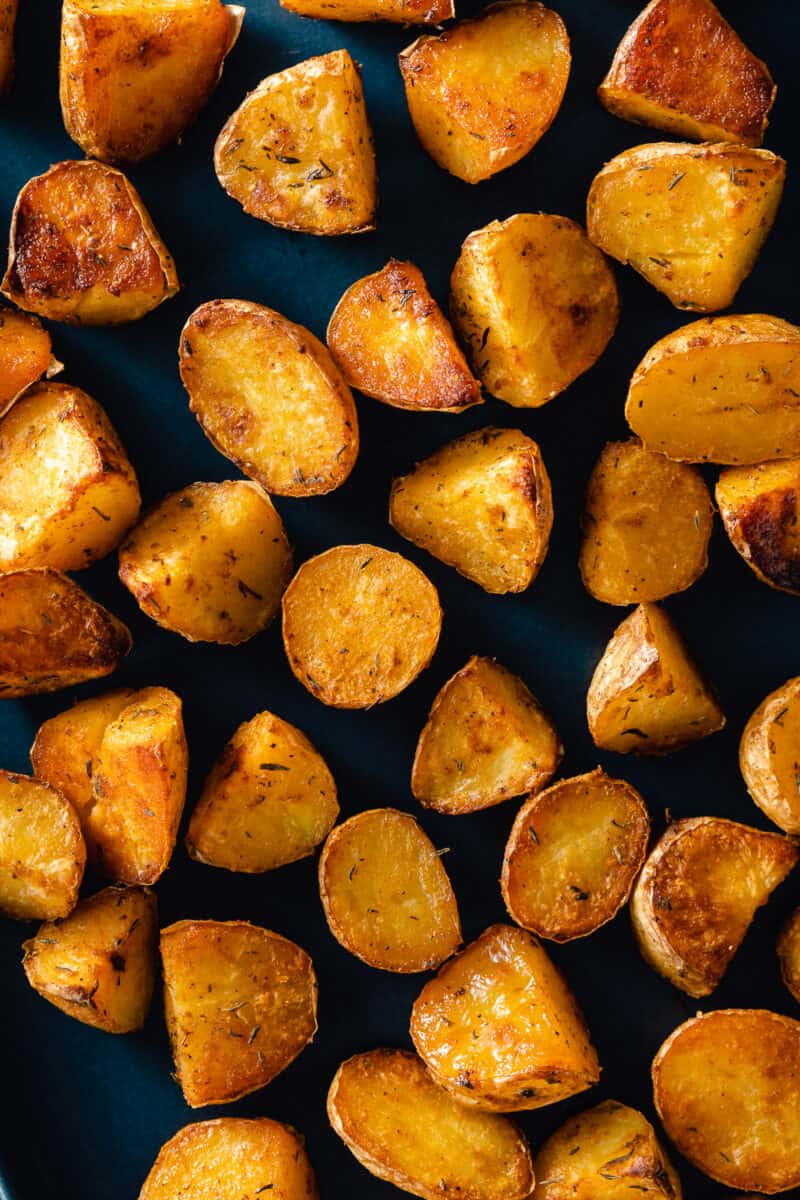 Yield: about 4 servings
Crispy Oven Roasted Potatoes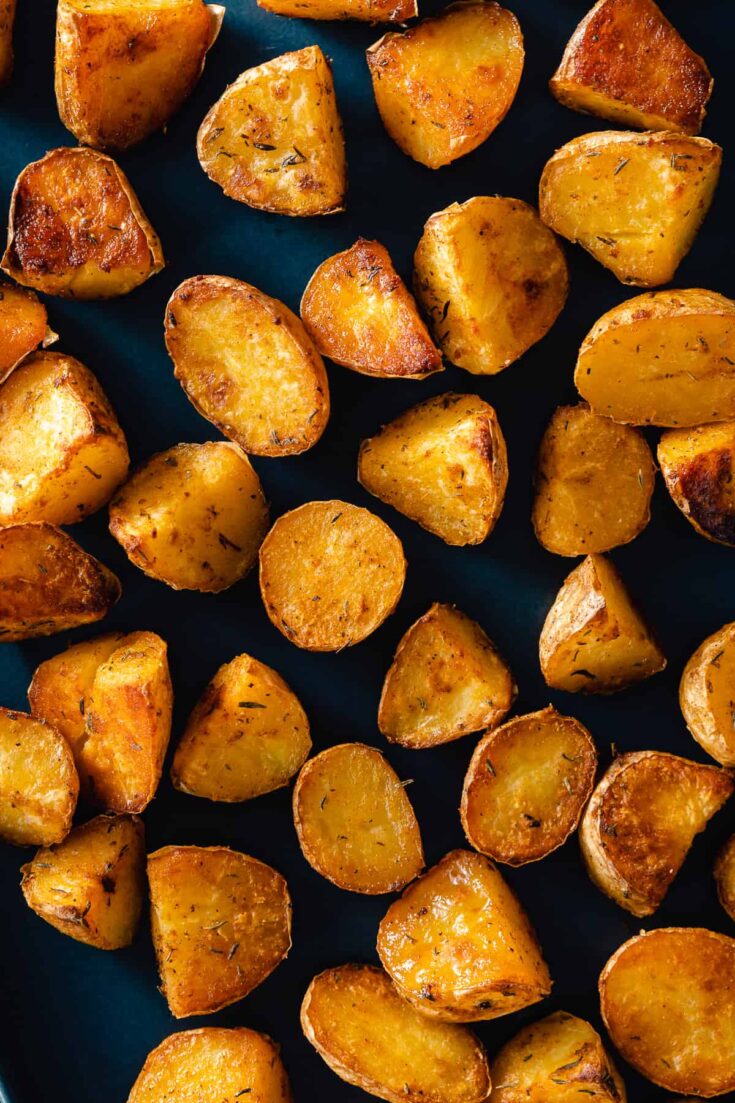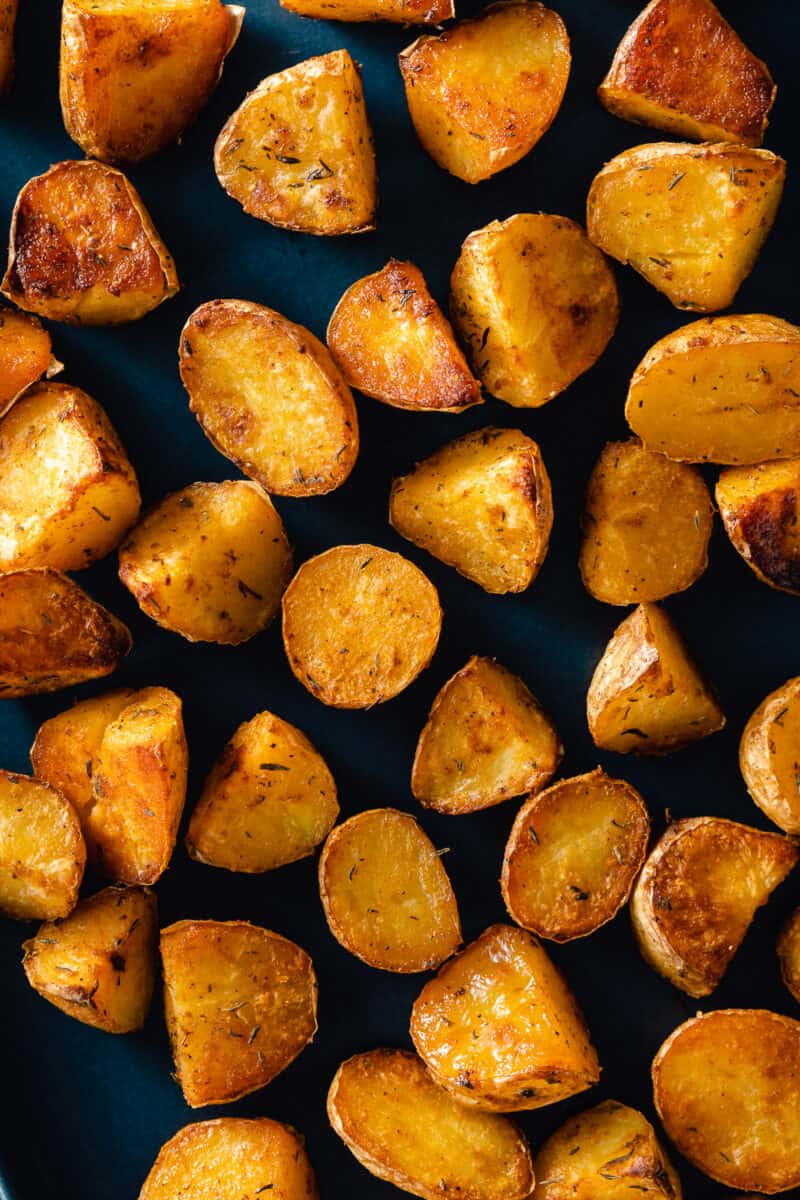 These potatoes are crisp on the outside and soft on the inside. This recipe works best with Yukon gold potatoes, but Russet potatoes will also work well.
The keys here are cutting the potatoes the same size, starting them in cold or room temperature water, heavily salting the water, and roasting them in a hot oven for maximum crispiness.
They amount of salt may look crazy, but I assure you the potatoes won't taste salty—they'll just taste delicious because they'll be seasoned all the way through.
I like to season these with smoked paprika and dried thyme for a versatile savory flavor profile, but there are plenty of other options there. Minced garlic and rosemary, a chili powder, or a few cracks of black pepper are all nice options. You can adjust the seasonings however you like, but this is a good starting point.
Ingredients
1 1/2 pounds Yukon gold potatoes, washed and sliced into 1 1/2-inch pieces
6 cups water
1/4 cup kosher salt (preferably Diamond Crystal, scale back a little if using Morton)
2 tablespoons olive oil
1/2 teaspoon smoked paprika
1/4 teaspoon dried thyme
Instructions
Preheat oven to 450°F (or 425°F if using convection). Line a half sheet pan with aluminum foil.
Add the potatoes, water, and salt to a medium saucepan and bring to a boil. Reduce to a simmer and cook until the potatoes feel tender and show no resistance when poked with a paring knife, about 10 minutes after the water comes to a boil.
Drain in a mesh strainer or colander and shake around a bit to rough up the edges to maximize crispy potential.
Return to the potatoes to the saucepan and add the oil, smoked paprika, and thyme. Toss to coat.
Spread in an even layer on the foil-lined sheet pan and bake until browned and crisp on the underside about 10-15 minutes. Turn the potatoes over so that they crisp on another side and continue roasting until browned and tender, about 10-15 minutes more.