I may earn from purchases through links in this post.
I have long been a fan of America's Test Kitchen. I've spent many lazy Saturdays watching the show (and its sister show, Cook's Country), which unlike most of what's available on The Food Network these days, actually teaches you how to cook. There's something soothing about it.
It's not flashy or particularly exciting. It's sometimes (always?) dorky and hokey.
It's maybe even a little bit boring.
And that's what I like about it. Because, honestly, I could use some more boredom in my life these days. Exciting is overrated.
Informative, well-researched, rigorously-tested, meticulous, and reliable is where it's at. There's no drama in their recipes, because you know, just know, that every single one of them is going to work.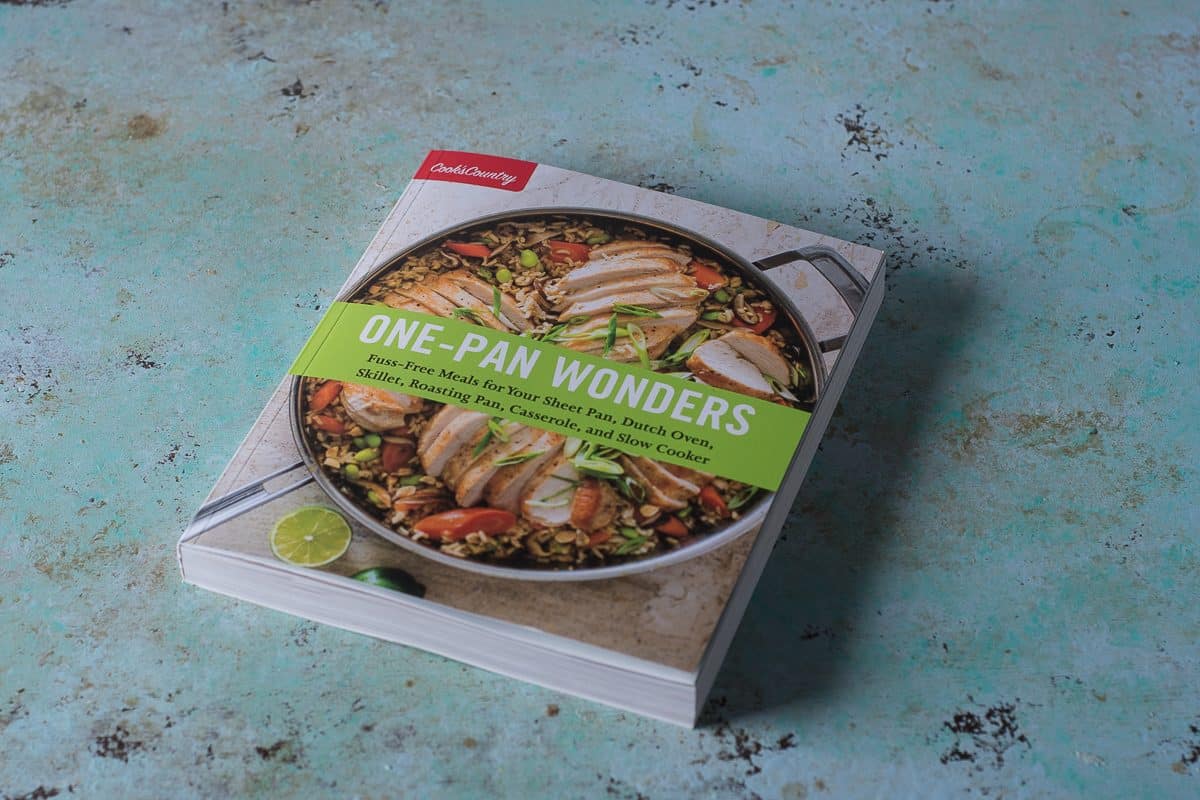 So when they reached out to see if I wanted to take their new cookbook, One-Pan Wonders, for a spin, I immediately said yes.
This book is all about dinners that can be made in one pan: sheet pan, Dutch oven, skillet, roasting pan, casserole dish, or slow cooker. Efficient, simple meals that are easy to clean up. And I hate cleaning up.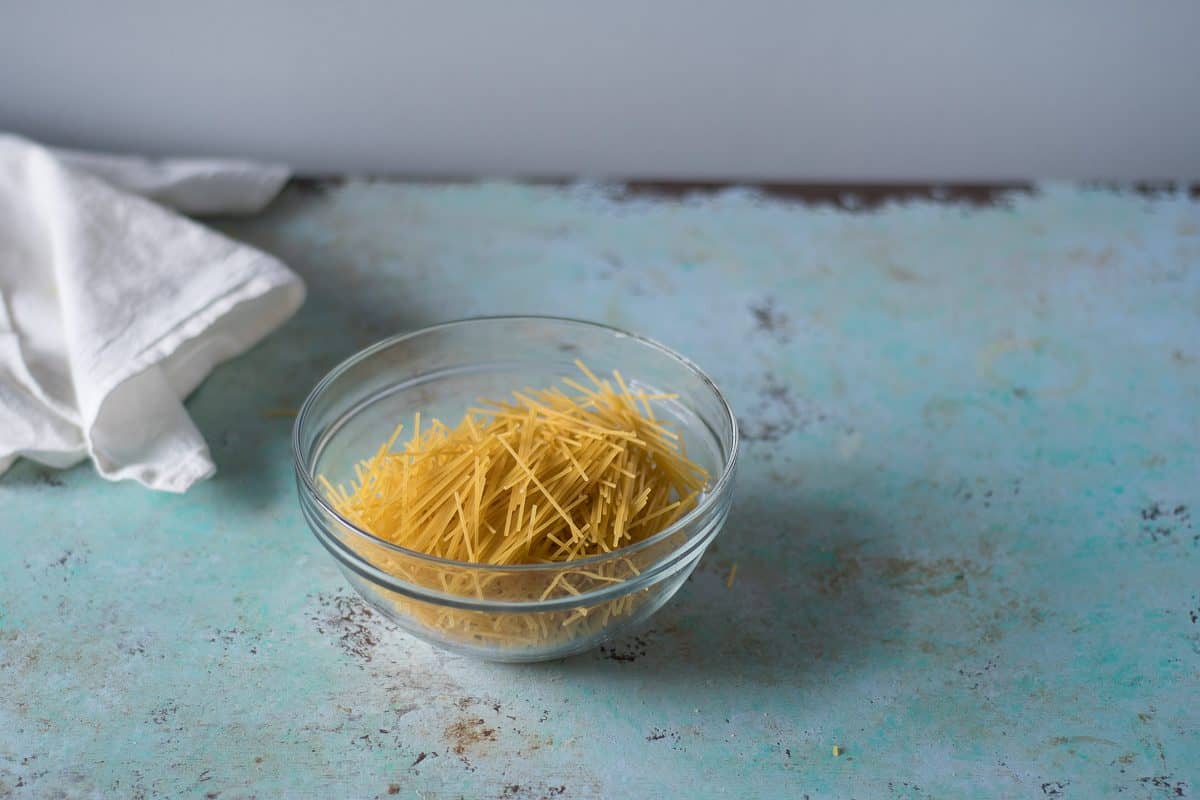 These recipes aren't on the cutting edge of the food scene. That's not their style.
But they include a range of dishes from American standards like meatloaf and mac and cheese to Italian, Mexican, Vietnamese, Korean, and Spanish inflected dishes like these fideos with chickpeas, fennel, and kale.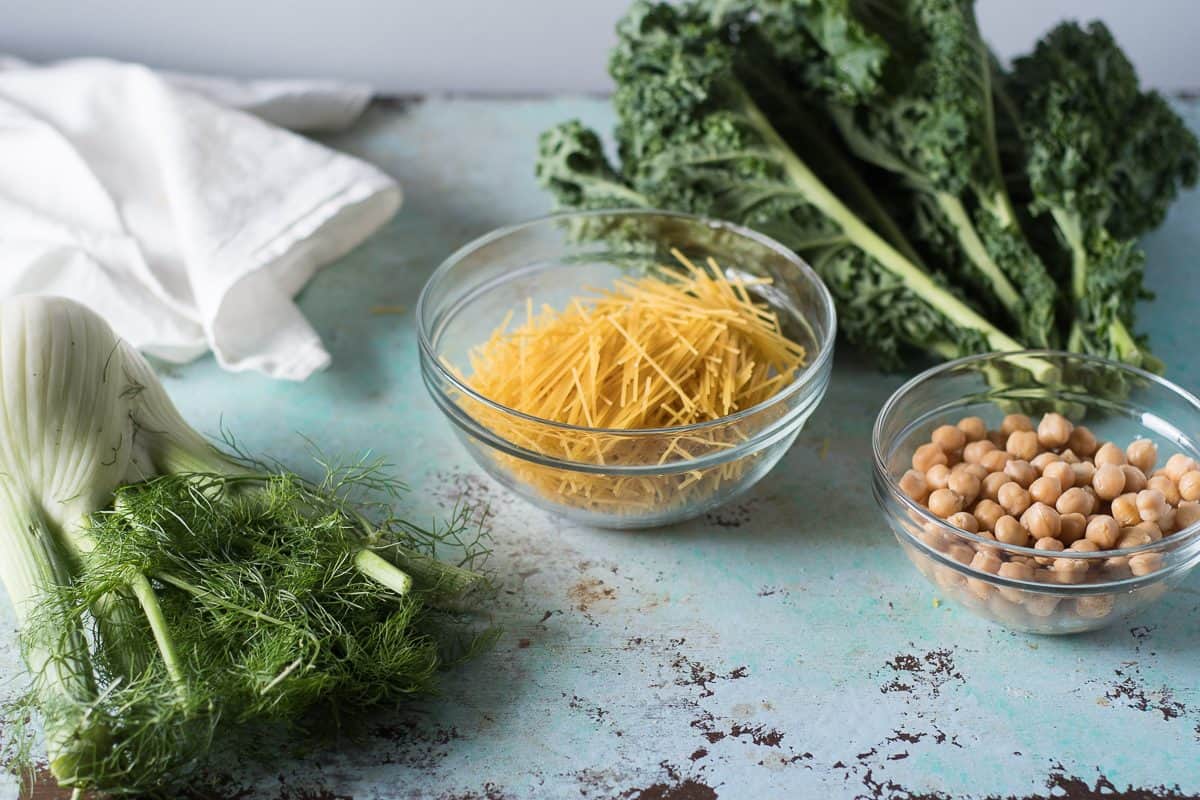 I was immediately drawn to it because it uses ingredients I cook with all the time but treats them in a slightly different way.
Fideos is similar to paella, but instead of using rice, a thin vermicelli-like pasta gets broken up and toasted in olive oil and then cooked in a smoky tomato sauce.
I love that instead of chorizo and seafood, this version goes vegetarian with loads of kale, slivers of fennel (a vegetable that's underrated) and gets some heft from the chickpeas.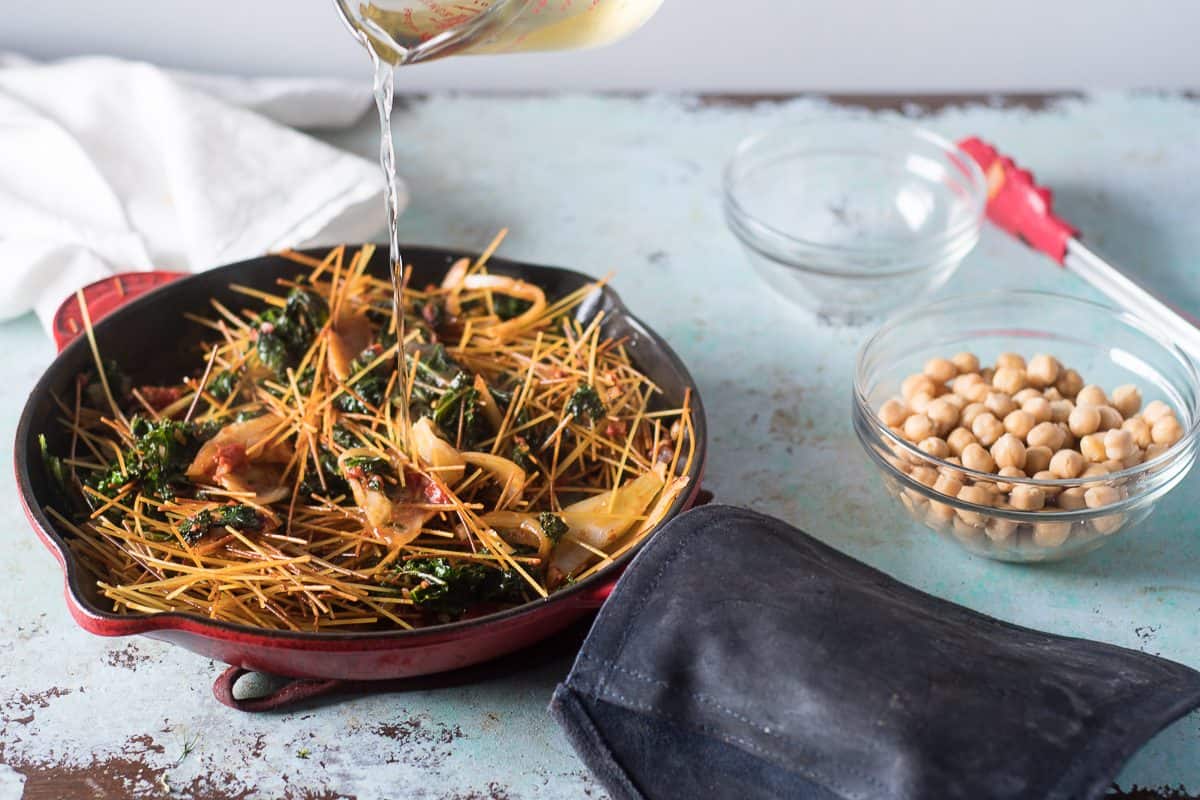 It gets its smoky flavor from one of the spices I reach for most, smoked paprika and it gets some complexity from a generous splash of white wine. (And if you're going to open the bottle you might as well have it with dinner…).
They recommend topping the fideos with a squeeze of lemon and a drizzle of homemade garlic aioli, which is nice but really not necessary if you don't want to bother.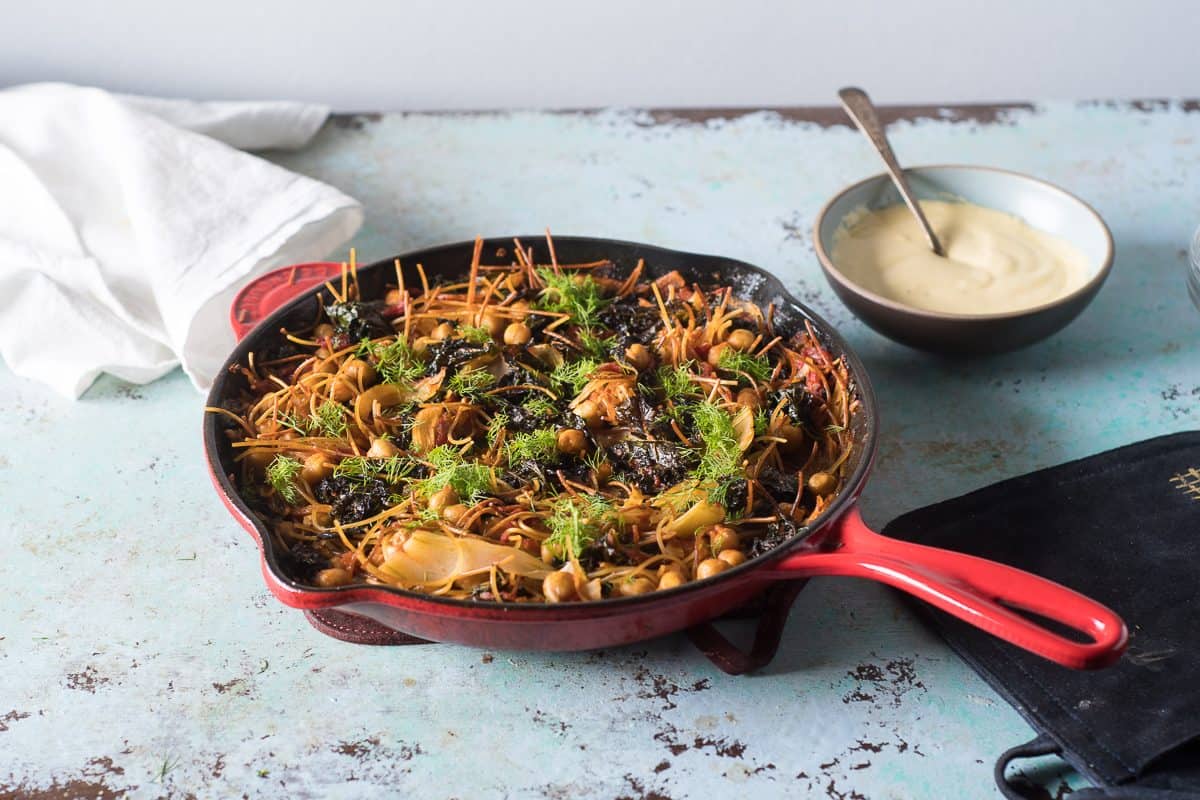 I could also imagine tossing in a few nubs of tangy goat cheese or nestling in some eggs to cook while this goes under the broiler. But without any of those extras, this dish is vegan.
And it's a welcome weeknight meal, with great depth of flavor and just one pan to wash at the end of the night.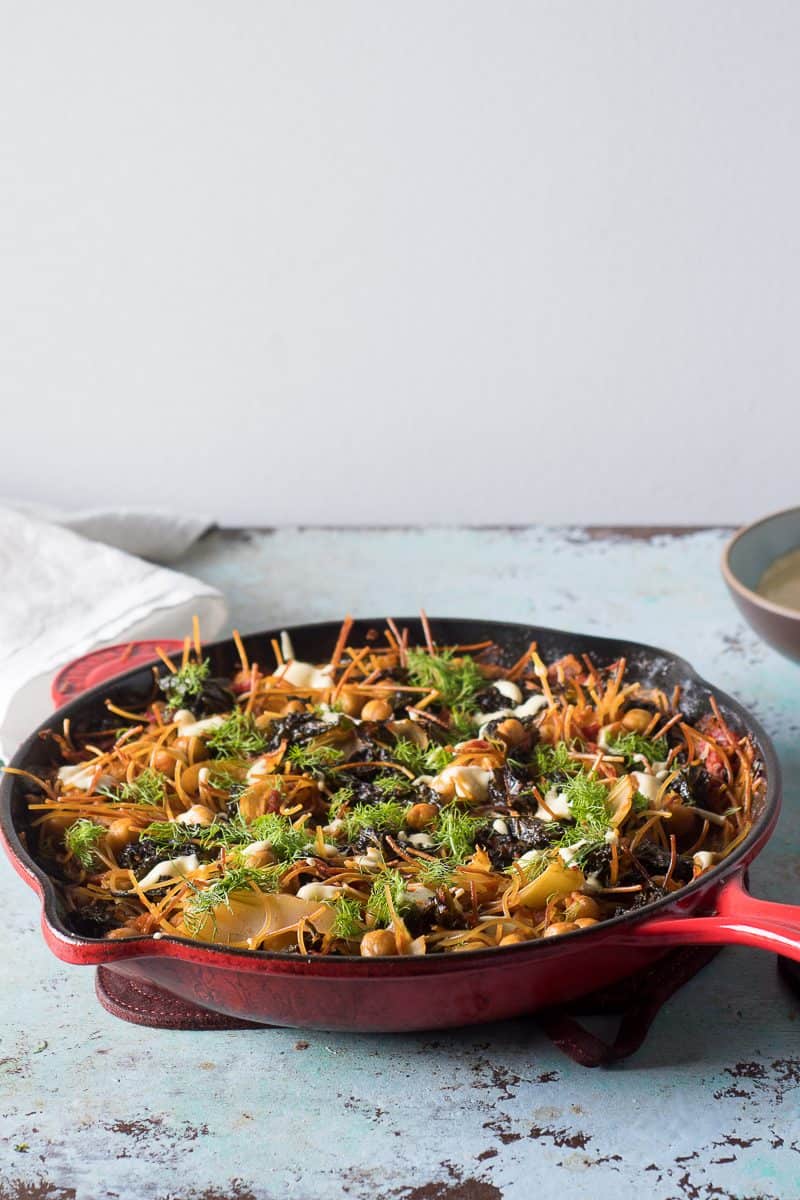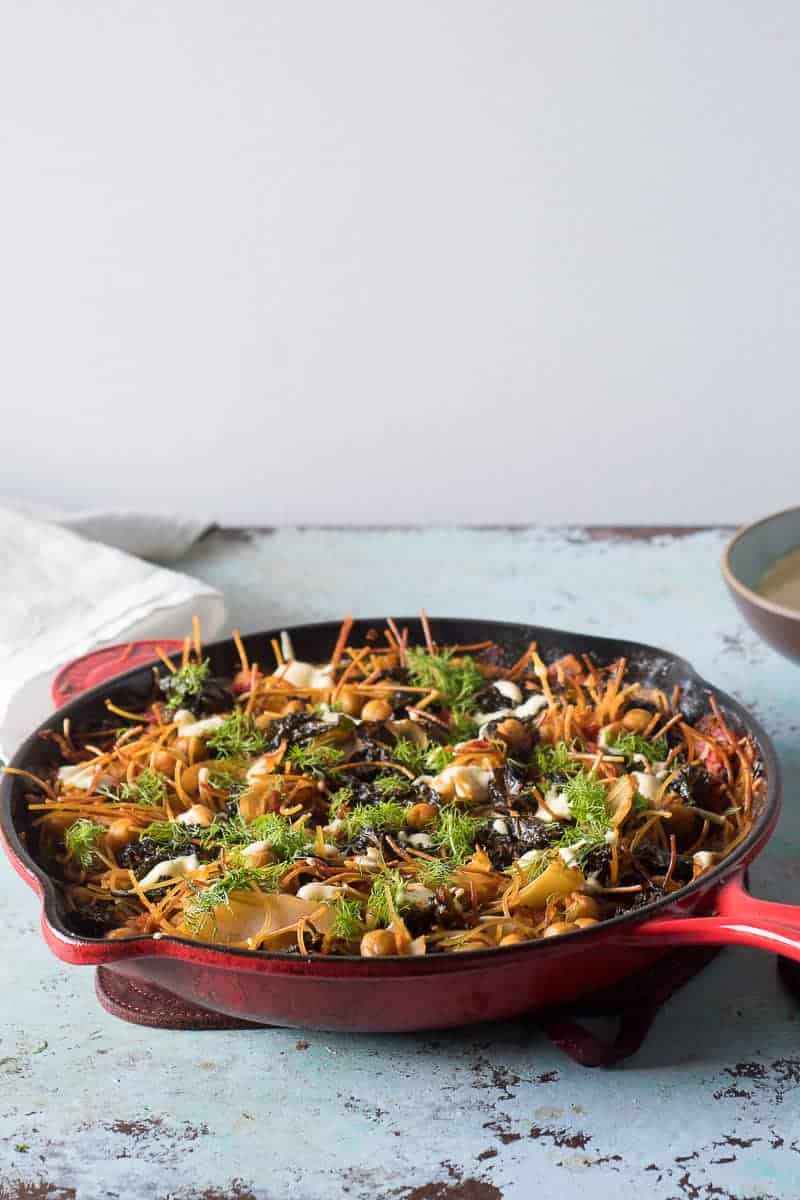 Yield: 4 servings
Fideos with Chickpeas, Fennel, and Kale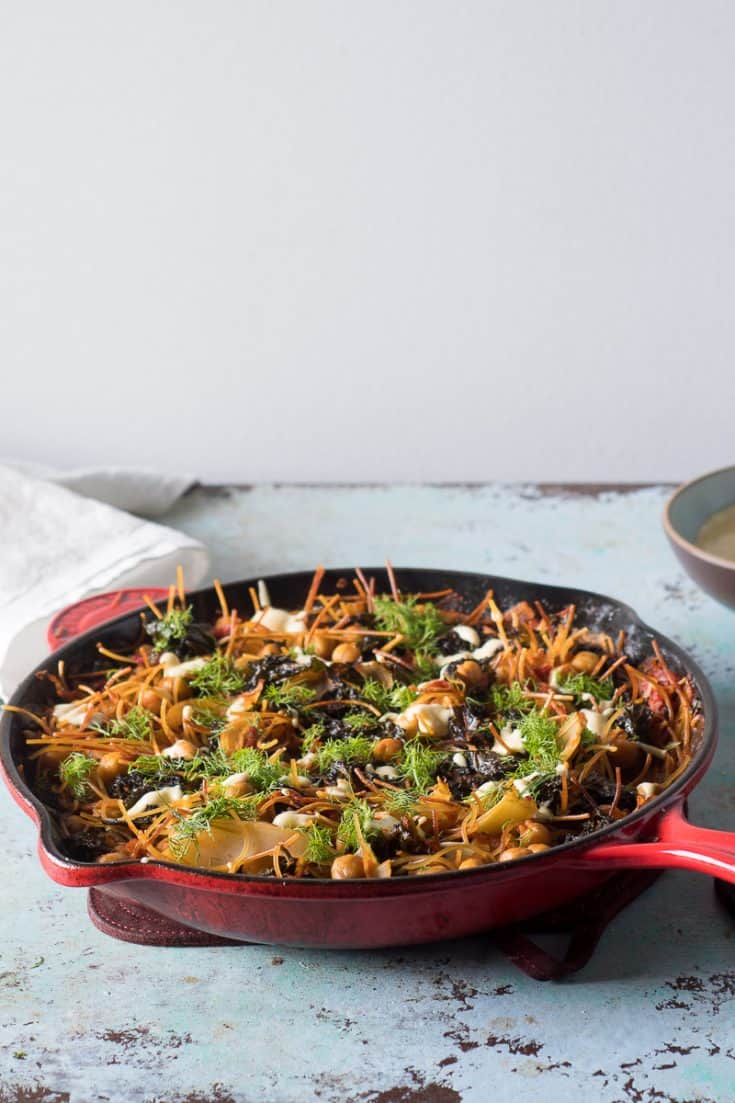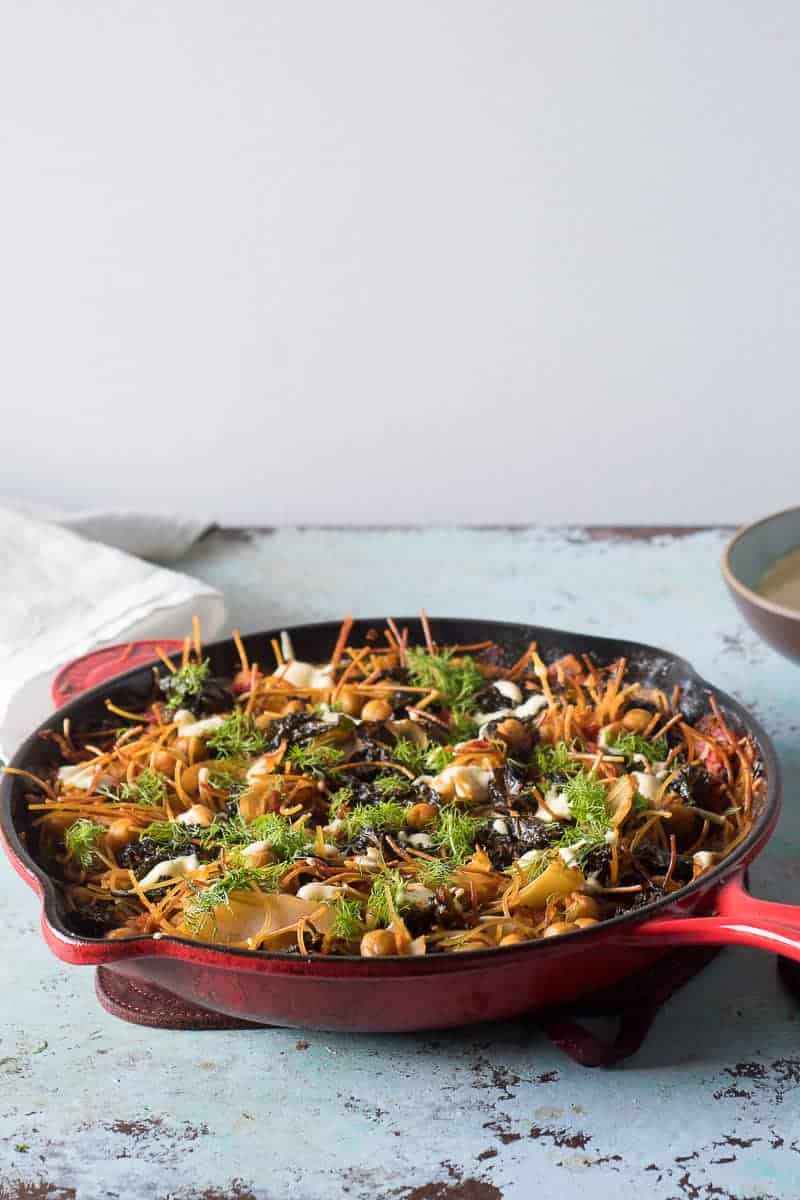 Fideos is like paella in pasta-form. Thin noodles get toasted in olive oil then simmered in a smoky tomato sauce that gets perked up with a splash of white wine. While it traditionally uses chorizo and seafood, this version is vegetarian with chickpeas, fennel, and kale. You'll need a broiler safe 12-inch skillet (or, even better in this case, a saute pan with straight sides) for this dish. The pan will be really full, so be careful when transferring it from the stovetop to the oven. The garlic aioli is optional, but nice. A squeeze of lemon is also a nice touch.
Ingredients
For the Fideos
8 ounces spaghettini or thin spaghetti, broken into 1- to 2-inch lengths
2 tablespoons extra virgin olive oil, plus 2 teaspoons, divided
12 ounces kale, stemmed and cut into 1-inch pieces
1 fennel bulb, 2 tablespoons fennel fronds, minced, stalks discarded, bulb halved, cored, and slice thin
1 onion, chopped fine
salt and pepper
1 (14.5-ounce) can diced tomatoes, drained and chopped fine, juice reserved
3 garlic cloves, minced
1 1/2 teaspoons smoked paprika
2 3/4 cups water
1 (15-ounce) can chickpeas, rinsed and drained
1/2 cup dry white wine
For the Garlic Aioli
2 large egg yolks
4 teaspoons lemon juice
1 garlic clove, minced
1/2 teaspoon salt
1/4 teaspoon pepper
1/2 cup vegetable oil
1/4 cup extra virgin olive oil
Instructions
Toss pasta and 2 teaspoons oil in 12-inch broiler-safe skillet until pasta is evenly coated. Toast pasta over medium-high heat, stirring often, until browned and releases nutty aroma (pasta should be color of peanut butter), 6 to 10 minutes; transfer to bowl.
Add remaining 2 tablespoons oil to now-empty skillet and heat over medium heat until shimmering. Add kale, a handful at a time, sliced fennel, onion, and 1/4 teaspoon salt and cook until vegetables are softened, about 5 minutes. Stir in tomatoes and cook until mixture is thick, dry, and slightly darkened in color, 4 to 6 minutes. Stir in garlic and paprika and cook until fragrant, about 30 seconds
Stir in toasted pasta until thoroughly combined. Stir in water, chickpeas, wine, reserved tomato juice, 1/4 teaspoon salt, and 1/2 teaspoon pepper. Increase heat to medium-high and simmer, stirring occasionally, until liquid is slightly thickened and pasta is just tender, 8 to 10 minutes. Meanwhile, adjust oven rack 6 inches from broiler element and heat broiler.
Transfer skillet to oven and broil until surface of pasta is dry with crisped, browned spots, 5 to 7 minutes. Remove skillet from oven (skilled handle will be hot). Let cool for 5 minutes, then sprinkle with fennel fronds and serve with aioli.
Make the garlic aioli (optional) Process yolks, lemon juice, garlic, salt, and pepper in food processor until combined, about 10 seconds. With processor running, slowly drizzle in vegetable oil, about 1 minute. Transfer mixture to medium bowl and, whisking constantly, slowly drizzle in olive oil. (Aioli can be refrigerated for up to 4 days.)
Recommended Products
As an Amazon Associate and member of other affiliate programs, I earn from qualifying purchases.
Nutrition Information:
Yield:
4
Serving Size:
1
Amount Per Serving:
Calories:

507
Total Fat:

36g
Saturated Fat:

4g
Trans Fat:

0g
Unsaturated Fat:

30g
Cholesterol:

93mg
Sodium:

444mg
Carbohydrates:

35g
Fiber:

6g
Sugar:

10g
Protein:

10g