I may earn from purchases through links in this post.
This ginger syrup is a favorite for me. It makes the best ginger ale. It's sweet and spicy and complex.
I used to imagine ginger ale was one of those mysterious beverages that required a lab or a factory or complicated equipment to produce. (I used to feel the same way about tonic.)
It turns out that's not the case. And there's something magical about being able to conjure up a drink like that with simple ingredients at home.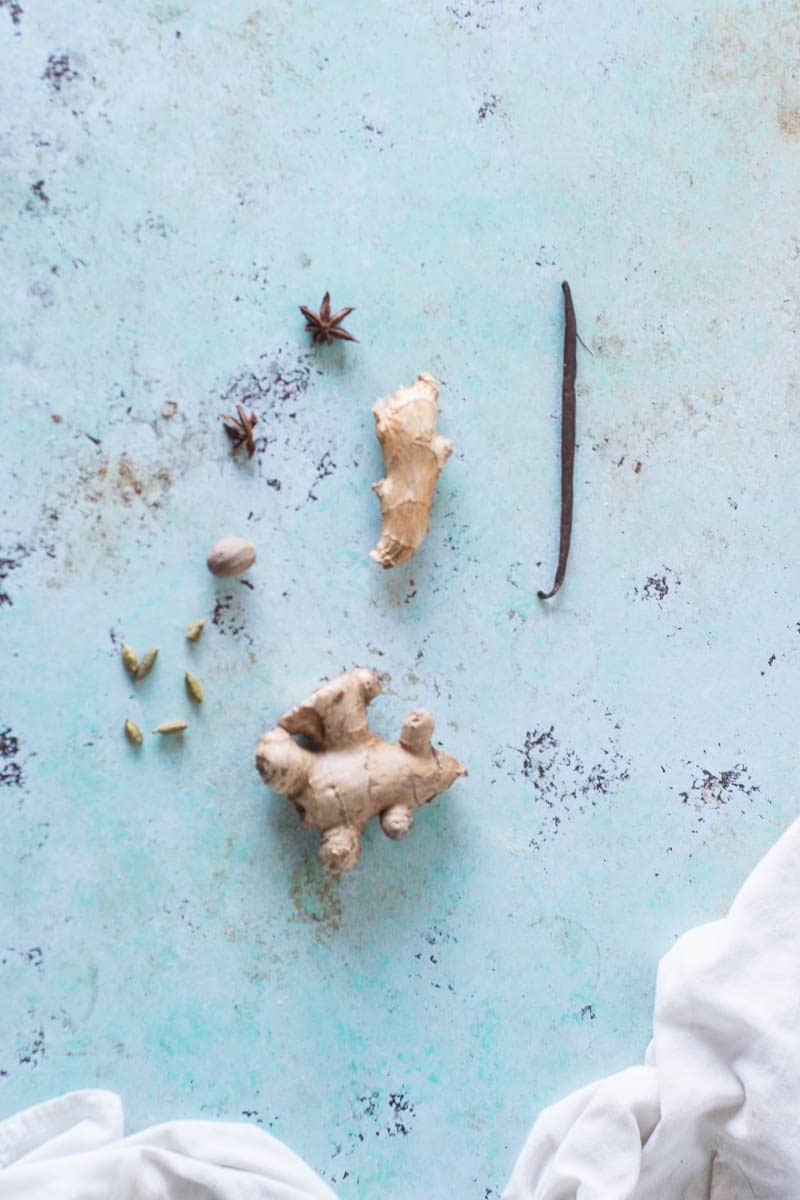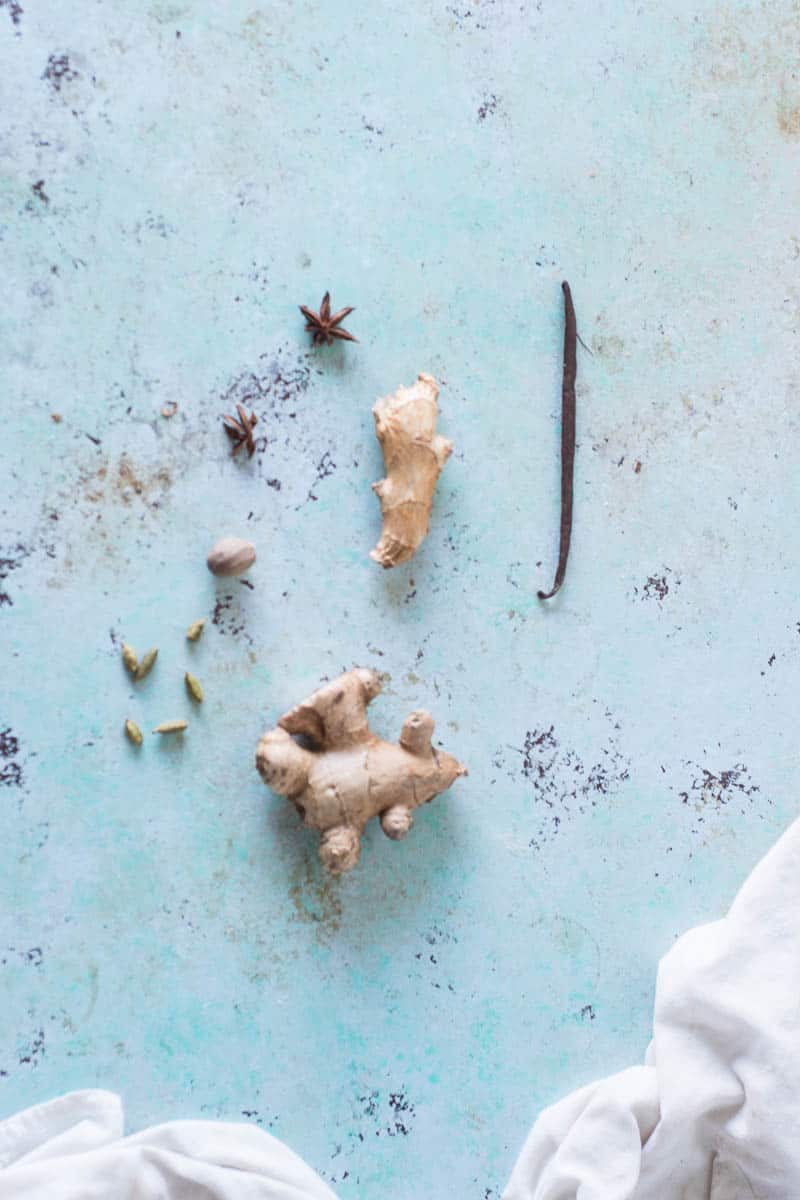 I spent a long time looking for a ginger syrup recipe that would make the kind of ginger ale I like to drink. And I was repeatedly disappointed.
I tried a few that I found too sharp and hot to drink on their own. And others that were just boring.
So I made up my own version with ginger as the star, but a bunch of other complementary spices to make it more interesting. And I tweaked it a few times until I found a combination of flavors that felt full and round and pleasantly sippable.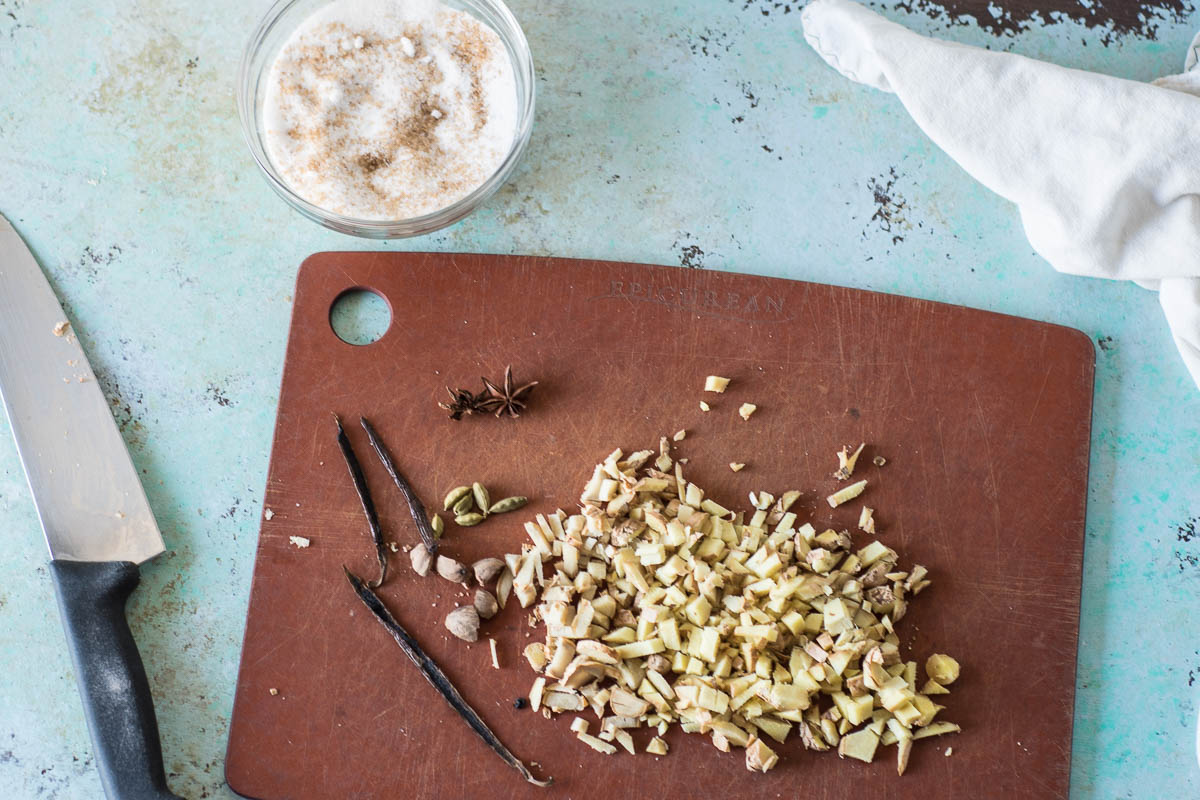 It's so ridiculously easy to make.
Just chop some ginger, throw in a few other spices and a vanilla bean, add some sugar and water and simmer. Then strain out the solids and let the syrup cool.
Then top with sparkling water for a homemade ginger ale.
Add some fresh lime juice if you're feeling citrusy. Add some booze if you're in the mood for a Moscow Mule or any of its many variations.
But still, I think this perfectly delightful as a nonalcoholic beverage for children and adults alike.
This is not a ginger syrup for ginger beer, which tends to be extra spicy with gingery heat. The heat on this one is perceptible but subtle.
This is, rather, a ginger syrup for ginger ale.
One that is smooth, creamy with vanilla bean (what can I say, I'm a Michigan girl who grew up drinking Vernor's), and complex with a variety of warming spices including cardamom and nutmeg and star anise to round out the flavor.
(And I know you want to murder me for saying vanilla bean because they cost like a bazillion dollars, so I'm also going to let you know that you can absolutely get away with vanilla extract or vanilla bean paste if you want to.)
Too many ginger syrup recipes rely on ginger alone, which, to me at least, makes them one note and flat. Here, the ginger is still front and center but is surrounded by a group of supporting players to give it depth.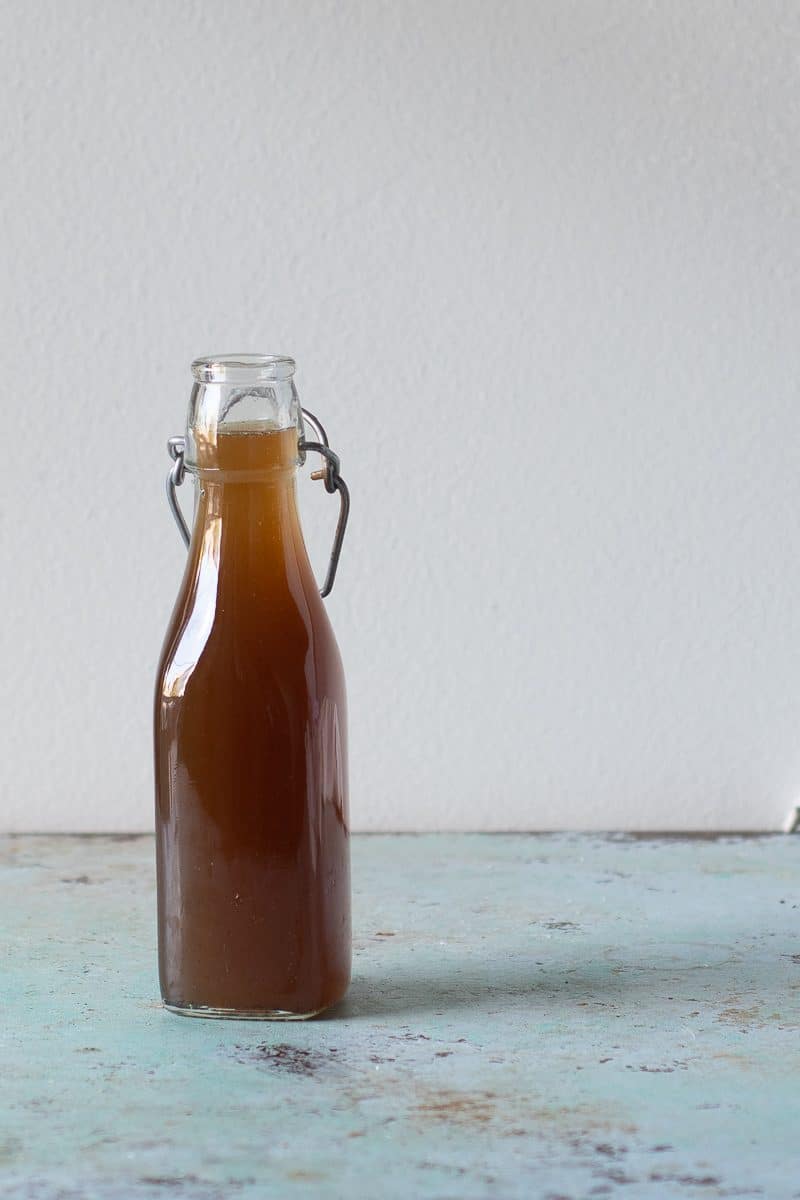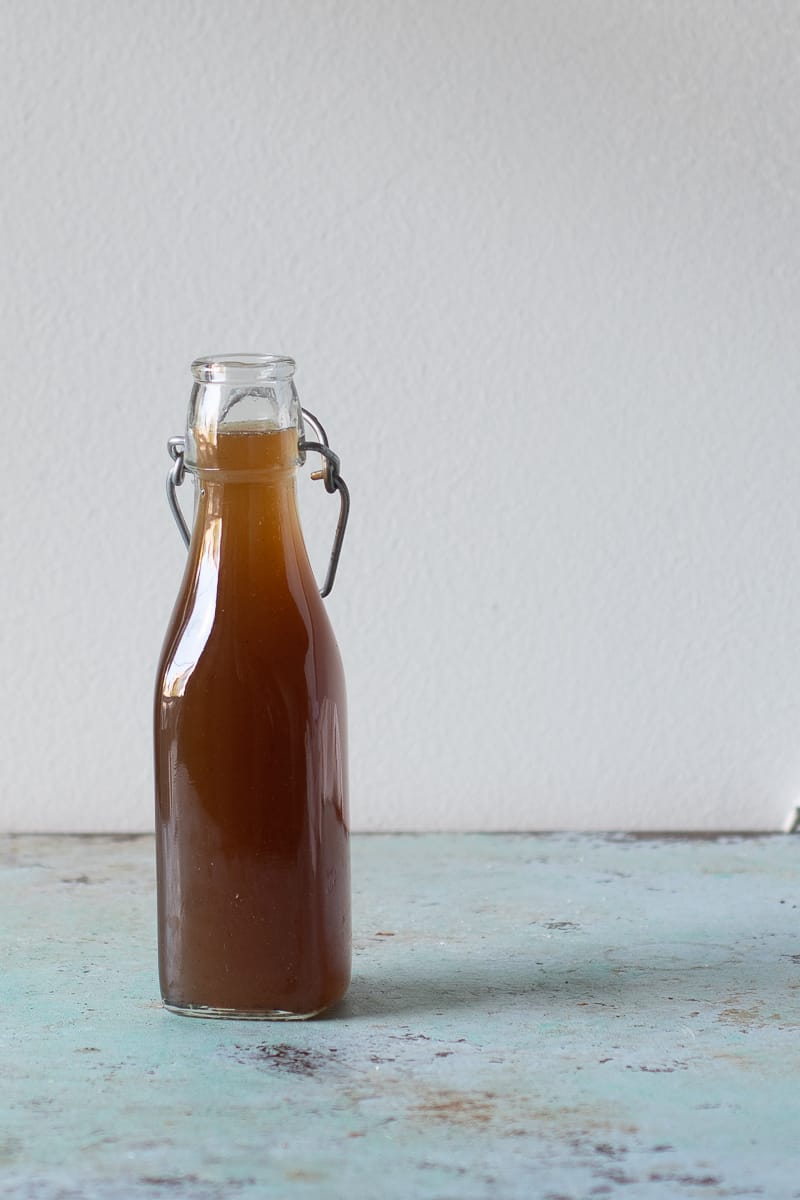 This ginger syrup pretty much makes my perfect ginger ale. The kind I can add vanilla ice cream to for floats or mix with smoky mezcal for a Mezcal Mule.
But you can feel free to tweak it to your tastes.
Bump up the cardamom or skip the star anise or throw in lemon or lime zest if you prefer. If you want it spicier, add more ginger. Feel free to play around with it–it's flexible.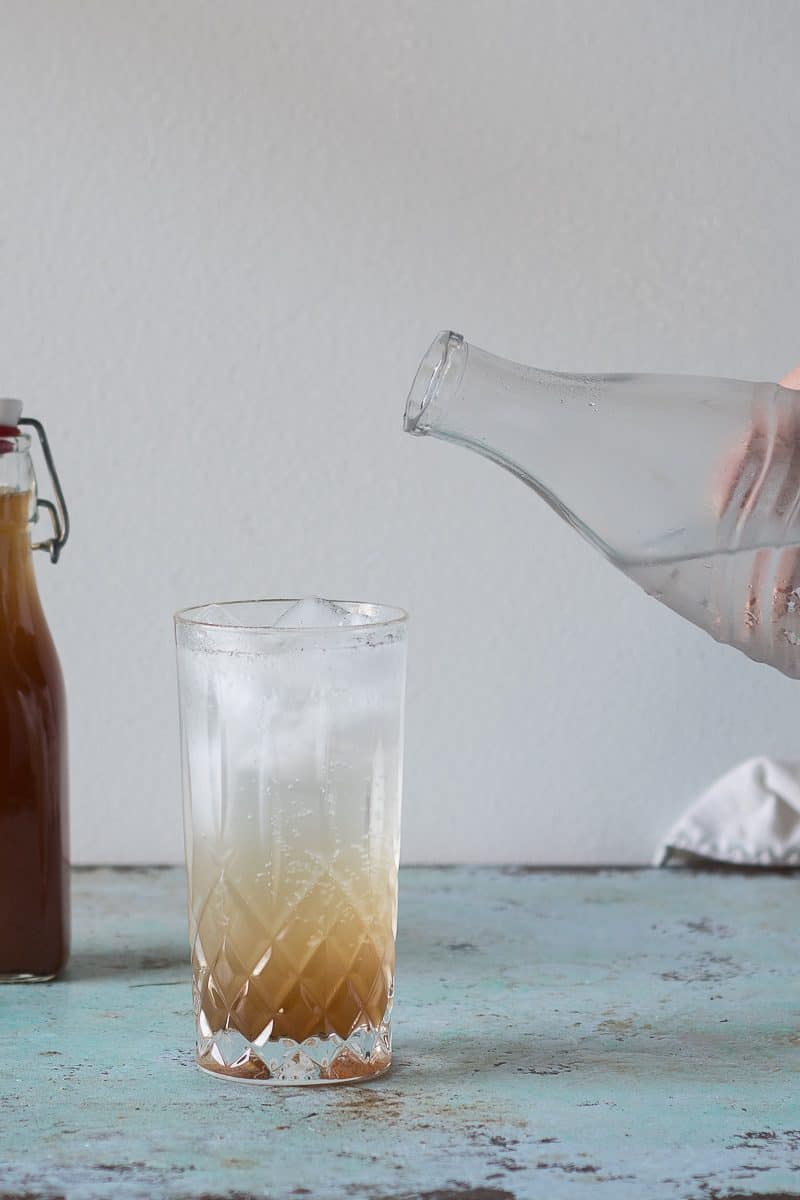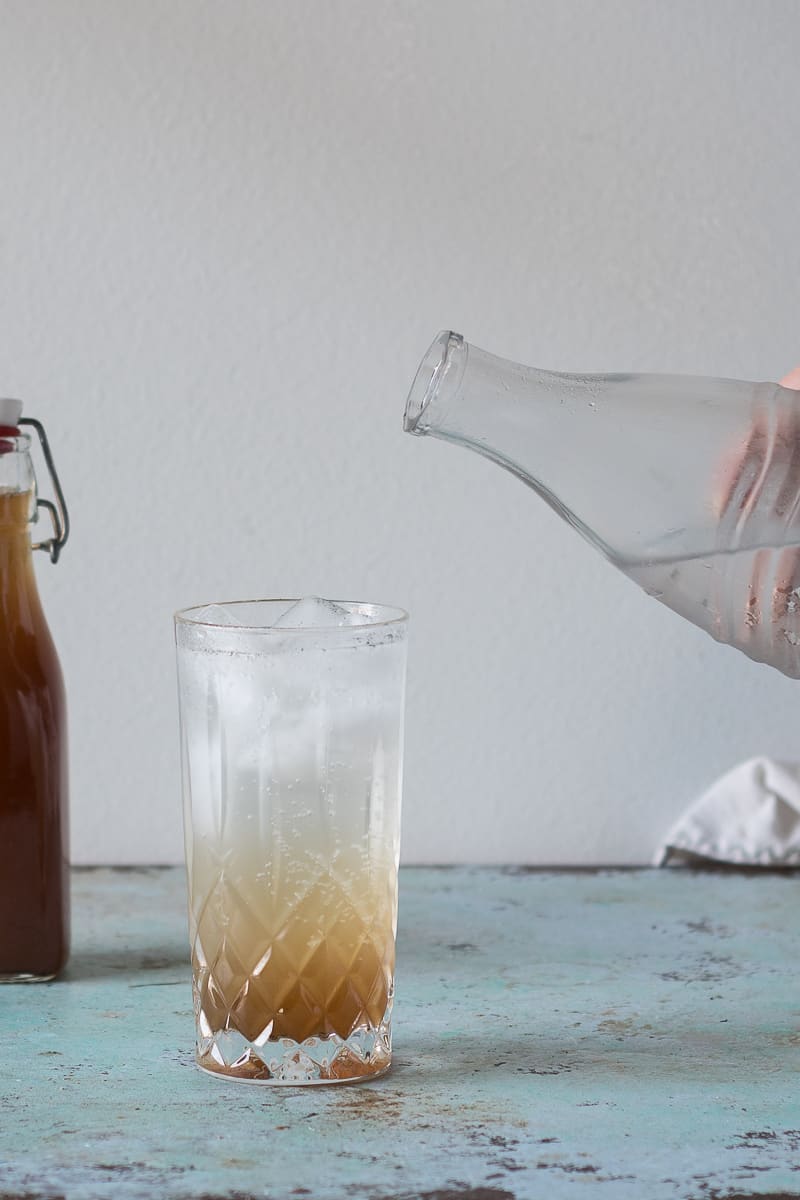 As for me, I'll be enjoying it with some sparkling water and some lime.
Cheers.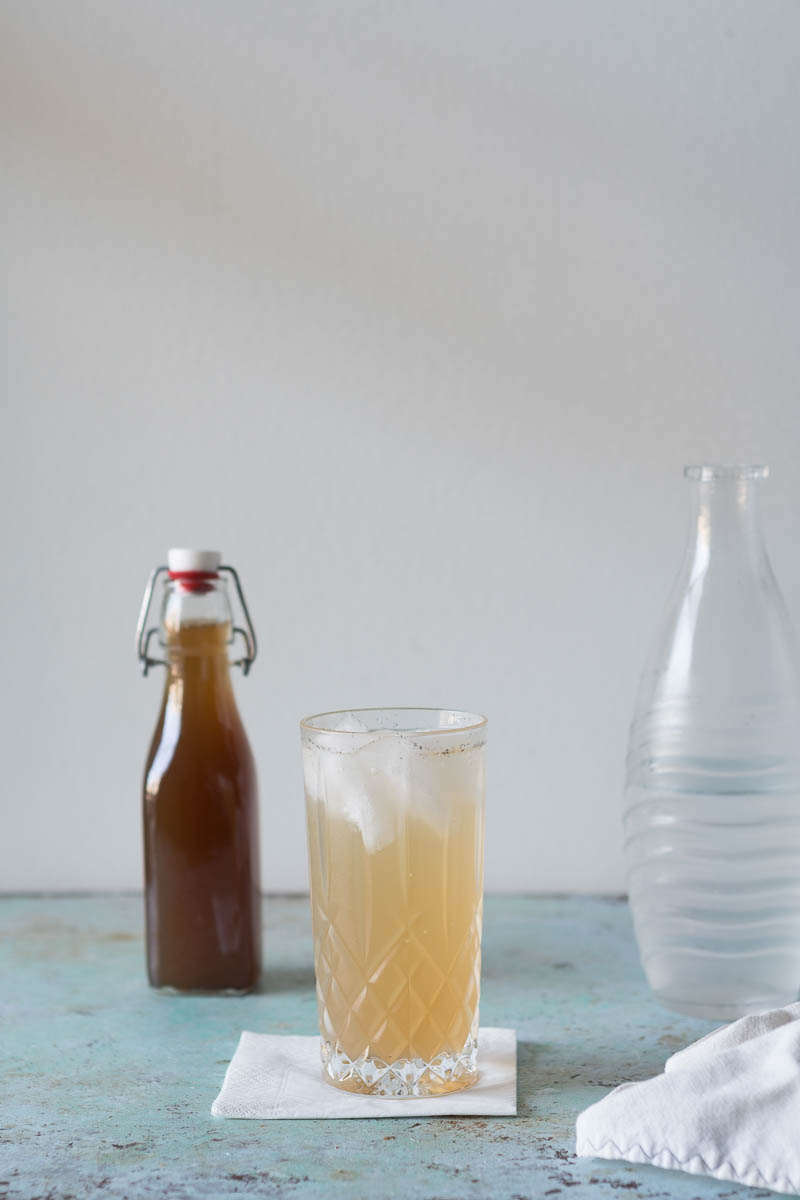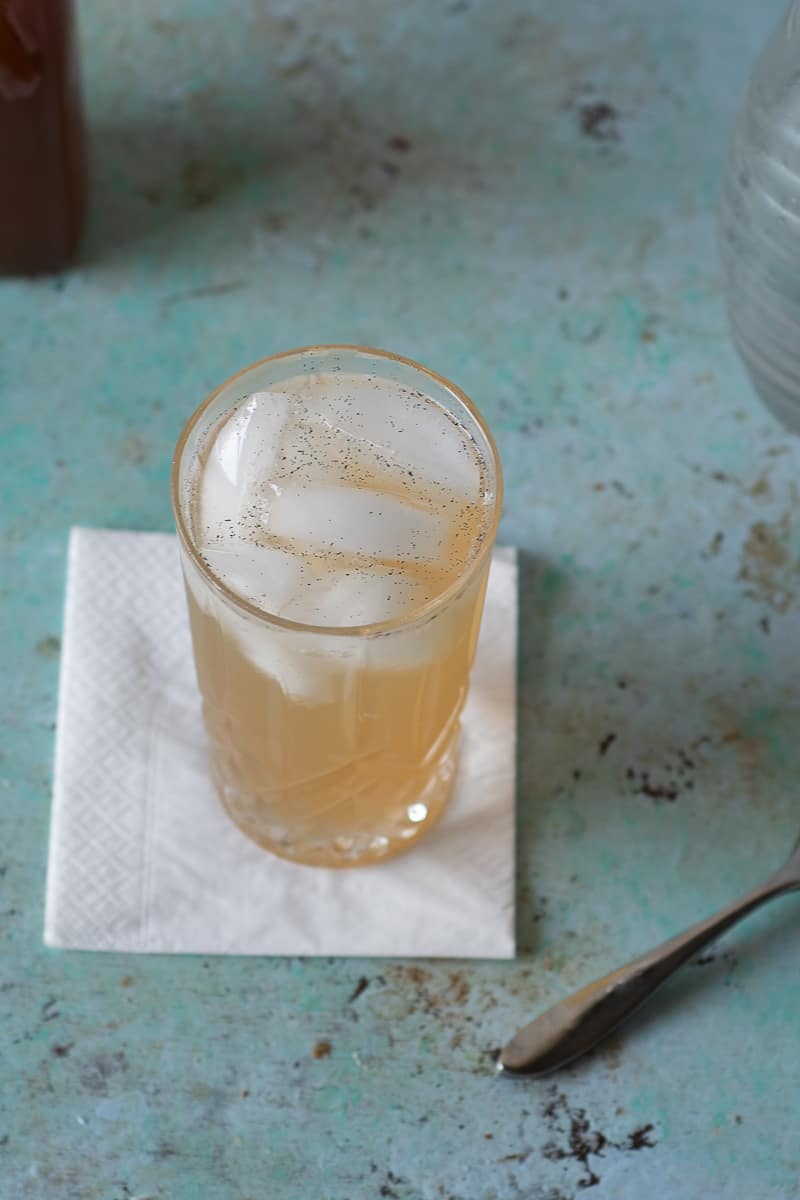 Yield: 12 ounces
Ginger Syrup for Homemade Ginger Ale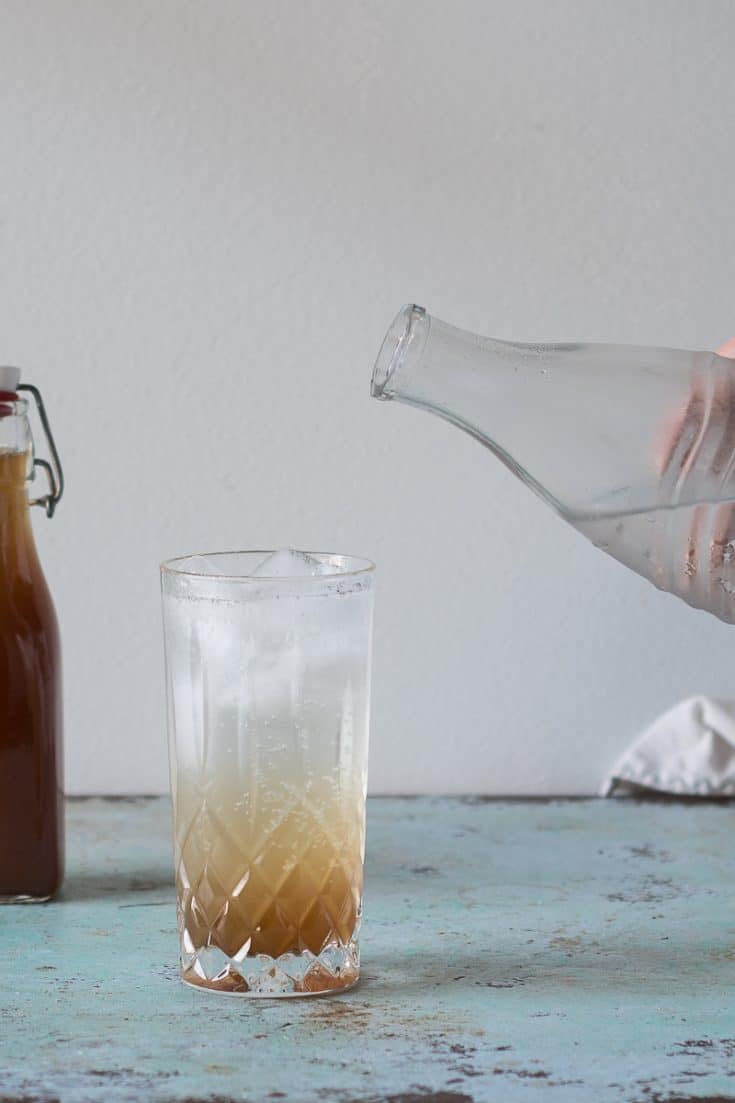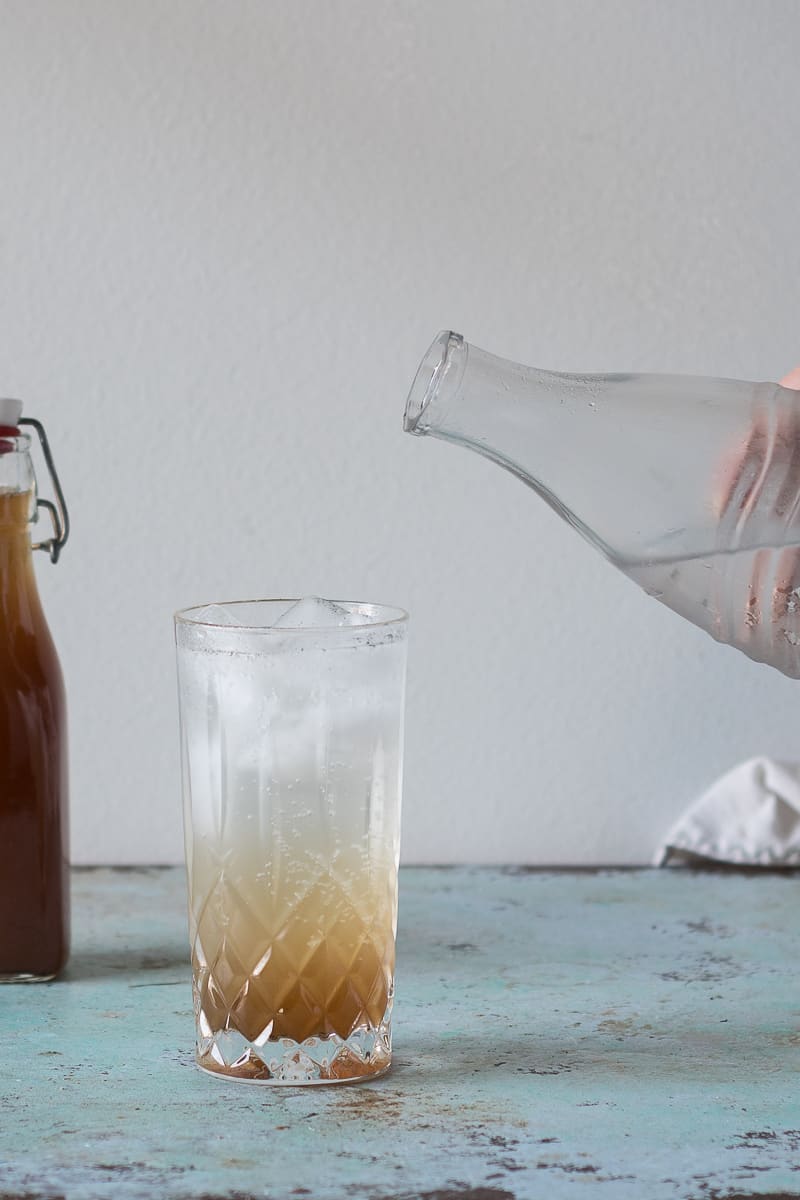 This ginger syrup makes a smooth, creamy, complex ginger ale. It's not too spicy. If you want more of a ginger beer flavor profile, use more ginger (I'd start with one and a half times the amount here). There's no need to peel the ginger for this. Just be sure to rinse it thoroughly first. I like using whole nutmeg and whole cardamom pods here because grated spices are difficult to strain out and will make the syrup gritty. If you don't have a vanilla bean, you can leave it out and add a teaspoon of vanilla extract at the end, but it will be better with the vanilla bean. I like to use a mix of turbinado and plain granulated sugar, but you either variety For ginger ale, I like to use a 3:1 ratio of sparkling water to syrup, which means an 8-ounce glass of ginger ale would use a 1/4 cup of syrup and 6 ounces of sparkling water. I also like to add a squeeze of freshly squeezed lemon or lime juice for a bright citrus note.
Ingredients
100 grams (3 3/4 ounces) fresh ginger, chopped into small pieces
1 whole nutmeg, roughly chopped into 4-6 pieces
1 vanilla bean, split half lengthwise
4-6 green cardamom pods
1-2 star anise pods
200 grams (1 cup) sugar
475 grams (2 cups) water
Instructions
Add the ginger, nutmeg, vanilla bean, cardamom and star anise, sugar and water to a medium saucepan and bring to a boil. Reduce to a low simmer and let simmer for about 45 minutes or up to an hour.
Remove from heat and let cool to room temperature.
Strain through a fine mesh strainer. Discard the solids and transfer the syrup to an airtight bottle or jar. Store in the refrigerator.
Notes
Keeps for about 2 weeks in the refrigerator.
Mix 3 parts sparkling water to 1 part syrup for ginger ale.
Recommended Products
As an Amazon Associate and member of other affiliate programs, I earn from qualifying purchases.
Nutrition Information:
Yield:
12
Serving Size:
1
Amount Per Serving:
Calories:

66
Total Fat:

0g
Saturated Fat:

0g
Trans Fat:

0g
Unsaturated Fat:

0g
Cholesterol:

0mg
Sodium:

2mg
Carbohydrates:

17g
Fiber:

0g
Sugar:

17g
Protein:

0g